Contents
---
---
The aroma of love soaring in the air evokes a warm and cozy atmosphere with a glass of dark Bordeaux wine in the company of a loved one. Why not use the rich wine palette for your wedding? A noble burgundy color will help to create an atmosphere of sophistication, tranquility and comfort, and design aspects can be borrowed on the website www.articlewedding.com.
Burgundy color value
Burgundy color has always been considered solid, conservative and moderate. For this reason, burgundy color is quite traditional for weddings. Refinement of burgundy color attracts aristocratic natures. The color of burgundy is similar to the color of wine, it symbolizes satisfaction, satiety, financial stability and royal luxury.
Wedding decoration in burgundy color
The rich color of burgundy colors gives a festive mood to the wedding celebration. A solid burgundy shade will look appropriate in the decor of a wedding room, as well as in decorative elements. The main thing is not to overdo it!
Banquet room for a wedding can be issued in various ways. For example, use light organza draperies in a rich cherry-burgundy color in combination with white or cream accents. Keep in mind that the drapery lines should be elegant, smooth, preferably with a color transition to a different shade. For example, textile draperies of sand, cream or white will help to dilute the richness of burgundy. Decorate the Presidium for the newlyweds with a rich burgundy tablecloth with light flowing draperies of the same color. From above, along the entire length of the table you can lay out a snow-white napkin-tablecloth. Behind, install a decorative arch or grille decorated with flowers and ribbons.
Guest tables can be decorated in the same way. Arrange snow-white plates on cherry-burgundy or red tablecloths, serve with cream napkins, crystal glasses, floral arrangements and satin ribbons.
As an option, you can use white, beige or tan tablecloths for banquet tables. In this case, the main role is given to bright accessories and wedding dishes, such as red vegetables, fruits, dark wine, a wedding cake with burgundy decorations.
Chairs decorated with covers and large bows, decorated with glass goblets, crystal threads, decorative stones and candles will help to complement the festive decor..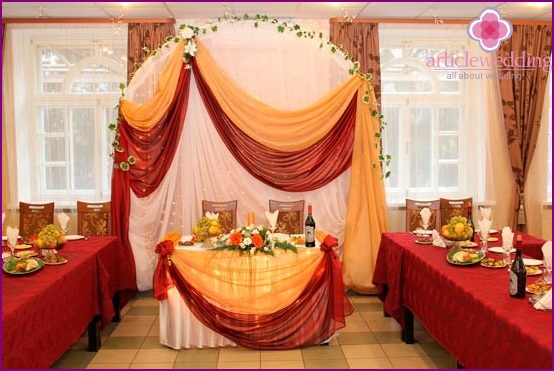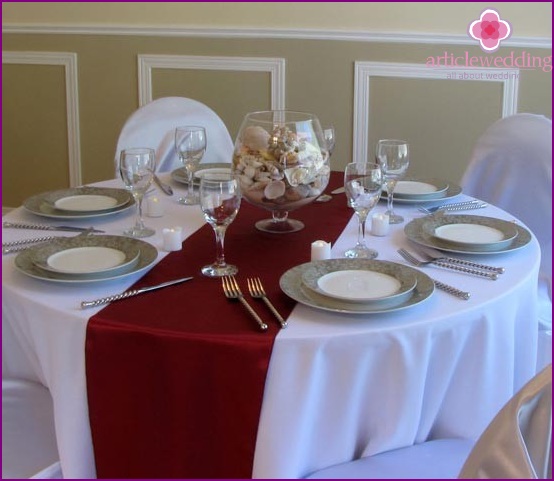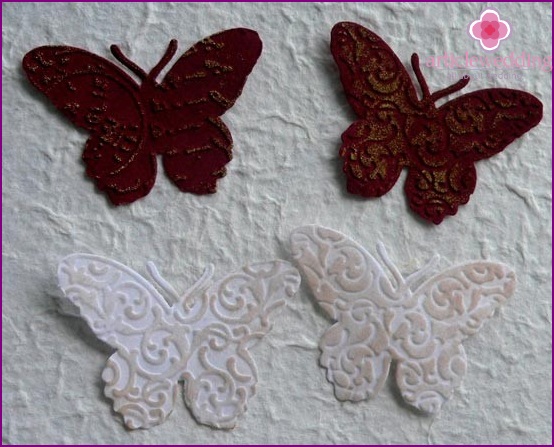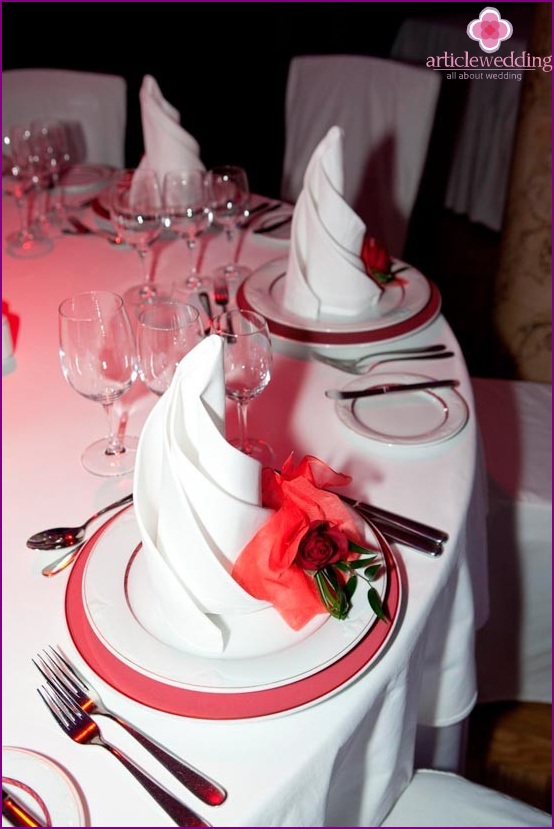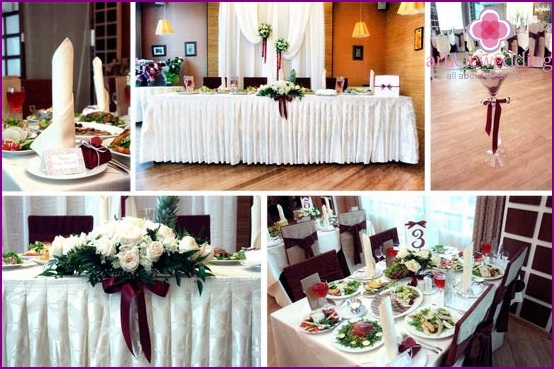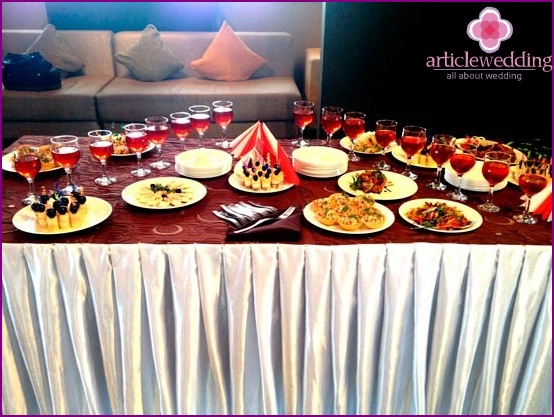 Wedding dresses for a wedding in burgundy color
The main color of the wedding can be emphasized with the help of bright details in the dresses of the bride and groom, especially since wine tones in fashion and clothes of these shades look spectacular and mysterious.
The wedding portal www.articlewedding.com focuses on the harmonious selection of a holistic wedding attire. If the bride prefers a classic white dress, then accessories need to choose a burgundy color. It can be earrings, an arm bracelet, a belt, shoes or a veil. Moreover, now it is not difficult to find a white dress in combination with a different color. Choosing a juicy burgundy dress, jewelry should be light colors.
Special attention requires the makeup of the bride. Juicy sensual lips of burgundy color, ripe cherry manicure, all these nuances will complement the impeccable image of the bride.
Groom can recommend a classic black suit with a white shirt, complemented by a bright burgundy tie or bow tie and boutonniere in the form of a maroon rose.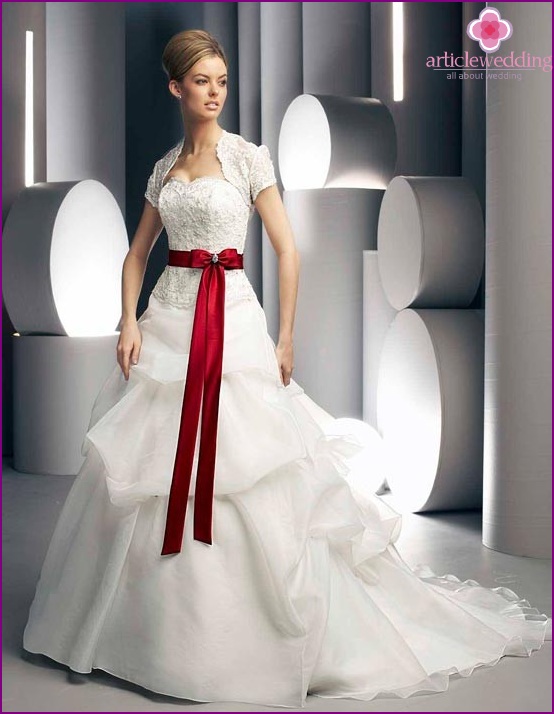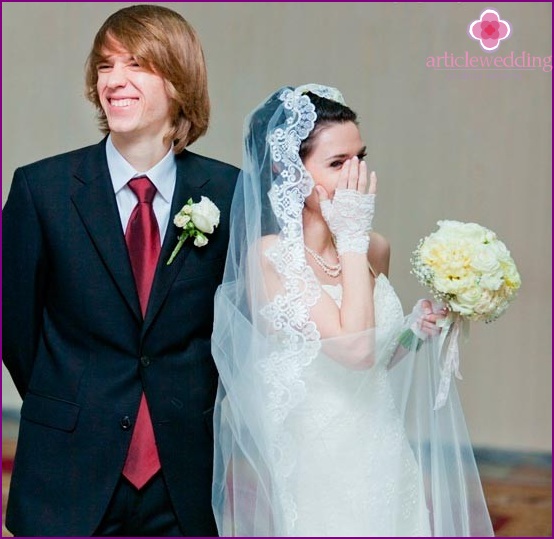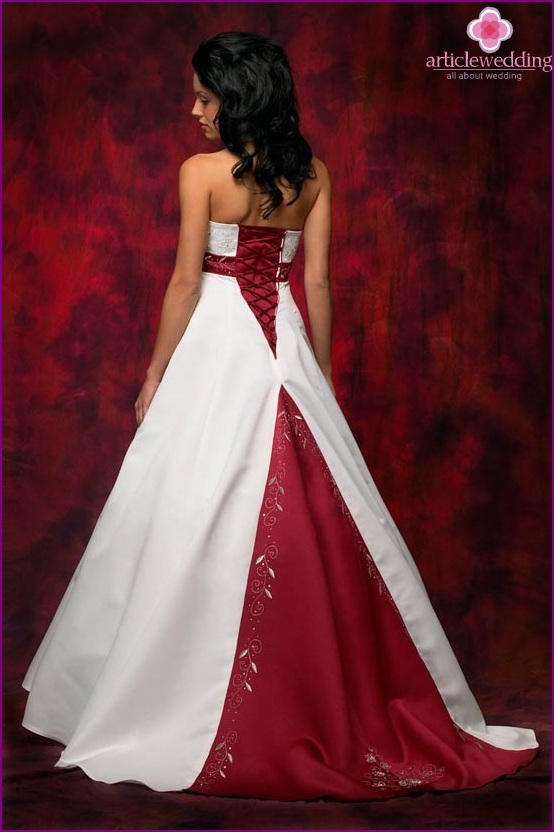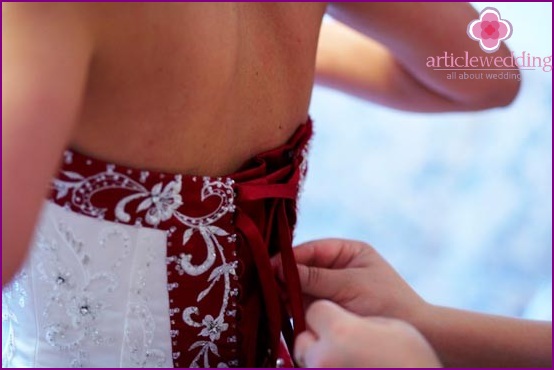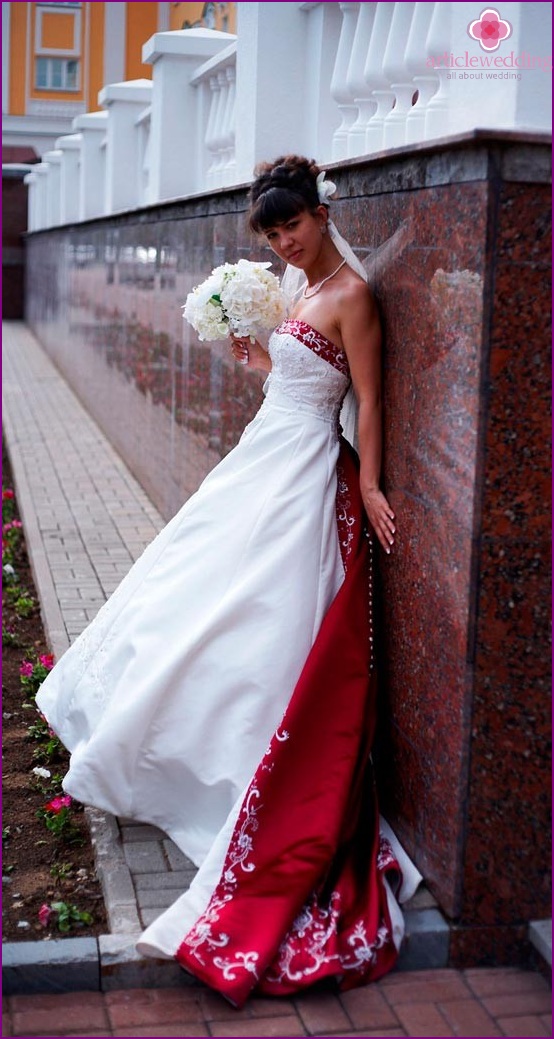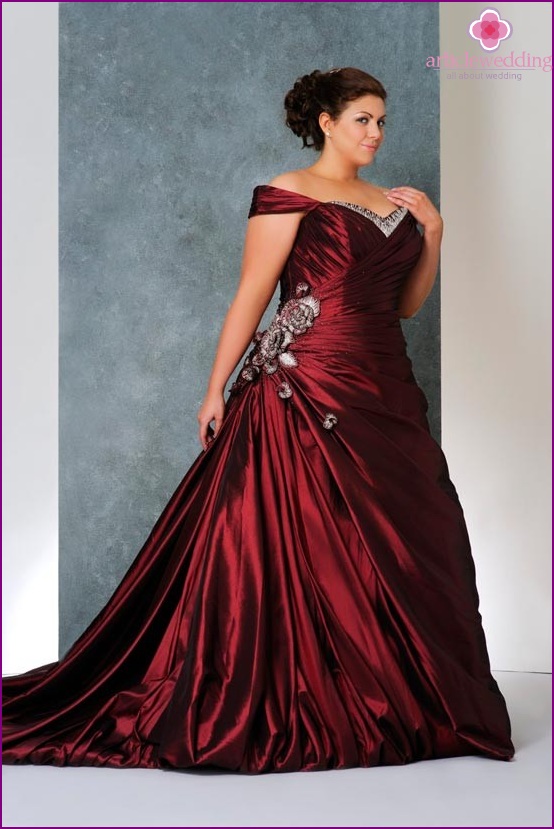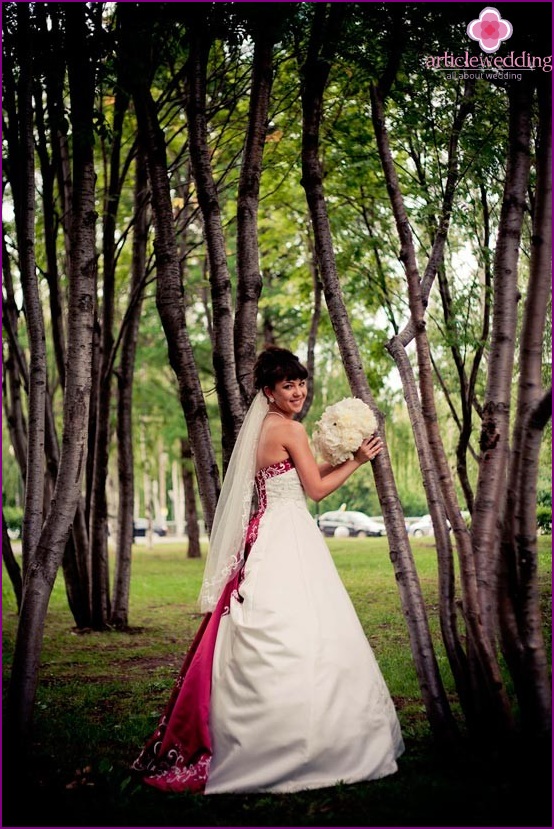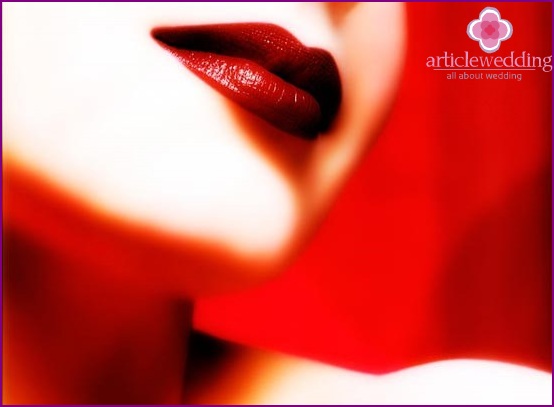 Wedding Flowers in Burgundy
Beautiful wedding floristry is the foundation of a successful wedding ceremony. The visual image of the wedding is remembered for a long time by the guests, so the decor floristry should be bright and original. Do not forget that you can not use flowers with a pungent, strong, concentrated smell.
In the decoration of the decor, you can use pendant floral balls of roses in several shades. A composition of gerberas and maroon roses add charm to banquet tables. As a unifying detail of the floral decor and the bride's bouquet, decorative greenery - bergras, humbled with burgundy beads is suitable.
The bride's bouquet can be formed from dahlias, freesia and burgundy roses. Ripe red berries will help to add a touch of tenderness to the bride's bouquet. Using a combination of bright red and burgundy colors, you will achieve an unusual look.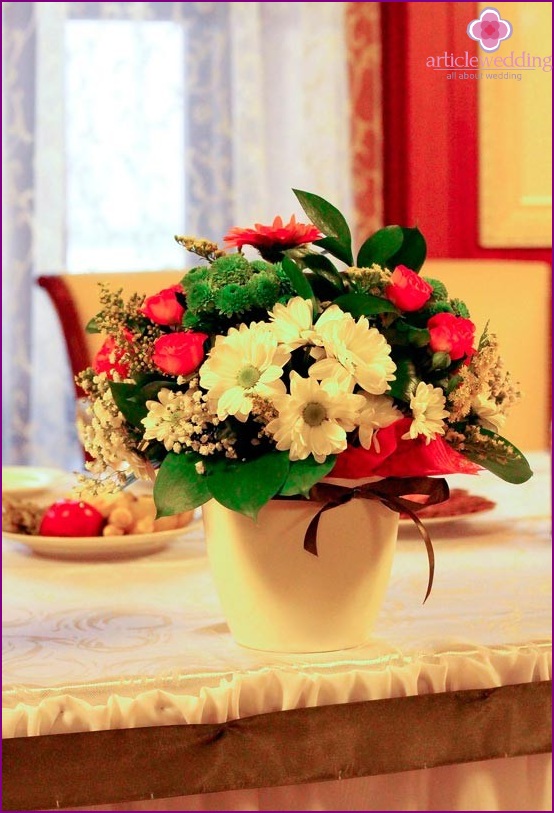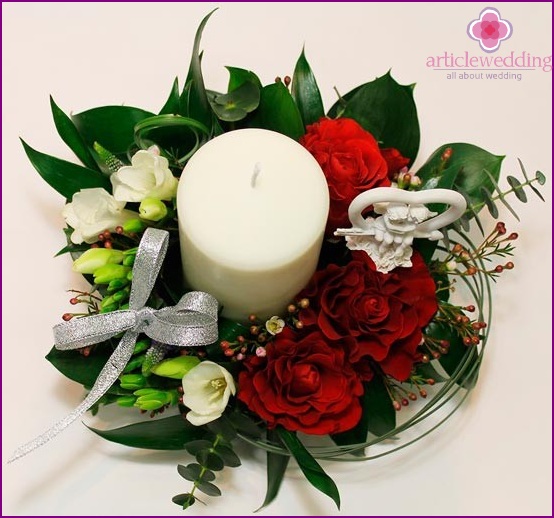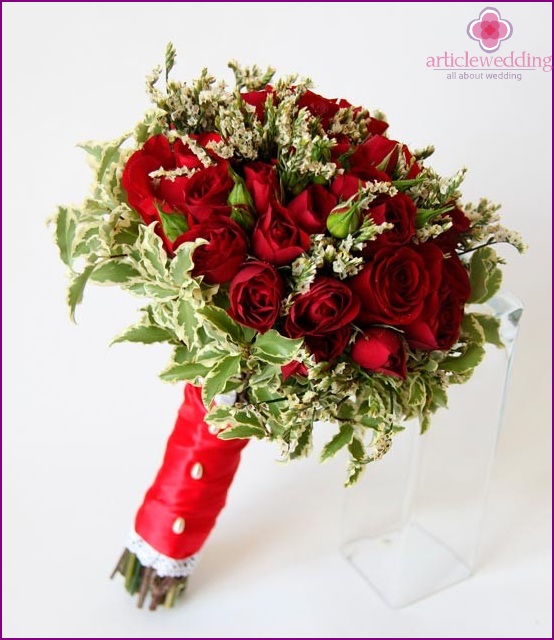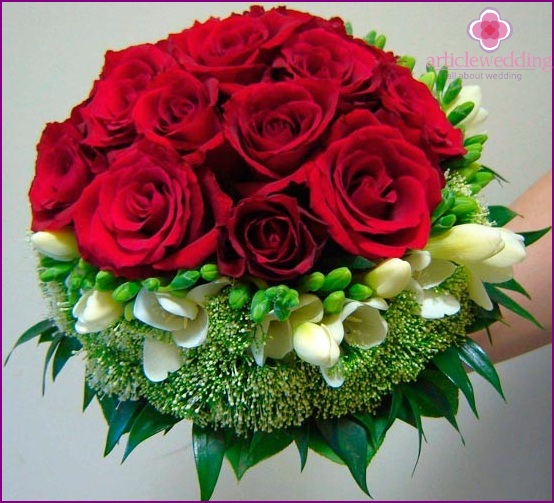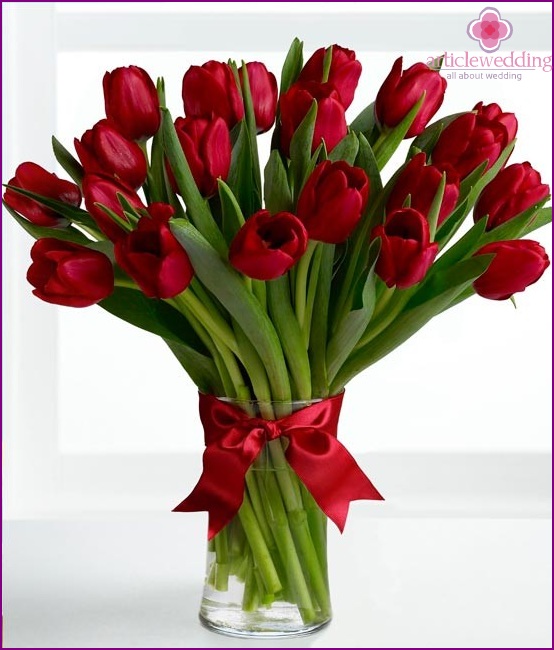 Bridal Wedding Accessories
The overall color scheme of the wedding should be reflected in all wedding accessories. Wedding invitations, buttonholes, seating cards, bonbonnieres must be created in the same style and color scheme. Do not forget about the original wedding procession decoration in bright colors.
Provide and coordinate accessories and outfits for bridesmaids. It is better if they pick up a juicy cherry-colored dresses and shading orange bouquets. The site www.articlewedding.com suggests preparing decorative flower baskets and wreaths.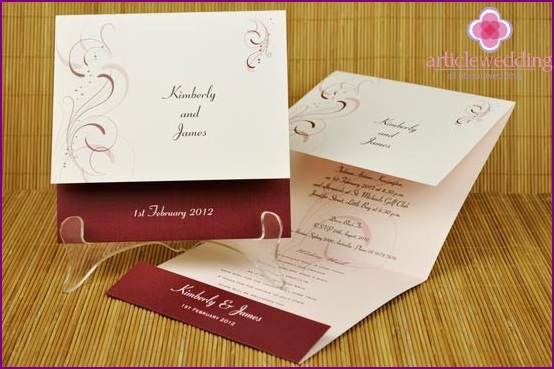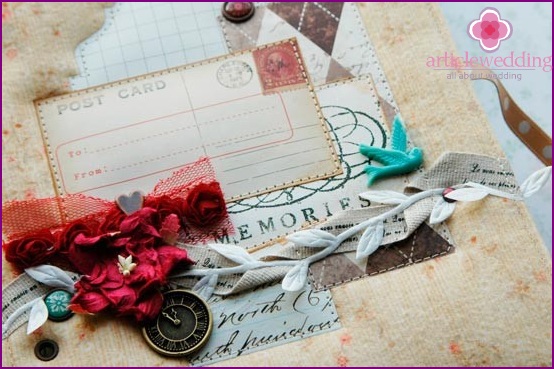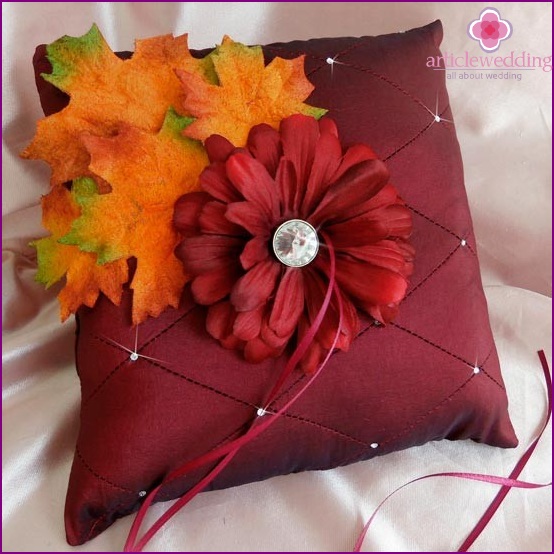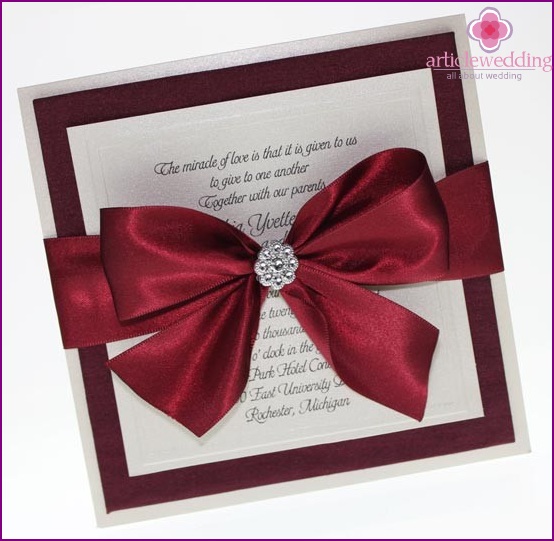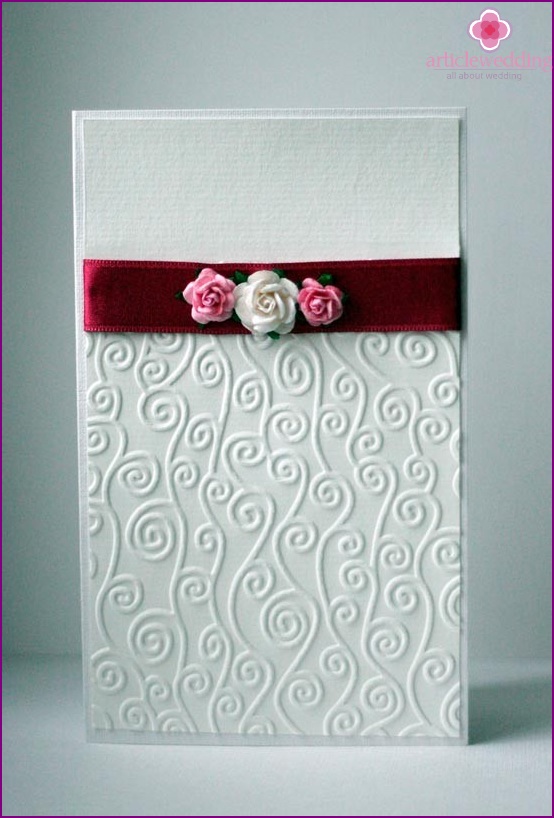 Wedding Ideas in Burgundy
The wedding in burgundy should be organized in accordance with the European style. Therefore, it is better to choose an exit wedding. In addition, after the wedding ceremony, you can go for a walk and a photo shoot. European style wedding involves sophisticated sophistication and strict endurance of a single elegant style, and burgundy color, as well as possible, is suitable for such a celebration.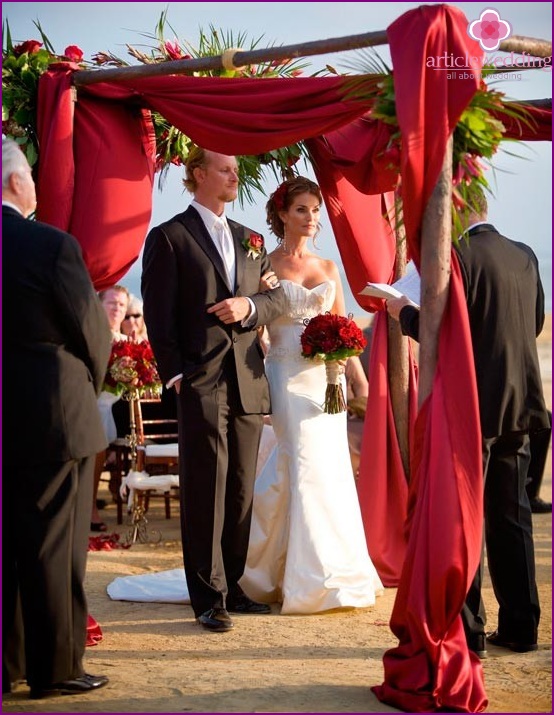 The combination of burgundy with other colors
Of course, you should not decorate everything in a burgundy color. In all details, harmony, style, moderation should be traced, therefore, the bold burgundy color must be supplemented and diluted with other more calm and gentle shades. With the color of Bordeaux, colors such as milk, white, beige, ivory, as well as coral, orange and turquoise are perfectly combined, but this palette will go only to the most daring natures.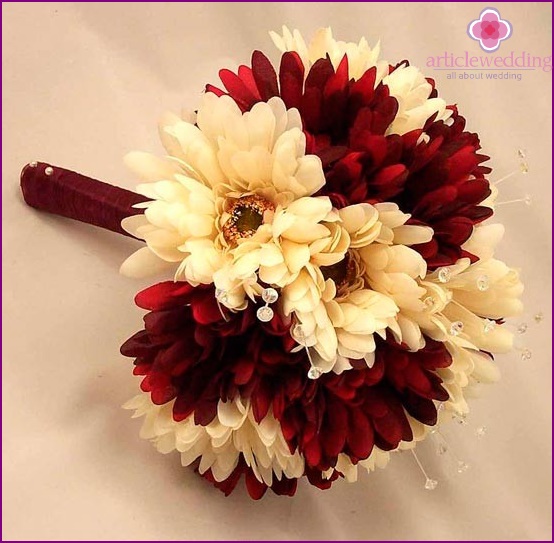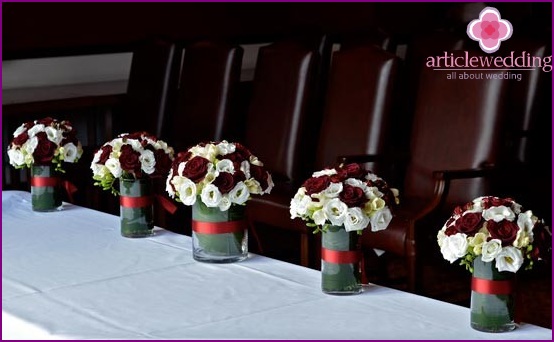 The idea of ​​a bright saturated wedding design is your reliable option for a memorable and impressive event.!