Contents
---
---
A wedding is an amazing event in the life of every person. Therefore, its organization should be thought through to the smallest detail. Naturally, first of all they think about wedding style, however, do not forget about the color scheme. A well-chosen palette that can be traced in all the details of the wedding celebration is one of the most important success factors for such a unique event as a wedding.
Not sure which color to choose? Tired of all the standard shades that can be found at many weddings? Then the portal www.articlewedding.com invites you to pay attention to the trend color of 2016 - ash blue, which will fill the celebration with incredible airiness and vintage tenderness.
Ash blue value
Ash-blue - a muted color, based on blue with a slight touch of silver. Otherwise, this color is called dusty blue, gray, powdery blue. It symbolizes purity, sincerity and tenderness, as well as the desire for harmony and fidelity. The perfect choice for a wedding!
Wedding decoration in ash blue
Ash-blue can be successfully used in wedding decor. It can be tablecloths, napkins, chair covers. The main thing here is not to overdo it: if you use ash-blue tablecloths, then they can be supplemented with white napkins and floral arrangements.
Ash-blue textile can also be used for drapery of a wedding arch or back-wall at the table of the newlyweds, as well as the background for the photo zone.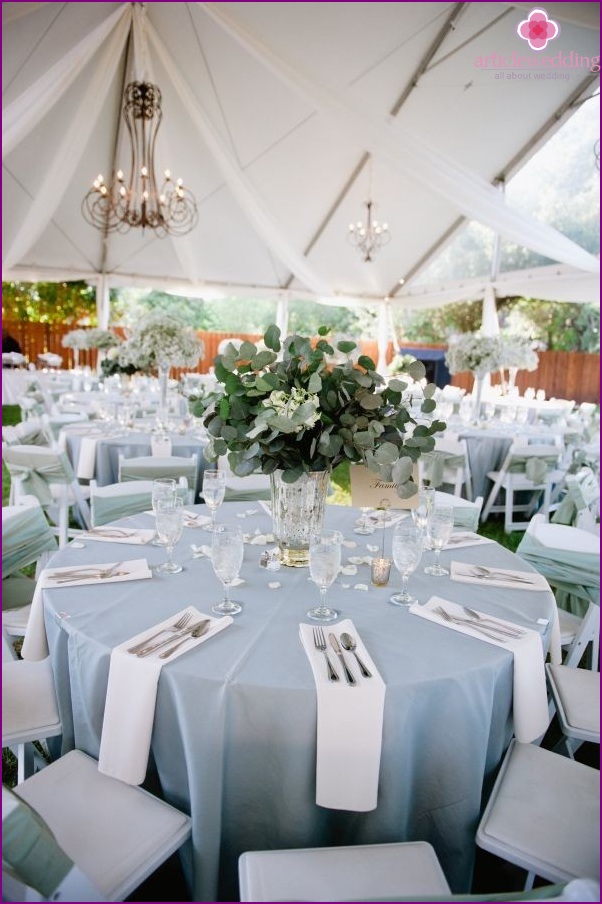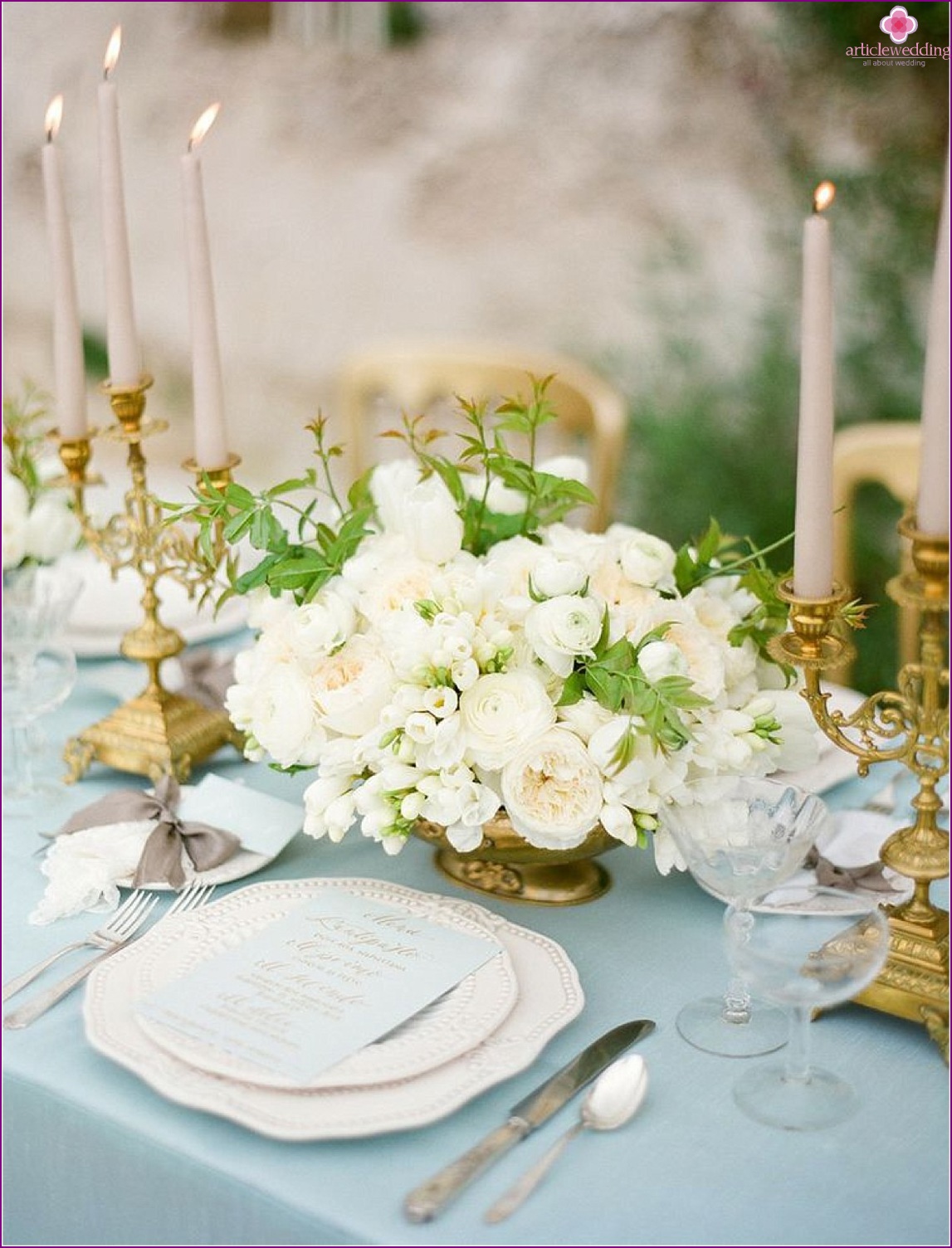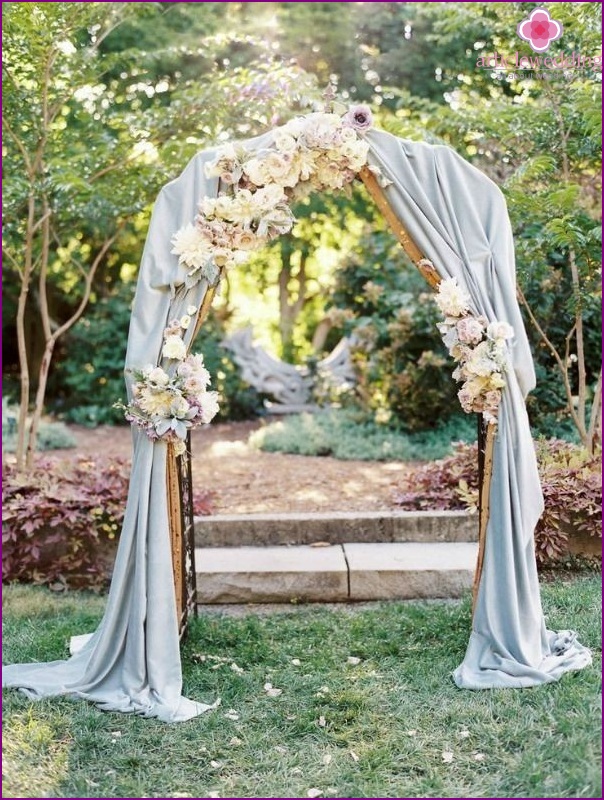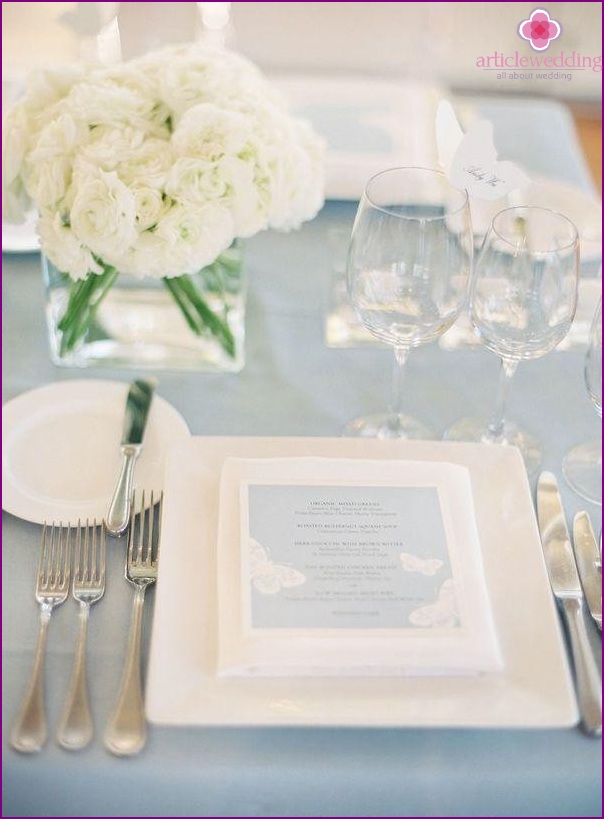 Wedding dresses in ash blue
Ash-blue color this season literally turned the head of brides. Aerial Wedding Dresses in this color give the image of the bride a special tenderness and romance. If you prefer a white wedding dress, then it can be supplemented with a bow or belt of ash-blue color, as well as shoes, jewelry and hair ornaments.
For the groom, you can choose ashen-blue suit (if the bride chooses a white dress), and a dark-blue suit, complementing the image with ashen-blue accessories: shoes, a bow tie or tie, vest or suspenders, cufflinks, etc..
Guests can also support the main color of the wedding: the bridesmaids choose ash-blue dresses for themselves, and for friends of the groom you can choose ties or bow ties, shoes or moccasins of a blue color.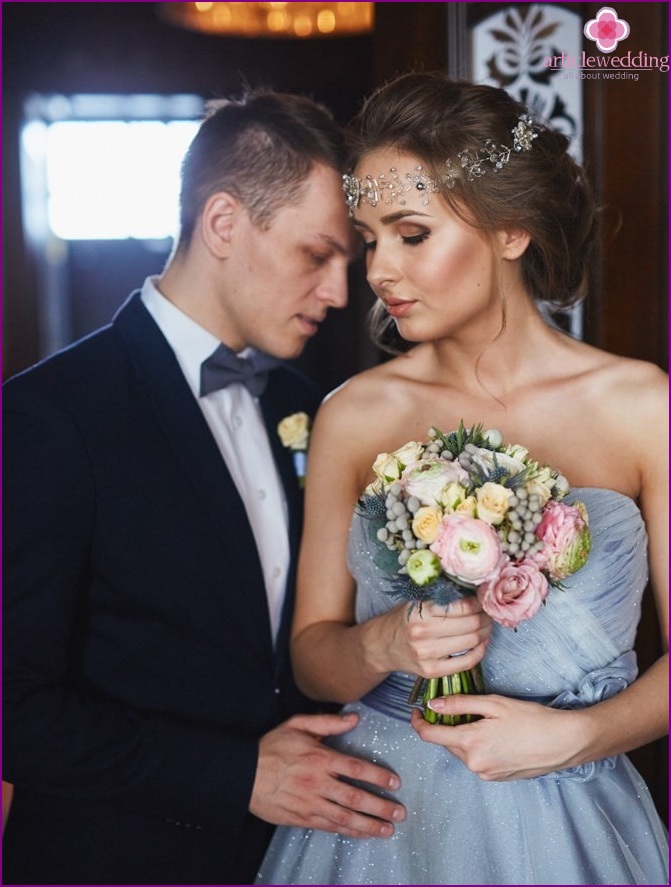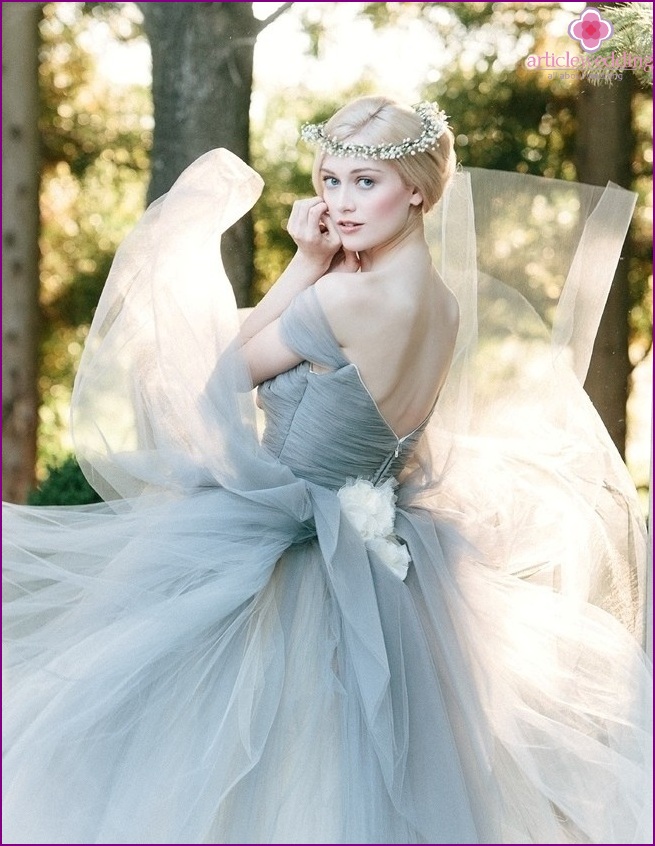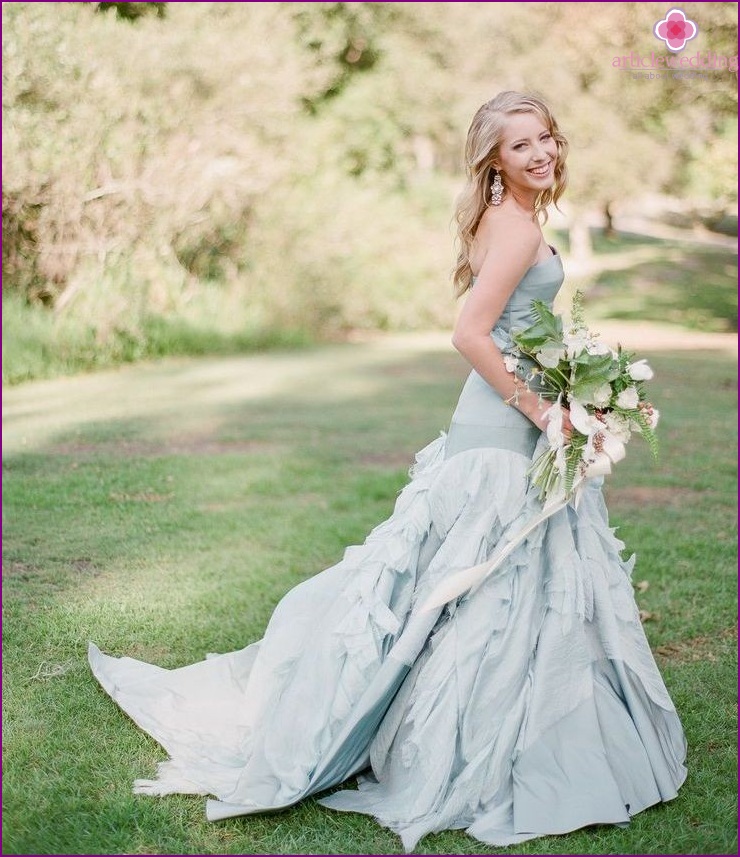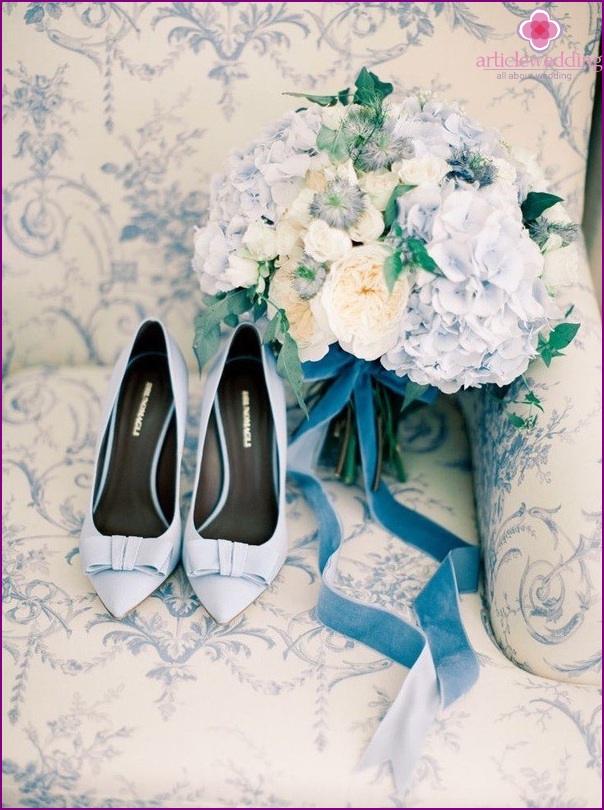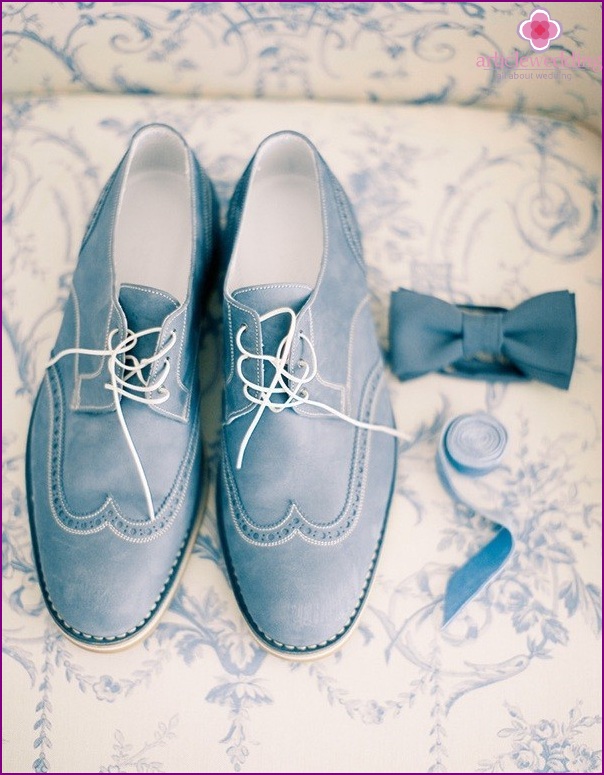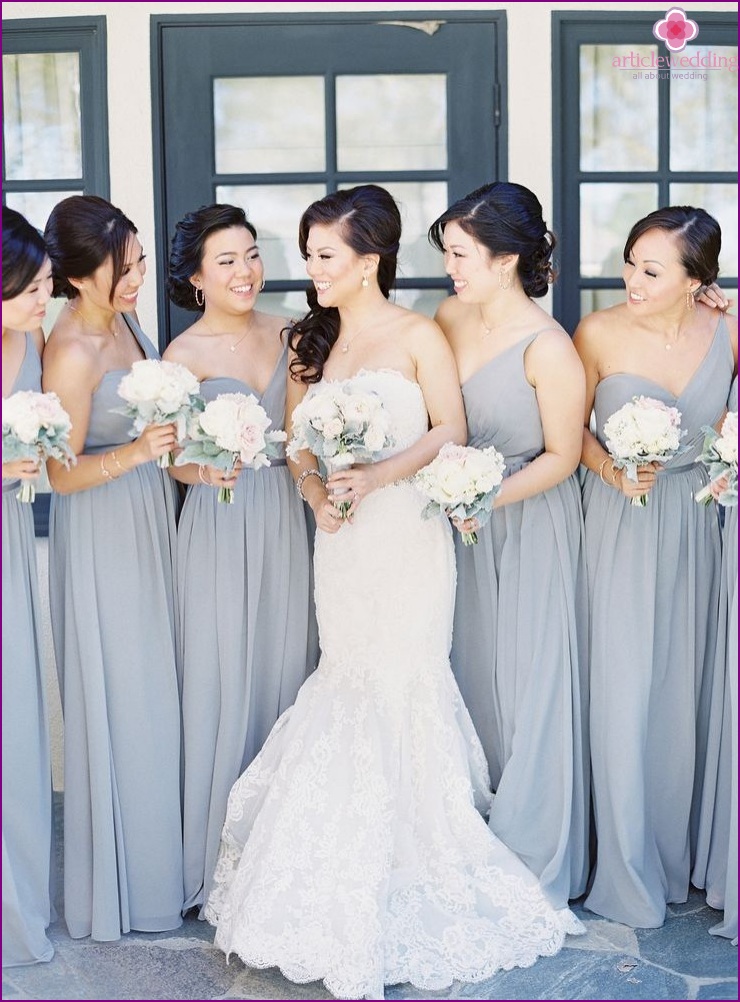 Wedding flowers in ash blue
Flowers of close shades (pale blue, silver, grayish blue) are suitable for the bride's bouquet: hydrangea, lavender, anemones, brunia, delphinium, forget-me-nots, bells, etc. Succulents of bluish shades, as well as greens such as eucalyptus, stachis, cineraria and juniper with its blue berries, will help highlight the beauty of flowers.
You can don't get hung up on flowers at all, but simply decorate the stem of the bouquet with a beautiful ribbon of ash-blue color.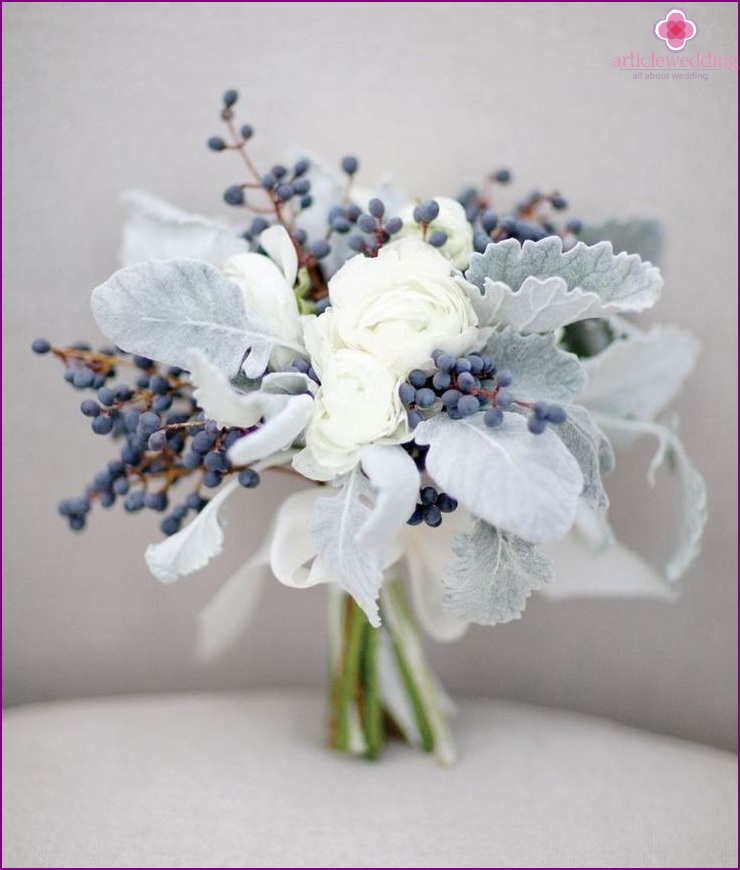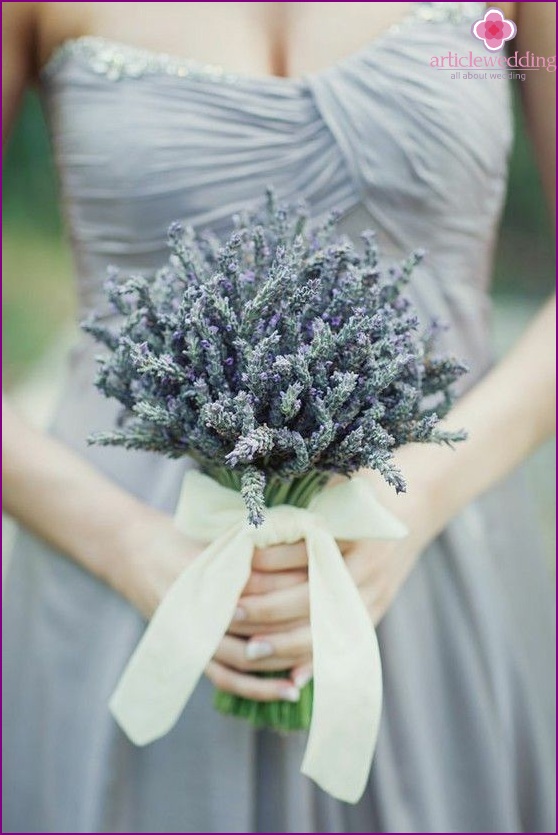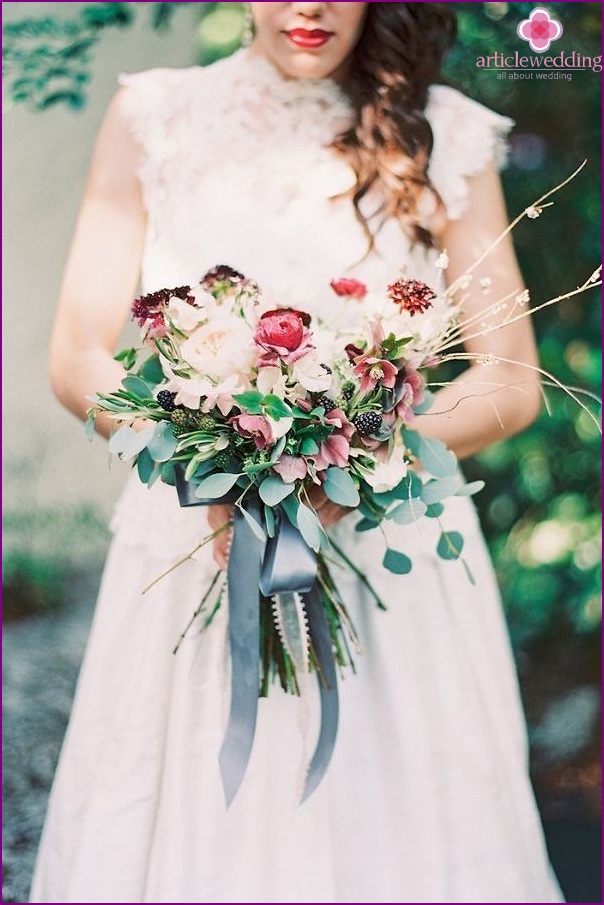 Wedding accessories in ash blue
The main accessories are invitations, because they must necessarily have the shade of your choice, "telling" guests about the colors of the upcoming holiday.
Do not forget about banquet cards, table numbers and other wedding accessories that must be made in one palette, recalls the portal www.articlewedding.com.
For the wedding ceremony, you should also prepare accessories and little things in an ash-blue palette. First of all, we are talking about a pillow for rings, which will become the center of general attention during the exchange of rings and, of course, will fall into the wedding frame!
Well, the main treat of the wedding evening - the cake - can be done in ash-blue color. It will look tender and incredibly airy. Cake with an ombre effect looks fashionable and spectacular, in which a gradient transition from white to ashen-blue is traced.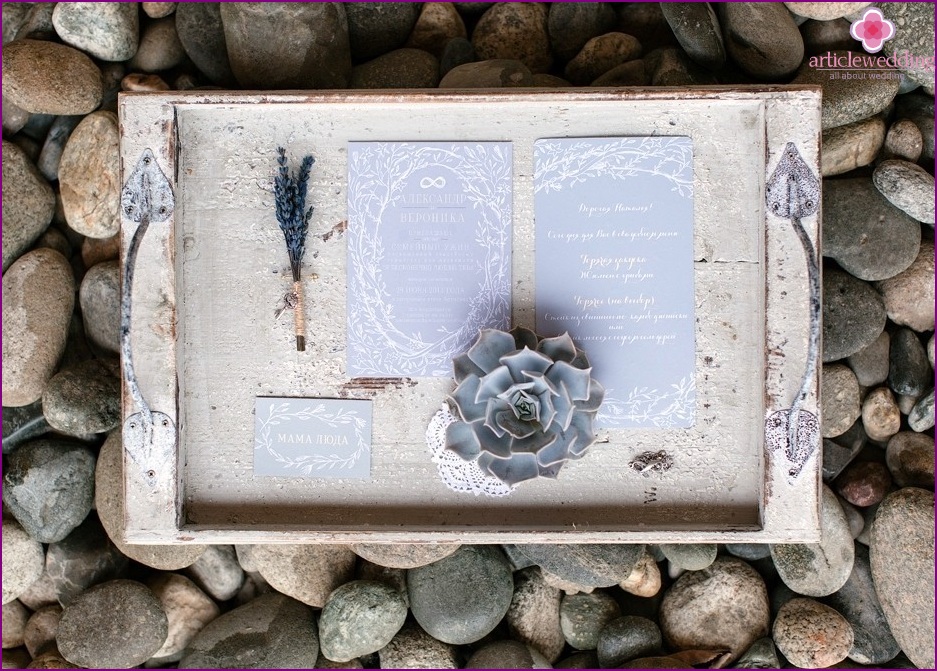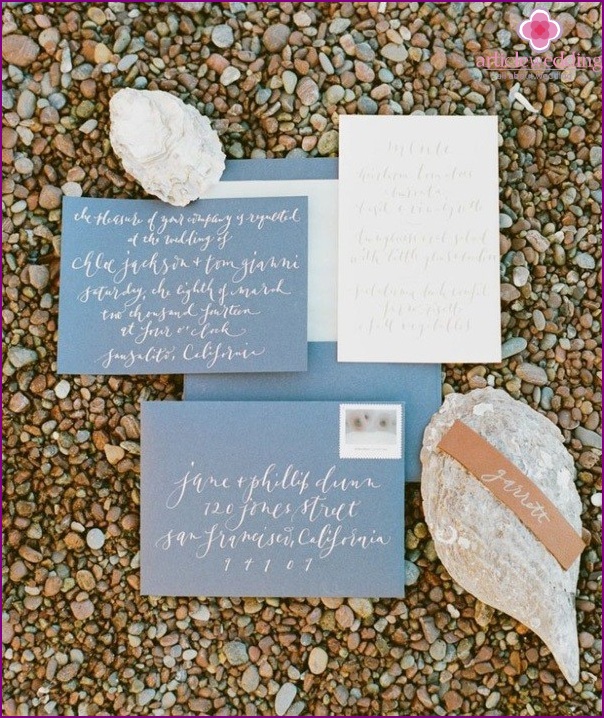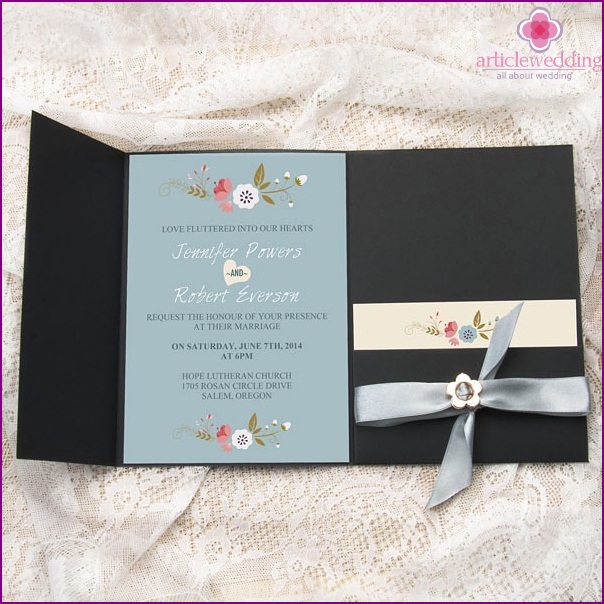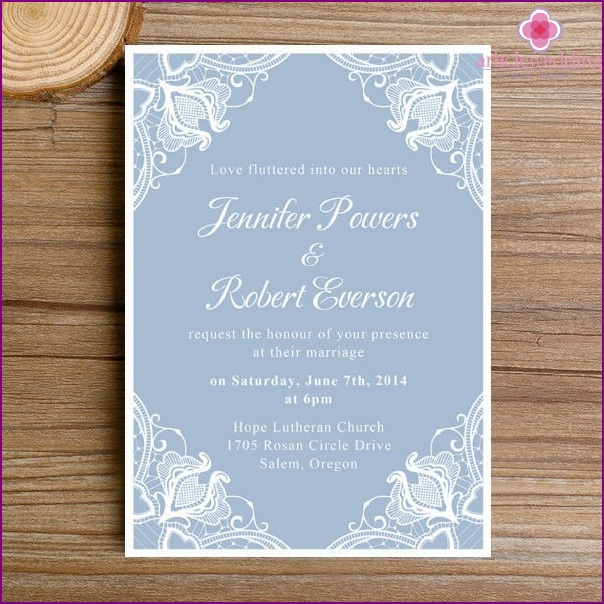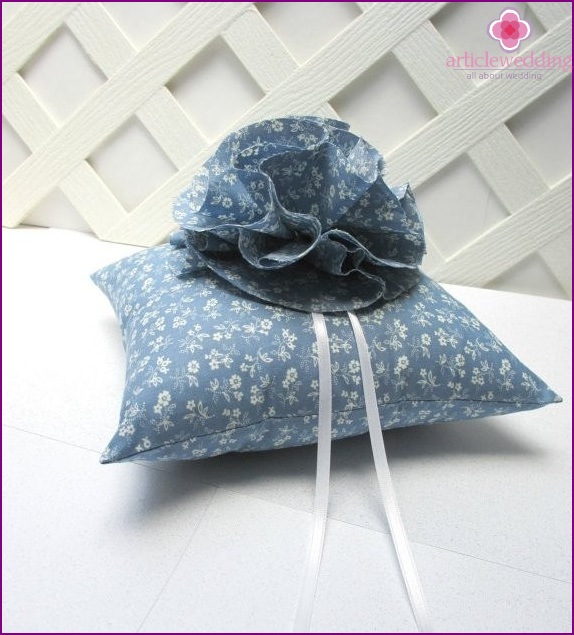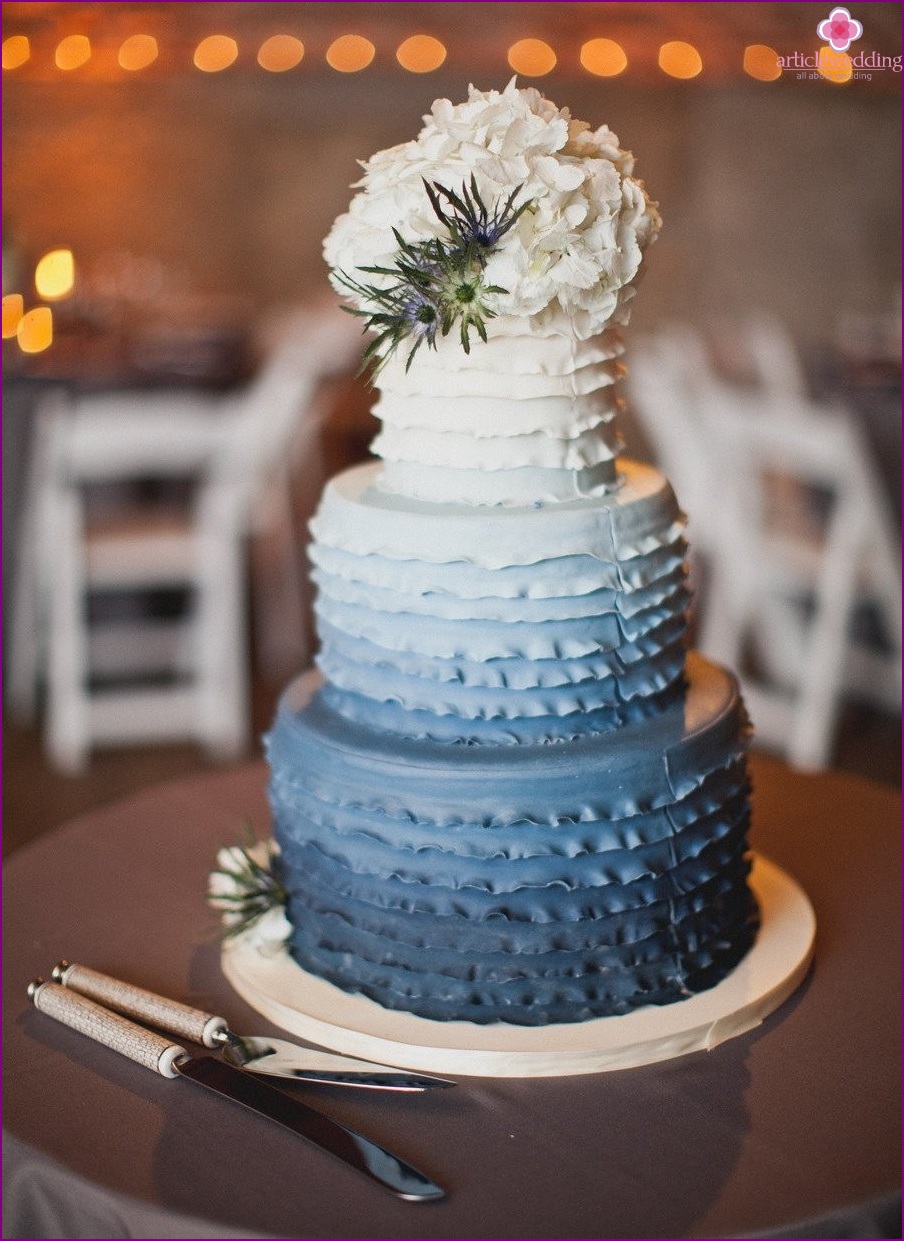 The combination of ash blue with other colors
Ash blue can be combined with white, green, purple and sand, creating beautiful effects. Among the brighter shades, a maroon, terracotta, orange, etc. will be an excellent pair of ash-blue color..
A win-win solution for a dusty blue wedding will be a gradient or ombre, i.e. color transition from a light shade to a darker one, for example, from white through ashy blue to dark blue with a silver tint.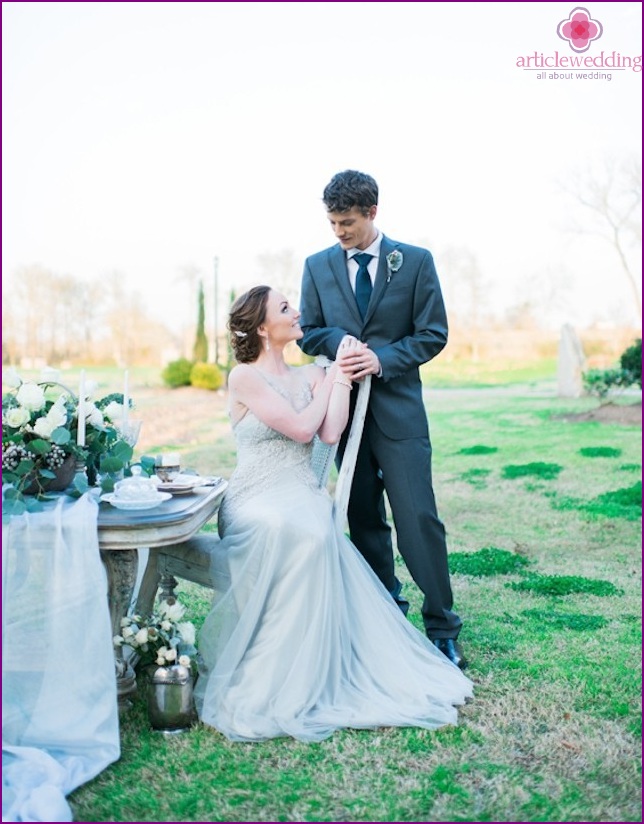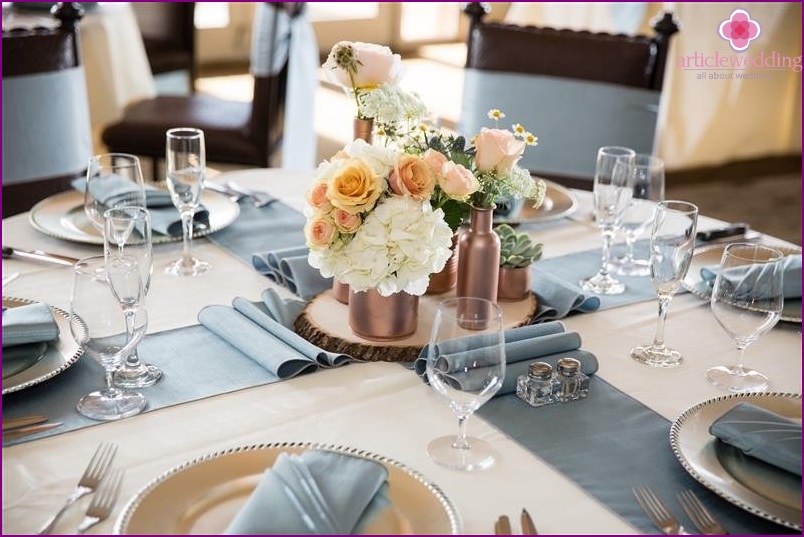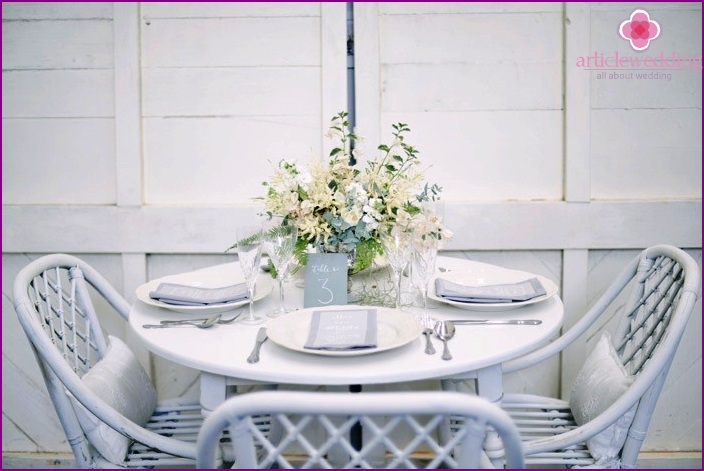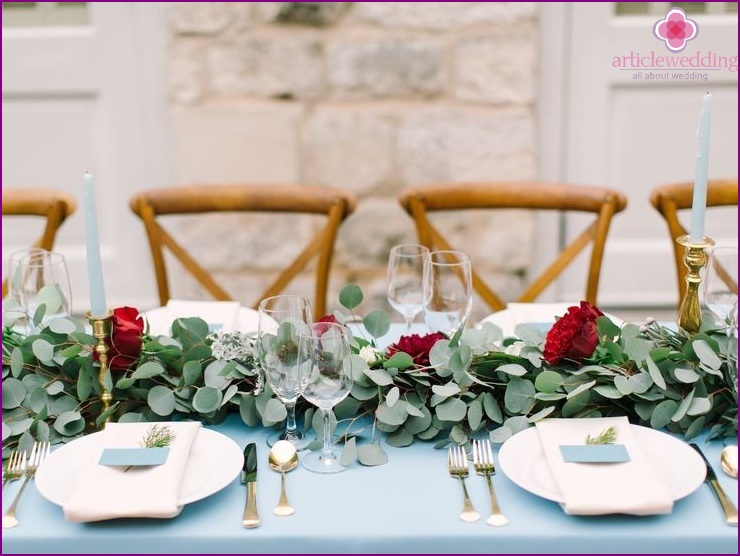 Ash-blue color is an excellent choice for a delicate and romantic wedding with a touch of vintage!