Contents
---
---
Light and airy blue color will help to create a romantic and bright atmosphere of your happiest and most beautiful day..
Blue value
Blue has long been considered a symbol of wisdom and tranquility. The soothing properties of this shade are widely known. In addition, blue indicates unlimited trust, which, you see, is an important definition for a young family. An interesting point: among many nations, the blue color is a symbol of life.
Wedding decoration in blue
Blue color, of course, calming, but it should not be much. Therefore, decorating a wedding banquet with this cool shade, focus on the details. Transparent blue fabrics, draping carved wooden arbors, graceful garland of flowers in blue shades, waving columns of the banquet hall, wedding table setting, invitation, elegant bonbonnieres and miniature seating cards. It is these inclusions, and not the general color of the room in blue, that will help make your wedding especially tender and elegant.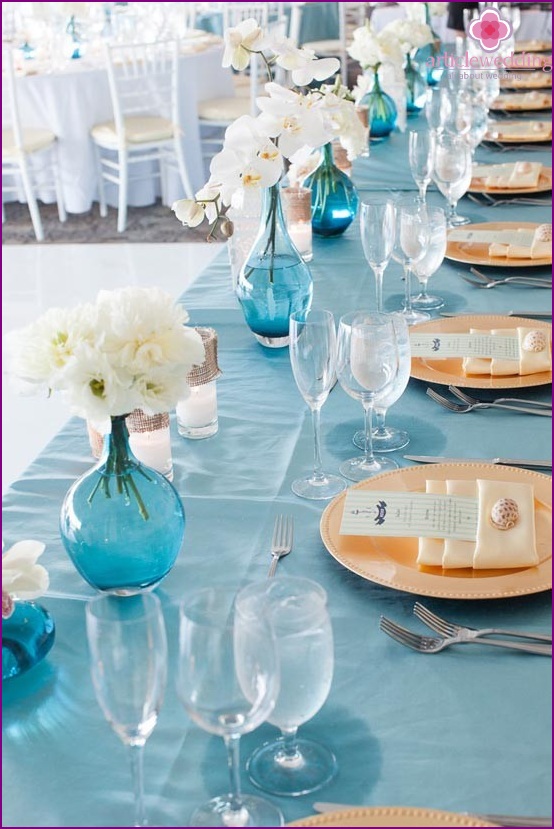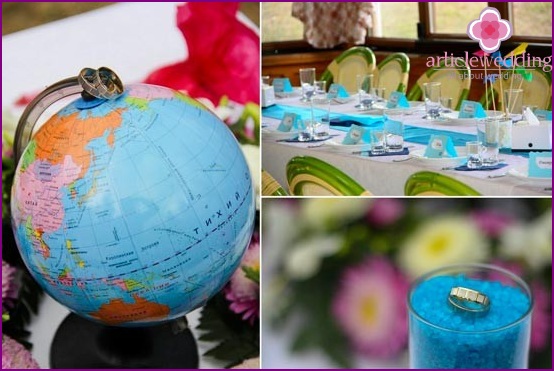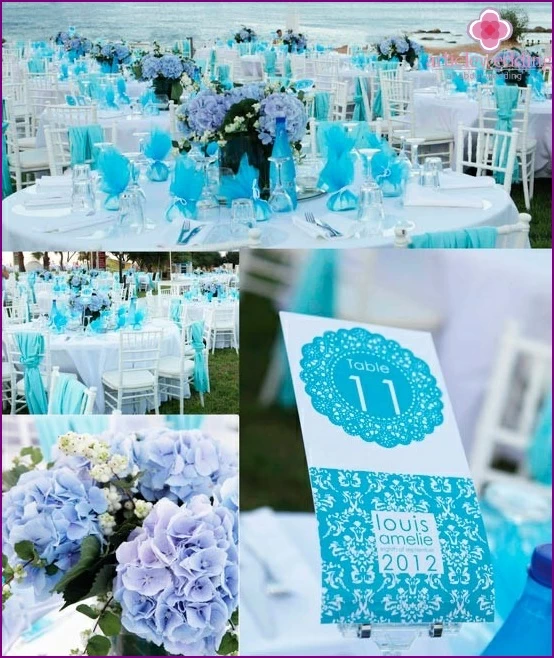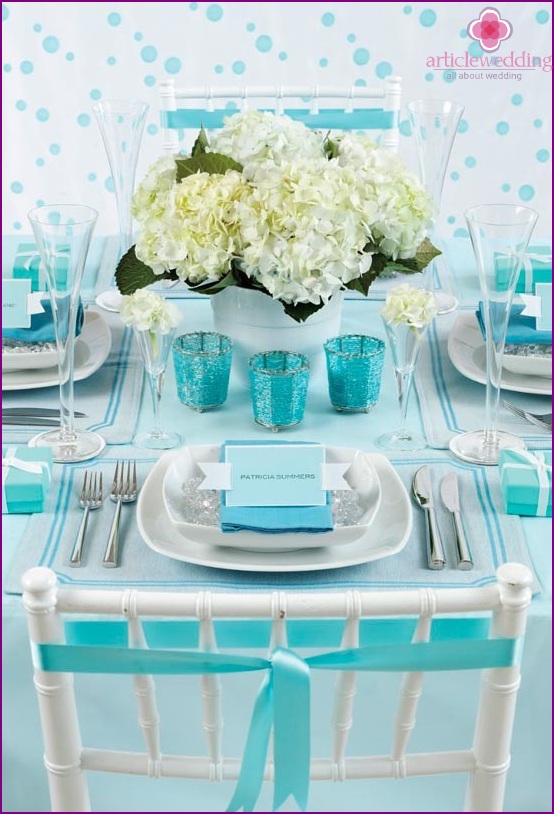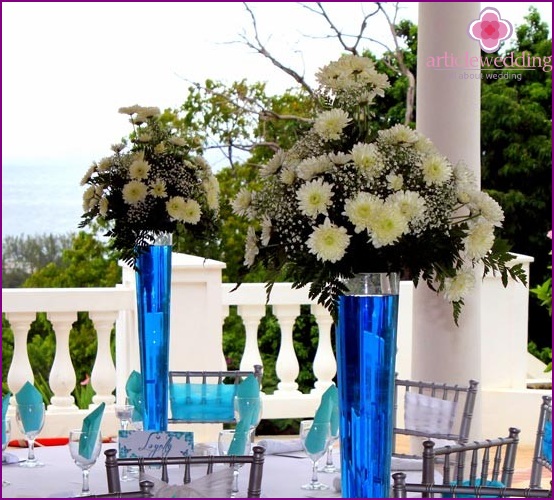 Wedding dresses for a wedding of blue color
The blue outfit of the bride, especially in combination with silver accessories, can create no less magnificent image than a traditional wedding dress. Do not think, the site www.articlewedding.com does not discourage you to dress up in classic white and puffy wedding dress. Just complement it with delicate blue details of the image. As they say, to be in the subject!
Nothing prevents the groom from putting on a bright blue suit. But, nevertheless, the blue shades will look more elegant and refined in accessories against the background of classic suits of light and dark colors.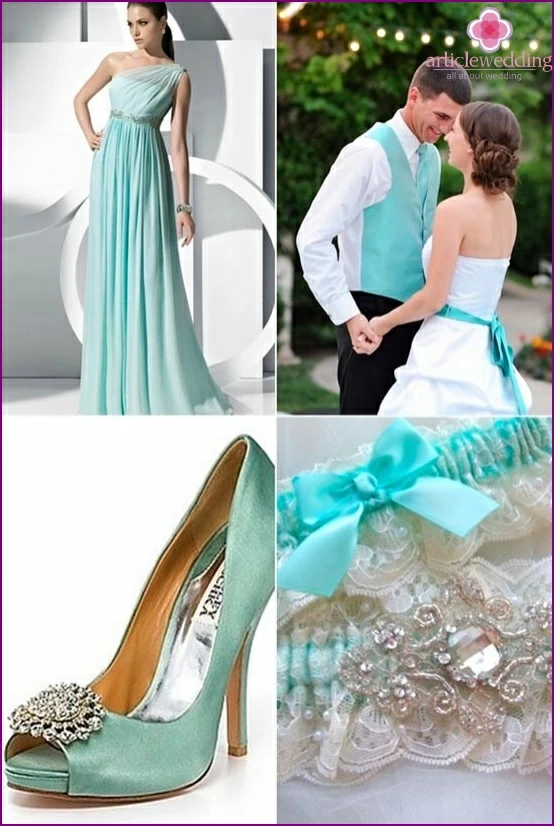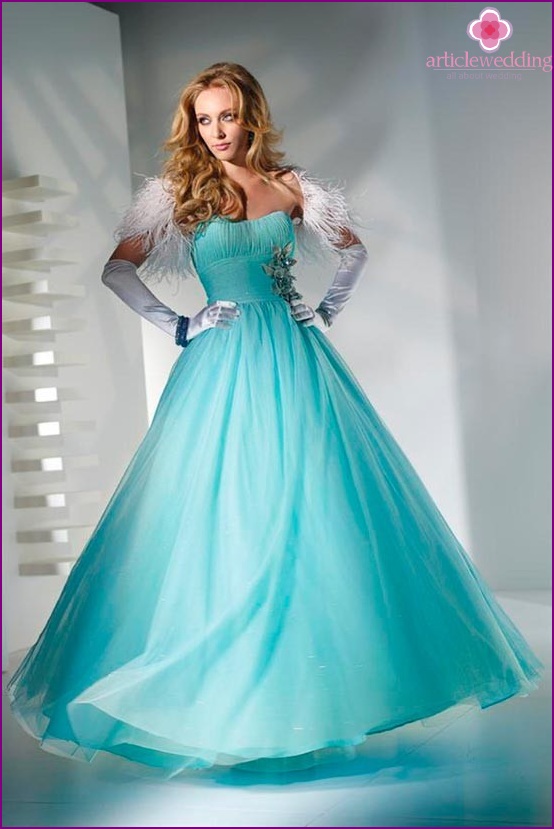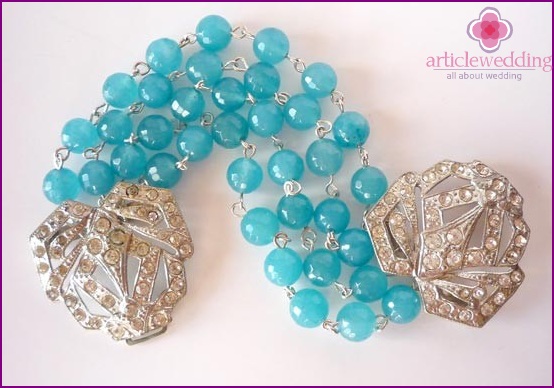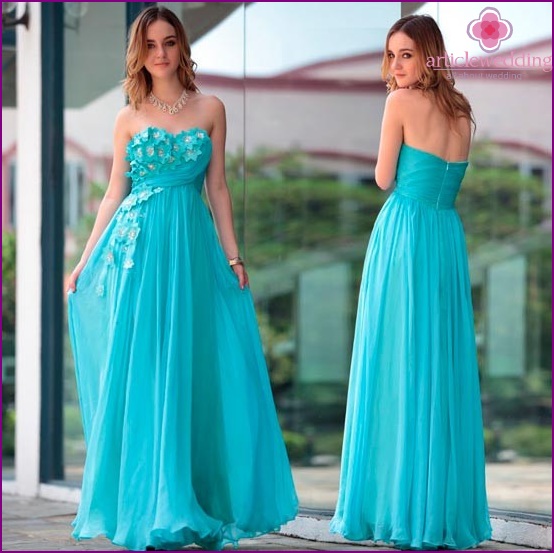 Flowers for the wedding in blue
Flowers of blue shades in nature are not uncommon and it will not be difficult for you to find the "components" of a thematic bouquet. Elegant lavender, fragrant hyacinths, cute cornflowers, lush hydrangea caps are wonderful representatives of the flora at your service. In extreme cases, colors can be given the necessary shade using dyes or, less radical measures, complement the bouquet with accessories in blue tones.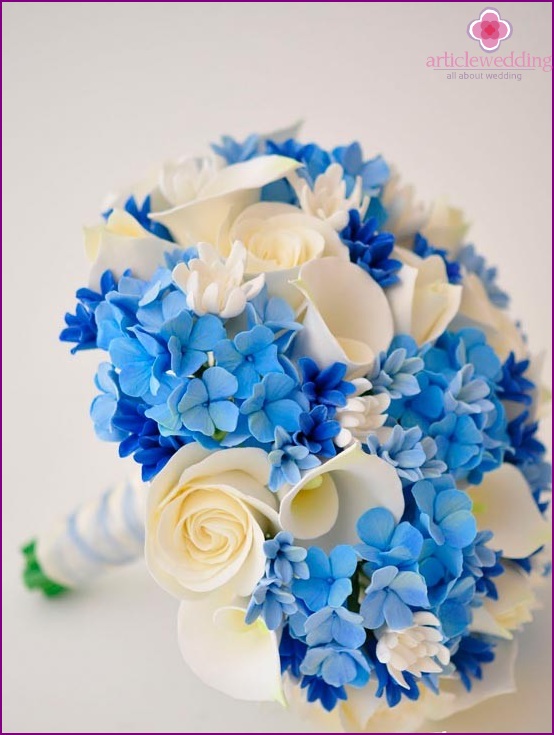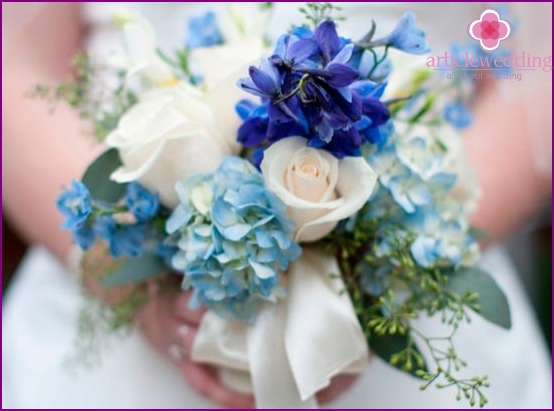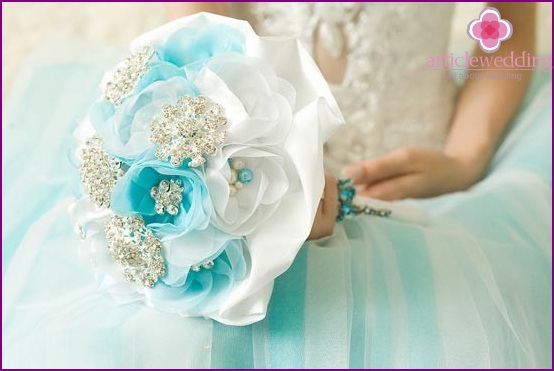 Wedding accessories for a wedding in blue
As we said, accessories are an important thing in wedding decor. The wedding portal www.articlewedding.com advises to emphasize the elegance of a blue wedding with balloons, elegant bouquets of flowers, banquet cards.
Strengthen a pleasant impression of design will help wedding menu. Highlight the blue color in drinks and cocktails, the benefit of diversity allows you to do this. Best of all this thematic shade will look in dishes of a sweet table. Transparent glass jars filled with sky-blue macaroons, placers of glazed nuts and various candies. And, of course, do not forget about the beloved public, who, as a rule, crowns every wedding - a cake. Sweet blue icing, or maybe decor with ribbons and flowers of mastic to match? Or, do you choose an intricate chocolate painting of a bright blue hue along the snow-white side of a sweet dessert? Choose any of the proposed options, each will delight your guests not only with taste, but also with a view.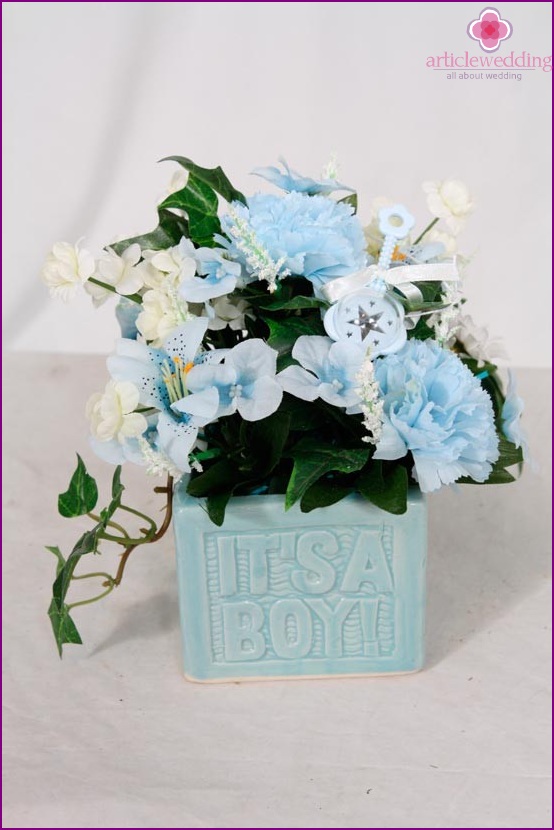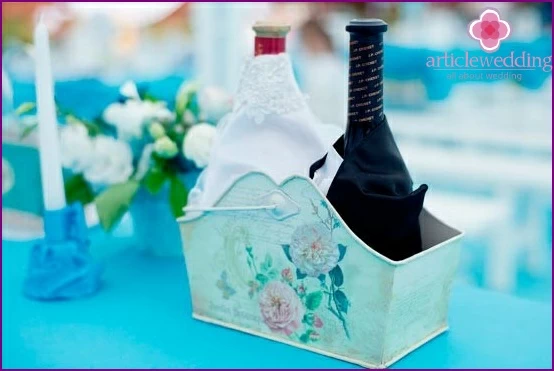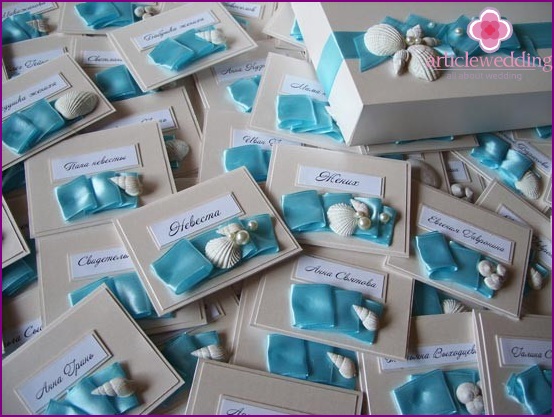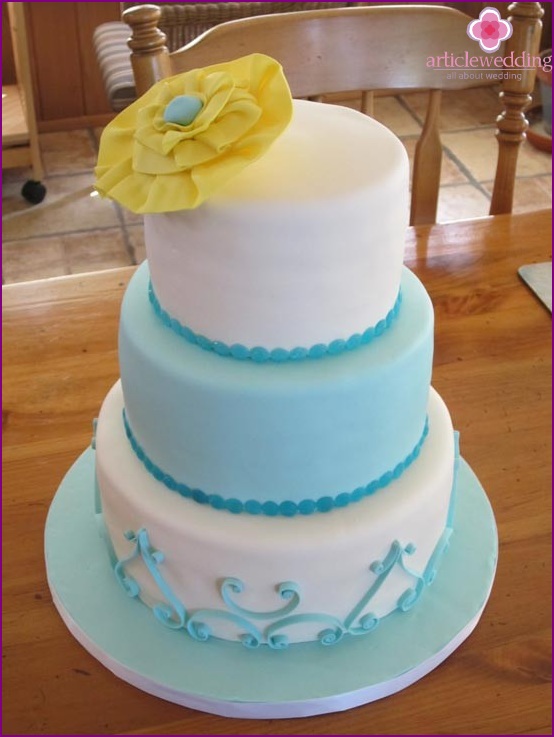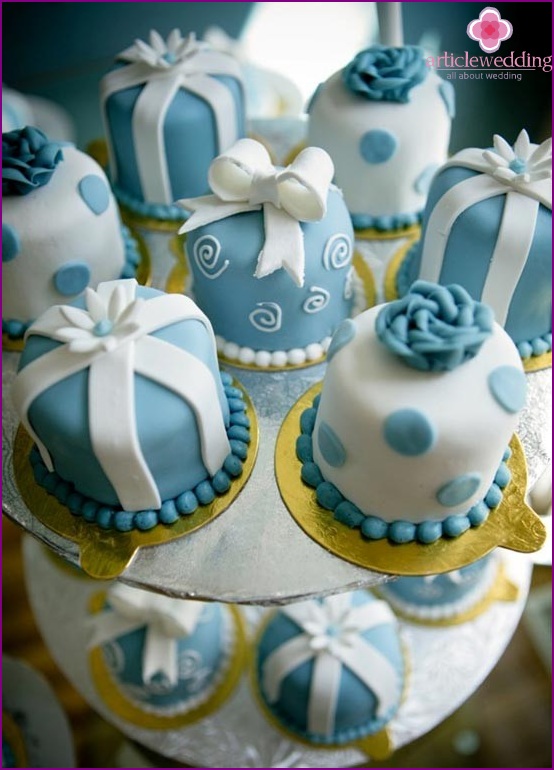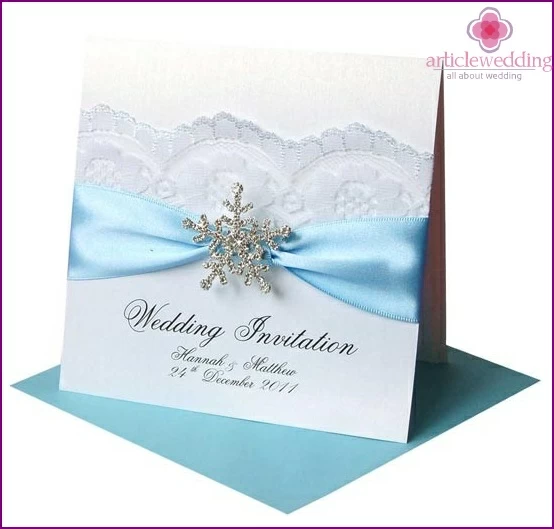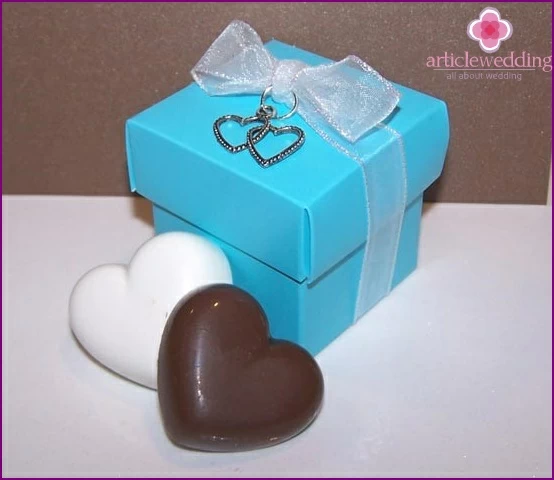 Wedding Ideas in Blue
The traditional association that comes up with the phrase "wedding in blue" is nautical style wedding. However, this is not the only option in which celestial shades can be used. A sophisticated Tiffany-style wedding, a mischievous and light country style, a gentle and light shabby chic, a vibrant and vibrant Hawaiian celebration - choose what you like best. An interesting fact from the site www.articlewedding.com: the blue color is universal - it will fit perfectly into any themed wedding and add lightness, light and airiness to it.
The combination of blue with other colors
The combination of chocolate and blue colors beloved by many will give your wedding a royal look. Delicate pastel shades of purple, powdery pink, light green, mint will add tenderness and transparency. And warm contrasts of raspberry, scarlet, orange, canary yellow will add taste and playfulness..