Contents
---
---
An airy calm and light atmosphere at the wedding celebration will create a sky-sea white and blue gamma. And how to give the exquisite beauty of every detail, the portal www.articlewedding.com will tell.
White blue value
White and blue palette is a very contrasting and expressive combination of colors. Blue, like white, represents infinite love and fidelity. The spirituality and discipline of blue combined with the innocence, purity and obedience of white create a perfect single image.
Wedding decoration in white and blue
AT decoration of the wedding hall successfully used the coolness and lightness of many shades of blue. The design of the banquet wedding hall is significantly affected by the general theme and concept of the wedding. The wedding in white and blue can be decorated according to the nautical romantic style or in traditional china.
Lace, lace napkins, decorative napkin rings, long tablecloths and exquisite candelabra are perfect for decorating banquet tables. Light blue satin stripes and white skirts on the guest tables, white and blue floral arrangements, light air draperies, white and blue ribbons on the chairs will add elegance to the room.
Balloons, shells, sea sand vases, pebbles, candles will help to decorate the hall in a marine style. For porcelain themes, posters with sophisticated white and blue paintings, soft pillows of blue fabric with embroidered white patterns, porcelain dishes or dishes made of blue glass are suitable.
A wonderful complement on the tables will be high blue vases with snow-white flowers. In a single style, you need to think over sweets for a candy bar. Use white and blue colors and delicate graceful drawings. The final element in table setting there will be a big white and blue wedding cake.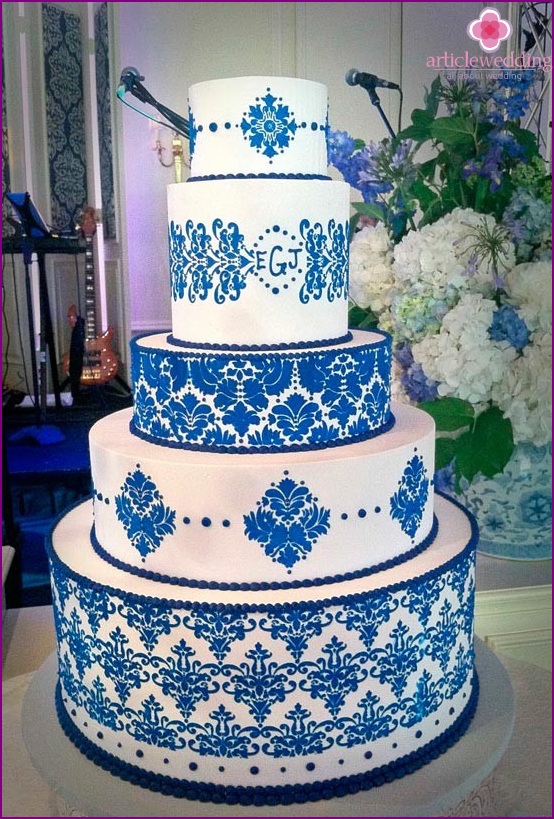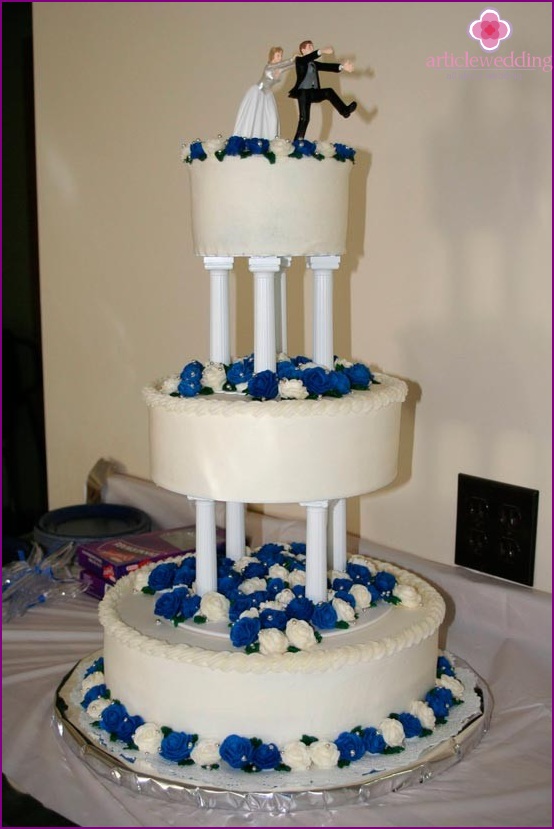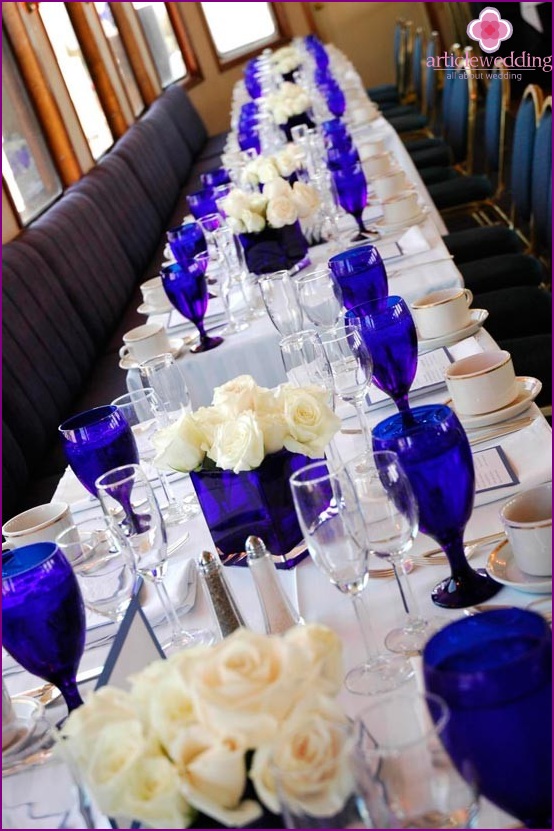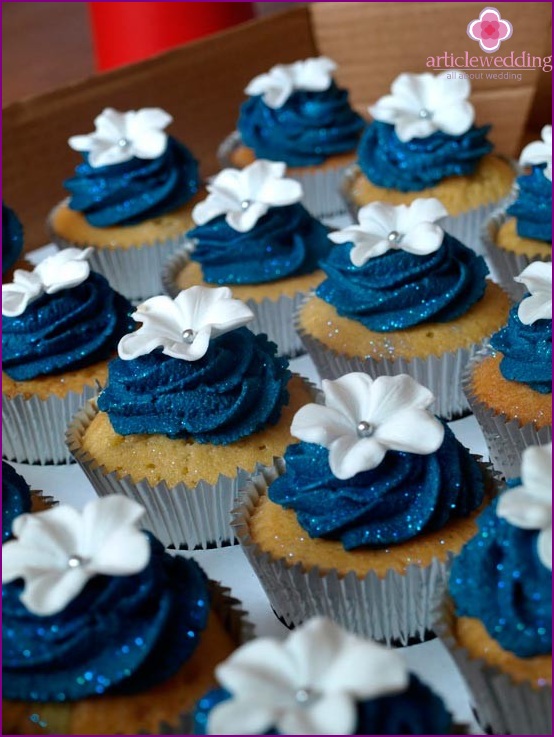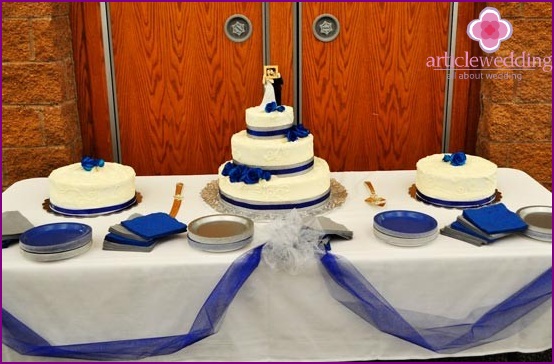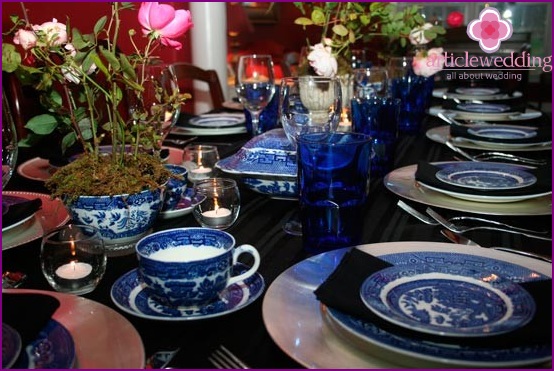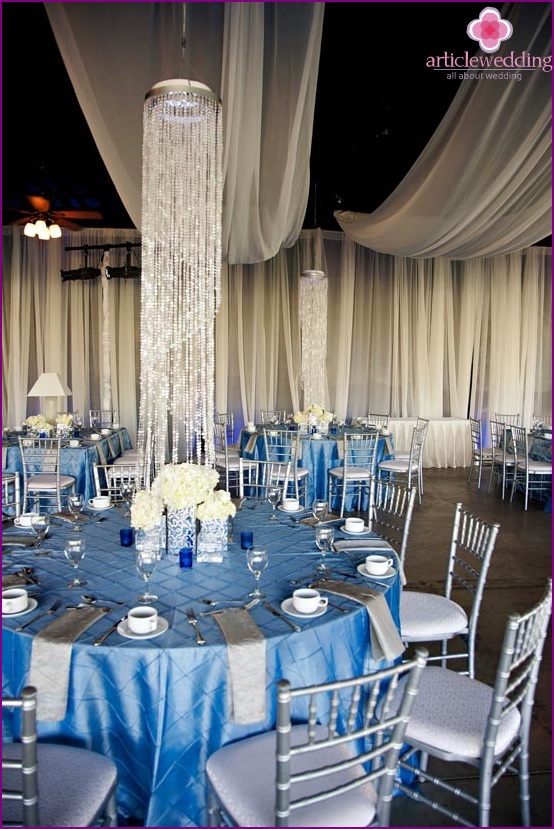 Wedding dresses for the wedding in white and blue
Since blue is associated with chastity, it is perfect for a wedding dress. Blue has a huge variety of shades: azure, light, dark, sapphire, indigo, etc. With the help of a white and blue gamma of a wedding dress, you can adjust the figure of any bride.
Looks great blue satin and silk wedding dresses. Despite the fact that the blue wedding dress is still not very popular and in demand, be sure that all the views will be left to you and you will be remembered for a long time. As a finish for a custom blue dress, choose snow-white lace, embroidery, rhinestones.
If you doubt the choice of a radical blue shade for the dress, then the traditional outfit is white, complemented by blue elements. So, a white dress can be decorated with a blue pattern, pick up a blue corset and a fluffy white skirt, or supplement with a jacket with a gzhel pattern.
Accessories for the bride should also contain a white and blue design. You can pick up an elegant clutch bag, blue wedding shoes, sapphire earrings. Do not forget to complete the image with gentle discreet make-up, and vice versa, bright manicure.
The wedding three for the groom should emphasize and complement the dress of the bride. With a snow-white dress of the bride, a navy-blue outfit will look fresh (you can choose a striped suit). The shading elements of a suit for the groom are a white shirt, blue or white-blue-red striped tie, black shoes, navy or maroon socks. Boutonniere for the groom is better to choose with white flowers.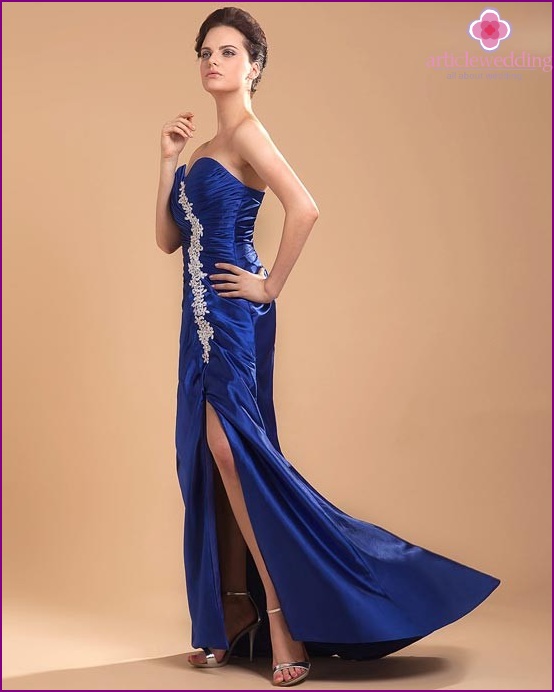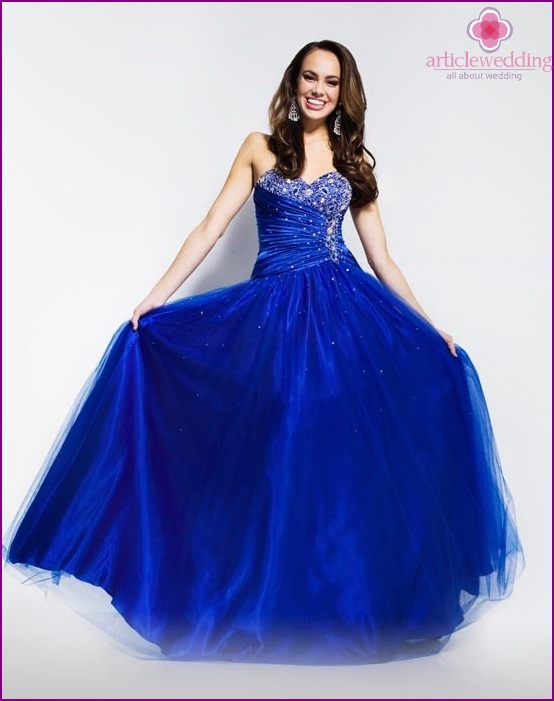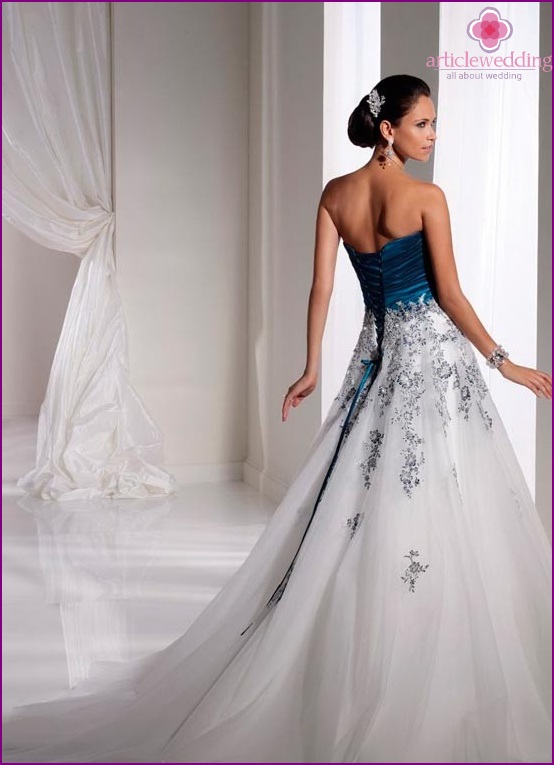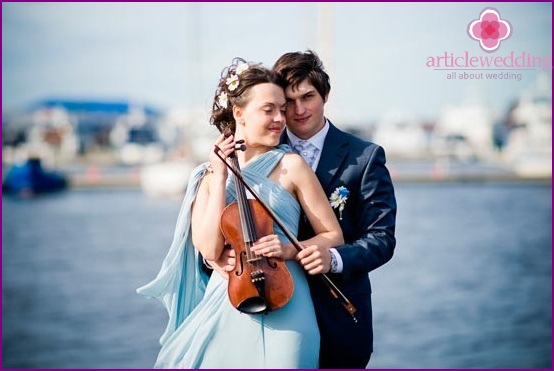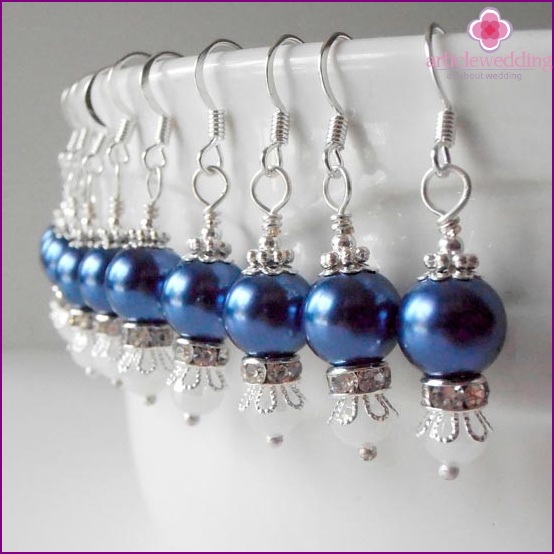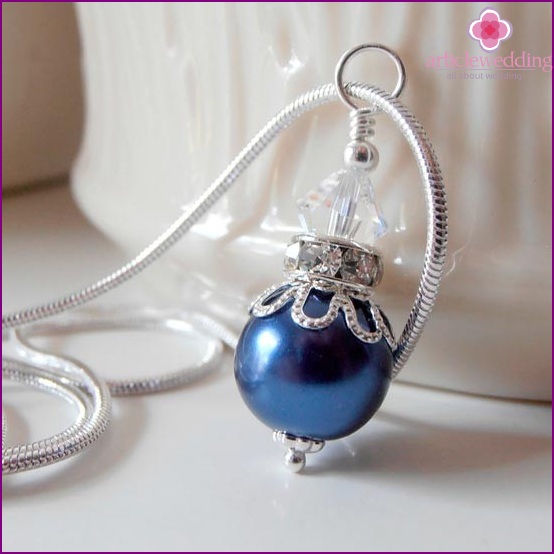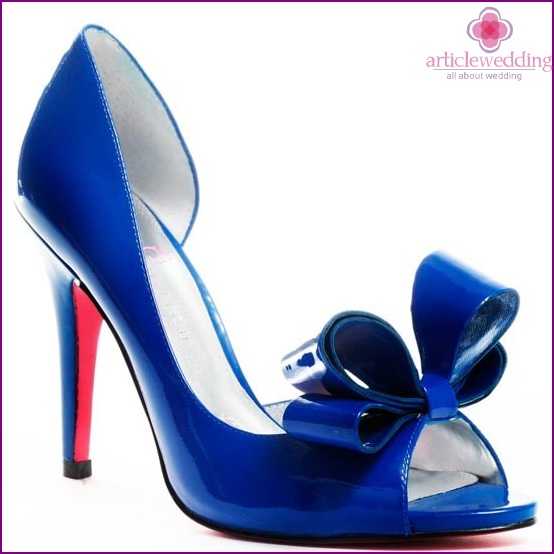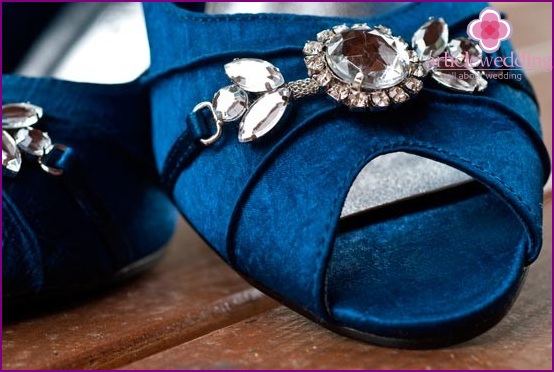 Wedding flowers in blue and white
When composing a bride's bouquet, the website www.articlewedding.com strongly recommends applying a color scheme that will not merge with the color of the wedding dress. For example, a monotonous blue bouquet with the addition of flowers of a different shade will suit a snow-white dress. But for white, along with blue patterns, it is better to choose a bouquet in white and blue colors.
Pay attention to a bouquet of white peonies decorated with a blue satin ribbon, or a miniature bouquet of white carnations and blue hyacinths, or a bouquet of white tulips and blue hydrangeas, or a bouquet of snow-white eustoma with vintage lace and pearls.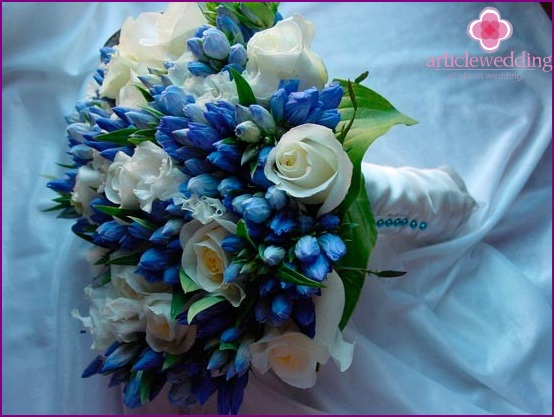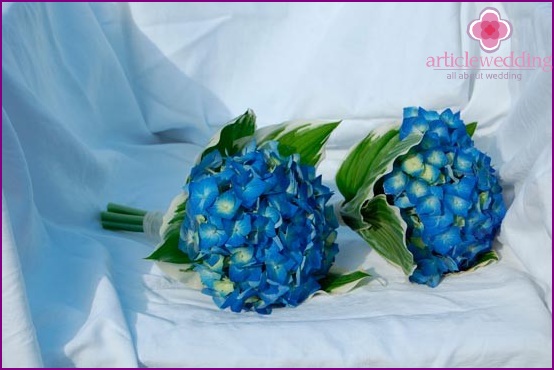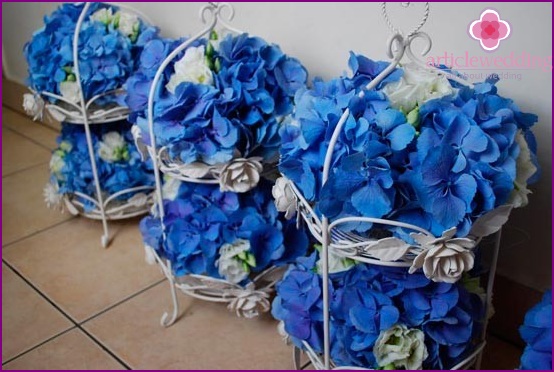 Wedding accessories for a wedding in white-blue color
To achieve sophisticated beauty in detail will help compliance with the basic color concept. Design invitation cards and setting cards in a white and blue combination. For printed text, use blue or silver foil, designer paper, decorative ribbons of white satin and blue organza. In addition, paper Wedding accessories can be decorated with porcelain painting.
Work on the decor of wedding glasses and bottles. One bottle can be decorated in white with a blue decor, and the second in blue with white decor.
Make a pillow for the rings of blue satin and white lace. Various decorative ornaments will help to support the white-blue theme of the holiday: butterflies, ribbons, flowers.
You can not do without the white and blue colors and the design of the wedding procession. Order navy blue cars and decorate them with white balls and butterflies..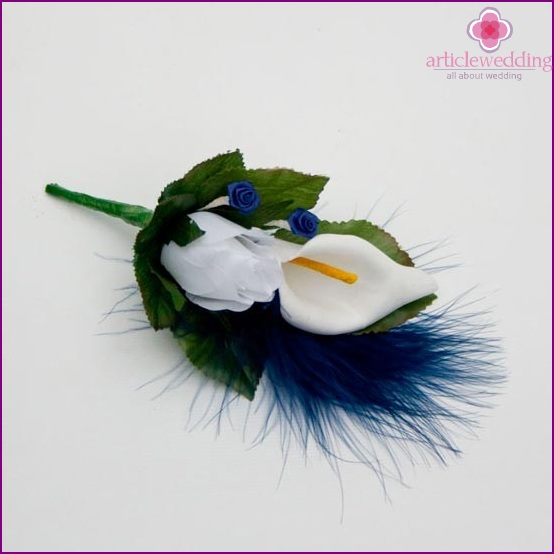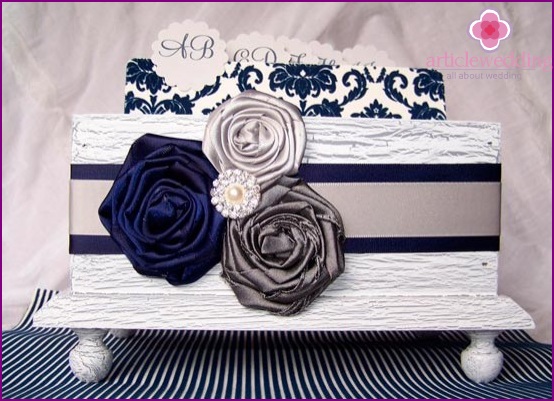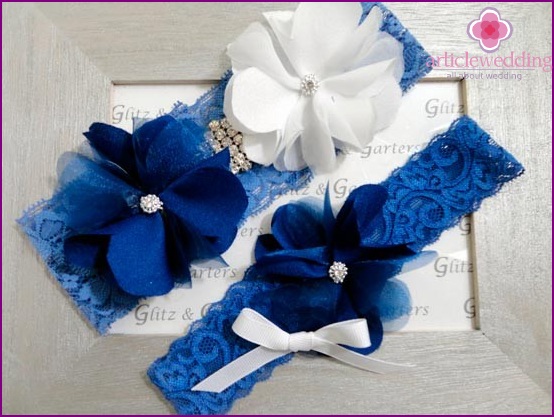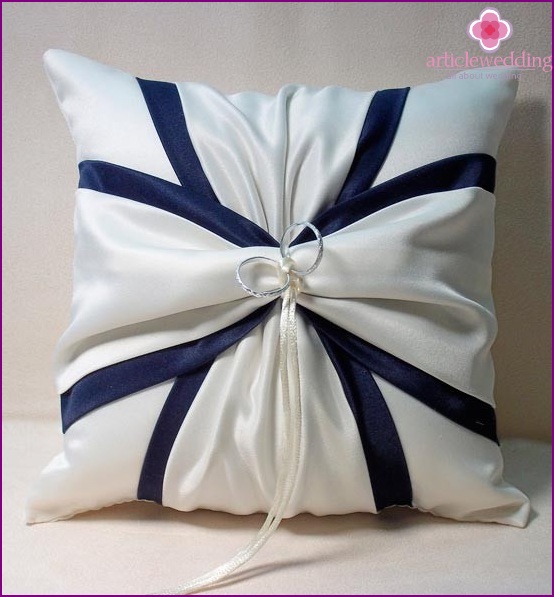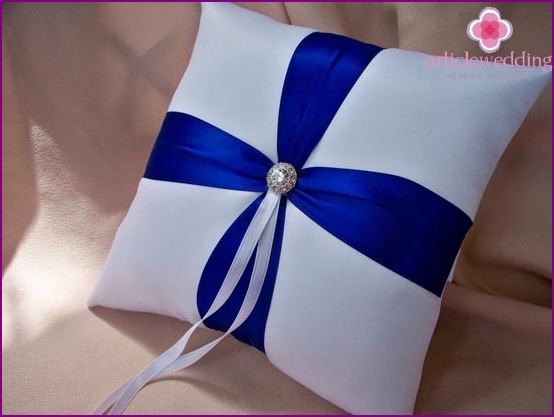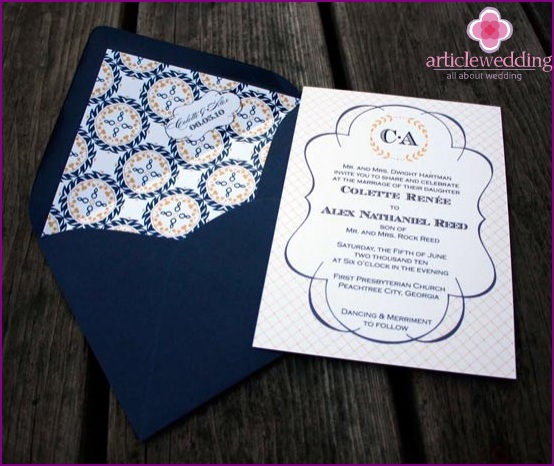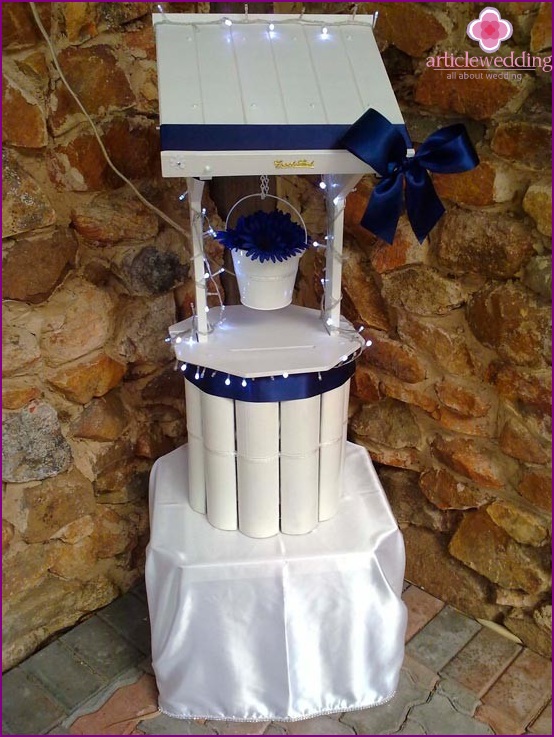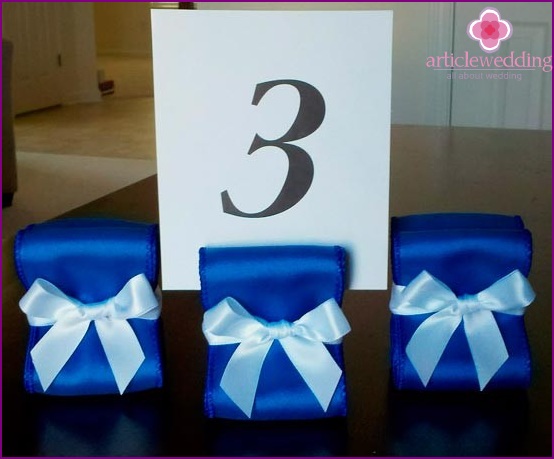 Wedding Ideas in White and Blue
When planning a wedding in a calm white and blue color, the website www.articlewedding.com suggests paying attention to the folk style of organizing the celebration. With the right approach to preparation, you will be able to organize an impeccable elegant and luxurious wedding.
The combination of white and blue with other colors
A light beige shade, rich red, sea blue and warm yellow will help to dilute the depth of the white-blue range. Moreover, the white-blue palette can be accented with details of turquoise and purple. The main thing to remember about the harmony of color combinations.
Use the colors of the blue spectrum to decorate your wedding, and you will attract unlimited luck and peace to your newly born family!