Contents
---
---
Are you a lover of precious stones or a lover of natural beauty and natural shades? You still doubt whether it is worth choosing an emerald color as colors for wedding? Leave all doubts behind, because the shades of green are one of the most pleasant and calmly tolerated by people. This is due to the association with nature, naturalness, freshness. A wedding in the style of emeralds is best suited to recreate an atmosphere of sophistication and naturalness. And the wedding portal www.articlewedding.com will tell you how best to organize such a color wedding.
The value of emerald color
Despite its brightness, the emerald color symbolizes stability, consistency. Emerald is the most beautiful shade of green that embodies life, harmony, energy. Emerald color can be described as vibrant, radiant and juicy. It is the color of beauty and understated elegance. The noble emerald color is most suitable for decorating a wedding celebration, it exudes harmony between itself and others.
Wedding decoration in emerald color
Emerald color is one of the universal colors, so the decoration of the room in this color looks festive and aristocratic. Decorate the wedding emerald gamut is possible at any time of the year.
An emerald wedding is best organized in nature or in a wedding tent. A banquet room is also suitable. Use green-emerald balloons, satin and chiffon ribbons for decoration. Hang textile draperies in the form of tulles and curtains or use special fabrics that will help transform the configuration of the room. Other shades of pastel colors will help to complement the emerald color. But, do not visually overload the decor with emerald color.
Banquet tables are covered with snow-white classic tablecloths on the floor with drawings and patterns of emerald color. Fold the napkins folded in the shape of a diamond. Put elegant emerald covers on the chairs. On request, chair covers can be decorated with organza or satin bows, ribbons in green and emerald colors can also be used as decor for chairs.
For those who still cannot tolerate dullness and monotony, there is a bold decision: to lay tables for guests with sparkling tablecloths with decorative sequins. However, do not get carried away and do not try to create pathos luxury. Follow the principle of modesty, organicity and harmony in the design of the banquet space. Everything should be moderately and tastefully.
Additionally, to decorate tables and the interior, you can use natural vegetables and fruits. It can be pears, apples, lime. The dessert area can be an accent to the celebration. For an emerald wedding, use bright candies and sweets in all shades of emerald. Refreshing cocktails with lime wedges or lemonade will not interfere. An emerald wedding cake should contain decor in the form of emerald color flowers or real emerald jewelry.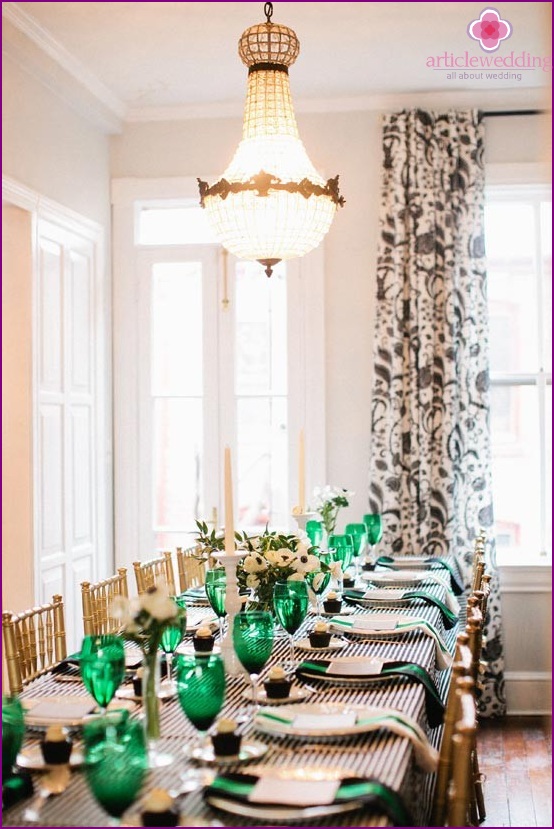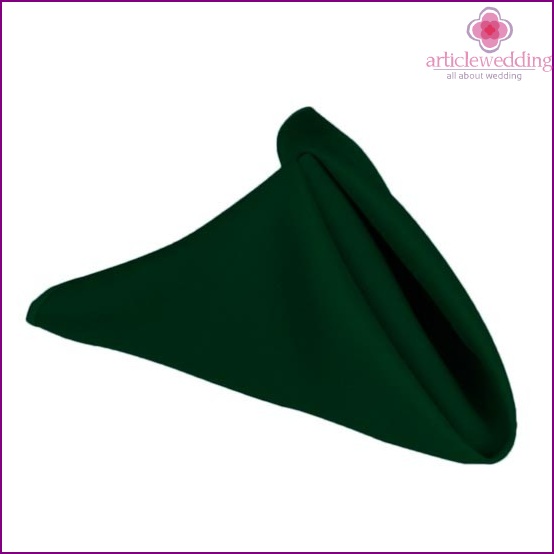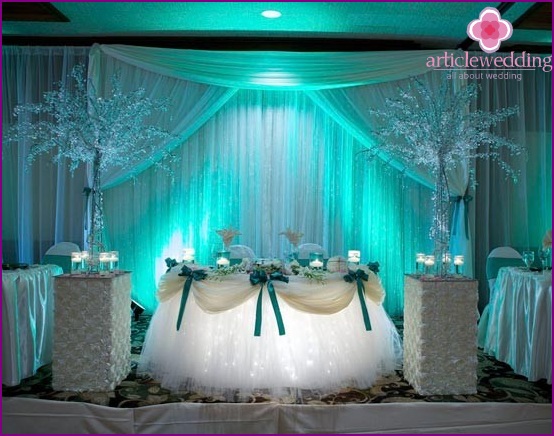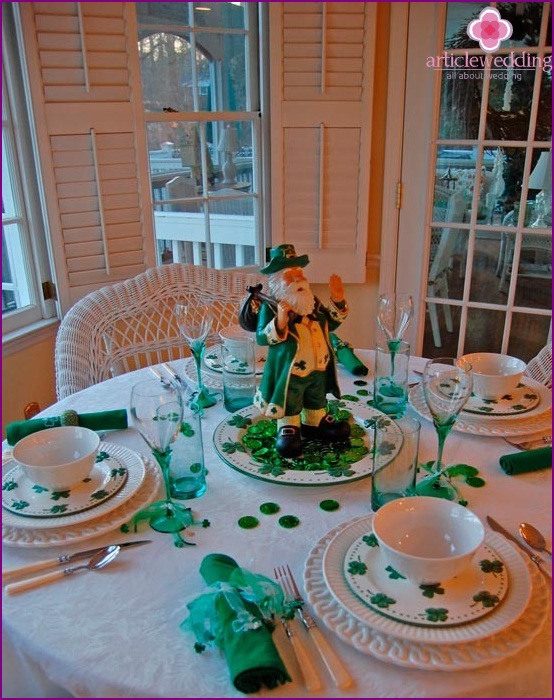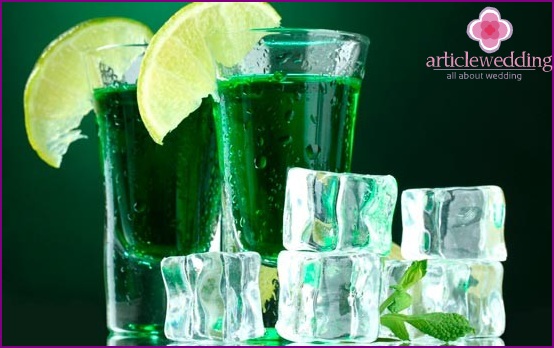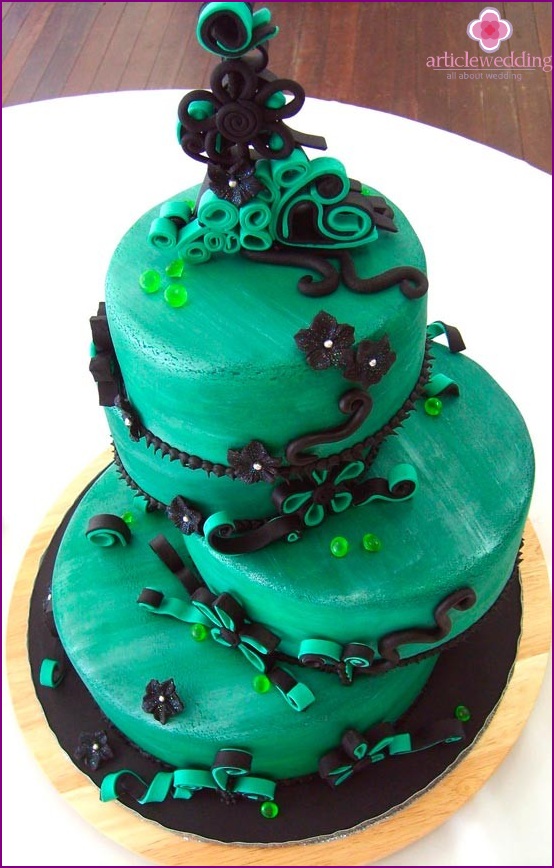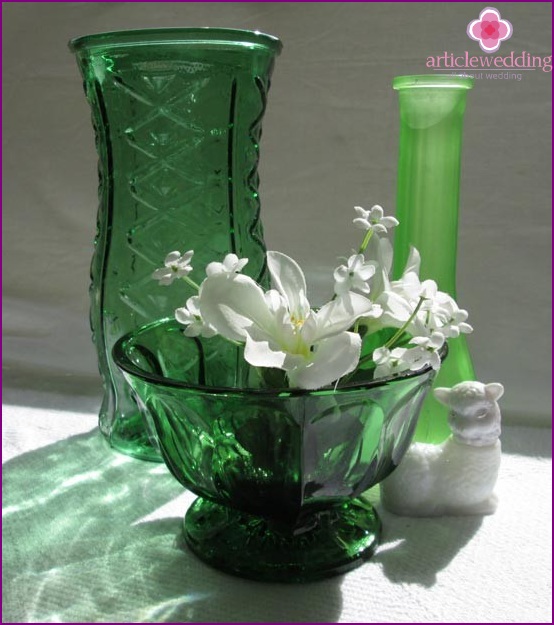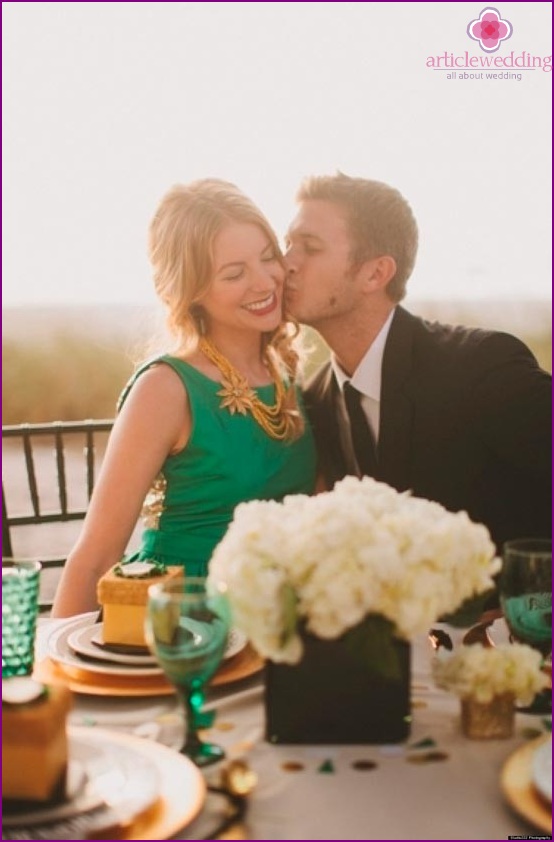 Wedding dresses for weddings in emerald color
Fashionable chic should be traced back to wedding attire newlyweds. The site www.articlewedding.com recommends choosing a dress of a saturated emerald shade. So, the bride will look like a gem, which went to one only jeweler who appreciates beauty - the groom. Such an original and radical outfit will be remembered by all guests for a long time..
If a dress of an emerald shade is too bold a step for you, then you should not go beyond the classics, you can only dilute the white dress with bright emerald accents, in the form of a variety of emerald accessories and shoes.
The bride cannot do without emerald color bridal makeup. However, do not overdo it, just draw neat emerald arrows or add emerald-colored rhinestones to your eyelids. You can also do emerald manicures and pedicures..
The groom's outfit should not fall out of the general concept of an emerald wedding. A black classic suit can be complemented with a tie or an emerald-colored bow tie, a pair of cufflinks and a buttonhole. Depending on the style of the outfit, emerald-colored socks and shoe laces will help the groom stand out.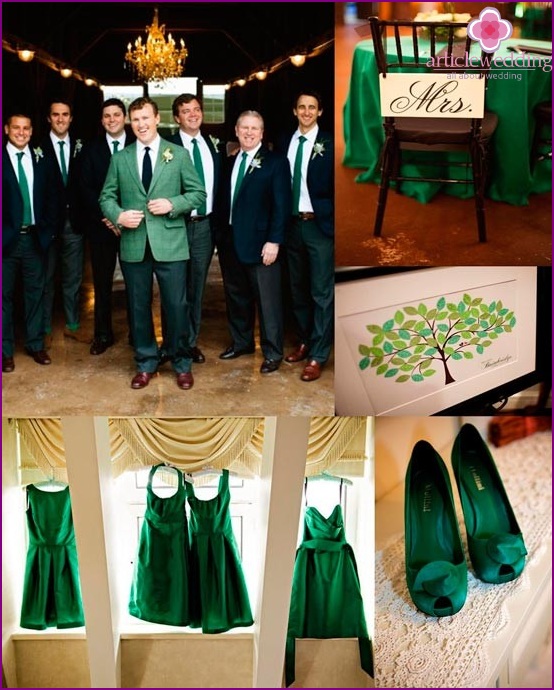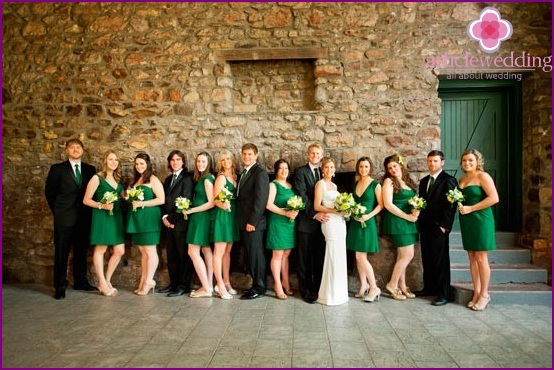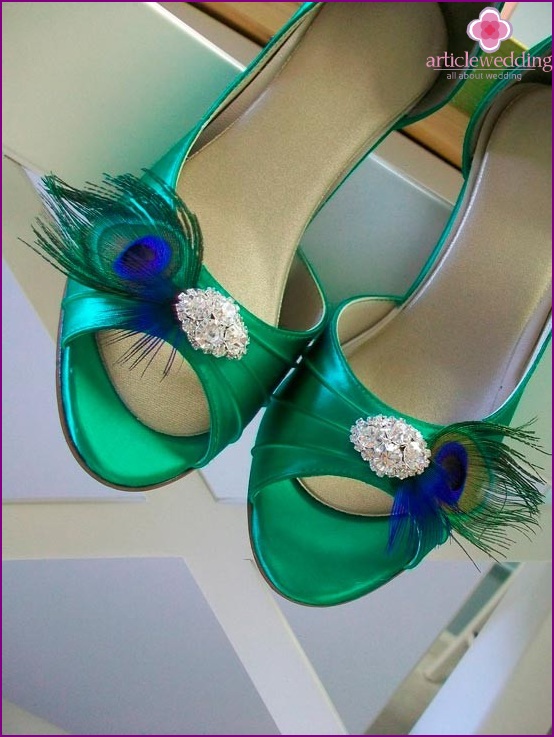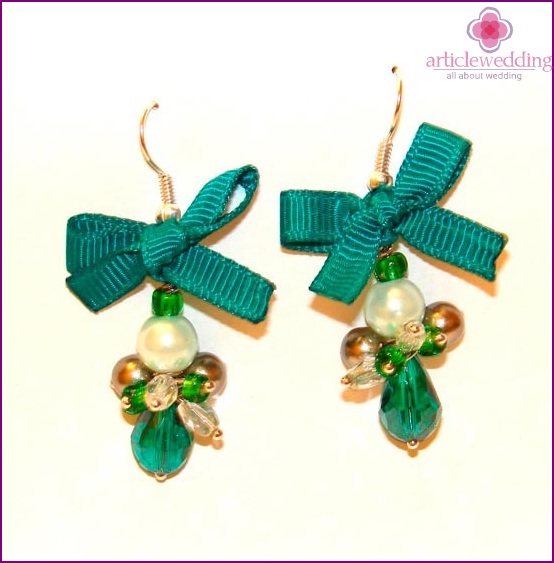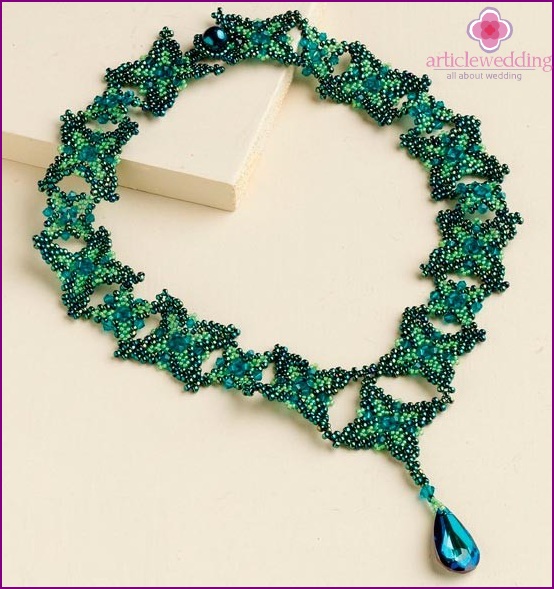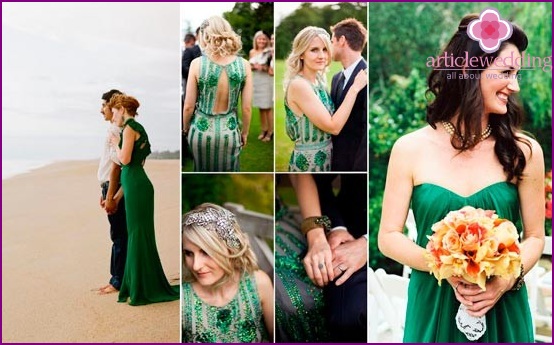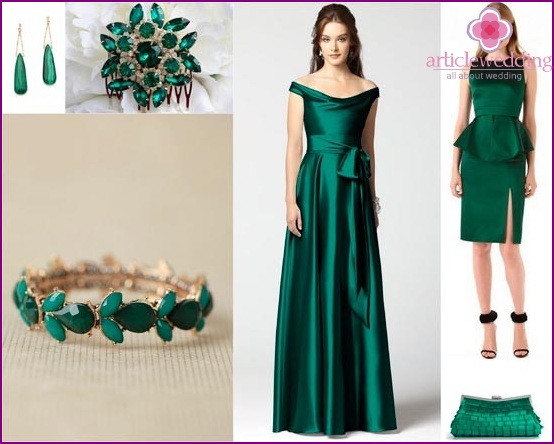 Wedding flowers in emerald color
Nothing decorates the interior like fresh flowers. At the emerald wedding, there should be as many as possible. Order emerald green flowers to decorate your guest tables. Flowers on forged racks will look exquisitely. Emerald-colored flowers can decorate the entrance, window openings, columns. From fresh flowers you can create beautiful and unusual garlands, as well as create a table for the newlyweds..
First of all, the emerald concept of the wedding should be traced in the bride's bouquet. For such a case, flowers such as green roses, orchids, green hydrangeas are suitable. Also great in wedding bouquet succulents will look.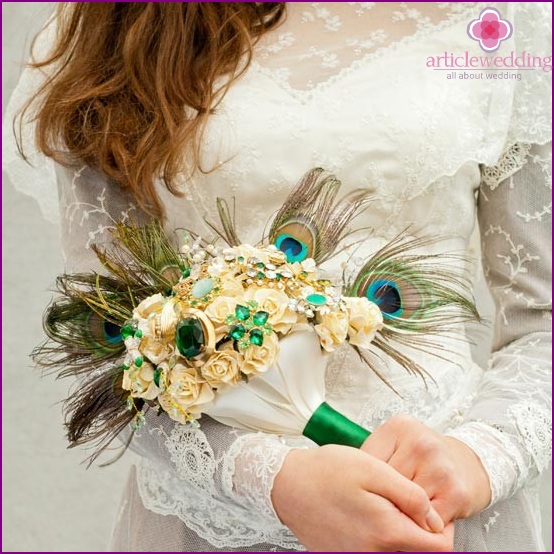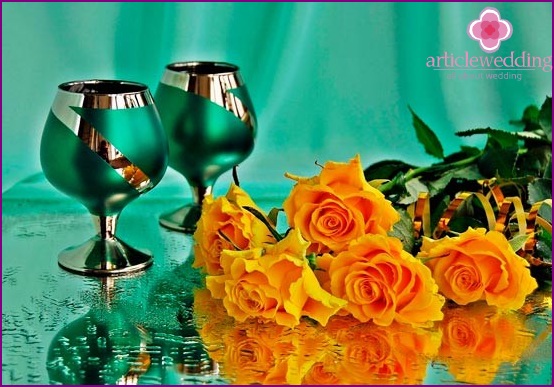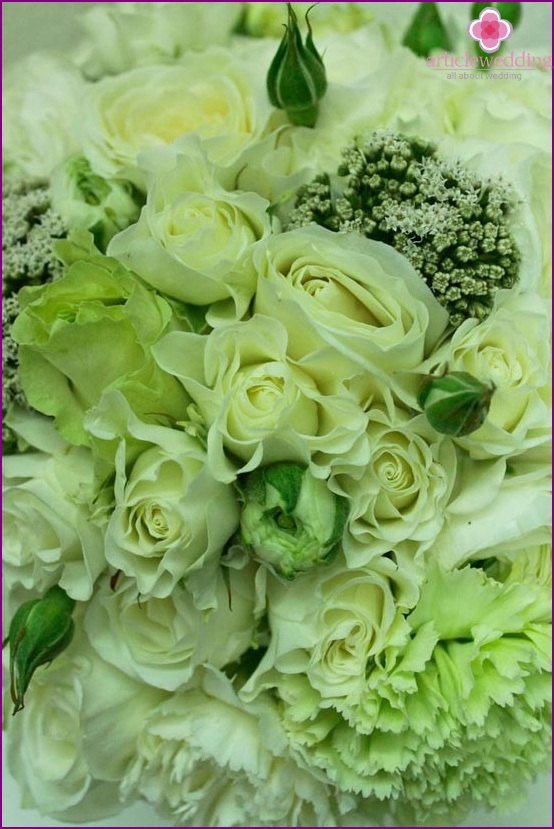 Wedding accessories for weddings in emerald color
The atmosphere of the holiday at the wedding helps to create a variety of wedding attributes. The website www.articlewedding.com believes that for a wedding in emerald color it is necessary to maintain the general style of all design elements. Either seating cards, or wedding invitations, a box for cash gifts, a pillow for rings, everything should be decorated with imitation emerald jewelry. Fresh Idea for Emerald Wedding Accessories - Using Peacock Feathers.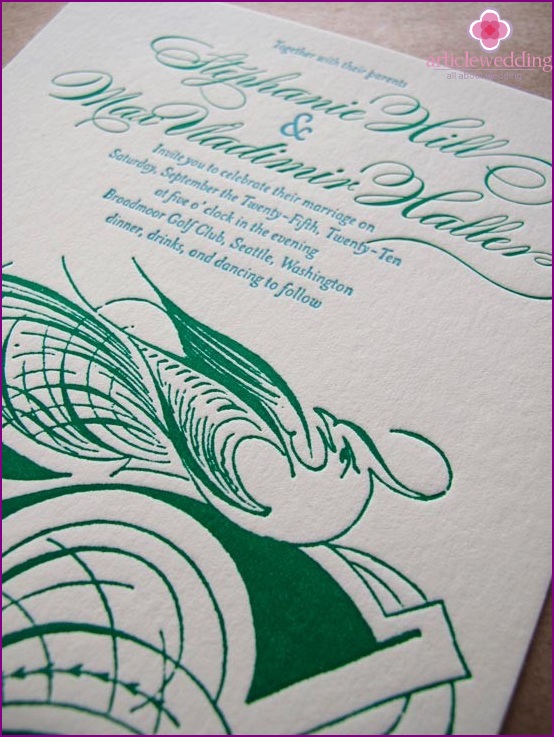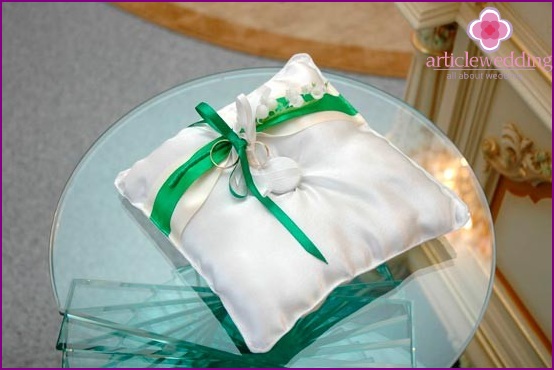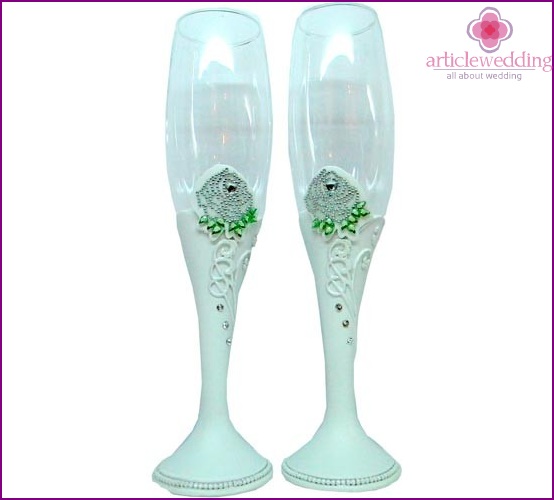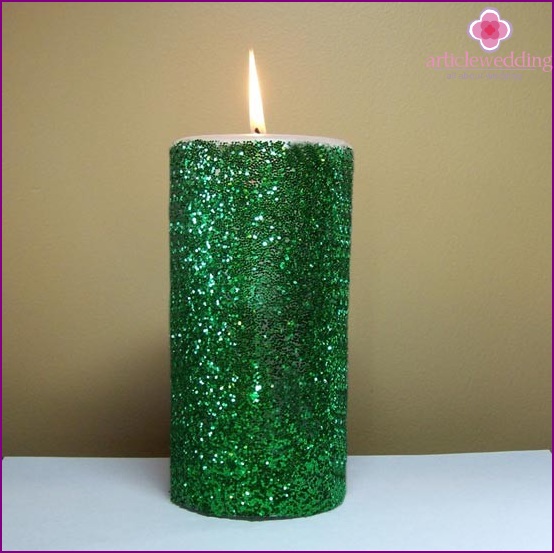 Wedding Ideas in Emerald Color
Today, choosing a theme and style for a wedding is not easy. Make the most of your wedding color and general preferences. So, an emerald wedding can be organized in the fairy-tale style "The Wizard of the Emerald City", or arrange Irish style wedding, or recreate the fashionable atmosphere of the fashion world.
The combination of emerald color with other colors
Using emerald color, do not forget to dilute it with other shades, for example, emerald color looks great in combination with pink, red, dark purple, yellow, orange, mint color.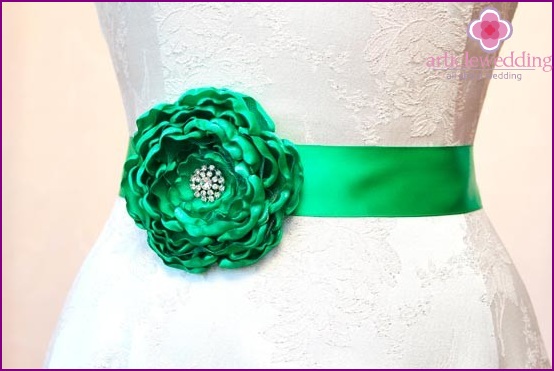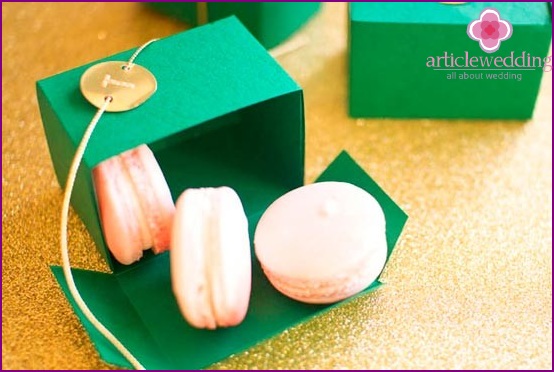 Let your emerald fairytale wedding remain a bewitching and magical reminder of the most beautiful day!