Contents
---
---
After cold hibernation, all life wakes up, and nature begins a new life. In the air it blows with freshness, new hopes, love. It is during this romantic season that more and more couples are planning weddings. Delicate, clean, airy shades are the main favorites of weddings. The site www.articlewedding.com recommends considering peach color to decorate your wedding.
Peach Blossom
Even in ancient Rome, peach blossom was considered a symbol of a strong and large marriage. Peach color harmoniously combines the unstoppable passion of red and the sophistication of yellow flowers. This soft, feminine color suits dreamy and romantic natures. A peach wedding is a great option to create an atmosphere of beauty and charm..
Peach wedding decoration
Choosing color scheme for a wedding, stop at two or three colors. In this case, one color (pastel) will be the main, and the rest (brighter to create the missing accents) - auxiliary.
The wedding in delicate peach tones can be complemented with wooden or porcelain elements in the form of bouquet stands, cream tulle draperies. Tables can be covered with apricot-colored tablecloths. Use ivory wipes as a contrast. An alternative palette for a wedding in peach color can be composed of cream-colored tablecloths and peach-colored chairs with lush bows.
Pay special attention to the design of the table. In addition to the textile component, tables can be diluted with bright spots in the form of colorful ripe berries, fruits, drinks and, naturally, peaches themselves. To decorate the room, use colored balls: white, cream, peach. Candles and pearl blotches on decorative elements will look appropriate at such a wedding.
Depending on the style of the wedding, peach jam can be arranged on the tables, decorating the jars with delicate lace.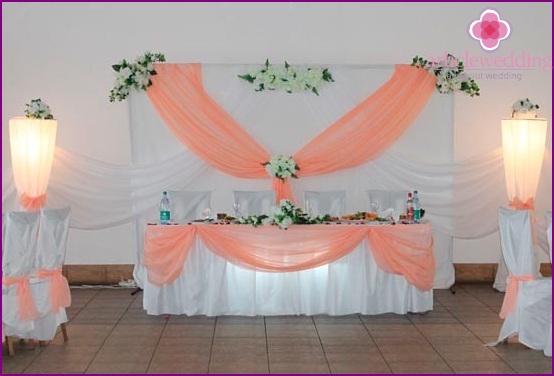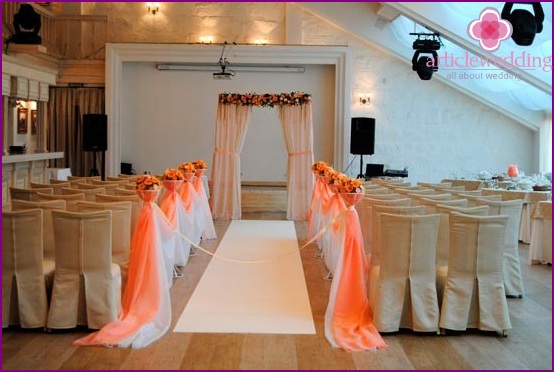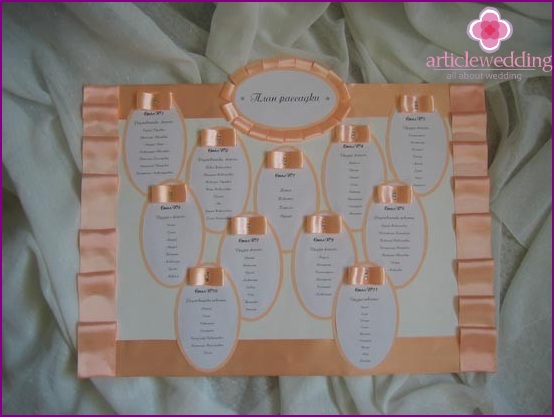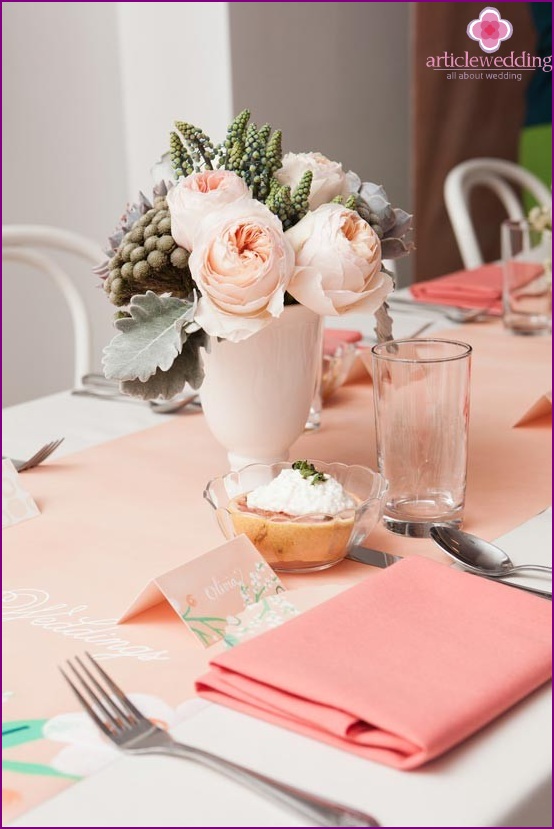 Wedding dresses for the wedding in peach color
Wedding dresses newlyweds should reflect the basic concept of a wedding. When choosing wedding dresses, remember that their color palette should be in harmony with the main shade of the decor. Dress for the bride can be of different shades: peach, creamy or the color of a delicate blush. This color palette will decorate a feminine person, while the apricot color will emphasize becoming more purposeful brides.
As accessories for the dress, choose pearls, or decor from chiffon and organza. Delicate floral accessories or designer sets in the form of fruit decorations will look perfectly acceptable. Wedding accessories will help to complement the image of the bride. For example, hairstyle jewelry, in the form of a peach-colored satin ribbon headband and a lush bow, coral earrings, a decorative necklace, shoes or an unusual belt for a wedding dress. Moreover, bridesmaids should also wear identical peach or soft pink dresses.
Peach-colored men's accessories, such as a bow tie, tie, buttonhole and socks, will not do without.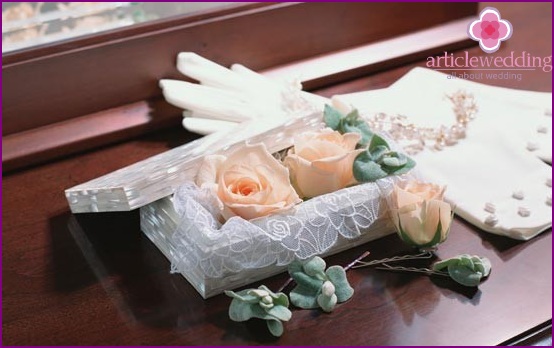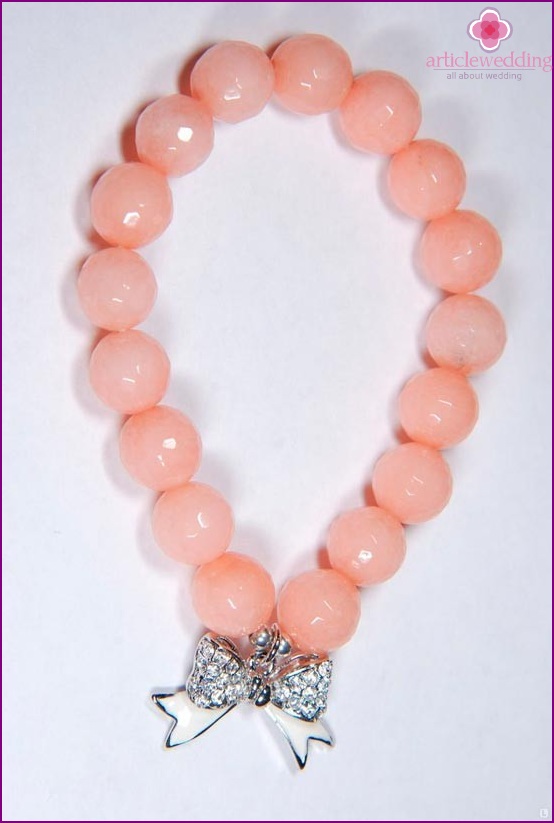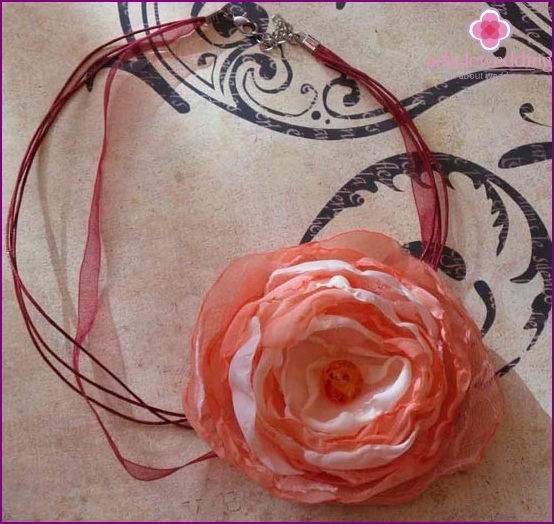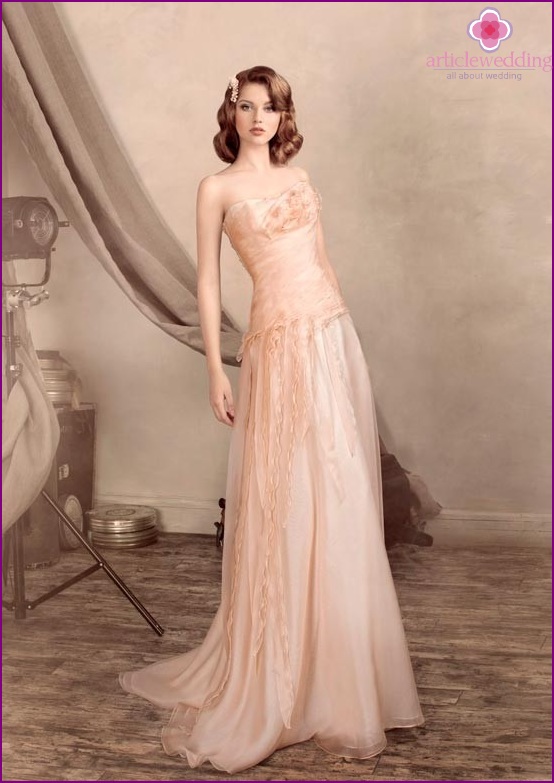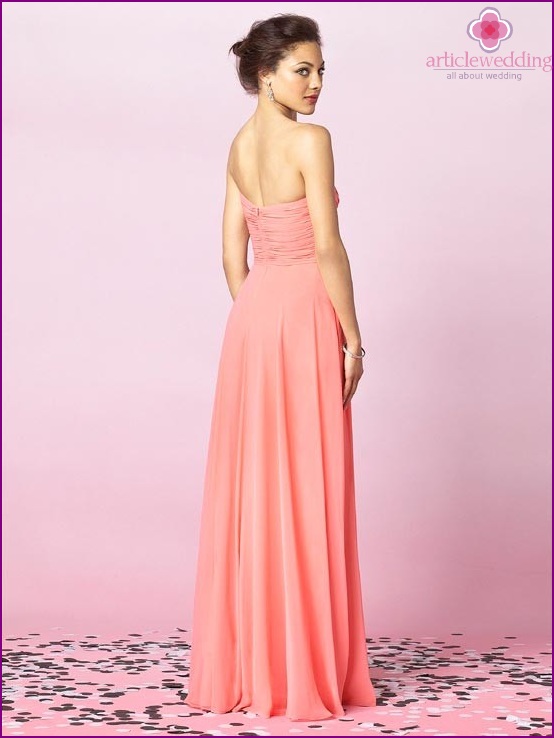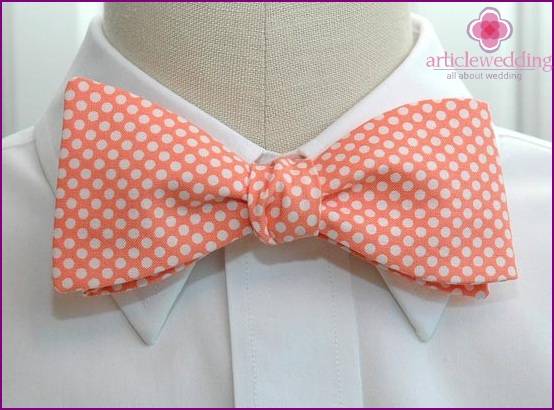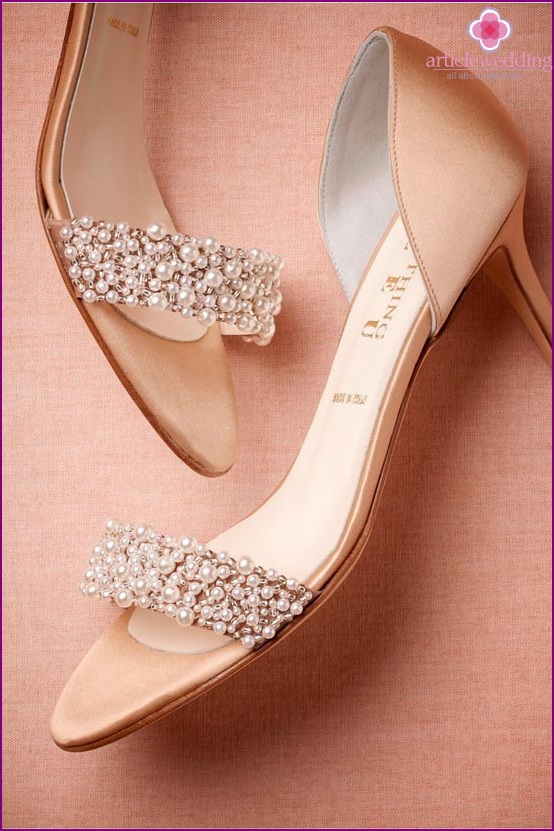 Peach wedding flowers
The airy tender wedding concept, according to the portal www.articlewedding.com, should be traced not only in space, but also in floristry. Choose apricot and pale peach flowers. Roses and peonies are perfect. Pink floral shades can decorate a room, walkways, banquet tables. Leaves and a vine of mint green tones will help to play in the contrast of warm shades..
For wedding bouquet choose flowers with bright red and yellow accents or vintage pastel colors for brides. Roses and peonies combined with succulents will add sophistication and chic to your look..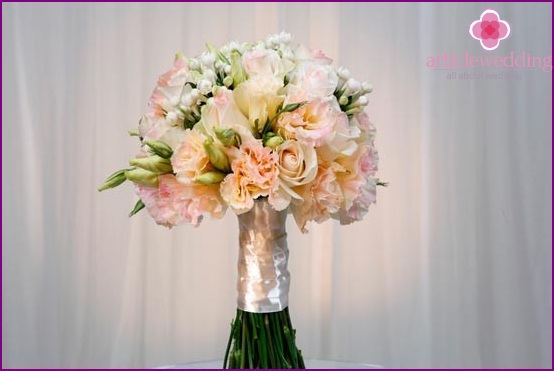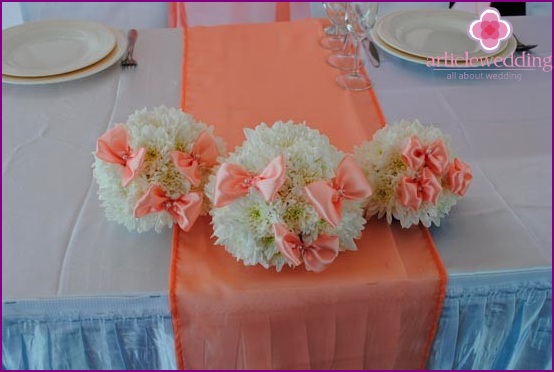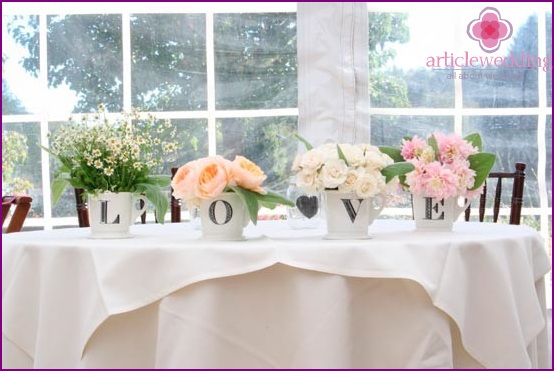 Wedding accessories for a wedding in peach color
Using the image of a peach, in the form of a print, you can decorate invitations for guests, seating cards and an album for wishes. Decorative peaches can be used in the design of the hall and seating for guests.
In addition, the website www.articlewedding.com suggests using peach-pearl motifs in the design of the wedding cake. The cake can be covered with mastic of warm colors and tinted with pearl elements. Instead of a cake, confectionery is suitable, such as peach cheesecake with cream or pasta shades of macaroon.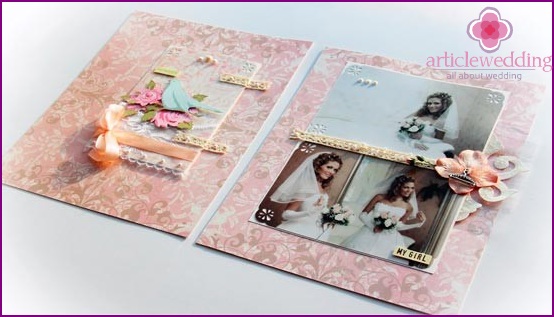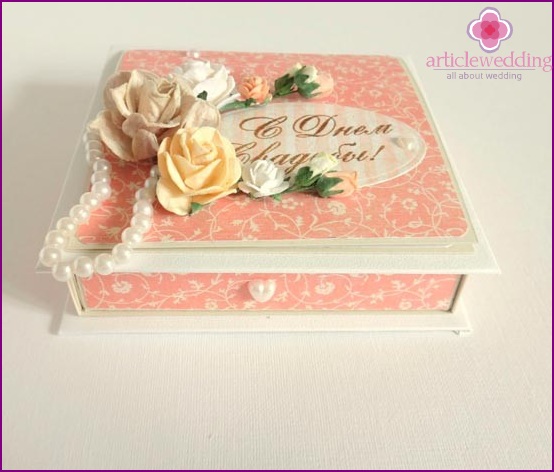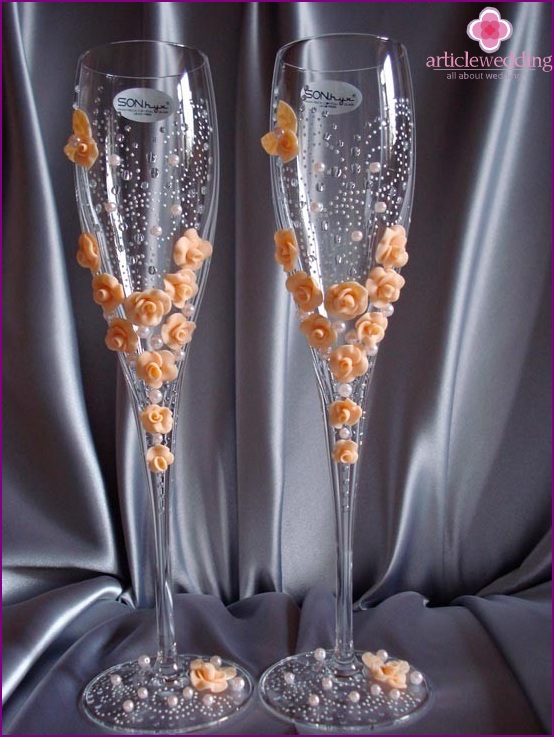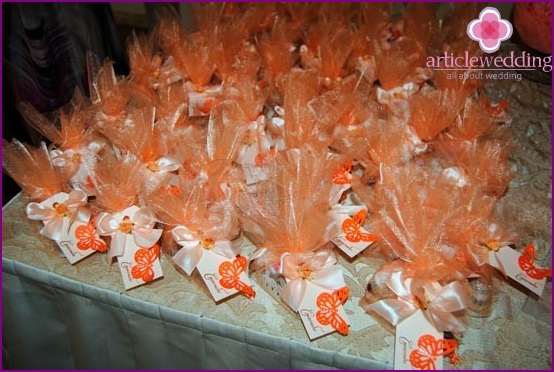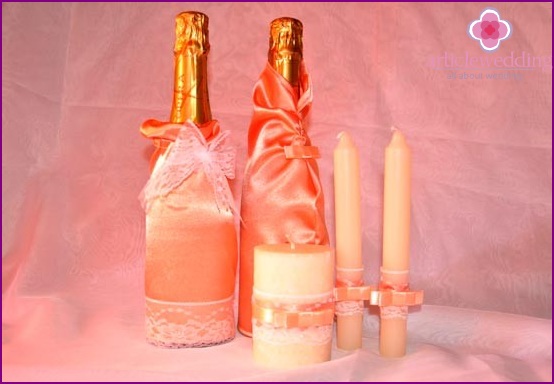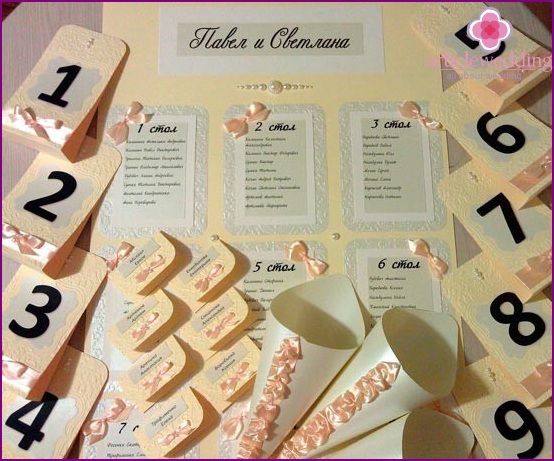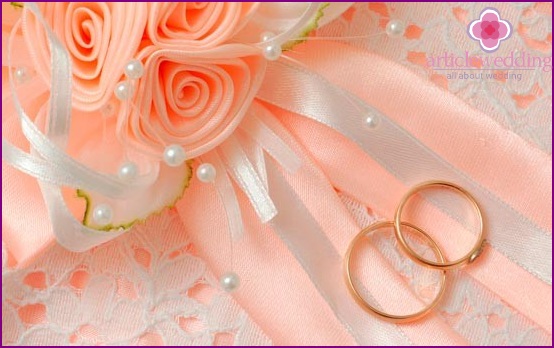 Peach Wedding Ideas
If the main color of your wedding is peach, respectively, wedding script should be romantic and tender. A peach wedding is the most appropriate and most often associated with a retro style or a similar style - shabby chic. Or you can just arrange a delicious celebration, which will be filled with delicious and juicy peaches.? !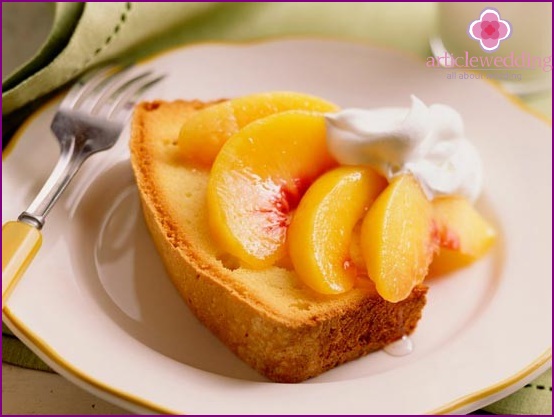 Peach color with other colors
To shade all shades of peach pink, apricot colors will help. Creamy milk shades in combination with a contrasting plum or lime color are harmoniously emphasized and highlight the peach palette. In some cases, the peach color can be combined with each of the following colors individually: with the color of mint, sapphire and terracotta.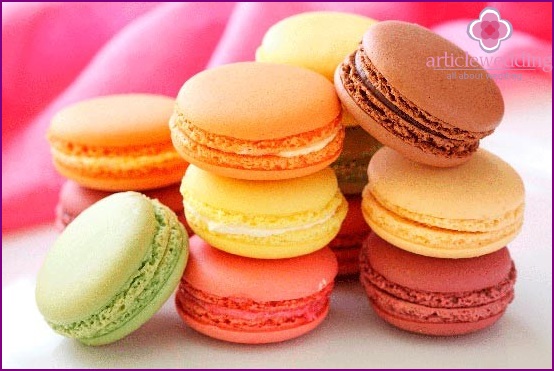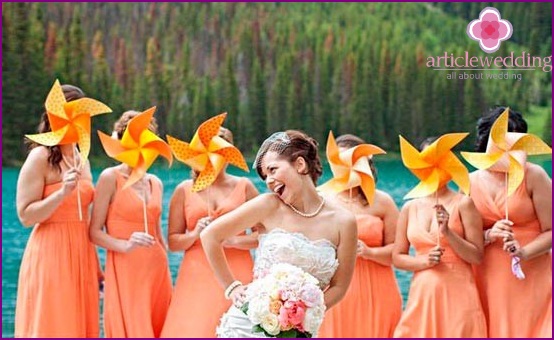 Despite all the charm of the peach gamut, do not be afraid to complement it with other shades, so that you do not get a plain and boring wedding. After all, a competent combination of colors will add sophistication to your celebration!