Contents
---
---
A wedding in chocolate color is a great and, most importantly, a very tasty idea for an unusual wedding.
The meaning of chocolate color
Chocolate, like all shades of brown, is associated with strength, reliability and responsibility. Agree, very important characteristics for a young, just formed family. Calm and restrained, chocolate color is often associated with nobility, grace and aristocracy. Well, and, of course, with the word chocolate, most immediately present a mouth-watering sweetness that melts in your mouth. Naturally, positive emotions and sensations are guaranteed.!
Chocolate wedding decoration
Standard invitation cards, made in the necessary colors - this is interesting, but you can approach the matter with a remarkable share of creativity. Bring a twist to your themed wedding sweet and appetizing invitations. It can be a box of chocolates, on the packaging of which the invitation is colorfully executed. A non-standard option to invite friends and relatives is to present them custom-made chocolate figurines of the bride and groom.
The website www.articlewedding.com considers master classes to be an excellent wedding decor. Yes, yes, it turns out that they can be not only entertainment. Each guest will be able to participate in the manufacture of chocolate masterpieces: glazed baskets or seductive chocolate bars, or maybe incredible truffles according to the best Belgian recipes? Choose «decoration menu» and do not forget to stock up with beautiful aprons and gloves - there can be a lot of people who want to participate in decorating, entertainment.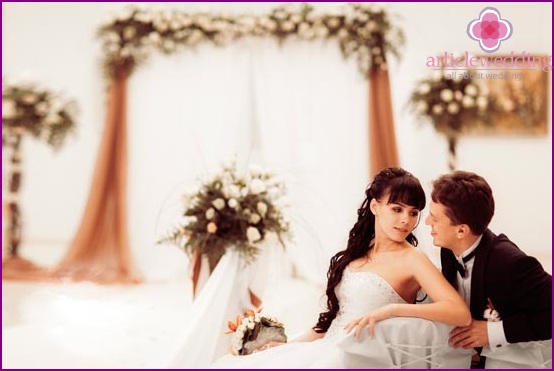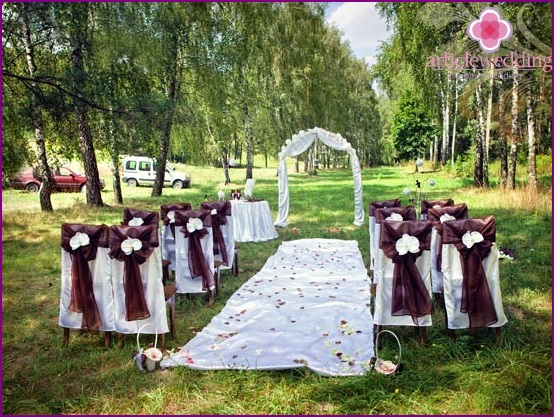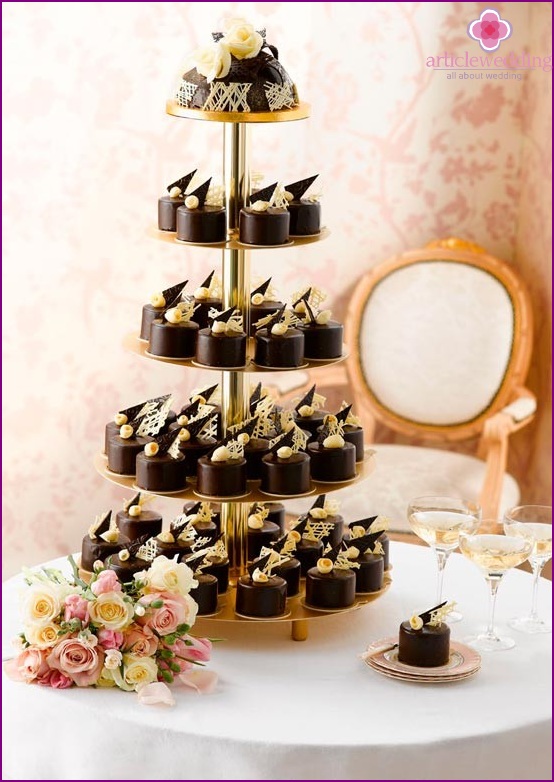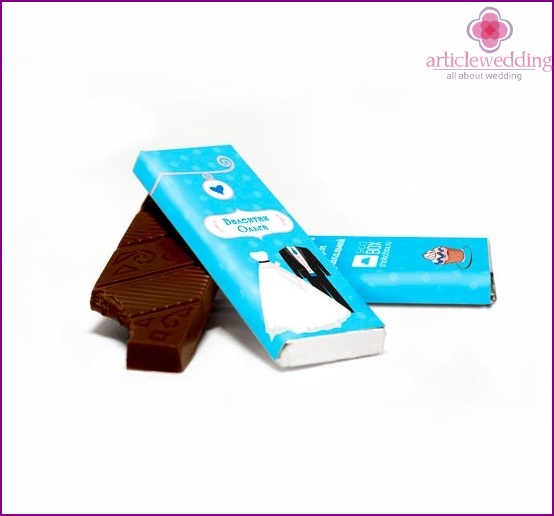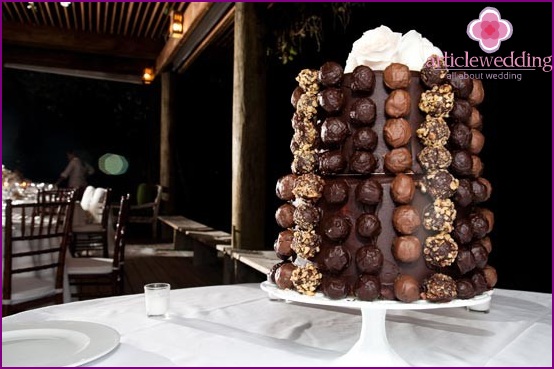 Chocolate Wedding Bridal Gowns
Noble chocolate shades are an excellent choice for outfits of a young couple. An elegant two-piece suit in a rich brown shade in combination with a cream shirt will emphasize the exquisite taste of the groom. The fragile figure of the bride, wrapped in snow-white lush lace and frills, is favorably emphasized by a satin belt of a shade of dark chocolate. By the way, Wedding Dress It does not have to be lush and snow-white. Chocolate wedding will allow the bride to move away from stereotypes and put on an aristocratic fitted dress on the floor, the same aristocratic chocolate tones.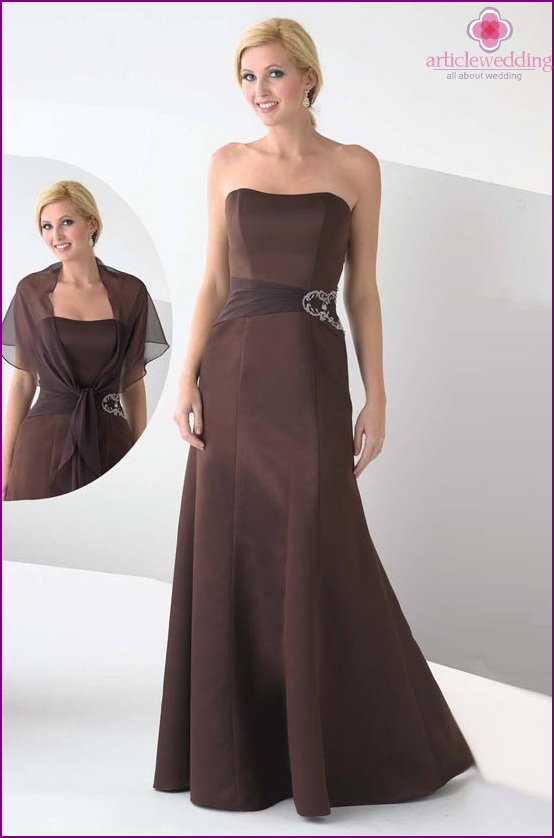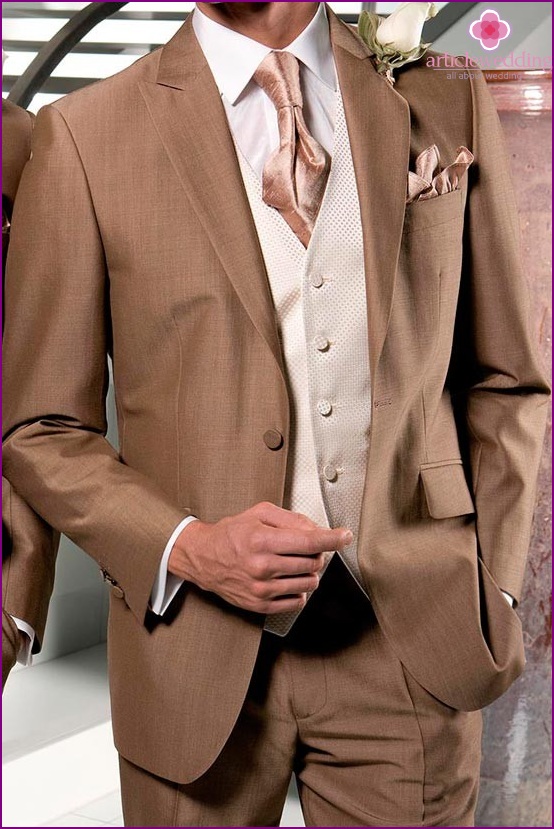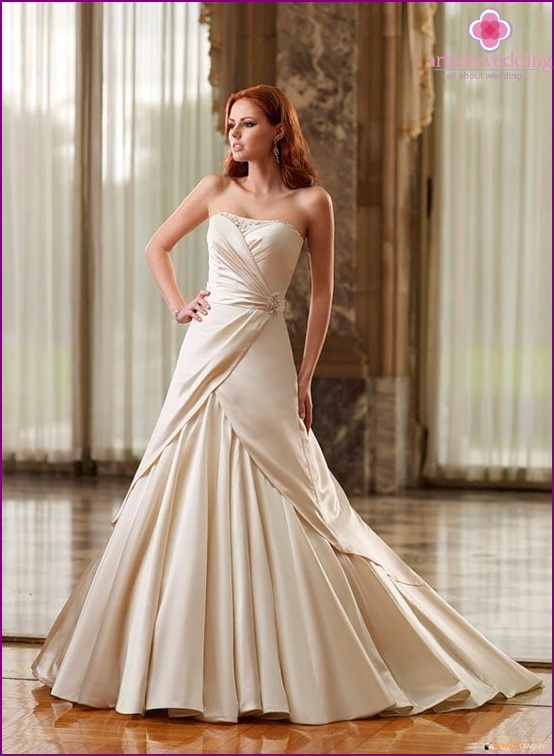 Chocolate wedding flowers
Chocolate-colored flowers are, in a way, a rarity. Although today in almost any flower one can find flowers of all conceivable and inconceivable colors - from rich blue chrysanthemums to chocolate-colored gladioli. You can also support the chocolate theme with additional details - beads, feathers, ribbons. True, we do not forget that the famous sweet is both dark, white and milk. And so at the chocolate wedding, flowers of all kinds of cream, coffee and white colors will organically look.
The wedding portal www.articlewedding.com recommends paying special attention to bridal bouquet. By the way, it can be made completely chocolate. True, such beauty should be very carefully packaged to avoid damage to the outfit and mood. Well, enough of this tasty masterpiece only for a very quick photo shoot.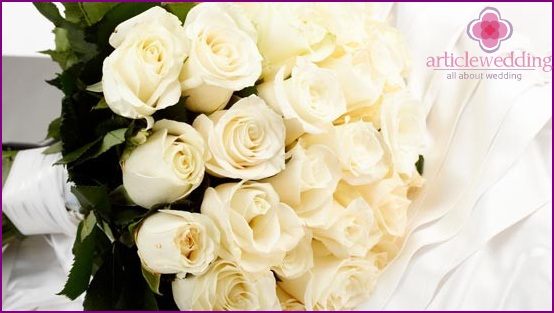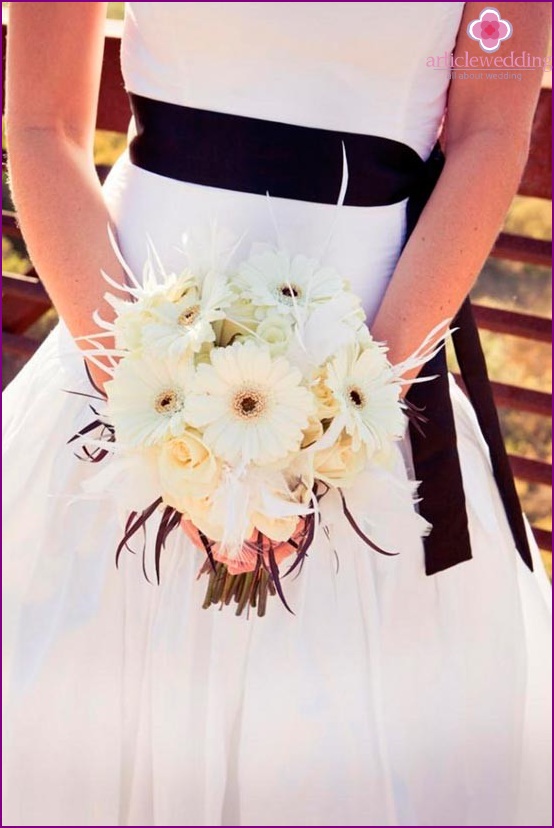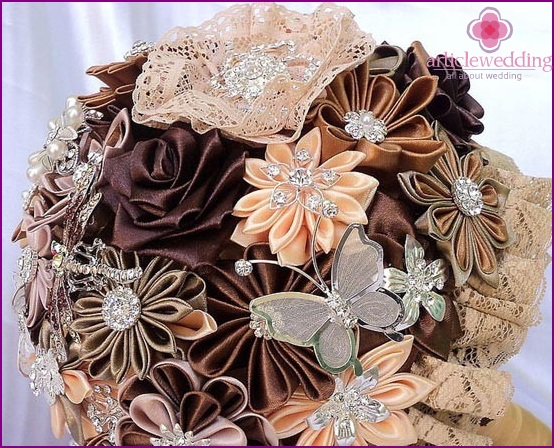 Wedding accessories for the wedding in chocolate color
Feel free to use the slides of cap-cakes crowned with numbers made of chocolate as seed cards. However, this option is better suited in case of seating guests «by company». And do not forget to indicate in the banquet menu which of the guests to sit at which of the tables. If you decide to place everyone at one, but a large festive table - do «sole» seating cards. It can be vases with pieces of chocolate and numbers on skewers. Or maybe your banquet cards will be in the form of figures of the bride and groom? Then see that guests are not tempted by sweets before they figure out who sits where.
Great sweet main theme support wedding party, according to the wedding site www.articlewedding.com - nowadays a fashionable accessory is a chocolate fountain. Not only beautiful, but also very tasty. Do not forget to place nearby fruit assortment on wooden skewers - guests will definitely appreciate such a wedding fondue.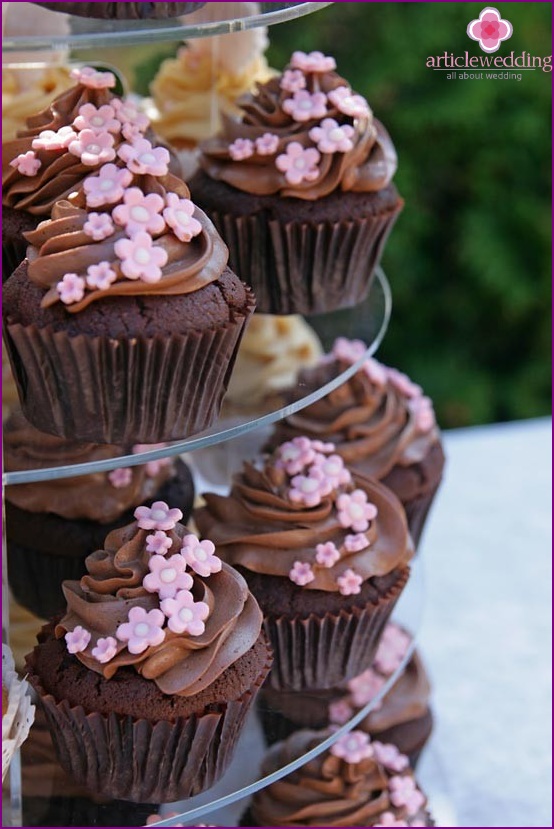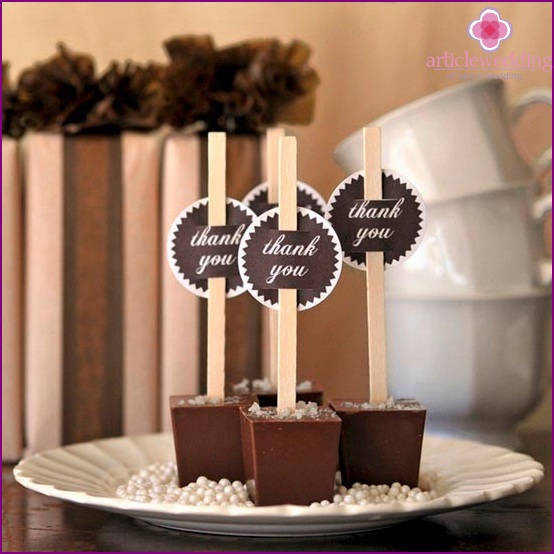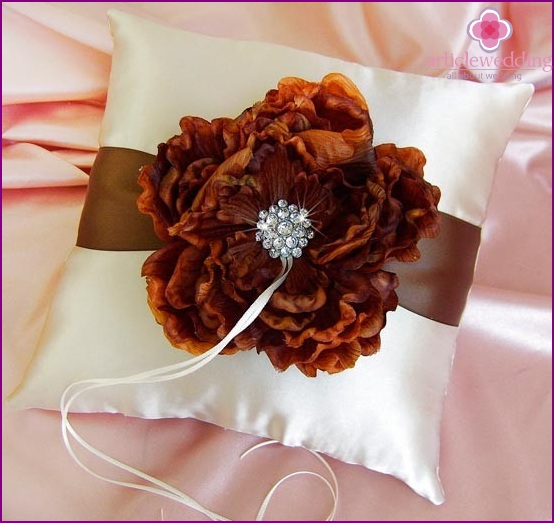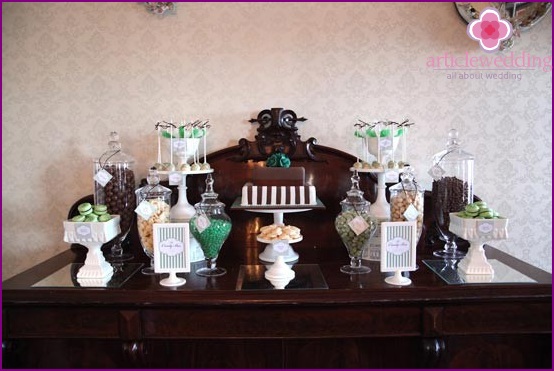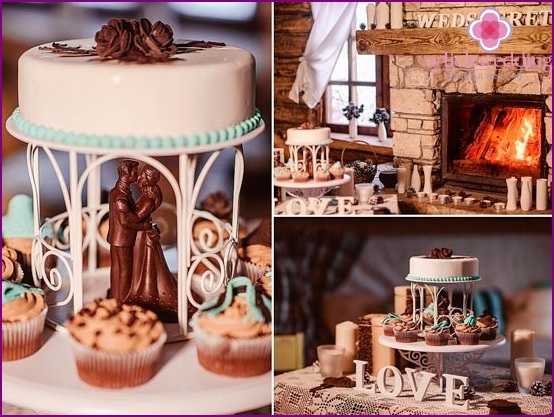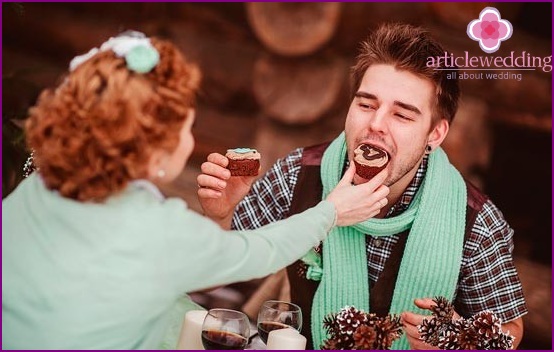 Chocolate Wedding Ideas
Of course, the most relevant idea for a chocolate wedding is a sweet fairytale kingdom: milk rivers, jelly banks, chocolate mountains. Interesting chocolate shades will also look in the decor of a themed autumn wedding. Appetizing chocolate nuances will fill the winter wedding fairy tale in country style with warmth and homeliness.
The combination of chocolate color with other colors
Many designers do not in vain consider blue and all its shades to be the most fashionable partner in chocolate color. This warm-cold mix looks fresh and elegant at the same time. Golden, beige and cream tones are perfectly combined with shades of milk chocolate. Juicy and bright fuchsia always adds piquancy to dark chocolate. Fiery red, Burgundy, bright scarlet - this bright palette will easily add a hot pepper to an elegant chocolate color.