Contents
---
---
Make your wedding a bright fairy tale full of color and mood. To do this, you just need to decide on your favorite color, which seems to you especially suitable for your celebration. If you are still in doubt, which color scheme for a wedding choose, consider the turquoise option. This color will not leave anyone indifferent, because its brightness and richness are immediately evident!
Turquoise color meaning
It is difficult to say unequivocally to which color the turquoise is closer: to green or blue. Most likely, this is a combination of both colors in its bright version. However, there are many shades of turquoise. This color symbolizes harmony and freshness of spirit and thought. It is suitable for cheerful people full of energy and vitality. However, turquoise is also good for lovers of solitude and silence. It is associated with sea waves that give us peace and tranquility..
Turquoise wedding decoration
If you dare to add turquoise color to your wedding decoration, you will get a real splash of bright colors! The most important thing is how well the turquoise and white colors blend. Pick up a white tablecloth and decorate it with turquoise satin or another transparent fabric on top. You can also pick up only a turquoise tablecloth, which will become the background for creating a wedding table decor. Lay plates and glasses on top of the tablecloth to match. You can use bright turquoise napkins in white coasters. You can also add a little freshness to your banquet table by placing delicate vases with bouquets of flowers on it. It can be white roses, lilies or chrysanthemums. Even if you pick up field daisies - your image will retain its originality and originality. Lots of tips for banquet design You can find it at www.articlewedding.com.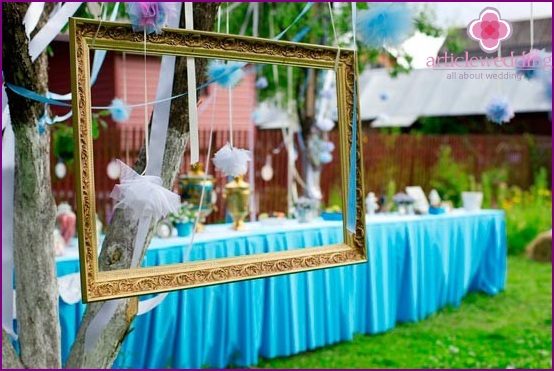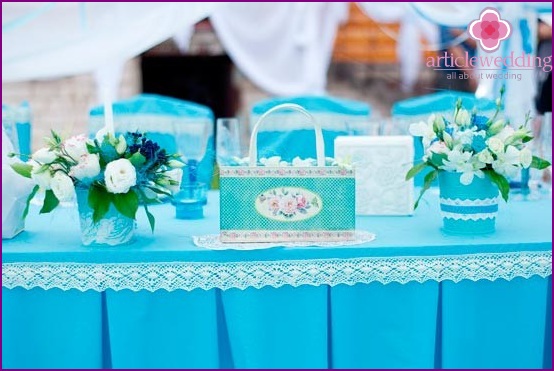 Wedding dresses for a wedding in turquoise color
The bride can become a real queen if she purchases a dress in turquoise shades. Such a dress will make you a real mermaid, add mystery and sophistication to you. The dress can be both magnificent and fitted. The main thing is that it contains details of luxury. It can be a long train or jewelry in the form of rhinestones or embroidery. However, if you are a lover of traditions and white, you can safely choose a snow-white wedding outfit. You can use a satin belt as a turquoise element. Also turquoise elements may be in your wedding bouquet. Guest dresses can also be done in turquoise colors to suit your chosen style. Choose bright shoes in turquoise tones for the dress. It can be bright comfortable shoes that you can wear after the wedding. Turquoise sandals are also suitable for summer celebrations..
As for the groom's style, here it is worth giving preference to white. It can be white trousers and a white shirt. Pick up a bright turquoise tie to decorate the image.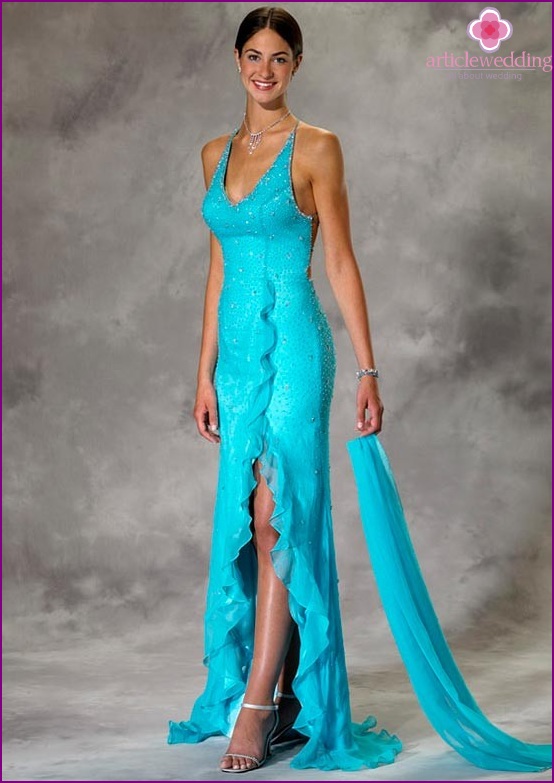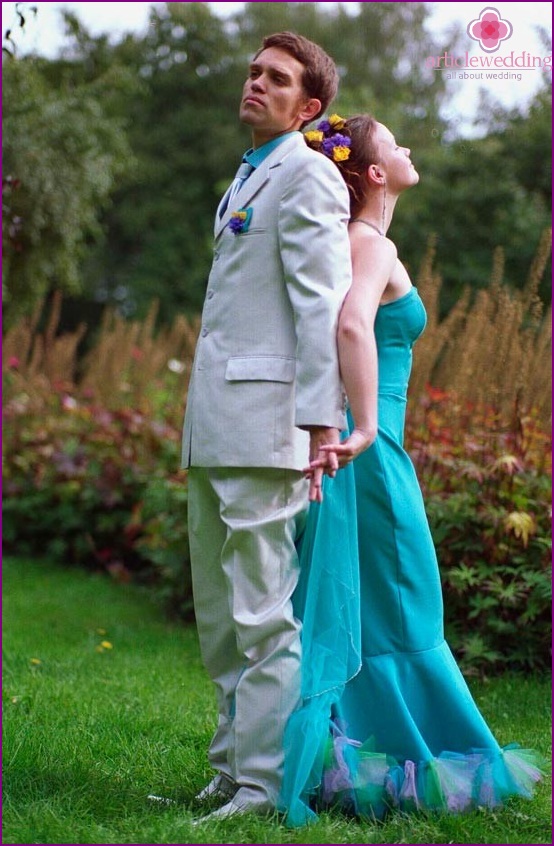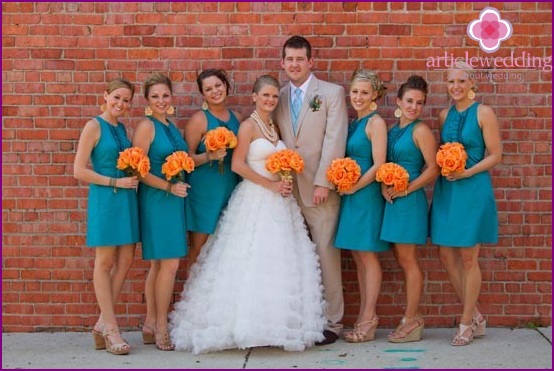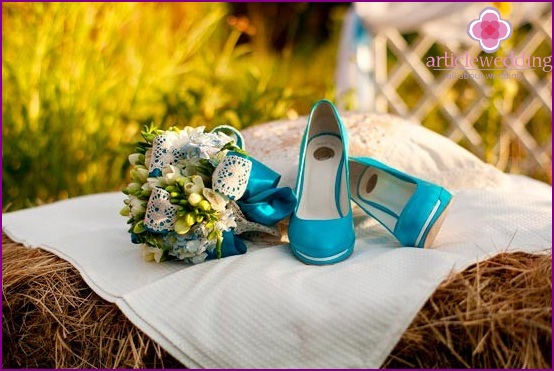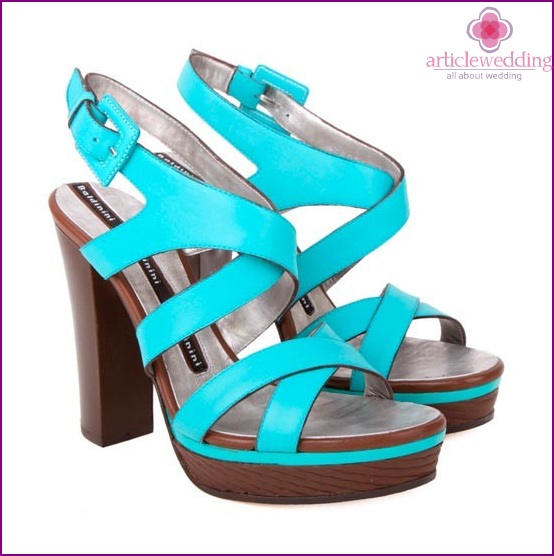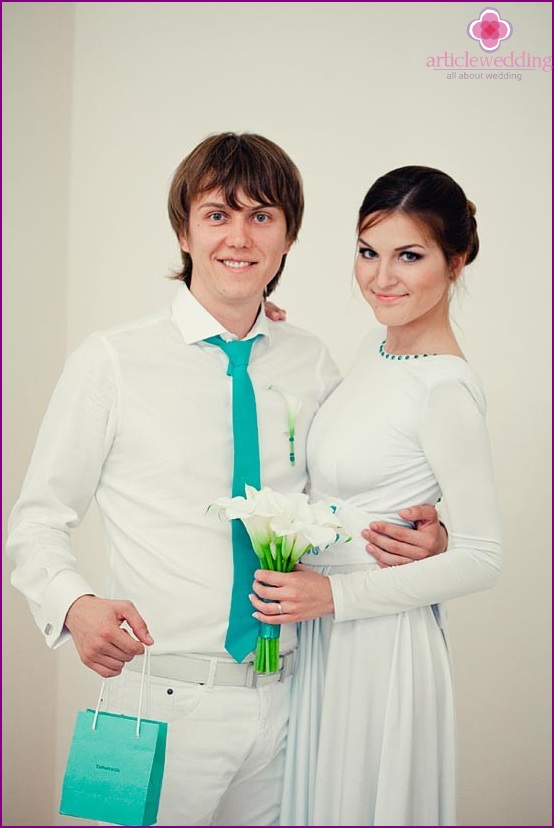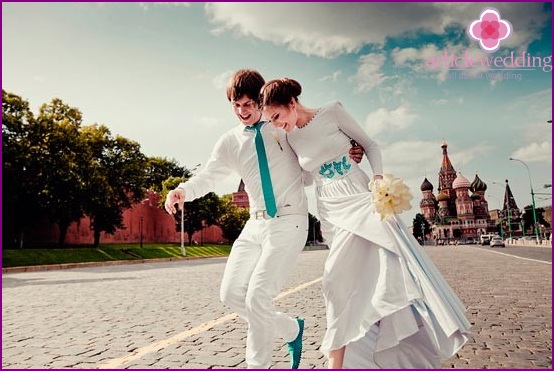 Bride and Groom Style
In order for the image of the bride to look complete, you need to think through beautiful makeup. Turquoise shadows can be easily found on store shelves. They look original in combination with black eyeliner and bright mascara. Use rhinestones or false eyelashes to make your face more expressive.
The groom's style will also be complete if you add a touch of carelessness and lightness to your hairstyle. You can find hundreds more tips for creating hairstyles and makeup at www.articlewedding.com.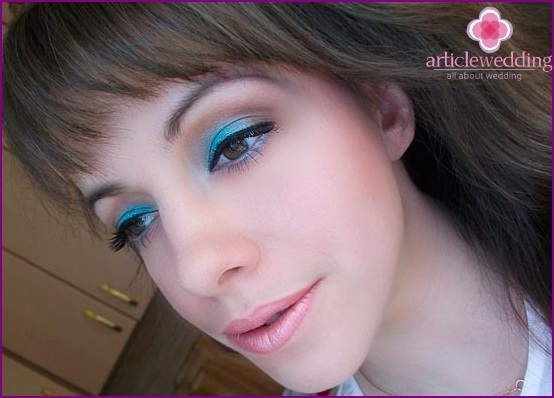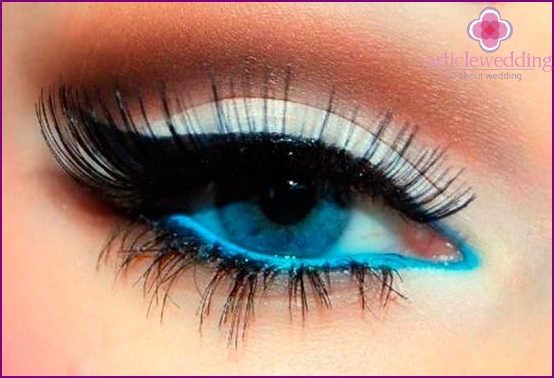 Flowers for the wedding in turquoise color
If you dream of a turquoise bouquet, you can contact the flower salon, where any white flowers will be painted in turquoise. However, you don't need to do just that: you can pick up a snow-white bunch of flowers for the dress, which can be decorated with a bright ribbon of turquoise color.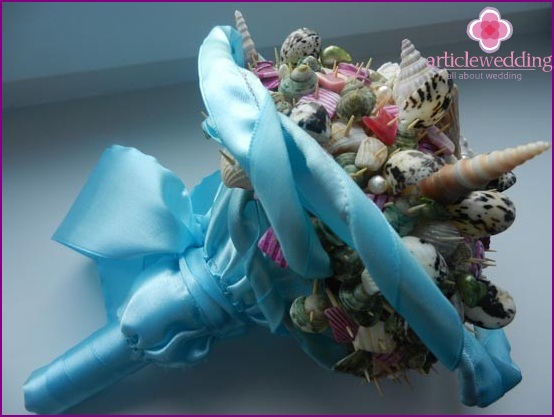 Wedding accessories for a wedding in turquoise color
Almost all details of your decor and interior can be permeated with turquoise beauty. It can be figurines on your table, small bonbonnieres, invitations and thank you cards, guest cards, toys, decorations, and more. You can also make a cake in turquoise and white shades..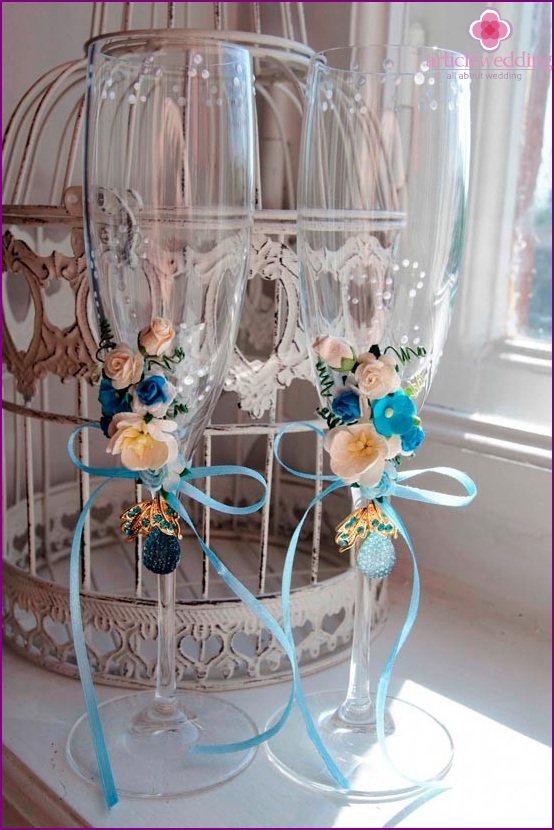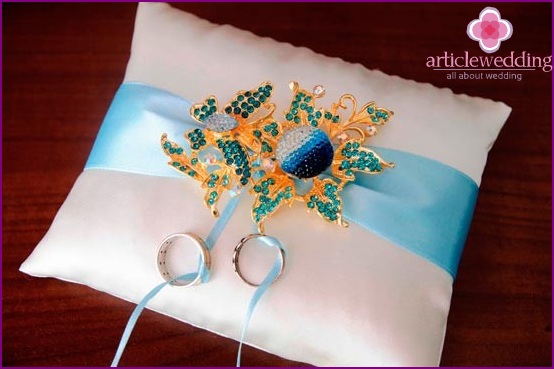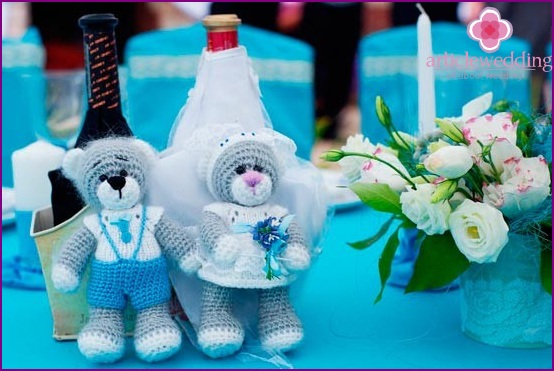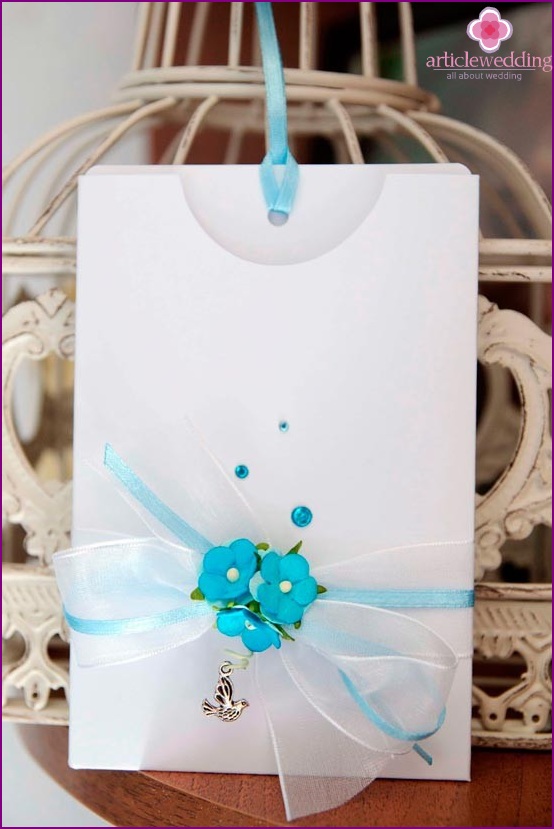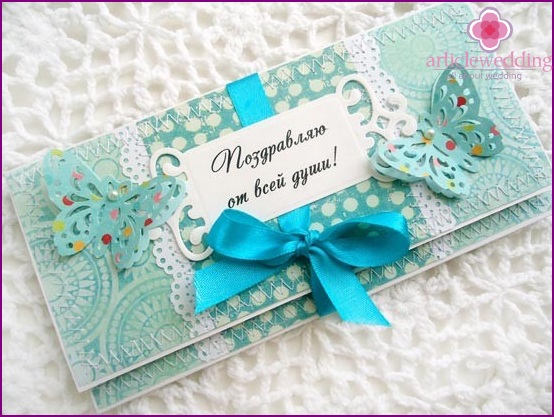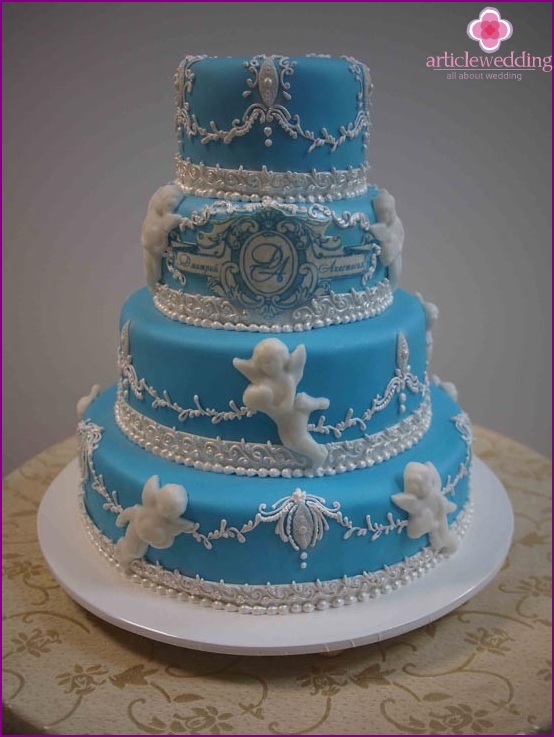 Wedding Ideas in Turquoise
Since turquoise is the color of the sea, you can safely beat the marine theme. Add shells and corals to your decor, use a striped print to add an unforgettable marine mood to your wedding. You can read many more wedding ideas on the portal www.articlewedding.com.
The combination of turquoise color with other colors
Turquoise is in perfect harmony with such colors as blue and pink. You can safely add these shades to make the image even more playful..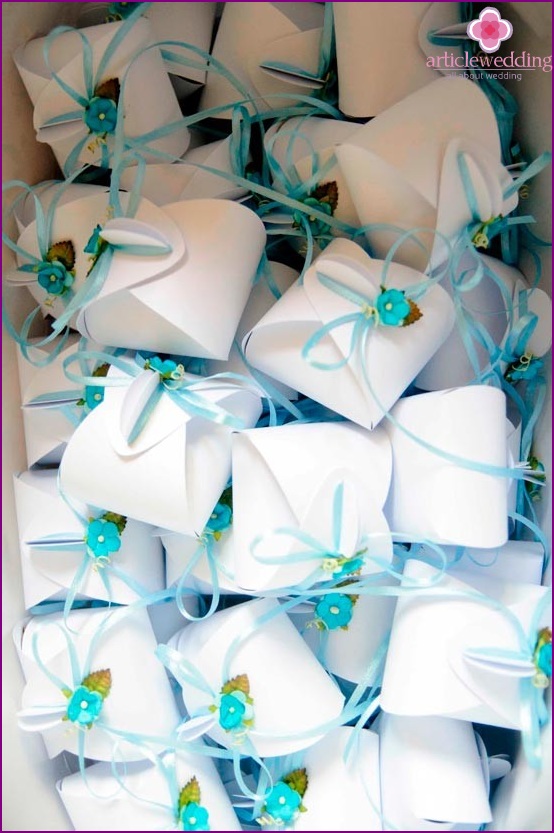 A wedding in turquoise is unusual, bright and bold! You will remember this unusual color scheme for a long time, especially if you yourself have put a lot of effort into creating a design and decorating the table. Smile and enjoy your turquoise extravaganza!