Contents
---
---
Each newly made couple who submitted an application to the registry office asks themselves what kind of wedding they will have, in what colors the interior and design will be done, what cut and color the outfits of the bride and groom will be. All these questions do not let you fall asleep until the triumph. Why not visit www.articlewedding.com, which will tell you about an amazing wedding in blue tones.!
Blue value
Since blue is considered a cool color, it carries something mysterious and magical. Blue is primarily associated with the night sky. Blue has a calming and sleeping effect. This is a very calm and peaceful shade that evokes neutral emotions. Blue is the color of harmony and concentration. This shade is suitable for calm, confident people with great goals for the future..
Wedding decoration in blue
If blue is exactly what you were looking for wedding decorations, try to adhere to this color scheme in every detail. First of all, make sure that the tables are decorated with blue tablecloths, in combination with white. On the table you can place blue candlesticks decorated with flowers. Also, blue is associated with the sea, so your wedding decoration can be done in a marine theme..
In blue color should be issued covers for chairs. This bright fresh shade should also be present in the table setting: plates and glasses with blue patterns, cards for seating guests and just decorations and accessories can contain blue shades. In white vases, blue flowers can be located, which will not only have an attractive appearance, but will also emit a wonderful aroma.
If your wedding ceremony takes place in a church or cathedral, you can also create a design by making a path in which you will walk to the altar in blue tones. It looks very elegant and European.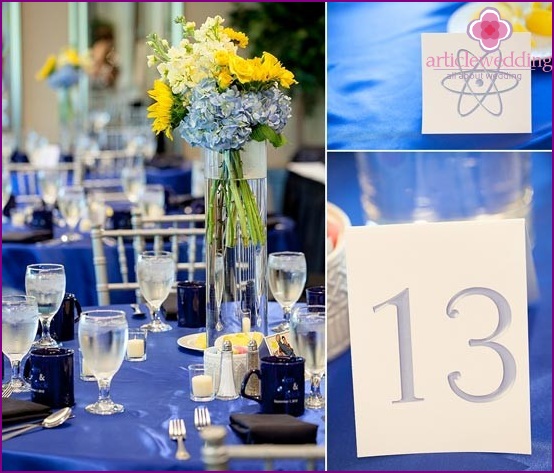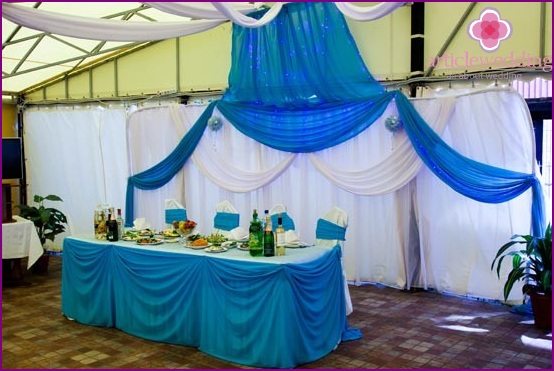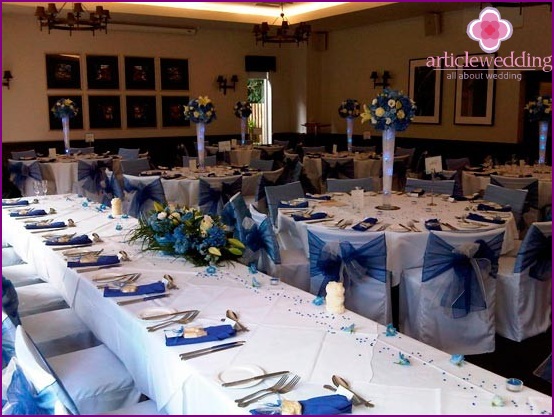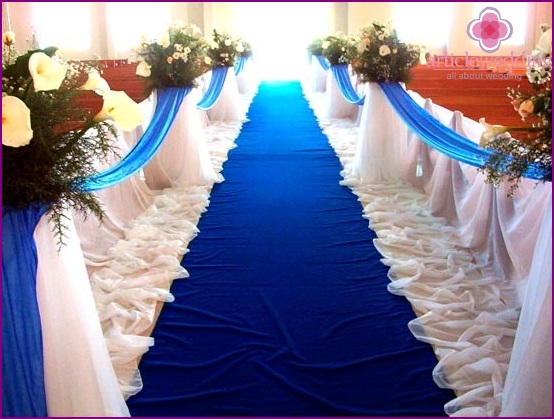 Wedding dresses for a wedding in blue
Wedding Dress the bride and groom's suit must also match the chosen style. As for the bride's dress, then a completely blue dress is a very bold decision. Most often, brides buy a white dress, which is decorated with blue satin ribbons or bright blue accessories. Also, to complete the wedding look in blue, add bright blue shoes with a high but comfortable heel. The groom's outfit can also be made in blue tones or contain some blue shades. Shoes are best chosen in classic black, however, if you are lucky, you can find shoes in a dark deep blue color that perfectly complement the wedding look..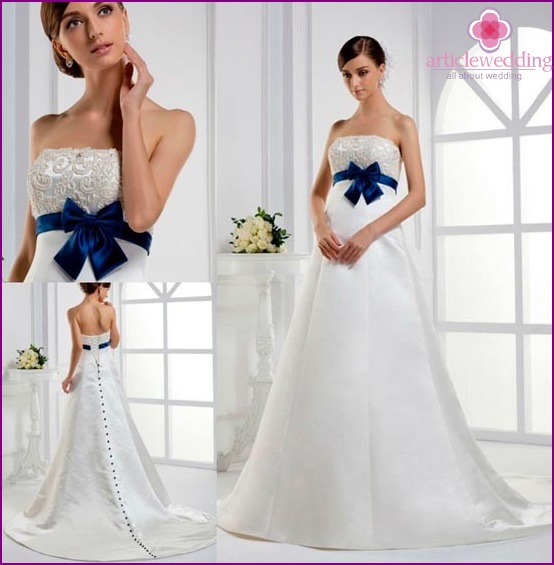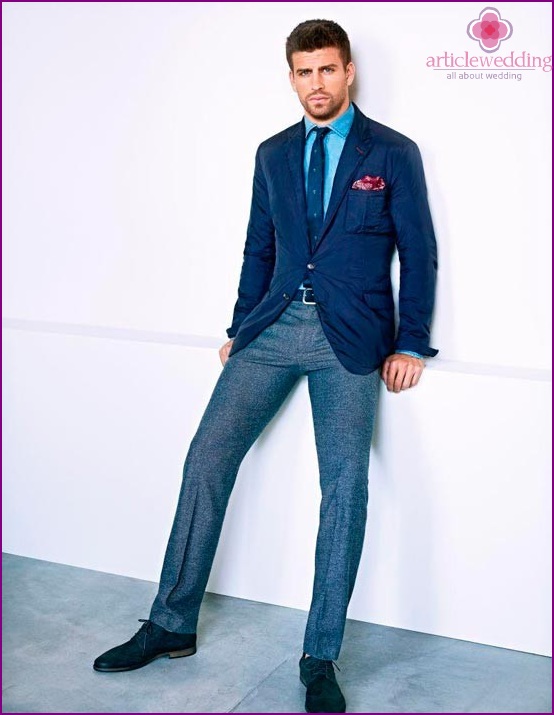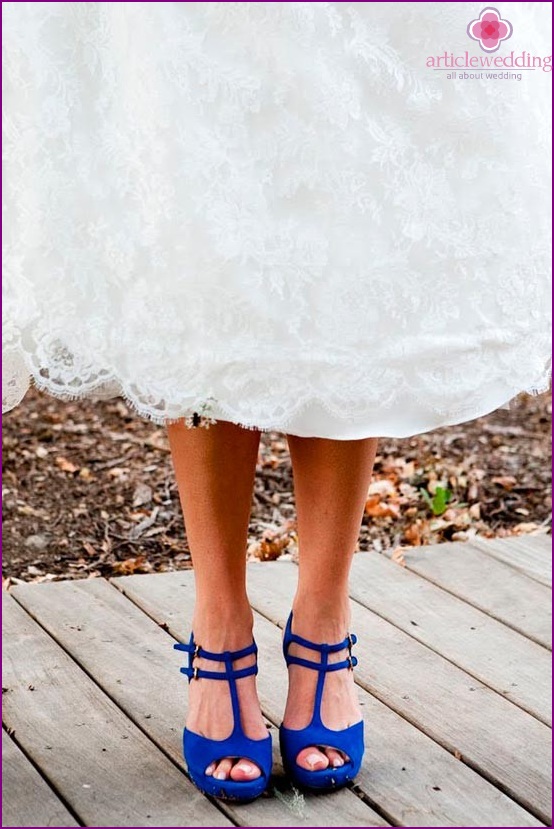 Bride and Groom Style
The bride's style will not be complete without a hairstyle and makeup. Wedding make-up in blue suits both blondes and brunettes. You can use blue shades of shadows or blue waterproof mascara, which will add zest to your image. As for lipstick, here it is definitely not worth using rare blue colors: it is better to choose a traditional pale pink lipstick or lip gloss. As for the wedding hairstyle, the blue color may be present in accessories: beautiful bright ribbons can be woven into braids. You can also decorate your hair with blue flowers or hairpins..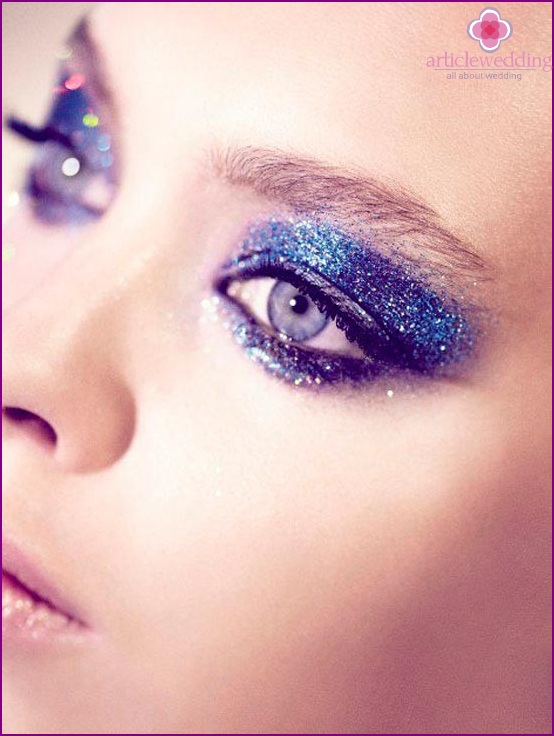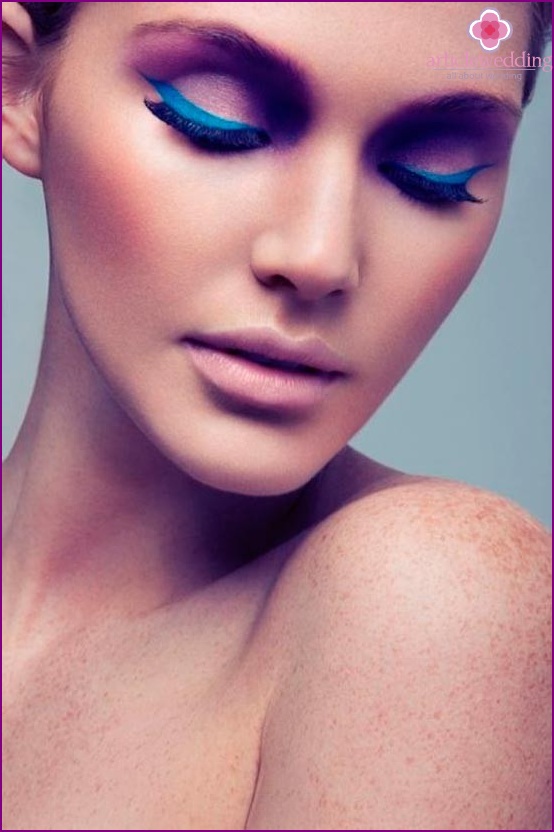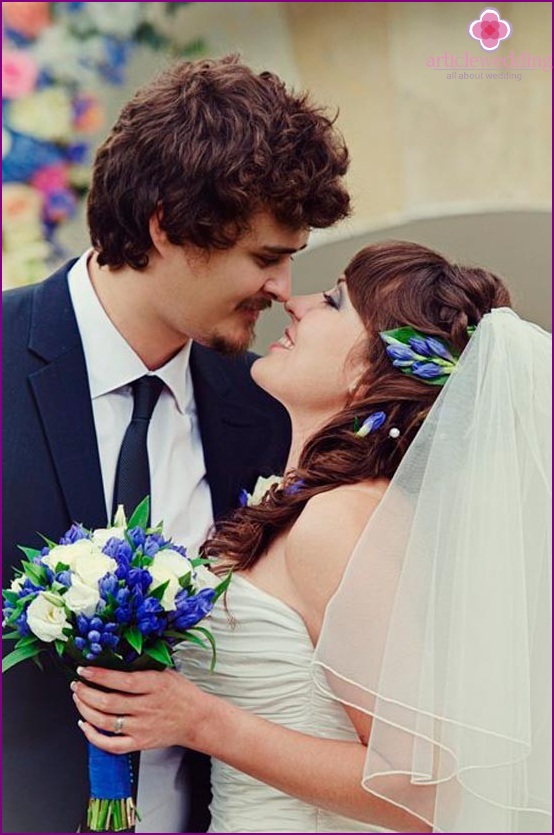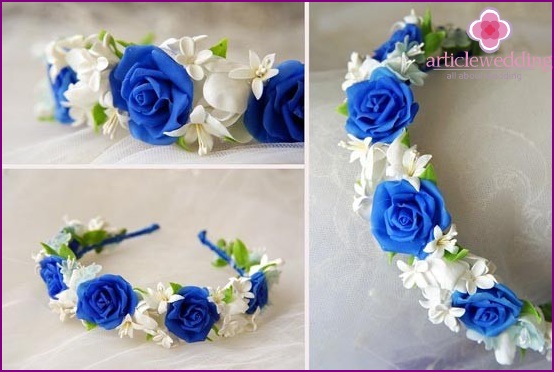 With the style of the groom, everything is much simpler, because he does not need makeup or hairstyle. Add a bright blue tie to your groom's look to match your style. You can find even more interesting information about the style of the bride and groom at www.articlewedding.com.
Wedding flowers in blue
Flowers are an important part of the image of the bride, so take the time to choose the right bouquet. Blue flowers look very gentle and romantic. Blue can be completely different flowers: roses, chrysanthemums, lilies. Even if you haven't seen such shades in nature, any flowers will be painted blue to your order in a flower salon of your order. It is best to combine flowers in a wedding bouquet with other tones: white or yellow.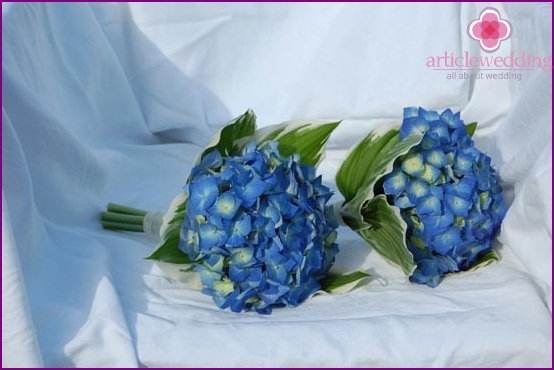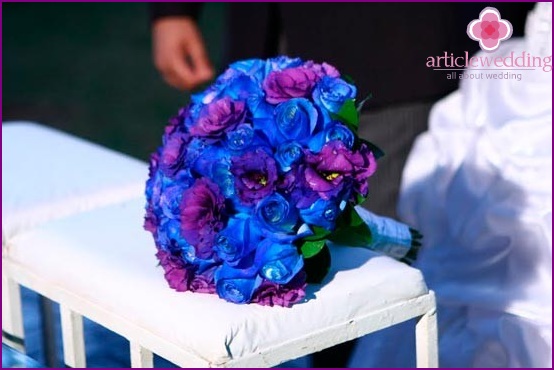 Wedding accessories for a wedding in blue
If you want the line of the style chosen by you to go even in small things, you should even take care of wedding accessories. Wedding invitations can be made in blue, as well as pads for engagement rings. Blue covers for champagne bottles look beautiful, as well as napkin holders and much more.
In blue, you can also make a wedding cake. The color will give the cake originality so that each guest would rather want to try a piece.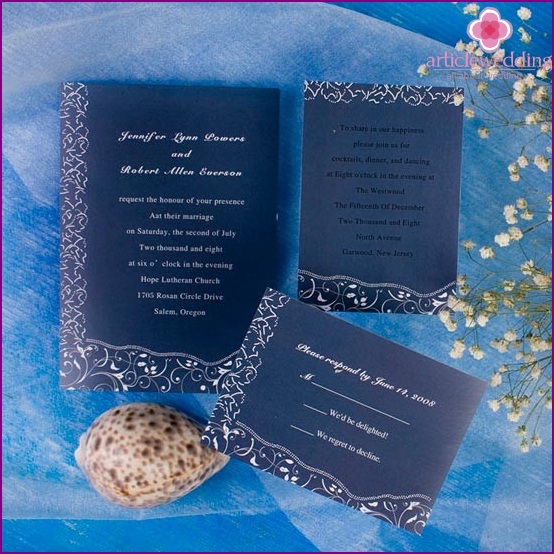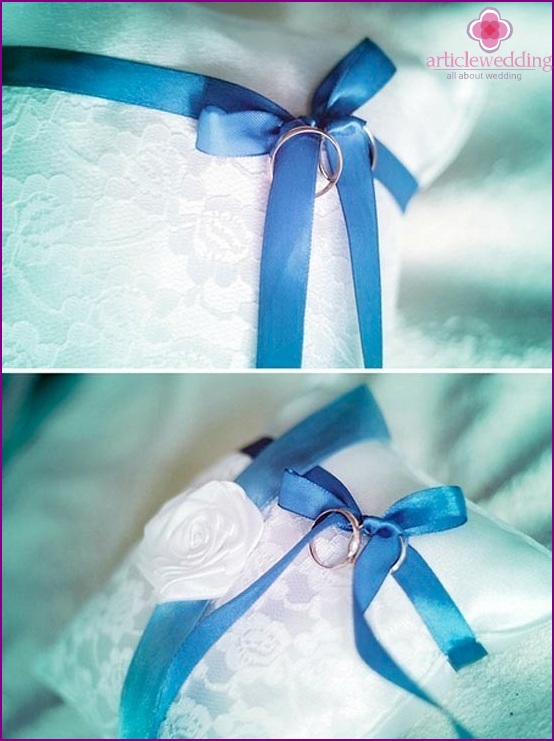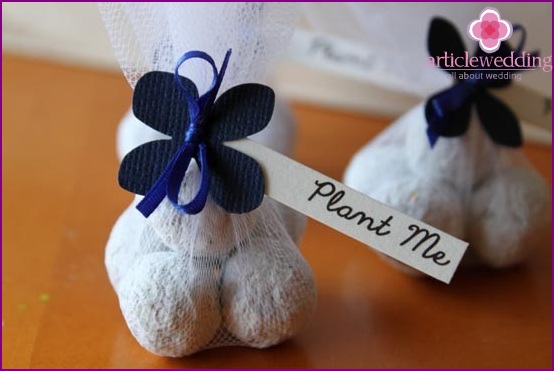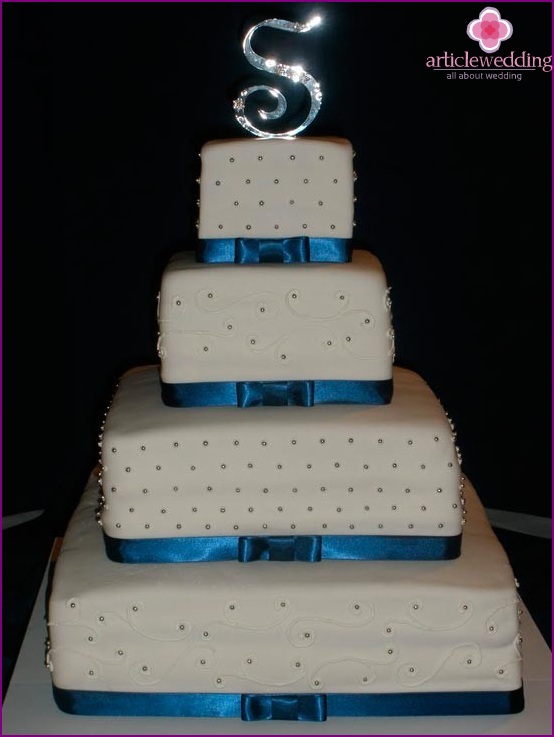 Wedding Ideas in Blue
The website www.articlewedding.com is convinced that a nautical wedding would be an ideal idea for a wedding in blue. Moreover, creating a marine style at a wedding in blue is very simple: just add stripes and decorations in the form of shells and corals everywhere.
The combination of blue with other colors
Blue is best combined with yellow and white. To create a harmonious solution, you can also mix different shades. White color softens bright blue tones.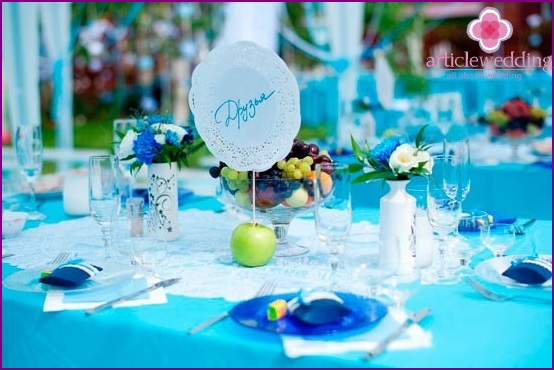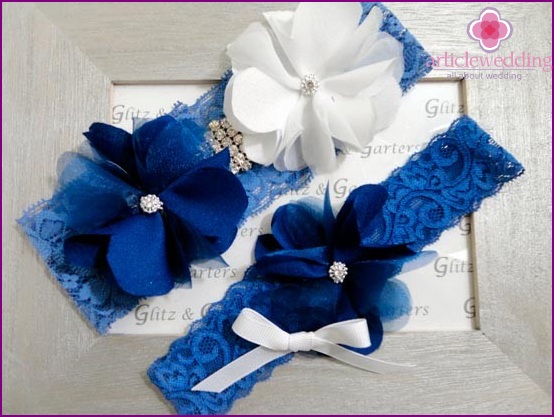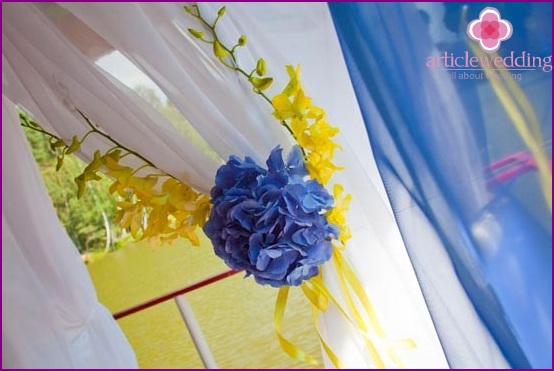 The blue color will give you an unforgettable mood and make your wedding an exciting event!