Contents
---
---
The splendor and brightness of the orange color make it invariably charming and attractive. One way or another, but the bright lights of this tone flash at a wedding celebration: either with dots, or with whole flashes. We will tell you small secrets of wedding decoration in orange.
Orange color value
Orange, along with yellow, has long been a symbol of the sun, warmth and happiness. This color, despite its hyper-energy, is ideal for the role of the main wedding designer.
Orange is a mixture of assertive red and sophisticated aristocratic yellow, a kind of middle ground. From ancient times, orange symbolized a strong and large marriage. This charming color and all its shades by themselves are positively charged, make mood and give endorphins in arms.
Wedding decoration in orange
There is never much good! Feel free to use this phrase when making out wedding banquet. The abundance of vibrant orange will create a unique and cozy atmosphere. If you are celebrating indoors - rely on drapery with fabrics, live panels of flowers, tablecloths and furniture covers. In a word, let everything "big" be orange. But the details put in contrast.
If you outdoor wedding, the wedding portal www.articlewedding.com suggests arranging delicious accents in orange tones: serving, thematic details, and let the background be polar. Although, nature, at any time of the year - a great backdrop.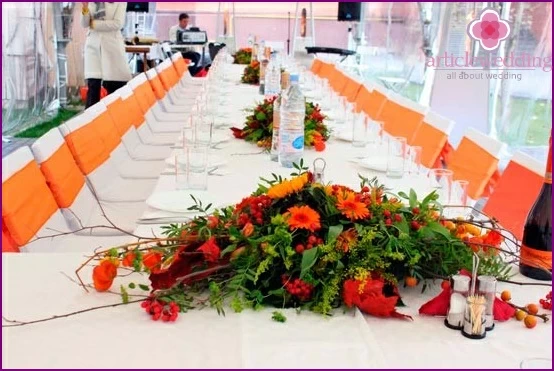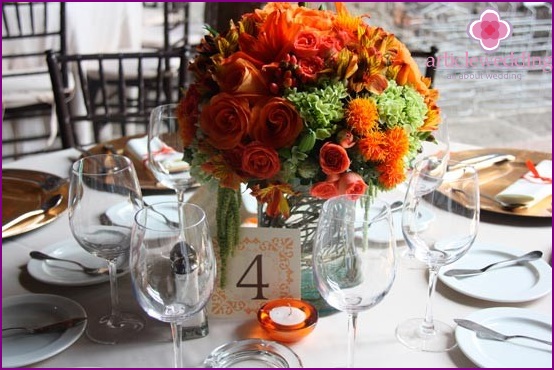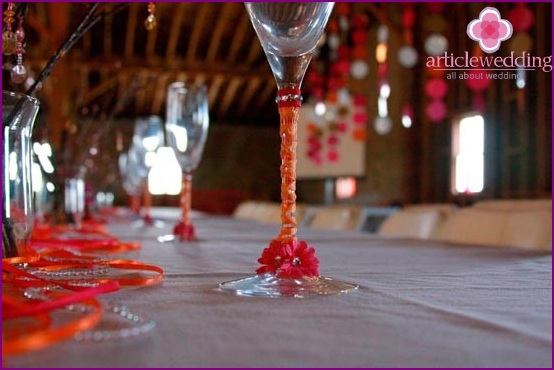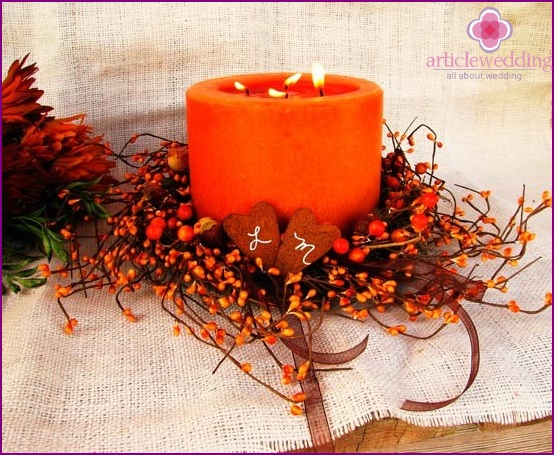 Wedding dresses for an orange wedding
If in the design of the wedding banquet you can allow generous brush strokes with an orange brush, then in choosing wedding dresses, take the principle: "Beauty is in the details".
Complete the cream dress with a bright orange belt and a ribbon in the hair to match. The fitted white dress of the bride will be added to the taste of pumps with a juicy orange color, the same accessories. If you cannot refuse the idea of ​​getting married in an orange dress, take the image of the great Tiffany as a basis. A small orange dress is a great alternative to classic and small black, complement it with pearl jewelry and satin gloves. Wedding shoes can be chosen both white and flesh: both options are perfect.
Draw the image of the groom with accents as well. Orange accessories will look great with a classic suit, both dark and light colors. A juicy bow tie or classic tie, or maybe a neckerchief. Add bright cufflinks and an orange buttonhole to match the bride's bouquet. You can, of course, dress up in an orange suit, but, especially, if your wedding is held under the motto "Hipsters. Return".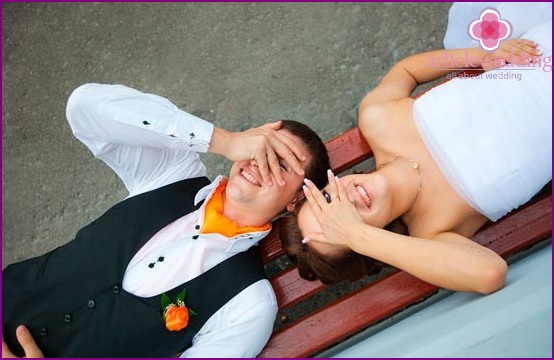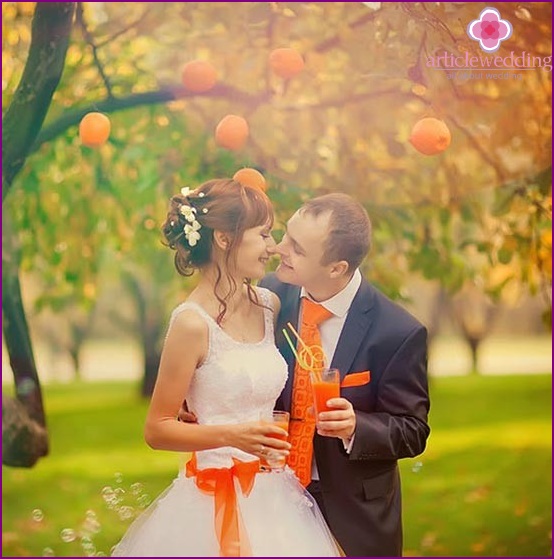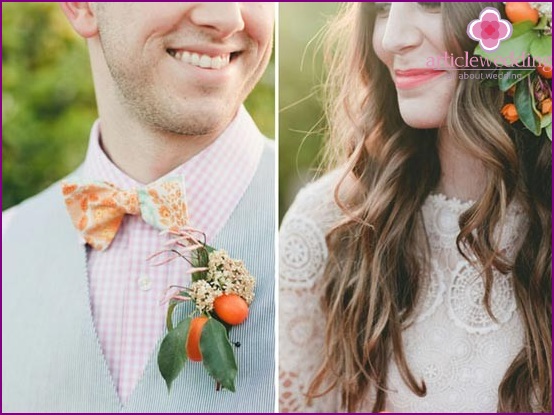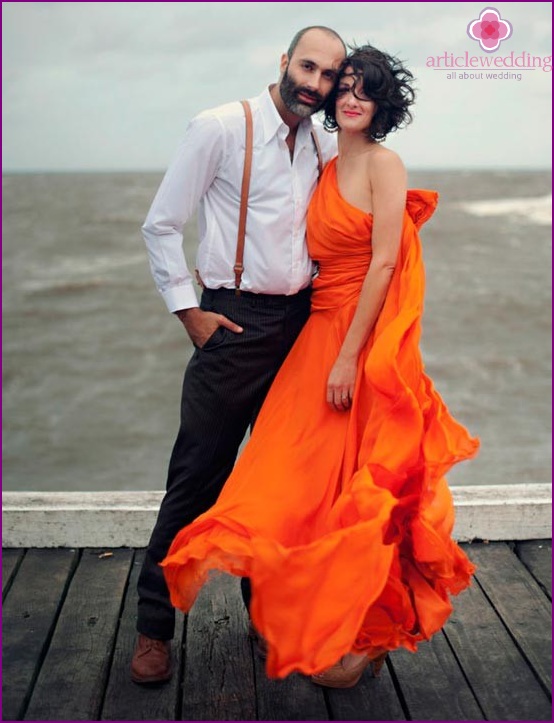 Wedding Flowers in Orange
There are not many flowers, especially at a wedding. Orange flowers will turn your celebration into a picturesque paradise, and, no matter, you will celebrate outdoors or indoors. Lush dahlias and important gladioli, royal roses and aristocratic lilies, luxurious irises with corrugated petals and touching "pompons" of marigolds, playful gerberas and petunias falling from a vibrant waterfall - all this is juicy orange!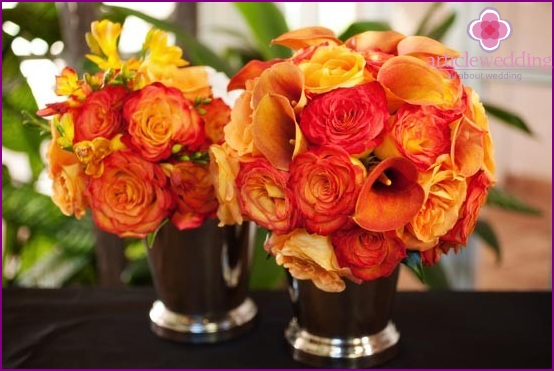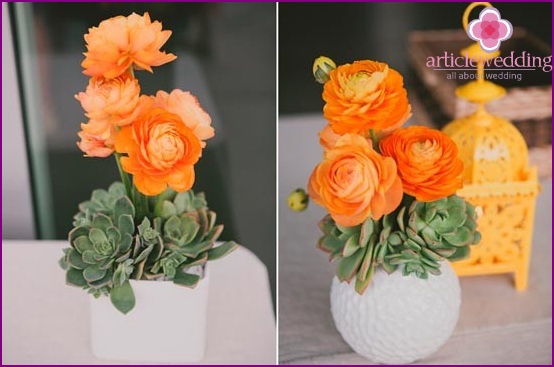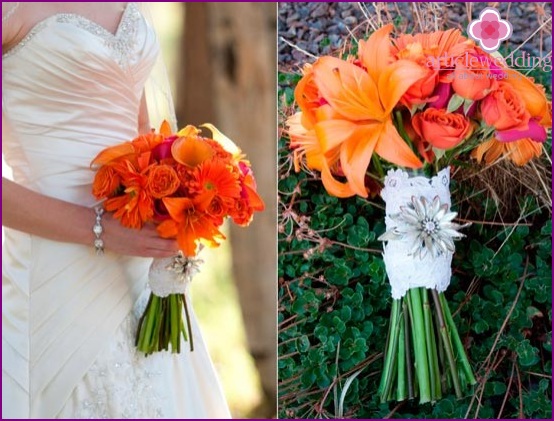 Wedding Accessories for Wedding in Orange
Accessories are the very details that the wedding site www.articlewedding.com advises to decorate your orange celebration. Satin bows and paper flags the color of a ripe mandarin, decorated with red gerbera banquet cards, a path to the altar, studded with ocher maple leaves. Even wedding dishes and the menu can be done in a thematic color. Do not forget about bonbonnieres - let each guest take away a piece of orange happiness!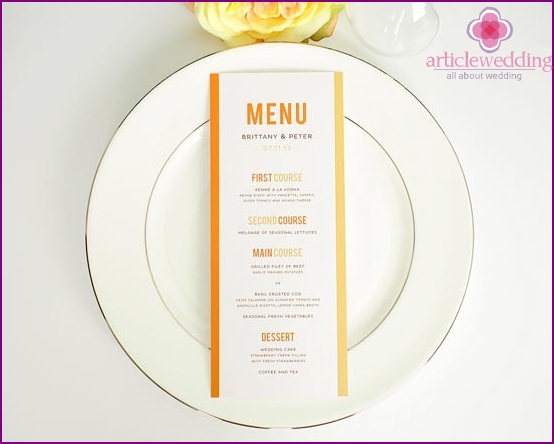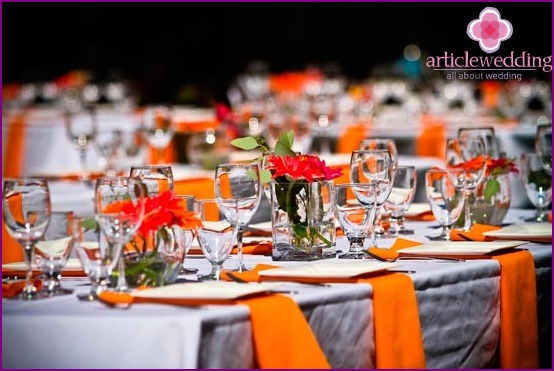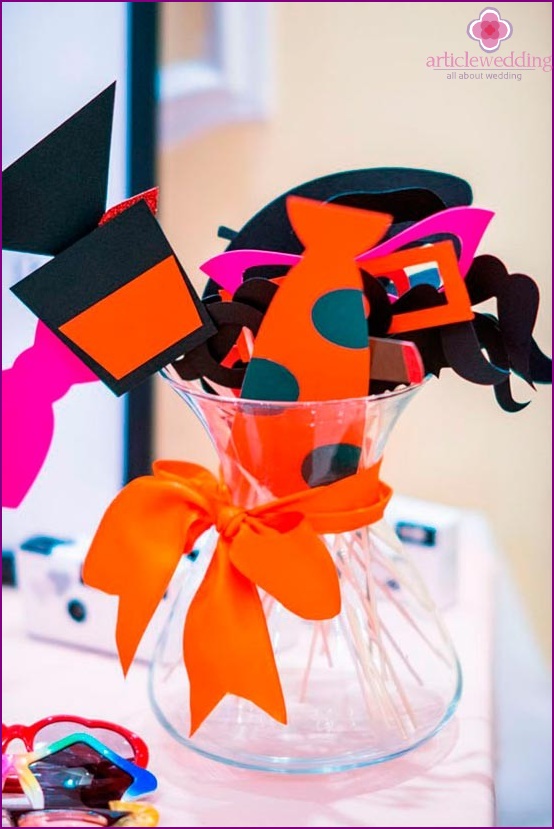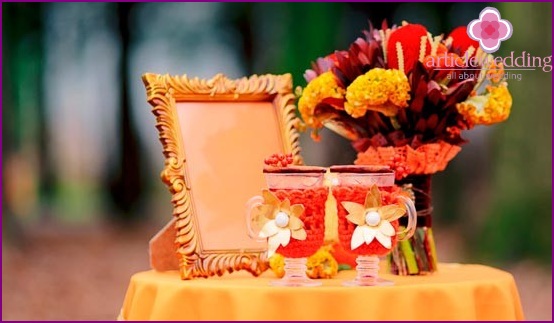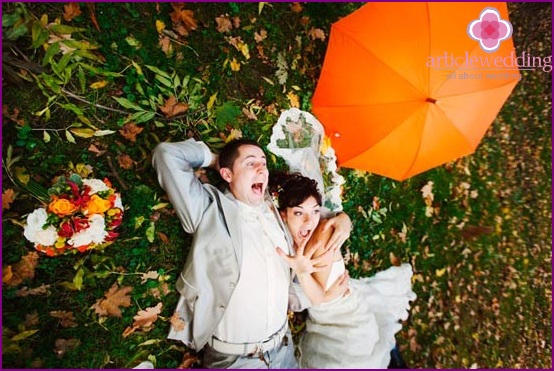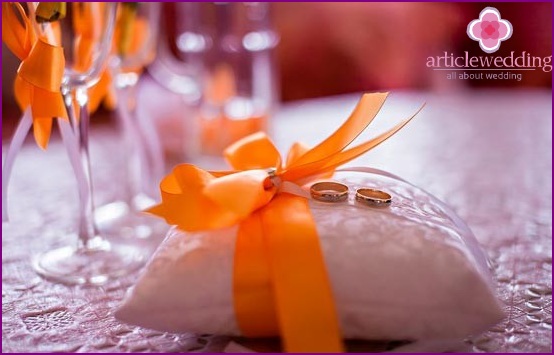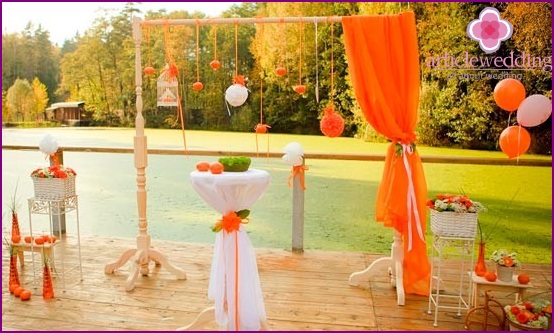 Wedding Ideas in Orange
The first thing that comes to mind with the phrase "orange wedding" is a celebration in the style of red orange or scary-lovely Halloween.
But, this is far from the limit of the possibilities of orange. Solemn and magnificent wedding a la the Dutch royal house. Ethnic motifs in Africa - a great wedding solution, especially if you planned it on a hot summer day. A family of orange shades fits perfectly in a Japanese-style wedding.
The combination of orange with other colors
Orange is an ideal neighbor to any shade of the color palette. Orange feels equally comfortable both in the company of bright and emotional brothers, and in a society of restrained, cold colors. If you plan to make your wedding a passionate tangerine tango - generously dilute orange with red, yellow, chocolate.
The wedding, in your opinion, should not be a reckless carnival? Here's a tip from www.articlewedding.com: cool the playfulness of orange with a calm blue, mysterious lilac, deep cornflower blue, bewitching green. Softness and sensuality wedding in orange color will give pastel colors: cream, apricot, mint, powder. It will become a win-win, beloved by many, an orange-white tandem.