Contents
---
---
Currently, it has become fashionable to arrange a wedding celebration in a single color style. And then the question naturally arises, what kind of color scheme to choose for your own wedding? The banal and already a bit standard white weddings are tired of everything in order, the black shade, in principle, is not suitable for such a bright and joyful event. In this case, visitors to the wedding site www.articlewedding.com recommend choosing your pair a noble and bright color like red.
Red value
Since the earliest times, the red color has denoted beauty and, of course, love. Red shades for most people are symbolized primarily with blood and fire. These warm, or even hot components can only mean the strongest and mutual feelings that the newlyweds have for each other.
Wedding decoration in red
If you have already decided on wedding decoration in red shades, then they should be the main component of all wedding attributes. Almost all dishes should have red elements. This applies to glasses, wedding vases, and even tablecloths..
Wedding tables can be decorated with red candles, which will endow your celebration with even more notes of solemnity and romance. As they say, the main thing is hidden in the little things. For this reason, you also need to get napkins with red patterns and floral arrangements at the wedding, which will consist of red flowers.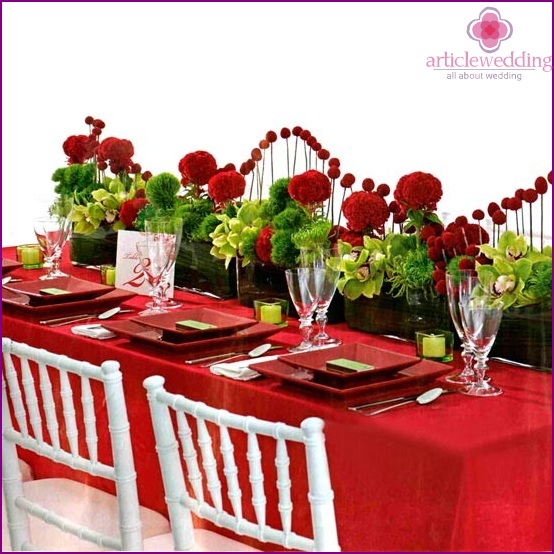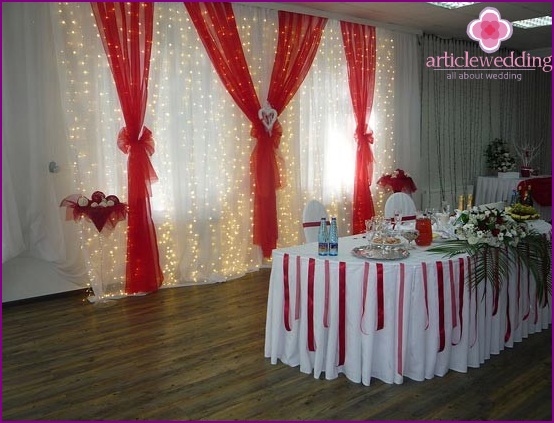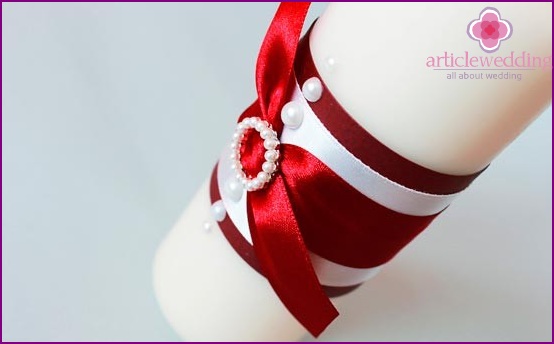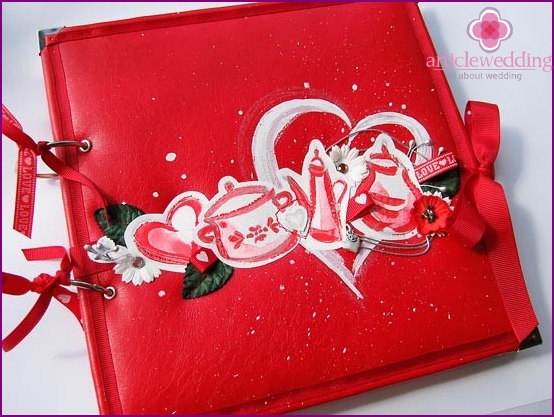 Wedding dresses in red
The wedding ceremony in red should, first of all, begin with the bride's wedding dress and numerous accessories that are suitable for this robe.
As the first option, you can immediately choose a bright red dress that will look simply stunning with red wedding shoes and gold jewelry.
As a second option, you can still stop at the classic white dress for a wedding, because this shade is the best match with red. For this color variation, the red accessories of the bride are also suitable: handbag, earrings, belt.
Among other things, special attention should be paid to the image of the future husband. A wedding in red style means either a bright and sophisticated tie, which the groom will surprise everyone, or the direct presence of a red shirt. Although we still dwell on the first option, because most visitors to the wedding site www.articlewedding.com recommend a combination of a snow-white shirt with a red tie or bow-tie.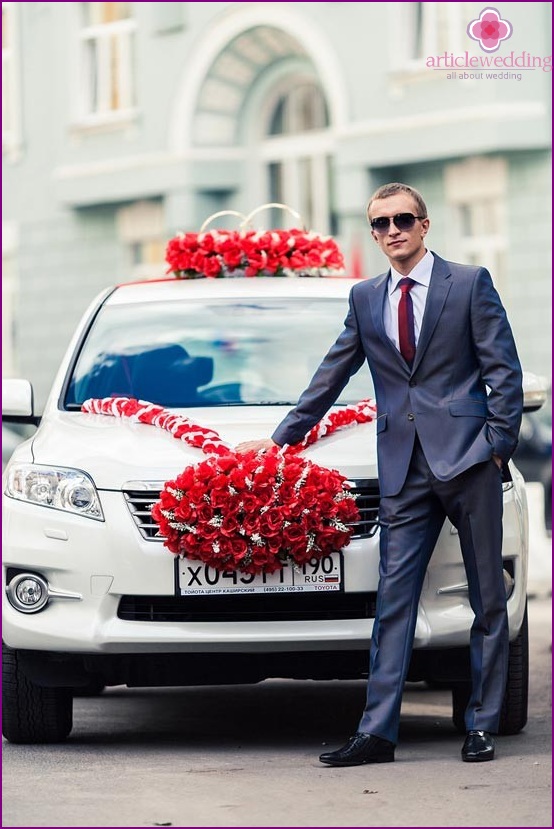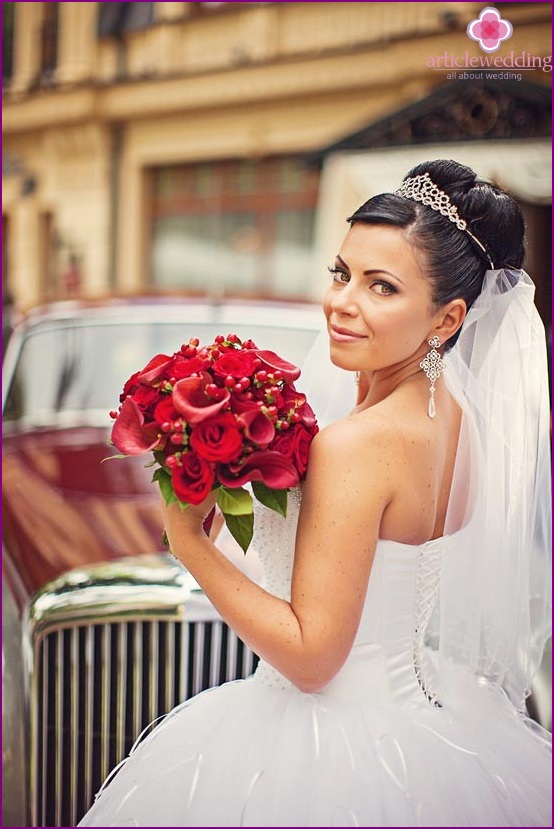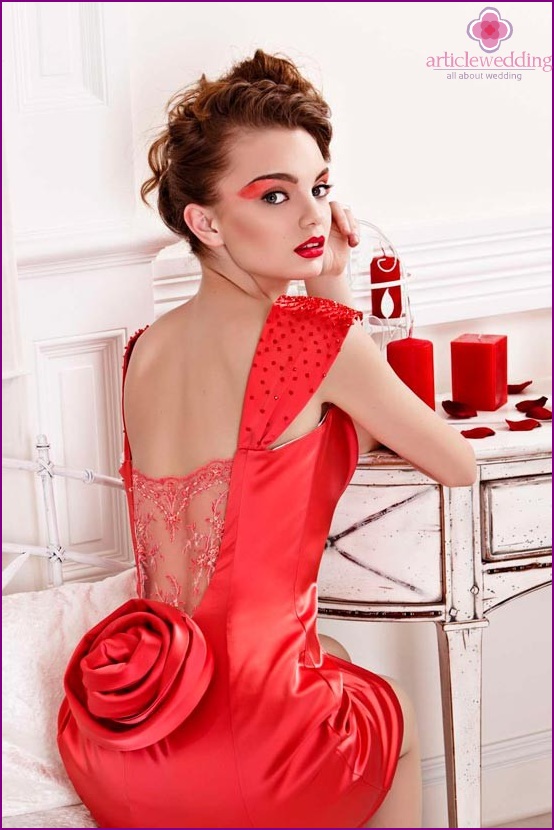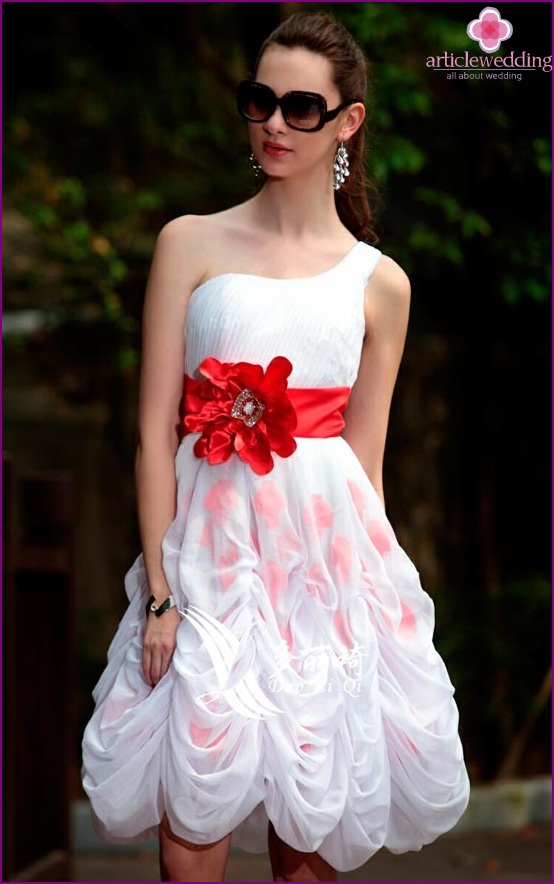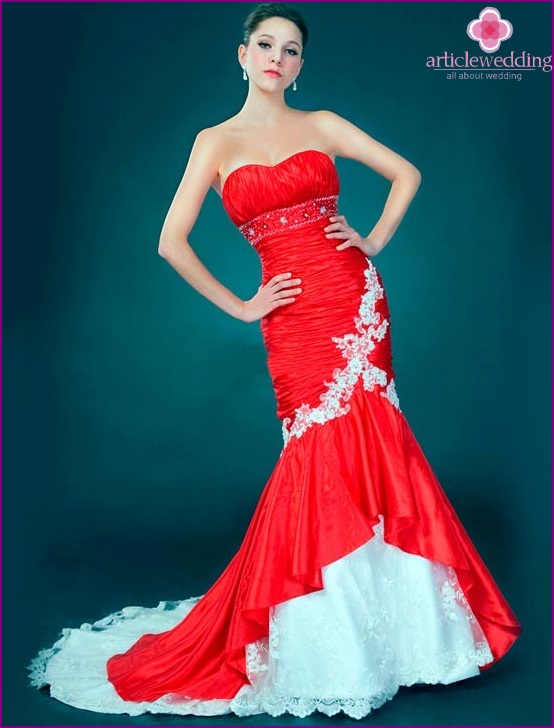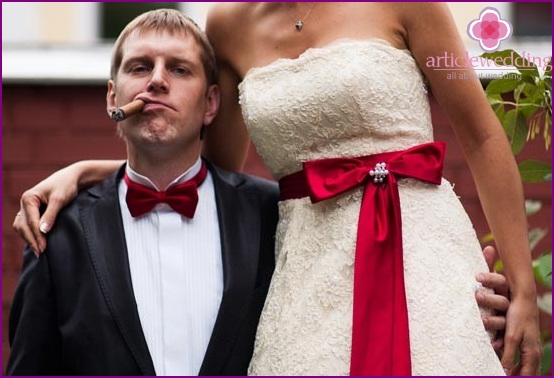 Wedding flowers in red
How can you do without the main floral decoration of the whole holiday, which is a wedding event? bridal bouquet the bride? In such cases, you should simply turn to the most luxurious classics, which are red roses, saturated with passion and passionate feelings of the groom for the bride.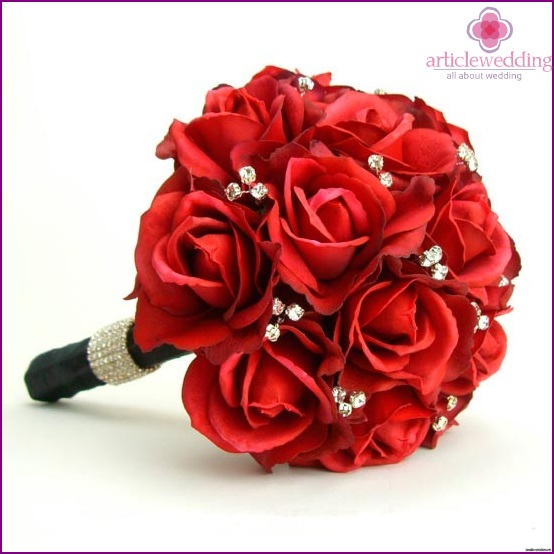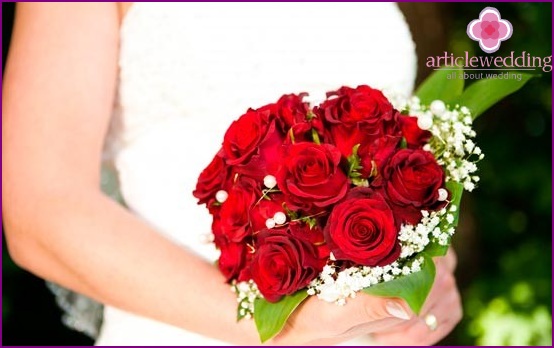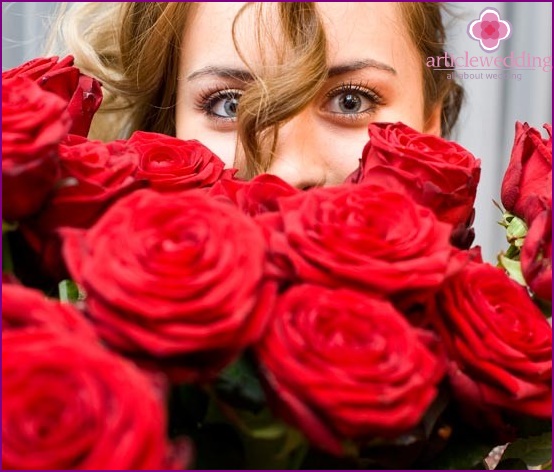 Wedding accessories for a wedding in red
Important details of any wedding are numerous accessories that truly reveal the color theme of the whole celebration. Such a bright and saturated color as red will initially attract attention from invited guests. However, everyone can be surprised even before the event. To do this, you will need to make or order invitation cards that will be made in the appropriate shades. The main highlight of your wedding should be large and mouth-watering a wedding cake, which can be decorated with red edible flowers.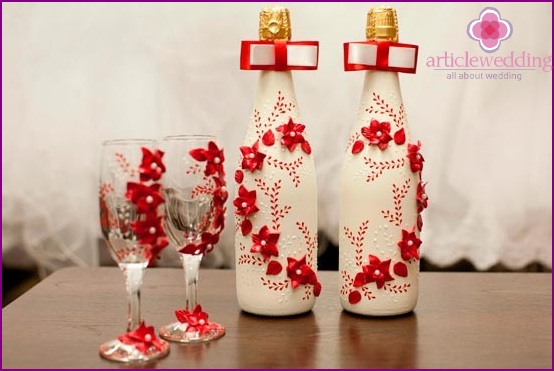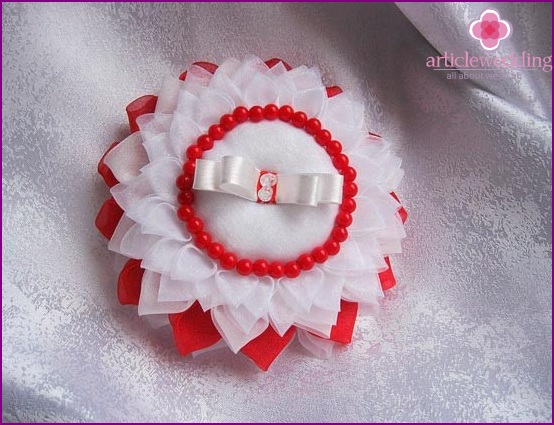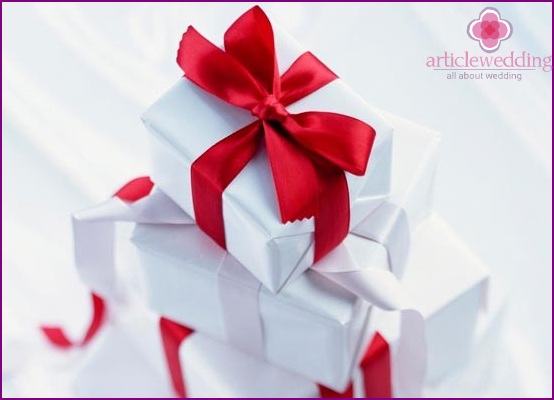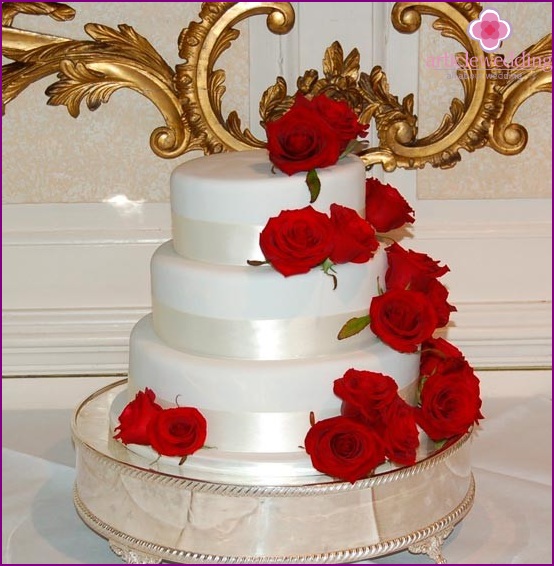 Wedding Ideas in Red
A suitable option for a wedding in red is a wedding in the style of medieval times. A luxurious holiday is provided for you! Or maybe you choose a wedding in the style of "Little Red Riding Hood": cheerfully and fun, is not it?
The combination of red with other colors
To decorate the whole wedding celebration with red, the aforementioned white shade looks most advantageous. All shades of gray can also be attributed to this section, since they draw the visual dominance of the main wedding color a little. The black and red tandem was always and everywhere considered a color set of kings and various noble nobles. To confirm this, remember at least a few family crests, on which these two dominant colors are mandatory. The wedding portal www.articlewedding.com describes in more detail all color combinations that will help a young couple at a wedding to simply shine.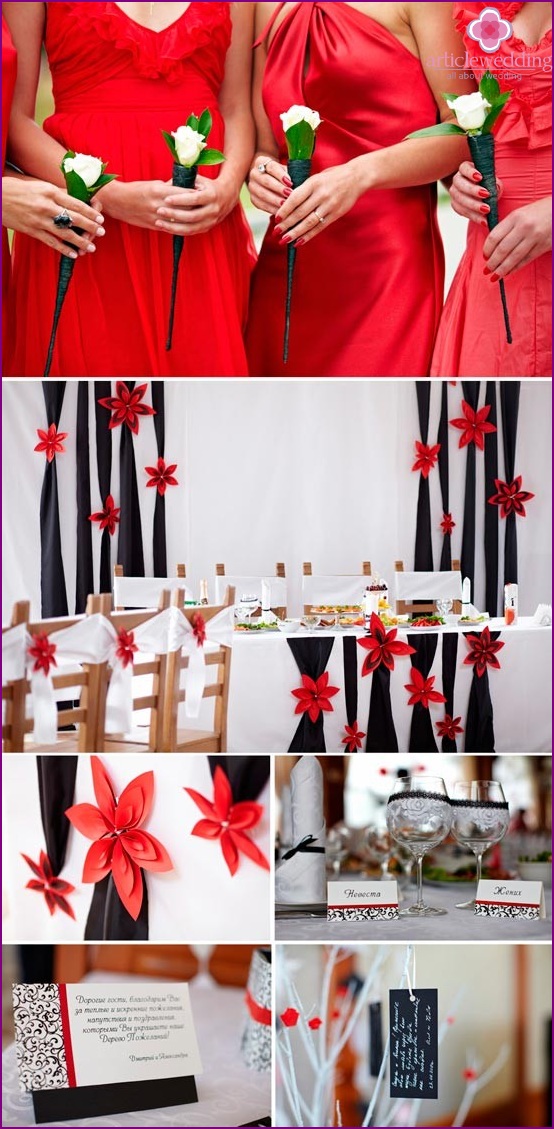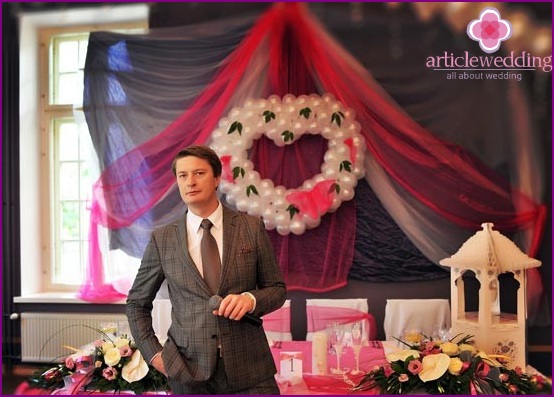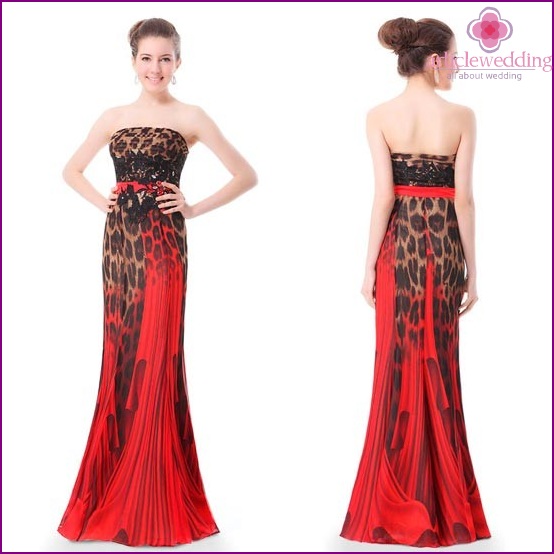 In the end, I would like to add that choosing red color as the main shade of your wedding celebration, you will not regret your courage and extravagance.