Contents
---
---
Cake is the main treat of the wedding evening, which is waiting for both children and adults. Therefore, it is so important to pay attention not only to its taste, but also to its design. Do you want to surprise your guests with a truly unique wedding cake? Then you should be in the know about world fashion trends! The portal www.articlewedding.com presents you the top 10 interesting ideas that will be the most trendy in 2016.
Cream roses cake
Peerless and tender wedding cakes look literally strewn with voluminous roses from butter cream. As a color scheme for such treats, pastel shades of pink, blue, ivory or classic white are usually chosen..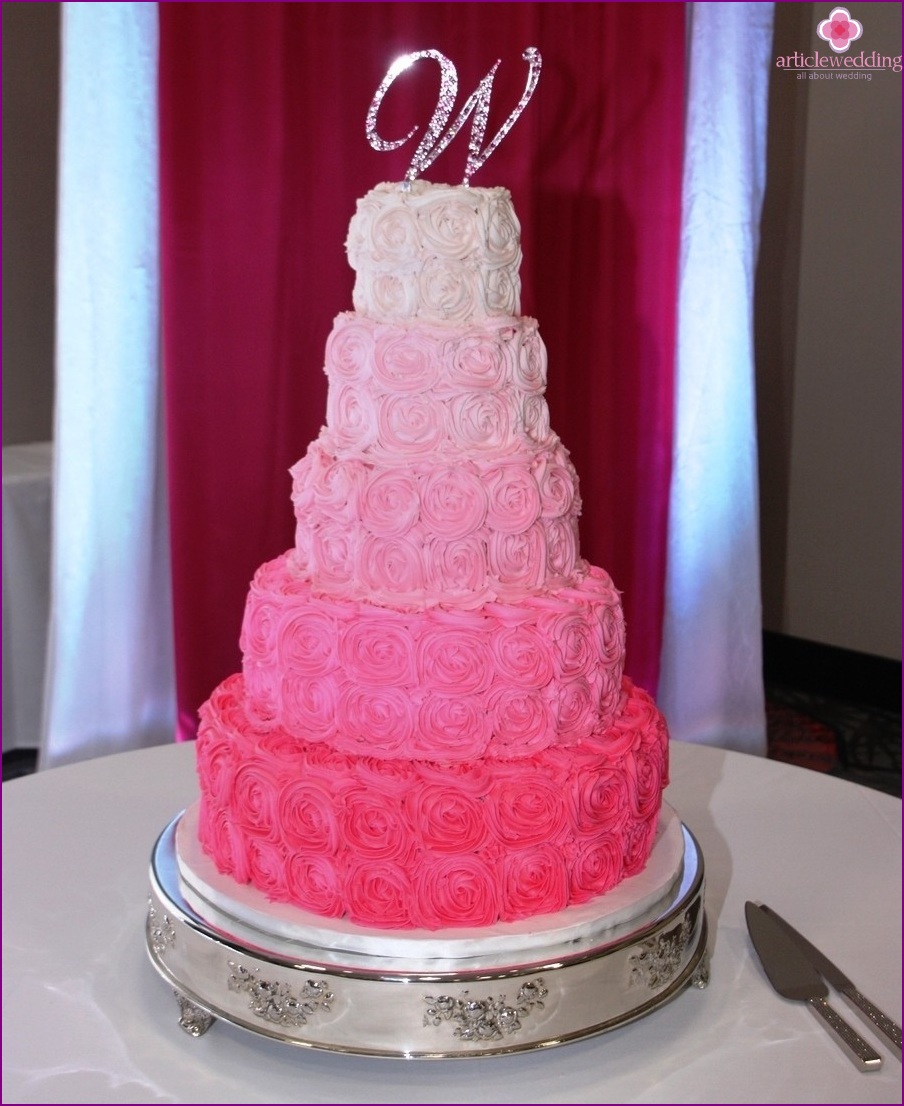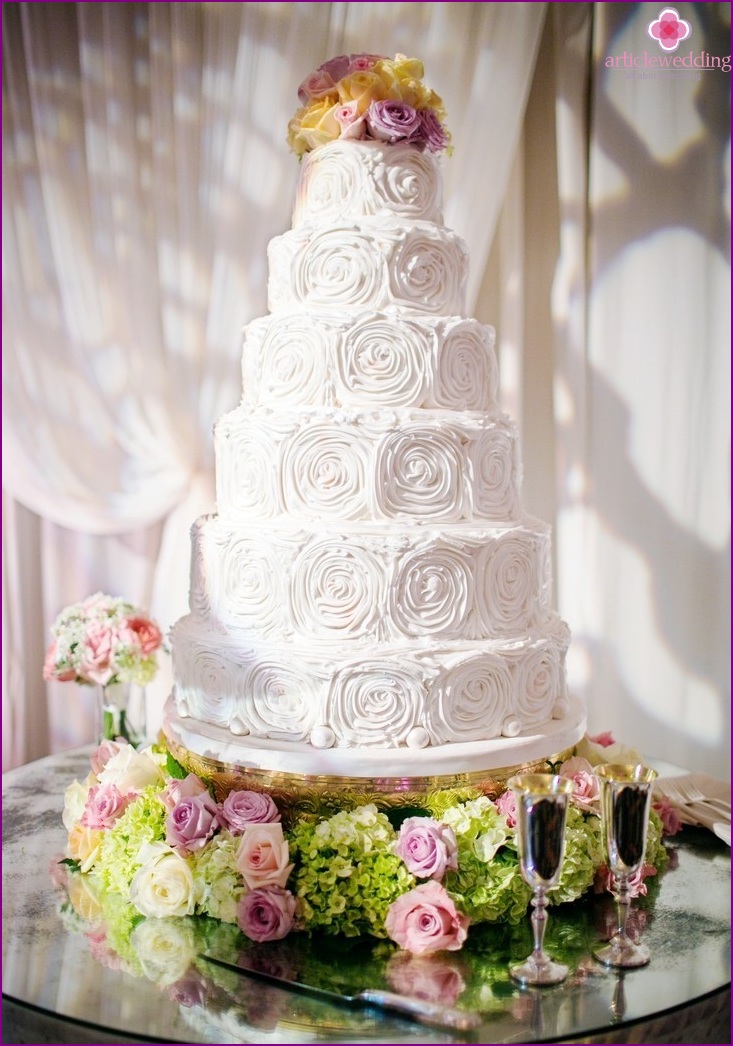 Corrugated cake
Cute and perky frills give the wedding cake playfulness and flirty. They can decorate the cake on its entire surface or only on some tiers. A great addition to cream frills will be a topper made from fresh or edible flowers.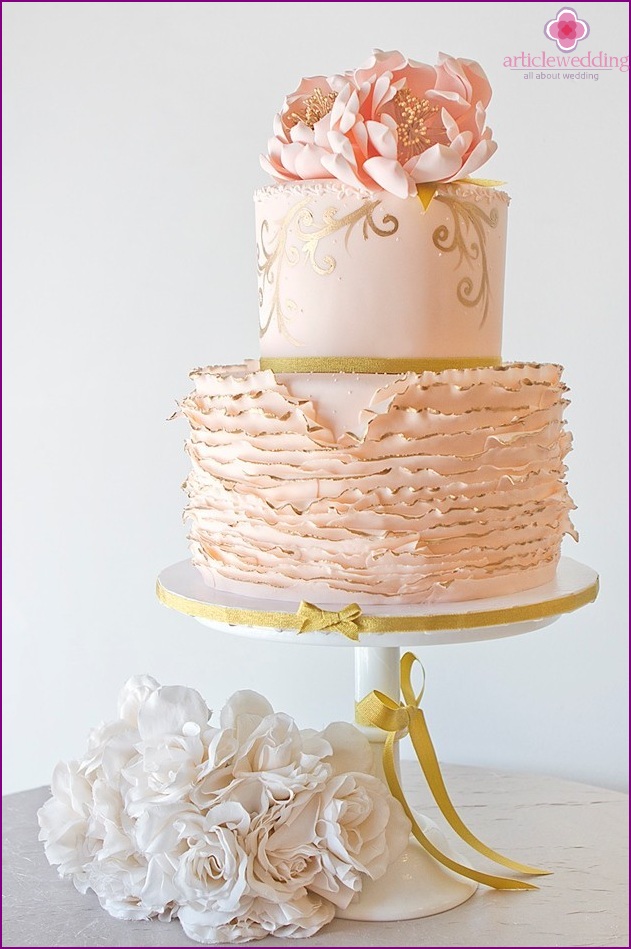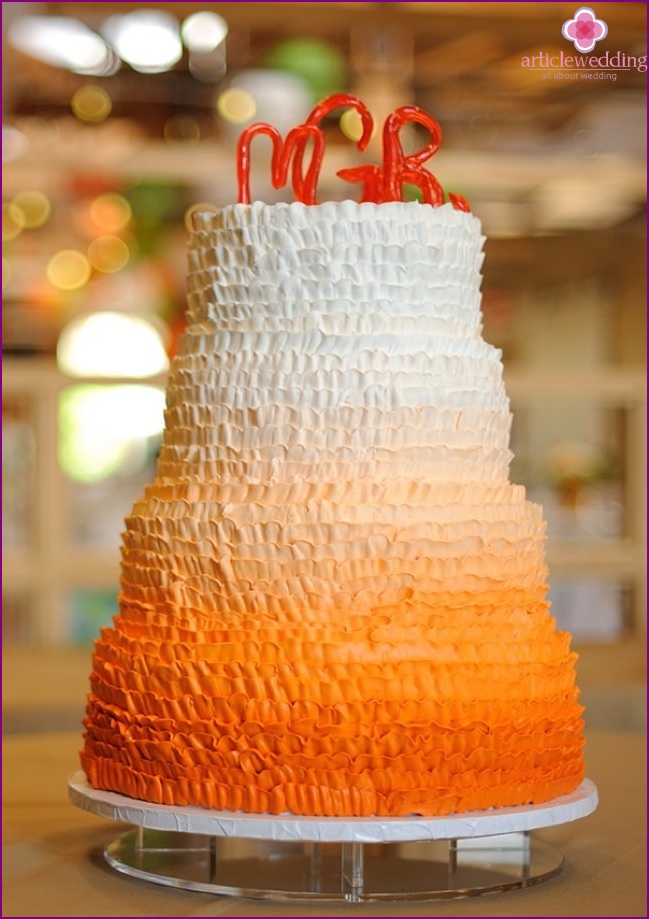 Open cake
For many years, wedding cakes with open cakes that look stylish and natural have been in fashion. Cakes are smeared with cream, condensed milk, jam, etc., and decorated with tasty layers of fresh flowers, fruits and berries. For a summer wedding, strawberries, cherries, cherries, etc. are perfect, and for an autumn or winter wedding, apples, pears, persimmons, or even oranges.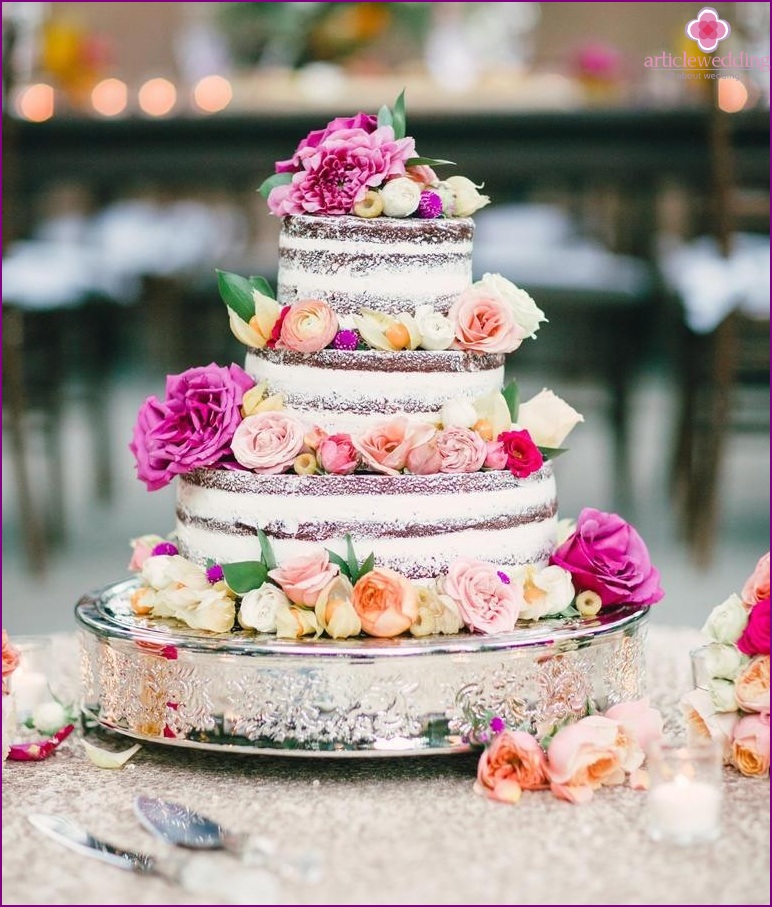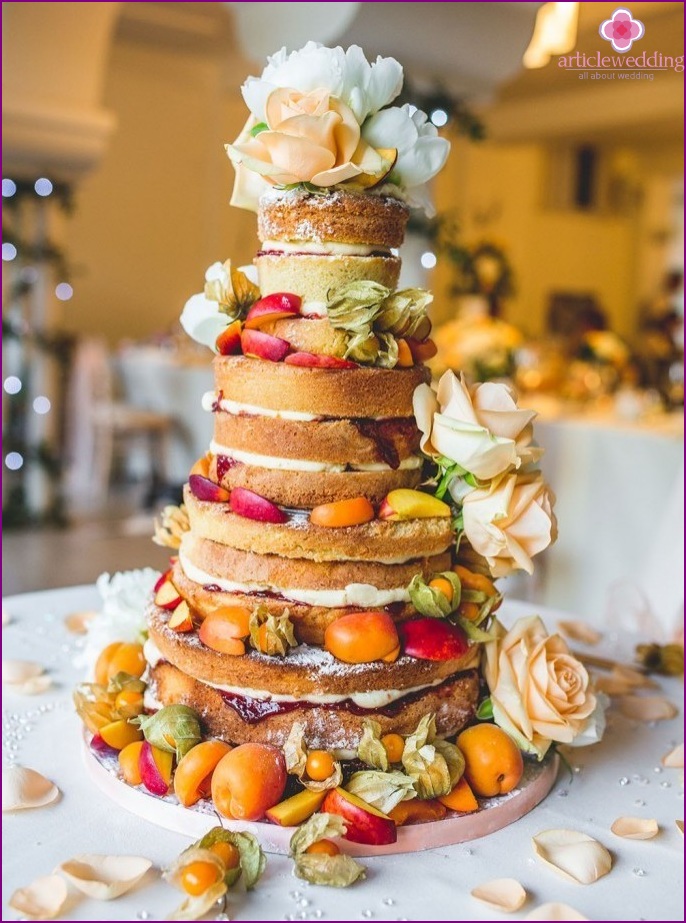 Cake with rich floral decorations
The trend of 2016 is cakes with a chic floral decor, whether it be live buds or edible flowers from mastic. Moreover, we are talking not only about single flowers, but also about whole floral arrangements - mini-bouquets, which delight with their beauty and tenderness. Ideally, if these are the same flowers as in the bride's bouquet. Imagine what spectacular photos you get while cutting the cake.!
To avoid pretentiousness and excessive variegation, pastel-colored cakes are decorated with bright colors: ivory, pale pink, peach or mint. You can emphasize the beauty of edible flowers with silver or gold edging..
Lace cake
The lace cake with cream, chocolate or caramel will add tenderness and romance to the wedding cake. This effect looks most beautiful on pastel colored cakes with slightly contrasting lace. Such a treat looks especially impressive and stylish if its decor is in harmony with the lace on the bride's dress.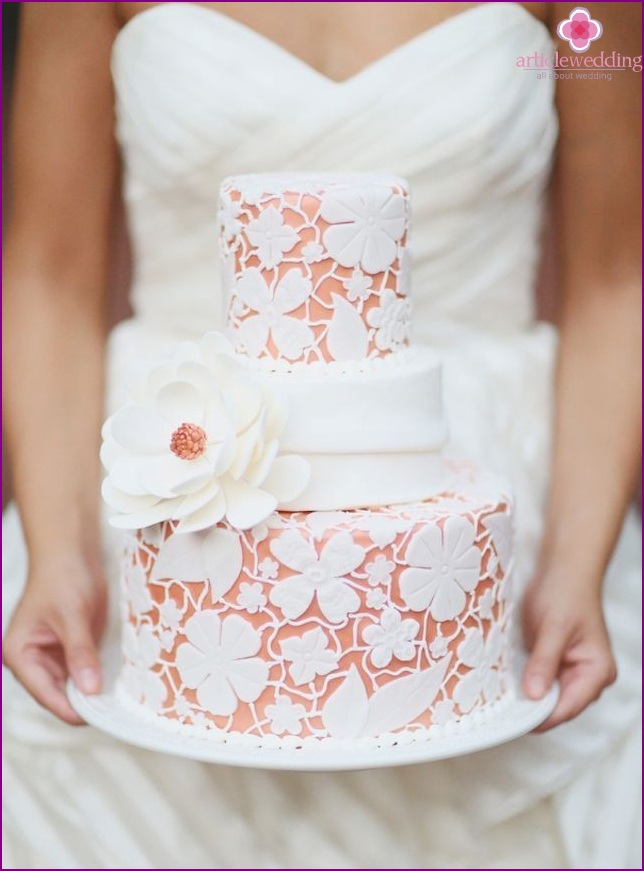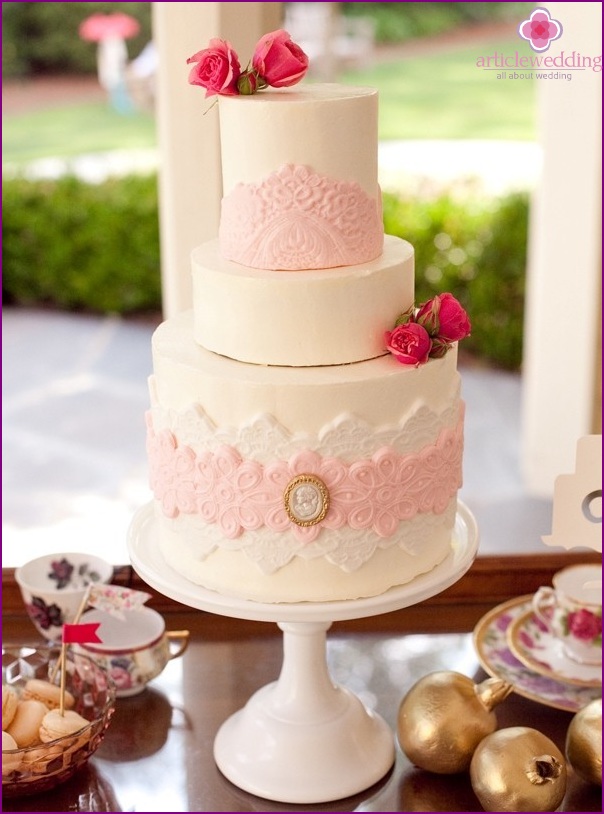 Forest Style Wedding Cake
Eco eco-style invites newlyweds to pay attention to a forest-style wedding cake, magical and quaint. The perfect combination: white or ivory base + fresh or realistic flowers, twigs and mastic leaves. Do not forget about the spectacular presentation: a wooden stand decorated with moss and leaves is perfect for this. This cake fits perfectly into the format of a wedding in the style of rustic, eco, etc..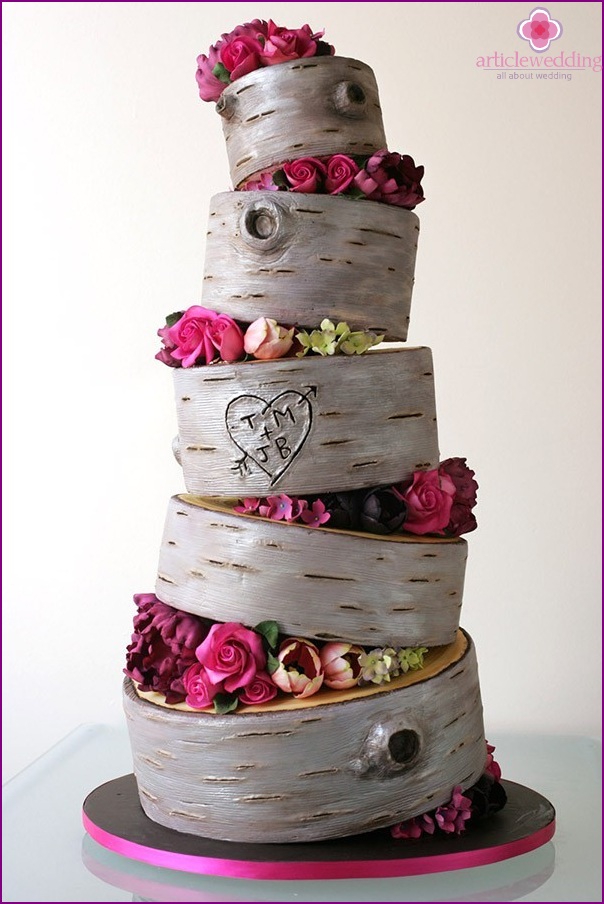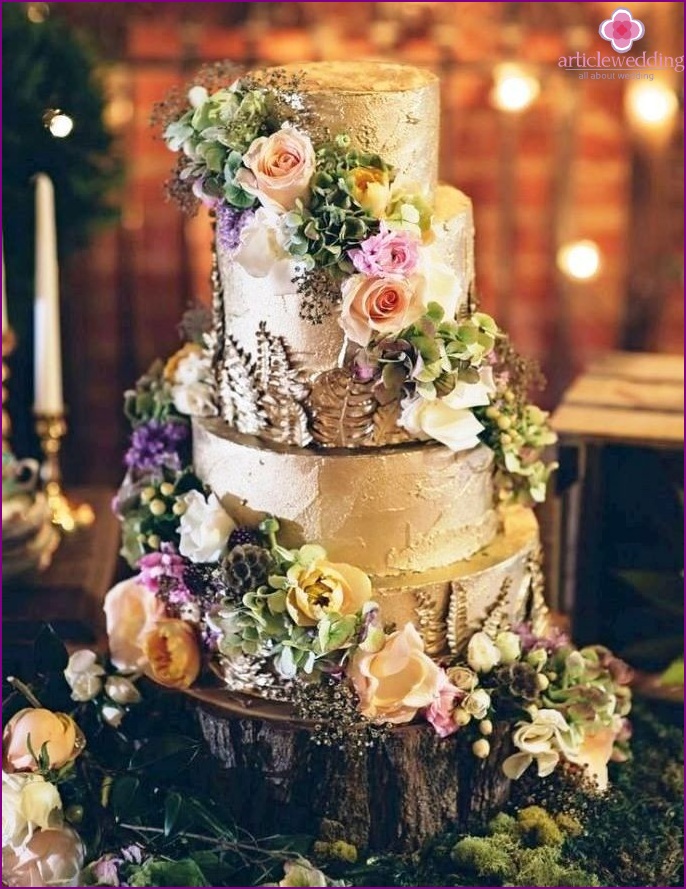 Geometric cake
Fans of minimalism and just modern newlyweds will like a wedding cake with geometric motifs. Triangles, squares, circles and strips of cream will give the dainty originality and uniqueness. For such a cake, it is better to choose a pastel base (white, pale blue or pink), but the geometric patterns themselves can be "drawn" in more vivid colors: orange, purple, gold, etc..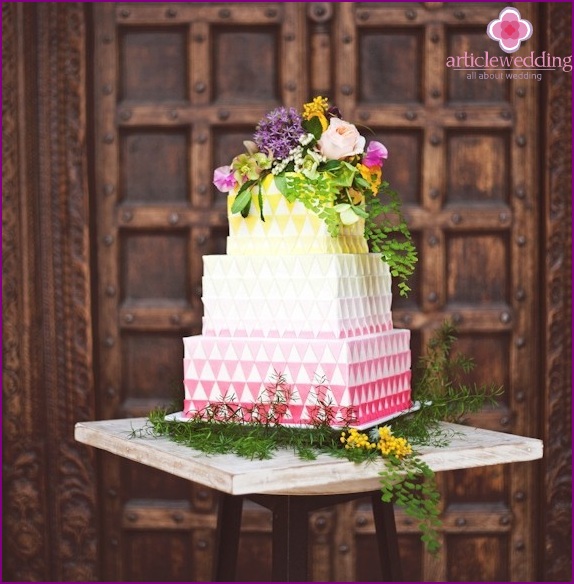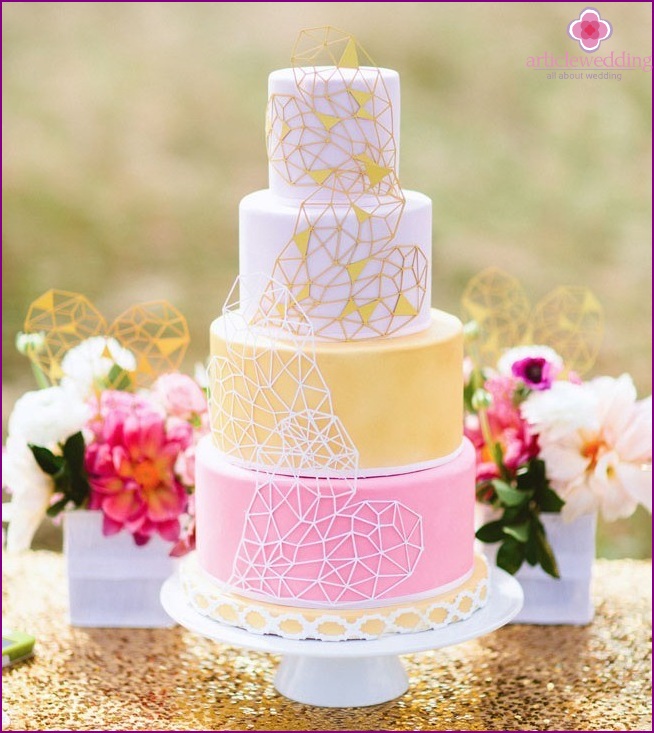 Metal cake
Vintage is back in fashion, because metal cakes with aristocratic silver or gold color are especially popular. They will ideally fit into the atmosphere of a wedding in the style of The Great Gatsby, Art Deco, Hollywood, etc. You can make the whole cake in metallic color, or you can highlight only one tier with an exquisite shine of metal. Moreover, it can be either a cream or jewelry, for example, large or small sparkles.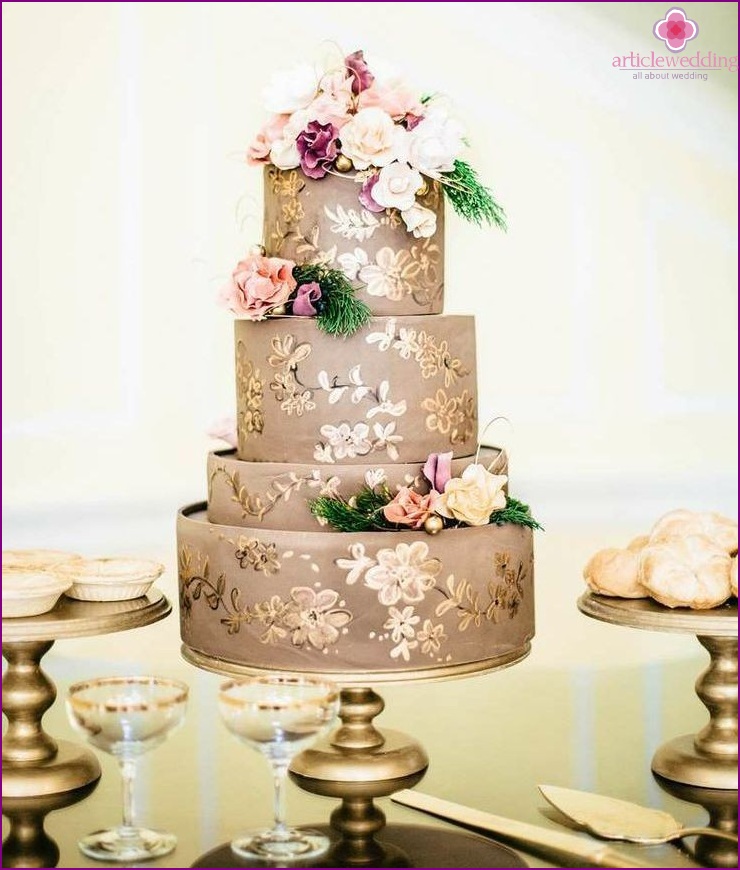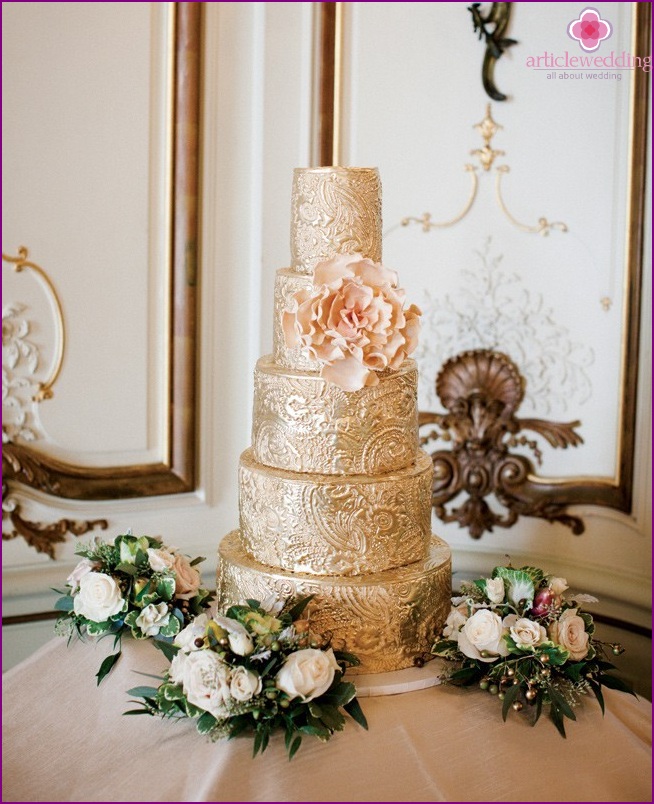 Painted cake
Wedding cake can be a real work of art. You can draw anything on the cake: from floral motifs and images of the sea to your first meeting and marriage proposal. They paint such cakes by hand, and they look like paintings painted in watercolor. By the way, watercolor motifs have remained at the peak of popularity for many years. Therefore, if you want to be recognized as fashionable newlyweds, order a hand-painted wedding cake from the confectioner. But what kind of drawing to apply, it's up to you!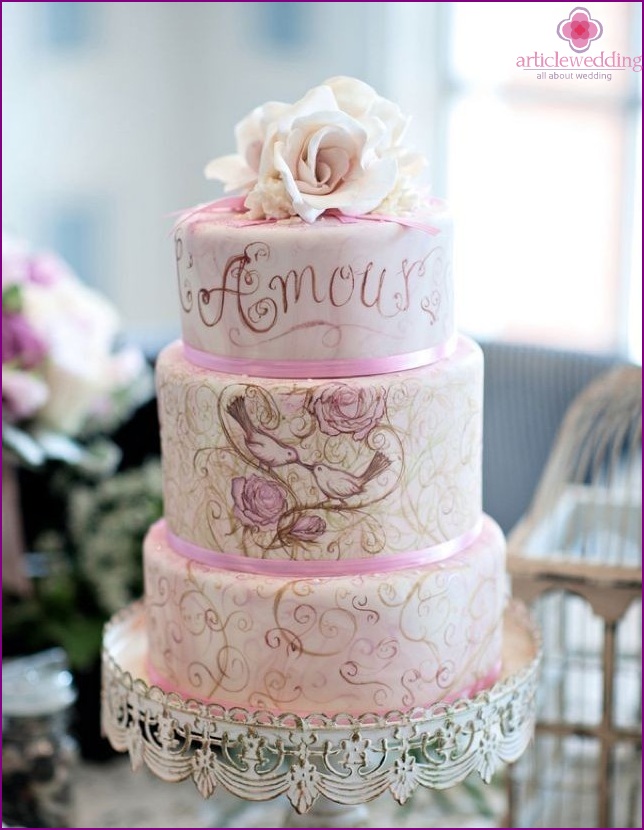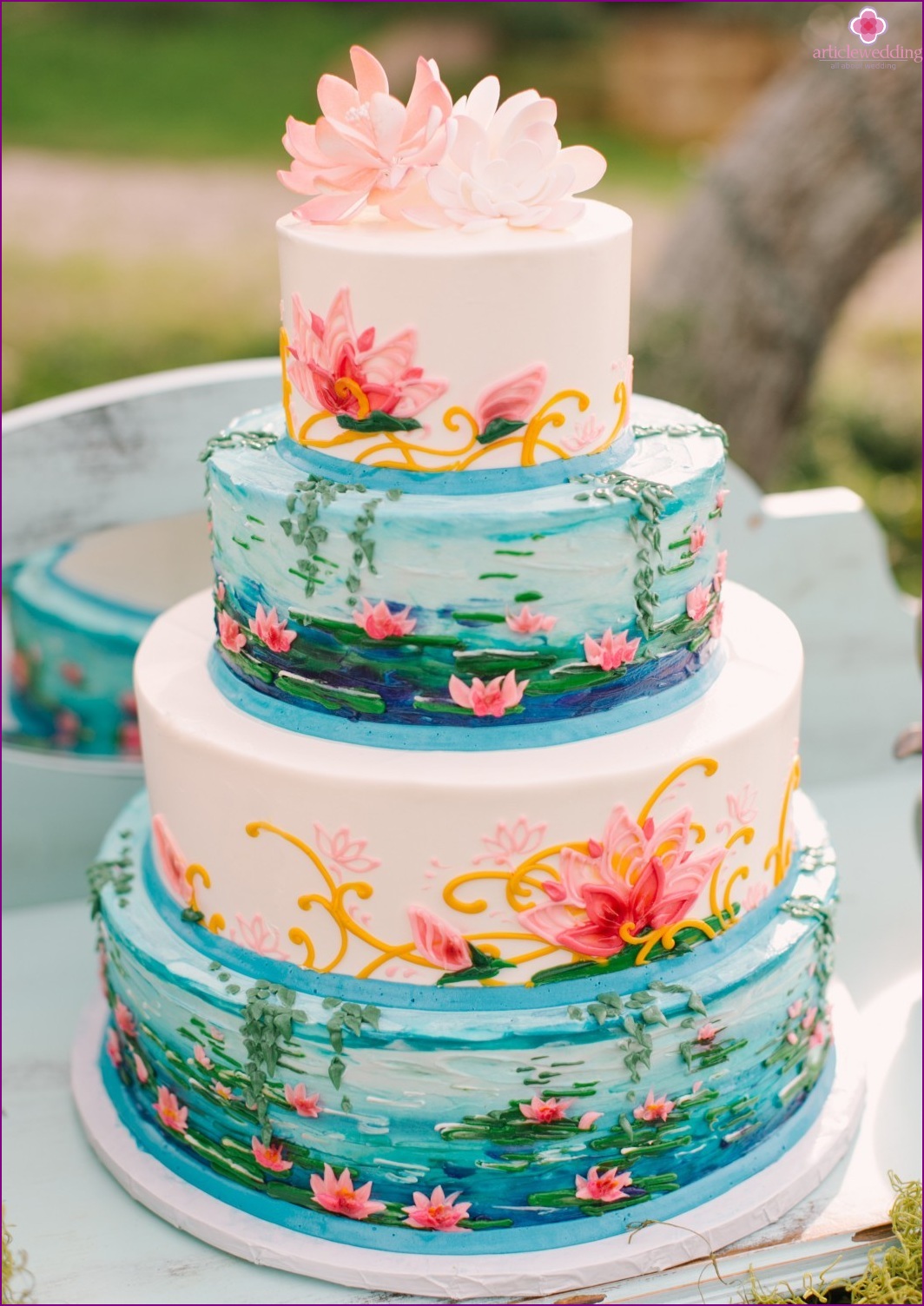 Monogram cake
You can personalize your wedding cake with the help of a monogram - a brand name consisting of beautifully woven capital letters of the names of the newlyweds. They put a monogram on one of the upper tiers in the form of a cream "stamp" the same color as the cake, or more contrasting, for example, luxurious gold, the portal www.articlewedding.com advises.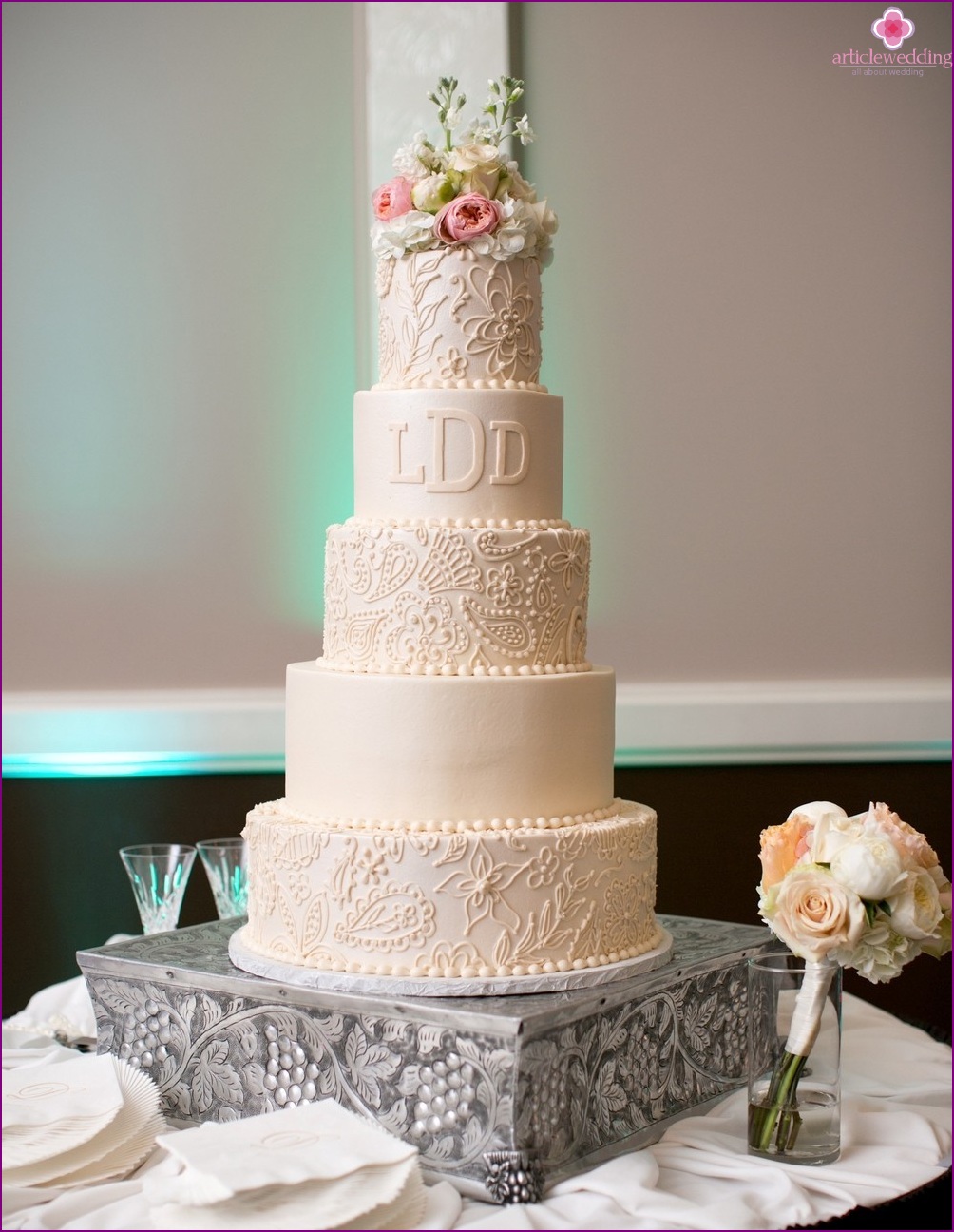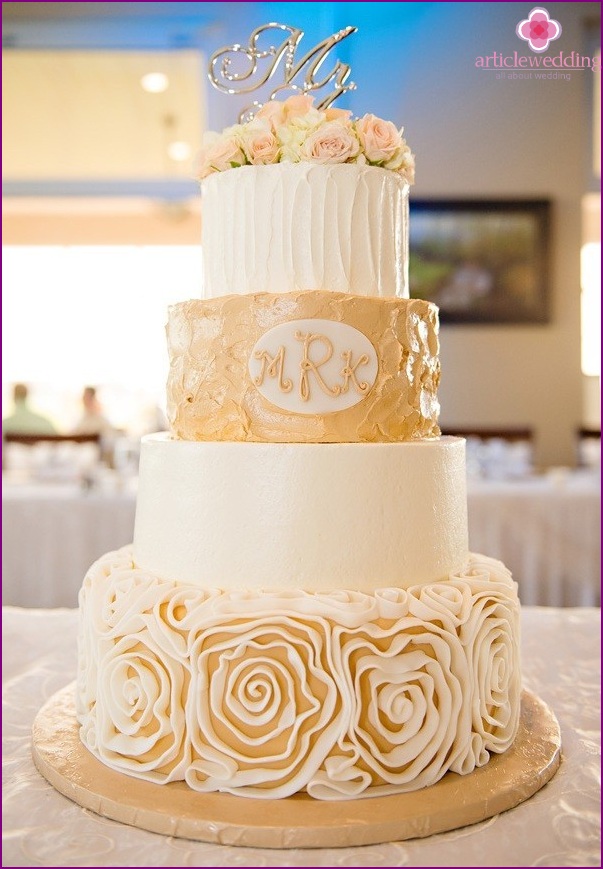 Wedding cakes in 2016 are designed to surprise with their originality and uniqueness. You can choose any design for the main treat of a wedding party: from lace details and geometric patterns to a stylish monogram and metallic sheen.