Contents
---
---
A scanty vase with a flower? An unsightly accessory that neither in color nor in design suits your wedding? The standard table layout that guests can see when they arrive at the restaurant the next day? So it won't work. A nondescript detail can reduce to «no» all the thorough and laborious preparations for the wedding. We take the table decoration in the restaurant in our own hands! Who, if not you yourself, knows what the holiday needs?
Classic bouquet
For a classic wedding, it is enough to order bouquets of white flowers, which will be put in a neat vase. If you are planning an Italian or English seating arrangement, pay attention to the small round compositions. Bright accents that combine with other wedding accessories or greens will give the bouquet a special charm.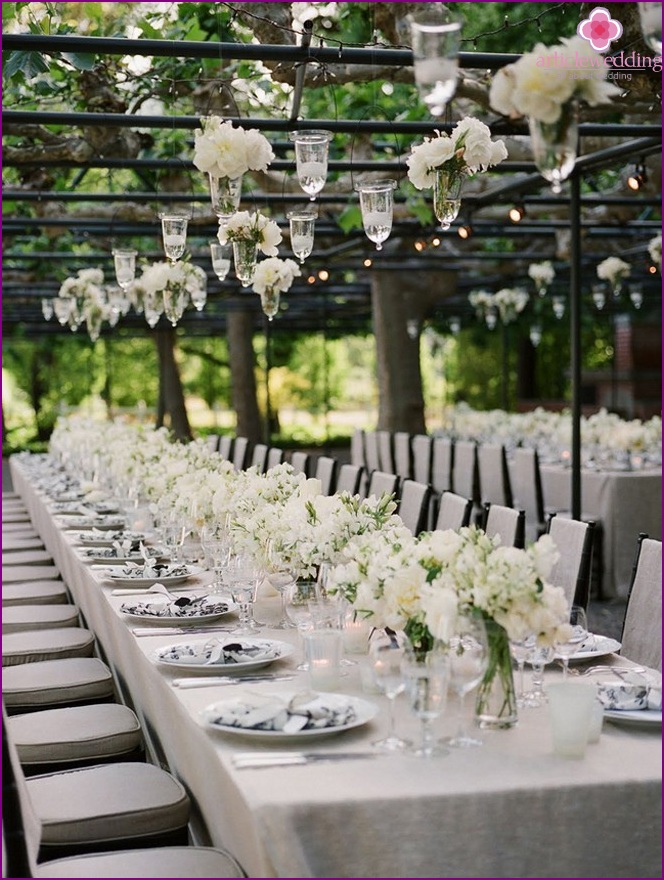 Elegance of oblong shapes
At spring weddings, large elongated bouquets of seasonal flowers - tulips and daffodils, as well as gerberas look great. If the banquet room is spacious, you can arrange large transparent vases with voluminous bouquets of flowers in pastel shades. Such forms veil the feeling of emptiness of space, but, at the same time, they will look at ease and organically. The wedding portal www.articlewedding.com believes that one bright gerbera with a thick leg is a great decoration on a wedding table.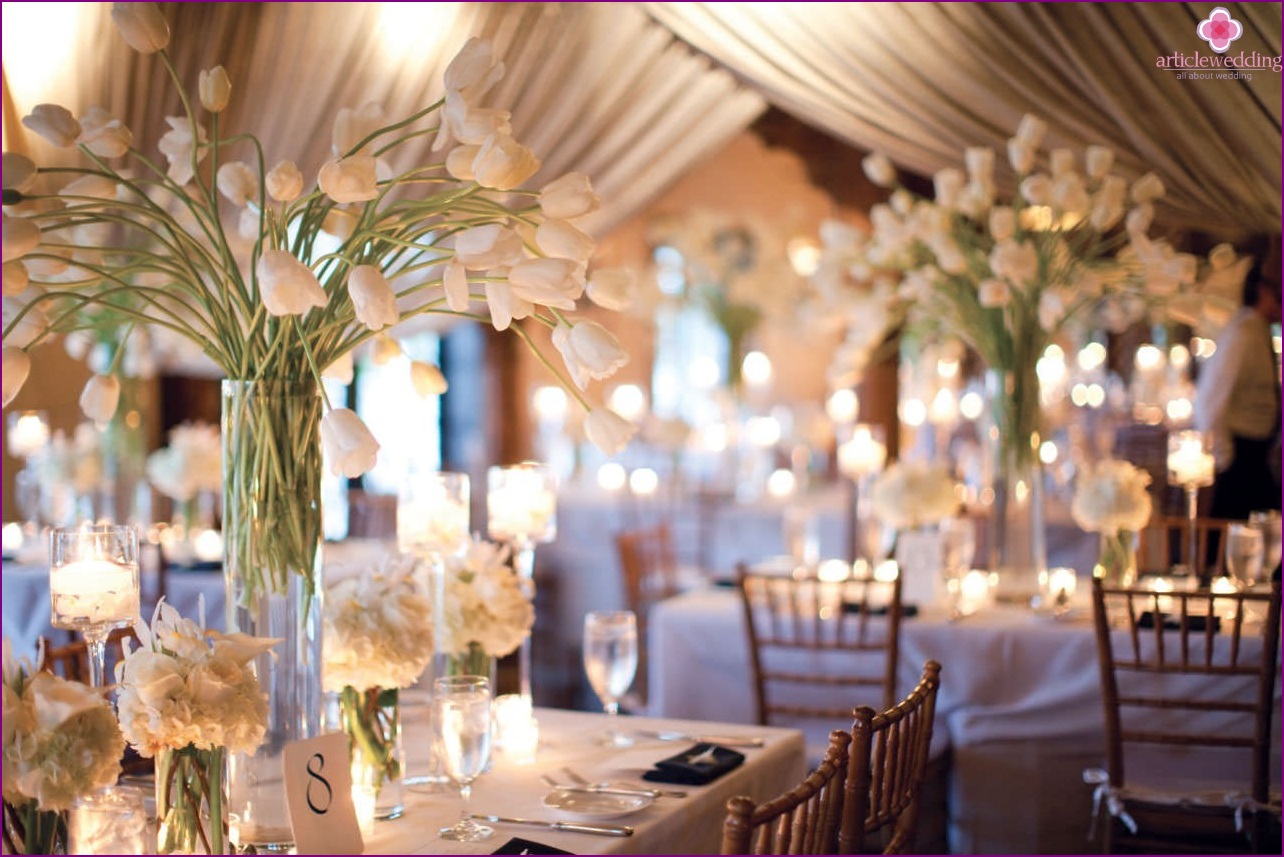 Proximity to nature
Summer weddings, banquets in nature or in manors outside the city involve the use of natural materials in the design of the banquet. Pay attention to eco-friendly accessories. For example, wildflowers in small vases, bunches of ears, decoration with moss, wooden decorations, etc. The advantage of such a solution is that it will significantly save the budget, because a beautiful composition of natural materials can be made with your own hands. As Coco Chanel said: «Modesty is the height of elegance! »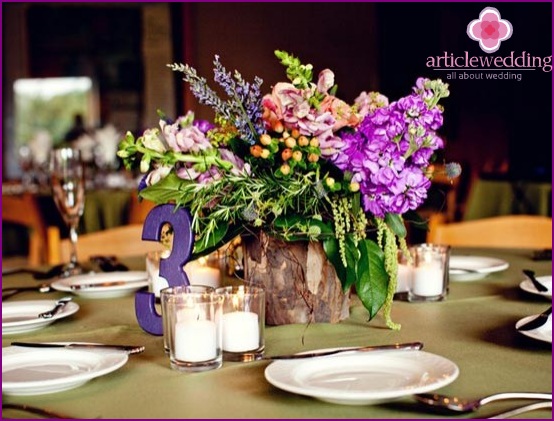 Table decoration with vases
The decoration of wedding tables does not come down to flower arrangements. An original and stylish vase in itself is an excellent table decoration. Transparent bowls with high legs will serve as an unusual wedding accessory. You can fill them to taste in accordance with the wedding theme - buds, colorful pebbles, apples, coffee beans, cookies, etc. Large glass souvenirs of original shapes will also successfully decorate tables.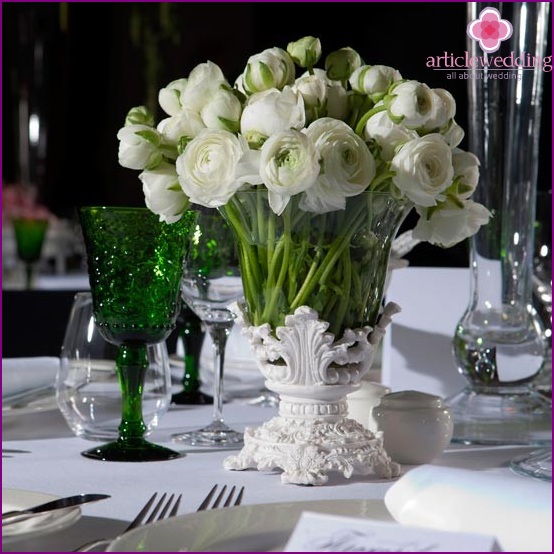 Fruits and vegetables on the table
Fruits are a popular accessory at modern weddings. They are bright, multi-colored, stylish, juicy, fragrant and diverse in methods of application. You can put fruit compositions in vases or special salad bowls, arrange large glasses with chopped fruits, flavor the banquet in this way, put seasonal fruits in wicker baskets, etc. There are a lot of options for using fruits in wedding decor. Any of them are successful.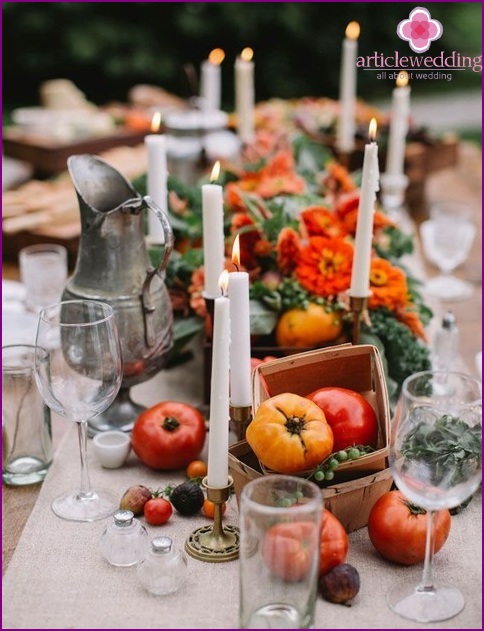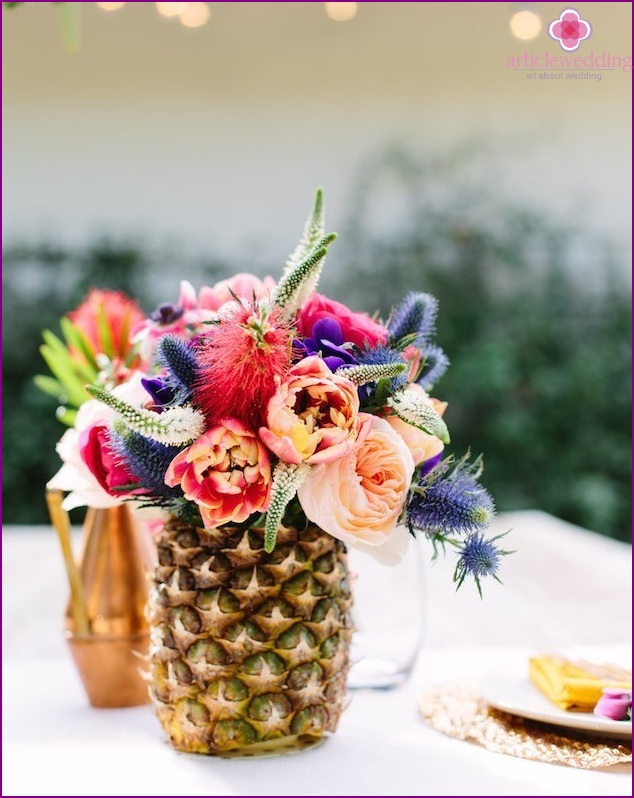 Thematic Compositions
If decorating with flowers, vases and fruits is too simple for you - show your imagination, create your own compositions that reflect the style of the wedding. It can be candles, decorative birdcages, stylized themed decorations (from English porcelain to souvenir mills and palace towers). Www.articlewedding.com is convinced that unusual solutions are the key to a successful wedding..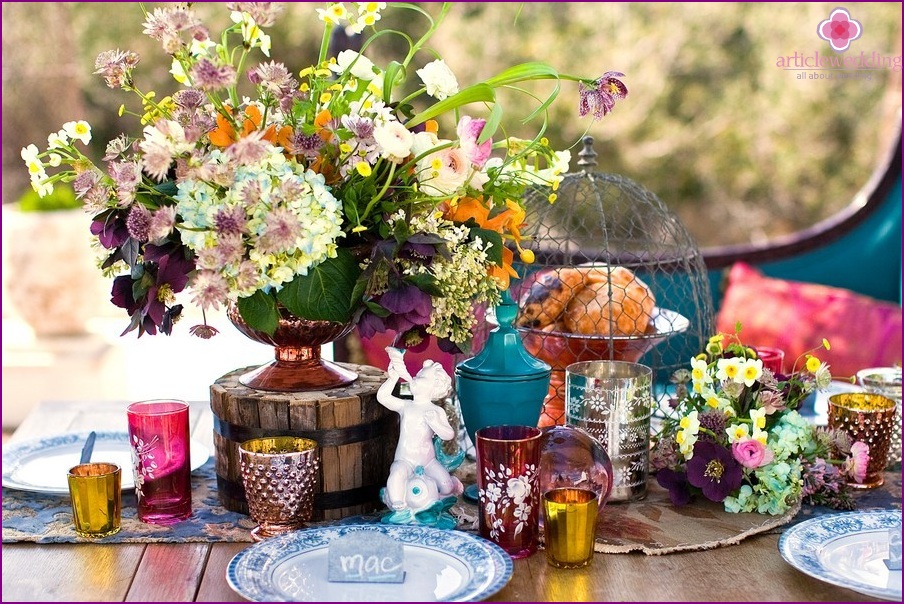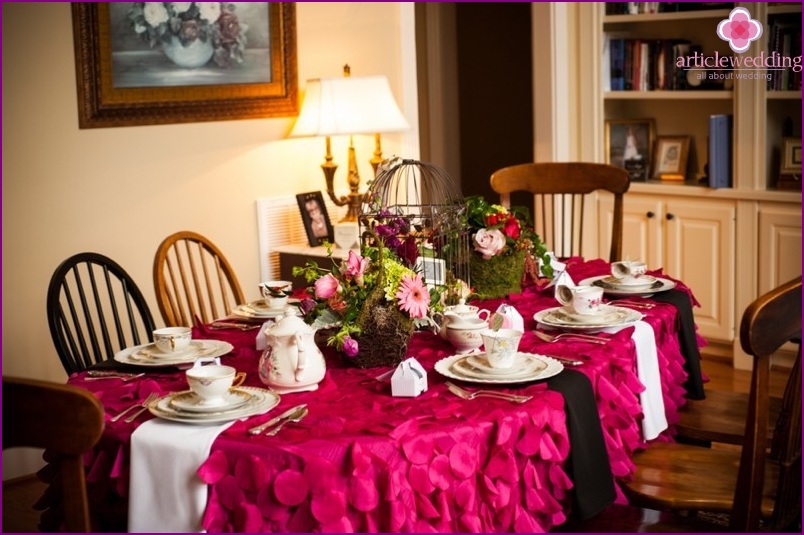 Floating candles
Candles always add romance to the decor of the room. Such lighting is indispensable in the evening wedding. A great option is floating candles in small vessels among delicate petals. This decor is suitable for almost any wedding.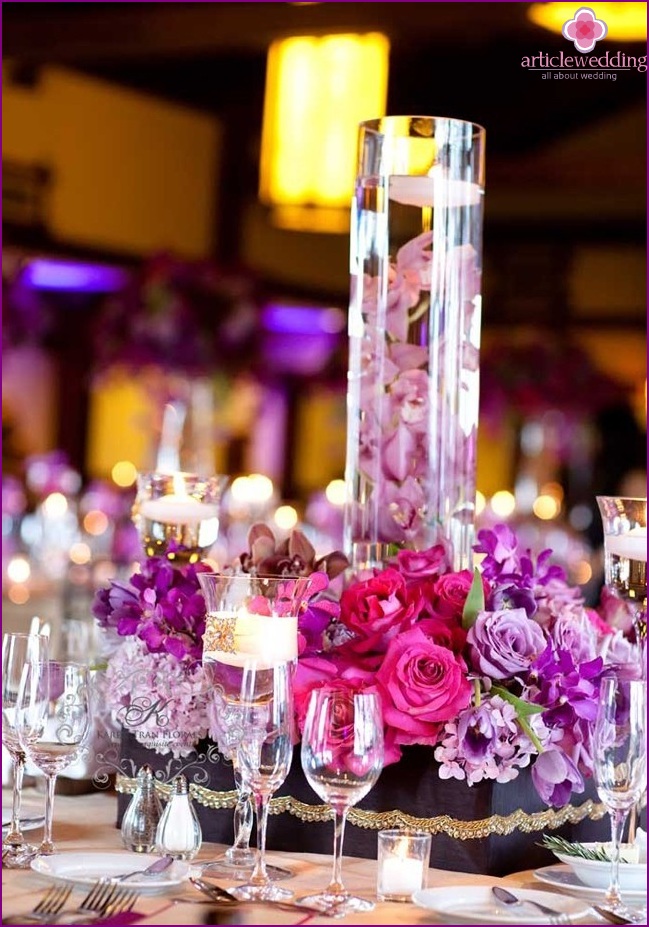 Photos on the tables
Images, especially photographs, will help to decorate wedding tables in an original way. Put compositions from photographs of the bride and groom as a symbol of triumph. Please guests with their own photos in the wedding decor. In addition, guest images can serve as banquet cards as well as wedding favors.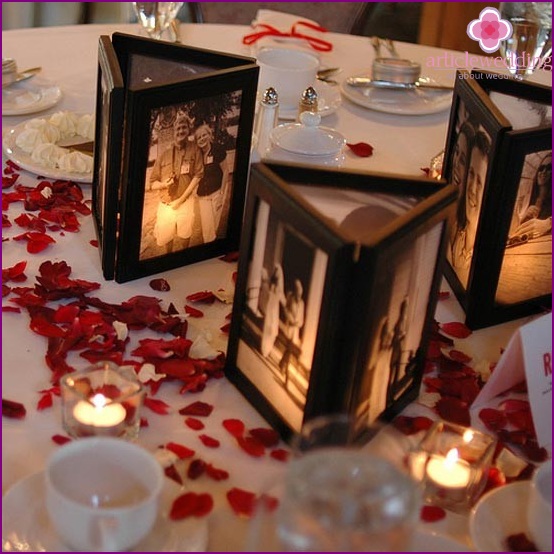 When organizing a wedding, every detail is important. Choose the accessory that will perfectly decorate your wedding. An individual approach to the decoration of the celebration - a guarantee of a festive atmosphere!