Contents
---
---
If earlier at the wedding banquet you could meet only a buffet table with champagne and snacks, now the newlyweds embody a variety of ideas in order to diversify the wedding menu and surprise guests. First of all, we are talking about a thematic bar, which becomes the center of universal attention..
Many of you have heard of the candy bar, however, this is just one type of wedding bar from the many options available. So, let's look at what types of bars are, and also decide which bar is suitable for your wedding.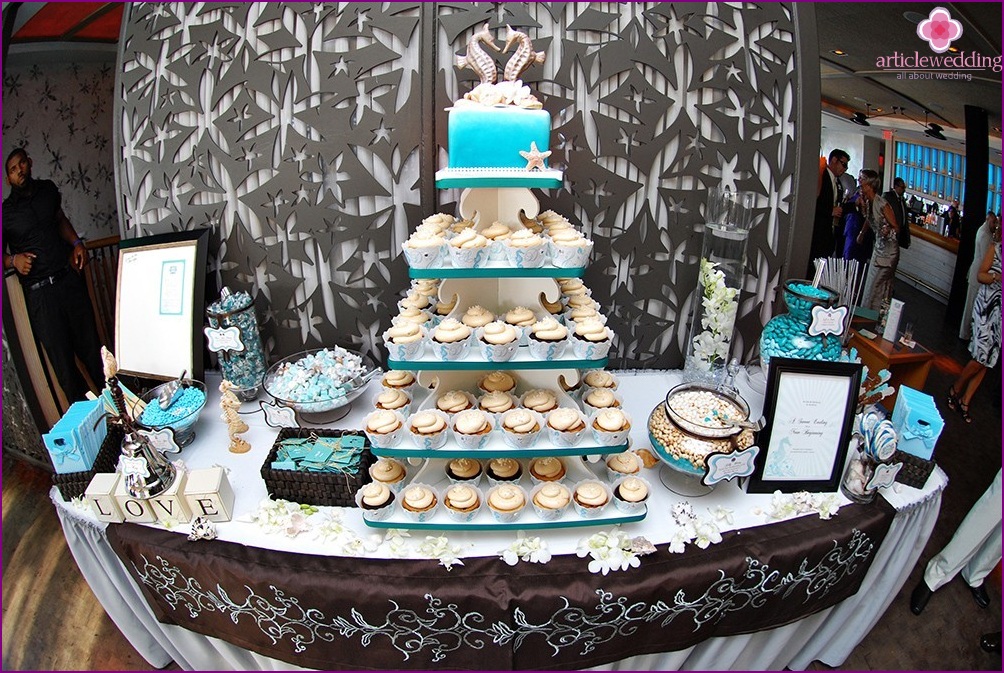 Food
-bars
If you want to treat guests with interesting treats that are difficult to include in the general menu, then you can organize a themed food bar at the wedding. Depending on the products offered, the following types of food bars are distinguished:
Candy bar with sweets: macaroons, cakes, cake pops, eclairs, etc..
Cheese bar with several types of cheeses, you can supplement them with wine, fruit and bread.
An ice cream bar where guests can enjoy a treat «icy» a treat.
Fruit bar with a variety of fruits and berries. You can supplement the gifts of nature with cream, fresh, fruit jelly, etc..
A waffle bar where homemade waffles topping with jam, berries and whipped cream will be waiting for guests.
Popcorn bar with sweet and salted popcorn.
There are two types of fondue bar: cheese and chocolate (in fact, this is a table with a chocolate fountain).
S'mores bar, for the organization of which you will need marshmallow marshmallows, sticks and a special device with fire on which guests will prepare their own marshmallows.
Salad bar, which is a table with chopped foods and dressings, from which guests can prepare a salad to their taste.
Barbecue bar with refreshments cooked on the fire: barbecue, suluguni, baked vegetables, etc..
Pizza bar with a wide variety of pizzas, sauces and real olive oil.
«Nautical» a bar with seafood: shrimps, mussels, crab, etc. Separately, it is worth highlighting the sushi bar, which is becoming increasingly popular among honeymooners around the world.
A bar with cotton candy, which will delight all kids at a wedding celebration, and adults will not refuse such a treat.
Which of these bars to choose for the wedding celebration, you decide based on personal gastronomic preferences, the style of the celebration, as well as the seasons and venue of the wedding:
If your wedding takes place outdoors, then a barbecue bar will be a great option; for a summer celebration, an ice cream bar; for a nautical-style wedding, a seafood or sushi bar.
If your wedding will be attended by many children, they will be delighted with the bar with ice cream, popcorn or homemade waffles.
Candy bar, cheese, fruit, salad - quite versatile. They will fit into almost any format of the celebration, the main thing is to think over their design that matches the theme of the wedding.
Drink
-bars
Do you want to surprise guests with unusual drinks and their beautiful presentation? Then organize a drink-bar or a bar with drinks at the wedding. And we are talking about both non-alcoholic and alcoholic drinks. Let's look at the most popular options:
The cocktail bar can be organized in the form of a table with ready-made cocktails or a separate area with a bartender, which you can turn to for cocktails. Regardless of which option you choose, you should buy a variety of drinks for the wedding: from martini, whiskey and liquors to juices, colas and syrups.
A lemonade bar where guests can enjoy different types of lemonade with slices of orange, lemon, lime and ice.
A tea / coffee bar where guests can enjoy gourmet teas and / or coffees. For the bar, also prepare small cakes, sweets, marshmallows, etc. As a kind of bar with hot drinks - a bar with cocoa and hot chocolate.
The beer bar, which will be appreciated by the male half of the guests, because it will feature several beers for every taste.
Mimosa bar with champagne, juices, fruits and berries. You'll have to buy more than one box of champagne for the wedding and a lot of juices, because it is from these two ingredients that guests will make everyone's favorite cocktail «Mimosa».
Sangria bar where guests can enjoy chilled sangria; the whole female half of the wedding will be delighted with such an idea.
When choosing drinks for a wedding bar, consider both the celebration style and the time of year:
For a wedding in the warm season, an ideal option would be a bar with soft drinks: lemonade, cocktails, beer, champagne, etc..
For a wedding in the cold season - along with champagne, be sure to organize a bar for guests with hot drinks: coffee, tea, cocoa, hot chocolate. In addition, to fill the cocktail bar, choose warming drinks: grog, mulled wine, etc..
There are a lot of options for wedding bars. You can not make a choice in favor of well-known options, but «to invent» your own bar, which will be the highlight of your wedding celebration.