Contents
---
---
Yellow wedding is not only a fashion trend of spring-summer marriages. Yellow color creates a sparkling mood, brings joy, warmth and light. Your wedding, a priori, will be full of positive emotions.
Yellow value
Yellow has long been considered frozen sunshine - a symbol of life, wealth, joy. The cheerful yellow in many nations means something good: fantasies, dreams, youth, happiness, good health, energy supply. In China, yellow is a symbol of elitism. And more precisely - a symbol of high, or rather, royal persons - the imperial family. Whatever one may say, but yellow colors and shades are the perfect choice for a bright, light, warm and very cheerful wedding.
Wedding decoration in yellow
The most spectacular of the yellow wedding is the shade of natural greenery. This is another factor in favor of the fact that such a colored wedding is best done in the summer. Lush foliage, smooth emerald grass lawn - excellent natural contrast. You can dilute the yellow-green tandem with saturated blue or pale blue. It can be a wedding table setting, light fabrics, draping arbors and awnings. If your wedding has a "look and walk" picnic - complement the rich yellow red-and-white cell, wicker baskets. Decorated with satin yellow ribbons, as well as rocking chairs, with cozy yellow-blue rugs that come in handy on a cool summer evening.
Saturated yellow goes well with ash gray. The wedding site www.articlewedding.com advises you to take this detail into account, especially, arranging a wedding banquet in room. The gray columns entwined with garlands of yellow flowers will look elegant and, at the same time, not boring. Forged furniture will be added to the decor, decorated with fresh flowers of lemon shades..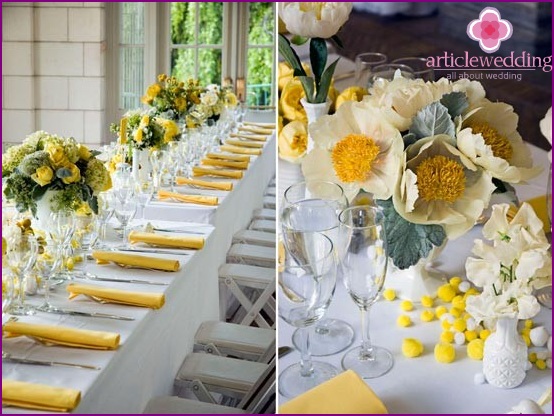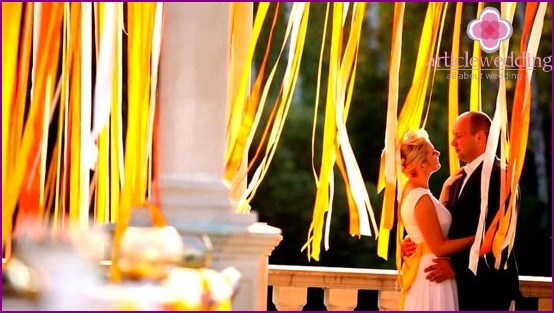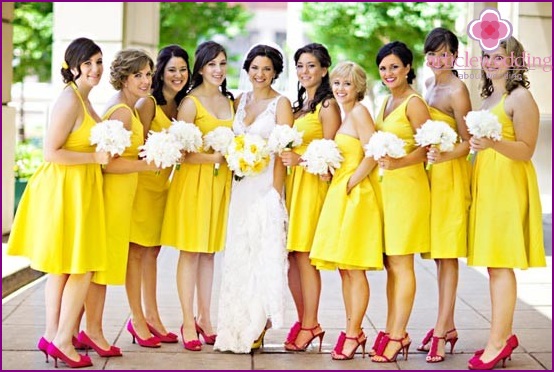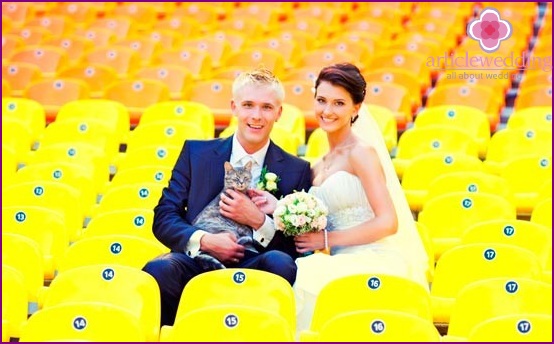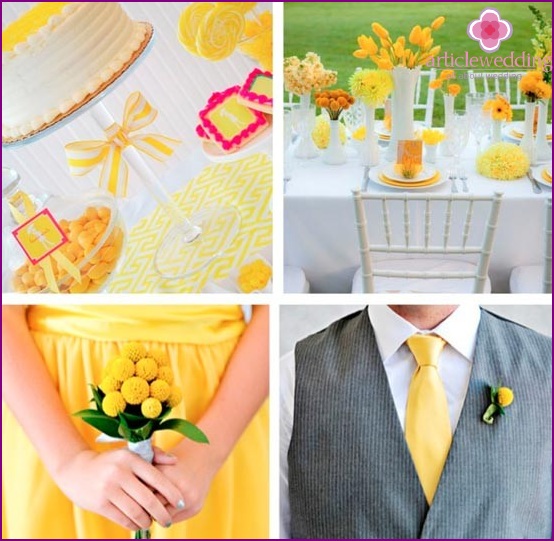 Wedding dresses for yellow wedding
Many are very wary of yellow. Especially fans of Mikhail Bulgakov. But, do not focus on the symbolism of color in the novel of the great writer. Yellow, as we said, is a very cheerful, bright and flirty color. Still, do not completely plunge into yellow - the canary image is very specific. Best of all, this sunny shade will look in the individual details of the outfits. The bride can tint a snow-white dress with a satin yellow belt and matching shoes. Embroidery, which will be decorated with a wedding dress, can also support the theme. Well, if the dress itself is, say, a light blue hue. Strict mischief along with the groom Add a juicy shade of tie, shirt, neckerchief. And some daredevils amuse the guests with bright yellow socks in some contrasting strip. Do not forget about interesting combinations of yellow with other colors. Such a move will add zest to the image. If the celebration is planned classic and seasoned - choose calm yellow tones. In jewelry, choose not jewelry, but precious and semiprecious stones. Beryl, tourmaline, topaz, citrine, yellow sapphire, amber are ideal for a yellow wedding.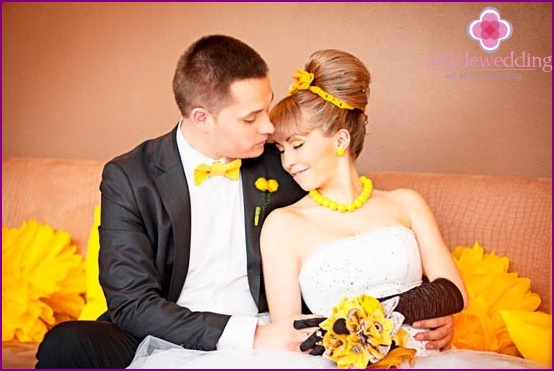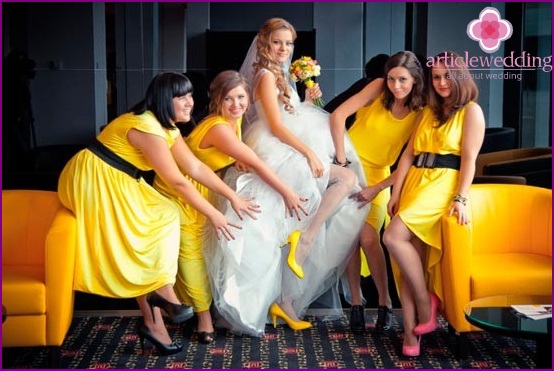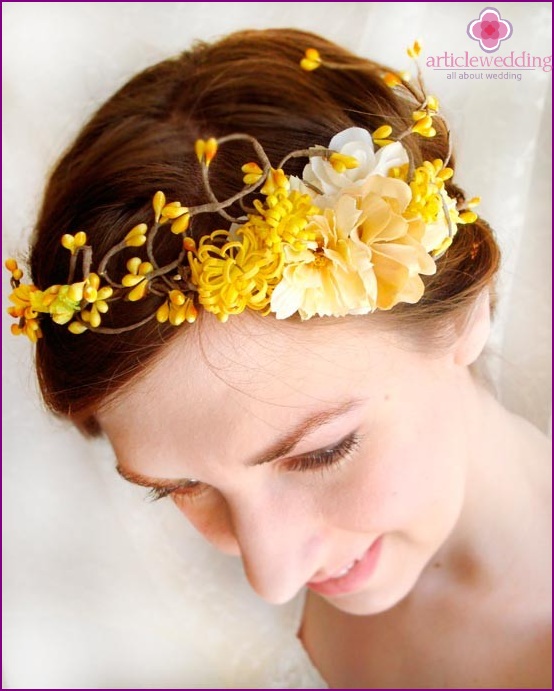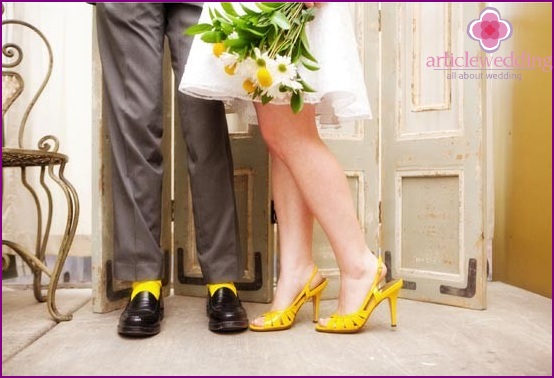 Wedding flowers in yellow
The main flowers of any wedding are, of course, the bride's bouquet and groom's boutonniere. Bright wedding in yellow tones suggests the presence of the same bright colors. You can choose simple, but such spectacular sunflowers. Especially organically these symbols of the sun will look at a wedding in a country style. Wonderful bridal bouquet - made up of yellow gerberas. These "big daisies" have long and firmly won a large audience of fans. By the way, the most common daisies, the wedding portal www.articlewedding.com is sure, can easily make a romantic basis for a newlywed's bouquet. Strict image will add aristocratic yellow lilies. If your wedding is planned for spring, it's a sin not to choose tender yellow tulips for the bride's bouquet. Juicy yellow beads of craspedia are purposely created to organically complement the yellow wedding. Round spherical inflorescences on smooth, dark green stems will give the bride a bouquet of any shape! And, most importantly, do not forget to duplicate the selected flowers in the groom's boutonniere.
A bouquet, a buttonhole is wonderful. But, for completeness, support the yellow floral theme in the design of the banquet hall. It is worth noting that flowers can be not only yellow in color. Blue cornflowers, luxurious cream and orange roses, armfuls of fragrant lilacs - let your imagination run wild. And the yellow color can be demonstrated in large floor vases. Which will be a repository of chic bouquets.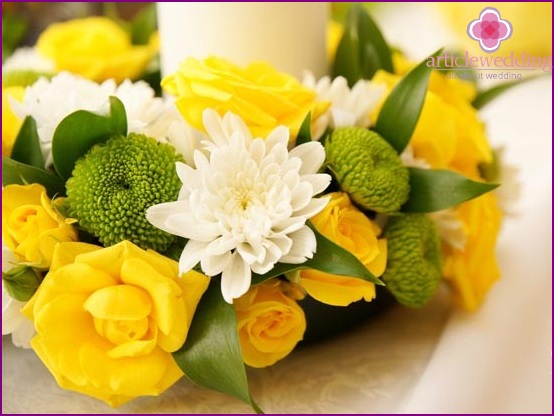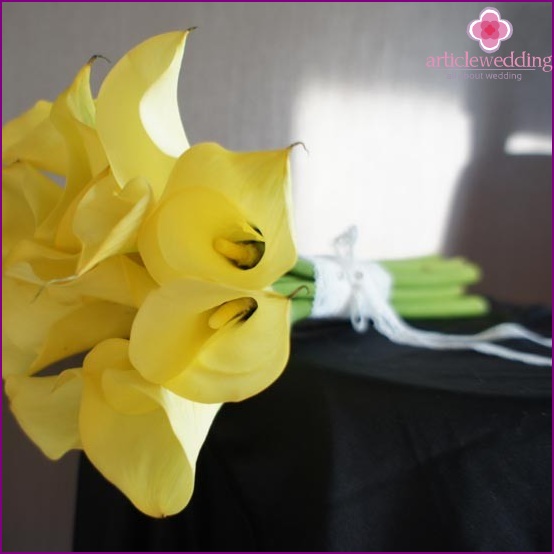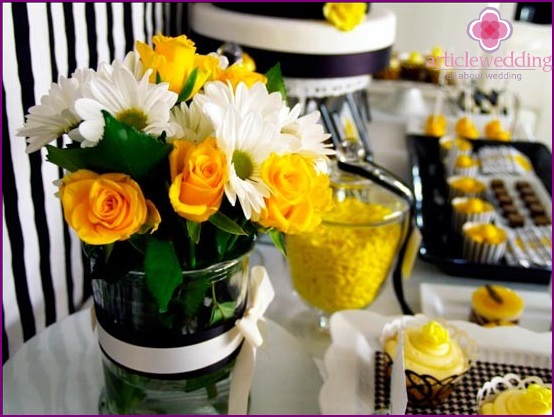 Wedding accessories for a wedding in yellow
Original accessories of a yellow wedding can be "distinctive details" that complement the outfits of guests and make everyone pieces of one common whole. It can be miniature brooches, unusual badges, which is especially true if your wedding has a lot of guests unfamiliar with each other.
A trio of invitation-banquet cards-bonbonnieres is considered traditional wedding accessories. They can be made completely in yellow, or can be made, say, blue, with a splash of yellow. The basis for banquet cards can be juicy and fragrant lemons. Or you can take the idea of ​​miniature pots with bright decorative grass into which a wooden skewer with a bright yellow plate will be inserted.
Support the main color by filling bonbonniere. Slices of sweet lemon pie, citrus jam in pot-bellied jars, miniature wooden barrels with scented linden honey.
Decorating wedding accessories, do not forget that a sweet table, or rather a wedding cake, is also a nuance of wedding decoration. Color this sweet masterpiece of cooking in yellow, decorate delicious creamy sides with an amusing pattern. And you can place a large and lush snow-white cake surrounded by small cap-cakes decorated with mastic sunflowers.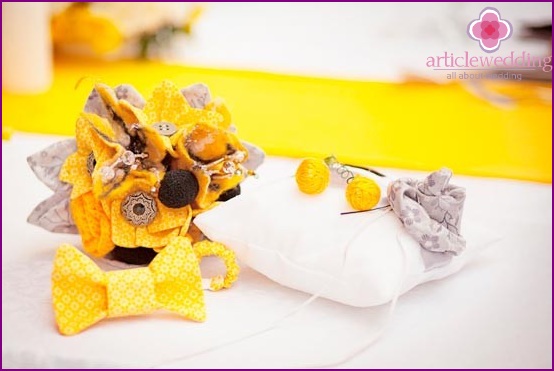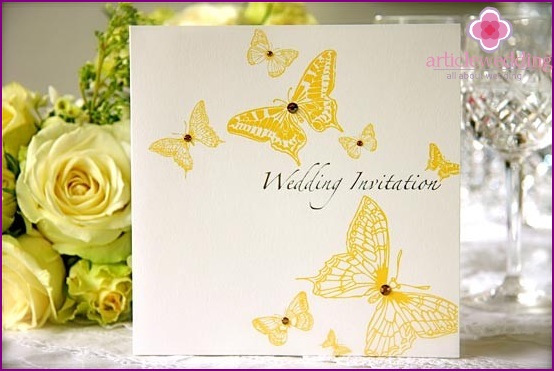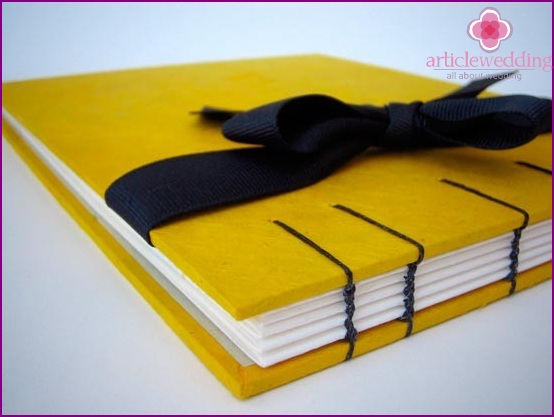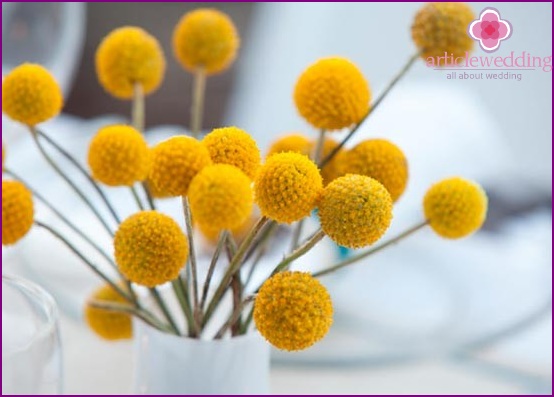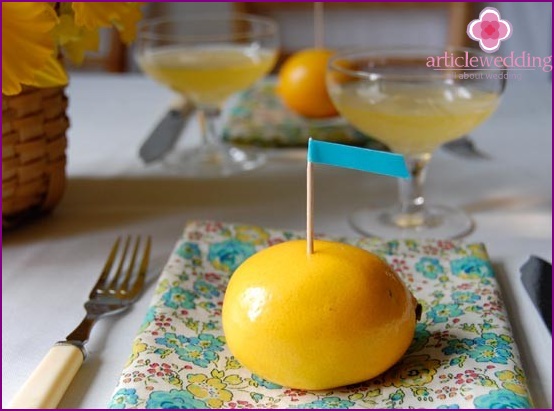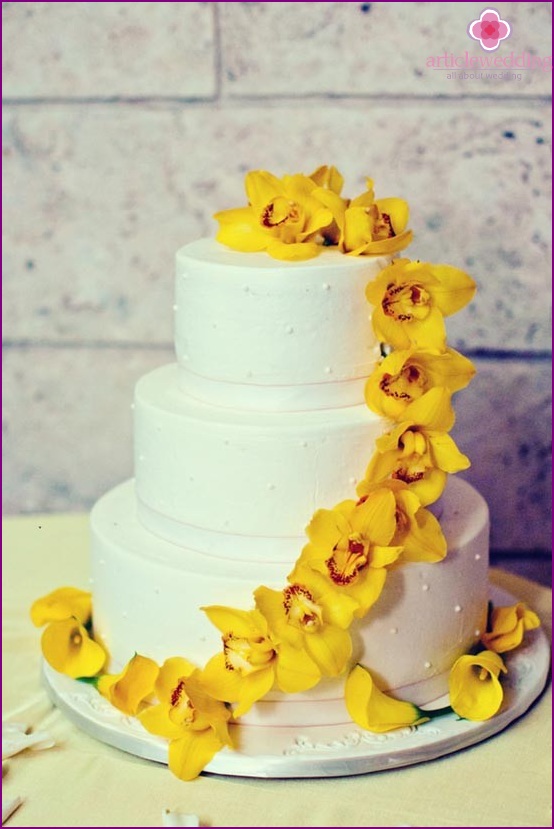 Wedding Ideas in Yellow
Www.articlewedding.com considers yellow to be the perfect base for a variety of thematic wedding ideas.. Lemon Wedding, sunflower or sea, in the style of pin-up - choose any option, and shades of yellow will be your best helpers.
The combination of yellow with other colors
Favorite neighbors of yellow are all shades of blue: cornflower blue, delicate blue, glamorous azure, aristocratic sapphire. Yellow-violet tandem is considered to be very effective in both saturated warm and restrained cold shades. A noble tone in a flashy yellow decor will add an ash gray color. Warm yellow looks great not only in the company of opposing cold tones. Add to it coral, raspberry, cherry, purple, ocher, orange - and you will see how the magnificent color bonfire blazes with colors!