Contents
---
---
Choosing wedding color scheme, You probably thought about how tired you are of traditional white color schemes. Of course, the world of fashion and beauty does not stand still, and today there are many design ideas that will decorate any celebration. Trust designers or create your own style using modern color trends, namely lilac colors.
The meaning of lilac
Lilac color is a light shade of purple, which is obtained by mixing purple and red. Lilac is the color of mystery and mystery. This color is suitable for balanced and peaceful people, in whose hearts a hidden passion is seething. Also, lilac is considered the color of intelligence, so it is suitable for educated people who seek knowledge.
Lilac wedding decoration
To make your wedding design look stunning, combine the shades correctly. Lilac is in perfect harmony with white, as well as with pink and purple. Decorate your banquet table with beautiful lilac transparent fabrics. Also, the lights hidden in the fabric will be a charming decoration. Use lilac balls to decorate the walls and table. Balls can be combined into whole compositions in the form of flowers and hearts..
To decorate the table, you can use beautiful lilac napkins, and you can also choose the appropriate dishes and cutlery. Any table looks charming if you put vases with flowers on it. Also, to create a romantic mood, use candles in candlesticks..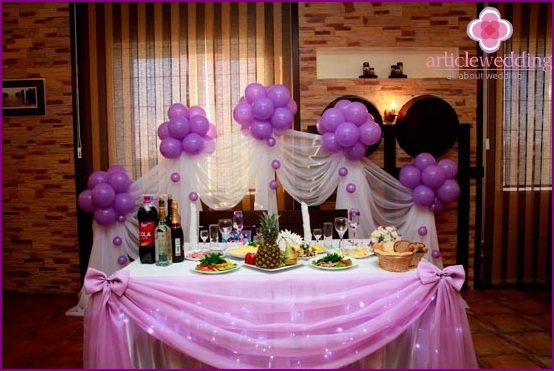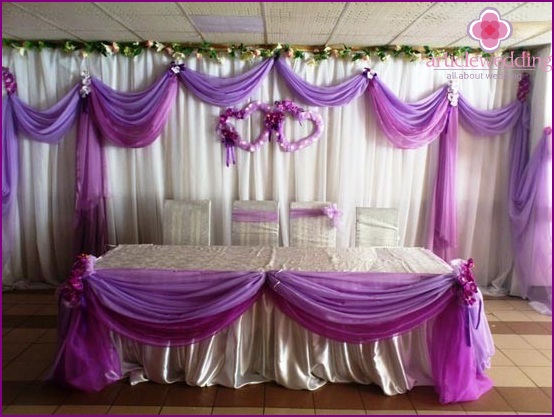 Wedding dresses for a wedding in lilac color
If you are a fan of snow-white wedding dresses and you dream of just such a thing, you can use lilac touches in dresses of bridesmaids. For bold brides, a bright lilac version of the wedding dress is suitable, which will attract the attention of guests and become the accent of the evening. Your future husband will definitely appreciate your creative choice. Such a bright dress is the best suited for a themed wedding in lilac, but try not to use too many bright colors. Sometimes it's worth softening the dress with white details. You can also decorate a simple white dress with a bright belt in lilac shades. Often, lilac elements are present in the dress itself: it can be lace or embroidery.
Also, for a bright dress, you need to choose the appropriate wedding shoes. Looks great suede shoes with heels. You can also choose open sandals that accentuate the charm of your slim ankles..
The groom's outfit must also match the lilac image. It can be a lilac shirt or a lilac tie. You can find dozens more ideas for creating youth images of the bride and groom on the portal www.articlewedding.com.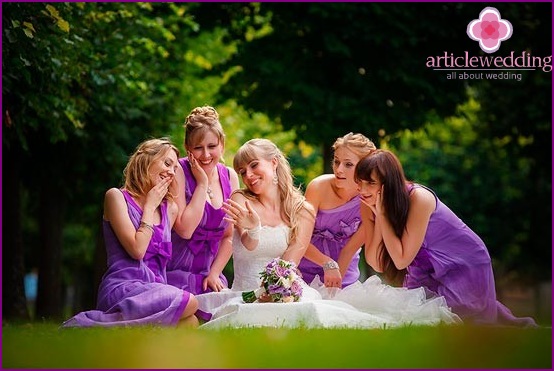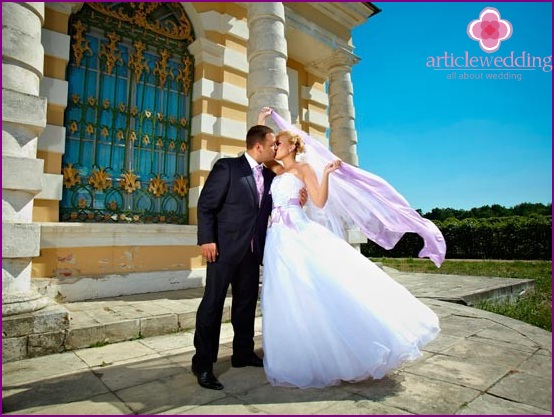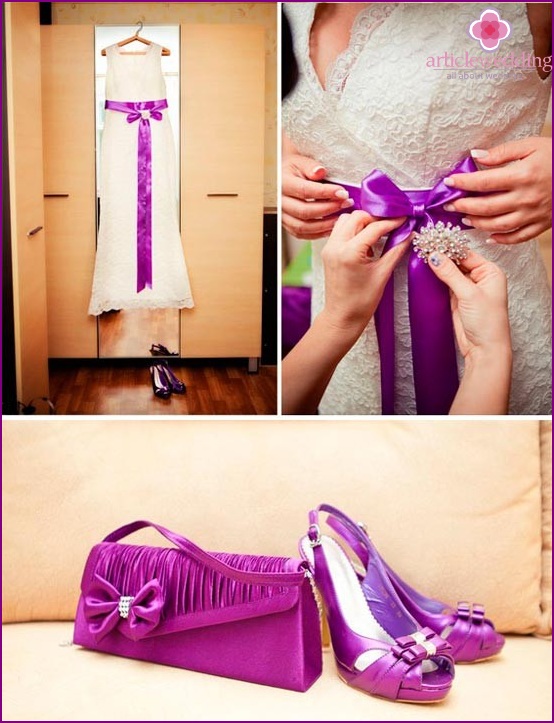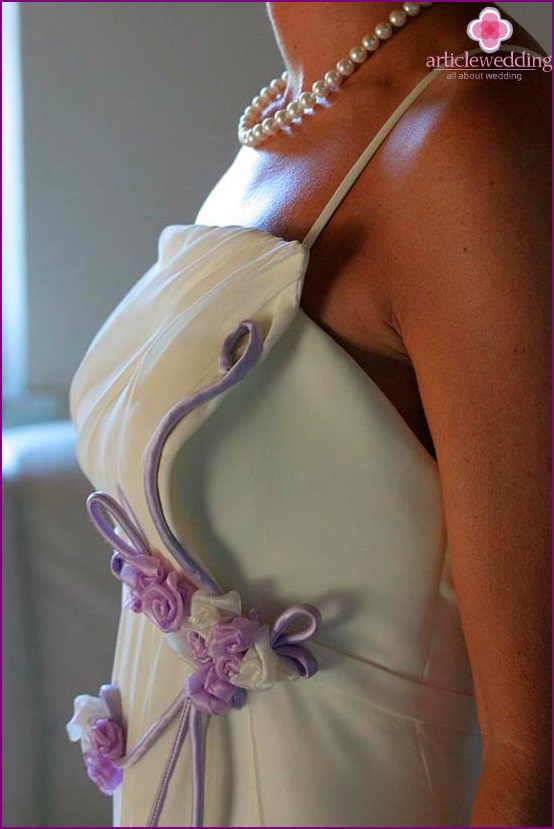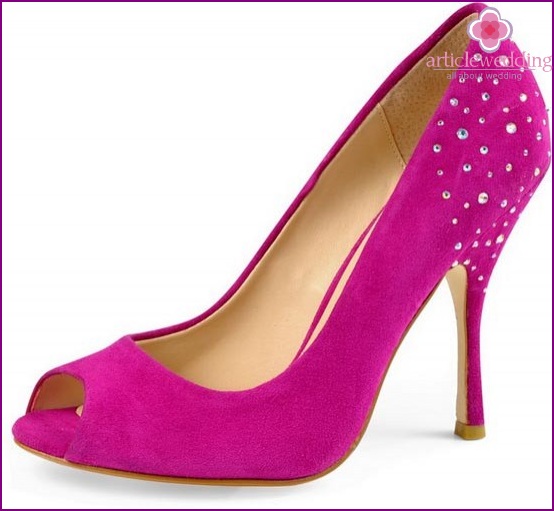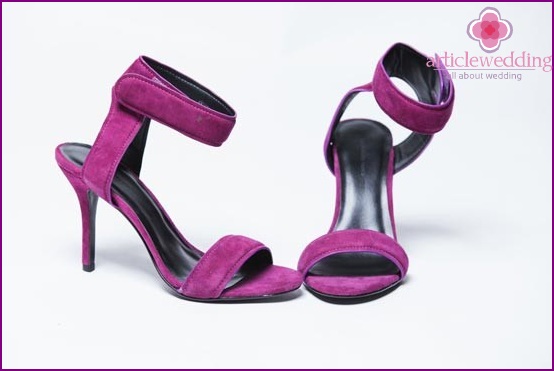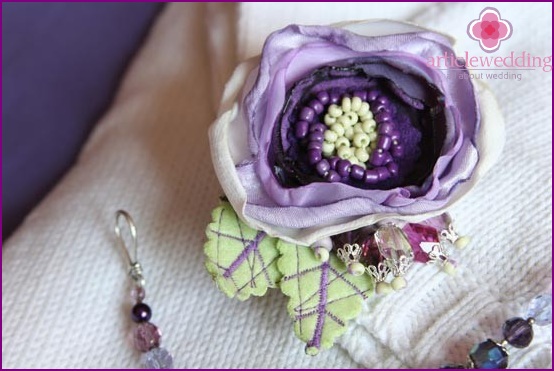 Bride and Groom Style
Creative style is always felt at a distance, so be sure to pay attention to it when creating a wedding look. The bride should choose a gentle make-up in lilac colors. Looks good wedding make-up, made by shading. Draw black arrows around the eye contour and blend them. Add lilac shadows from above, and you will get an expressive and bright makeup. Website www.articlewedding.com is ready to share ideas for creating a romantic wedding make-up.
Flowers for a wedding in lilac color
The first thing that comes to mind when thinking of a lilac color is a lilac, bright and fragrant. Why not use it in your wedding bouquet if your wedding is between April and May? Also for a wedding in lilac light, you can create compositions from various lilac flowers that will give your image brightness and sophistication. The site www.articlewedding.com will talk about how to create an original bouquet with your own hands..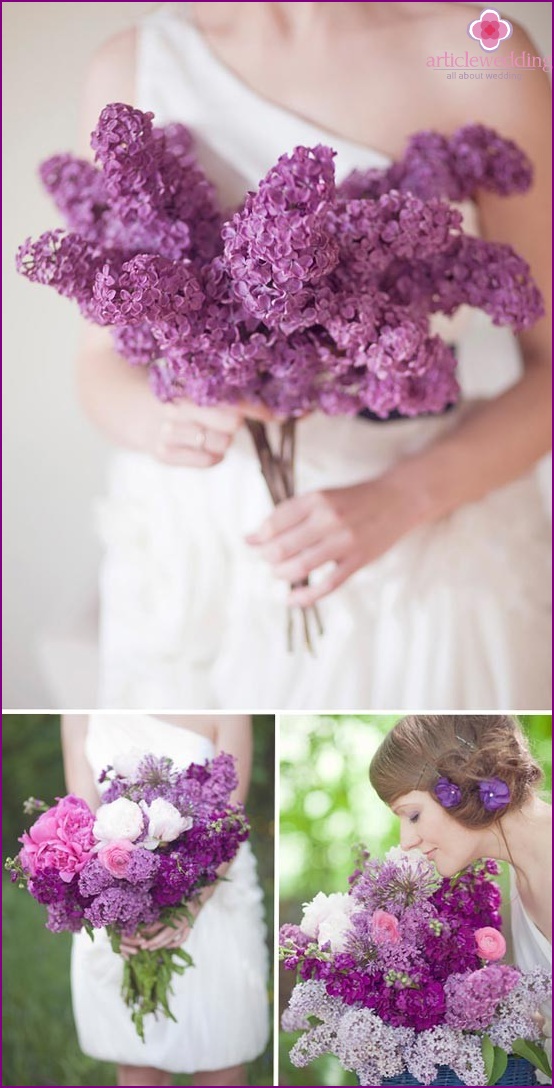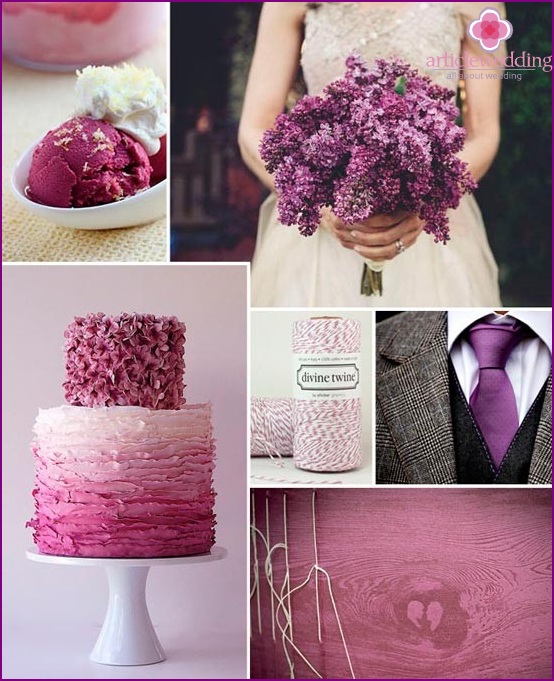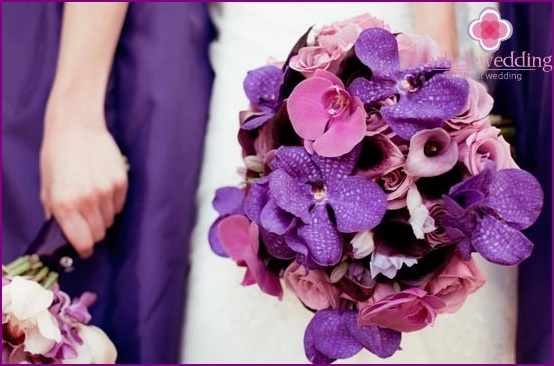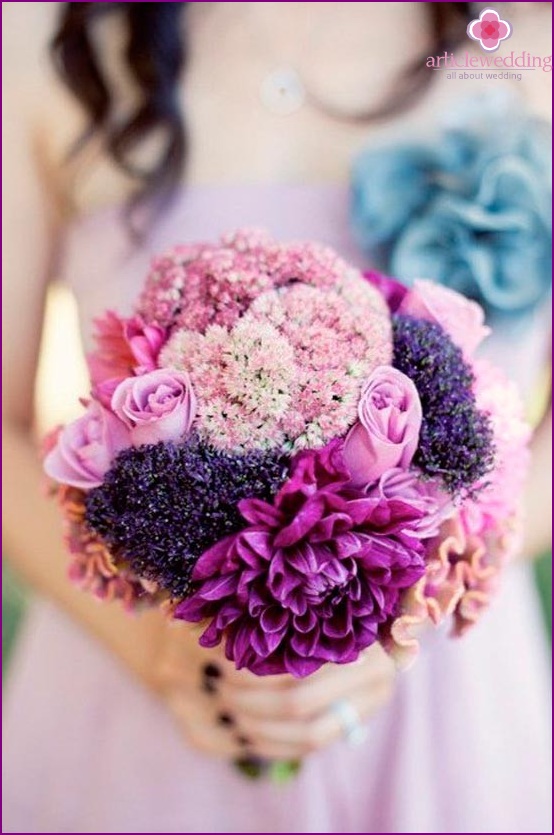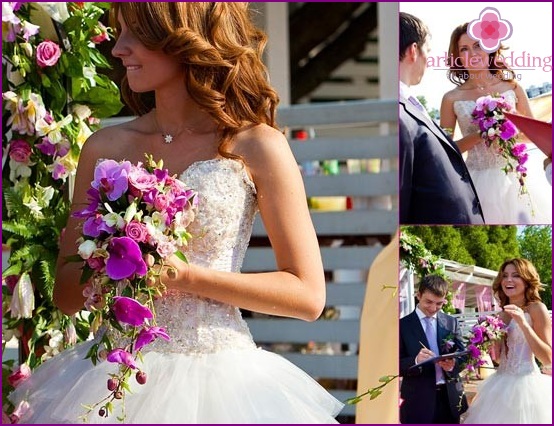 Wedding Accessories for Weddings in Lilac
Choose only bright and original accessories for your lilac style. It can be pillows for rings, baskets for rose petals, bright champagne bottles and other details. You can also issue a wedding cake in lilac tones to make it an unusual and fun dessert.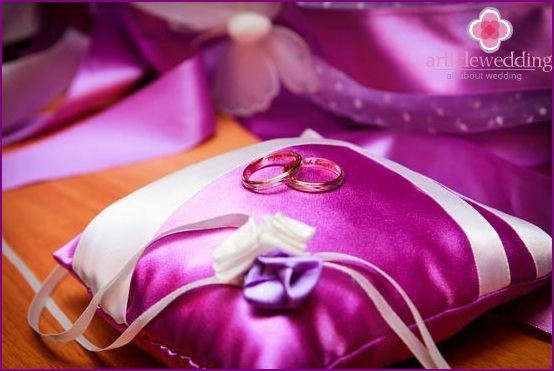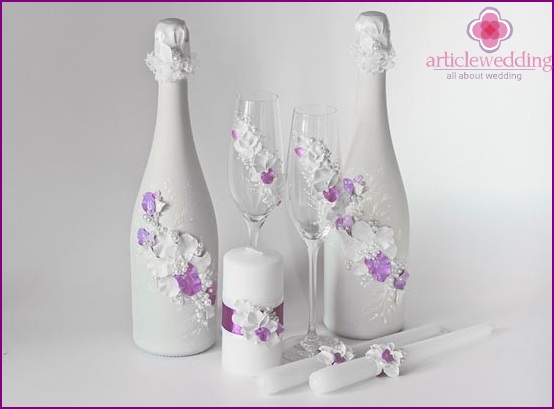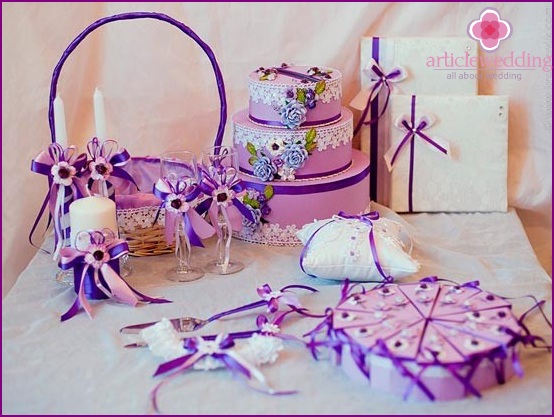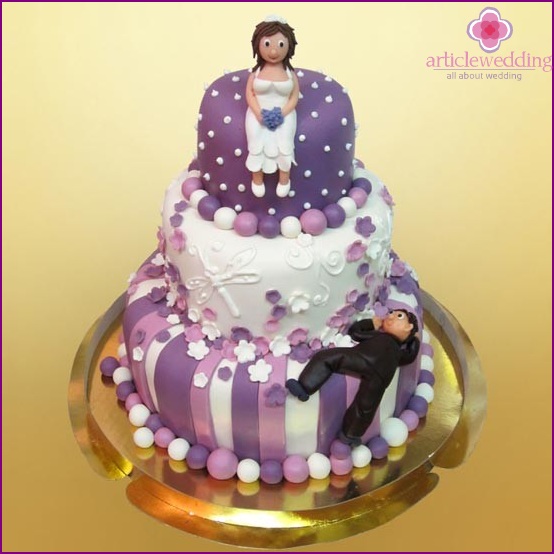 Wedding Ideas in Lilac
If you are full of ideas and enthusiasm, why don't you celebrate your wedding somewhere in your favorite resort? The sea, the beach, seagulls and positive will add to your lilac wedding many more bright colors! And you can recreate all this at home, just using bright lilac shades!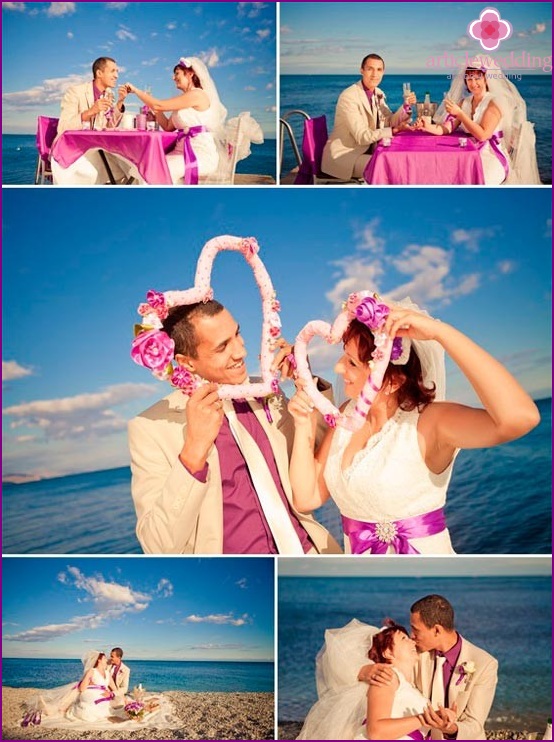 The combination of lilac with other colors
Lilac is in perfect harmony with shades such as white, pink, purple, as well as blue, green and yellow. Combine colors so that they complement each other well.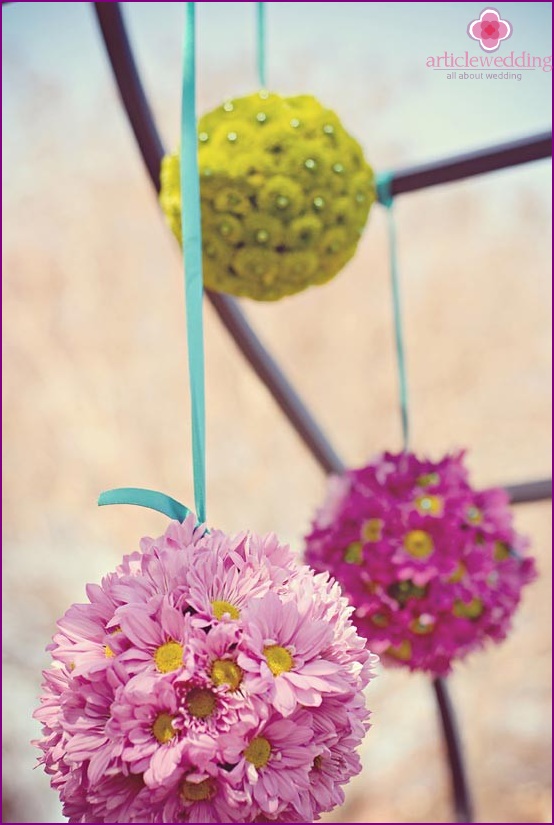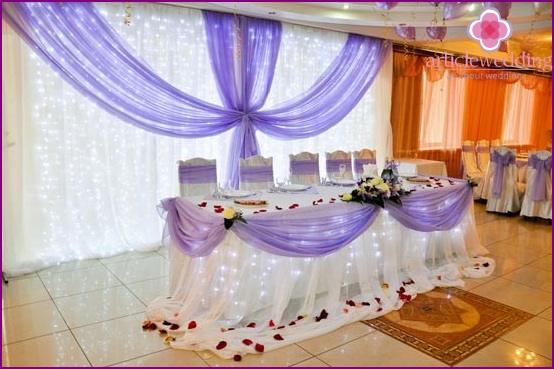 Create your own unique wedding in lilac, so that you remember it as the most unforgettable event! Add to it summer and bright colors, positive and a charge of energy!