Contents
---
---
Create a warm atmosphere, invigorate, revitalize and impress the glamorous "cream" of society will help you in a wedding in golden colors. The wedding portal www.articlewedding.com will tell you how to use this color scheme correctly and harmoniously..
The meaning of gold color
As a rule, gold color is associated with luxury, warmth, traditionality and aristocratic elegance. The rich color of gold helps with 100% accuracy to create a pathos atmosphere of the upper layers of society. The color of gold symbolizes wealth, purity and vitality. Gold-colored wedding is characteristic and harmonious more for the autumn-winter period.
Wedding decoration in gold color.
When designing a room for a wedding feast, use a monochrome gamut of colors. Avoid fusing colors and congestion in one color. Use different shades of the golden palette in combination with other colors. Complement the decor with different textures.
The bridal zone in the form of an arch can be decorated with gold drapery with milky chiffon inserts. In addition, provide lighting for the arch and the presidium table. Place cute figurines of angels, floral arrangements, which will help to give the main place a gentle and unique elegance.
Decorate the wedding hall in gold color decorative candles will help. Warm soft golden light will be reflected in every detail of the interior..
Guest tables can be covered with snow-white tablecloths, served with white porcelain with a gold rim, crystal glasses with sparkling golden champagne, gold-colored napkins. On the tables you can place gold-colored petals, beads, pebbles, jewelry. Snow-white chair covers decorated with lush golden bows will add a special style and chic..
A table for gifts can be decorated with an unusual floral arrangement and drapery in the form of golden tulle.
Moreover, depending on the wedding theme, you can supplement the table setting with vases filled with gilded sand and beads..
The final element in the design of the table will be a huge a wedding cake, made in gold and delicate decorations in the form of candles, flowers, figures.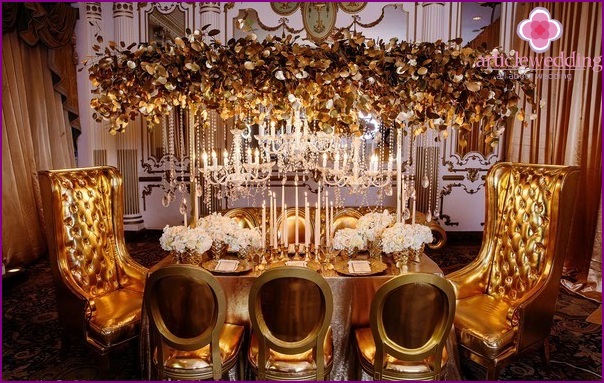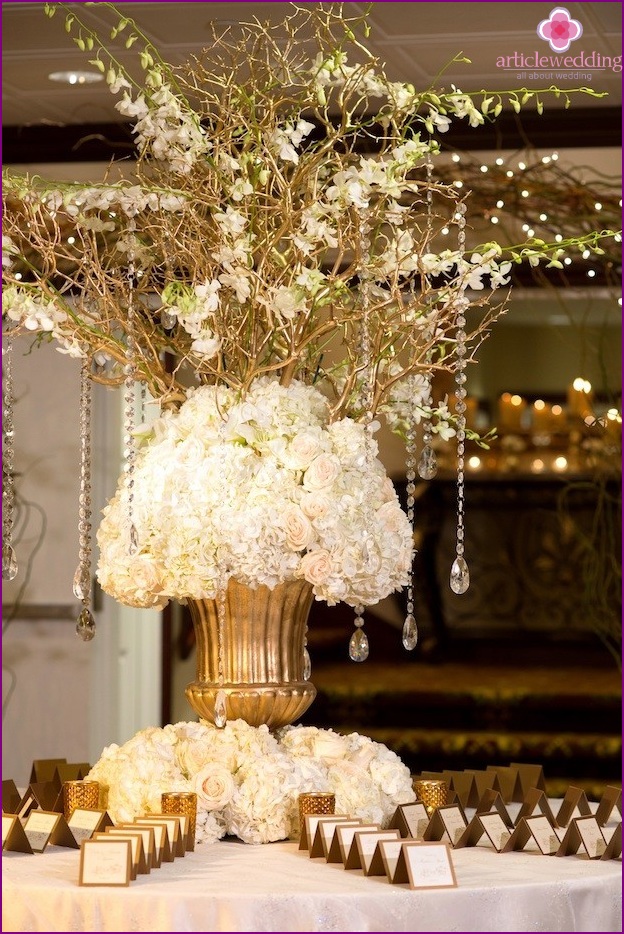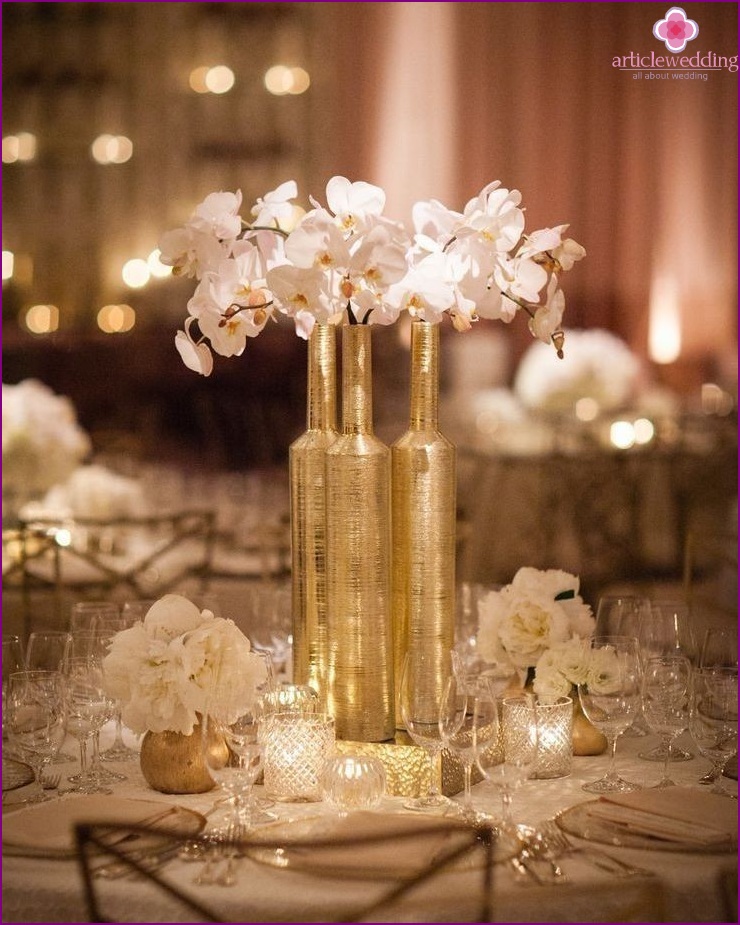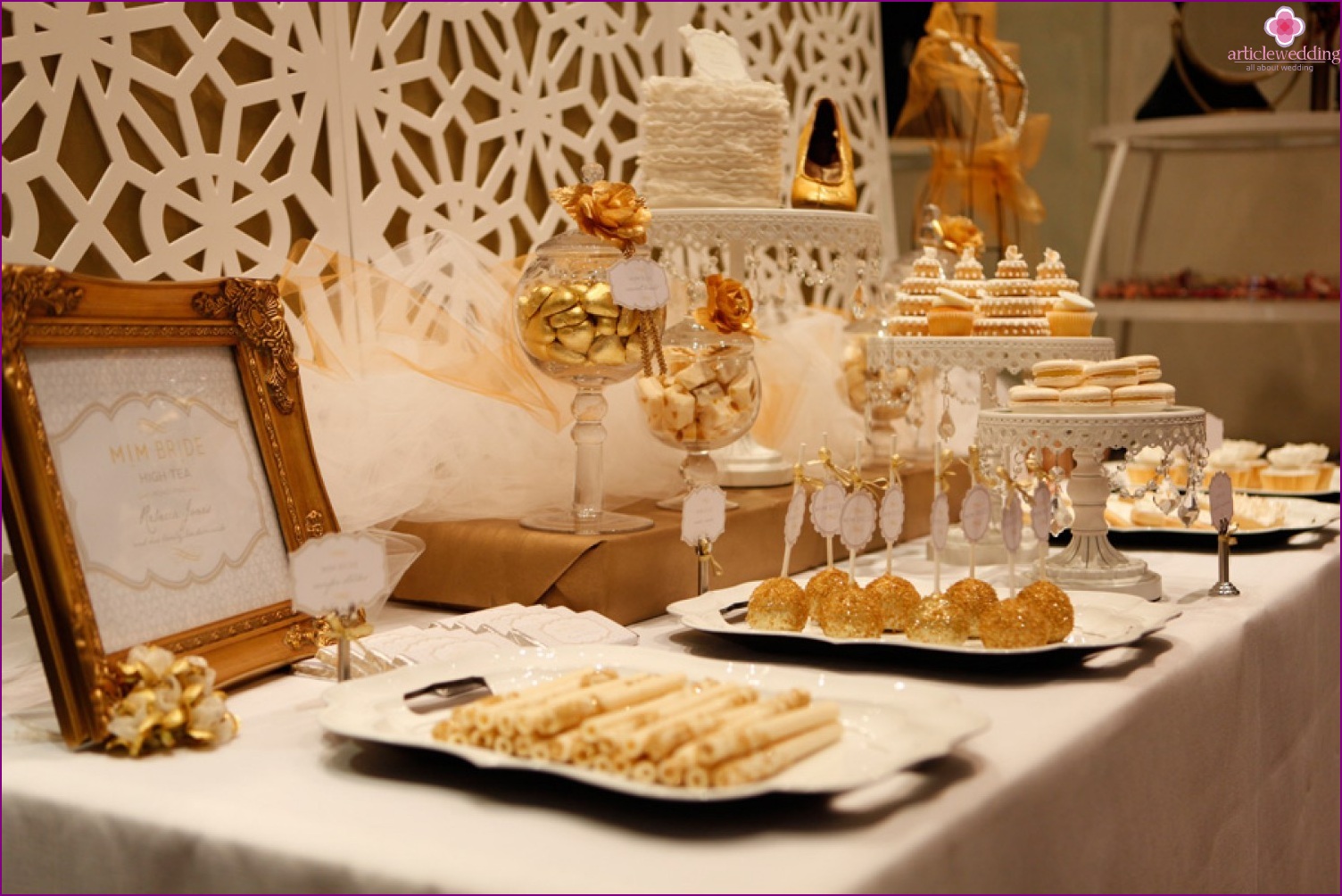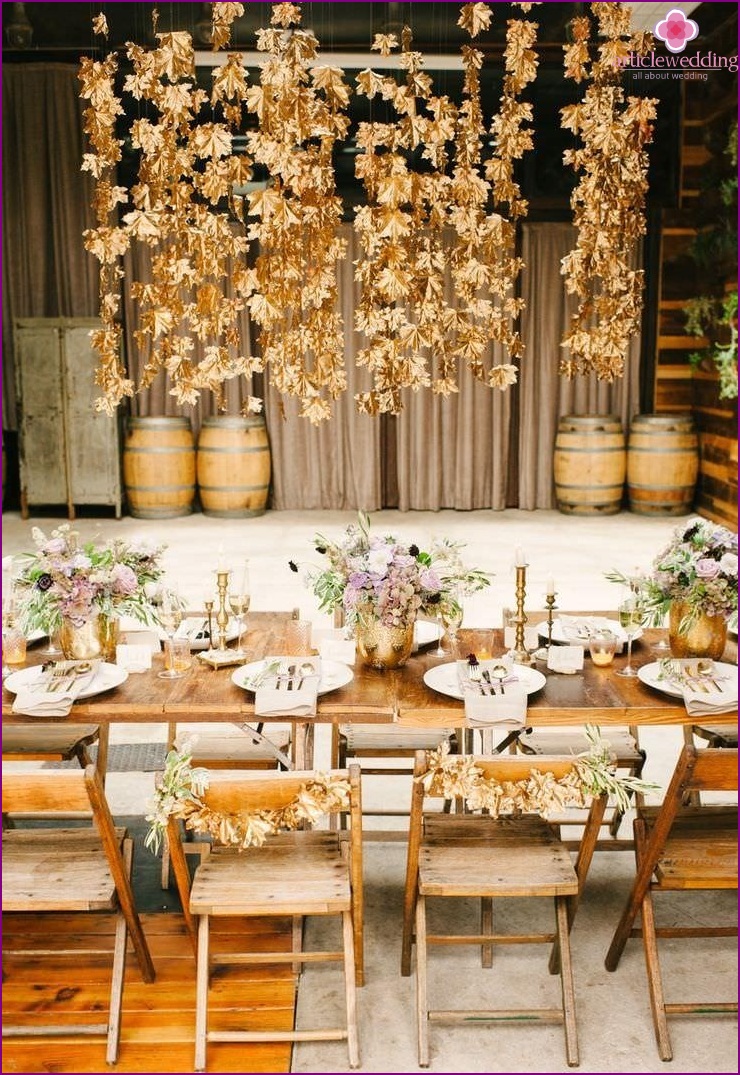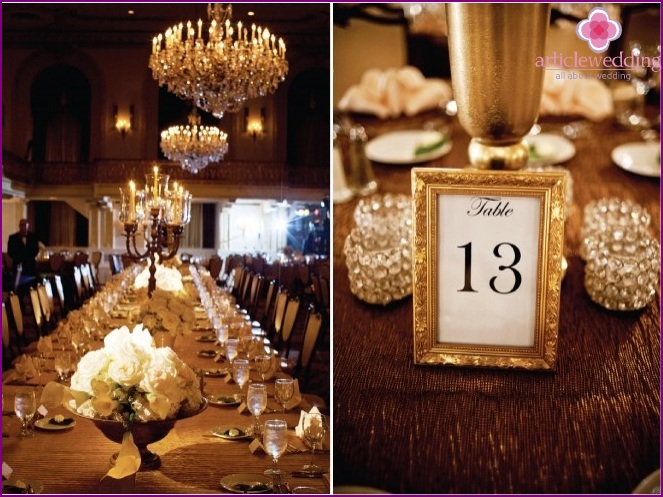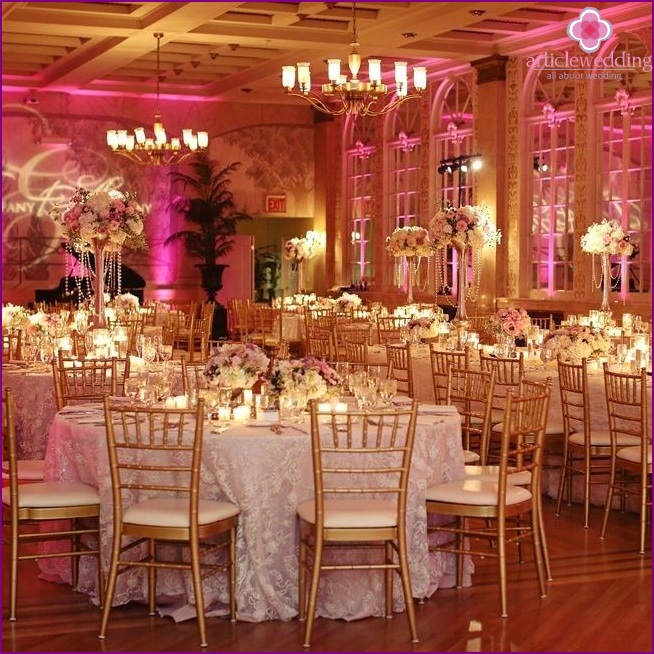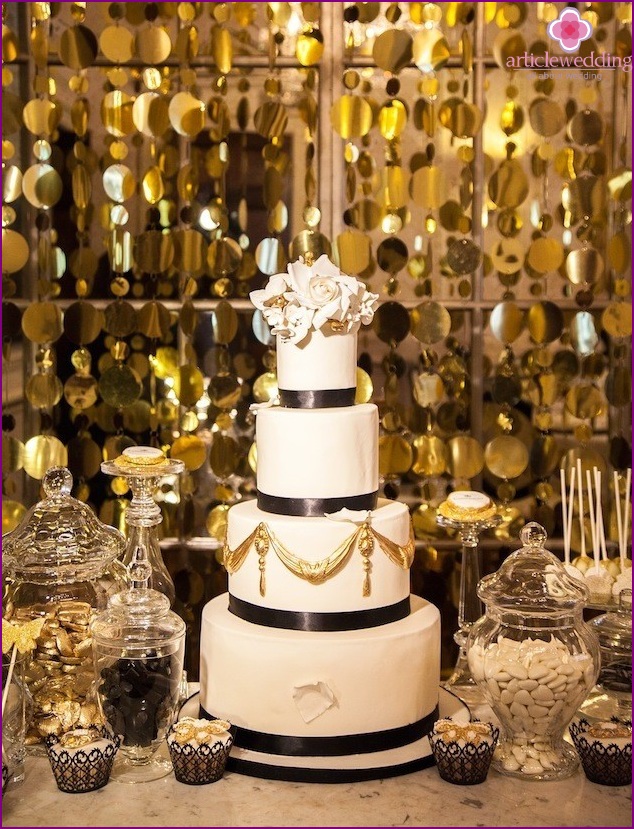 Wedding dresses for a wedding in gold color
Saturation of golden color in a wedding dress will help to achieve a gentle warm look or the image of a glamorous queen. For those who prefer a traditional white outfit, the emphasis should be on accessories and decor. A snow-white dress can be decorated with embroidery of gold threads, beads or rhinestones. Supplement wedding attire can be a hat with golden feathers or a hoop with a golden flower, or a veil with golden lace. Additional accent details can be golden taffeta, corset with inserts of chiffon, lace or silk, accessories such as belt, necklace, earrings.
If your wedding dress is of gold color, then be especially careful in choosing accessories, because the dress itself already plays a key role, which means that the abundance of gold accessories will look out of place and vulgar. For a gold dress, it's enough to pick up wedding gold rings and shoes to match the dress.
Remember that the color of the outfit should be selected depending on the type of appearance. Dark brown-haired girls suit a dress of rich golden color, and pale-skinned blondes - a gentle muted shade of gold.
To create harmony for a young couple, the groom should wear a gold-colored suit. In this case, the groom's accessories should be white, including a shirt.
If the suit is classic, then gold can be jewelry: a tie or bow tie, cufflinks, a handkerchief or a boutonniere. Elegance is evident!
What can be dresses for bridesmaids? The main thing here is that girlfriends do not look defiant and colorful. Choose a calm, uniform shade for everyone that will stand out for the bride.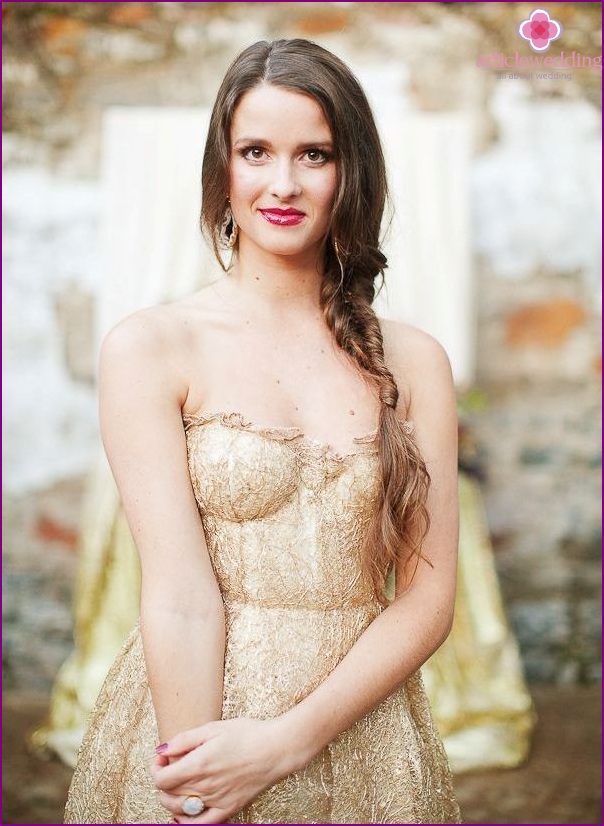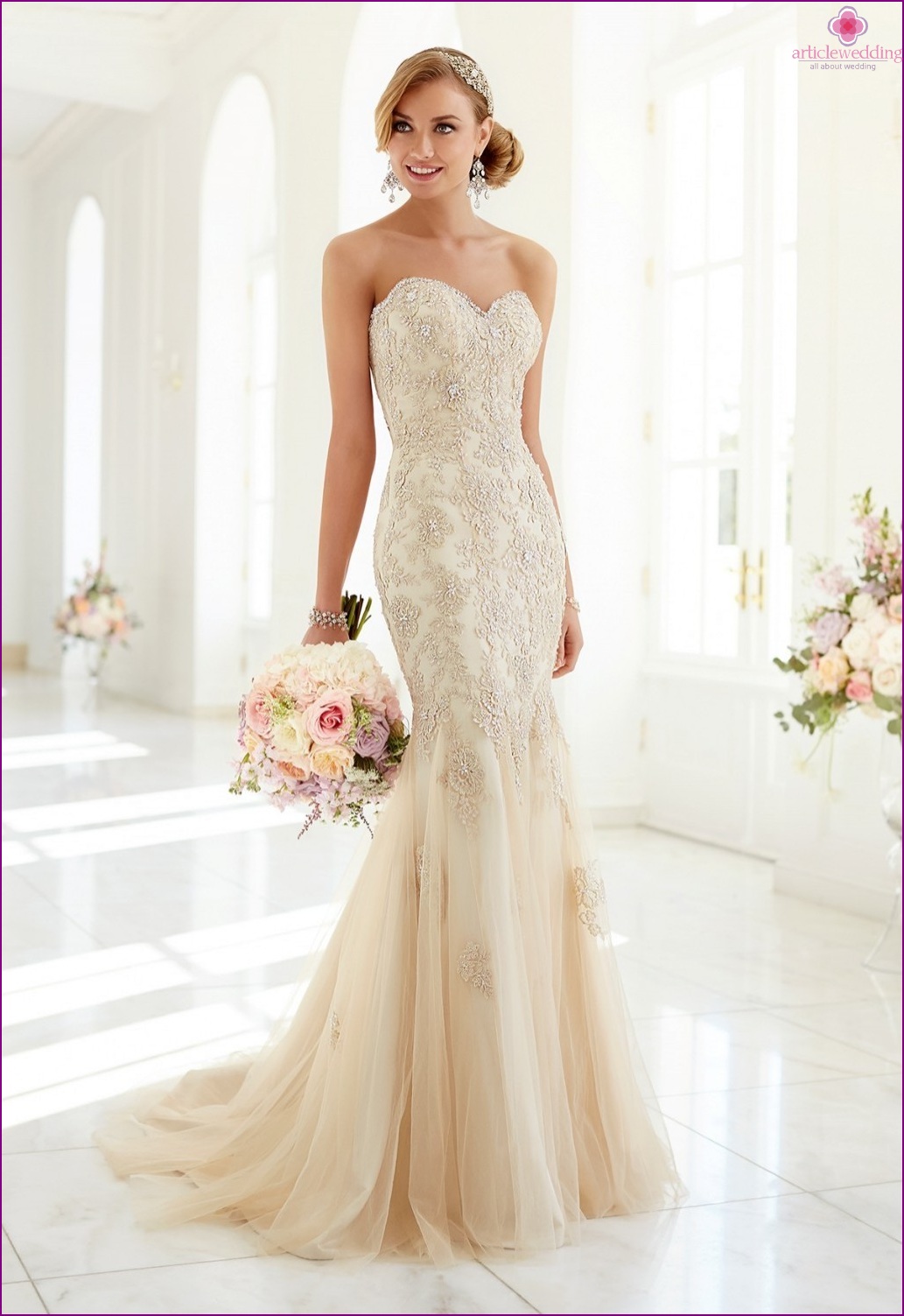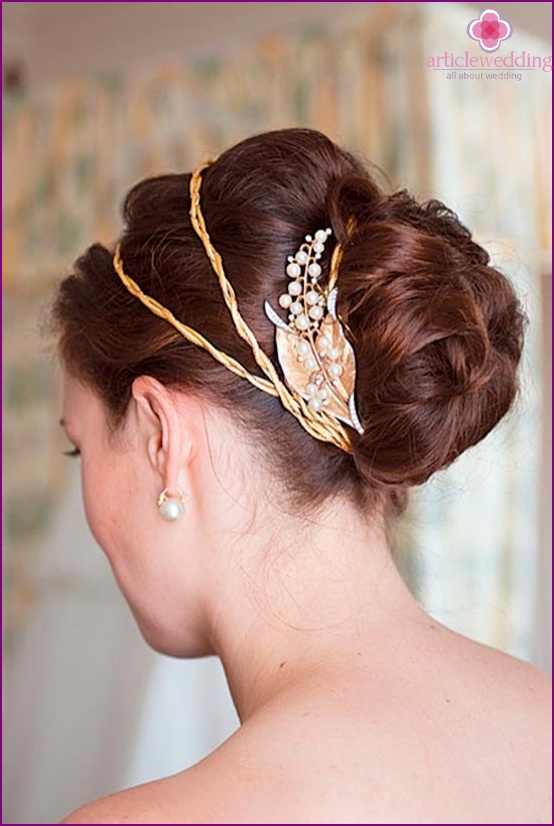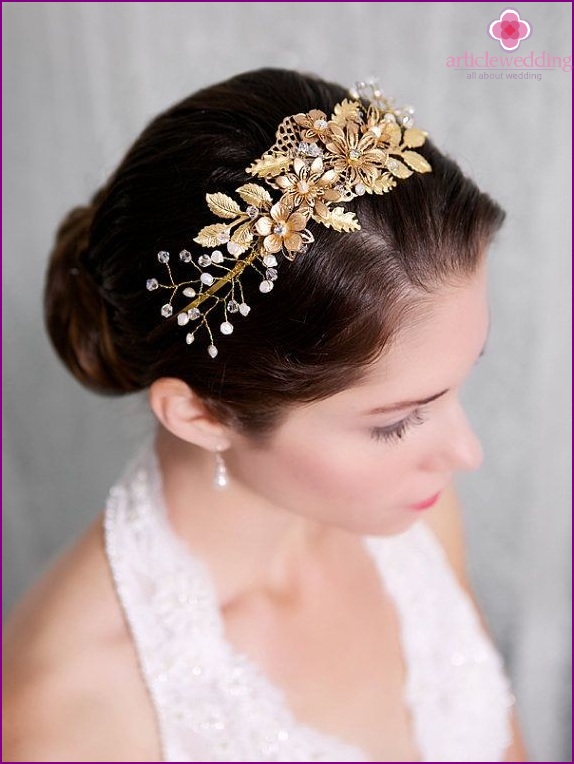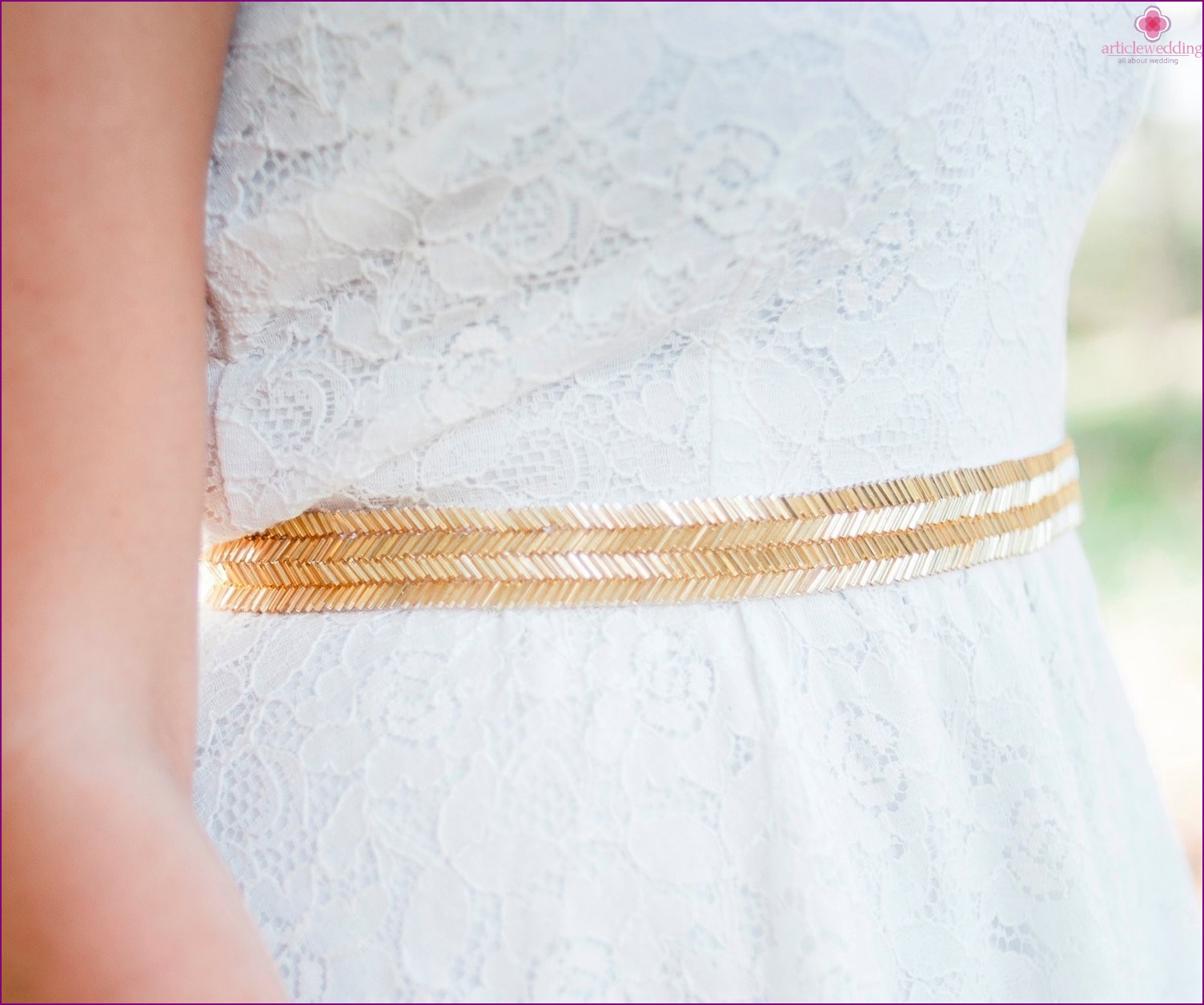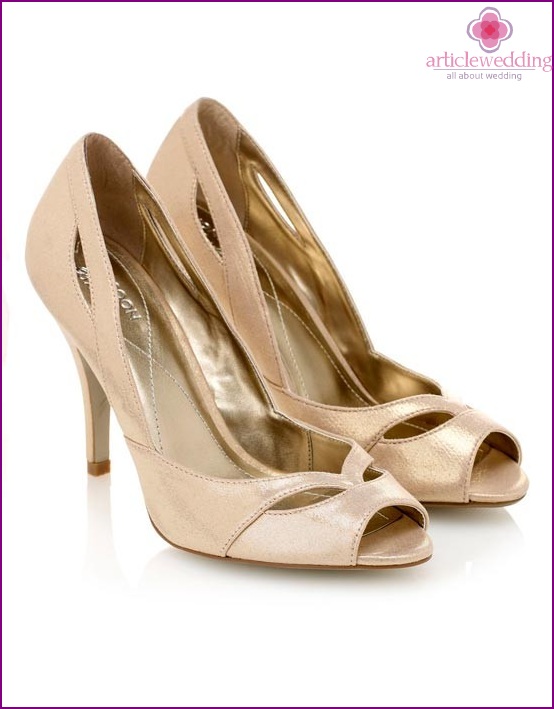 Wedding flowers in gold color
What flowers to use for a bride's bouquet? Since this is a wedding in gold, a bouquet of vibrant yellow roses framed with a golden organza and ribbons, or a no less spectacular bouquet of yellow Japanese chrysanthemums with a mother-of-pearl golden ribbon will help to complement the image of the bride..
An original version of the bride's bouquet will be a bouquet of buttons, brooches and beads of gold color, complemented by jewelry.
Think about how and which flowers to use to decorate the room. Floral arrangements in delicate yellow, golden, snow-white tones, whether from living or from artificial flowers, will in any case be appropriate in the interior.
The site www.articlewedding.com recommends preparing decorative paper flowers for decorating the walls of a wedding banquet room.
Wedding accessories for a wedding in gold color
Since the golden color is dominant, it should be present in every detail in moderation and taste..
Handmade jewelry will look original and irresistible. So, wedding invitations can be issued in the form of a gold embossed calligraphy with glued branches, flowers, ribbons painted in gold.
In gold color, it is necessary to arrange glasses for the newlyweds, candles, champagne bottles, garters, wedding scarves, a chest for money and other details.
Provide for each guest an original bonbonniere, inside of which there will be a candy in gold packaging.
Follow the wedding procession. It is better if the cars are white, then the decorations for them can be golden or yellow. To sprinkle the newlyweds at the exit, use golden confetti.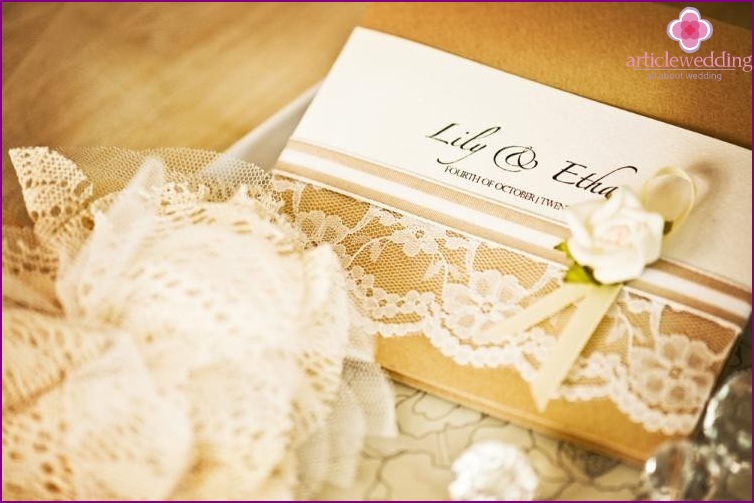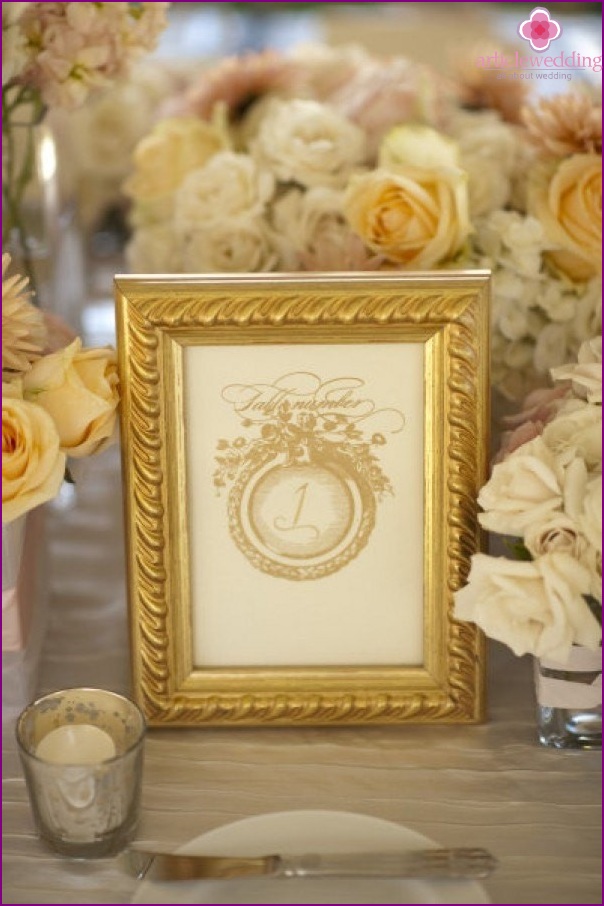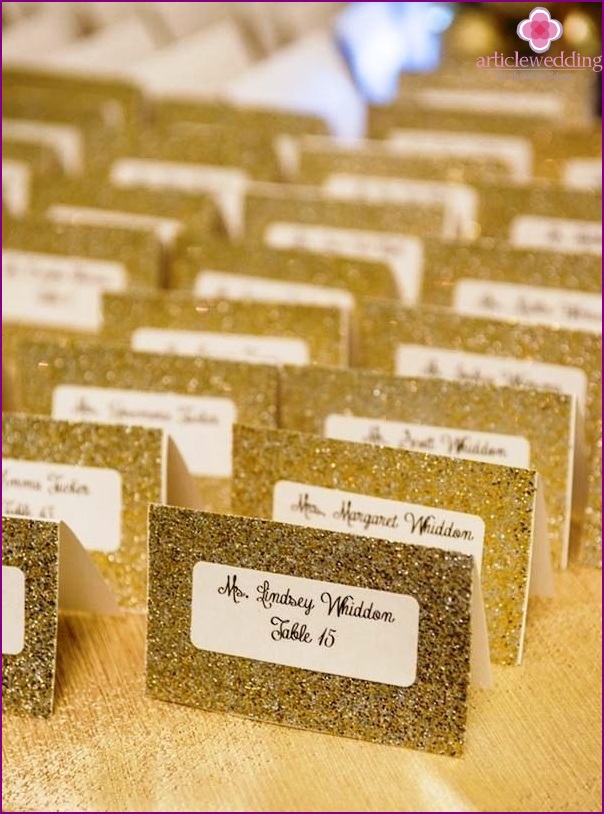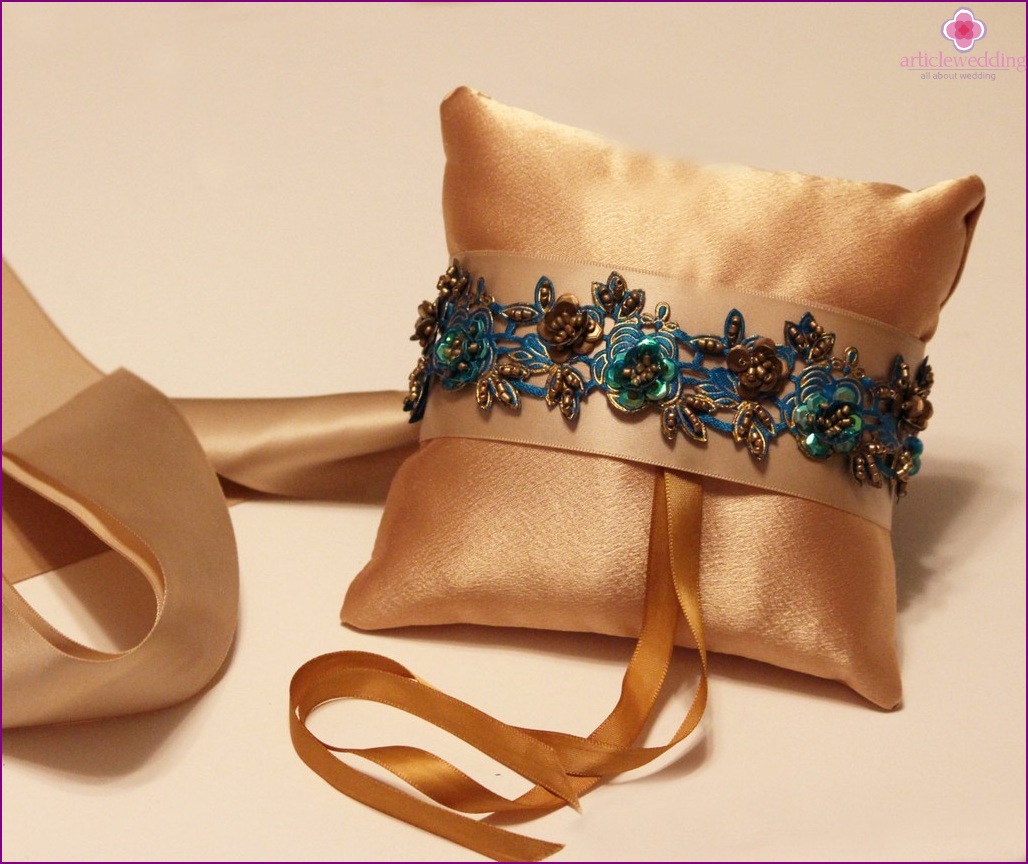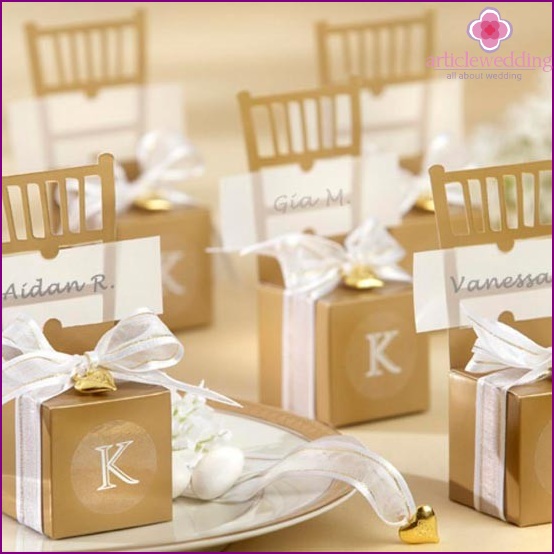 Wedding Ideas in Gold
You can add new experiences to your guests with themed wedding. The main concept of the wedding in gold color, according to the website www.articlewedding.com can be associated with fabulous motives, thereby trying to create a magical luxurious atmosphere.
The combination of gold color with other colors
The golden color at the wedding, giving luxury, glamor and chic, can be combined and complemented with pale pink, yellow, white, burgundy, chocolate brown and blue. A bolder combination of gold with black and ivory.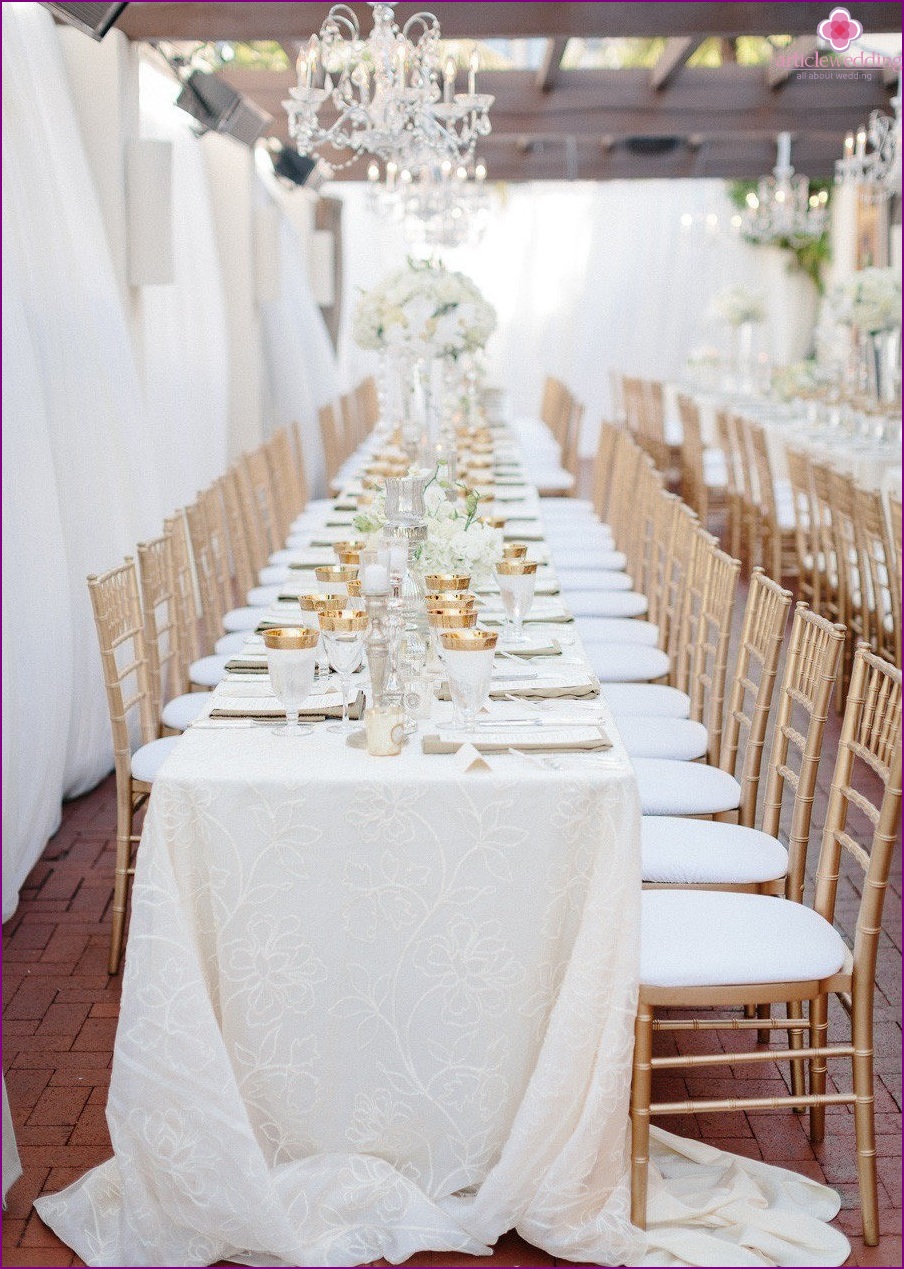 Irresistible bright images of the bride and groom, the chic and brilliant atmosphere of a fairy tale - all this is possible with the golden color.