Contents
---
---
After 40 years of marriage, they celebrate a ruby ​​wedding. This wedding anniversary is not as common as a silver wedding and a golden wedding, but this does not make it a less interesting and solemn event. Living forty years in a happy marriage is a kind of talent that is not given to everyone!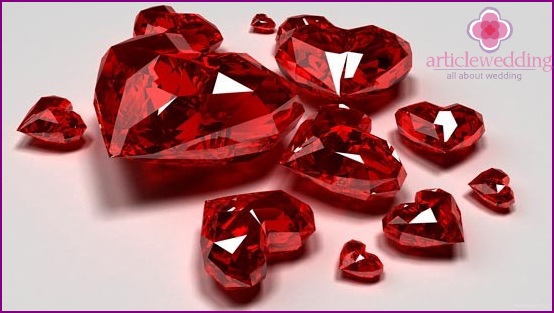 Ruby is a red gem. It is in second place in value after diamond. And its color ranges from pink to deep red. After processing, the ruby ​​turns into a beautiful gem. And the family relationship to the ruby ​​anniversary, after being cut and polished by years lived, is becoming stronger, able to withstand numerous life blows and turmoil. Ruby wedding is a celebration of true love, preserved, despite all the difficulties of family life and twists of fate.
If the couple lived together for forty years, then they are about 60-70 years old. For them, a ruby ​​wedding will be a good reason to have fun and see their relatives and friends. It's wonderful, if relatives themselves remember this wedding anniversary, then the holiday will become doubly expensive for anniversaries, if not, then guests must be notified in advance so that they can prepare gifts and congratulations for anniversaries.
Ruby Wedding Traditions
According to tradition, on the day of this wedding anniversary, spouses change their wedding rings on ruby ​​rings. Old rings are put in the box until they are useful to grandchildren who decide to marry.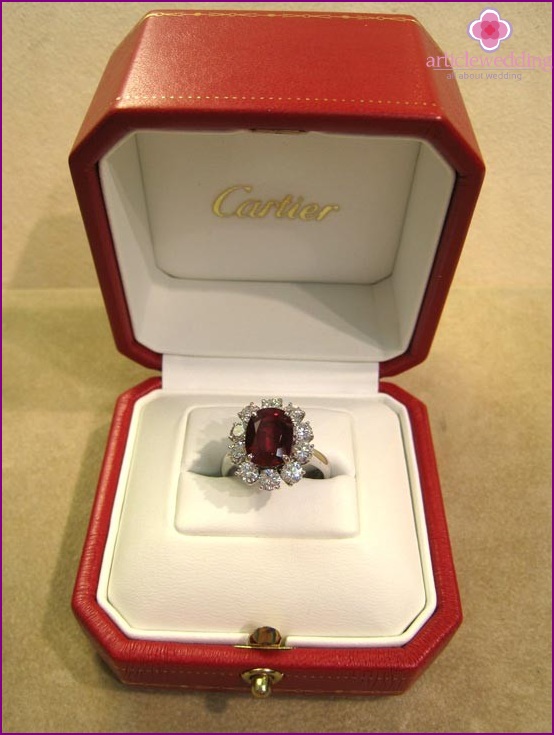 There is still such an interesting ceremony for a ruby ​​wedding - the couple pick and eat two cherries with paired stalks without separating them. Bones are buried in the ground. After some time, if the husband and wife lived these years in peace and love, two trees with woven trunks will grow.
In the design of the room where the fortieth wedding anniversary will take place, red should prevail. The hall can be decorated with balloons in the form of hearts, bouquets of red flowers on the table, bright red or pink curtains on the windows. When serving holiday tables, it is absolutely necessary to use red color - it can be red tablecloths, napkins or cute bouquets of red flowers.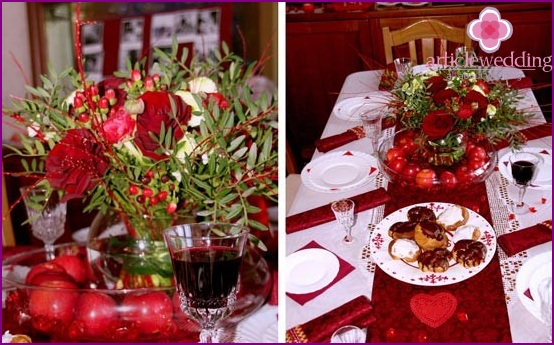 Dishes for this wedding anniversary should also be certainly bright and colorful. Excellent wines, various desserts from berries and a wedding cake stuffed with red fruits - this is what can be present on the table on this wedding anniversary.
Ruby Wedding Greetings
Ruby wedding is an amazing wedding anniversary, the symbol of which is a beautiful ruby ​​stone. And the couple deserved to hear the warmest and kindest congratulations and wishes on this day. And you want to congratulate the spouses, but do not know how to do it better? How to find the right words? You will find many beautiful congratulations in verses and prose in the article: "Greetings from a ruby ​​wedding (40 years) ".
What to give for a ruby ​​wedding?
The main gifts for this wedding anniversary should be jewelry and crafts with rubies:
earrings,
rings,
bracelets,
beads and brooches,
necklaces and pendants,
key rings.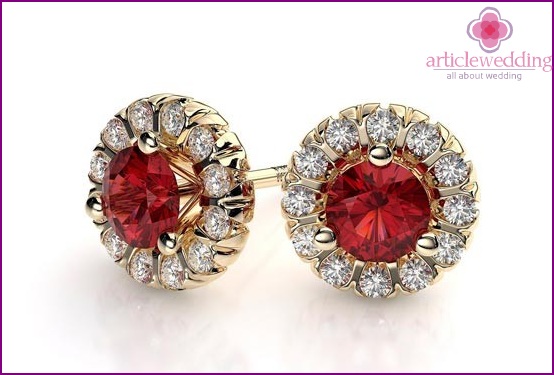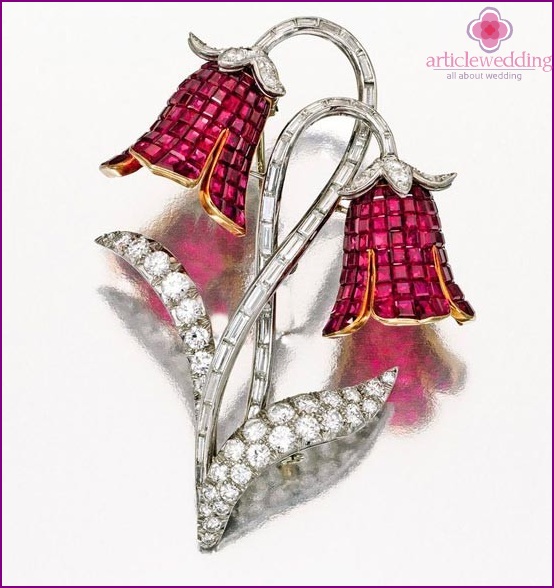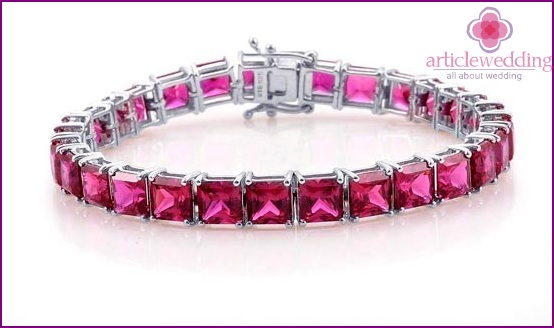 Caskets, caskets and bowls can be decorated with rubies. You can also present your spouses a beautiful vase or watch with a ruby.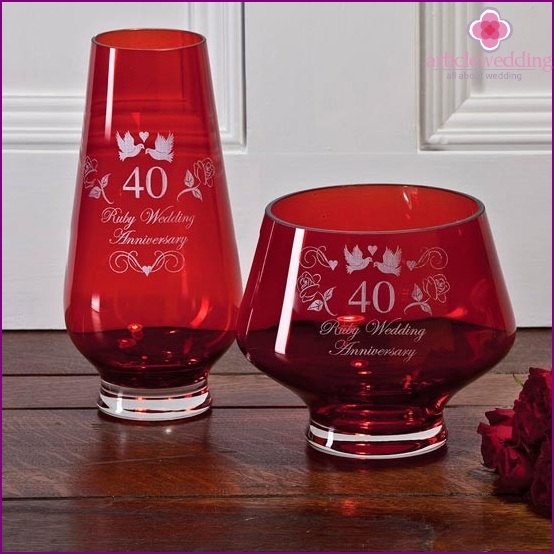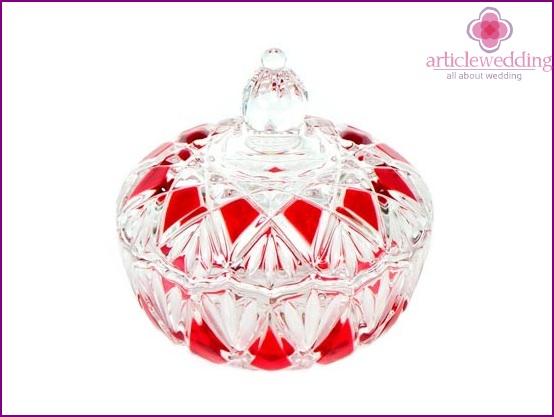 And remember that ruby ​​is also an amulet that can protect its owners. Therefore, a noble stone given to spouses can become a symbol of their strong love forever.
In principle, you can give any gift, most importantly, wrap it in a bright red packaging that will represent the ruby ​​- a symbol of this wedding anniversary.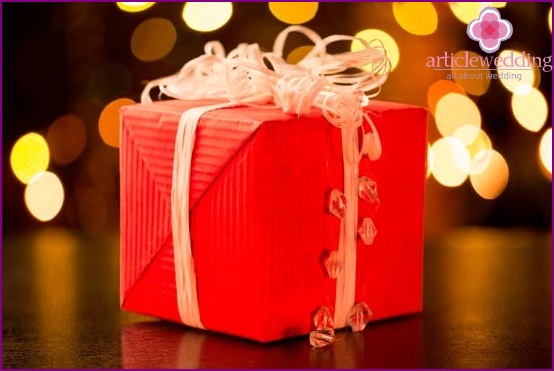 A ruby ​​wedding follows sapphire wedding.