Contents
---
---
A lace or lily of the valley wedding is the thirteenth wedding anniversary. The name of this wedding anniversary emphasizes that the family needs to be valued, treated very carefully, like with delicate lace.
The number 13 is considered a magic number associated with evil spirits. Previously it was believed that by this wedding anniversary, unclean forces are trying to quarrel the spouses, breaking the fortress of their family ties. That's why they called this anniversary lace - tightly bound, woven with many threads. With this symbolic name, the ancestors hoped to protect the family from the influence of evil spirits.
This poetic name for the wedding anniversary reminds us that family life not only has hard metal, but also delicate, floral and fragile, openwork associations.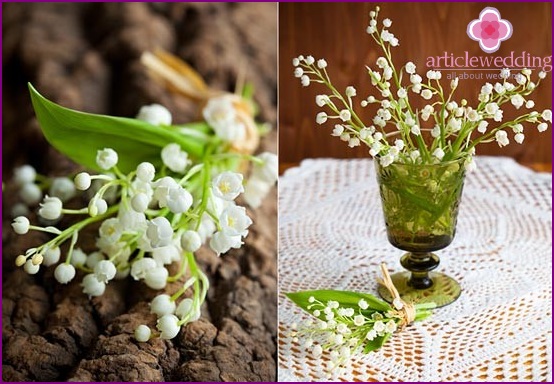 Lace Wedding Traditions
On this wedding anniversary in the old days, people brought into the house as many things as possible made of oak and aspen (furniture and household items), which scared off unclean forces. On that day, children were given trinkets made of wood of these species to scare away evil spirits from them..
For a long time, the ancestors applied a variety of lace symbols and signs to their holiday clothes, for example, silhouettes of fairy birds in the sun, as a symbol of home calm and warmth. The culprits of the celebration must have worn something lace on this day - gloves, collars, bows, etc..
Spouses should wear something lace for this anniversary: ​​a wife can put on a beautiful lace dress, and a husband can put on a lace bow tie or decorate his jacket with a lace kerchief.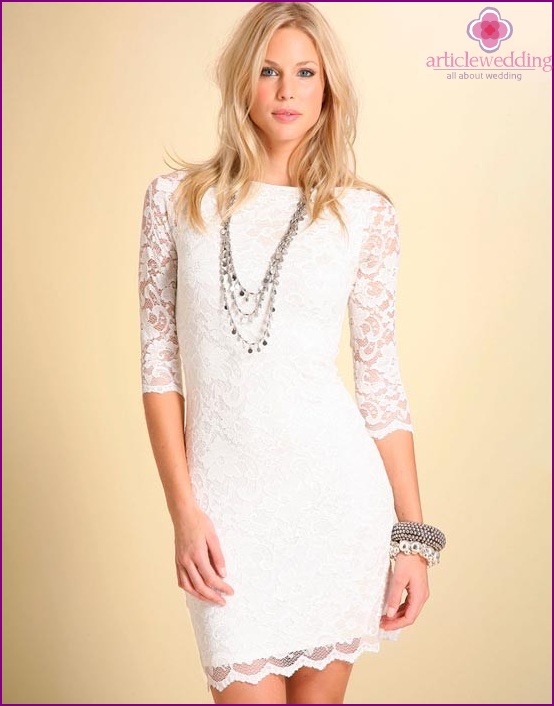 You can celebrate the wedding anniversary in a quiet family circle by inviting your closest friends and relatives. It is necessary to create an atmosphere of mystery and coziness in the house with the help of lace decor elements and dim lighting. Be sure to decorate the table with a lace tablecloth and put each guest a beautiful lace napkin.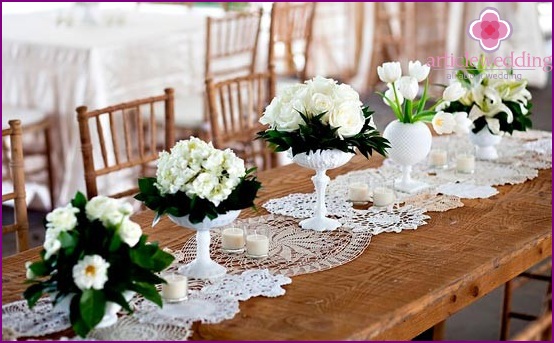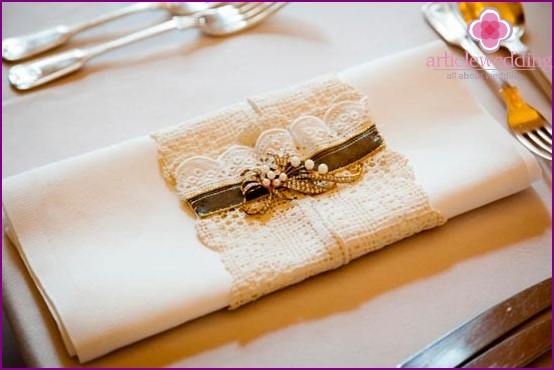 Lace Wedding Greetings
On the day of the lace wedding, the couple accept congratulations from their near and dear ones. You will find many beautiful congratulations in verses and prose here:
Wedding Prose Congratulations.
What to give for a lace wedding?
In many countries, on the thirteenth wedding anniversary, housewives presented their husbands with a lace butterfly, which they made with their own hands. It was believed that the butterfly is able to attract and keep men in the house. Similarly, women tried to strengthen their family on this, in their opinion, dangerous wedding anniversary..
In Russia, on this holiday, they preferred to give products with lace doves - a symbol of peace and purity, as well as with swans - symbols of tenderness, love and selfless devotion to each other.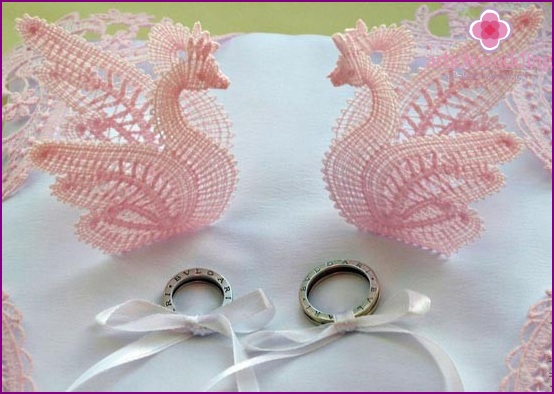 For this lace wedding, the husband can present his wife with thin lace underwear or airy peignoir as a gift, and the wife with her husband a beautiful lace scarf.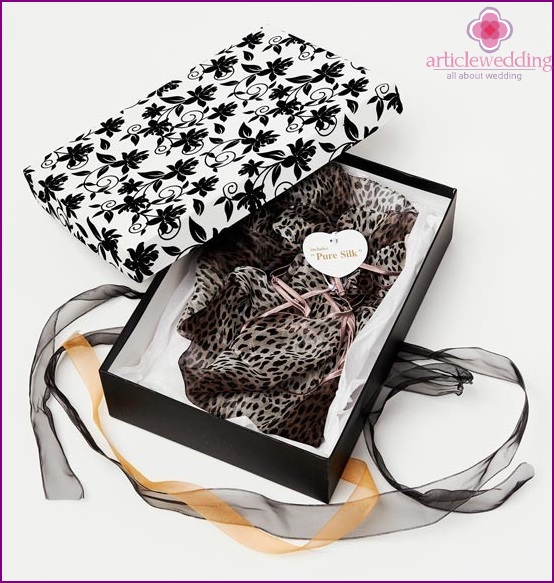 Guests can give spouses:
lace napkins;
tablecloths;
bedding with lace;
lace curtains;
gloves
lace handkerchiefs and hair accessories;
any openwork products.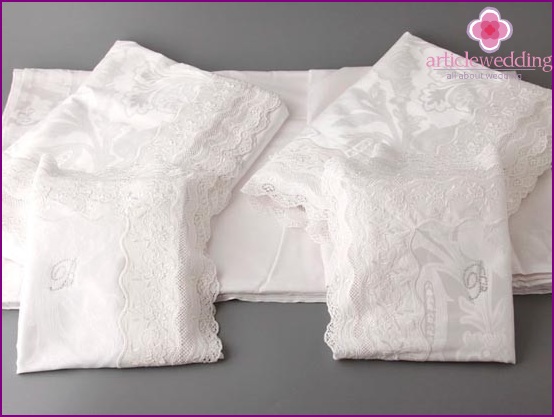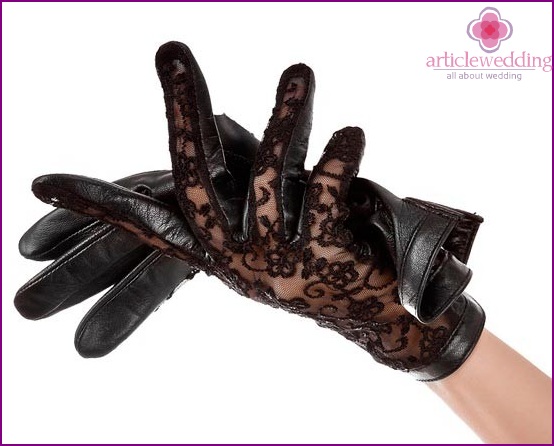 On this wedding anniversary, you can give each other lilies of the valley - as bright and tender as your love.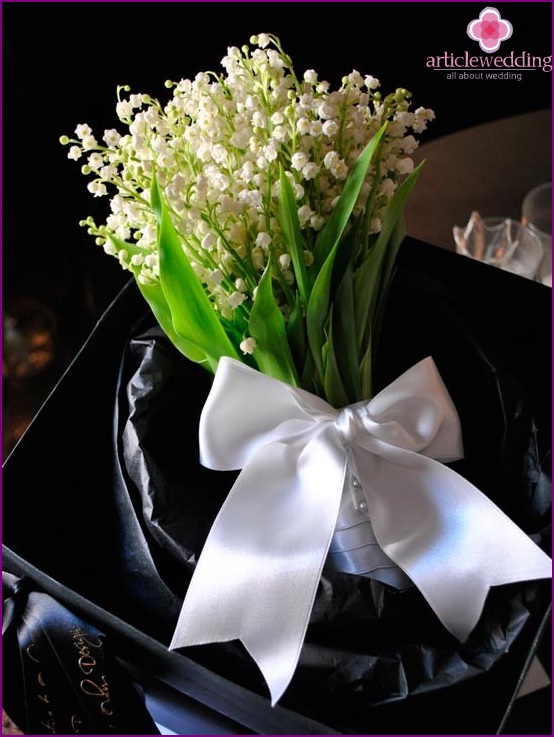 And this wedding anniversary is followed by the following - agate wedding.