Contents
---
---
Thirtieth wedding anniversary - pearl wedding. Pearls are a beautiful, expensive mineral. Although, perhaps, it is difficult to call it a mineral, because it is growing. Yes, yes, it grows like a tree in layers, every year becoming larger and stronger. And in the end, it takes on an amazing shape and becomes dazzlingly beautiful.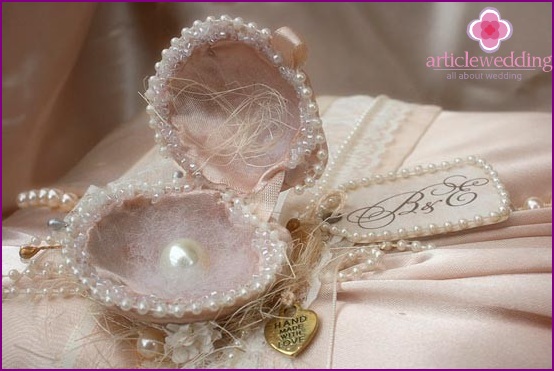 Like a pearl, the union of two loving people also developed, took its form, experienced difficulties, became stronger, and now after 30 years, to the pearl wedding anniversary, the marriage became truly perfect, like pearls - a miracle of nature.
This wedding anniversary is a symbol that thirty years, lived together, are strung on each other, like pearls in a necklace. They say that the life of the pearls is about 50 years, so this wedding anniversary is only the beginning of a new stage in family life.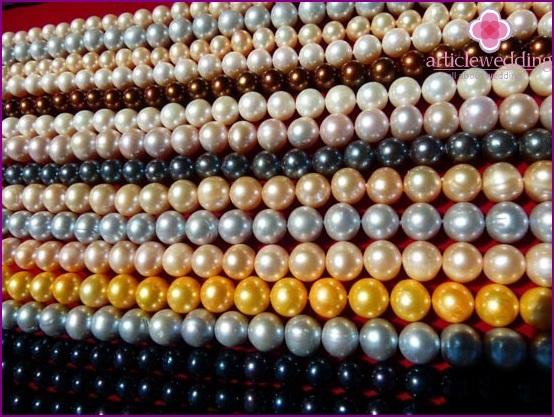 Pearls are usually identified with white color, but in fact it has many shades. This in detail is also quite symbolic. For woman:
white pearl is a veil;
blue - dreams that have already been realized in this union;
green - hopes for future happiness;
orange - optimism and vitality;
gray is a series of years that have been lived together;
brown - the warmth of the marriage;
the rarest and most expensive black pearl is a path that has yet to be walked along.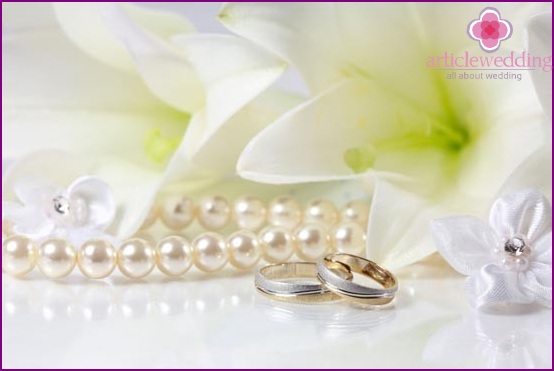 The spouse can also claim their interpretation of pearl shades. He got:
lilac pearls - a look at life;
pink - dreams;
bronze - confidence in the future;
golden yellow - the charm of a beloved wife;
black, which, as well as for the second half, means a long life together.
Pearl Wedding Traditions
On this wedding anniversary in ancient times, the couple got up very early and, until the guests gathered in their house, went to the pond. Each carried a pearl bead. On the lake, they threw pearls to the bottom of the pond with the confidence that pearls live 50 years or more, therefore, they will also celebrate their 50th anniversary with each other. After that, the couple returned home and, holding hands, swore by the mirror to each other in eternal love.
In addition, on the day of this wedding anniversary, the couple went to church and put there three candles from each:
One candle - to the Mother of God, so that she gives spouse good health.
The second - before the Crucifixion of Christ, for the fact that he protected this marriage for all 30 years.
Third - the Holy Trinity, so that you will always be together.
A beautiful ceremony for a pearl wedding is an exchange of pearls. It should be held in the evening at sunset in the presence of only the closest people with a vow that strengthens the feelings of the spouses.
Pearl Wedding Greetings
A pearl wedding is an amazing milestone that a loving couple has stepped over. Therefore, on this day they receive the warmest wishes and congratulations from friends and relatives. You will find many beautiful congratulations here:
What to present for a pearl wedding?
On this wedding anniversary, guests should give spouses products that contain pearls or nacre elements:
souvenirs;
vases;
caskets;
jewelry;
bowls;
candle holders.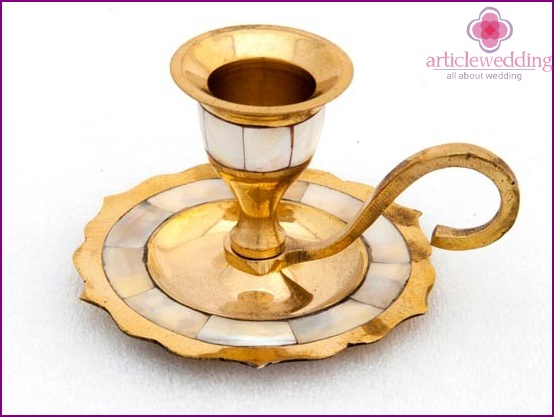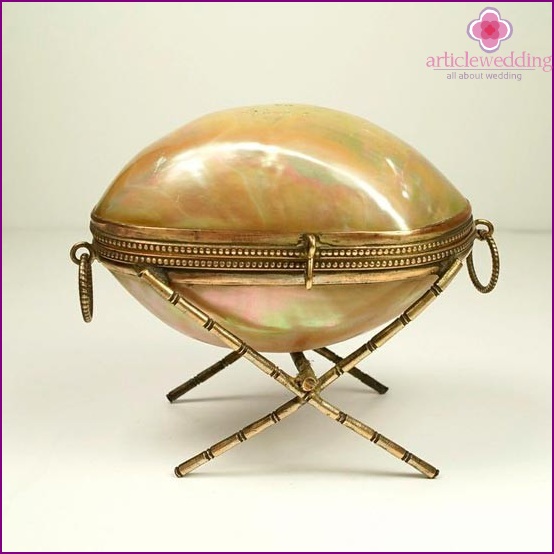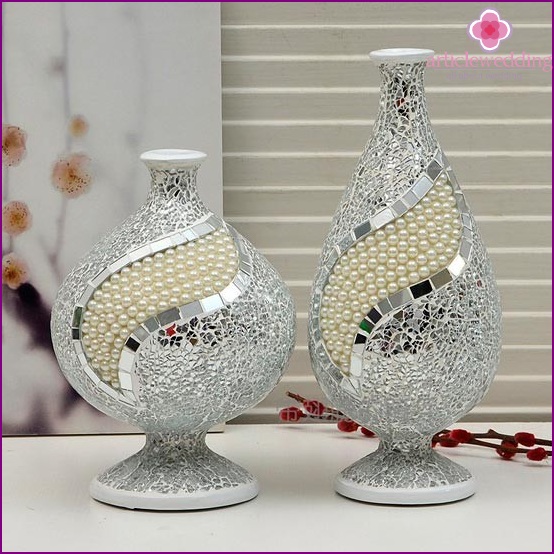 A stunning gift will be a souvenir shell with a pearl, which grew in this sink. For sweet tooth couples, you can choose a beautiful cake decorated as a big shell or decorated with edible "pearls" as a gift.
As is customary for this wedding anniversary, the husband gives his soul mate a thread with thirty pearls strung on it, as a sign that his years of living with his wife are dear to him as beautiful as these pearls. In addition, the husband can give his wife a beautiful pearl necklace, an elegant ring with an insert of pearls, as well as a bracelet, earrings, pendant, brooch, hair clip, but always with a pearl.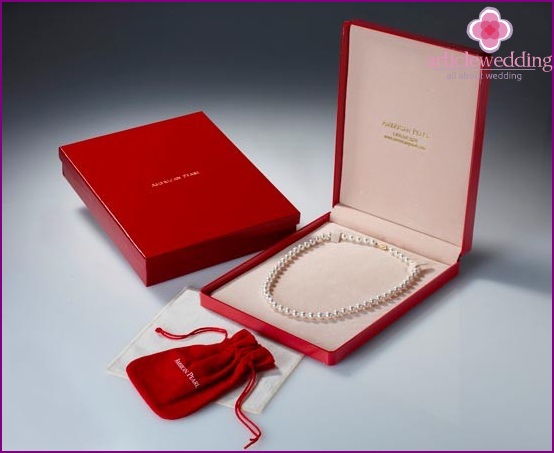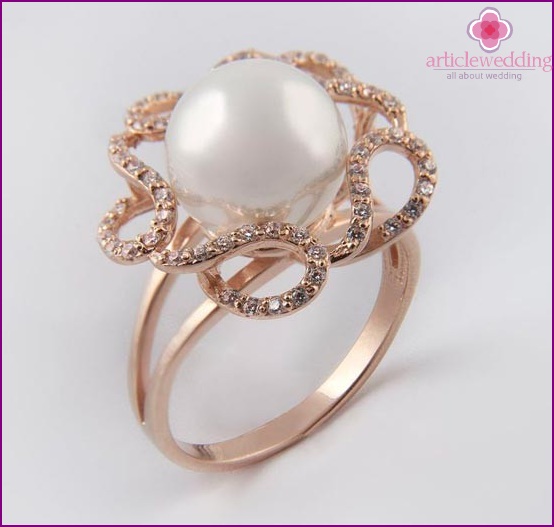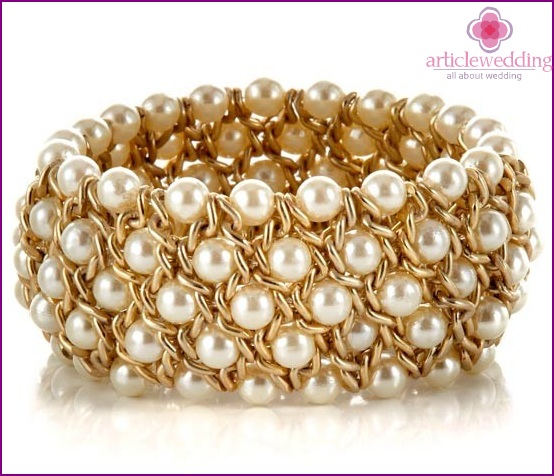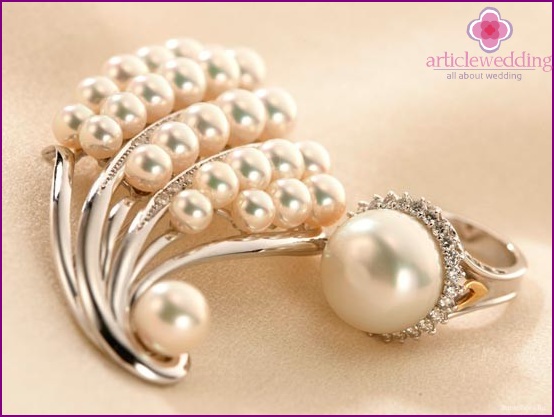 A wife can present her husband with beautiful cufflinks or a tie clip with nacre elements. An unusual gift for a husband who is fond of fishing can be a new spinning or something on the subject of fishing. After all, pearls are a "water" work of art, and therefore gifts associated with water will be quite appropriate.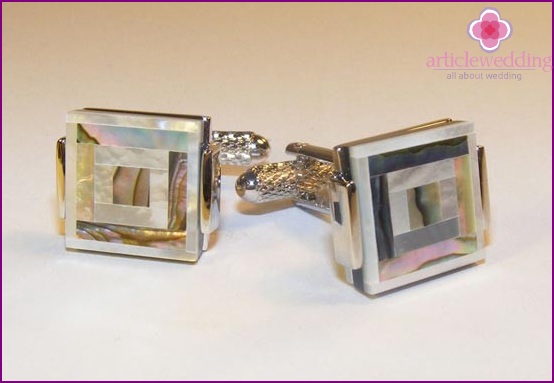 Time flies quickly, and soon the couple will celebrate the next wedding anniversary - coral wedding.