Contents
---
---
Each couple dreams that the wedding celebration was original and interesting. A great idea for a theme event is the choice of a symbol or color that will accompany all the details of the planned holiday. A chamomile-style wedding is a celebration whose main element will be a delicate, romantic wildflower, which has long been considered a symbol of fidelity, strong family ties. Guests will remember the sunny chamomile celebration for a long time, will present beautiful memorable photos and videos.
How to organize a camomile-style wedding
If you have definitely decided that the symbol of your future wedding is a daisy, you should find out more information about this cute flower. All over the world there are more than 300 species of this fabulous plant, and approximately forty percent of the total number grows in Russia. Due to this widespread prevalence, a lot of beliefs are associated with the flower. For example, it is believed that chamomile blooms where a star falls, and a bouquet with these plants symbolizes love.
Future spouses who choose a chamomile style will not regret their decision - they will just be able to decorate the room, this flower alone suggests some interesting ideas for a wedding. How to organize a chamomile event:
Choose a venue for the celebration. Nature is ideal for the holiday - in addition to the fact that fresh air has a beneficial effect on the body, helps to relax, this is a real storehouse of chamomile decor. The culprits of the celebration can save a lot by celebrating a wedding in the summer under the tent, because flowers that can decorate the event.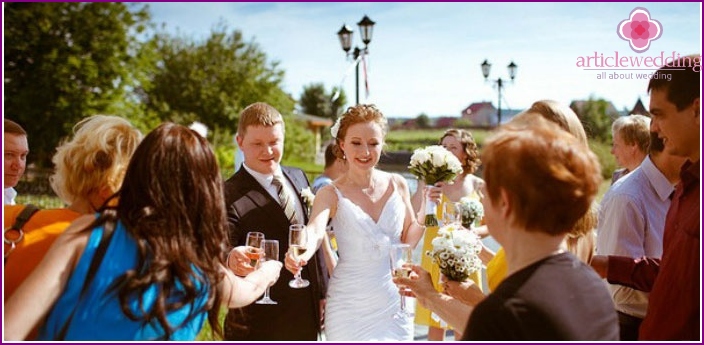 Despite the fact that chamomile is a summer plant, the decor with this element will look great in winter, when everyone is tired of the cold and want to at least look at the warmth of the bright sun. In this case, the heroes of the occasion can rent a restaurant room suitable for decoration.
Invitation cards. When it is decided where the sunny chamomile wedding will be held, it is time to send guests invitations. It is worth making sure that the cards contain an image of this flower or the theme of the wedding is mentioned there: so guests will immediately have an idea of ​​the style of the celebration. If you are planning a dress code, warn the invitees in advance (one or two months) so that they have time to prepare properly.
Dress code. Dress code for guests can be costumes of light shades, as well as dresses of a yellow palette - from sand to bright lemon.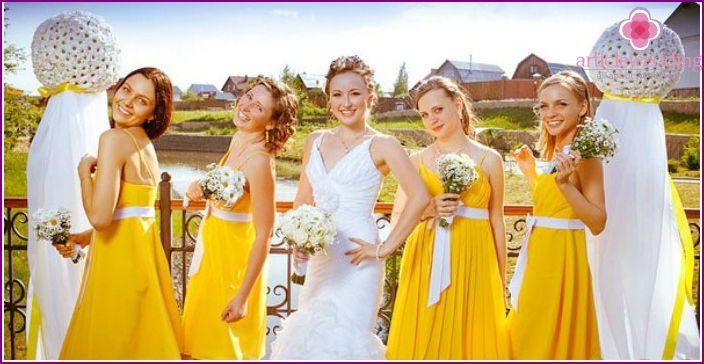 Menu. Future spouses can choose the menu for the event according to their taste, however, the main character of the banquet - a holiday cake, must fully correspond to the symbol of the holiday. An ideal solution would be a multi-tiered confectionery product in the colors of chamomile (yellow-green-white), decorated with living plants or cute flowers from pliable mastic. Herbal chamomile tea should also be added to the menu along with classic black and green.
Wedding procession. Making a wedding procession with a chamomile style will be simple: for this you need to order a pure white car, and before leaving, decorate it with yellow and green ribbons, fresh chamomile flowers or one large plant cut out of paper.
Separately, it is worth talking about the festive dresses of the culprits of the chamomile celebration. The image of a daisy-style bride is tenderness itself. For such an event, magnificent dresses a la princess, delicate lace, light flowing materials are ideal. A girl can choose a classic white outfit, complement it with a weightless veil, and display the chamomile style with contrasting elements. For example, a light yellow belt or lemon shoes will look good..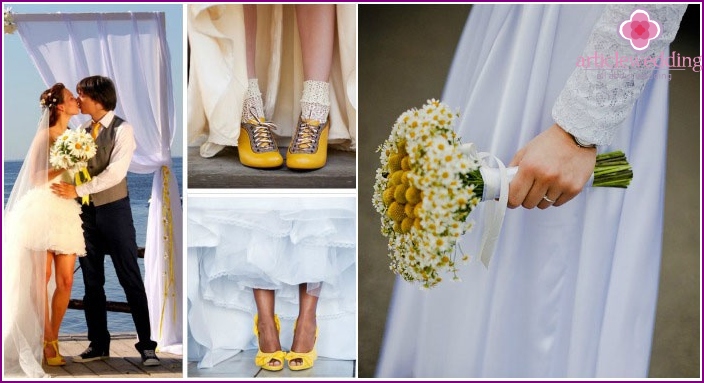 A girl can also embroider a beautiful dress with delicate daisy patterns. As for hairstyles, it is better to choose a simple, natural look of hair. Curls will look great, creating the effect of disheveled, not combed hair, a free bundle, a delicate baby. Be sure to decorate the hairstyle with fresh chamomile flowers or make a wreath with field herbs. In the bride's bouquet, not only a holiday symbol can be used, but also other flowers suitable in shades.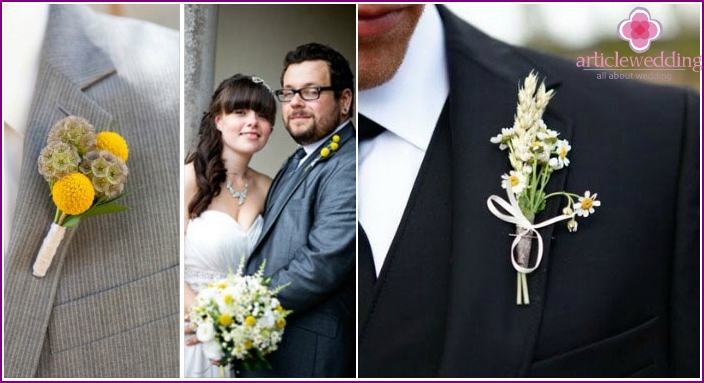 A classic evening suit is suitable for the groom, which can be decorated with a bright chamomile boutonniere. A light outfit made with natural fabrics will also look great. Accessories for such a suit will be a yellow tie, socks or a pocket pocket square.
Wedding decoration in camomile style photo
When the main things are done and organizational issues are resolved, the time comes for the most enjoyable preparation for the wedding - creating the style of the room. There are many ideas for decorating a banquet hall in a chamomile style, but, first of all, colors will create the mood of the event. The shades of a chamomile wedding are yellow, green and white. Such a sunny gamut should accompany all the details of the decor, forming a magnificent warm atmosphere.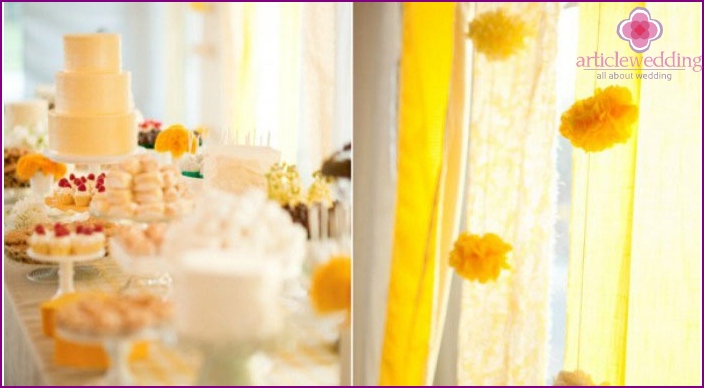 It will be possible to decorate the wedding room with a variety of fabrics - the organizers of the chamomile event can make beautiful draperies of pale yellow light, decorate the white room with light green curtains. On a white tablecloth it will turn out to place contrasting napkins of yellow or green colors. White covers worn on chairs and huge yellow bows made of light fabric on them will look great. Fringed ribbons that adorn the walls and entrance will serve as an excellent decorative element..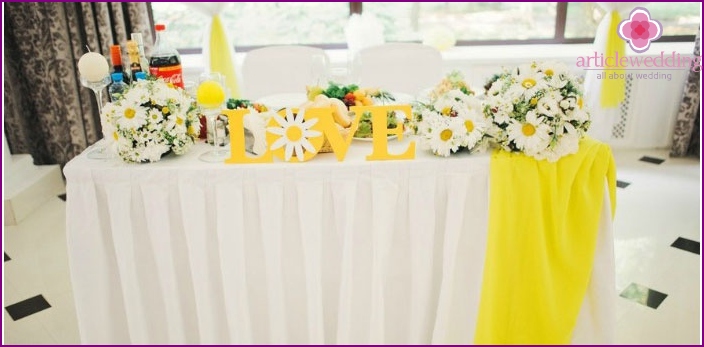 Do not also forget about the lively chamomile flowers, it will be impossible to go too far with them. Put small bouquets with a sign on each guest's plate - let them serve as a seating card, place larger bouquets on the table itself. Daisy flowers in impromptu vases will look cute: tea cups, faceted glasses, half-liter cans can serve as a container.
It is also worth thinking about unusual bonbonnieres for guests: homemade chamomile soaps, seeds of this plant, tea packaging, cookies in the form of a charming flower can serve as a small presentation to wedding participants.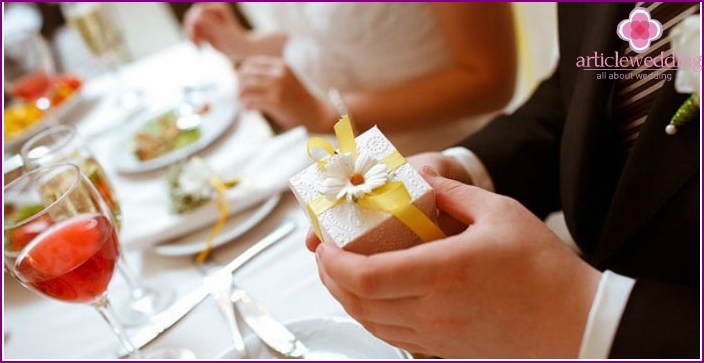 Chamomile Wedding Scenario
A chamomile-style wedding can take place according to the classical scenario: early in the morning the ransom of the bride begins, which can be arranged as a quick game. For example, girlfriends will write questions about the future spouse on the petals of a large chamomile: the groom must answer these questions correctly in order to get the bride. A great idea is a ransom in the style of a flower shop, where the hero of the occasion will fight for a precious flower.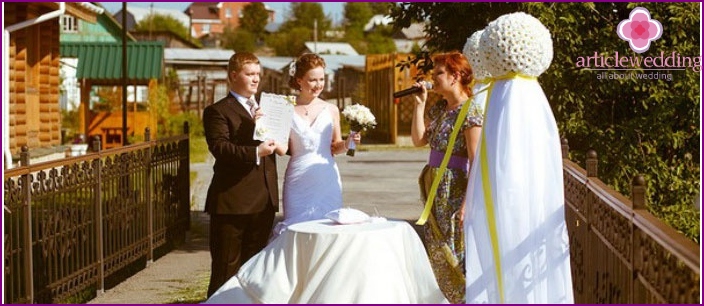 After the ransom, the future spouses go to register at the registry office or at an exit wedding ceremony. When the marriage is concluded, newly-married newlyweds can go to a photo shoot in a chamomile field, and after that - to a festive banquet, where at the entrance guests shower the spouses with the petals of this plant. It's good if the wedding is held by a professional host who will use the holiday symbol in toasts, speeches, games, competitions.
Instrumental live music with string, wind and percussion instruments (violin, guitar, cello, flute, whistle, bells) is perfect for such a sweet, sunny holiday..
Process video
A chamomile-style wedding is a bright, colorful event that will give warmth to everyone present. Future spouses who have chosen a chamomile as a symbol of their holiday can count on a strong family, long love and undying romance, because this is what symbolizes a touching flower. The chamomile wedding will be remembered by guests for a long time, it will leave a pleasant imprint in the hearts of the participants in the process..