Contents
---
---
The warm smell of trees, the freshness of greenery, the soft colors of the forest that surrounds the bride and groom - is it possible to come up with a decor better than that provided by Nature herself? A spiritual holiday in a forest style involves restraint in detail, a muffled soft palette, natural materials. Ideally, if the forest wedding is inscribed in the landscape of the forest, however, when it is not at hand, the desired atmosphere is easy to recreate anywhere. This publication contains the best ideas for decorating a forest celebration - be inspired by your health!
Where to organize a wedding in the style of a forest fairy tale?
A muted color palette with brown or green tones or, conversely, deep dark like berries, natural materials, lots of skin, wood, grass, fruits and flowers - all this will help to recreate the atmosphere of a magical forest, if you choose a suitable site. Going through the wild jungle in search of a place of celebration is not necessary. Choose a spacious clearing at the camp site or in the country park for the celebration. Remember that the closer to civilization, the easier the organization will go..
A forest wedding is held directly in nature or in the nearest restaurant overlooking the forest. Particular attention should be paid to decorating tables - many flowers and wooden details will enhance the enchanting atmosphere of the forest. Floristic design should be based on potted plants using cut. If you find a good clearing, you can seat guests on it, and fence yourself off from the bustle of civilization with a wooden screen.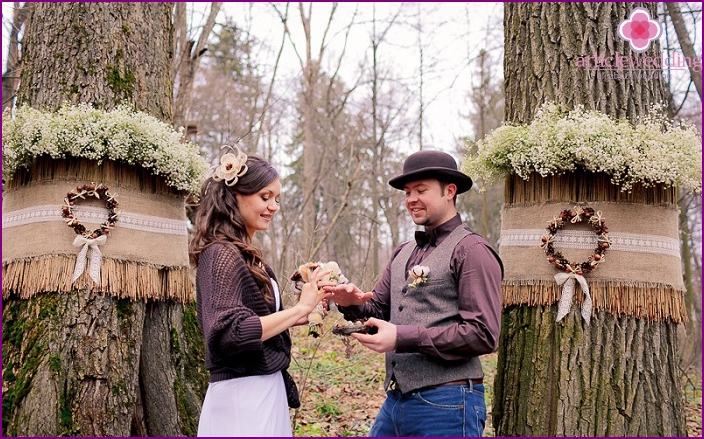 If you decide to arrange a forest celebration on the territory of a country restaurant, then take care of the presence of natural materials for decor, plant compositions. For even deeper insight into the theme of the wedding, use compositions with small birds, mushrooms, butterflies, elves and other magical inhabitants of the forest. You will arrange an unusual, amazing, very warm and cozy wedding in country cottages in the middle of the forest or in rented wooden log houses.
A wedding ceremony held in the forest will be remembered forever by the newlyweds and guests. To organize such a wedding, the bride and groom will have to take care of the delivery of wedding accessories such as arches, carpets, reception tables, etc. To extend the forest celebration for several days, it is better to rent houses at the camp site. Relax in a picturesque place, an open-air banquet - ideal for a themed wedding.
Images of young and guests for a wedding in a forest style
Forest style of the ceremony involves the creation of images of gentle, close to nature. These are sloppy braids, soft waves, flower wreaths, flowing styles of dresses, forest bouquets, delicate make-up, relaxation and no formal, business-like rigor. Guests should be warned in advance about the theme of the upcoming wedding so that they can think through their outfits. You can dress the bridesmaids in the same airy dresses, which will look very good in the photo.
Wedding outfit for bride and groom
The image of the newlyweds for the forest wedding celebration in many ways echoes the style of rustic. It is advisable to bring in a few details related to nature, for example, an armful of flowers with forest splashes, a fern branch for a hairstyle or boutonniere, and jewelry made of bone or wood. For the bride, a simple Empire-style dress or straight cut will suit a wedding. It is worth avoiding elaborate, complicated decor, outrageous, because for the theme of the forest, thin flying fabric, simple lace will look more organic.
The hairstyle of the bride and groom at the wedding should be light, simple in execution - loose hair decorated with a wreath, all kinds of disheveled braids, carelessly curled curls, loose tufts. Make-up in golden brown. Eyes are allowed to be highlighted in green. If the forest-style wedding is dominated by the colors of berries, then emphasize the makeup of the same tones, for example, berry lips.
The groom can dress in both a classic lightweight style and an informal one. It is permissible to dilute the image with hats, leather vests, jeans shirts, bright ties and other attributes that are appropriate for the theme of the forest. Shoes for a newlywed for a forest-style wedding can be like cowboy boots, Cossacks, lace-up boots, casual shoes.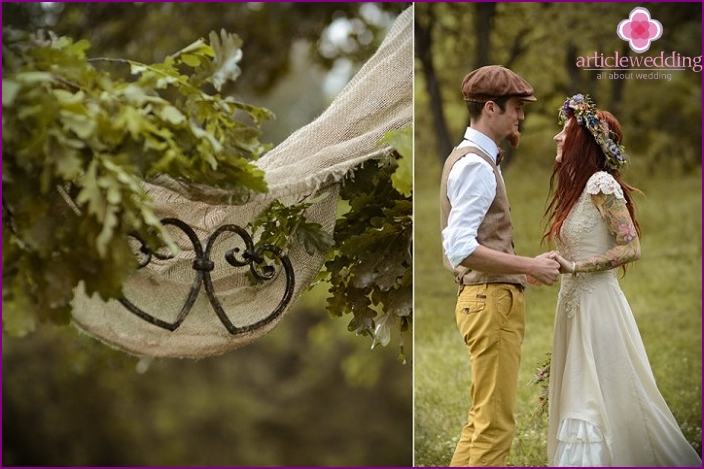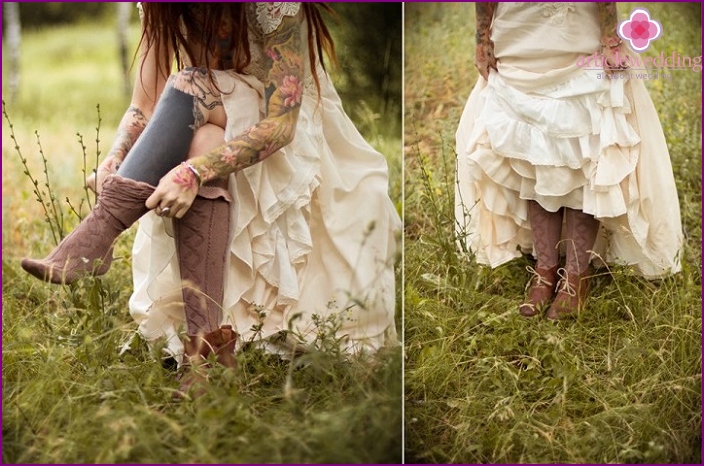 Dress code for bridesmaids and guests
The invitees must support the forest orientation of the celebration. Notify them in advance of the wedding format, indicate an approximate dress code. Offer invitees a specific color scheme of dresses, paying special attention to dresses of bridesmaids. Interesting on girls will look beautiful hairstyles with flowers, wreaths, so girlfriends will look like forest nymphs. This will make it possible to take stunning photos. Children at a forest-style wedding are happy to dress up like forest elves, fairies and other fairy creatures.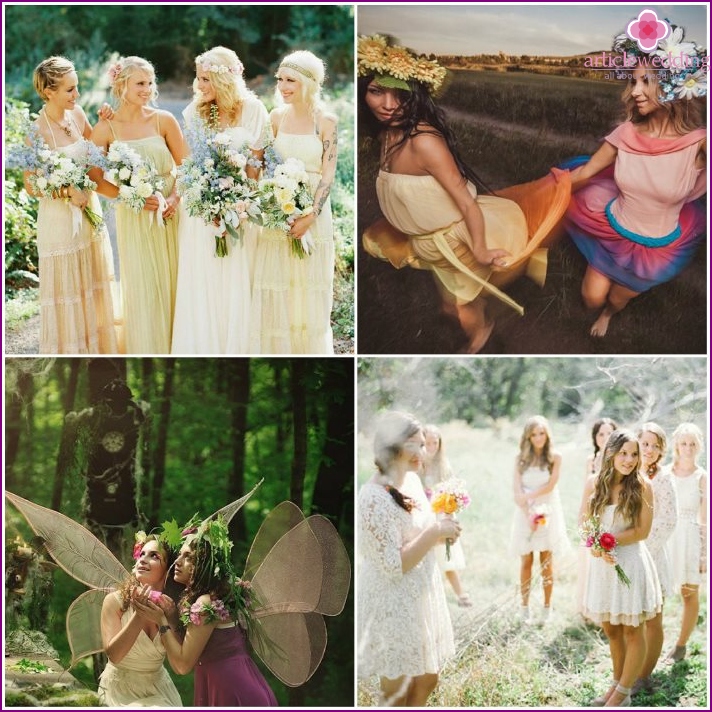 Forest Style Wedding Design Ideas
When you make a wedding forest style, you must make the most of natural materials. Ordinary items here will look completely new. Wood cuts easily turn into menus, table numbers, seating cards, stands for desserts and cakes, candle holders and other items. Moss plays the role of the background for the seating layout of the guests, the decoration material for armchairs and chairs, table paths. Feathers, ferns, cones, feathers, wild berries - everything plays a role, serves as the basis for a forest-style wedding.
Guest Invitations
Images of plants, animals, natural materials, warm green and brown tones should prevail in the wedding forest style printing. Invitations can take the form of simple cards with a wood texture and drawings, made as if by hand. You can choose something more complicated, for example, a properly decorated decorative box, inside of which there is a nest with a scroll.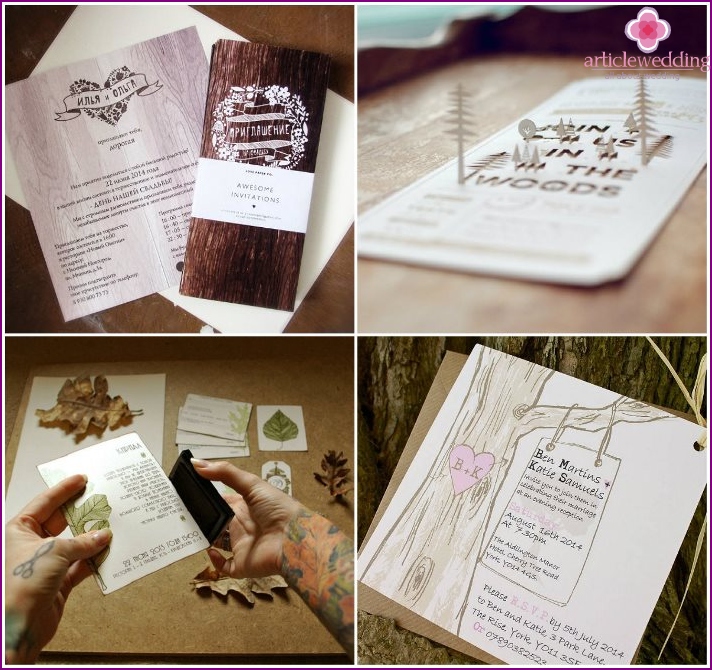 Wedding ceremony venue
A forest theme wedding dinner can take place inside the tent, where you need to think through entertainment areas for guests. For example, in one arrangement of a competition in archery, the other - burning wishes for newlyweds on specially prepared wooden saw cuts, the third - drawing owls on slate plates in the form of silhouettes of these birds. It's interesting to arrange a photo booth, pictures of which will be a souvenir for guests.
The space where the wedding will be held on a forest theme, decorate with unusual lamps made of twigs, voluminous letters made of moss, multi-colored paper pompons. A great idea is to fit the decor into the nature around you, for example, hang a chandelier with candles on a tree.
The color palette of a forest-style wedding can be muffled or very colorful, of all shades of berries, for example, blueberry-purple, cloudberry-orange, cranberry-red, lingon-burgundy, shades of sea blue. It is easy to decorate the area of ​​the wedding ceremony with ribbons of the main colors of the wedding, hang them on tree branches. The back of the chairs also decorate with colorful ribbons.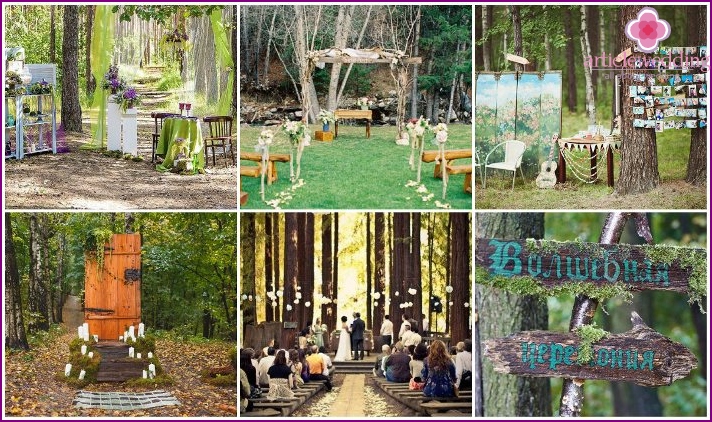 Festive table decoration
For a forest-style wedding, an unvarnished wooden table is ideal, where the material does not look too well-groomed, homely. It should have seemed as if trees had been cut down for him quite recently and hastily connected logs with nails. Dear crystal ware will not be appropriate; choose ceramic painted plates, wooden saucers. For decorating the table with consoles for seating cards, cones can serve.
The backs of chairs decorate with garlands, multi-colored ribbons. Decorate the table of the bride and groom at a forest-style wedding with compositions that support the theme - wooden flower pots. If the celebration is in bright berry colors, then express them with bright orange chrysanthemums, purple hydrangeas, purple-burgundy roses, juicy shades of floral berries, pistachio branches. Cones, logs, moss, greens - all the richness of the forest is suitable for decorating tables.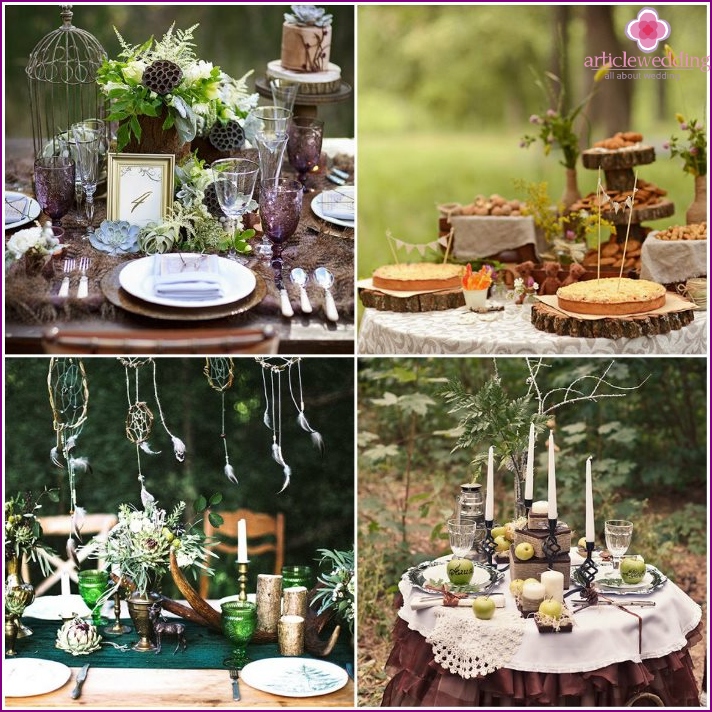 The bride's bouquet
The bride's wedding bouquet may include fern, wildflowers, berries, tree branches, twigs. The larger, more voluminous the composition, the better. The bouquet should embody all the natural resources, it would seem as if it had just been plucked in a forest glade. It makes no sense to decorate a composition for a forest-style wedding, just confine yourself with a tight lace ribbon, leather lace.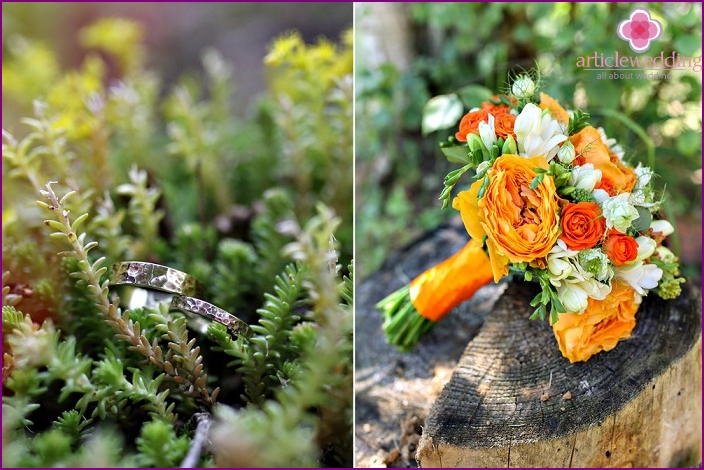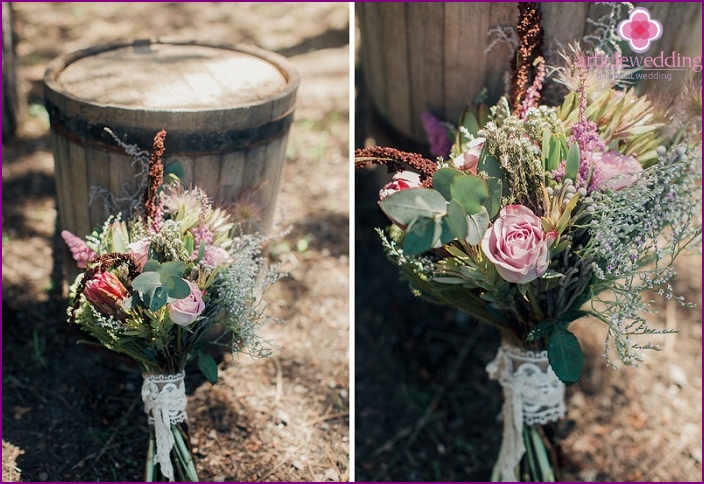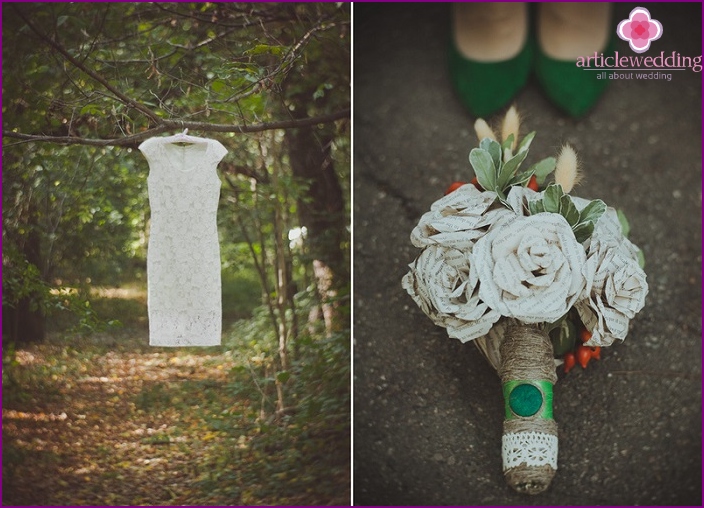 A wedding cake
A worthy completion of the forest-style wedding will be a rustic-style cake made from uncooked uncooked cakes with fresh fruits and berries. In addition, the main delicacy can be a real work of confectionery art with glaze painting, cream flowers and leaves, images of animals and birds. A slice of wood can serve as a stand for cake and other sweets..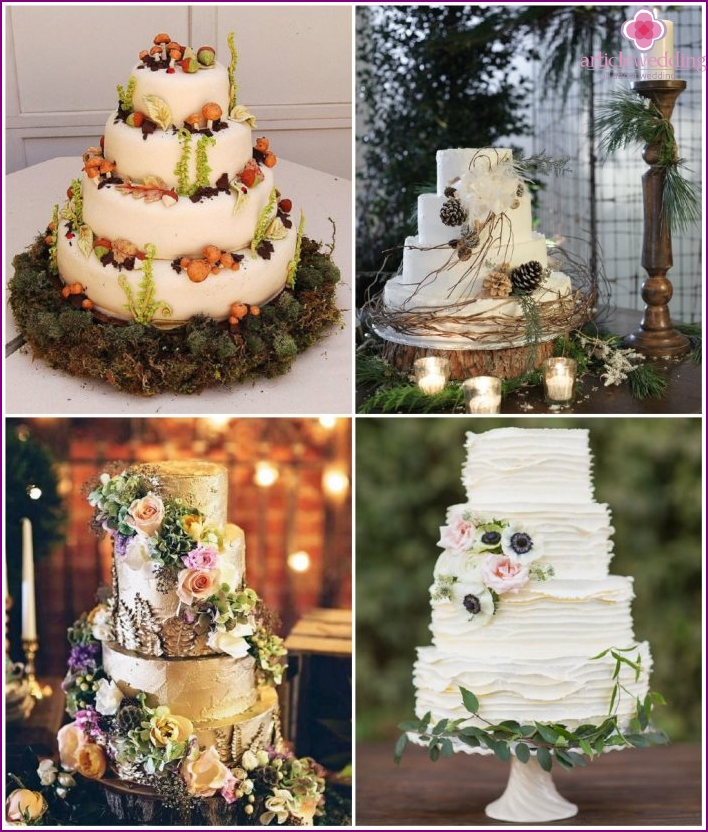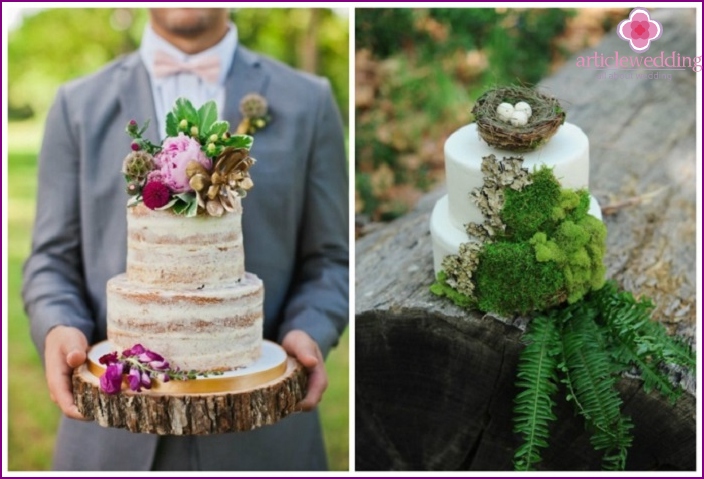 Forest Wedding Accessories
Animal horns can be an interesting accessory at a forest-style wedding. Use them to decorate space, combining with fruits and flowers. For guests, prepare small bonbonnieres. Considering the forest style, carefully consider presentations, for example, honey, homemade jam with a commemorative inscription with your names and wedding date. Excellent wedding accessories will be wood, moss, burlap, vine, stones, climbing plants, lamps.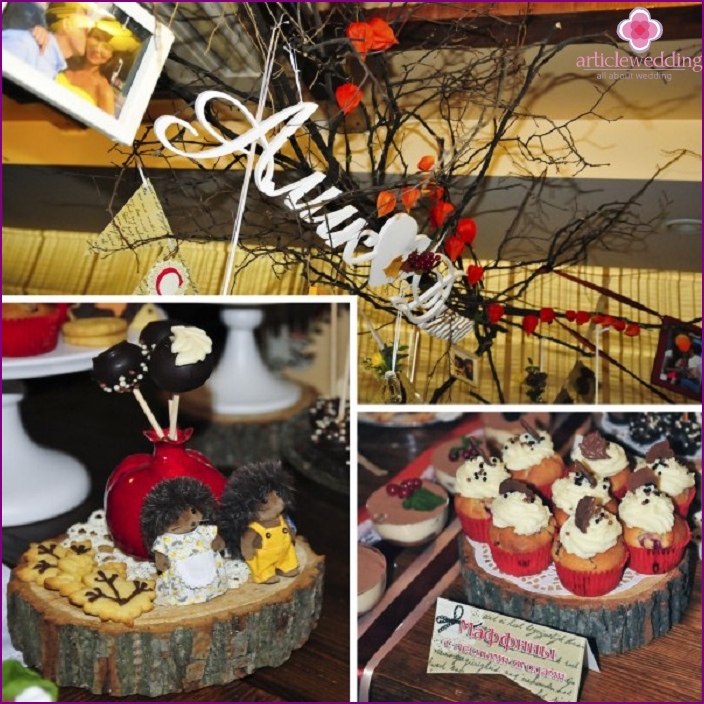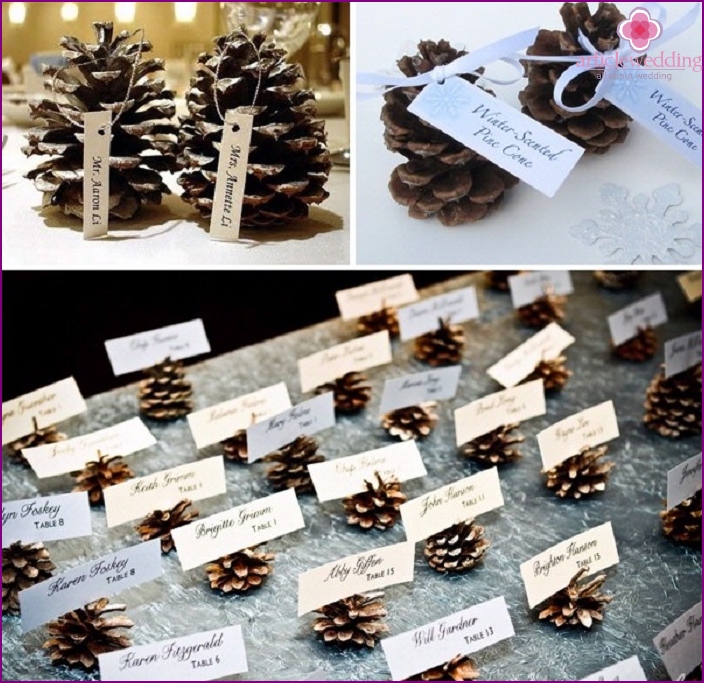 Themed wedding photo shoot
The forest will give you stunning backgrounds for a wedding photo shoot, a special feeling of romance, privacy. Such pictures will be tender, sensual. The tranquility of nature will help you relax, freely pose for a photographer at a wedding. Take a walk through the forest, find beautiful clearings, trees, fields with flowers. To add mystery to a forest-themed photo shoot, you can take advantage of special effects and bring a couple of owls and a smoke machine with you.