Contents
---
---
Themed weddings are the choice of many couples in love. The style of celebration is chosen depending on the desire and interests of future newlyweds. Do you love nature and freedom and, at a minimum, feel hippies in your soul? Then, you may want to stick to this theme during the wedding. A hippie-style wedding is unusual and vibrant. The basis of this subculture is freedom, harmony with nature, the principle of non-violence. How to make a hippie celebration?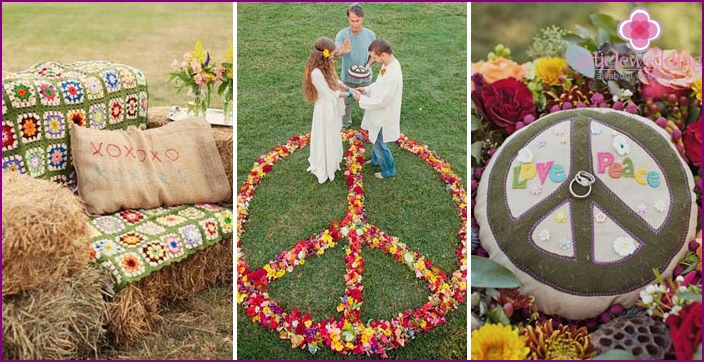 Hippie Bride Wedding Look
The hippie current attracts some young people because it is based on love and peace. Adherents of this subculture are sometimes called «children of flowers». Hippies are peaceful and adhere to the principles of non-violence, which were taken from the ancient Indian Vedas. Representatives of this subculture are easily recognized by their special symbolism and lifestyle. They do not divide people according to any criteria, because they preach the idea of ​​equality and freedom.
Hippies prefer to wear simple clothes devoid of luxury items. When choosing items for the outfit of the bride, give preference to comfortable, free and inexpensive things. Girl in style «children flowers» It looks romantic, feminine and original. Hippie-specific jewelery must be present in the image of the bride and groom.
Wedding Dress
Create image «children flowers» the right choice of dress and accessories will help the bride. It is better to choose a newlywed outfit with ethnic motifs, with a loose cut, without lush multilayer skirts and dragging trains. The girl's clothes with embroidery, lacing or fringe will be in perfect harmony with the theme of the celebration..
The length of the wedding dress depends on the preference of the bride. It can be of any length, but without a luxurious decor. For a newlywed outfit, a festive look of a cotton sundress or a transparent dress is perfect. Shade of the bride's dress in style «children flowers» can be any, even with a picture. Hippies love denim clothes, so such elements can be present in the image of the bride and groom.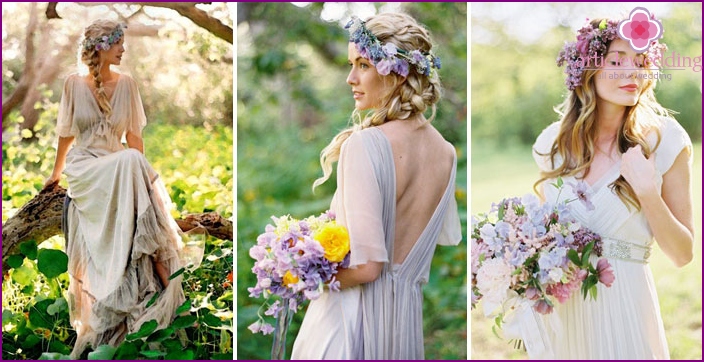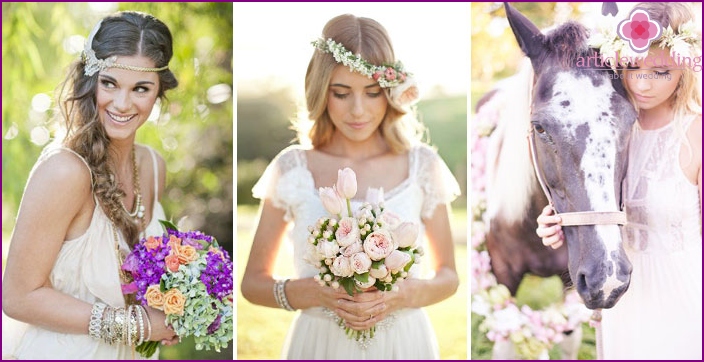 Hairstyle and accessories
If the wedding is in nature, then the bride can be without shoes. And if you can't walk barefoot at the celebration, then choose sandals, ballet shoes or denim boots. A la hippie hairstyle is carelessly loose hair, decorated with a wreath of wild flowers or a colored bandage with or without a bud. It would also be appropriate for the girl to braid 1 or 2 braids with the effect of negligence. In this case, it would be nice to weave colored ribbons into the hair.
The bride's hands must be decorated with bracelets, baubles, because these attributes show that a person belongs to the flow of "children of flowers." The bride can herself master the technique of weaving baubles and make such accessories for herself and the groom. A variety of metal pendants, multi-colored scarves and scarves, beads will help to give the newlywed a spectacular look..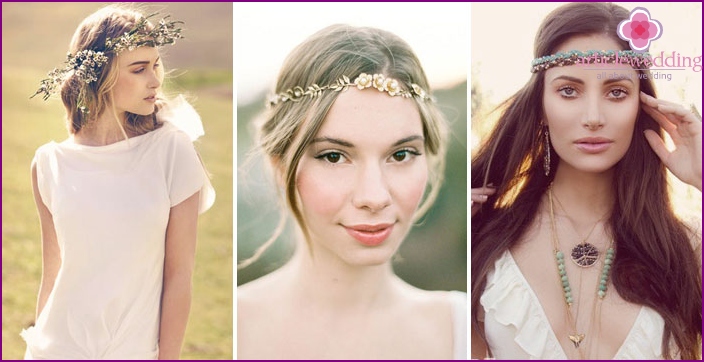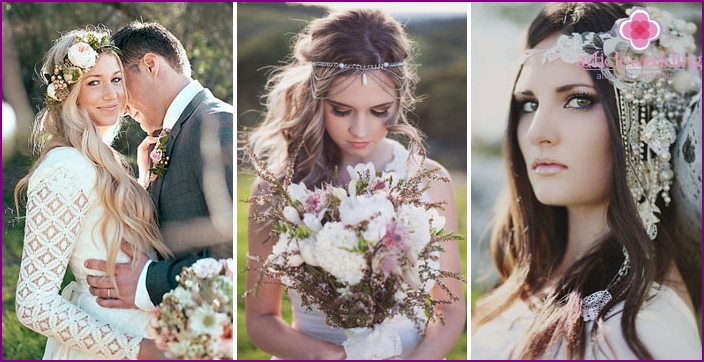 Wedding Bridal Bouquet
Bridal bouquet in style «children flowers» should be sweet and natural. It is made up of different field plants. A beautiful bouquet will be of gerberas, tulips, peonies, anemones, daisies, cornflowers, sunflowers. The principle of making a flower arrangement is simple: it should have a lot of field plants and herbs for decoration. It's good to decorate the bouquet with ribbons, feathers.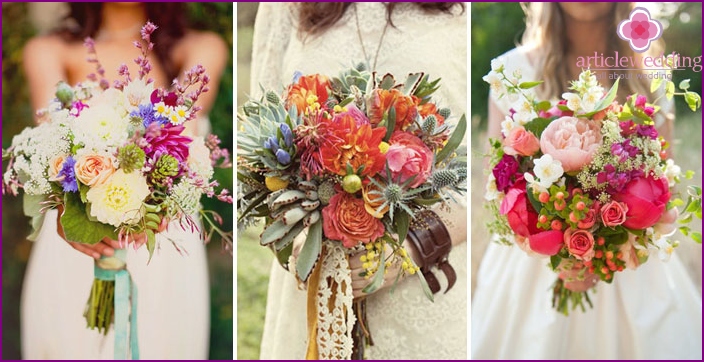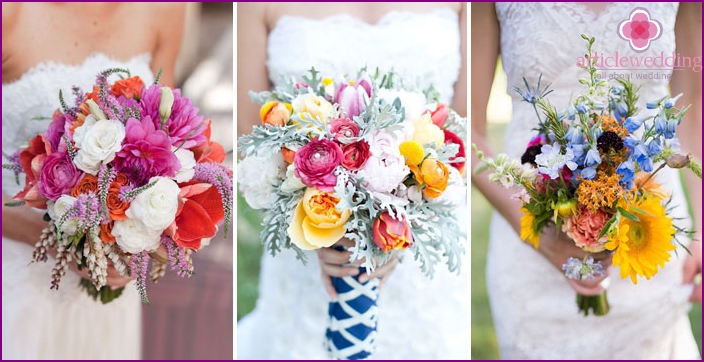 Hippie style groom
Groom clothing should resemble a hippie style. A festive tuxedo is not suitable for such a themed wedding. But a free-cut shirt and jeans, light trousers will be appropriate on the groom at the wedding «children flowers». Hippie style welcomes freedom in everything, so clothes «young» It can be different, the main thing is that it is comfortable. If appropriate, the groom can be barefoot at the wedding or put on light shoes.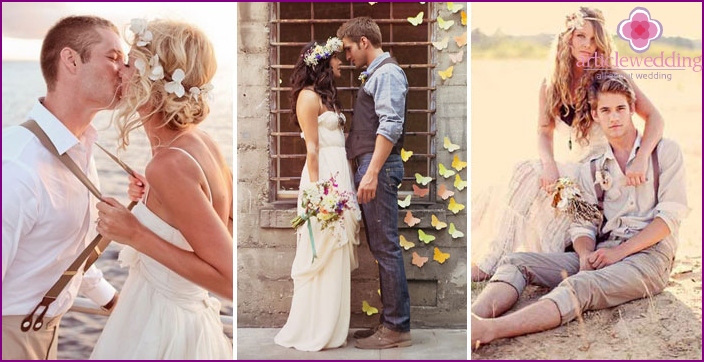 Themed Wedding Ideas
A hippie-style wedding involves an informal atmosphere saturated with freedom and love. Guests can support the theme of the celebration and come to the wedding in clothes. «children flowers». Since hippies respect the freedom of choice of each person, the outfits of the guests can be in any color, style. And the bridesmaids will add more color to the wedding if they put on many bright accessories typical of hippie culture. It can be colorful scarves, ropes around the head, colored bracelets, baubles, beads.
A special hippie color will give the celebration of Love Bus. This is a colorful bus with images of flowers and slogans. If the Lavbas type of transport cannot be found, but take it on a bright car, attach paper labels with expressions of love, peace. Rock and roll, sounding at the festival, will create a special romantic atmosphere. Great recordings of the Beatles, John Lennon, Bob Dylan. Even better if the wedding will feature rock and roll performed by guest musicians.
Wedding invitations for guests
Hippie style should be seen throughout the design of the celebration. Wedding invitations are a great way to inform guests about the theme of the upcoming holiday. For their bright design, it is good to use denim applications, laces, ribbons, pieces of leather, wool, linen, beads. Invitations can be made in a simple style on a cardboard decorated with twine, feathers, twigs of flowers. They are easy to make on their own to convey guests their feelings, a positive attitude.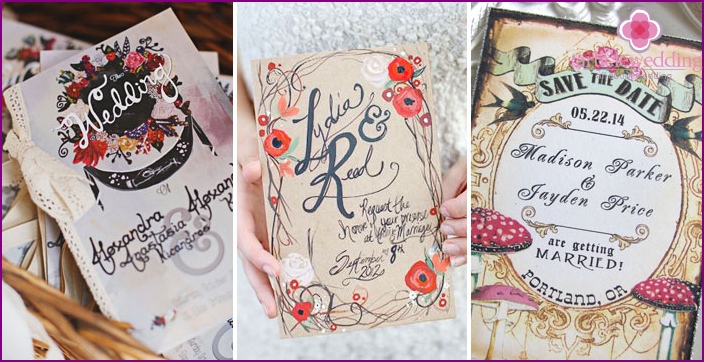 Wedding Venue Decor
Best wedding style «children flowers» to do in nature. A wonderful holiday to get on the lake, river, sea. Arriving at the venue will effectively turn out on the love bus, painted with flowers, hippie badges. To beautifully decorate a corner of nature for celebration, use bright ribbons, garlands, threads. It will be appropriate to decorate the wedding arch for the wedding ceremony with variegated stripes of fabric. The backs of chairs, if desired, are tied with colored ribbons.
If the celebration is outdoors, then guests can sit on bright rugs, pillows on the grass. Wedding tents by the sea or in the forest will protect guests from the bright sun or rain, so it is advisable to install them at the venue. Several curtains with ethnic patterns, blinds with bright ribbons, beads will help emphasize the theme of the celebration..
For a festive banquet, tables are served outdoors. It is advisable to use dishes with ethnic decor, home-made fabric napkins. Tables are necessarily decorated with a large number of wildflowers. In the evening of unusual romance, a lit bonfire can be given to the celebration, around which all guests can gather and sing their favorite songs to the guitar.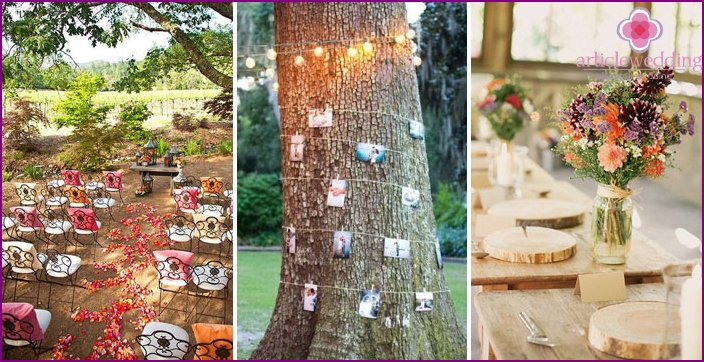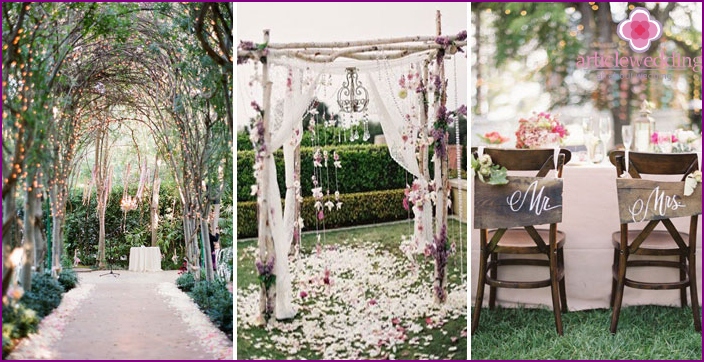 Video: holding a hippie wedding
How to organize a wedding in style «children flowers»? Find out how other couples do it. Some of them organize a celebration directly in nature, and others - in a restaurant that is decorated with hippies with bright ribbons and special symbols. How to create a harmonious image of the bride and these emphasize the theme of marriage? What to wear for a hippie party? What interesting ideas can you use when creating a wedding video? You will learn the answers to these questions by watching the video:
Hippie Wedding Photos
Wedding photos «children flowers» should be distinguished by creativity, love. Harmonious and original shots are obtained on the banks of a river or lake, in a forest glade with wildflowers, on a field with ripe golden wheat, next to a car painted to the style of a wedding, or in an abandoned house full of old things. An unusual and love-saturated hippie wedding will always be remembered by the newlyweds and their guests forever, and photos from the holiday will help to remember bright moments in many years.