Contents
---
---
The solemn ceremony of registering a new young family has ended, a walk and a photo session of the newlyweds are left behind. How do you want to quickly taste the delicious, fragrant dishes prepared for the holiday! In order to seat guests without fuss, to help them navigate and take the place where the newlyweds want to see them, there are wedding plates on the table. In addition, executed correctly and with taste, they will become a worthy decoration of the interior.
What are wedding table signs for?
After the leader's voice is heard inviting everyone to go to the table, sometimes confusion arises among the guests. Alone– the most modest– continuing to stand at the entrance, they let the rest pass, others try to go in first to take places near the young, and still others get lost and don't know where to sit.
In order to make all guests feel comfortable, think in advance how you would like to place them yourself. After that, draw a plan for seating guests on paper and hang at the entrance, and equip each table with specially made cards, according to which the guests will be guided in finding their place. Making the nameplates takes some time, but it helps to avoid unwanted conflicts and grievances..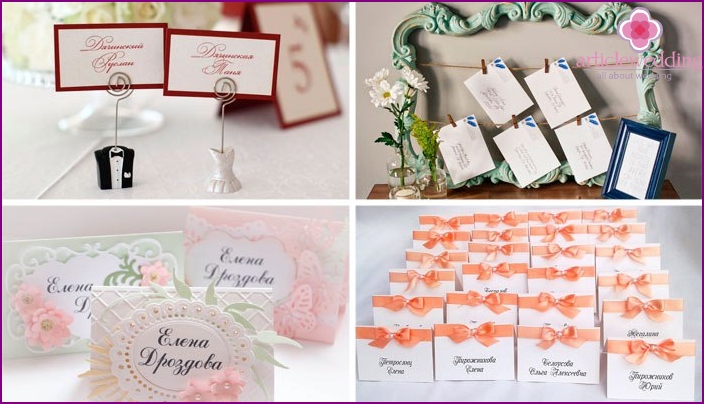 Types of labels
First, decide whether you want to make a personalized name card for each guest, or just number the tables. Both options are good, they are willingly used at special occasions. You can make plates with your own hands from various materials at hand, or you can choose ready-made ones by contacting specialists from a wedding agency.
With table numbers
There are many banquet rooms where the tables are separate: their location implies the presence of a number plate. In order for the guest to know what table he is sitting at, indicate the number in his invitation card. Tables are randomly numbered. For banquet rooms, where one common table stands with the letter «P», The best option would be to make three cards: «left», «central and «right table». If there are two parallel tables in the room, limit yourself to two cards: «left table» and «right table».
Cards with table numbers are mainly made of designer paper. They come in various shapes. – round, oval, in the form of hearts, flags – and necessarily contain a clearly and accurately displayed number. Such cards are attached to a special holder, and if there is none, they are made double, so they are held independently. Their approximate size is 9.5 cm x 15 cm.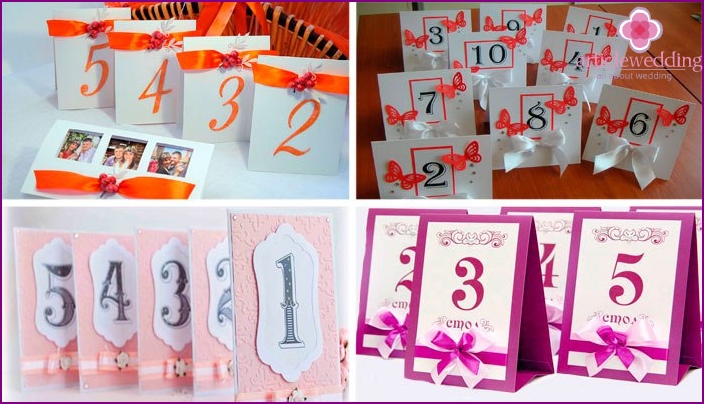 The festive table will be decorated with unusual plates with a photo of the groom with the bride and the table number. You can attach the made numbers to existing table setting items, decor, accessories – flower vase, candlestick, bottle of wine. It is original and simple..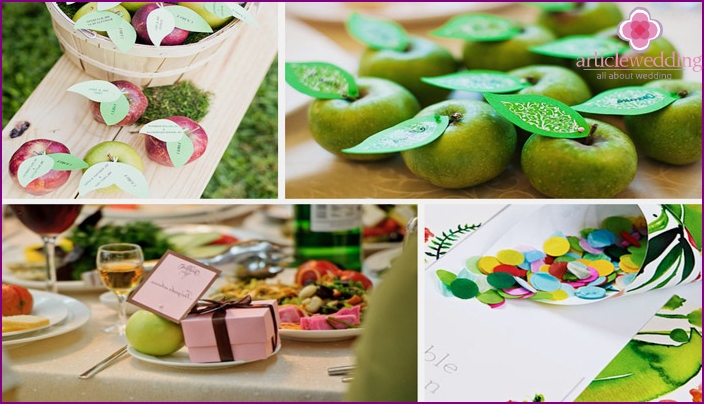 With the names of the guests
Everything is very simple here: having placed in front of you a list of all those invited to the celebration, alternately make a nameplate personally for each guest. If you wish, you can put the official inscription– last name, first name of the person invited. And to create a cheerful mood for guests, make cards that briefly characterize the guest, for example: «Beloved sister Tanya», «Godmother Tamara», «Nephew Sasha», «The best plumber Uncle Borya», «Good Victor».
What should be the plates
There are no special restrictions on the manufacture of wedding plates on the table, everyone can make them original, extraordinary, with a maximum of imagination. But there is one single requirement – compliance with the style and colors of the wedding. This is especially true for weddings made in a particular style..
Nameplate size
Make labels so that they are not too large, too bright, cutting eyes. But to make them too small is also not worth it, otherwise they will be lost among the festive dishes. Make them the optimal size so that they are clearly visible to guests, but do not concentrate on themselves all the attention.
Font
Newlyweds want the plates to be beautiful, original. To do this, they are signed in an intricate font, applying shadows and other visual effects. This is not worth it, as you artificially make it difficult to read the text, creating a problem for guests, especially those with poor eyesight. Make lettering easy to read in a font that is visible from afar.
Wedding Plates
If the wedding is held in any particular style, the design and color scheme of the plates for the guests should also correspond to it. The plates contain elements that characterize the style of the holiday. For example, for a wedding in a travel style, numbers with the designation of the table number are attached to a geographical map, dressed in a white frame.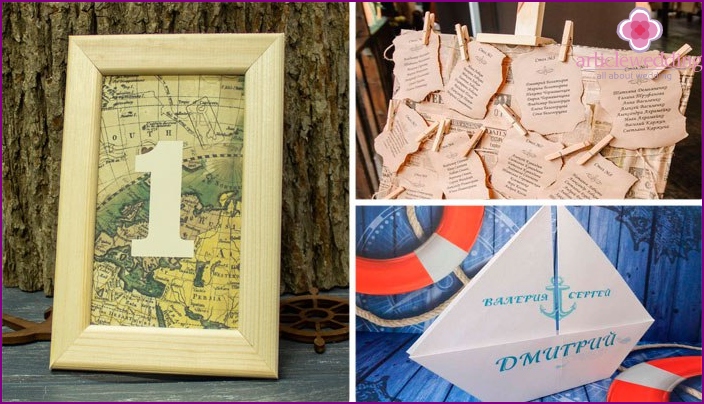 Vintage weddings are very popular. For them, cards are made antique from any improvised means that are at home. For example, you can make a wooden plate, decorate it with a carved frame, put the number in the middle with buttons. Buttons are fastened with special glue.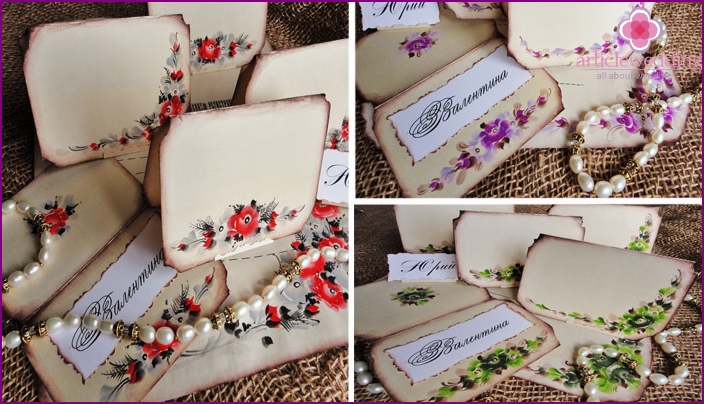 For an orange wedding, seating cards decorated with orange leaves or flowers are suitable. This can be an application, drawing, photo, which contains an inscription with the name and surname of the guest. With a little effort, showing ingenuity, you can easily make such a tablet yourself or with the help of friends.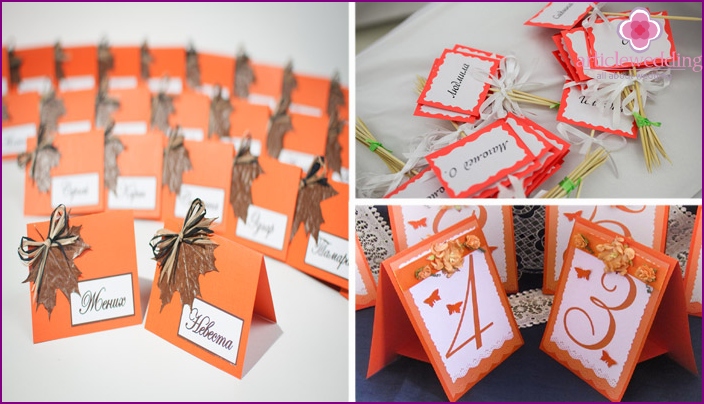 Is your family proud of needlewomen? Then they will have a good reason to show their talent. For a wedding in a rustic style, we will make a plate embroidered with a number on a round canvas. A number engraved on a cut of a tree trunk also looks good, but here already men will have to show their art of owning tools.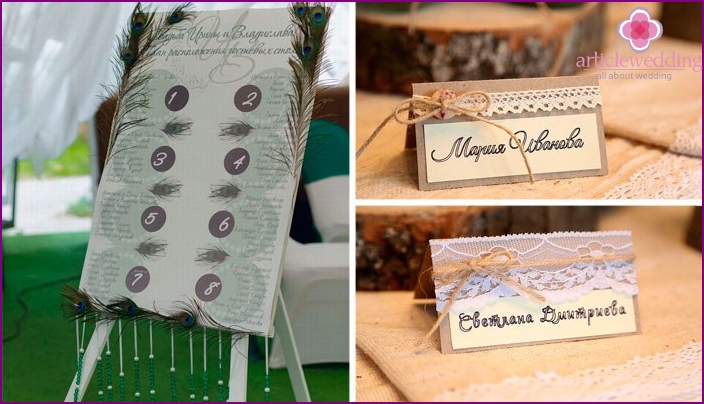 Wedding in a marine style involves decor with marine accessories. For plates you can adapt absolutely any items related to the sea. For example, arrange boats in the middle of dishes, attach number plates to them with holders. Or stick them to seashells or stars, a keg of beer or rum.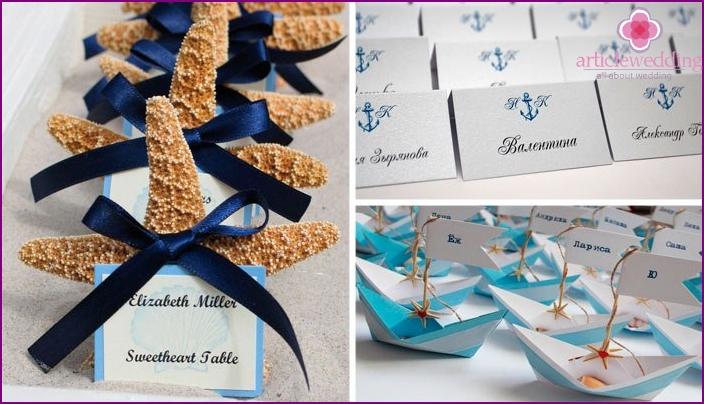 Subject to all the above rules, your guest cards will not only be informative, but will also become a kind of decor for the wedding hall. Do not skimp on fiction, give vent to imagination, make an effort, it will certainly be appreciated by the guests. And most importantly, the holiday will be calm, no offense.