Contents
---
---
Wedding table setting and decoration – This is an important stage in the preparation of the celebration, requiring a confident approach and a delicate taste. Not a single table setting can do without flowers on the wedding table, because they are an integral attribute of the newlyweds. With the help of various flower arrangements, ordinary banquet furniture instantly turns into a festive one, giving the whole room a special atmosphere. For the wedding, both classic fresh flowers and artificial ones are used..
Tips for decorating the wedding table of the bride and groom
When choosing flowers for a wedding table, several factors need to be considered:
shape, table size;
tablecloth color;
variety of color compositions;
general decoration of the banquet hall;
quality of selected colors;
tastes of the newlyweds.
Be sure to take into account the color, shape of the bride's bouquet, which will stand near the bride and groom. If the bouquet is decorated with colored ribbons, lace tulle or other decor, then it is also worth decorating flowers on the table. You should not choose bouquets with a pronounced aroma, because the combination of a floral smell with food is not always pleasant. All plants must be fresh so that their showers do not fall into food plates..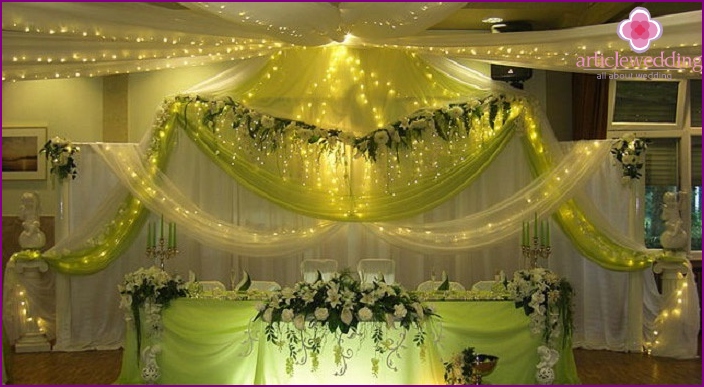 The color scheme depending on the interior
An important component of decorating a wedding table is the choice of colors. There are no strict prohibitions or rules on this. The main guide when choosing a wedding color should be the taste of a young couple, the season, the bride's wedding bouquet or the main color palette of the banquet hall. The main thing is that the chosen color should be liked by the heroes of the occasion. With any choice, do not go too far from the color scheme of the interior in which the celebration will take place.
If you still could not choose one priority shade – not scary. You can use not one base color, but several. Only a sense of proportion should be kept in mind. – everything should be tasteful. Particular attention should be paid to the table of the bride and groom, and it is desirable to arrange low flowers so that they do not cover the faces of the newlyweds. Wedding arrangements usually consist of several types of flowers or greenery, harmonizing with each other.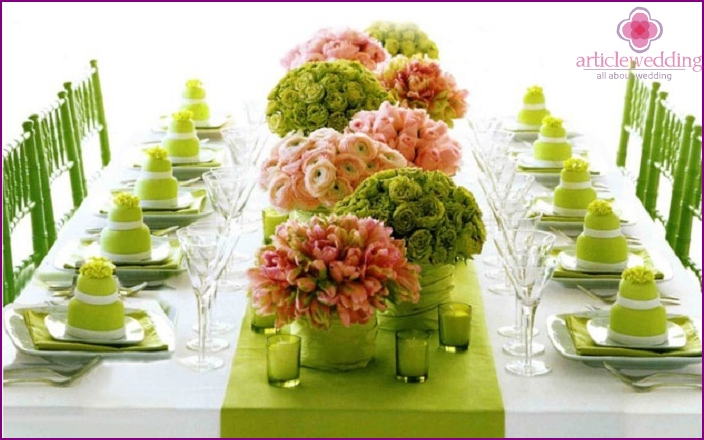 Additional decorative elements
In addition to floral arrangements, attention should be paid to drapery of wedding furniture with fabrics. Thanks to a combination of transparent, dense flowing fabrics, a unique surroundings of the room is created. The combination of silk, velvet, satin will give the wedding banquet coziness, mood and spiritual harmony. When creating a beautiful celebration, an important role is played by exclusive dishes and serving, which should be skillfully combined with a wedding design.
Flowers on the table of the newlyweds go well with candles, decorative napkins, fruits, dry spikelets. Florists make glasses of newlyweds with flower buds, lace, pearl strings, ribbons. Traditional champagne bottles are also decorated with lace, tied with ribbons and put in special baskets of natural or artificial flowers. A decorated set of glasses and two bottles of champagne is left to the newlyweds as a relic.

Recommendations on how to arrange your wedding arrangements
Wedding floristry – it is a whole art. The selected flowers should be harmoniously distributed between the guests, depending on the shape and size of the furniture. If the tables are round and designed for several people, then only one bouquet is set in the middle. It is also allowed to place three round small bowls of water in which one flower will float. Newlyweds, as a rule, are placed separately, and their table is distinguished by splendor of decoration. Better near the newlyweds looks the selection of flowers from gerberas, lilies, roses in the form of a flat oval composition.
If the table is rectangular and designed for a large number of guests, then several floral arrangements of the same color and shape are placed on it. For example, tall bouquets are displayed in the center, and on the edge – low. Color is also played out: light compositions stand at the edges, and, approaching the center, they darken. As for large flowers, they are placed at a distance of about four guests from each other.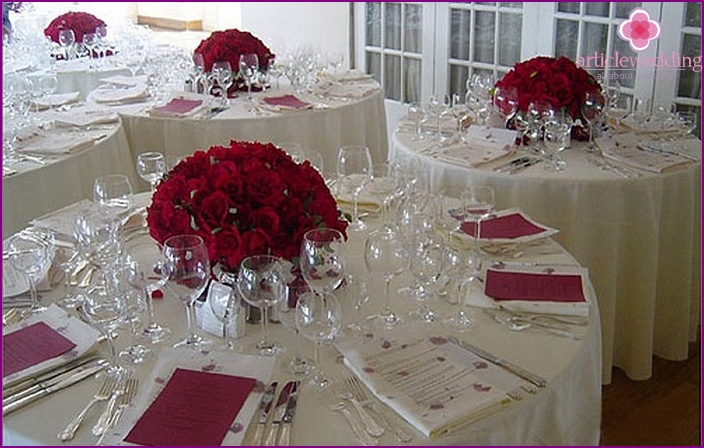 Living Room Decorating Ideas
We offer several original ideas for decorating wedding tables for guests:
Gerberas have always been popular with newlyweds, so they will be a wonderful decoration for a wedding banquet. To create a composition, you will need bright gerberas, decorative grass, a glass vase, pebbles. This decor fits perfectly in the center of the guest table and will not interfere with the communication of the guests.
Roses – a win-win option at any banquet. White, tea, pink roses in buds or floating in vases with water, everywhere create an atmosphere of love and celebration. Silk ribbons, airy organza, pearl beads will become an additional decoration, and napkin rings need to be decorated with miniature rose buds.

The wedding trend of recent years – simplicity and naturalness, therefore, herbal decor at the wedding is relevant. Grass, moss, leaves, which are placed in vases with water, create a unique atmosphere of natural freshness.
Arrangements for arranging flower arrangements on a table
When creating table compositions, there is one main rule: flowers should not be more than 65 cm and less than 25 cm high. The work is done with a minimum of contrasts and looks concise among festive bright dishes. Living plants should not lie on plates and stain a tablecloth. There are several convenient options for arranging flower arrangements:
An elongated composition that is exposed alone.
Flowers in tall vases are set in 2 pieces.
Low table flowers range from 1 to 1.5 m apart.
If tables are located «herringbone», the low bouquets on the ends look beautiful.
When arranging banquet furniture with the letter «T» the falling flower arrangement at the end at the entrance to the hall looks perfect.
Photo selection of original design ideas
Great way to cut wedding expenses – It is to decorate the wedding table with flowers by yourself. Saturate a festive banquet with solemnity and create a romantic infusion is easy. We picked up some original ideas for decorating wedding tables with flower garlands. We hope that you will like one of them, and you will take note of it.