Contents
---
---
When all preparations for the wedding are finished, a dress is bought, a suit of the groom, a bouquet, a boutonniere are ordered, guests are invited, it is important not to forget about a significant element of the celebration – holiday table. Its decoration should reflect the concept of the wedding - the individuality of the couple. To get inspired, look at the decoration of the wedding table: photos that will help you draw fresh interesting ideas.
Wedding table decoration for newlyweds photo
A selection of fresh photos of the decoration of the buffet table of the bride and groom: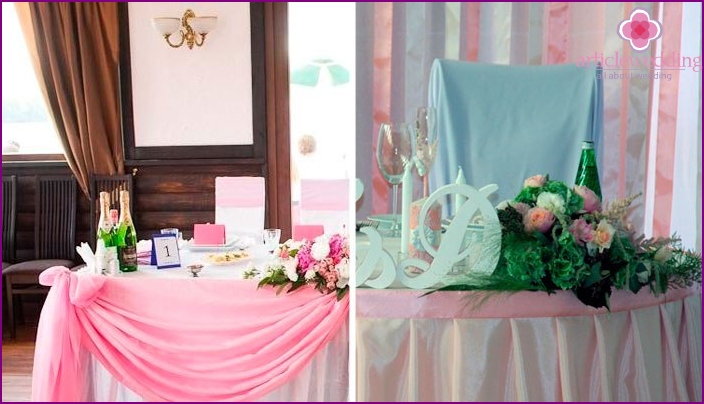 How to decorate a wedding table with your own hands
It is better to entrust such a complex element of wedding decor to professionals, but there are not always means for this. In this case, you will need the help of friends, close relatives who will help make the buffet table magnificent. On your own, you can create original cards with the names of guests in the form of flowers, hearts, animals, butterflies, create a design using flowers, fruits, all kinds of ribbons and bows.
To give the banquet table a chic look, you will need:
airy light fabric (best if it matches the fabric on the bride's dress).
long ribbon or beautiful rope.
pins and scissors.
How to do:
Cut the fabric – width should be 10 centimeters, length – 2 table legs. Tie it around the ribbon as shown in the picture. Use pins to fasten to the tablecloth. Wedding table decoration in this style in the photo: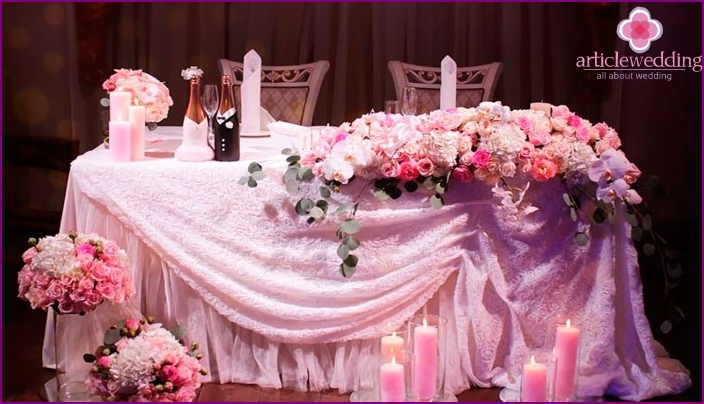 Flower decoration
The restaurant hall, the wedding table of the young will look great, decorated with flowers – compositions with all kinds of plants look exquisite, meet any holiday concept. This kind of decor – A great way to show the creativity of a couple. Instead of classic roses, lilies - pick wildflowers, spikelets, herbs. In the form of not only an interesting decoration, but also a flavoring additive, peppermint, dill, parsley, other greens can appear - put them in a glass next to meat and fish dishes.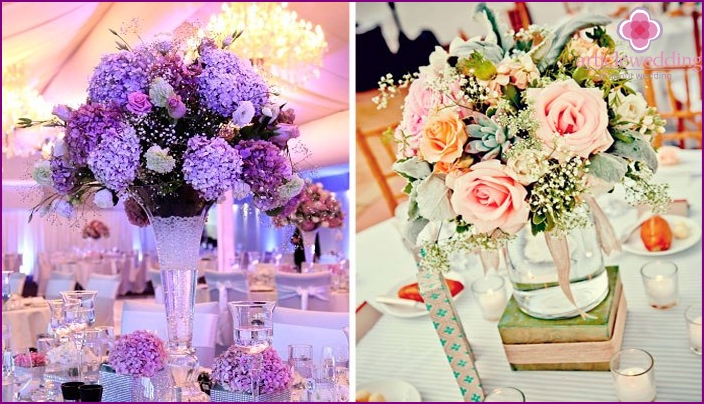 When choosing living plants, focus on their lack of a pungent odor, so as not to cause headaches in guests. Remember that vases should not be too high – everyone needs to see each other well. Use plant petals for design, decorate with flowers plates, wine glasses, bottles.
Fabrics
Various fabrics – an easy way to give the furniture and the room a festive look. Strips of colored fabric drawn across the table will revive it, and chairs decorated with bows and draperies will take on a solemn appearance.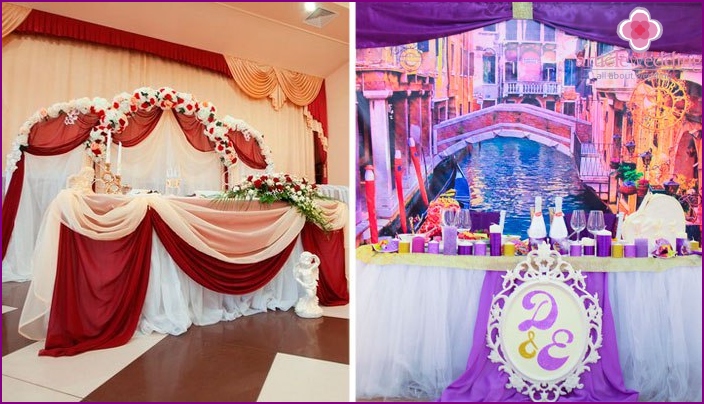 Candles
To create a romantic, warm atmosphere, newlyweds can turn to the design of the table with candles. They should be arranged so that the guests could not reach them, accidentally hurt his hand. Floating candles in oval or round vases with water will look interesting..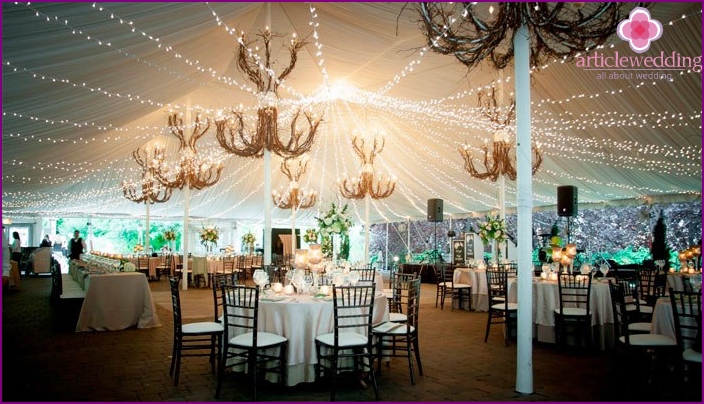 A safer, more futuristic solution will be a garland that will make the atmosphere no less pleasant.­­
Fruits, Vegetables, Chocolate
Edible Decor – it is beautiful, still delicious. Compositions of natural vegetables and fruits not only look nice, but also useful. If you wish, you can ask the masters to cut interesting shapes out of them, even build fantasy layouts. Guests will also enjoy the fountain of hot chocolate, wine or champagne..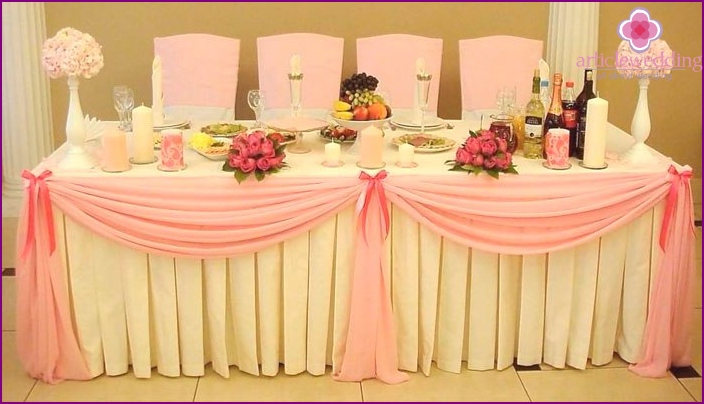 Balls
Balloons, depending on the color scheme, can be a delicate or playful and bright detail. Use ordinary balls to decorate the walls above the table of the bride and groom, and place helium on the table.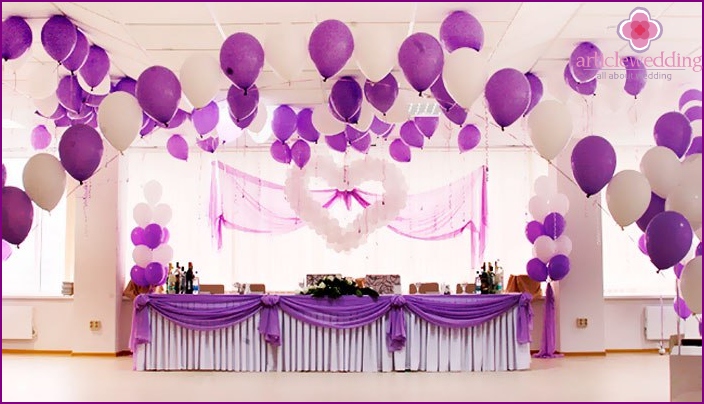 Festive table setting
Serving plates, appliances provides for strict rules. The set is designed for one person:
Plate, butter knife.
A glass of water, a glass for red to the right of it, for white wine, a glass for champagne (wine glasses of the newlyweds should be different).
The dinner plate for the side dish is placed 2 centimeters from the edge. Later, when the guests sat down, served a deep – for soups or light broths.
To the right, with a blade to the plate, first put a table knife, then fish, a tablespoon, a salad fork for salads. Handles also at a distance of 2 cm from the edge.
On the left they put first a table fork, a fish fork, dessert devices – knife, fork, spoon.
Soft drinks, juices should be present on the table. Coffee, tea and cups are served with them, as a rule, with a cake. With him they make patty plates. All dishes should be the same, perfectly clean..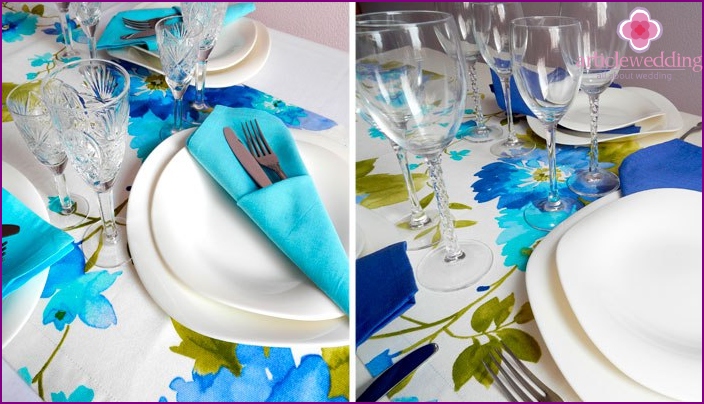 Table linen
Table linen: tablecloth, napkins – traditionally white. However, shining snow-white with elements of gold is no longer so attractive to young people. Couples strive in color, first of all, to reflect their original vision and style of celebration. It is important that the color contrast is not too high. – guests, as well as the spouses themselves, will tire of it. Lemon, pale blue, pink, purple colors. – it all depends on the choice of the groom with the bride.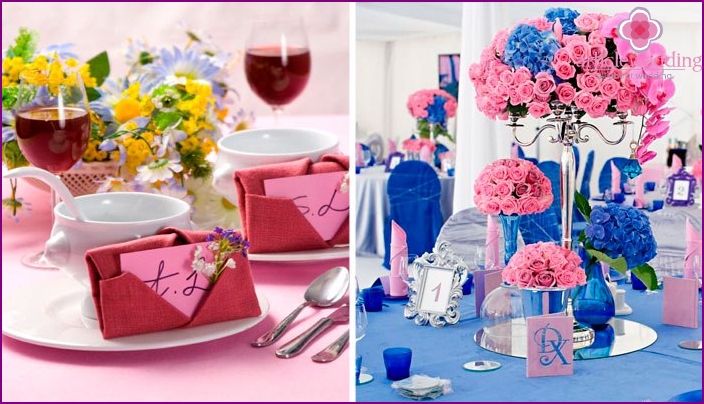 What to avoid, possible mistakes
Some useful tips to avoid common mistakes in decorating a wedding table:
Avoid smelling flowers and candles. They can spoil the impression of a holiday if someone has an allergy or headaches..
The buffet table should be decorated calmly and not catchy, so that the eyes do not get tired of the brightness of the colors.
Table linen should be combined with the bride's outfit, and plant compositions should be collected based on her bouquet.
For large round tables, one large decoration is suitable, but on the P, T-shaped tables, it is necessary to expose the composition every two meters.
Design elements must be low so that guests can see each other..
It is recommended to decorate the table a day before the wedding so that fruits and vegetables do not deteriorate, and flowers do not fade.
Table napkins are better to choose fabric. The paper version looks cheap, it spoils the solemn mood.
Remember that all the elements on the wedding table and in the hall should be in harmony with each other. You will enjoy being in a beautiful, thoughtful atmosphere, and guests will remember such a celebration for a long time.
Share in a comment how you would like to decorate your wedding table, what ideas you liked.