Contents
---
---
The noble blue color received the title of royal. This is one of the most stylish shades that is often used in the design of holidays. To make the wedding both elegant and modern, you should pay attention to an interesting combination of white and blue shades that create an original contrast and give brightness to the event.
The value is white - blue
These colors are not among the rarest in nature, they are a symbol of spirituality, romance, they indicate prudence, peace, wisdom, peace, loyalty, infinite love. White is considered a symbol of the beginning of a new path, purity, light, innocence. A wedding held in a combination of these tones creates an impeccable, perfect union and opens a window to a new life, filled with spirituality and prudence..
White and Blue Outfit Ideas
White and blue colors - the perfect combination of colors for a wedding. It is necessary not only to do the design of the banquet hall in these colors, but also to choose the outfit for the bride and groom. It's easiest to choose a suit for the groom, but the dress for the bride needs more attention. You can prefer a white outfit, complemented by a blue trim - for example, a bright corset, train, crystals, petticoat. It looks very interesting when these two colors are divided between the young - the groom is dressed in a dark suit, and the bride is in a traditional white dress and shoes, complemented by blue jewelry.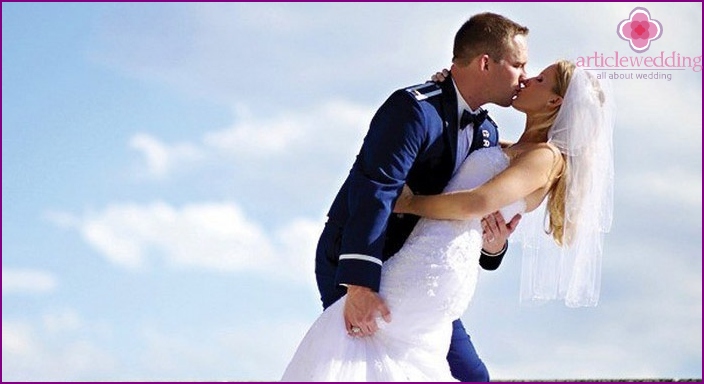 For the bride and groom
Blue color is just perfect for a wedding dress, because it is associated with chastity, emphasizes the innocence of the bride. In addition, this color is represented by a large selection of shades - light, dark, azure, blue, indigo, sapphire, sea wave, etc. Properly selected white and blue gamma of the dress will help to correct the figure of a young one, as well as reliably hide small flaws.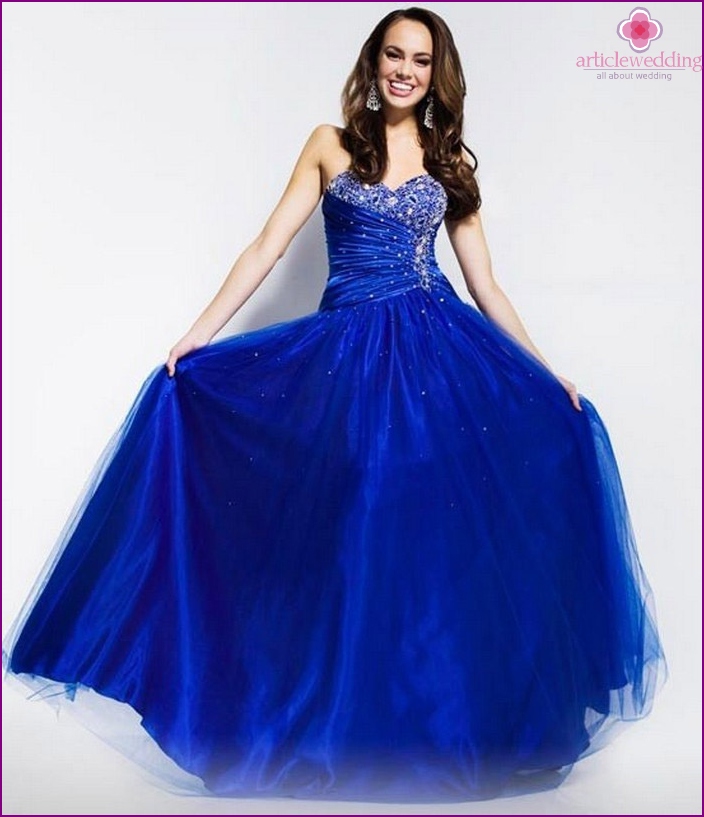 Blue and satin wedding dresses look beautiful and exquisite. An outfit in this color for the bride is not very popular, but wearing it, you can be sure that all the looks will get only to you. The designer version of the dress can be decorated with snow-white lace, rhinestones, various embroidery. Choose white or blue shoes to complete the look..
If you have any doubts about the choice of a wedding dress of a radical blue hue, opt for a classic white color. To make such an outfit consistent with the chosen color scheme of the event, additional decor is needed - it can be a blue corset, embroidery, gloves, shoes, a bouquet, jewelry, a gzhel pattern jacket, hair jewelry, etc. Choose an elegant blue clutch clutch, sapphire earrings to create a finished image.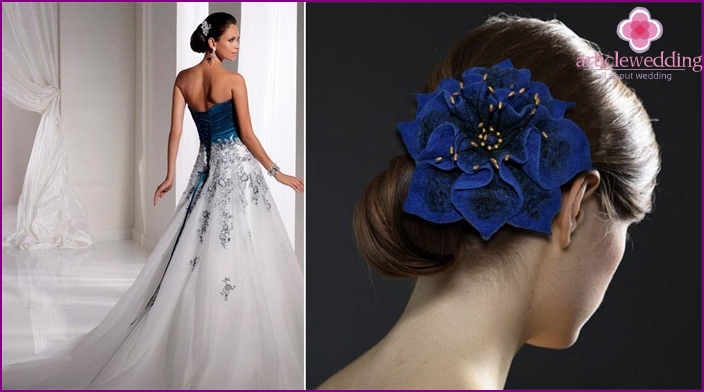 It is much easier to buy an outfit for the groom, but you need to remember that his suit should complement the bride's dress. If the young woman chose the snow-white option, then it is worth choosing a suit of dark blue color for the future spouse. As a shading element for the groom, a tie in white-blue-red stripes, a snow-white shirt, maroon or blue socks, black shoes can be used. A boutonniere with white flowers is ideal. With a blue wedding dress, a snow-white suit of a young.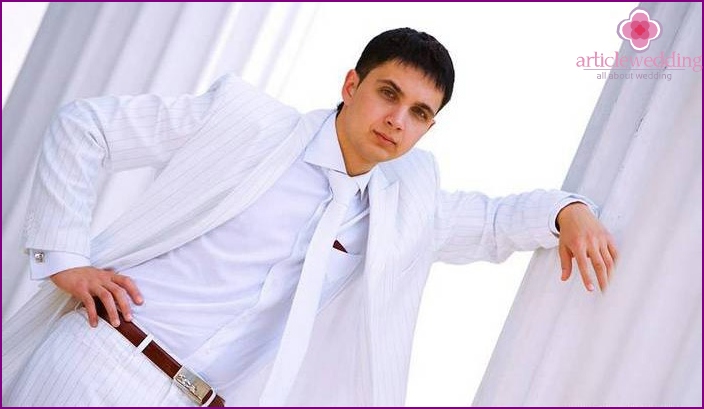 For witnesses
If the bride chooses a classic snow-white dress, then exquisite blue outfits are suitable for the girlfriends. Thanks to this combination, against the background of her companions, the young one will look tender and cute. So that the image of the girlfriends is not too gloomy, it is worth diversifying it with accessories - light shoes, bouquets, hair ornaments, a handbag, gloves, jewelry.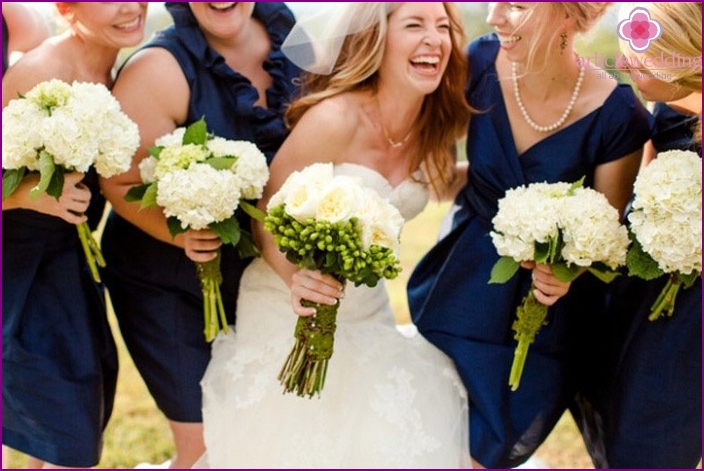 It is advisable to dress all the friends of the groom in identical suits or shirts. Thanks to this, the holiday will be harmonious. If this option is not provided possible, they should choose at least the same scarfs for a breast pocket or ties. When choosing a costume color, you must adhere to the same principle as when choosing a color scheme for dresses of bridesmaids. For example, the groom has a light outfit, and the witnesses have a dark outfit, and vice versa.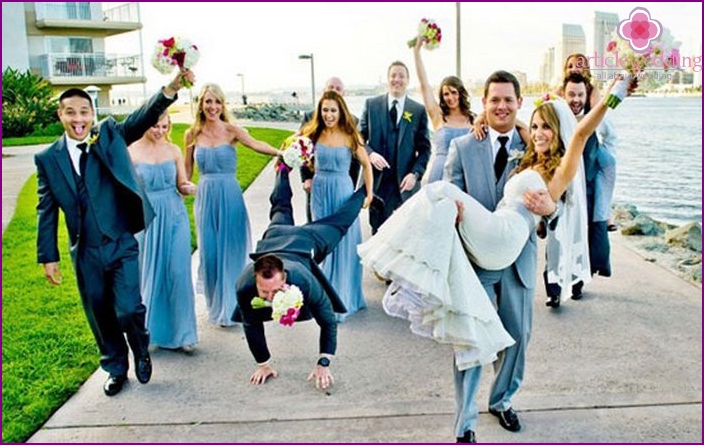 Wedding accessories (photo)
At the wedding, decorated in white and blue colors, the atmosphere of airiness, tenderness, spirituality, heavenly purity will reign. But for the celebration to go perfectly, it's worth taking care of wedding accessories. This task will not cause much difficulty, because the choice of various trifles that will help create the perfect holiday is very wide - a bride's bouquet, invitation cards for guests, seating cards, a pillow for rings, a wedding procession.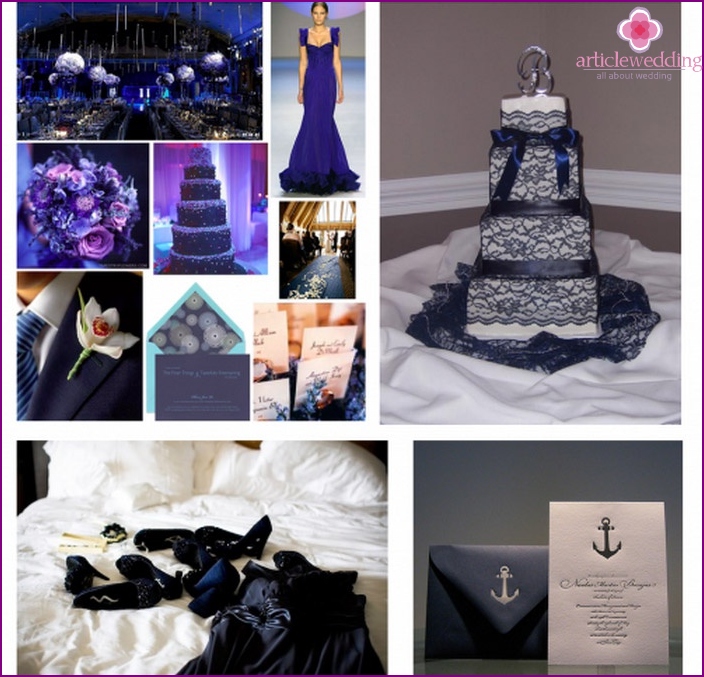 The bride's bouquet
If the wedding is framed in white and blue, the bride's bouquet deserves special attention, which should fully correspond to the chosen style. The choice of various colors of blue is very wide. These are forget-me-nots, cornflowers, blueberries, lavender, delphinium, irises, bells, roses, violets, crocuses, lupins. Iris is suitable for a boutonniere, because this flower is considered masculine. Do not be afraid to alternate white flowers with blue, creating delightful ensembles.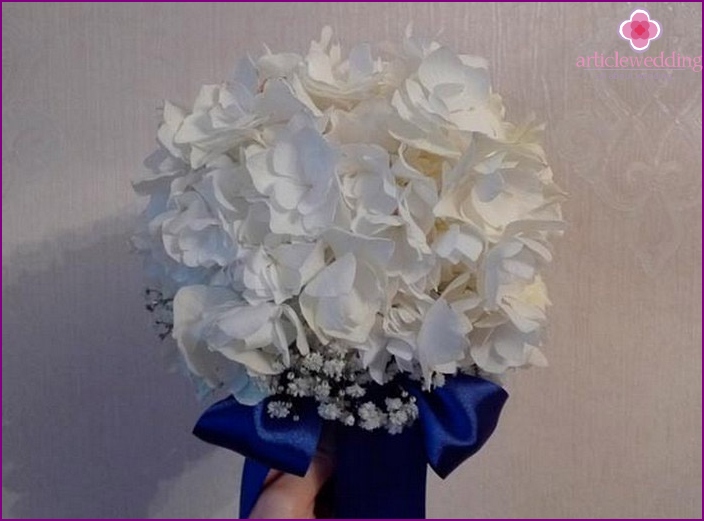 To decorate the bouquet, use velvet or satin, wrapping them in a flower leg, pinning it with a decorative brooch. When preparing a bouquet, you need to remember that it should not merge with the dress, so look for a contrasting color scheme. For example, if the bride chose a snow-white outfit, it is worth giving preference to a monotonous blue bouquet in which flowers of a different shade will be added. A blue-white bouquet goes well with a white dress, complemented by blue patterns.
A wedding bouquet made of white peonies, complemented by a blue satin ribbon, looks very interesting and unusual. There is another option - an ensemble of blue hyacinths, white carnations or hydrangeas and tulips, as well as a snow-white eustoma, decorated with pearls or vintage lace. If the celebration takes place in the summer, opt for violets, crocuses, delphinium, hydrangea. And for a winter wedding, frost-resistant flowers are needed - for example, irises, roses, hibiscus, phlox.
Cake
We must not forget about the most important decoration of a wedding table - a delicious and incredibly beautiful multi-tiered cake. This is a real work of art, for decoration of which not only figurines of the bride and groom can be used, but also blue patterns, as well as colored glaze, edible flowers, stars. Such a cake cannot go unnoticed.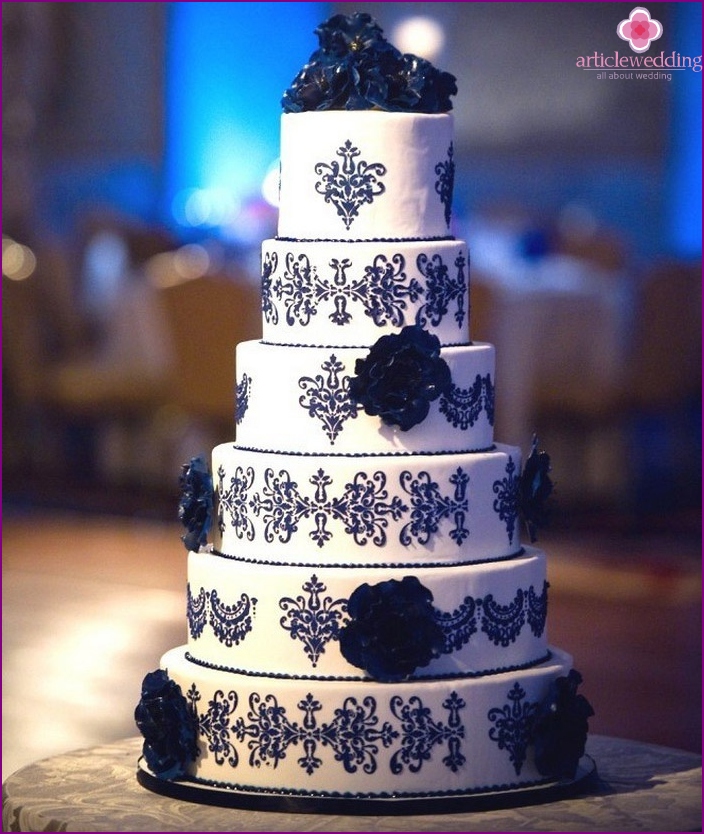 Invitations for guests
Particular attention should be paid to small details, which should fully correspond to the given style of celebration and be made in white and blue colors. Be sure to prepare invitation cards. Their design should be carried out using deep blue tones, not forgetting the bright accent. For example, a picture in which young people will be depicted can be decorated with rhinestones, dried flowers, beads, silver or white patterns.

Invitation cards on a white background look very interesting and stylish (you can also use other shades, for example, yellow, soft blue, orange or chocolate), without forgetting about the additional, contrasting color. If you want to surprise your guests, follow the invitation in the form of a scroll tied with a blue ribbon. You can also use a variety of marine accessories as pebbles - pebbles, shells.
Wedding decoration in white - blue color with photo
Do not forget to decorate the room in white and blue colors. For the decor of banquet tables, you can use white or blue tablecloths, complemented by lace elements and satin stripes in a contrasting color. Wear satin covers of white or blue color on the chairs, bandaging them with a ribbon in the shape of a bow (if you use white tablecloths and covers, complement them with blue).

Decorations of sofas by small pillows of blue color with white patterns look interesting and elegant. On the tables you need to put blue glasses and white plates, playing in contrast. If you decide to make a candy bar, complement it with a variety of cakes decorated with drawings of blue cream. Identify the most prominent place for the wedding cake. Opt for multi-level culinary masterpieces that should be complemented with a blue ribbon (if the cake is covered with white icing).
The combination of white and blue with other shades
Green and red do not combine with white-blue shades, so try to use them to a minimum. These tones with yellow will look interesting and fresh. Do not forget about the classics - the black version. This gamut looks seasoned, stylish, very beautiful. Relevant and elegant is the tandem of these white and blue with pink, silver. If you want to add some bright accent, pay attention to the orange tint, as well as turquoise, purple.