Contents
---
---
Coral color was born by mixing three shades of red, orange and pink. From ancient times he was respected, considered a talisman that can save a wandering traveler, save life and health. This unusual color was a symbol of immortality, eternal life, as well as girlish purity. The Sumerians believed that he brings happiness. A wedding in coral color is suitable for couples who sincerely love, romantically and tenderly care for each other, believe in a beautiful long relationship.
Outfits of the bride and groom in coral color
The original coral color is perfect for a wedding attire. Based on the saturation, it can take different moods to be light, cool, tender or bright, playful, impressive. The coral palette is rich in shades: it is a popular salmon color, lilac pink, pearl raspberry and many others. Ideas for a male and female image for a wedding in a coral color:
Male image. Not every man will agree to try on a coral, but brave young people will be happy to wear such a suit. It can be completely coral or this color will be present in the details: the future spouse's vest, a neat tie, a boutonniere, a bow tie, a pocket scarf, and cufflinks. Coral also likes texture. Fabrics with coral cage look great on a white background. A jacket of this shade and stylish light trousers will look interesting..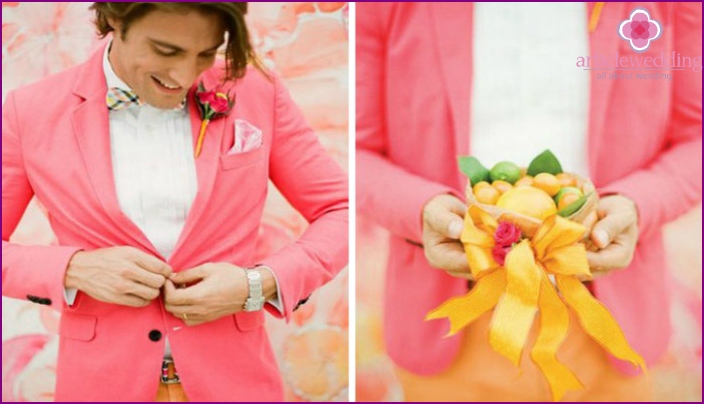 Female image. Girls often choose this color; it is perfect for the beautiful half of humanity. Delicate coral will emphasize a romantic, calm nature, a bright red-orange hue will suit the girl emotional, bold. A wedding dress looks great completely in this color, and also if it is present as one of the details, a contrasting belt, bows, embroidery. The image will be complemented by a beautiful bouquet, pink jewelry on a delicate girl's neck, shoes, manicure matched to them.
Clothing Ideas for Witnesses and Guests
A thematic wedding in a coral delicate color is good when everyone present is trying to choose clothes of the appropriate palette. To make this happen, you should send invitations in advance (for about a month or several), where you need to indicate the dress code for a light suit with coral details.
You can supplement the invitation with appropriate cards on which various shades of color suitable for your wedding will be printed. Then guests can buy interesting jewelry and decorate their image.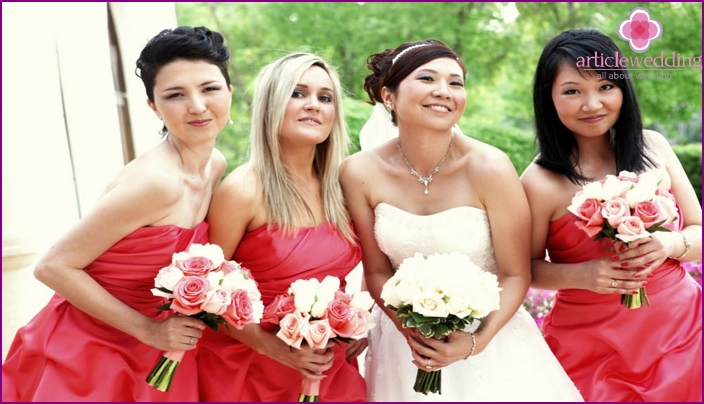 As for the bridesmaids, witnesses, they need to be warned earlier and dressed up in those shades that are present on the outfit of the heroes of the occasion. Well, if suits of a suitable gamut are sewn to order, this will help to avoid a situation where the colors when you choose girlfriends are too different, and therefore look inharmonious.
Wedding accessories in coral tones photo:
Original coral accessories will decorate the festive table, as well as the room: this color cheers up. In order for everything to be perfect, the shades need to be correctly selected, each detail of the holiday should repeat the other, in order to avoid ugly discrepancies, for example, salmon napkins are adjacent to bright coral candles and do not look near at all. It's great if the wedding accessories were ordered at the same company: there will be no styling problems; the elements will fit together.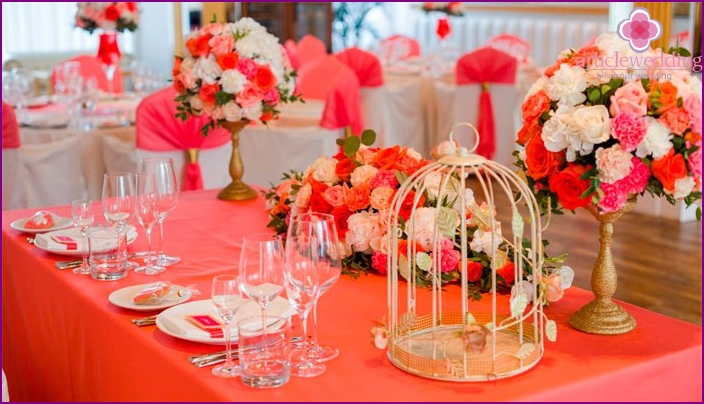 The bride's bouquet
The bride's coral bouquet for the wedding is the embodiment of sensuality, tenderness, wonderful style. Flowers that are ideal for such an accessory: amaryllises, roses, peony roses, peonies. It is not necessary that they all be of the same shade. The bouquet allows the use of different colors of the coral gamut. It will be possible to supplement and dilute the composition with white or light yellow flowers, and beautiful dark green foliage will help to give it brightness and freshness. For more details see photos of various bouquets: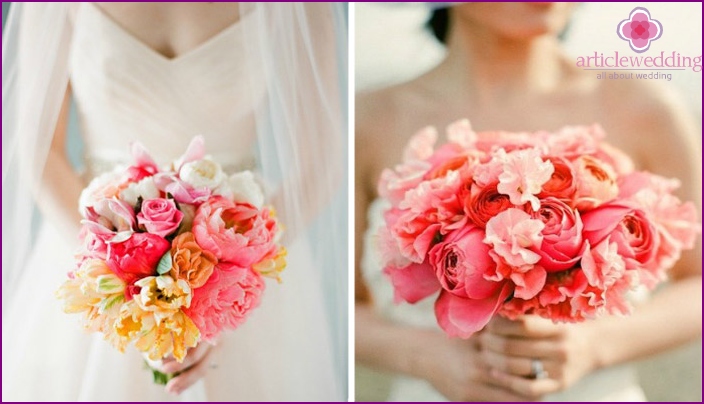 Invitations and cards for guests
A coral wedding involves following a single concept throughout the process of preparing the celebration, so invitation / cards need to be selected in the same color palette. If a couple announces a dress code for the wedding, the card itself can be made in that range that suits the outfits of the guests of the wedding, this will help them not to puzzle over the shade. Seating cards are the second important point, in style they should repeat invitation cards.
Watch the video, which shows how to make a seating card yourself. Show your imagination to create your own unique style or use a ready-made idea using a coral palette:
A wedding cake
Wedding cake is a chic dessert that is amazing. Modern pastry shops are able to create real masterpieces from sugar, flour, fruit, flowers. The coral palette is popular for making great wedding desserts. Options for a gorgeous festive cake:
Gradient Cake This style of dessert decoration has become widespread in recent years and it is clear why it looks amazing.
Cake decorated with fresh flowers. Delicate, airy, beautiful, sweet as the bride herself.
Marzipan jewelry. Made by experienced hands, they are able to look like a work of art.
Cake cupcake is a beautiful, tasty and convenient solution for a banquet table.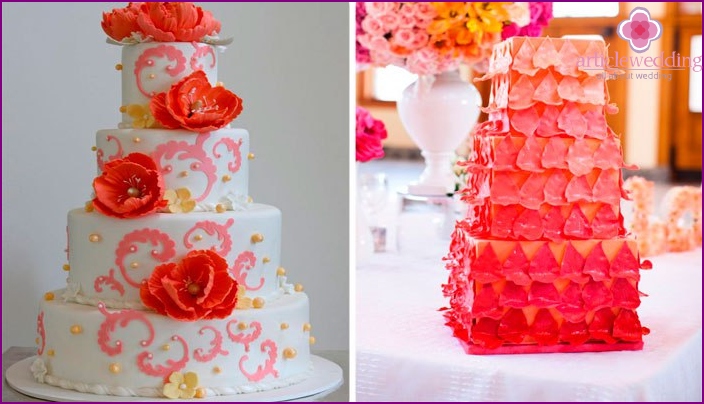 Coral-style wedding hall decoration
Before planning what details will become the main decorations of holding and celebrating a wedding, you should decide on a shade that will become dominant. It can be a gentle, light pink color that creates an airy romantic atmosphere, or bright coral red, the accents of which will please the eye, lift the mood of those present. Perhaps a skillful combination of several shades of coral. A few main ways to decorate a room: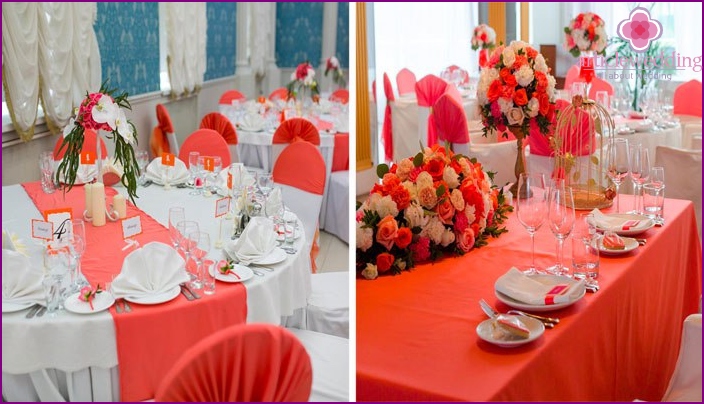 Fabric: ribbons, draperies, napkins, chair covers, bows, curtains, tablecloths are all the details for decorating a wedding banquet hall in a magnificent color. It is important to maintain harmony, dilute the main shade with other, more neutral colors white, beige, lemon.
Candles On a white tablecloth, coral candles will become a cozy decoration that will appeal to those present.
Flowers The plants decorating the hall should match those that are present in the bouquet for the bride.
Helium Frosted Balloons.
Other decorative elements: colored flower bottles, drink stands.
Decoration of the wedding procession
For an original wedding in coral color, a perfectly acceptable motorcade of coral cars. To implement this for all guests accompanying a couple of guests can be difficult, therefore, spouses can rent an appropriate car only for themselves. Beautiful pink limousine or an unusual coral SUV let the newlyweds themselves choose what suits them best. It will turn out to decorate an ordinary car with flowers, ribbons according to the holiday palette.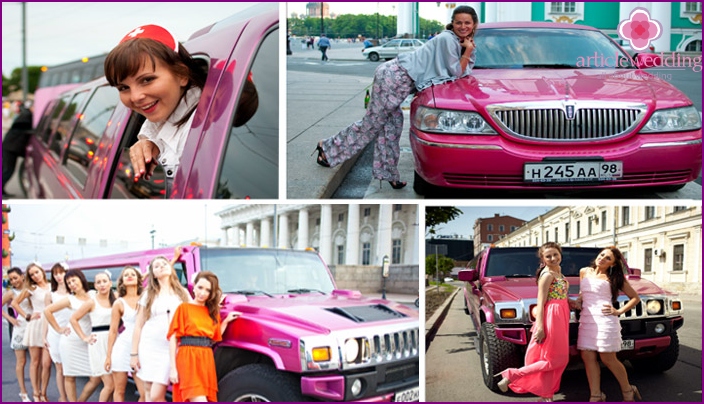 The combination of coral color with other colors
This color goes well with many beautiful shades, in each combination it is able to realize its own special atmosphere:
Beige, lemon, cream complements the shade, helps create a gentle, relaxed atmosphere..
White, along with coral, plays in contrast, makes everything airy, light.
Turquoise gives birth to a fresh, vibrant combination that is perfect for a marine or spring wedding.
Green and its shades create a harmonious duet of colors.
A wedding in a pleasant coral color is a magnificent event, the photos of which you will want to review endlessly. Attention to detail, careful consideration of the gamut will help create a unique composition of colors that will be difficult to stop looking at.
Do you like the coral color for decorating your wedding? Leave a comment under the article.
A.