Contents
---
---
A wedding is an unforgettable event in the life of each couple, so many newlyweds, wanting to stand out from the general trends, make the wedding not traditionally white, but colored. For springtime there is nothing more suitable than a wedding in light green. The cheerful color reminds spring, a juicy grass, the first flowers, and it invariably pleases. The guests of such a wedding are provided with a good mood, and the bride and groom will look original.
The meaning of light green color
Light green color is spring, which means that it is associated with the awakening of nature after winter colds. From the point of view of psychology, lime is called the color of hope, they note its beneficial effect on the psyche of people: it improves mood, pleases the eye. It is interesting that in fairy tales this color is most often found in costumes of elves, nymphs, sorceresses. It is believed that such a color is chosen by people who know how to enjoy every moment of life.
Outfits of the bride and groom of green color
The dress of a bride of light green color is not quite a good option for a spring wedding, except for exceptionally exquisite models. The bride can get lost among the surrounding greenery, and she must be constantly in the spotlight of the wedding. To create a delicate, romantic look, opt for an airy snow-white dress with light green elements. So, green shoes, jewelry with natural or artificial stones can come up to the dress.
A light suit, a green-colored vest and the same tie will harmoniously look on the groom. Take care of the tender green boutonniere, which will be able to independently talk about the style of the wedding.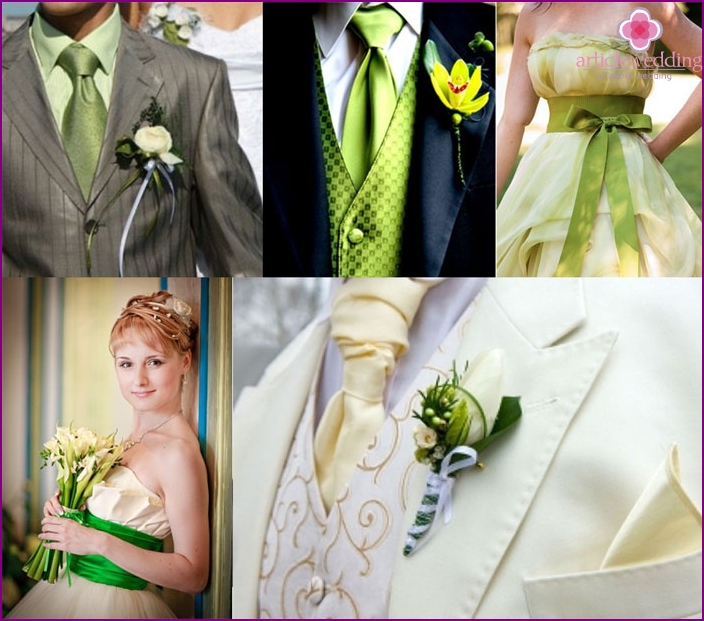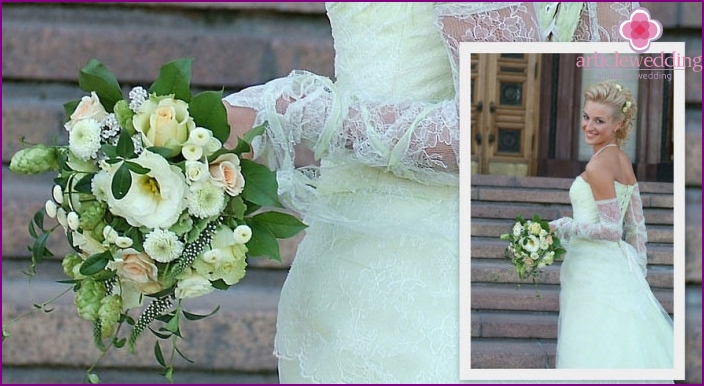 Clothing Ideas for Witnesses and Guests
If the bride does not risk putting on a dress of lime color for the celebration, but prefers white, then the bridesmaids put on greenish outfits. Against their background, the bride looks like a beautiful delicate flower among lush greenery. Men can wear a green shirt under a classic black or white suit. But even with a regular white shirt, a lime tie will perfectly resonate with girls' dresses..
Although lime is considered the leading color of the holiday, the clothes of witnesses and guests need not be all of that color. It is good to dilute it with yellow or white color, making them separate details of clothing.
We select the shoes in the same color as the dress, or a little darker.

It's not enough to buy a beautiful dress for the wedding, you still need to choose suitable accessories for it. To do this, you need to have a delicate taste, a sense of proportion. The photo shows examples of accessories for a wedding in light green color, which will not only not spoil the look of your elegant dress, but will also complement it favorably.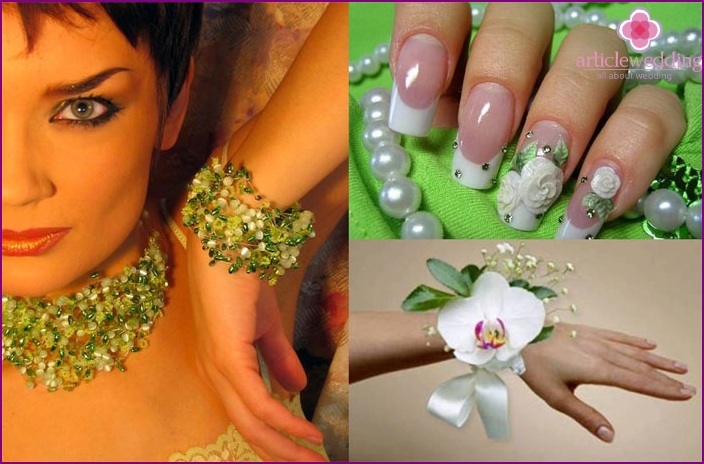 The bride's bouquet
To create a festive bouquet for the bride, we use green and white flowers:
Hellebore. Nice neat bush, consists of small inflorescences. This flower will create a great volume for a round wedding bouquet..
Tulips Extremely beautiful flowers of a pale green hue, change the saturation from the base to the edge of the petals.
Roses. Green rose is a rare flower, but in flower shops you can buy an unusual fairytale bouquet. The bride will be just the personification of tenderness.
Callas, orchids. Exotic flowers for an original, unpredictable girl. A bouquet of green and white callas resembles an air cloud.
Gladioli. These majestic flowers of a rare color will not leave anyone indifferent.
Chrysanthemums They are also green, but here you need not to be late, rip them off until they have completely blossomed and become yellow.

Invitations and cards for guests
Any wedding begins with invitation cards. Presenting the guest with a card, you will present the style of your wedding, talk about the dress code. For a wedding in light green, it is advisable to choose cards of the corresponding shade. Often they are decorated with bright bows, buttons, ribbons, lace lace.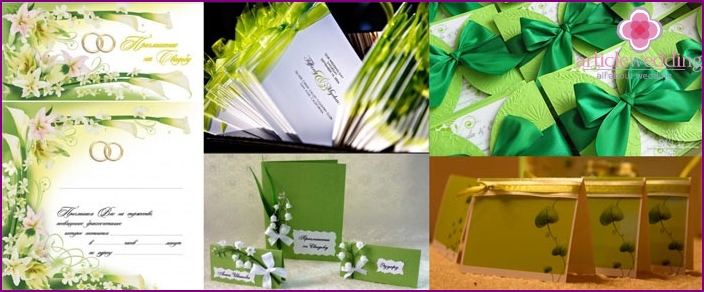 Cards for guests, by which they recognize their place at the table, can be issued in an original way, by attaching them to a green apple or by setting them in pots of grass.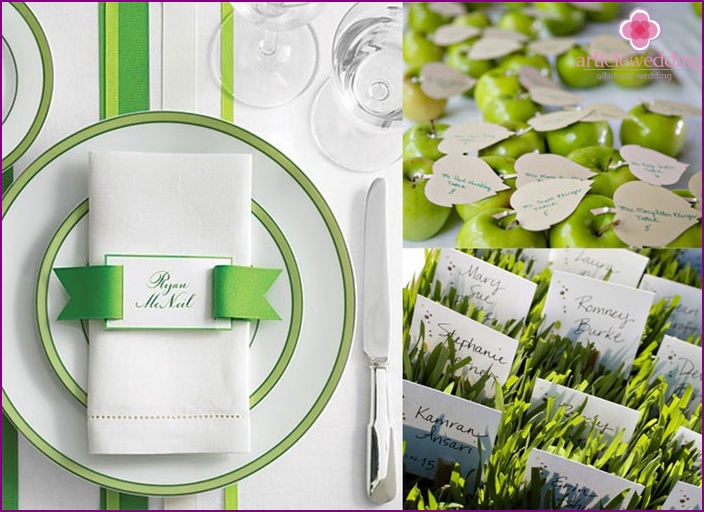 A wedding cake
Cake for a wedding in light green color can be completely greenish, decorated with elements of other colors, or white with light green decoration. At the request of the newlyweds, it is made in color not only outside but also inside. The green wedding inspires the master to make real masterpieces of confectionery art, delicious desserts, such as those shown in the photo.

Decoration of the wedding hall in light green color
Light green color is best combined with black and white, so the best solution would be to decorate the banquet hall with the decor of these flowers. Most newlyweds choose classics: a white room and light green accents of a tablecloth, napkins, dishes. Black dishes and napkins on a green tablecloth also look spectacular. The hall is decorated with vibrant greenery, garlands of natural colors, flower curtains.
The chairs draped in white satin are decorated with light green bows. The room is also draped with light green and white fabric satin, chiffon, tulle. On the tables it would be nice to arrange vases with flower arrangements, green apples. Each dish is certainly decorated with greens..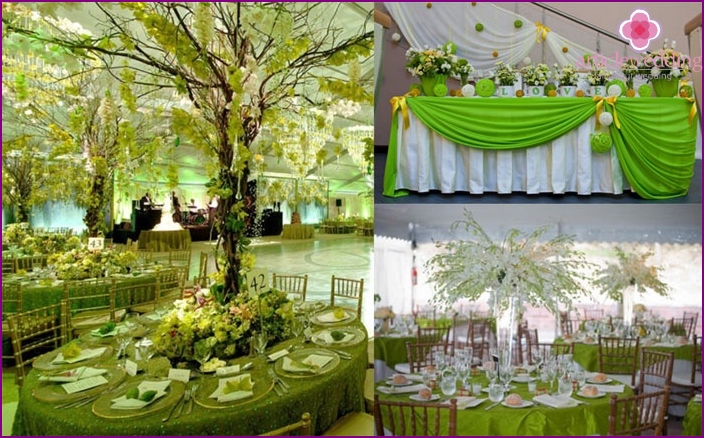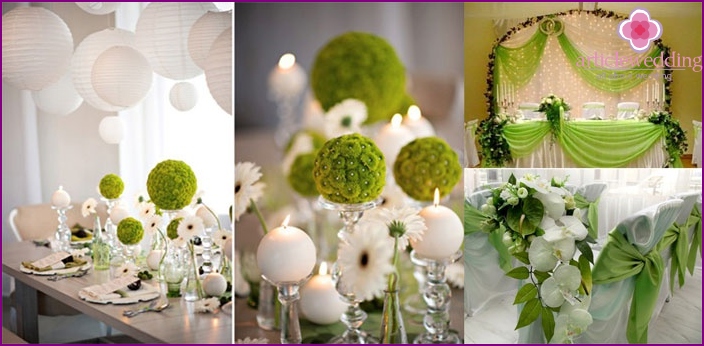 Our video clearly shows how to properly arrange a banquet hall.
Decoration of the wedding procession
Green ribbons are used to decorate the machines; at the edges edged with a different contrasting color, they look more fun than plain ones. Decorative golden or silver rings are attached to the car of the newlyweds, and their base matches the color of the young foliage. Also, butterflies, flower garlands, balloons, transparent fabrics of white and light green colors are used to decorate the wedding procession..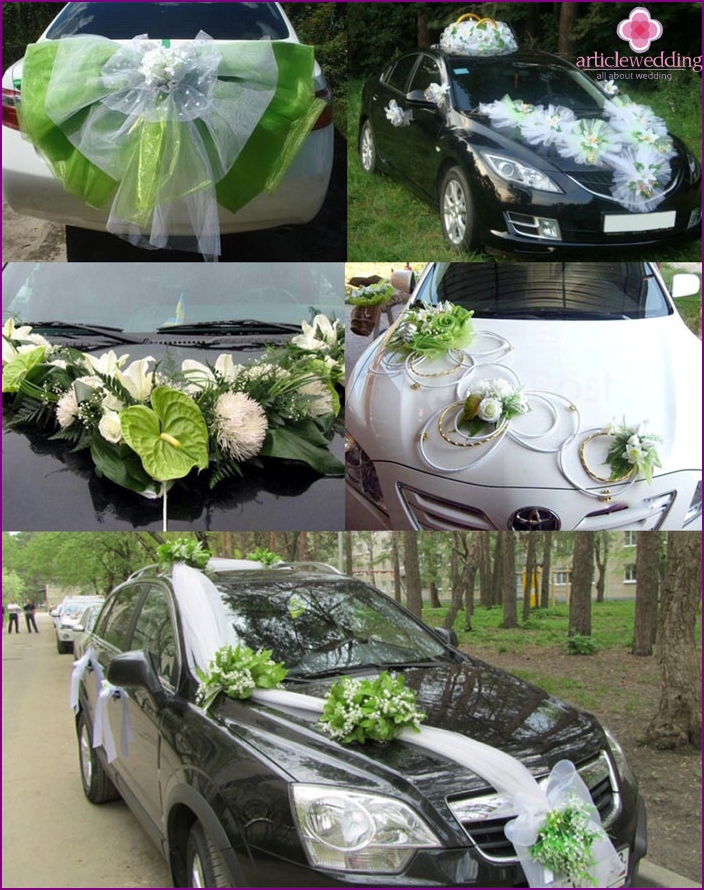 The combination of light green with other colors
Light green color is one of the universal, it is combined with a large palette of colors: white, black, lilac, pink, yellow, red, blue, blue. Any of these combinations makes both colors brighter, more spectacular.