Contents
---
---
Brown warm pleasant color, which symbolizes stamina, stability, ability to overcome difficulties, solve problems, not trying to gain public recognition, demonstrate merit, so it is perfect for a wedding. This shade evokes pleasant images of delicious hot tea, sweet cocoa, strong coffee, spicy cinnamon, and chocolate sweets. A wedding in brown is a beautiful celebration, creating an atmosphere of coziness, warmth, a hot hearth.
Outfits of the bride and groom brown
The unusual, refined brown scale looks interesting, gives an image of nobility. It includes all kinds of shades: beige, chocolate, dark chocolate, the color of coffee with cream, chestnut, a shade of mahogany and many, many others. A few ideas for the outfits of the groom and the bride:
Female image. Modern girls often refuse a white dress in favor of flowers that are more suitable for them: the dress can be fully made in brown tones or have several relevant details. This is a light cape, belt or ribbon, elegant embroidery, beautiful bows. Brown can be jewelry, shoes, flowers, ribbon on a bouquet. Cream fabric, ivory blends perfectly with brown details.
Male image. The stylish chocolate suit looks amazing, it gives the man stateness and sophistication. It is not necessary to choose an outfit according to this color scheme; a vest can be just one, a stylish tie, a pocket scarf, buttonhole elements, leather shoes. Cufflinks with a semi-precious or precious brown stone, for example, with opal, onyx, raukhtopaz, amber, look good.
Clothing Ideas for Witnesses and Guests
The celebration dress code may include guest outfits selected in natural brown colors and other warm shades that are combined with soft yellow, in no case acidic, cream, white, or other light warm colors. This will create a unique atmosphere of celebration, which must be captured on photos, videos. The main thing, remember: all guests should be warned about the dress code for at least a month, so that they have time to prepare.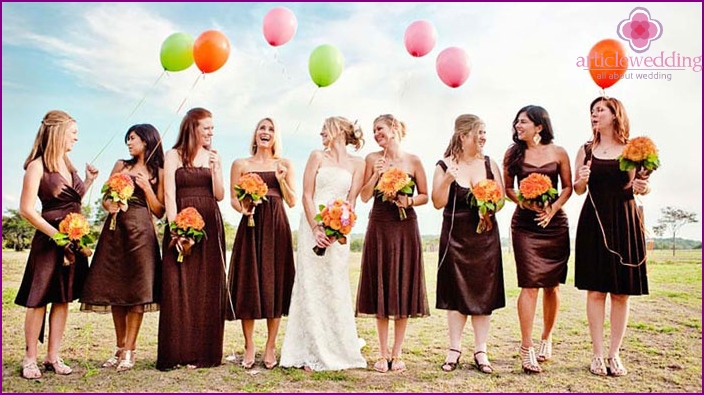 The outfits of the bridesmaids should be sewn from the same fabric as the decor elements of the dress of the hero of the occasion.
Wedding accessories in brown tones photo
The organization of a brown wedding includes a careful selection of wedding accessories, it is desirable that all the elements are not only united by the palette, but also by the materials from which one type of accessory is created (for example, invitation and seating cards from the same cardboard). Banquet table decorations, festive food, seating cards, invitation cards for guests, newlywed glasses, other decor elements all these components should ideally harmonize.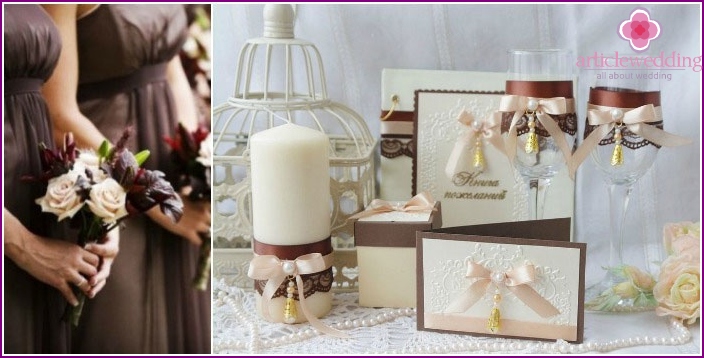 The bride's bouquet
The bride's bouquet is an important wedding accessory, the issue of decoration of which is no less significant than the decor of the entire banquet hall. Moreover, if the bouquet contains certain flowers, plants, the same elements should decorate the whole space. The brown color in the bride's bouquet is all kinds of flowers, dry tree branches, cones, or a beautiful ribbon. Also, a brown tint will blend perfectly with brighter details with green leaves, red buds, the main thing is to create the composition correctly.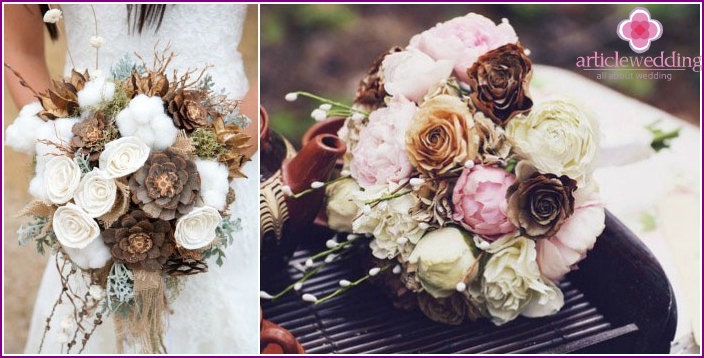 Invitations and cards for guests
Seating cards, invitations to the bride can do on their own or order at an agency that creates unique cards. It is best to come up with a design together with a performer, so that no one else repeats it. However, armed with decorative elements, the help of girlfriends and free time, the bride herself will perfectly cope with the task of creating such jewelry.
Watch the video on the simple manufacture of seedling cards that can be repeated in brown:
A wedding cake
Cutting an incomparable wedding cake is the main part of the gala banquet. The brown color is perfect for partial decoration of a treat or for creating a delicious dessert completely in brown. To emphasize the cosiness of the celebration, the cake will be decorated with marzipan ribbons, chocolate stains, fresh flowers. To decorate the table, a cake made from sweet cupcakes is perfect, which will conveniently be passed on to guests. See this treat in more detail in the last photo: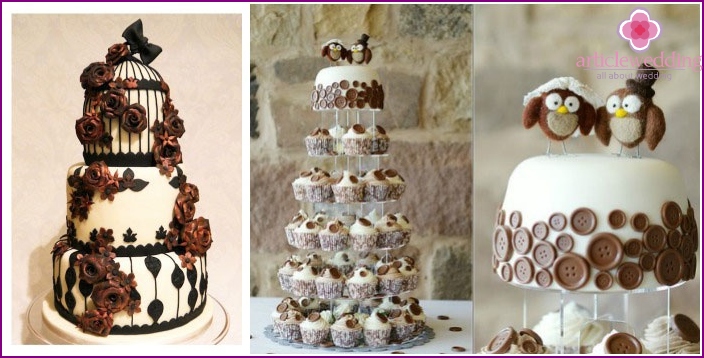 Brown wedding room decoration
The brown color is perfect for the trendy trend of a rustic wedding celebration. It translates as rustic, it implies a natural style using wooden furniture, natural fabrics, hay, burlap, kraft paper, old grandmothers. A few ideas that will help you find inspiration, come up with your own special style of decorating the hall for a wedding:
Tissues. Lightweight, beautiful brown draperies from various fabrics, tablecloths, chair covers are perfect for decorating a wedding. It can be both expensive organza fabrics, silk, as well as rustic styling like burlap, chintz. Coarse fabrics combined with beautiful wildflowers will create an interesting mood of celebration, surprise guests.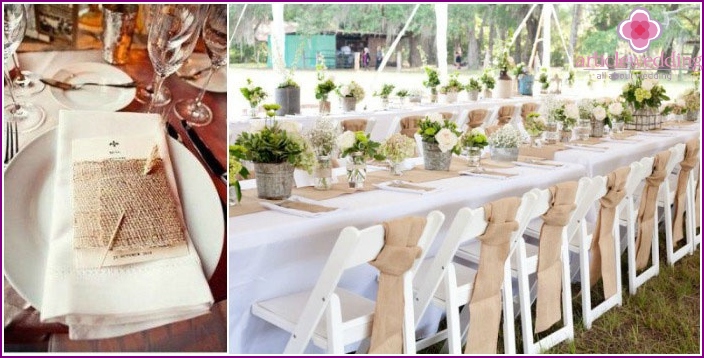 Decor elements for table and room wood, dry branches, cones, empty bottles for wildflowers and others.
To emphasize the coziness of the event, a checkered fabric that resembles a warm winter plaid can act as a tablecloth.
Balloons are a cheap and fun way to decorate a room.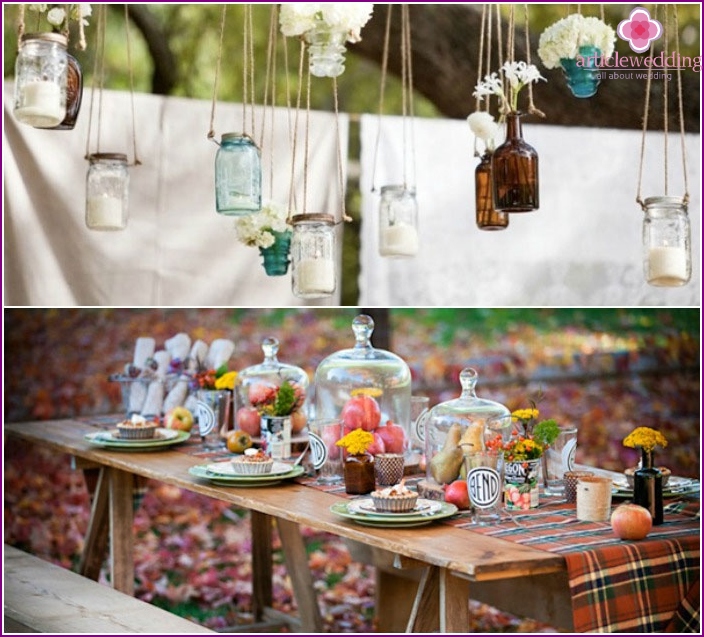 Decoration of the wedding procession
For a brown wedding, the classic old car model is perfect. If you couldn't get one, a popular limousine or other vehicle will be decorated with ribbons of coffee, beige color, as well as delicate yellow, cream colors. It will not do without rings on a car that will carry future spouses to the registry office.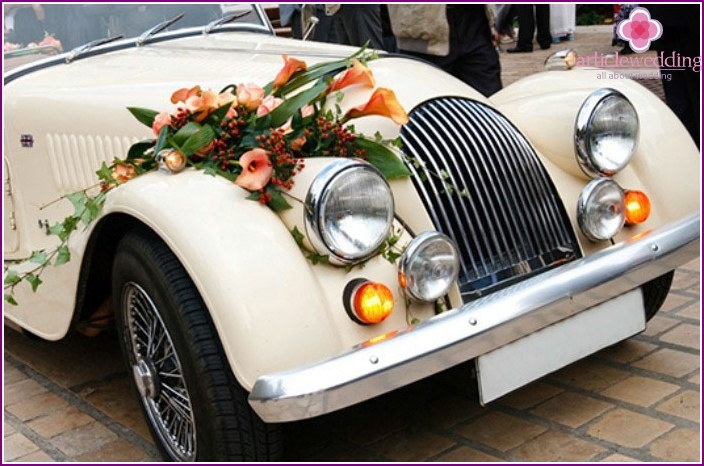 The combination of brown with other colors
Brown color goes well with many shades. Any warm light colors are suitable for a wedding decorated with calm flowers, and for couples who want to set bright accents, the combination of brown with blue, orange, coral, red, turquoise, purple is ideal.
Brown wedding is a beautiful event that will become a symbol of warmth, cohesion of the bride and groom. A cozy holiday will certainly leave an unforgettable impression on the heroes of the occasion, as well as on all guests present.