Before 2016 came, many couples began to plan a wedding in the new season. In order to understand the new color trends of the wedding year, it will take time, because many new shades will be used in the solemn palette. For example, the popularity of muted faded tones will increase, and noble deep shades will enter into a harmonious union with neutral pastels. According to some designers, the peach color will become the top at Pantone 2016, while others believe that the trend of the season will be the popular shade of ivory.
Trendy colors for the wedding in 2016 - photo
Wedding fashion is no less capricious than everyday, so the leading fashion designers in their collections every year try to create new styles and trends of wedding dresses. According to their common opinion, the year 2016 will be devoted to romance and femininity, and the new bride dresses, regardless of the color scheme, will carry charm and femininity. Watch a video showing the colors for wedding dresses by fashion designers in 2016 according to American designers:
If earlier weddings didn't attach any importance to the color scheme, and all attention was focused on the bride's outfit, then in the new season, the choice of the color of the celebration is almost the most important question for the bride and groom. What are the main color trends of the coming year? The opinions of designers on this issue somewhat diverged, but the fashionable color scheme definitely remains unchanged. «ombre» with the effect of a smooth transition of tones from dark to light or vice versa. Let's see what shades will dominate this year's weddings..
Violet
Violet is one of the most beautiful flowers that exist in nature. It has long been a symbol of harmony with nature, respectability, luxury. If you want to make an unconventional wedding, then all combinations of purple will do just fine. The most common shades of purple are:
lavender;
plum;
blackberry
lilac;
lilac;
amethyst;
indigo.
Formed a color of red and blue, symbolizing the masculine and feminine. This moment can be beautifully beaten at a wedding, combining some elements with blue, and some with red. As for the outfits of the newlyweds, which will be riveted to everyone's attention, fashion designers offer dresses for brides of lavender, smoky-violet, lilac or purple hue. The bride's bouquet should combine purple and white flowers so as not to merge with the dress.
But the groom should not wear brightly colored clothes. To match the bride, he is better to wear a strict suit of pearl, gray or beige color with a purple shirt and a buttonhole of delicate violets or lavender. For guests to fit into the theme of the holiday, they also need an image with elements of lavender, lilac or plum shade. Purple decor is used for banquet hall, wedding procession, cake, invitation and other wedding accessories..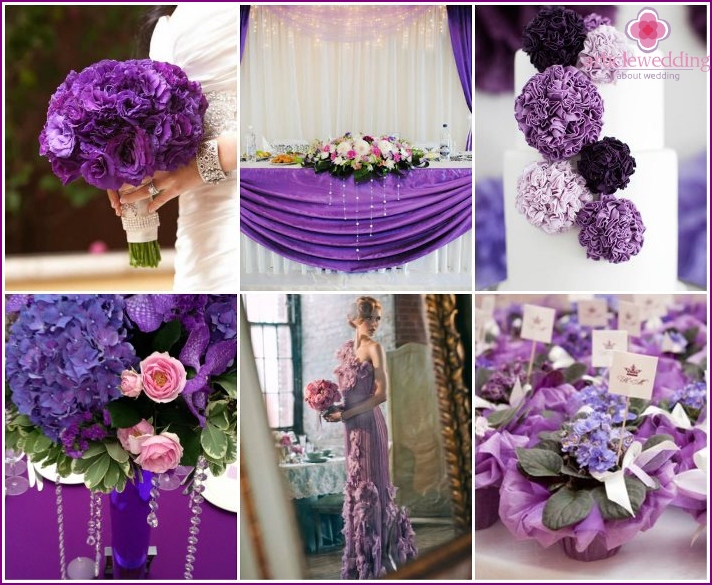 Neutral colors
Weddings in neutral tones are still trending. Gray, beige, white, black - colors that carry a minimum of emotional stress. But if the bride and groom want to add a little emotion, then a neutral brown color with «character» - autumn, warm, natural, woody. There are many ideas for decorating a brown wedding: spices, sweets, chocolate, wooden decorations.
Neutral, classic, unobtrusive gray - this is the most acceptable tone for the wedding in 2016, in which the newlyweds will feel confident, calm, peaceful. It is the color of rain and the city, but with its help magnificent weddings in the style of retro, autumn, sea and romance are obtained. Moreover, gray is ideally combined with almost all existing shades.
A wedding in beige color is considered neutral, because its calm shades create an atmosphere of harmony. The celebration in beige always creates the impression of beauty, tenderness, sophisticated style. Beige goes well with other colors, so it easily fits into an open-air wedding or a holiday in a banquet hall. This is an ideal choice for brides who adhere to the classics, because the beige color has a huge palette: from fashionable ivory to creamy white.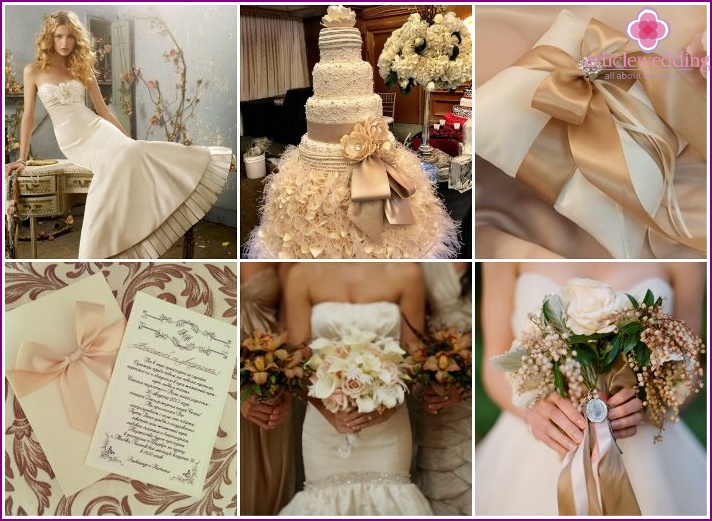 Yellow shades
The whole palette of yellow is the embodiment of light, heat, energy of good. The yellow color is similar to the sun and is able to charge everyone with positive and optimism at the wedding. In addition, its great advantage is its combination with many colors relevant in 2016. At the feet of the newlyweds, yellow casts a wide palette of shades:
canary;
solar;
citric;
saffron;
daffodil;
straw;
sand.
Let the newlyweds not be bothered by superstition: yellow is not a symbol of separation. On the contrary - this sunny color fulfills all desires, promises wealth, symbolizes fidelity, a happy family life. The perfect dress for the newlywed at the yellow wedding is golden, a shade of daffodil or ripe corn. For brides adhering to traditional views, a classic white outfit with yellow elements is suitable: a belt, shoes, a bouquet with yellow flowers, a hat or golden embroidery.
The image of the groom at a yellow wedding should be strict - a gray or black suit, classic shoes, and a yellow accent can be made with a tie, bow tie, neckerchief, buttonhole in a buttonhole. Young men can afford a bright yellow suit at the wedding dude. When designing a banquet hall, yellow should be dominant, but it must be combined with neutral shades.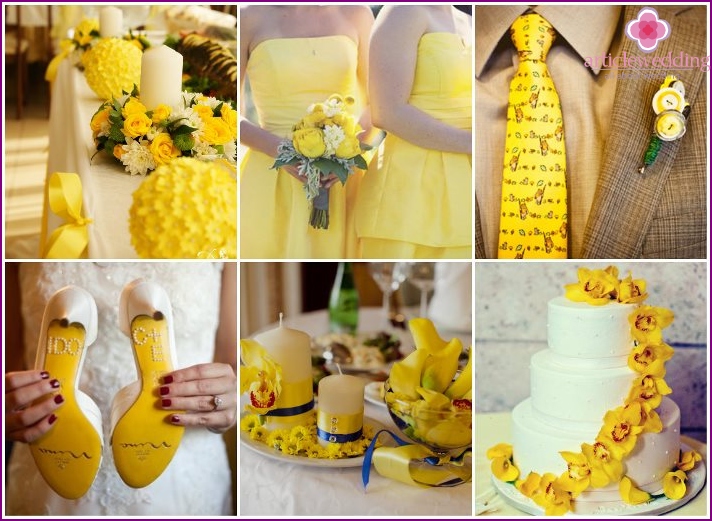 Green shades
Popular style weddings «mojito» will not lose their relevance in the 2016 season. Green wedding looks look fresh and touching, because it is the color of life, naturalness, nature, personifying spring, youth, hope. There are a lot of shades of green, so the newlyweds, if desired, can arrange an extravaganza of tones, regardless of the season:
light green;
green tea;
menthol;
jade;
aquamarine;
pistachio;
green apple;
emerald.
Not every bride decides to wear a dress that is completely green, so more often a classic white wedding outfit with green elements is used for a thematic wedding. The same applies to the outfit of the groom, who does not hurt to complement the image with a shirt of any green hue. But it is necessary to dress the witnesses in green in order to comply with the theme. Choose similar dresses, bouquets with bright light green ribbons or hair ornaments of aquamarine color for bridesmaids - and absolute harmony in the design of the theme celebration will be achieved.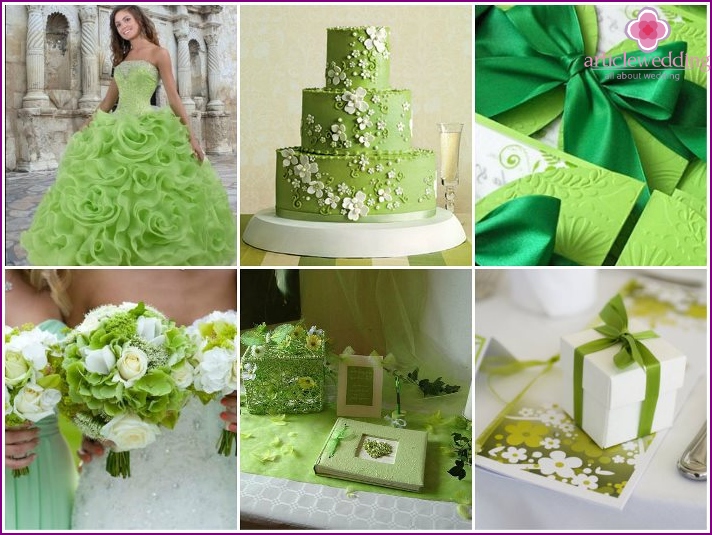 Dark red shades
Wedding decoration in dark tones of red is now not uncommon. In a single gamut, all the details of the celebration are created - from invitation cards to the bride's dress, which looks exquisite and emphasizes the good taste of the newlyweds. The wedding palette of dark red shades includes several tones that are fashionable this season:
purple;
wine;
Bordeaux;
dark scarlet;
deep red.
A wedding in a noble dark red is a beauty and sophistication that has long been associated with royal luxury, passion, stamina and confidence. This color is ideal for conservative couples who love stability and always know exactly what they want from life. Future spouses do not need to completely put on a dark red shade, you can issue them only details of the wedding dress.
When you make a wedding in any shade of red, you should remember: the color should dominate, but not be the only one. If the whole wedding will be performed exclusively in wine tone, this will create a very difficult impression. More often, white, pink, golden, gray acts as an intermediary color. Do not choose black color - it will also make the impression of a wedding heavier.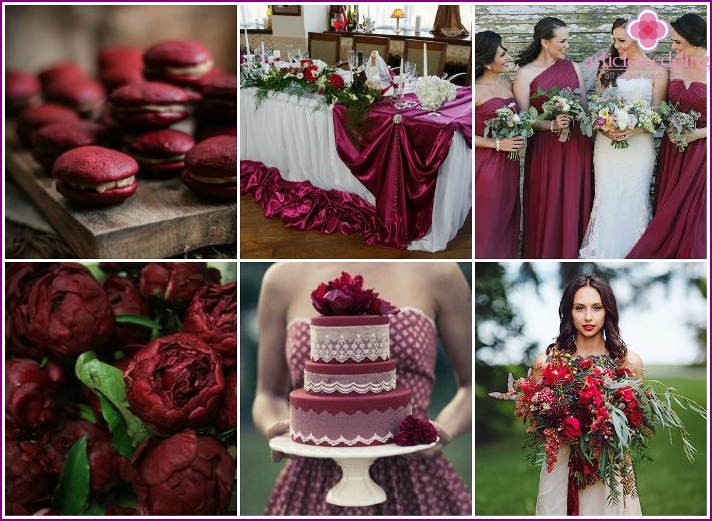 Turquoise
A turquoise wedding is a magical combination of green and blue. This color of truth and healing is associated in people with the sea surface and heavenly beauty. The image of the bride is the main one at a turquoise wedding, because a dress of this divine color will certainly attract the attention of not only guests, but also all people who see the bride and groom. The depth of the turquoise color is amazing, and this is understandable, because turquoise is the magic of nature, which gives newlyweds endless opportunities for experimentation.
At the wedding, it is not necessary to make the color of turquoise primary, it can be accentual. For example, you can make the main color white with bright turquoise elements: a bride's bouquet, a groom's tie, bright napkins on a banquet table, chair covers, tied with turquoise ribbons. Do not forget about the wedding cake, which should be in the subject at the turquoise wedding. It could be a culinary masterpiece in style «Tiffany» or individual cupcakes for each guest, wrapped in turquoise color paper.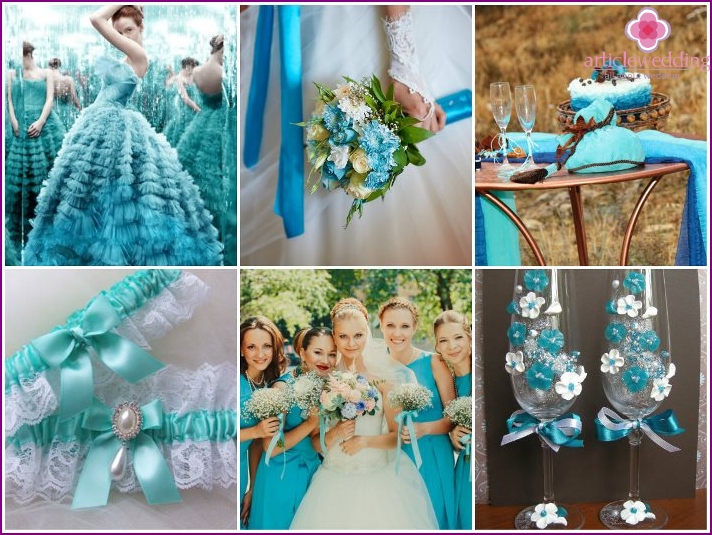 Champagne color
Champagne wedding is fun in an elegant romantic style and a golden caramel shade. It is a color that gives newlyweds happiness, hope and joy. It is perfect for a wedding in August-September, when nature is saturated with a bright palette of all kinds of colors. Unlike pastel ivory, champagne is a deep stylish shade that is perfect for both the dark and white bride.
A champagne-colored wedding dress in recent seasons is the most demanded because of their unusualness, brightness and practicality. Even the longest models by the end of the celebration do not lose their perfect appearance, while white wedding dresses quickly become dirty and gray. Champagne dresses look luxurious and expressive, especially on styles «Mermaid»and «Princess». Ideal for wedding dresses, thin fabrics such as:
Guipure.
Organza.
Silk.
Taffeta.
Tulle.
Atlas.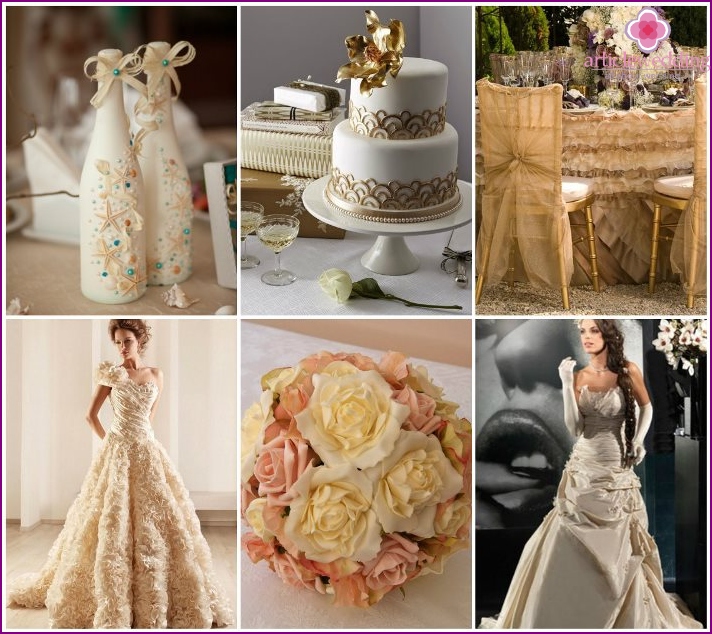 Peach
The main favorite of the wedding 2016 is a peach tint. After the winter cold, I really want to plunge into the heat, and its full give airy shades of peach. These themed weddings are decorated with the addition of wooden elements, cream draperies and apricot-colored tablecloths. In addition to the textile component for the banquet hall, fruits, bright balloons, candles and ribbons in pastel cream shades are widely used.
The concept of a peach wedding is completely shared by the newlyweds. The bride's dress can be peach, apricot, creamy or the color of a delicate blush. It is advisable for a newlywed to pay attention to pearls, organza decor or delicate floral decorations. Peach accessories will perfectly complement the image of a hair band made of peach satin ribbon, a lush bow, a scarf around the neck or a belt on a dress to match the wedding. The groom also will not do without accessories of apricot or peach hue - a buttonhole, socks, tie or bow tie.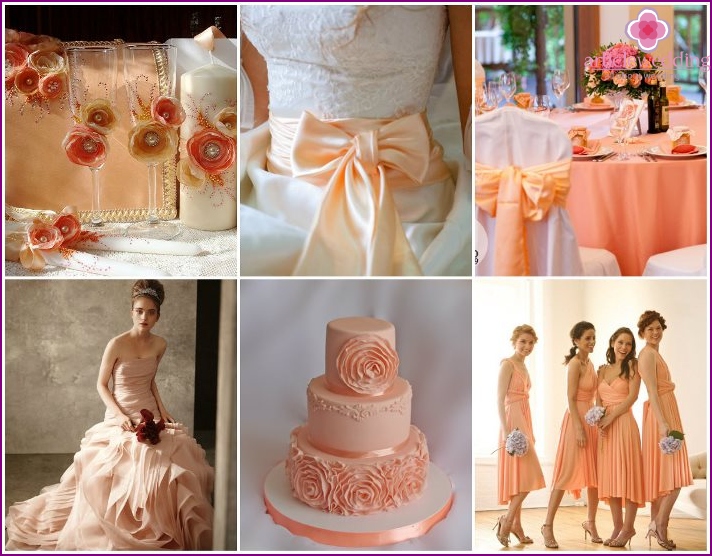 Coral
If you mix pink, orange and red, you get an airy, light, sparkling coral color. I immediately want to try it on, so designers are happy to use it in their best collections. The coral color is multilayered and interesting, as a result of which it has been on the wedding Olympus for many seasons and is not going to leave it in 2016. Shades of coral are diverse. It is multifaceted - neutral, muffled, warm, or boldly bright:
pearl raspberry;
orange red;
terracotta red;
salmon;
pink peach;
purple pink.
Brides love shades of coral, because they are combined with all the colors of the rainbow. The only drawback of this summer color is that it does not «is friends» with dense and heavy winter fabrics, preferring cotton, chiffon, silk and satin. Any wedding outfit, be it traditional white with coral elements or a bold salmon-colored bride's dress, looks bright and unusual. The base color for the groom's suit at the coral wedding can be beige, brown, gray or white, which must be complemented with a tie and flowers in a coral buttonhole.