Contents
---
---
Organization of a wedding is an exciting and difficult task for newlyweds and their parents. In order for the celebration to be beautiful, effective and leave only pleasant and vivid memories in the memory of young people, it is necessary to think through all the details. Making a wedding is one of the main aspects in organizing a holiday. How to choose a color palette for a celebration? What shades are appropriate at a winter wedding, and which at a summer wedding?
What color to make a wedding?
If during the design of the holiday to adhere to pre-selected colors, the celebration will turn out to be original, refined, sophisticated. For example, imagine how identical tones will harmoniously look in a bride's dress and a groom's tie. Or the shades of the wedding bouquet and the boutonniere of the young will have a sweet touch. But how to determine which color scheme is suitable for your wedding?
The newlyweds can choose the holiday palette to fit their shade of eyes, skin, hair. If the chosen gamut is ideally suited to the image of the bride, then only elements made in the main color can decorate the groom's clothes for an effective combination. Some couples choose certain tones because they give them special meaning. Also, the favorite colors of young people often become the basis of the holiday palette.
The basic rules for choosing a wedding palette
To decorate the celebration, the bride and groom can choose different colors. Tones are selected according to a simple principle. First, the main color is determined, and 2-3 additional ones are already selected for it. The basis of the palette is usually a neutral, pastel shade. These properties of the main color allow you to use it to decorate almost all the details of the wedding. But dark and bright shades are perfect for spectacular accents. For example, if the main color is white, then the burgundy is perfect as an auxiliary.
Then flowers, ribbons on a dress or on hair, a vest or tie, outfits of girlfriends, flowers for a banquet, chair coverings or tablecloths on tables will look spectacular in a burgundy tone. For a harmonious combination of the main and auxiliary colors, it is important to have a sense of proportion and taste, so as not to overdo it and make the holiday a clowning. It is convenient when choosing a celebration palette to use «color wheel». It is loved by designers and decorators..

Use «wheel» simply. A common option for choosing a palette for the holiday - its derivatives are selected to the main tone. It will be a monochrome gamma. Also in the palette there may be 2-3 adjacent shades that are adjacent to each other on the color wheel. For example, green, turquoise, blue. One of them will be the main one, and the others will be secondary. The celebration, designed in opposite colors, looks especially impressive. They are located on «wheel» opposite each other. For example, orange and blue.
Wedding color according to the season
If you have defined the palette of the upcoming celebration, then use the selected tones to design all the attributes. These colors can be in the dress of the bride, decor of arches, tables, glasses and other accessories. The choice of palette for the celebration depends on the season of its holding. Fresh and bright colors are best for a spring holiday. For example, sky blue, lilac, pale yellow, light green, pale pink.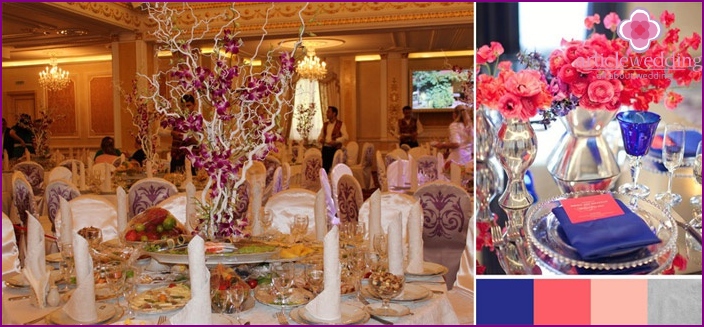 For an autumn wedding celebration, an excellent solution would be to design it in orange, dark brown, chocolate, emerald, ruby, sapphire color. But you can decorate a summer wedding day with the help of saturated colors: yellow, red, lilac, green. A combination of white with bright rich blue or burgundy will look amazing at a winter wedding.
The choice of colors depending on the subject
Now it's popular to choose a certain theme for the holidays. The selection of a color palette for such a celebration should be combined with the script, emphasizing its special flavor and originality. If the newlyweds decided to spend the holiday in an oriental way, then red and gold tones will be perfectly in line with this topic. These colors will give a special chic to the whole celebration. Be sure to indicate in the invitation what color will be the main one at the holiday so that guests can choose an outfit for a certain style and shade.
Wedding color options
Depending on the wishes of the newlyweds and the season of the celebration, cold or warm colors for wedding decoration are chosen. Decorating your holiday in different tones, make sure that it does not look too catchy, clumsy and intrusive. Consultation with professionals in the design of celebrations will help to avoid serious mistakes and absurdities..
The gradient style, which implies smooth transitions of colors into each other, looks spectacular and stylish in the decor. Decorating the holiday with accessories made in this style (ombre) will emphasize the excellent taste and originality of the newlyweds. Smooth transitions of tones will look interesting on curtains, tablecloths and accessories. Interesting ideas can arise when creating a bouquet for the bride in the ombre style. Experienced florists will help to make it original by combining different flowers in one whole..
Cold shades
To design a winter or autumn wedding, a purple tone is perfect. This shade will be fashionable in 2016. The holiday, decorated with pale blue or aquamarine shades, it is appropriate to organize a snowy winter. This palette is perfect for celebrations with a nautical theme. The blue tint will look great at Greek weddings. White color combined with blue will decorate the holiday.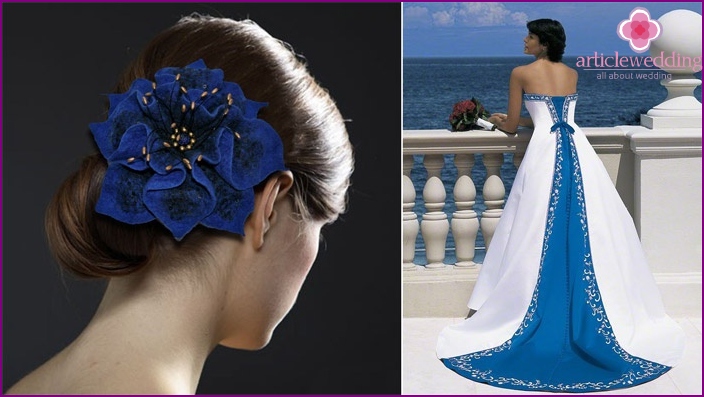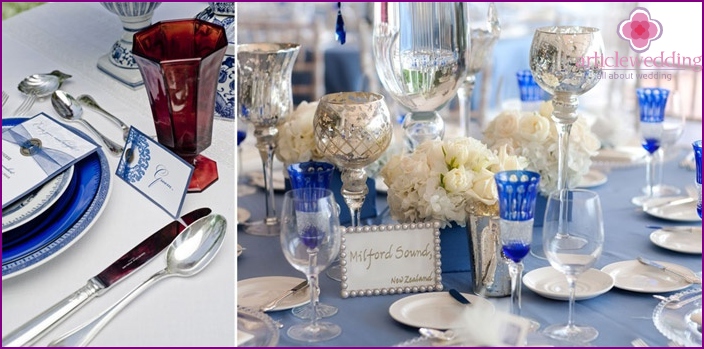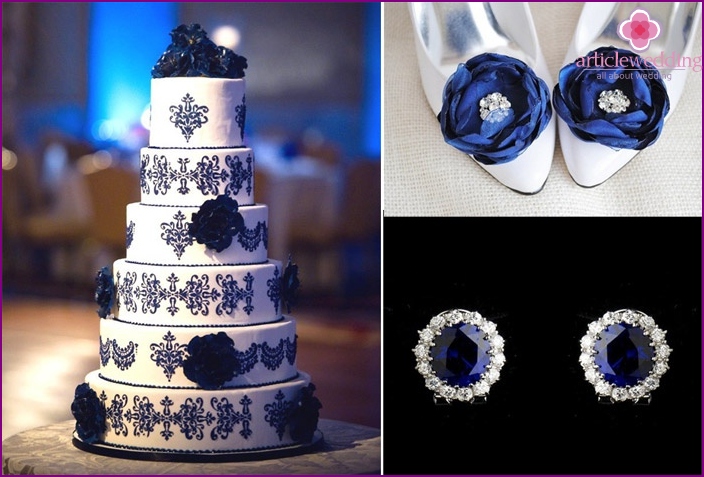 Warm colors
Hot tangerine color is a bright trend of 2016. A summer wedding with a fiery palette will be held in a relaxed atmosphere and an atmosphere of unbridled fun. A delicate light green tone will help create a romantic atmosphere. To design a wedding in warm shades, yellow is suitable. It will blend perfectly with gray. This yellow-gray design will make the holiday look like a hot summer day.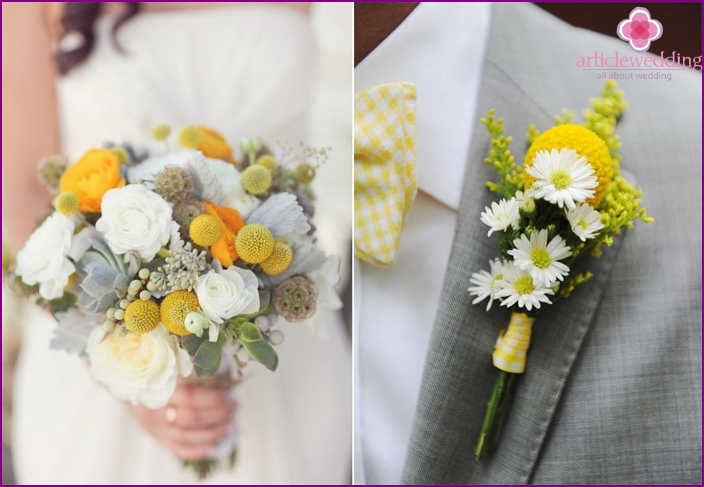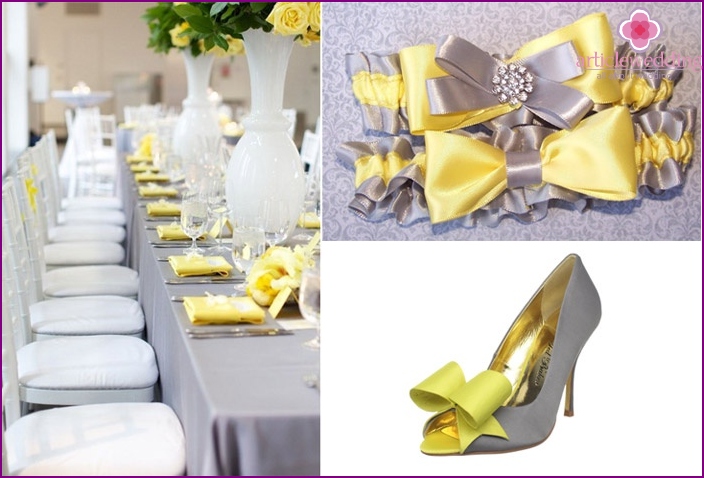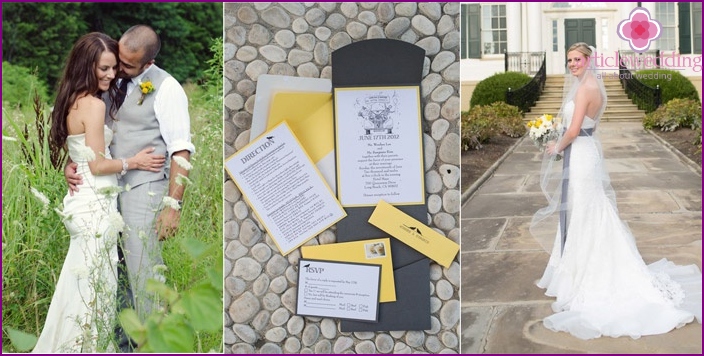 Fashionable palette of colors for the wedding in 2016: photos
In 2016, designers offer newlyweds to make wedding decorations from the following fashionable colors: marsala (wine red with notes of brown), berry, purple, neutral (gray, beige, brown), blue, light green, tangerine. Some examples of current holiday palettes are given below. Take a closer look and you will find interesting ideas for decorating your happiest day..