Contents
---
---
The emerald wedding ceremony looks very exquisite. The celebration is filled with the nobility and positive energy of this exquisite shade. However, the wedding in emerald color needs a painstaking process of organization, where each element will be given special attention. There are no irrelevant things in the emerald celebration, all the smallest nuances should be taken into account.
The value of emerald color
If you want a wedding celebration that will appeal to all guests, feel free to choose emerald as the main color of the holiday. This deep bright tone evokes positive emotions, energizes, and helps to feel a kinship with nature. The emerald wedding is in perfect harmony with any season. This deep green symbolizes sustainable prosperity and well-being, which is important for a young family.
Gowns of the bride and groom in emerald color
Choosing outfits for your wedding emerald celebration, show originality. Experiment with accessories, make interesting accents in clothes, reveal your personality in all possible ways. There are two scenarios for choosing wedding dresses:
fully dressed in green robes;
make green an elegant setting for classic outfits.
The emerald-colored bride's dress will be a bold and memorable experiment. If this is not required, but you want to impress, limit yourself to the individual details of the selected color. Amazingly looks bright green petticoat, which is visible only when moving. Allowed belts, embroidery, shoes, garter, inserts in the corset or bodice, made in a noble shade of green.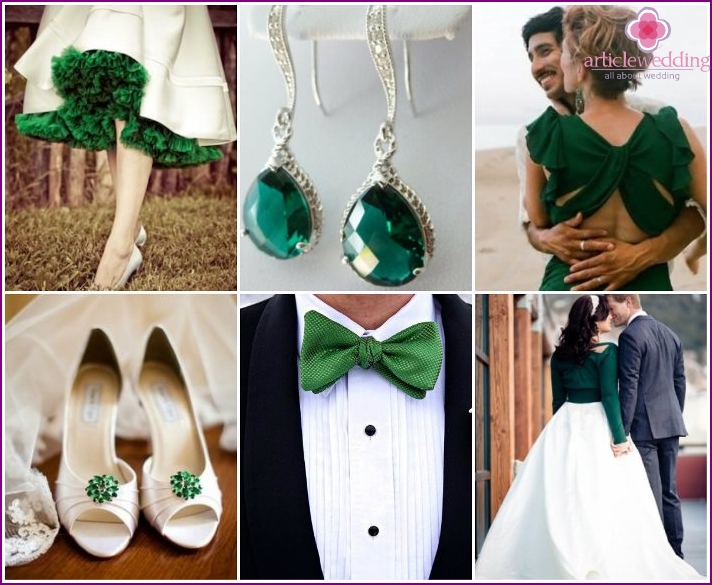 The groom is recommended to choose an emerald shirt, tie, cufflinks, vest, muffler. Such small accents will transform the outfit and make it in the spirit of the color scheme of the wedding. However, you can also dwell on a suit of an exquisite green hue, if it suits your type of newlywed well. Then the accessories will remain more restrained tones that will not overtight the eyes of admiring friends.
Dress code for guests
It is difficult to make wedding guests put on emerald robes, and this is not required. Witnesses dressed in outfits of the corresponding color look more spectacular. It is fashionable for girlfriends and friends to create the same dresses and costumes that they will wear when they go to the wedding. This is a Western tradition that looks very impressive here, due to its uniqueness and non-standard.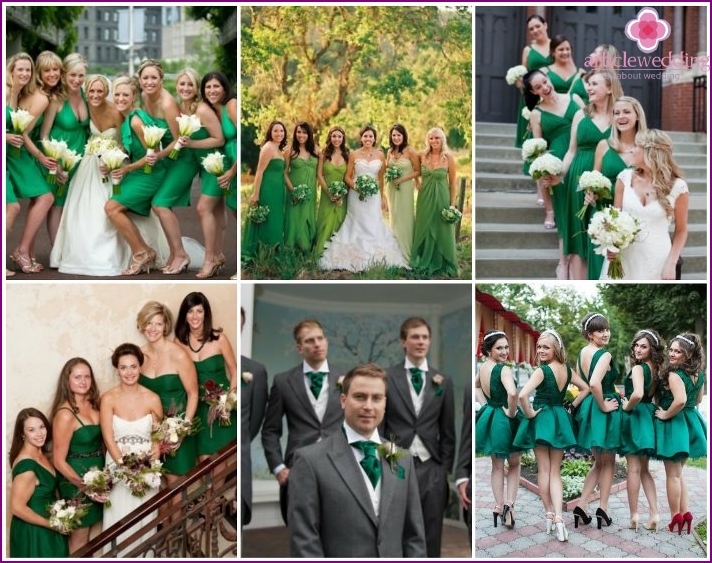 If your budget allows, sew special emerald outfits to your witnesses. The solemn part and the photo shoot with such guests will look very cool and will be remembered by everyone. Girlfriends dresses can be of different styles, but of the same color, however, completely identical outfits also happen. It is not necessary to make costumes for the boyfriends of the groom green. Enough jacket that goes well with white, black, navy blue trousers.
Emerald Wedding Design Ideas
For a wedding in emerald color you will need attention to detail, a sense of style, a love of luxury and a delicate taste. It is important to combine in your thoughts an integral picture of a future celebration in order to use this noble shade in the right doses. Start with the most insignificant components of the wedding: invitations, bonbonnieres, decorative accessories. Then switch to more significant elements - serving, zone for a photo shoot, hall decor.
Guest Invitations
If in addition to the color style of the wedding there is still some thematic, beat this in the invitation. The celebration in the style of the Emerald City, for example, will add magical notes to postcards. Adhere to the aristocratic style, it magnificently emphasizes the nobility of the main wedding color. Let intricate scripts, classic patterns, beautiful uppercase text be used on invitations.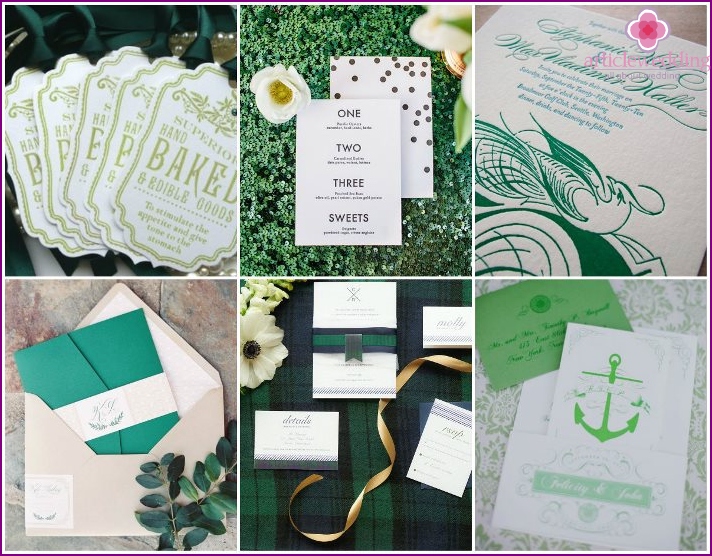 You can decorate postcards with emerald ribbons, pebbles, sequins. Let the guests even before attending the wedding feel its luxury, elegance, positive energy. However, be restrained in the decor, as it is easy to cross the line, over-decorating the invitation cards and turning them into a shocking frenzy of emerald color.
Banquet Hall Decoration
An emerald banquet requires an expensive interior. The hall should be in natural tones, in harmony with deep green. Suitable white, sandy, woody shades. It is not necessary to completely drape the walls with green curtains, since there will be busting. Better dwell on individual elements that will become laconic accents..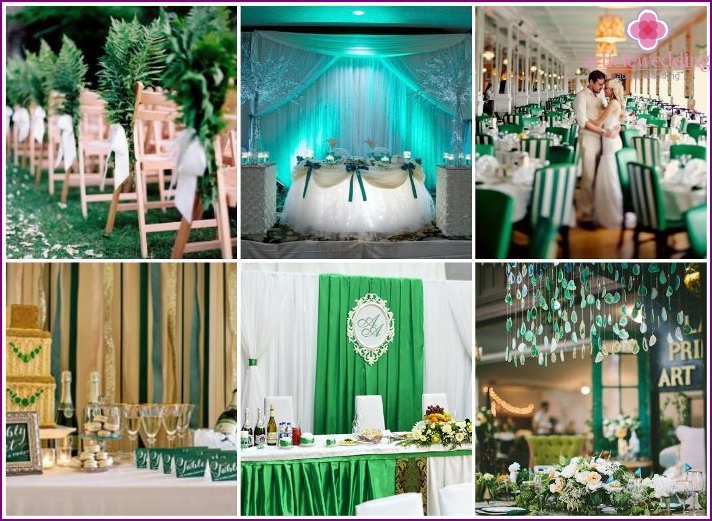 Choose emerald chair covers, bows or ribbons to decorate the path to the altar for the ceremony, flower vases, balloons, paper pompoms, carpet. This is enough to make the wedding play with the richness of the main shade of the celebration. Make a zone for photo wishes, highlighting on the dance floor, dessert and cocktail party in a deep green color. Let individual moments set the mood for celebration.
Festive table decor
A wedding in emerald color is created by accents. One of them is a festive table setting that sets off the banquet table. Choose green napkins, glasses, a tablecloth, candlesticks, stylized cups, plates. Appropriate on such a table will be lime, grapes, apples, which complement the decor well with their green shine. The placers of emerald stones, beads, paper figures, harmoniously placed between devices, utensils and dishes look great.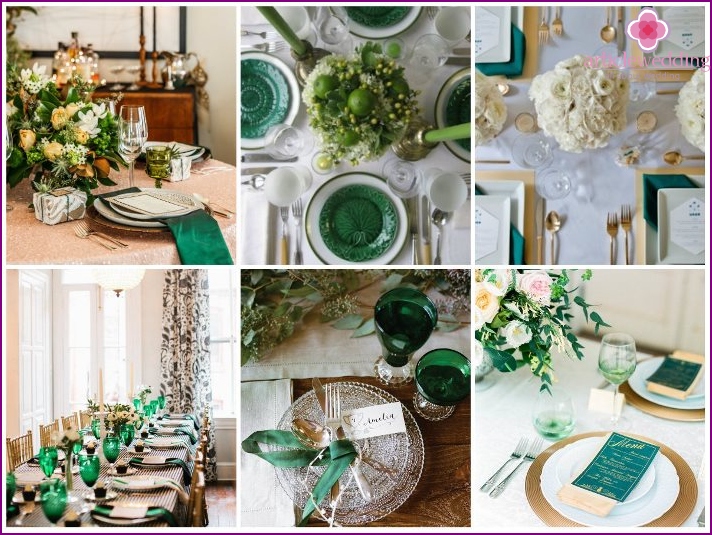 The bride's bouquet
For floristry of an emerald wedding, a modest white color is amazingly suitable. It subtly shades the colors of the celebration and elegantly complements the bride's robe. Decorate small roses from a round bouquet with bright green brooches, large stones or beads. Legs of flowers wrapped in emerald ribbons decorated with white pearls or a bow look stylish.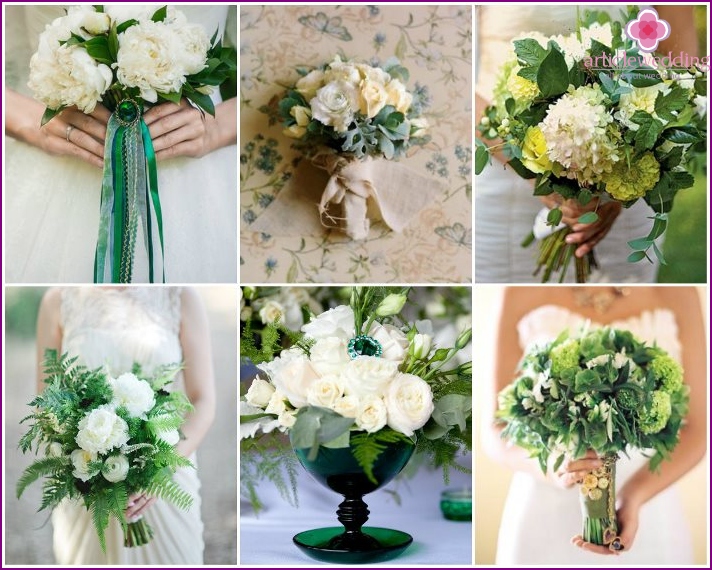 Preparing for a wedding in cold weather, stop at orchids, anemones, roses, ranunculuses. Spring-summer celebration is an occasion to treat yourself to hydrangeas, freesia, lilies of the valley, peonies, dahlias, alstroemeria. Stay on low medium splendor bouquets that look elegant, restrained, concise, as the emerald wedding does not tolerate anything excessive.
A wedding cake
Let the famous confectioners create the main dessert of the celebration. Order the emerald cake decor to become the crown of the wedding. Glaze, cream, green fruits look great on white pastries, this combination of tones will be the most successful. You can choose a completely green cake with a decor of a contrasting shade or no decorations at all. Serve dessert surrounded by emerald stones to create a likeness to a piece of jewelry.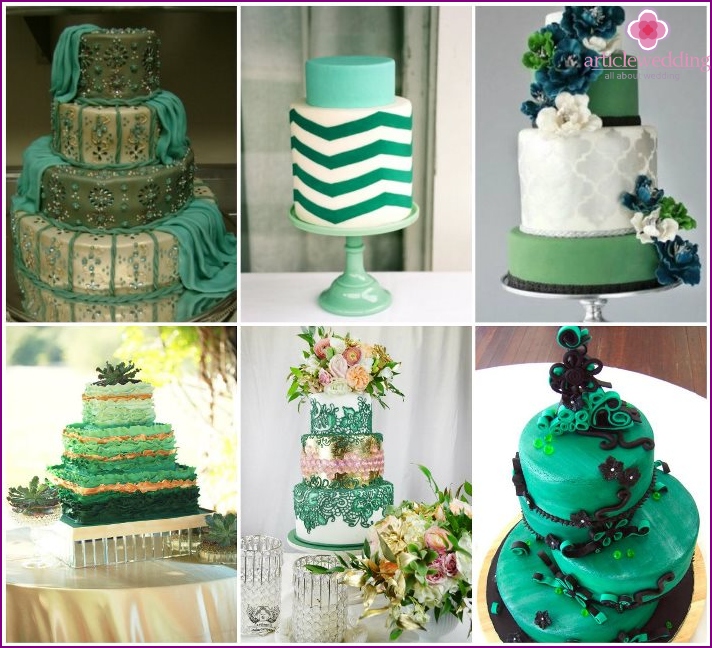 Emerald Wedding Accessories
The mood for a successful celebration is set by cute little things, consider this when creating a wedding scenario. Let the young people serve the rings on an emerald pillow, at the photo shoot a bouquet of saturated balloons of a suitable shade is waiting for, sweets on the tables are painted in a bright wrapper. The emerald can be bonbonnieres, menus, guest cards, gift souvenirs, waiters' butterflies, a presenter's microphone, newlywed catwalk lights.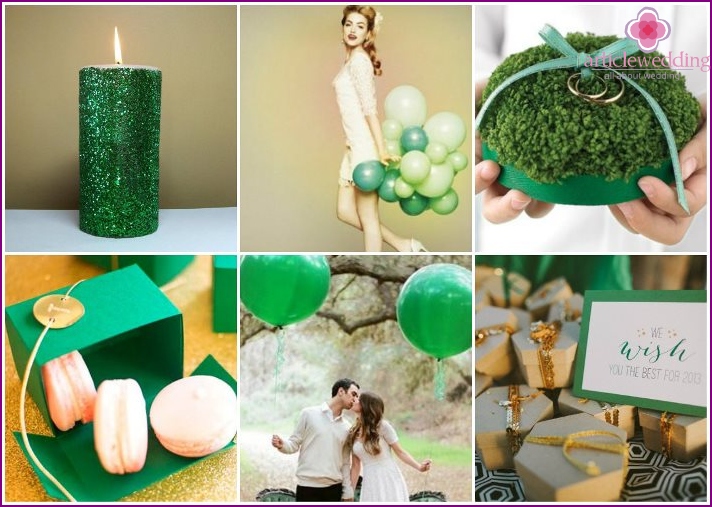 Peacock feathers look very fresh, bringing exotic and luxury to the emerald wedding. Decorate them with a bouquet, hairstyle, tables, shoes, glasses. Choose candles, cups, coasters matching the notes of musicians that match the shade - surprise the guests with thoughtfulness and attentiveness. Let them be asked to make a congratulatory note for the wedding book in green ink, take a picture with a green parrot or try on an emerald-shimmering mask, then they will remember the celebration forever.
The combination of emerald with other colors
When planning your color scheme, remember the compatibility of shades. Mix a few shades to make it as natural and comfortable as possible. Do not let any one additional tone draw attention, an emerald should always remain in the center. Noble emerald looks good with the following tones:
in blue,
golden,
white,
silver,
orange,
pink,
mint,
chocolate,
yellow.
Video: Emerald Wedding
Watch the video below how elegant the emerald-colored wedding looks. The scattering of flowers, strands of beads, air drapes create harmony, warm mood, bright atmosphere. Young people use the main color to decorate an outdoor ceremony and a banquet, dresses and accessories. The delicate combination of emerald, pink and white looks very juicy, tasty, pleasant. The venue for the celebration of the emerald wedding is chosen modern, which does not in the least detract from the nobility of this aristocratic shade, which many associate with the monarchs.
Themed wedding photo shoot
Emerald weddings require original ideas for photo shoots. Here are some interesting options:
The Wizard of Oz. You need fabulous accessories, a fantastic setting, a custom background or landscape.
Medieval romance. It involves shooting against the backdrop of an old castle, manicured alleys, gardens and flower beds, in carriages, on horses, in a boat on the lake.
Flying surprise. Stock up on emerald balloons inflated with helium, let it all shade the blue sky. Add a cheerful mood and enthusiasm.
Friendly company. Only guests in emerald suits are needed, providing a positive atmosphere for each shot.