Contents
---
---
Paired wedding rings of an unusual design are becoming more and more popular among newlyweds. These accessories are characterized by harmonious unity, as evidenced by their performance. This style is reminiscent of yin and yang, demonstrating the continuity of loving souls. Paired rings are an excellent way to emphasize the value of relationships, devotion to a partner, and show others that your couple is inseparable. Wedding accessories symbolize endless love, harmony and something sacred for each particular couple..
What are the original paired engagement rings?
The ancient Egyptians and Greeks believed that the nerve leading to the heart departs from the finger closest to the little finger. Therefore, the decoration of the ring finger was given special significance and meaning. Now paired wedding rings demonstrate that a person has a second half. Exclusive and original samples of accessories carry symbolism, meaning, understandable only to the newlyweds. Such jewelry becomes a family charm.
Paired rings can be made in several variations:
twin rings, which differ only in size;
products with a common design, engraving, but one distinguishing feature, for example, a different shade of metal;
contrasting models that have exactly the opposite cut or color scheme.
Fingerprint engagement rings
Unusual rings for newlyweds with a fingerprint are made in several variations. The pattern can be applied to the surface of the product. In this case, it is better to choose simple jewelry models, since originality will be in the drawing. It is possible to experiment with the shape of the product, its thickness. The imprint can be applied inside the accessory. In this case, only lovers will know about the pattern. There is no need to combine design and print: choose rings with a pattern, patterned surface, stones.
The imprint can be applied to a paired ring over its entire surface. If you want to focus on this, then ask that the picture was composed of different fragments. The last option for wedding accessories is to print according to your sketch. Together with jewelry designers, you think over a design, order products from a photograph or a finished sketch.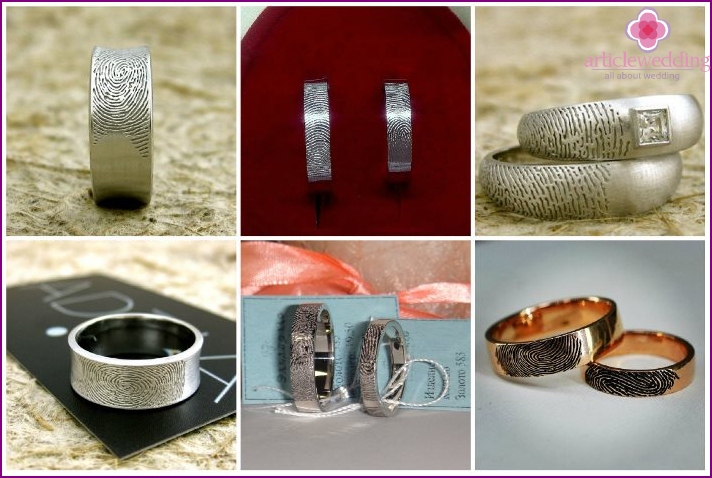 Paired rings "Bolt and Nut"
Extraordinary, subtle, elegant wedding rings «Bolt and Nut» will become the main decoration of the hands of the newlyweds. Made in platinum or gold, without too elaborate, bright, large details, they look spectacular on the finger due to their unusual shape. Pair rings of this style can be made in any size and decorated with diamond inserts. The original form creates faces on which light plays amazingly, reflecting millions of glare. Such rings are the choice of fashionable, stylish pairs..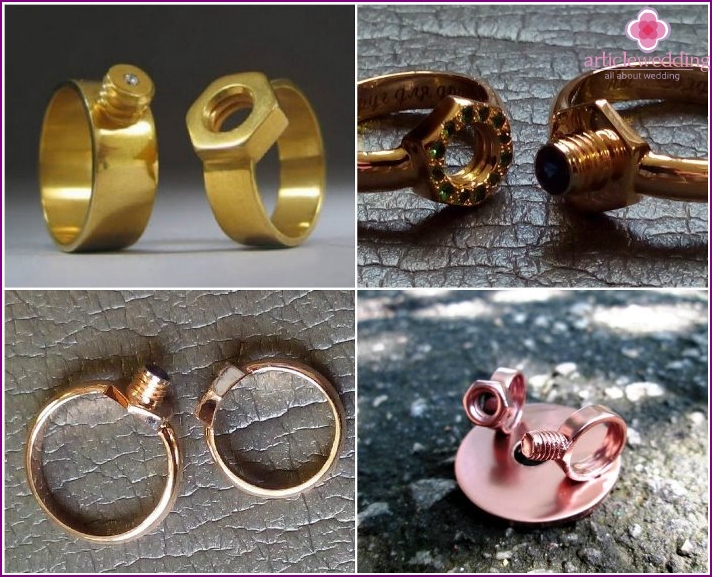 In the form of a crown
If your chosen one is a real king, and you are his queen, present each other with paired rings in the shape of a crown. This will help you to feel like true persons of the highest society. Such an accessory will adorn the bride's finger amazingly, and on the groom will look statically and noble. Rings can be made of platinum, gold, silver with decor semi-precious and precious stones.
Jewelry made of precious metals look luxurious, chic. If an affordable option is acceptable for you, then opt for silver engagement rings. They look elegant, noble, perfectly combined with any clothes. Another budget option is paired palladium rings for original and young newlyweds. They are distinguished by high strength, wear resistance, anti-corrosion properties, long service life..
The shape of the ring is different. Brides can choose products depending on their own desire and taste. But it is better for grooms to give preference to wedding rings without elaborate elements. There are a lot of unusual rings in the form of crowns that look beautiful, bright, presentable. They have an original design, emphasizing the sophistication of the bride, the masculinity of her chosen one.
Rings decorated with diamonds look very noble on the finger of a beautiful lady. Solid, beautifully looking rings with a scattering of small stones, exclusive and fashionable products with emeralds, rubies, amethysts, sapphires. The pair vintage engagement rings are relevant - original antique or made in such a style.
Rings with the image of notes
When choosing rings for engagement, many young couples tend to use symbols that have been accumulated by culture for many millennia. One such example is the notes that embody the song of hearts in love. These accessories symbolize belonging to each other, unity, loyalty. Pair of bridal rings with notes - a powerful amulet and amulet for the prosperity of the family.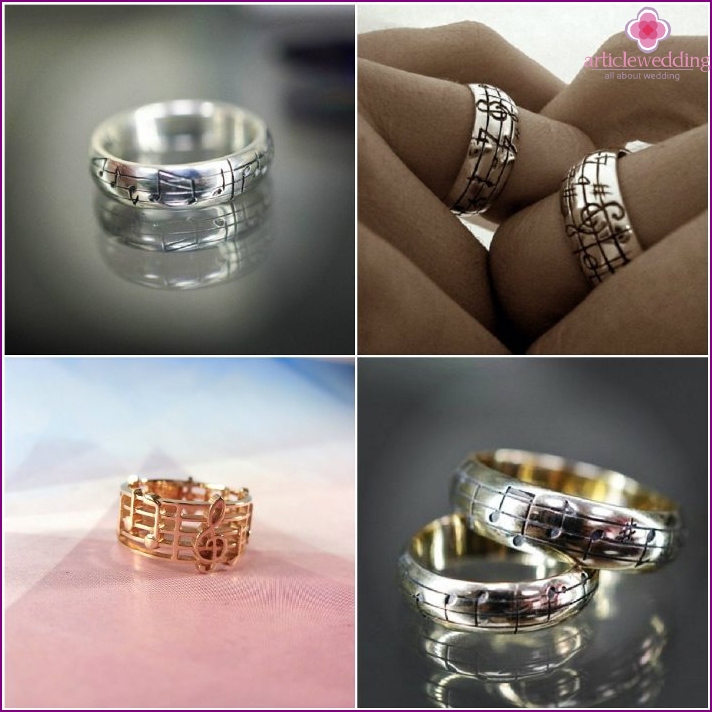 Cardiogram paired rings
Paired bridal rings should be similar in design or idea, for example, as products with a cardiogram. They look very original, symbolize the beating of hearts in love in unison. The pattern can be applied both on the inside and on the outside of the engagement ring. In the second case, it is better to choose smooth rings, but you can play with size and shape.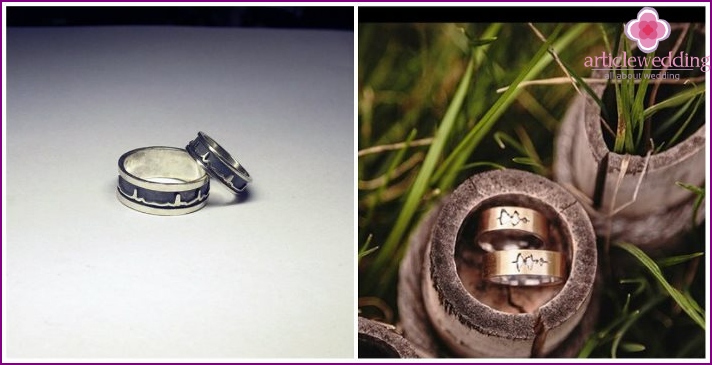 With halves of the heart
In most cases, to decorate the main symbol of the birth of a family, the newlyweds choose a love theme and embody this idea of ​​one life for two in rings of an unusual design. The easiest way to implement your plan is to choose products with a divided heart, which becomes one when two rings are put together. One ring may be slightly smaller and decorated with a precious stone. For example, brides copy.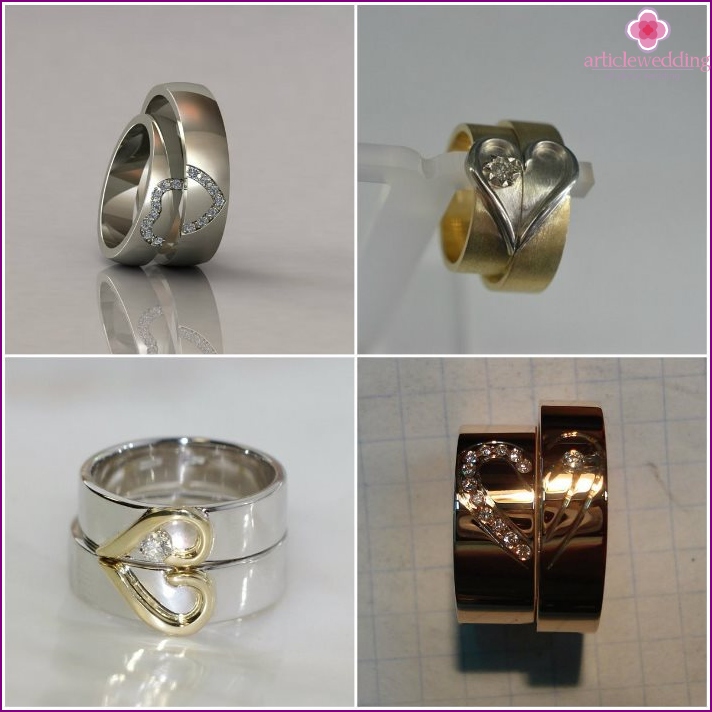 Photo of unusual paired wedding rings
Pair of custom wedding rings personify the concept of the future family. They emphasize individuality, affirm the unity of the spouses in any life situations. The expansion of jewelry allowed young couples to choose an original and creative design for these rings. Look at the photo below, what they are.