Contents
---
---
A wedding is a significant event that requires preparation in many matters. Some couples do not attach much importance to the choice of rings, while others, on the contrary, try to buy the most shocking products that carry a certain meaning or something individual. The current fashion for bridal jewelry changes every year, but there is always a desire to have unusual rings.
Options for original wedding rings
Putting a ring on the finger of a loved one, testifying to the promise of eternal love, I want to be sure that it will reflect all the emotions that the couple experiences. Features of their relationships, dates of acquaintance or professions - an engagement ring can tell about this. The modern jewelry industry offers hundreds of thousands of wedding products to meet the needs of any couple. There is the possibility of making rings for the wedding to order. By choosing a design and making adjustments, you can order unique characters for marriage.
The vintage ring trend is winning fans around the world. These works of art, which are the result of handmade by the best masters, are deliberately devoid of shine, making them look like they have been around for decades. Combining white, red and yellow gold with an ornament based on past times, these jewelry will become the pearl of your jewelry collection.
Elite products made of rare and expensive metals, such as black gold, titanium and meteorite, inlaid with precious stones, are very popular in their price category. Jewelry, executed in an unusual form, attracts the eyes, striking with its originality and luxury. Royal crowns on the fingers of the bride and groom - a real squeak of fashion. In such cases, women's and men's products are different models in the same style..
Some couples, trying to show their unquenchable love, resort to the services of salons, stuffing a tattoo on their ring finger. The style, color and size of the applied drawing in this case is limited only by imagination. This can be either an image of rings or a variety of symbols. According to some opinions, only indelible drawing can really unite lovers.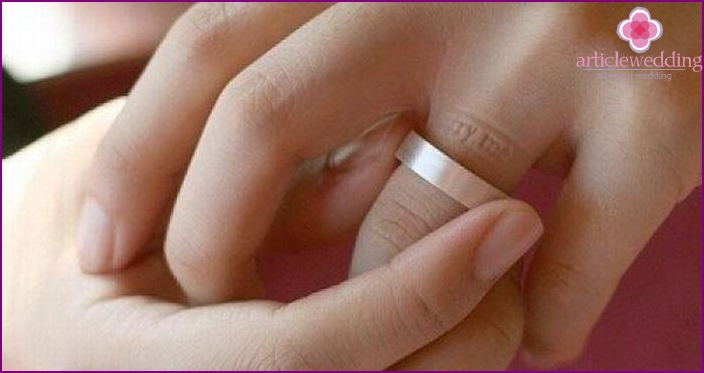 Not uncommon - products on the ring finger of the bride and groom in the form of a chain or rope. Sometimes precious stones are used. Some newlyweds prefer original rings with the image of a sound wave of love phrases. «You are mine (mine)», «Together forever» - these words will be encrypted on the jewelry, only you can know their true meaning. The most unusual is the filmstrip ring. On one side of its oval are miniature photographs of the newlyweds, and on the other a magnifying lens.
Double rotary rings
Two-base products that use the duo of white and yellow gold continue to be in trend. The inner ring (mostly silver), sometimes decorated with stones around the circumference, rotates. The shape can be smooth or stylized as chains, watch straps. This idea has been implemented by many leading brands that produce thousands of such products..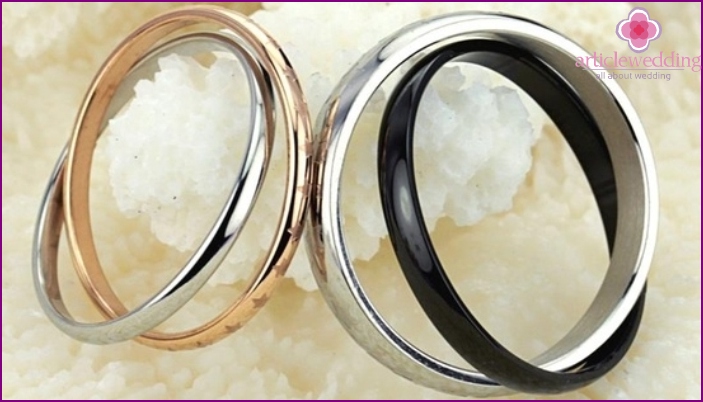 Triple rings
This option surpassed the previous one, it does not use a duet, but a trio of precious metal rings connected by special equipment. Such products use white, yellow, pink, red gold, platinum or silver of high fineness. Jewelry has three bases, interwoven with each other, which harmoniously look both together and separately.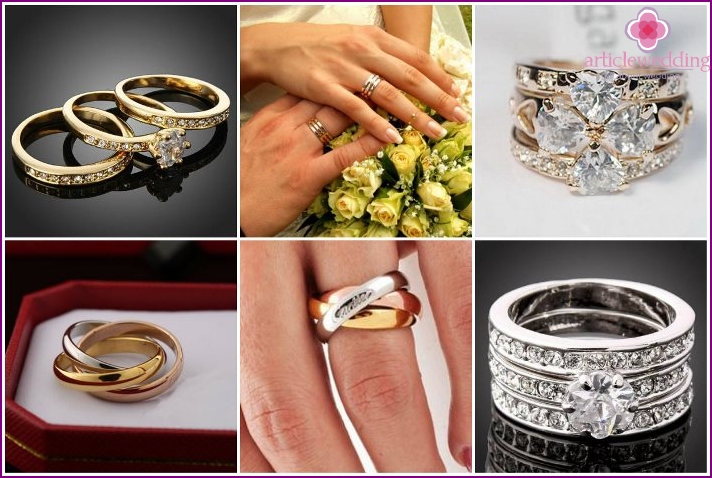 With unusual engraving
The inscription, which will be the motto throughout the family life, reminiscent of the power of feelings, can be engraved on engagement rings. Choose any language: English, Russian, Latin or Japanese characters. The more exotic, the more interesting. Write a memorable date, declaration of love, or your names. An interesting solution is reverse engraving, which leaves an impression on the finger with an image of, for example, a heart.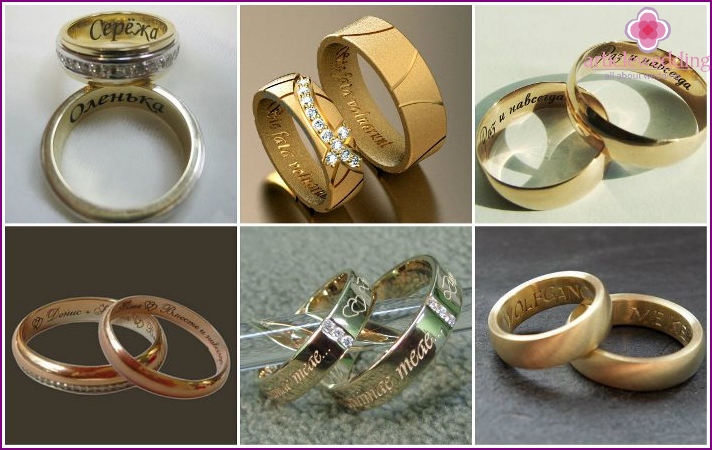 Inlaid with stones
In addition to metals, the diamond is considered a classic jewelry decoration, and in the rings of the bride and groom it symbolizes eternal love. The strongest element on earth holds together the marriage of the newlyweds with their presence, promises them a long union. An affordable option is products studded with many small diamonds, which looks very elegant and elegant..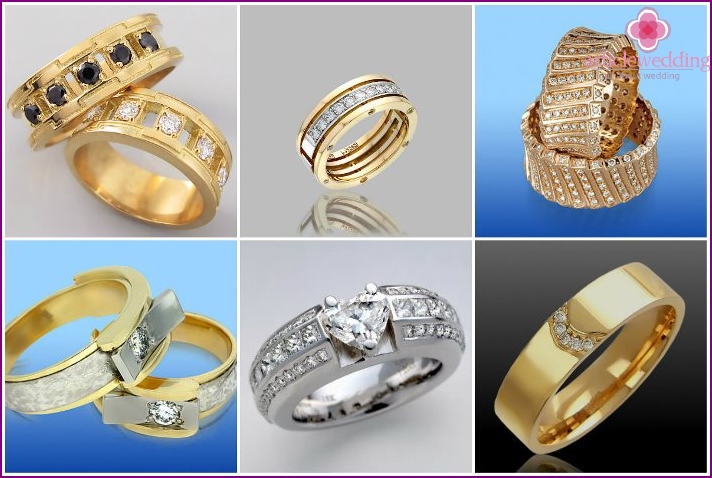 With the fingerprints of the newlyweds.
These rings carry an image of a unique pattern, since the prints are unique. The shapes of the rings are very diverse: double spinning, in the form of rings or classic. The image can be located in the middle of the outside or on the entire surface of the inner side. With such jewelry it is easy to stand out against the background of standard rings, showing the uniqueness of your feelings.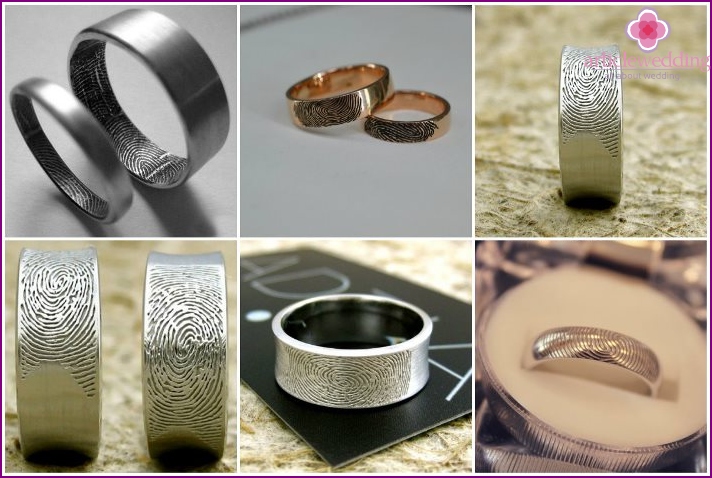 Combined of several metals
Combined jewelry created by combining several types of precious metals or one, but with different shades, is popular among newlyweds. In the ring, for example, a variety of weaves and patterns of white, pink and yellow gold can be combined. Jewelers create original products, allowing you to wear wedding rings in combination with jewelry and accessories from various materials.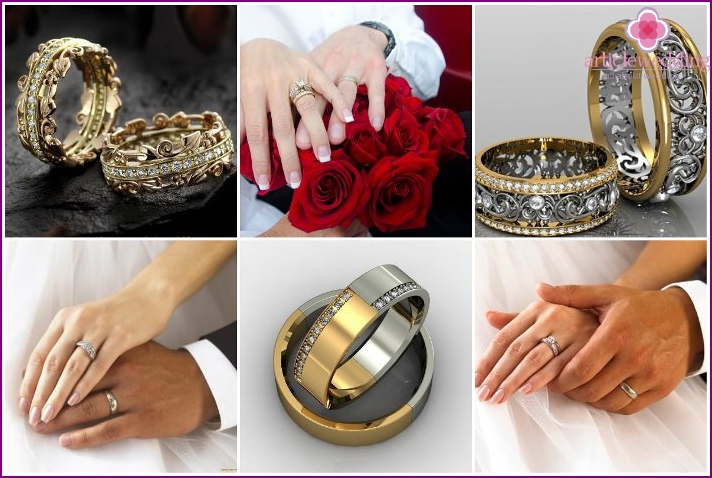 Paired engagement rings of original shapes
This is a good way to show that husband and wife are two halves of one whole. Such decorations are made in one style solution, but may differ, are harmonious independently and together. Extraordinary couples experiment with the shape of the rings: nut and screw, key and lock, hand on a computer mouse. Create your own unique embodiment of the idea and surprise others.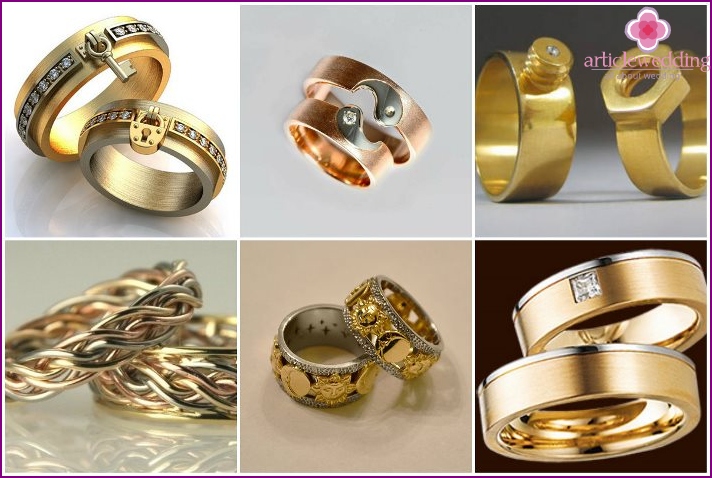 Why choose original wedding rings
Wedding rings symbolize eternal love and loyalty to each other. They remind you of the day when you agreed to become one, and are the only material thing that will remain with you forever. Modern newlyweds adhere to the principle of originality in their choice, declare to the world that their couple are unusual, and their feelings are eternal.
Gone are the days of superstition that rings should be smooth. Fashion for designer jewelry has won a large number of fans. In this way, the couple materializes their vows in feelings. Creative individuals choose extravagant options for decorating the ring finger for self-expression. Rings can carry a message that is understandable only to newlyweds, to attract the attention of others. It is the right of every couple to choose eccentricity or not, but to create something unique that reflects special emotions is the desire of many.
Photos of the most original wedding rings 2016
The photos below show the trends of non-traditional engagement jewelry, reflecting the most relevant aspects of the season. Bright, unusual ideas can surprise everyone by pushing to create their own individual jewelry. They do not have to be expensive; there are options created not from precious metals. In any case, the rings will be only yours, bearing all the warmth of hearts in love.
Luxury lovers can choose wedding rings decorated with precious stones, made of rare metals by the best masters of jewelry. The abundance of product options, even for couples in marriage, causes a desire to buy an original jewelry. Alternatively, treat each other with such a gift on the day of an anniversary or special event for your family..