Contents
---
---
The choice of wedding rings for the newlyweds – This is an important matter before the wedding. After all, they will symbolize their love and loyalty to each other throughout their life together. In Soviet times, all engagement rings were of the same type. They differed only in size, width. Now the newlyweds can choose wedding rings from a wide range of jewelry with different designs, shapes, sizes. Recently, couples registering their marriage have been very popular with crown rings. They have a presentable and romantic look..
Crown Wedding Tips
For the first time, crown rings began to be manufactured a long time ago, and this happened on the lands of Ireland. It was customary to give jewelry with a symbol of royal power as a confirmation of their strong and devoted friendship or love. Today, crown rings have become popular around the world. These products are especially relevant in our time for a wedding ceremony. What to look for when choosing engagement rings with such an original design?
Since you will wear these jewelry daily, you need to approach their choice thoroughly, seriously. In them you should feel comfortable. The newlyweds in wedding rings-crowns will look romantic, beautiful. These symbols on the hands of the young will mean that for the husband – the king, and for the spouse his wife – queen. To choose the right ring for the wedding, consider several factors when buying it..

Firstly, the size of the finger changes throughout the day. Also, physical activity, prolonged exposure to cold, sports can significantly affect the thickness of the phalanx of the arm. Experts recommend buying a ring in the afternoon, when the fingers acquire their typical volume. Before going to the jewelry store, it is better to avoid hypothermia, which reduces the size of the entire hand, as well as physical exertion and excessive fluid intake, which increase the thickness of the fingers.
Secondly, it must be taken into account that the sizes written on the rings may not correspond to the actual parameters of the finger. Therefore, the ring must always be tried before buying. Please note that its jewelry size for the same finger will vary depending on its thickness. This is due to the fact that large rings capture most of the phalanx of the finger, which is higher, thicker, and this affects the size of the ring.
Thirdly, if you have elegant long fingers (up to 16 sizes), then wide (8-10 mm) or narrow (up to 3.5 mm wide) jewelry will look beautiful on them. For a small hand, the narrow ring up to 3.5 mm wide is the best option, for medium-sized fingers – products with a width of 4.5 mm to 6 mm, and for full and long – with a thickness of 7-8 mm.
Production material
Gold, silver, platinum are used as material for the manufacture of original rings with a royal symbol. Jewelry made of these precious metals looks simply amazing. If you consider an affordable option for engagement rings to be acceptable, then choose silver products. They look noble, elegant and perfectly combined with any kind of clothing. They will also reflect the wonderful taste of their owners..
Another option for cheap crown rings is palladium rings, which will suit young and original couples. They are characterized by high wear resistance, strength, anti-corrosion properties, as well as long service life. Polished palladium rings have a shine similar to the shine of white gold, platinum.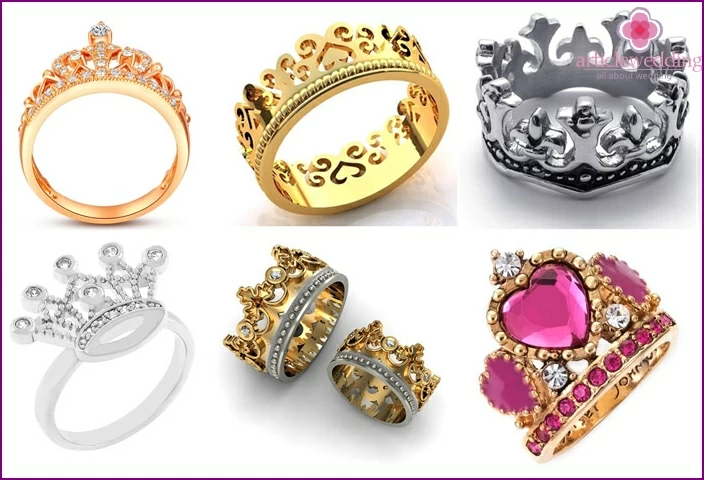 Golden and engagement rings of the crown look luxurious and exquisite. But too large copies of such products are suitable only for evening receptions or other large celebrations. But the wedding rings of a small crown are perfect for weddings, because they will embody the idea of ​​the unity of style for both heroes of the occasion.
Shapes and variations of products
There are dozens of varieties of crown ring models with different shapes. Brides can choose any product from this variety depending on their taste and desire. And it is better for grooms to buy jewelry for a wedding ceremony without catchy elements. Manufacturers of precious jewelry produce paired crown engagement rings that look presentable, beautiful, and bright. They have an interesting design that effectively emphasizes the femininity, sophistication of the bride and the masculinity of the groom.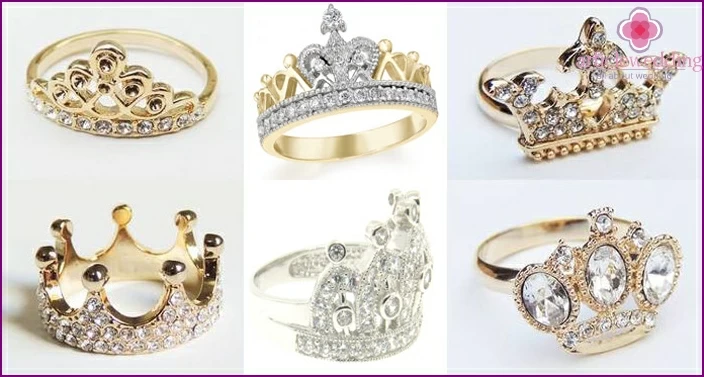 A ring decorated with diamonds will look great on the bride's hand. Wedding rings-crowns with 2-3 large and scattered small stones look beautiful, even solid. Such jewelry with amethysts, emeralds, sapphires, rubies looks fashionable, as well as original. Now it's important to wear vintage-style rings. Antique jewelry or real antique jewelry – it is relevant, stylish.
Jewelry for the wedding ceremony can have an individual design. To make such rings to order, you will need to draw their sketches: designers can help you with this, but you can also find a suitable option on the Internet. Custom-made wedding rings will be unique, exclusive, unique. No one will have such rings, so they are expensive.
Who is the crown ring for??
The engagement ring-crown is suitable for a wedding dress with an empire silhouette, on which there are ribbons with a golden hue. It will also suit a long evening gown of any color except silver. The outfit will be especially effective with the crown ring «to the floor» pastel color with patterns of golden hue. A girl in such a dress and with this jewelry will look like a queen! A man with a crown ring and in any holiday or business suit will look great. And here's a sports version of clothes – this is an invalid combination with this decoration.

Paired wedding rings crown
Are you wondering which wedding rings to choose for the upcoming wedding ceremony? Take a closer look at the original, royally beautiful pair of crown engagement rings. They have a stunning design. Such a golden accessory, decorated with precious stones, will make you feel like a prince or princess.
Photo: what the ring looks like – crown on hand