Contents
---
---
No wedding ceremony takes place without the traditional exchange of newlywed wedding rings. This jewelry is not so much an attribute of the holiday as a symbol of endless love. The ring has no beginning or end, which symbolizes the infinity of feelings and the unity of the union of two loving hearts. Jewelers all over the world are developing new models, an original design for wedding rings, and newlyweds are trying to find a jewelry on the finger that will stand out with its non-triviality.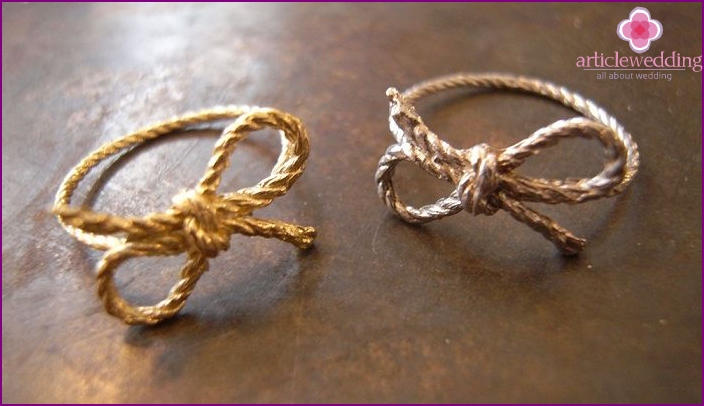 Fancy rings «Plus and minus»
Want to show the world your unity with your soulmate? Then choose a pair of wedding rings by type «Plus and minus». The essence of such jewelry is that they complement each other. One accessory will look incomplete without a second. For example, jewelry designers recommend that modern couples take a closer look at products, one of which is crowned with a golden nut, and a small bolt is attached to the top of the second. If desired, the bolt is screwed into the nut, and the two products are connected into a single unit.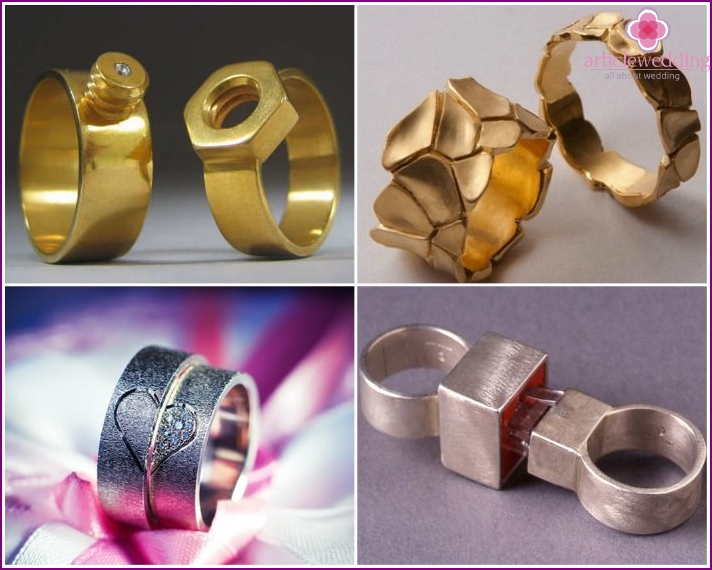 Paired with stones and curls
Accessories on the fingers of the bride and groom do not have to be the same. Paired jewelry with stones and curls is a popular and rare kind of jewelry that is suitable for extraordinary personalities. Such rings have a single style, they are decorated with curly curls, decorated with precious stones, but they can differ in color. So, for a woman, a wedding accessory is made of white gold, and a man's is made with a black coating.
For those couples who wish to decorate their ring fingers with the same but original rings, jewelers are advised to take a closer look at products that have a unique exquisite pattern with curls. Such an accessory on the hand will look especially gentle and festive. You can discuss with the jeweler the option of creating an exclusive pattern, complemented by a scattering of colored stones, to give the product brightness and brilliance.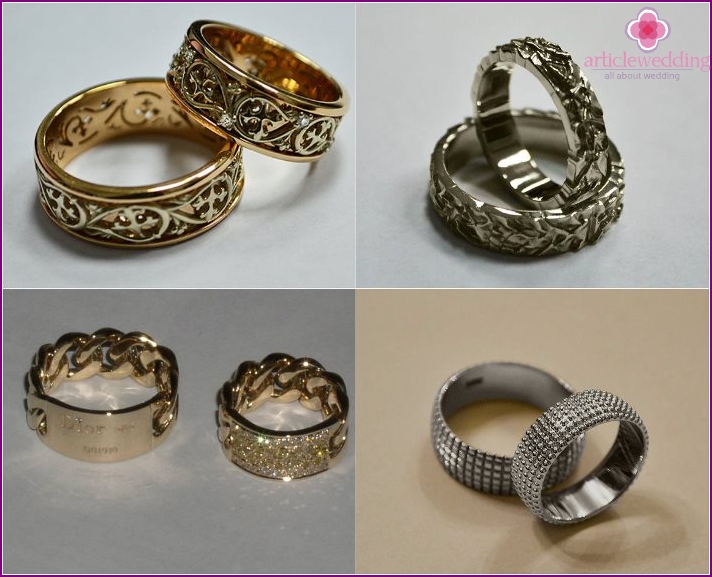 Just Married Fingerprint Rings
Romantic couples can use original fingerprint jewelry. Based on the fingerprint from the ring finger of each newlywed, an exclusive gold product is made. It is decorated with a unique pattern. In this case, you will get truly exclusive accessories, because there are no identical fingerprints.
Such a pattern is traditionally applied outside so that it can be seen, but some people prefer to do this on the inner surface of the product. When wearing such an accessory, it will create the feeling that your other half always touches your hand. Complement the unique pattern with commemorative engraving to get a truly unusual decoration..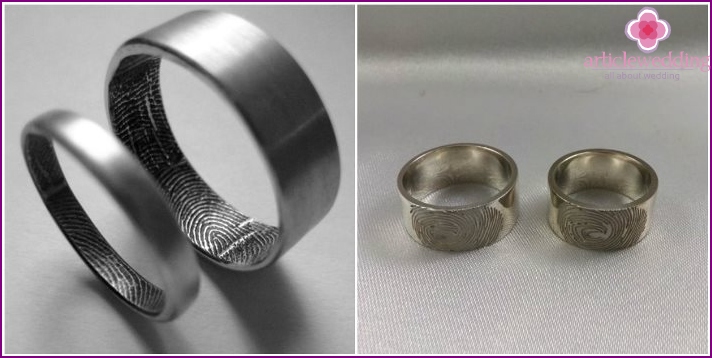 With spouse names or wedding date
More and more newlyweds choose commemorative engravings as a decor for their wedding rings. Even a classic gold product will become exclusive if you put on its inside a commemorative inscription with the initials of a loved one and the date of the marriage. Those who wish to show such inscriptions to everyone around them must make rings with a through pattern at the jeweler to order. That is, instead of traditional curls, the product will be decorated with words and numbers that are significant for the marriage.

Rings that leave marks on the skin
The original idea came to one American jeweler. He created unique rings. In jest, the creator compared his invention with a symbol of fidelity. The essence of the invention lies in the fact that on the inside of the accessory there is an engraving with the inscription «Married» or «Married». With long-term wearing of such jewelry, a trace remains on the finger, even if you remove it from your hand. For several hours, the inscription will still flaunt on the skin of the ring finger, informing everyone around that its owner is in family relationships.
Those who do not want to make such cardinal engravings and endlessly trust their chosen one / darling are recommended to choose more romantic inscriptions. A deep engraving in the form of a heart or the initial of a loved one will look beautiful. Also, romantic natures choose the option of applying the date of the wedding. Even if you remove the engagement jewelry for several hours, the remaining imprint on the skin will remind you of a joyful day.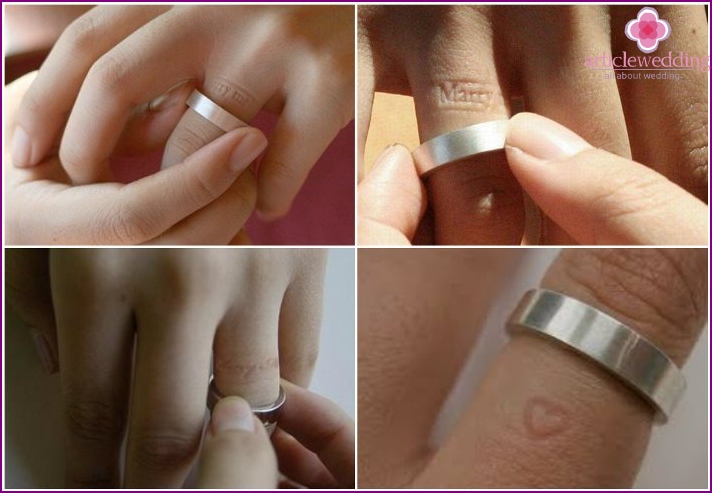 Engraved as an image of sound waves
When a man asks his beloved for consent to marry him, he traditionally offers her a hand and a heart. In order not to be unfounded, you can give your heart as a print of a cardiogram on the ring. Jewelers carve the original pattern of the bride's heartbeat on the groom's accessory and create a convex or metal-cut cardiogram of the groom on the woman's jewelry. Wearing such an engagement product, you will feel unity with your soulmate, a piece of his soul and heart will always be with you.

Unusual forms of wedding rings
In addition to fancy inscriptions, non-ferrous alloys, precious stones, engagement accessories can be made original thanks to exquisite forms. Modern fashion dictates its own rules, and more and more newlyweds are moving away from the tradition of acquiring gold jewelry of a classic shape. With the help of rings of a non-standard shape, you can demonstrate your individuality, originality.
In the form of a crown
Is the chosen one the queen of your heart? Then ring her hand with a thematic accessory in the shape of a crown. Such rings are suitable for a couple in love, in which the bride feels like a princess, and perceives the groom as a prince. The item in the shape of a crown crowned with elegant small diamonds will adorn the refined hand of a woman, and on the man's finger it will look statically and noble.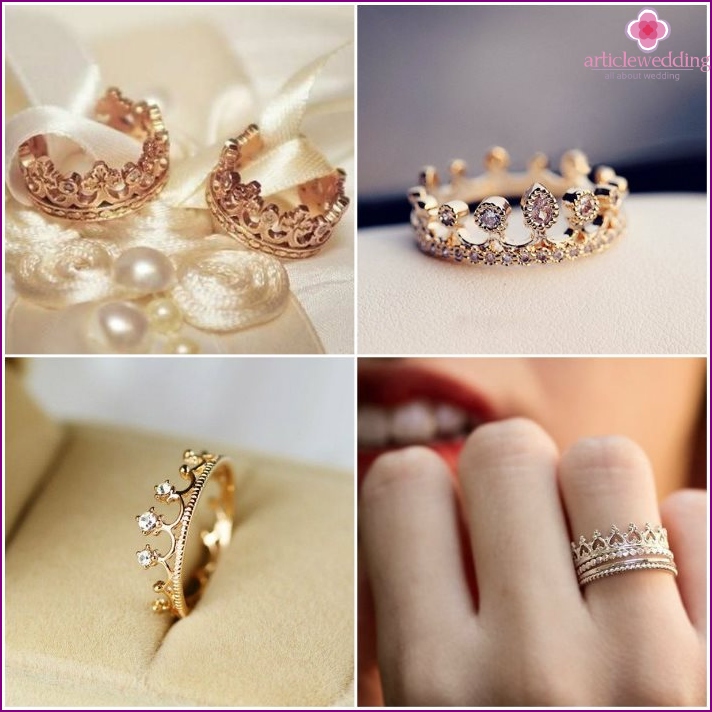 In the form of car tires
If your couple is closely related to automotive topics, display this addiction, passion in engagement symbols. Jewelry houses offer future spouses, passionate about racing, jewelry depicting a copy of car tires with a tread pattern. Accessories in the form of tires or motorcycle wheels, complemented by engraving with a memorable date or inscription, will become exclusive, unique wedding symbols. If you both love cycling or met at a bike marathon, order rings in the form of bicycle tires.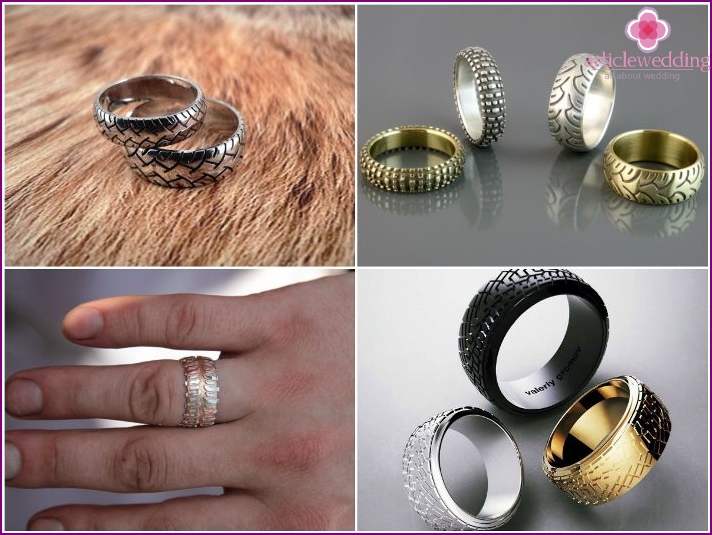 Square shape
Elegant simplicity is the first thing that comes to mind when you see square rings. There is nothing superfluous in such a design, only straight lines, clear shapes and discreet decoration with several small gems. Square jewelry accessories on the fingers look stylish and fashionable. They are great for both female and male hands. If desired, such products are complemented by an openwork pattern, curls or wavy lines, which gives even more extravagance, unusualness.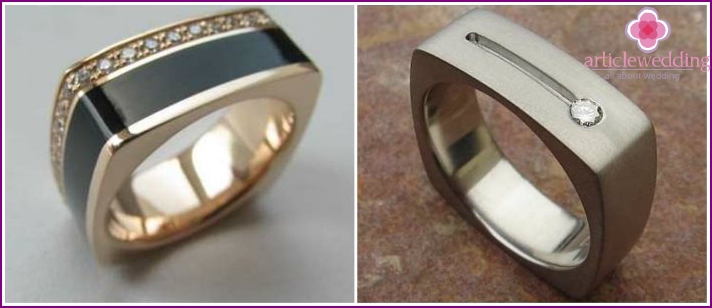 Braided rings
Braided wedding accessories look beautiful and gentle. Thanks to the skillful jewelry technique, the jewelry is created with openwork weaving, reminiscent of lace motifs. Such a pattern in gold elegantly envelops the ring finger and looks amazingly beautiful. Some couples want to complement the weaving with precious stones. In this case, it is recommended to give preference to stones of soft color, which only slightly shade the grace of weaving, and do not become the main decor.
To focus on the figured ornament, the rings are made of several alloys: red and white or yellow gold, and sometimes with silver inserts. The color contrast of several alloys creates the effect of bulkiness and convexity of the lace pattern. When ordering jewelry, you can bring sketches of the desired lace motifs, according to which the masters will make exclusive wedding accessories for you.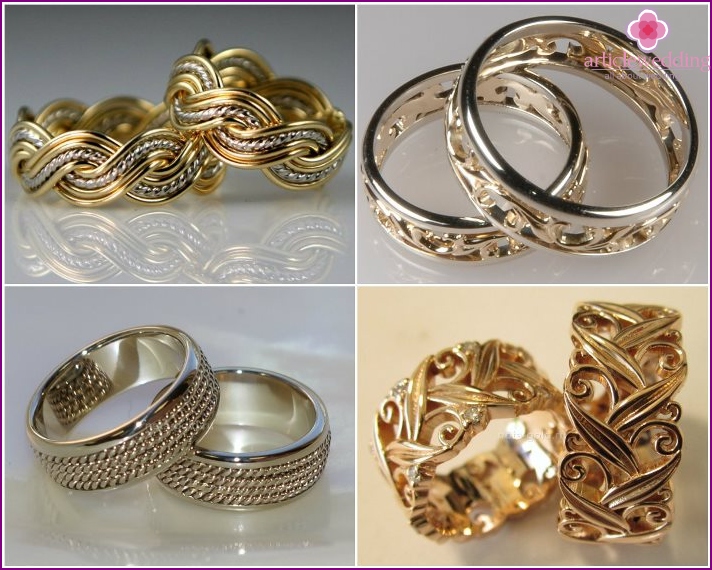 Nodule Rings
In a wedding, two people tie themselves together. The knot is a symbol of strength and strength. Therefore, some newlyweds want this symbolic sign to be displayed on their wedding accessories. Nodule rings are a newfangled idea that resonated in the hearts of many couples in love. The jewelry is made in the form of a ring, which is crowned by a strong durable knot. Such a decoration on your finger will demonstrate to others your attachment to your soulmate and the meaningfulness of your choice.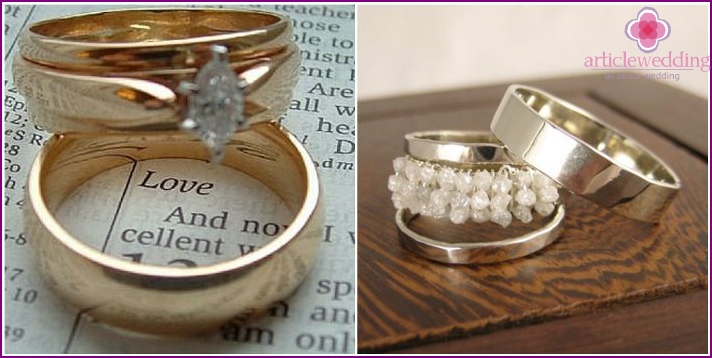 Photos of the most unusual engagement rings in the world
The modern jewelry industry offers future spouses a lot of options for making engagement rings. Brides with grooms who are willing to experiment, and want to show their originality and individuality, will be able to choose an unusual decoration to ring each other. A wedding accessory is the thing that you have to wear throughout your life. For rings to please you for many years, choose products that will become a symbol of your boundless mutual love.