Contents
---
---
Previously, the bride and groom had a tradition: the exchange of rings with engraving upon marriage. Nowadays, this custom is reborn. However, modern newlyweds face a difficult choice: what engraving can be done on wedding rings? After all, there are many memorable words for these wedding accessories, each of which has its own sacred meaning. The inscriptions on the wedding rings will add piquancy to the wedding celebration, but what phrase to engrave?
The meaning of the inscriptions on wedding rings
For newlyweds, the presence of any expressions on a wedding accessory is of great importance. Even in ancient times, the bride and groom sought to capture their common life credo. Subsequently, this engraving helped them to follow the chosen path. According to historical sources, wedding rings were even passed down from generation to generation as a family heirloom. The descendants of the couple were destined to follow the advice that was immortalized on the decoration.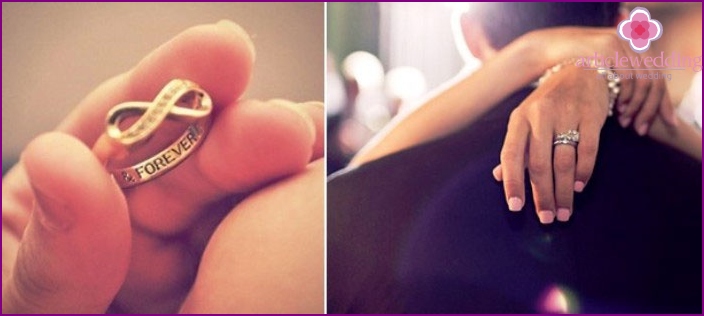 Modern newlyweds strive to make an inscription on a wedding accessory so that their love remains eternal. Future spouses can independently choose the appropriate expression from the proposed options or come up with their own. Thanks to the unusual inscriptions on traditional wedding rings, the couple will be able to perpetuate their feelings forever. In addition, beautiful phrases in Latin, English or Russian will emphasize the originality of the newlyweds, as well as their individuality.
As a rule, a couple leaves vows and declarations of love on wedding accessories («I love you», «Together forever», «You are the meaning of my life», «My happiness») However, it is possible to consolidate their relations with various winged expressions, which can carry not only love, but also religious significance. These include the following expressions: «God connected us», «Eternal story» and many others. Also, when choosing a suitable phrase, humor is welcome: «Goodbye freedom», «The game is over» and so on.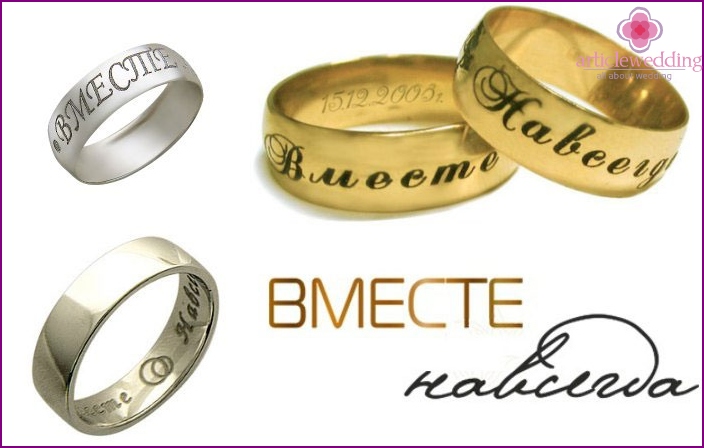 Tips for choosing the inscription and method of application
If you decide to succumb to modern fashion and create a wedding accessory with a verbal adage, you must carefully read the recommendations for its choice. Use some tips that will help you express your desires very clearly when going to the master engraver:
Decide on the location of the selected text. Remember that it can be both outside and on the inner surface of the product. In the second case, the phrase will be hidden from the eyes of others, and you can keep it secret between each other for the whole family life.

Decide on the type of engraving. There are only three of them: convex (extra layers of metal are removed, as a result of which an inscription is formed on a gold wedding ring), in-depth (the phrase is cut out with a clove) and free (letters are connected by two arcs). It's worth choosing the type of inscription creation based on your preferences.
The phrase should be concise but appropriate. Winged Latin proverbs are the best suited for decorating the main wedding accessory, as they will not take up much space.
Calculate the time. As a rule, a professionally created verbal saying on the ring is far from being completed in one day. Keep this in mind when preparing for your wedding. Incorrect timing, you run the risk of being left without the main symbol of the wedding. To prevent this from happening, be sure to ask the wizard how long it will take to complete the order.
Prepare smooth, slightly rounded accessories for the procedure. – then the inscription will be as neat and beautiful as possible. If the products are decorated with rhinestones and pebbles, engraving is best done inside.

You can choose a jewelry made of the following materials: gold, silver, steel, platinum and others. But in most cases it depends on which inscription you want to engrave. Therefore, when choosing a product, consult with the master.
Engraving on wedding rings is done manually or using laser technology. As a rule, manual work is much more expensive than laser. But she looks more attractive and neat. Choosing the type of engraving, navigate within your budget.
Engraving phrases for engagement rings
When choosing an inscription, you should see many examples of phrases that are used to create engraving on a wedding accessory. The Latin phrase is considered popular: «Sic erat in fatus» (So ​​destined). In addition to any winged expressions, you can engrave your names or wedding date. The inscription on a traditional engagement jewelry can be both in Latin and in native Russian.
In Latin
Even in ancient times, newlyweds sought to strengthen the bonds of marriage by engraving some winged phrase on their wedding accessory. Previously, Latin expressions were extremely popular, because this language was the main spoken language for many states. And nowadays there is a tradition to decorate engagement jewelry with Latin expressions.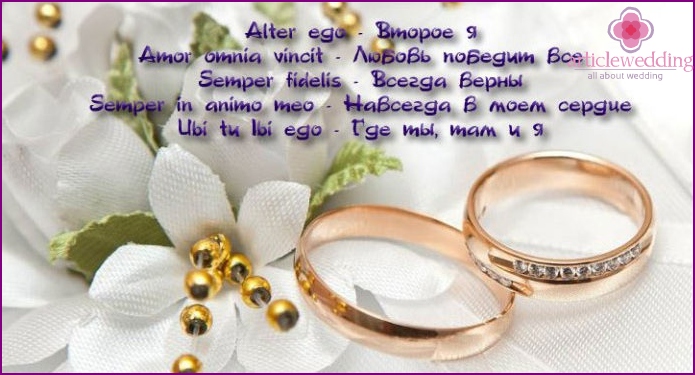 In Russian
Nevertheless, most Russian-speaking newlyweds prefer to decorate the main attributes of the wedding with Russian inscriptions. In this case, the bride and groom will definitely not forget the meaning of winged expression. Moreover, in the Russian language there are many good inscriptions that are suitable for the ring. Examples of popular sayings you can see below in the photo.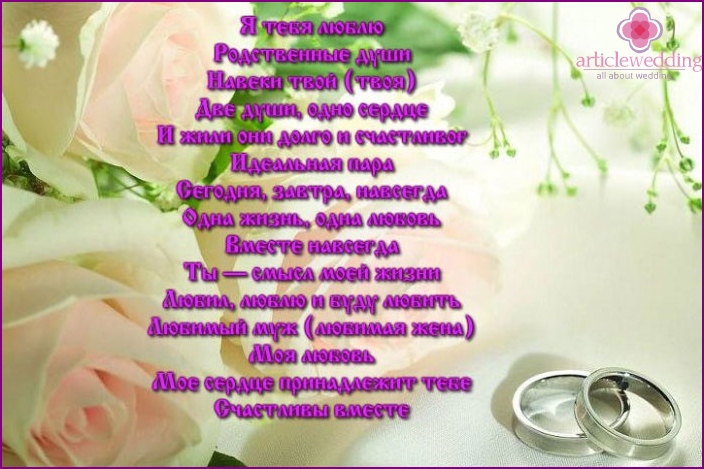 Engraving on wedding rings photo