Contents
---
---
The decision on how to choose engagement rings is an important and crucial moment in preparing for the wedding. A symbol of love, fidelity begin to look after no less than two months before the celebration. For many centuries, the tradition is preserved at the time of marriage to exchange rings. The round shape symbolizes infinity, having no beginning or end, like the love of the newlyweds. Which wedding rings are better to choose – the newlyweds themselves decide.
Engagement Ring Signs
Many signs and folk beliefs related to engagement symbols have survived to our time. Someone believes in them unconditionally, someone is simply interested for general information. Signs do not come from nowhere; for centuries people have been tracking coincidences inherent in events with a particular subject. Here are some of them, but believe in them or not. – think for yourself:
No one can give their rings to measure before or after the wedding.
Find someone else's ring – for the imminent wedding (if you are not yet married or not married).
It is not recommended to wear other people's wedding attributes, even if they were inherited from parents – take happiness from previous owners.
Lose the engagement ring – lose family.
When registering, drop one or both of the symbols of the marriage to the floor – to soon separation.
If the bride at the wedding in gloves – during the ritual of the marriage, the glove is removed or, if the model allows, only release the finger. Jewelry cannot be worn on fabric – it threatens a quick divorce.
If it happened that the family broke up – do not wear wedding rings as jewelry, otherwise you will not find a new family.
You need to buy both rings in one day, in one place – it will lead to a long happy family life.
You can't marry a widow's ring – repeat the unfortunate fate.
In order for the marriage to be strong and long, before the wedding, put both wedding attributes in a bag, fill with water, freeze.
Criteria for choosing wedding rings for a wedding
Choosing and buying engagement symbols – a delicate matter, requiring a delicate approach. Many questions arise: who buys, when, what shape should be, what kind of metal, with decoration or not. First you need to find out if any of the newlyweds have allergies to certain types of metals. Sometimes, allergens can be cobalt, chromium, nickel, less often noble metals. As a rule, the choice of rings is made by a couple together, but the groom pays for the purchase. Choose paired engagement rings or choose designs that are different in design – newlyweds decide.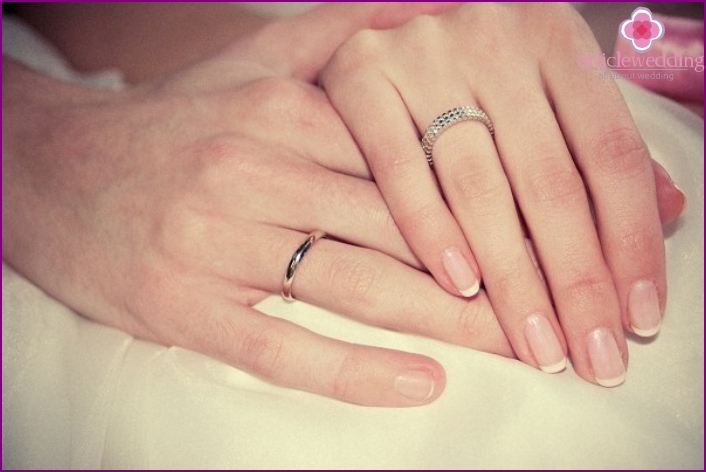 Product shape and size
Practice shows that choosing jewelry in size is not as easy as it was thought at first. Depending on the season of the year, time of day, the finger may slightly resize. This parameter is affected by the amount of fluid drunk, physical activity and the general condition of the body. To choose a wedding ring by size, it is recommended to try on in the afternoon, preferably several times, to make sure that the number chosen.
We can not ignore the fact that the size indicated on the product tag does not always coincide with the real number, the difference is sometimes up to 0.4 mm in diameter. The more expensive the product, the greater the likelihood of a complete match between the written and the real number. The size of the product is influenced by the inner surface, which can be flat or rounded. With swelling of the fingers, the rounded shape is more comfortable. When choosing a model, it should be borne in mind that the wider the ring in shape, the larger the size should be.
To make the ring look beautiful on the hand, you need to take into account the shape of the fingers:
On long thin fingers, either narrow rings or very wide, about 6 mm, look good.
For long thick fingers, only wide rings are suitable.
On a finger of medium length and thickness, it is preferable to wear a ring of 4.5-6 mm.
If there is a wide joint, take into account the diameter of the product so that it fits on the finger painlessly and is removed.
Sample availability
The classic basis for engagement rings is considered to be 500, 583, 585, 750 gold. When buying jewelry, do not forget to pay attention to the test, which is placed on the inner side of the rings. The figure will tell the percentage of noble metal in the product. The highest is considered 958 gold, the lowest – 375. The price of jewelry depends on this: the higher the fineness, the more expensive the product.
Metal selection
Engagement jewelry does not have to be gold, although it is a classic. If you like to wear silver jewelry, then engagement symbols can also be made of this metal or white gold. Silver goes very well with white gold. Platinum is considered to be the purest metal out of competition, but products from it are very expensive and not everyone can afford such a purchase. But the options from titanium are very light in weight, look like white gold, retain their original appearance for many years.
Price
Before buying engagement rings, you need to decide in advance how much you are willing to spend without prejudice to the other points of preparation for the wedding. High price does not always mean a beautiful product. Do not be discouraged if there was not enough money for your favorite model: choose a similar product, but a little thinner, with less weight. But it's also not worth saving very much, because with this symbol on your hand you have to go a life path and it should cause only positive emotions.
Wedding Ring Design Options
When choosing rings, you need to decide whether you will wear the same rings in style or different. A few decades ago, the ring had only a classic smooth shape. Now the choice is much wider, there are wedding models with engraving, notches, with or without stones on sale. How to choose the right wedding rings, it's up to you two. After trying several options, buy those from which you feel positive energy. If you did not find what you were looking for, jewelry is made to order for the wedding.
Classic
Traditional smooth rings can be of different widths, in addition, they are very practical to use, because for many years they have not lost their appearance. Classic wedding rings are suitable for both men and women who do not really like to wear jewelry. To somehow diversify the classics, on the inside of the product make an engraving with your initials, wedding date or some other memorable sign.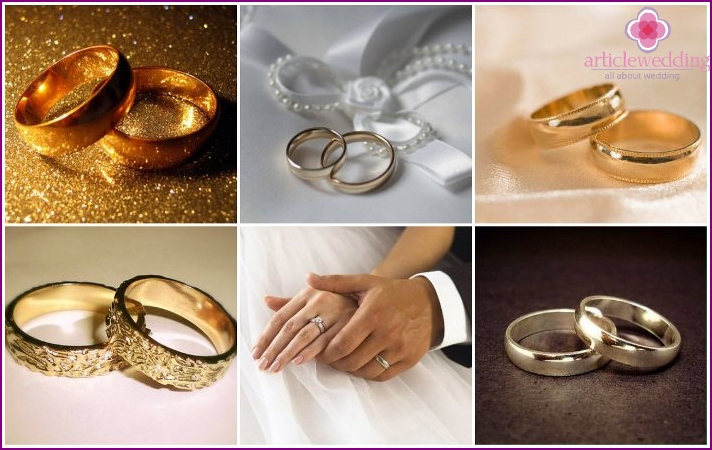 From several types of metals
Recently, designers are increasingly offering options for engagement rings from different types of metals. Using white, red and yellow gold in one product at the same time, they beat an interesting form of detail. Combined together, three colors represent fidelity, love and friendship. Such rings are more suitable for lovers of mixing styles in clothes.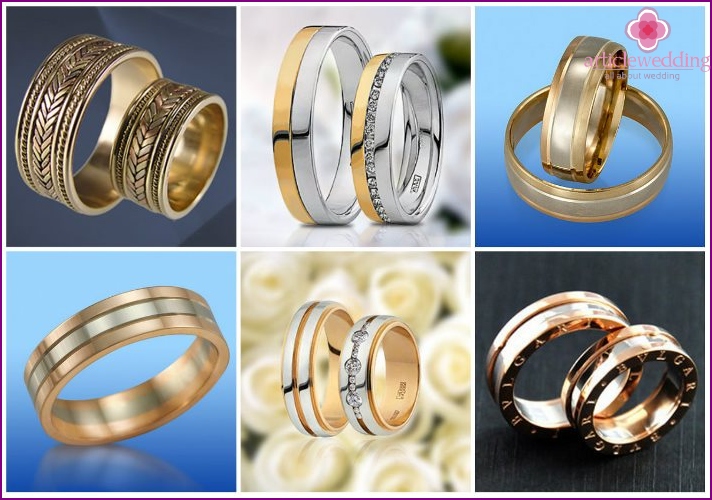 Embossed or ornamented
No less popular are rings with different types of relief patterns. Classic «diamond edge» flickers like a gem, refracting rays of light. Decorations with patterns in Egyptian, naturalistic or Art Nouveau look more elegant. The interweaving of rhombuses, ovals, smooth lines in the form of notches on the surface of the jewelry embody the combination of male and female principles.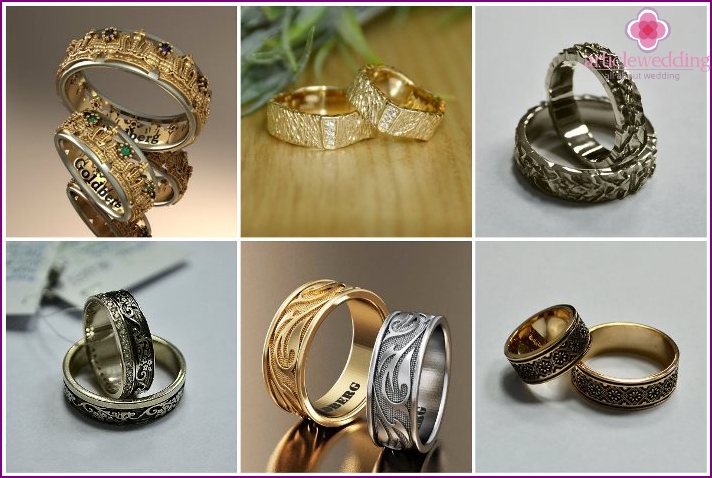 With stones
Gemstone engagement rings are more common in women. For decor, diamonds or semi-precious stones of transparent or translucent shades are used. Precise blotches among intricate patterns or geometric shapes give completeness to design ideas. Less commonly engagement wedding symbols acquire with colored stone. You need to be careful when choosing and know some designations of stones:
Emerald – promises happy love, wisdom.
Agate – symbolizes longevity, good health.
Amethyst – threatens fragility of marriage, loneliness.
Cornelian – guarantees a quiet happy family life.
Ruby – symbol of passionate love.
Pomegranate, topaz – this is the personification of marital fidelity.
Diamond – will demonstrate purity, firmness of intent.
Sapphire – this is love itself, material security.
Amber – give protection from evil eye, good health.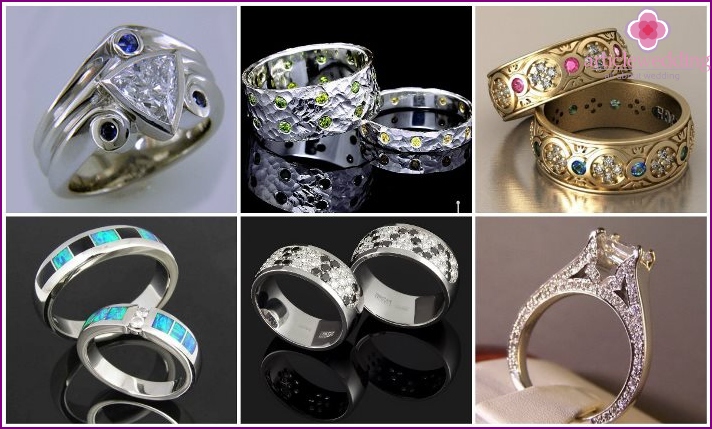 After choosing a ring with a stone, check if it suits you. Put it on the right palm, and position the left as close as possible. If you feel warm and pleasant – do not doubt your choice is successful. If you feel uncomfortable, do not take risks, try looking at other options for rings with stones, because the choice in jewelry stores is impressive.
Tips: Choosing the Right Wedding Ring
The custom of exchanging rings at a wedding has been handed down by generations for many centuries. According to some versions, the tradition came from the ancient Romans, according to others – from the ancient Egyptians or Greeks. In today's world, this is not entirely important. The truth is that newlyweds exchange symbols during registration, experiencing unlimited love, trust in each other and hope for a long family life.
While the bride and groom puts the ring on the ring finger of the spouse, there is an effect on «vein of love», which, as the ancients believed, is directly connected with the heart. Using the proposed video, you can once again get information about the types of metals, on the basis of which rings are made, and design decisions. Tips to help you choose the right fit for your wedding jewelry.