Contents
---
---
With the advent of spring, everything revives, enjoys the first sunny days. Gardens bloom, a warm spring wind caresses your hair, the air is full of aromas of herbs and flowers. Well, how not to choose such a wonderful time for the most solemn day? An April wedding is not uncommon, although it is believed that marriage is due in the fall, at harvest time. But, if there is no way to wait until the fall, then a wedding in April is a great option. It is important to determine the date of the wedding, choose a good day for yourself.

April Wedding - Signs
Popular signs are almost always related to the weather. April is not stable - clear warm days alternate with rainy and gloomy. Therefore, the joint life of the newlyweds will be just as unstable, after the wedding they will be tested by life's difficulties. The white stripe will give way to black, and vice versa. It is difficult to achieve mutual understanding and harmony for the April couple.
Just as in the early spring, after a warm, sunny day, a winter cold comes again, killing the fruit ovary with sudden frosts, so in the family life of the newlyweds, a hot honeymoon is replaced by a cooling of relations, and in some couples they are completely broken. If a marriage in April is not supported by real, sincere feelings, it will not last long.
Summing up the wedding signs of April, we highlight the main ones:
Family life will go with varying success.
There is a possibility that happiness will not be long, at first a lot of difficulties await the newlyweds.
Favorable days for the wedding in April 2016
In general, April is not conducive to a happy family union, both from the point of view of the church and according to the predictions of astrologers. Especially unsuccessful for weddings is the period from the beginning of the month until the 12th day, that is, until Easter, while strict fasting lasts. At this time, the church categorically opposed marriage. But for people who do not believe, this will not become a special obstacle.
Good days for the wedding will be Fridays - April 3, 10, 17, 24 and Saturday, April 25. It's best to start celebrating your wedding on Friday, when the planet Venus, the patron saint of lovers, is especially strong. Astrologers are inclined to believe that almost the entire second half of April is favorable for weddings - the 12th, 13th, 19th, 20th, 21st, 23rd, 26-31st will bring luck to the newlyweds.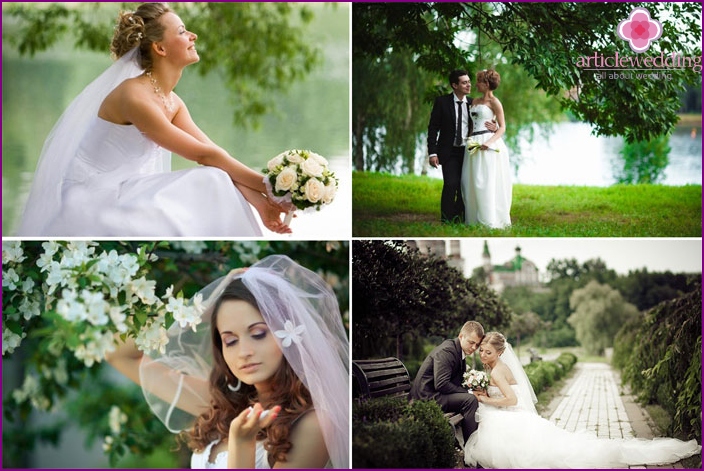 Good days on the Orthodox calendar
The Orthodox Church in April allows marriage and wedding of the newlyweds only after a week after Easter. Young people who are not afraid of prejudice will be able to get married two Sundays - April 19 and 26, 2016. They can play a wedding on the eve of Friday or Saturday. According to the clergy, April 20, 22, 24, 26, 27, and 29 are also good days for marriage..
Best day for a wedding
The most successful day for a wedding in April at all times was considered the holiday of Krasnaya Gorka, in 2016 it falls on April 19 - the next Sunday after Easter. Therefore, it is better to plan a wedding for April 17, since the 18th will be a new moon, which is not entirely good for a wedding day. There is a belief that the holiday of Krasnaya Gorka, which has long been celebrated in Russia, is a kind of happy ticket, and the young couple who were married on this day will make the most durable and lasting alliance.
April Wedding Ideas
Wedding decoration is performed in gentle, pastel shades to create a unique, warm, romantic spring atmosphere for guests. As a symbol of awakening life, a wedding banquet room will be decorated with bouquets of flowers with unblown buds of soft pink, yellowish, blue, white, will please the eye with twigs of fresh young greenery. How to do it stylishly and beautifully, see the video.
A wedding photo session in the spring park, on a horse-drawn carriage, will give unforgettable pictures. If there are no fresh flowers on the trees in April, decorate them with artificial garlands. A particularly memorable moment of the wedding will be a photo shoot on the background of a blooming cherry garden. And if cherry blossoms grow near you, you are incredibly lucky! The flowering period is just at the end of April, use this fabulous moment for wedding photos.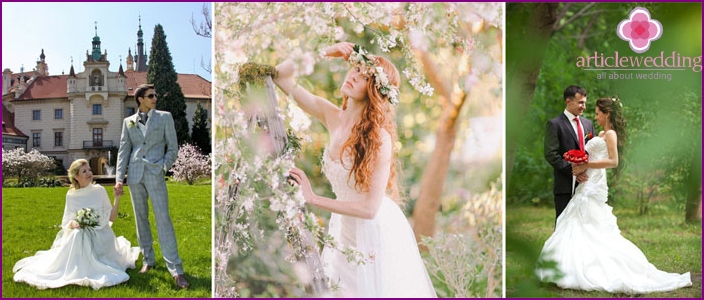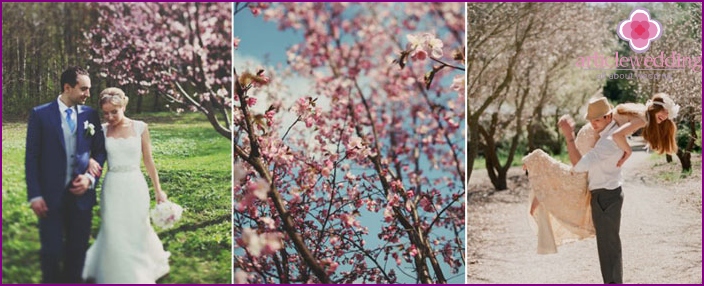 Arrange small transparent vases with seasonal flowers on the tables: lilies of the valley, tulips, daffodils, hyacinths. Their lovely appearance and sweet aroma will create a light, joyful mood. In the decor of the wedding hall, the colors of young greenery and light green prevail. Decorate the room with cuts of a light, transparent fabric with garlands of small lanterns, green twigs, satin ribbons.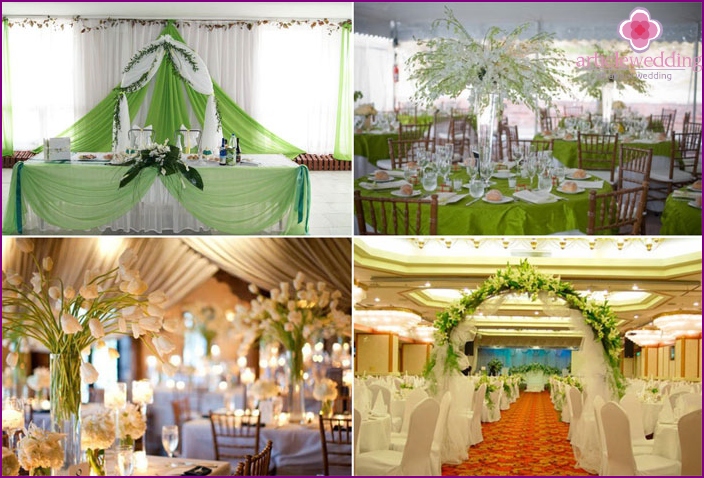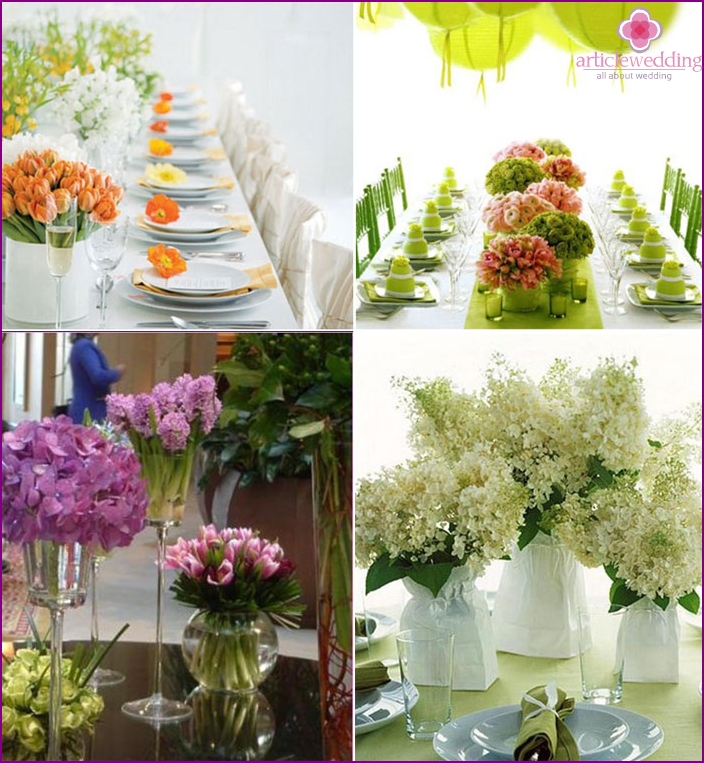 What to go to the April wedding
The bride's wedding dress is associated with the first, delicate spring flower, so it is chosen either pure white, symbolizing purity and innocence, or among pastel shades of pink (the color of tenderness) or golden (wealth). Wedding dresses of flashy tones - bright red, green, are categorically unacceptable. At the April wedding, the bride should not wear pearl jewelry.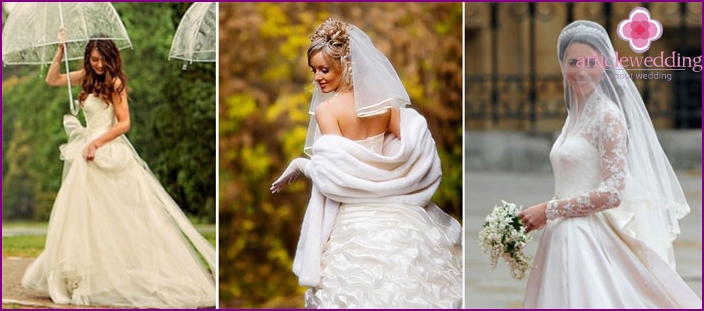 It can be difficult to guess a warm weather day in April for a wedding, so the bride should, just in case, stock up on a warm wrap or bolero jacket. Do not get wet in a sudden rain will help a suitable umbrella color. It will come in handy during a wedding photo shoot for creating extraordinary, romantic pictures. Shoes are recommended to choose closed - shoes or ankle boots, even light white boots will not interfere.
For the April wedding, the groom should choose a suit of light, pastel colors - gray, cream, smoky, white, brown. Skillfully selected shirt and tie will complete the image. Try to create the maximum color harmony in the wedding dresses of the newlyweds. Eccentric natures use a pink or red tie as a bright accent, if it successfully combines with the bride's bouquet.



April wedding: reviews
My sister got married on April 22. They knew in advance that the month was not very good for the wedding, relatives were against this date. But the young insisted, and nothing, they have been friends for 8 years now. So be not afraid to accept, rely only on yourself and trust your heart.
Our April wedding fell on such a rainy day that it was even scary to imagine. My long wedding dress was wet and dirty, my shoes were wet too. I must pay tribute to the photographer, the pictures in the rain came out unique, I did not think that such a beauty would turn out.
Although the day was sunny, you cannot call it warm. A piercing wind knocked down, mercilessly destroying our wedding hairstyles. Well done bride, kept up. It was not easy for her, if not for the warm cape and boots, it is not known how it would all end. No, it's better to have a wedding in summer or fall, when the weather is warm and more predictable..