Contents
---
---
There have been some disagreements about the May wedding since ancient times. On the one hand, the month of May is a wonderful time when it is already behind the cold, and the summer heat has not yet had time to tire. Finally came beautiful, warm spring days, ideal for a wedding, the sun shines brightly, dispersing the clouds, and the soul is just as clear and good! And on the other hand, a popular sign says: «Marry in May - toil for the whole century». Therefore, many young couples do not risk a wedding this month. How justified are such fears, let's see.

May wedding: omens
Until now, some superstitious people consider this spring month unfavorable for marriage registration, because marriage in May promises young people an unhappy family life full of adultery and excruciating troubles, and no one wants to toil after such a wedding all their lives. This stereotype has developed among our ancestors, although it is devoid of all grounds. «Toss» came from «maya», which means «endless unpleasant chores», but not from the word «May». Confirm this judgment provided below video.
A wonderful spring month is named after the Roman goddess of fertility Maya, the patroness of farmers and the protector of babies. Therefore, couples who played the wedding in May very quickly acquire healthy offspring. From ancient times the month in Russia was called «grassy», which is consonant with the green juicy young grass, beautiful spring flowers. Isn't that the perfect time to start a family??
There are other folk signs of the May wedding, mainly related to weather events:
Rain on the wedding - to wealth and understanding.
Rainbow - for good luck.
A strong wind broke - to the windy life of young spouses.
Thunderstorm or storm during the wedding - unfortunately.
A spider descended on a bride's dress or veil - to wealth and prosperity.
The bride woke up in the spring morning under the twittering of birds - to a happy marriage.
Auspicious wedding days in May 2016
Although the popular sign does not advise the newlyweds to tie their fates in May, astrologers still single out the first half of the month, on the 17th day inclusive, as a favorable period for the wedding. If you are calm about black cats and broken mirrors, trust only your feelings, the month of May will certainly please you with excellent conditions for holding a celebration.
Against the background of blooming apple orchards, lush spring greens, the bride will look the happiest and charming. She will wear a beautiful open dress for the wedding, emphasizing all her charms. The month of May allows not to pick up a warm cloak or a fur coat along with the bride, because a sudden rain will be warm in summer. Bright sun rays contribute to the creation of incredibly beautiful, picturesque images during the wedding photo shoot.

Good days
May 1 - the bride and groom after the wedding will successfully go through the difficulties of the first years of marriage, work on mistakes, young people will succeed.
May 3 is the best day for changes in personal life, material well-being awaits spouses. The main thing is determination, perseverance.
May 6 - conflicts and domestic turmoil will not destroy the happiness of young people if they sincerely care about their soul mate, putting her interests above their own.
May 8 - young people will build a good, friendly family, raise worthy children.
May 9 - a strong family based on hard work and mutual respect.
May 10 - the freshness of the feelings of the bride and groom will remain after the wedding for many years.
May 11 - a long-term union in which one of the spouses will be the leader.
May 12 - relations require constant work on oneself, self-improvement.
May 13 - spouses will be active and fruitful, they can only dream a quiet, quiet life.
May 17 - a young family after the wedding needs constant support from their parents.
There are no Orthodox posts in May, so the church will bless your marriage and hold a wedding ceremony on any Friday or Sunday of this month. Wedding days, if necessary, will be Monday and Wednesday. The only number in May is not suitable for a wedding - the day of the Holy Trinity (Pentecost), May 31.
Best day for a wedding
When choosing the best day of the month for a wedding, the bride and groom are advised to use the lunar calendar. Astrologers say that the favorable day for a wedding is the 21 lunar days of each month. In May 2016, they fall on the 9th. Oaths and promises made on the 21 lunar day, categorically must not be violated. There is a sign - how well the wedding will take place on such a day, the newlyweds will live so happily.
Wedding Ideas
May month pleases us with rich colors, spring freshness. Therefore, it is best to make a color wedding, choosing green as the basis, and all its shades - lime, olive, pistachio. If the main color is yellow, turquoise, cream or white, then accessories are selected in green tones. It is important to observe the style of the wedding and correctly place emphasis so that the design of the wedding hall is gentle, sophisticated, like spring itself.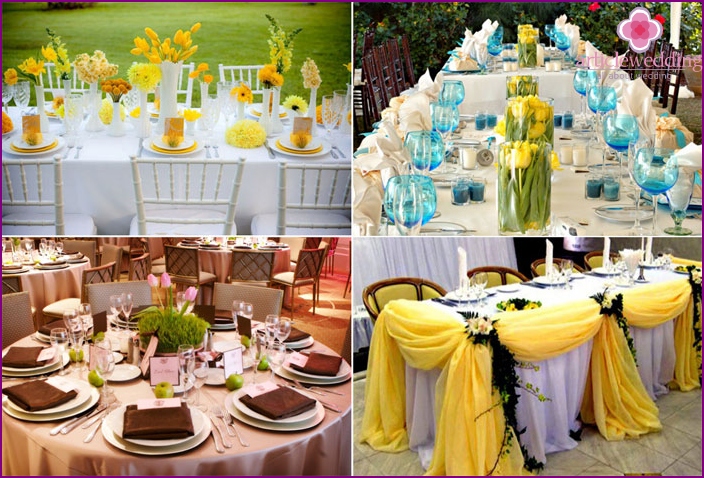 Decorate the holiday tables with vases with bouquets of spring flowers: tulips, daffodils, lilies of the valley, hyacinths, lilacs. You can add flowering branches of trees to them. Flowers for a wedding are best taken in buds, because the month of May is a time of growth and development, youth and beauty. Porcelain and ceramic baubles, elegant candlesticks, will become a successful decoration of the banquet hall. Green tablecloths on tables in combination with beautiful snow-white dishes will look good.
The May wedding menu necessarily contains fresh vegetables, fruits and greens, which everyone has missed so much for the long months of winter. Dishes should not be too high-calorie; the number of heavy winter salads with mayonnaise should be reduced. Serve spring light snacks for meat and fish, and instead of a fatty sweet biscuit - an original fruit cake, cherries and strawberries on a dish.

In good weather, it will be the right decision to hold a banquet in nature - in a country house or in a country house where trees bloom, lots of fresh air and free space. Try to rent a beautiful two-story villa for a wedding overlooking the sea or an old castle in the forest for a few months. See how the bride and groom from our video have fun celebrating their May wedding day.
A photo session of the newlyweds in the spring forest glade or in a beautiful green park is the trump card of the May wedding. Hang bouquets and flowerpots on the trees, airy cuts of transparent fabric, ruffles, unusually beautiful wedding photos will come out against their background. And the pictures of the bride and groom on a bicycle with an armful of wildflowers are a sincere romance that can surprise many.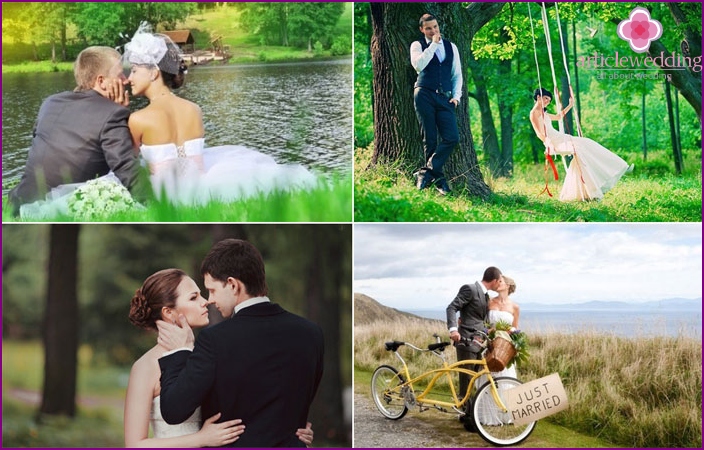 What to go to a wedding in May
The image of the bride in May is associated with a young spring. Therefore, heavy wedding dresses with multilayer skirts and bright makeup will have to be abandoned. The bride's outfit is sewn mainly from light, flowing fabric. It is good if she chooses a cropped model for the wedding, emphasizing beautiful legs. Nice shoes, barely noticeable makeup, a hairstyle decorated with fresh flowers - these are light touches to the portrait of the May bride.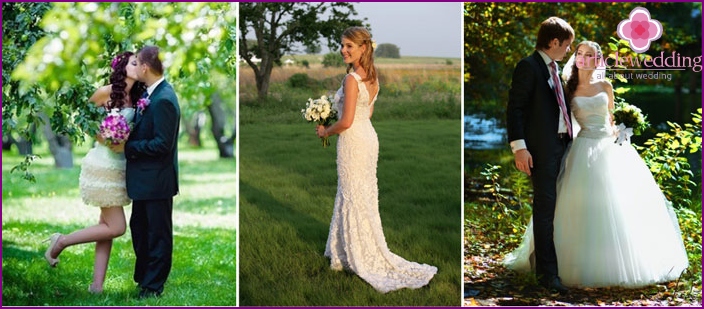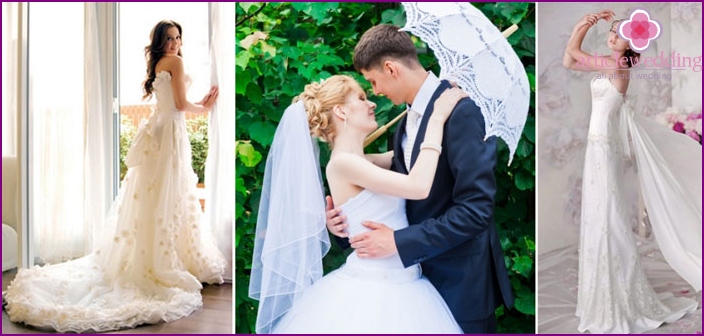 The spring suit of the groom is traditionally light shades - gray, brown, beige, blue. In some regions where May is a hot month, the groom will be happy to wear a beautiful white outfit for the wedding. If the bride chose a light sleeveless dress for herself, the groom can wear a suit instead of a classic one without a jacket, but with a stylish vest. Be sure to decorate it with a bright tie and a boutonniere to match the bride's bouquet.
May wedding: reviews
Inna, 28 years old: «My girlfriend got married in the month of May, and was an amazing bride - sheer purity and innocence. She looked so organically on wedding photos! The guests were pleased with the spring weather, it was warm, had a lot of fun! With products only in the spring is hard, everything is expensive».
Lyudmila, 29 years old: «I don't know if a bad omen played a role, but we parted after a year. Although, in my opinion, this is not a matter of signs. People get divorced often, no matter what month the wedding was. They themselves are to blame. And the mother-in-law also helped us, we lived with her. Young, my advice to you is to get married when you want, but live separately from your parents».
Olga, 30 years old: «Right! It is foolish to blame fate if you yourself have not saved your happiness. We played a wedding in May, and did not regret it a bit. I have the best husband. And I don't believe that some stupid prejudices can destroy a family».
Photos of May weddings
Spring provides newlyweds a chance to shoot organic, vibrant wedding photographs against a background of flowering, green plants. What could be more beautiful than a photo shoot in a spring garden? The month of May is the time for the flowering of apple trees, chestnuts, lilacs, fragrant lilies of the valley, yellow dandelions. The bride in a snow-white wedding dress looks among them, like the largest and most beautiful flower. A good photographer, given the theme of the wedding, will certainly find many scenes for photos that carry positive energy, a sense of beauty, boundless happiness.