Contents
---
---
If there are virtual acquaintances, it is only logical that they may end in a wedding. Not so much a real marriage as a virtual one. Now this is no longer considered ridiculous, because young people spend a lot of time at the computer: they work, get to know each other, and fall in love. Recently, you can officially form a relationship with your online lovers. A virtual marriage on the Internet is the same process as in a real registry office, but instead of a civil servant, a couple is registered on a specialized site.
What is a virtual wedding and why is it needed?
Registering a conditional marriage is much faster and cheaper than in real life: you do not need to wait a few months, pay the state fee, or fill out a bunch of papers. Relationship registration takes place instantly, you only need to specify the email address on the site. This is a kind of game that is played by both young and mature people. An Internet wedding is a sign of a special relationship with each other, when people communicate for a long time, and then begin to experience tender feelings, confirming their registration.
Sometimes it is important for people to be aware of their social status and to know that the chosen one takes you as seriously as you do to him. Sometimes a virtual marriage is necessary when it is not possible to arrange a relationship in real time, for example, a young man works in Australia, and a girl lives in Russia. Often the services of sites offering conditional marriage registration are used by same-sex couples.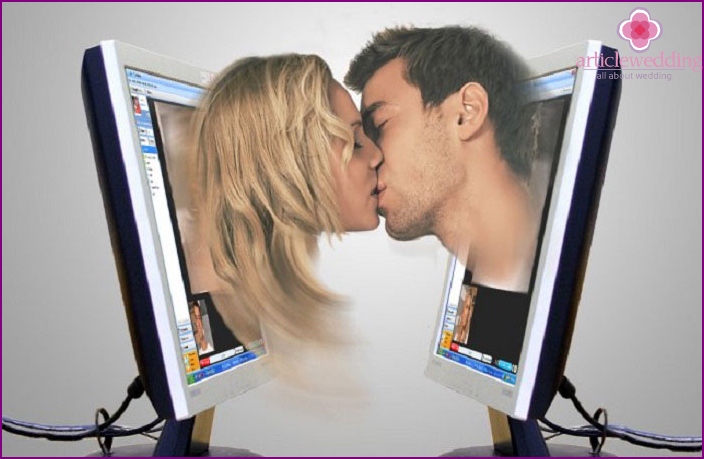 Online Wedding Procedure
An online wedding is held similarly to the real marriage registration process. A couple whose online dating has grown into an unearthly love, and they wanted to legitimize the relationship, turns to the site «Virtual registry office». In order to access the service, you need to specify an e-mail, and both spouses should register. I would like to note that online marriage registration is a paid service.
Application and registration date selection
After the couple registers on the site, one of the lovers must leave a request for a virtual marriage, entering their details and their partner in an electronic form. Filling out the document will not take much time, and after the consent of the second half is obtained, the future newlyweds will only have to choose an acceptable date for both for the ceremony.
Newlyweds have the right to their online holiday to invite friends, relatives or other Internet friends who want to watch this original ceremony, congratulate the couple, sincerely sharing their joy. The following information will be sent to the email of the bride or groom:
invitation;
password to enter the site;
date / time of registration.
Virtual wedding ceremony
At the time appointed by the newlyweds, all wedding participants gather on the selected site. As a rule, a page is always given for a ceremony «Wedding hall», where the heroes of the occasion and guests enter the access password, which was sent to them by e-mail in a special file. At a virtual wedding ceremony, young people are asked the same questions that sound during a real celebration, and invited guests watch the wedding online.

Obtaining a certificate of marriage
After the ceremony, the newlyweds are sent an e-mail with a high resolution marriage certificate so that they can print it on a special form of good quality and hang it on the wall in a frame for photographs. It is clear that the photographer will not capture the moment of marriage registration, so the newlyweds will not have wedding photos, but this is not the main thing. The important thing is that people find happiness with each other, even virtual.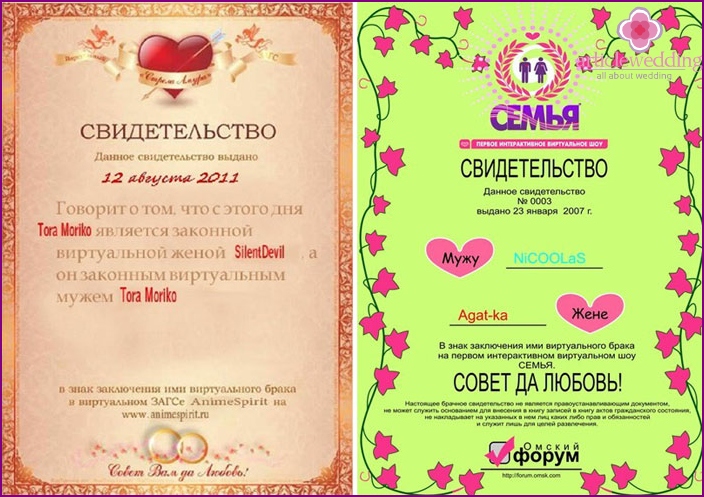 Pros and cons of a virtual wedding
It is important to know that a wedding on the Internet is not legally binding. Here people get married and get divorced very quickly. Online scam is an even simpler process that does not require partner consent. He is notified by e-mail that he is already a bachelor, and the virtual marriage is dissolved. The advantages of online marriage include:
No entries in the marriage or divorce registry.
The wedding does not oblige.
Virtual family life is not complicated by everyday life..
Joking as a joke, but virtual love often turns into real real feelings. Such situations are known when young people, having played love on the Internet, having played a wedding online, after some time could not hold out for several hours, so as not to go online, and not communicate with their soulmate. Such stories make you believe that virtual dating is a real opportunity to meet your love, happily marry or get married.
Video: How the virtual wedding goes
At a virtual wedding, the bride can put on a wedding dress and make a hairstyle to feel like a real newlywed. Internet wedding often becomes the impetus for a valid marriage. For example, if a girl and a guy live together in a civil marriage, then after a conditional online ceremony, the young formally formalize their relationship.
To apply for the official registration of marriage is now also possible via the Internet. It is accepted 3 months before the desired wedding date on the site's public services website. The application indicates the desired date and time of registration of the marriage, but you must write the application in the registry office in person. Watch in the video how the application for a real marriage is submitted, and how the virtual ceremony is conducted: