Contents
---
---
A luxurious and unique wedding is the dream of almost any bride. On this momentous day, any girl wants to look perfect, for which she carefully thinks through the image to the smallest detail, pays special attention to dress, makeup, hairstyle and accessories. How to choose jewelry for a wedding dress? In a harmonious manner, jewelry should be combined with each other, as well as advantageously emphasize the charm of its owner.
Tips for choosing earrings for the bride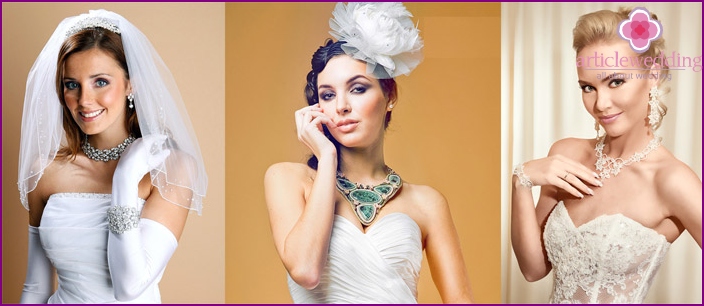 In order to correctly choose accessories for a wedding dress, you need to understand that jewelry should be designed in the same style as the outfit. All the details of the image should be harmoniously combined with each other, and also fit the wedding theme. For example, if you plan to organize a wedding celebration in the style of the 30s, it is worth choosing elegant jewelry that will emphasize the sophistication of the selected toilet.
Wedding jewelry should be combined not only with the shade of the dress, but also with the color of the eyes, hair and skin. Do not forget about styling and makeup. The festive image should be whole and complete, and its components should complement each other, emphasize the elegance, femininity and charm of the hero of the occasion. Please note that you should not wear many rings for the wedding. On the finger of a happy bride there should be only one wedding ring.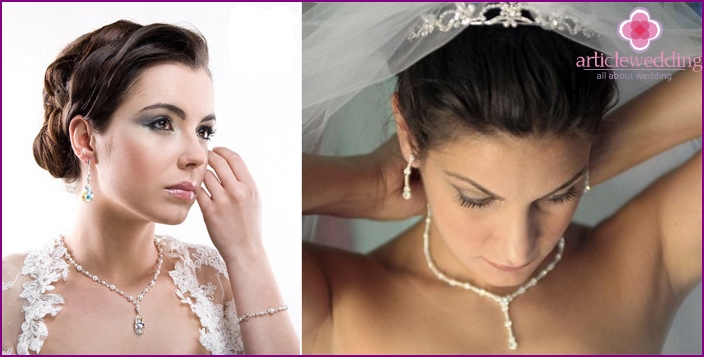 Moderation is another principle that should be followed in order to correctly choose jewelry for a wedding dress. Any bride wants to be irresistible. Some girls choose a large number of various accessories and turn themselves into Christmas trees. To choose the right wedding jewelry, you need to feel the edge. If on a wedding dress in abundance there are swarovski rhinestones, sequins and beads, do not buy additional jewelry.
Features of choosing pearl earrings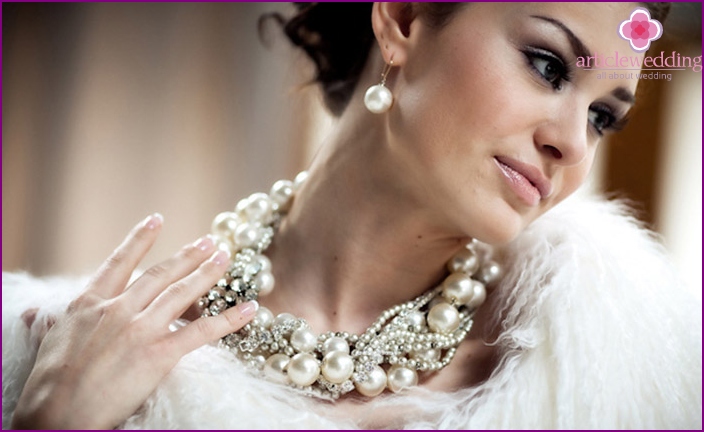 Pearl earrings are a stunning and incredibly feminine jewelry that will be a wonderful addition to the delicate romantic image of the bride. Elegant wedding attire, complemented by a classic pearl accessory, will turn the bride into a sophisticated lady. Pearls are surrounded by a lot of beautiful myths and legends. According to one belief, a pearl scattering is the tears of sea nymphs, and according to another legend it is a symbol of family happiness and prosperity.
To choose the right pearl jewelry, you should consider the style of the wedding dress, as well as the hairstyle. Jewelry designed to emphasize the tenderness and femininity of its owner. The hero of the occasion should feel confident and relaxed, and for this it is necessary not only to pay due attention to the choice of dress, but also to carefully consider the selection of jewelry. To choose the right jewelry, pay attention to the features of the face shape.
In nature, there are many different shades of pearls: gold, white, blue, yellow, black, cream, green, pink and gray. Such a variety makes it possible to choose an option that will ideally fit with a wedding dress. Classic colors - white, golden and cream. The last shade is in perfect harmony with cold tones, while it is recommended that golden pearls be selected for warm colors, such as ivory. Jewelry made of pearls surprisingly successfully fits into the delicate romantic image of the bride.
Neck jewelry according to neckline type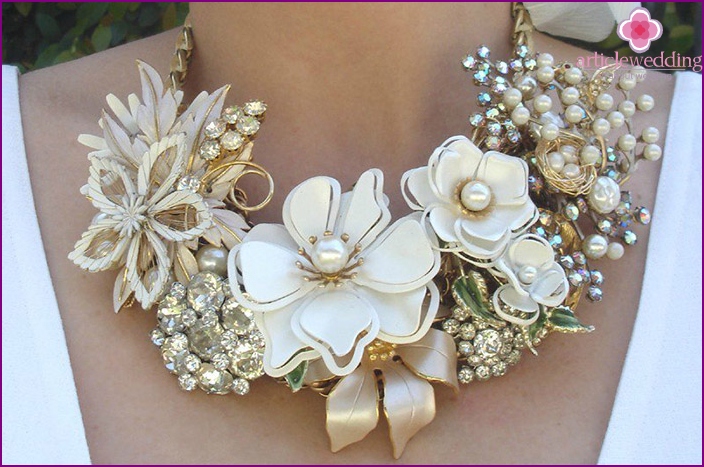 To choose jewelry that will not only complement the image of the bride, but also emphasize the dignity of her appearance, you need to take into account all the nuances. When choosing a necklace, pay attention to the type of neckline of your wedding dress. If you correctly approach this issue, correctly selected jewelry will significantly transform the bride, emphasize the elegance of the wedding dress, make the hero of the occasion even more charming and feminine.
K strapless along
Recently, elegant strapless dresses have been especially popular among brides. Almost all types of jewelry are perfectly suited to this style of holiday dress. You can choose a massive necklace with voluminous flowers and stones or, conversely, give preference to restrained elegance, decorating the neckline with an elegant pendant on a thin chain. A strapless open top dress reveals to the bride a rich variety of all kinds of variations on the theme of accessories and jewelry.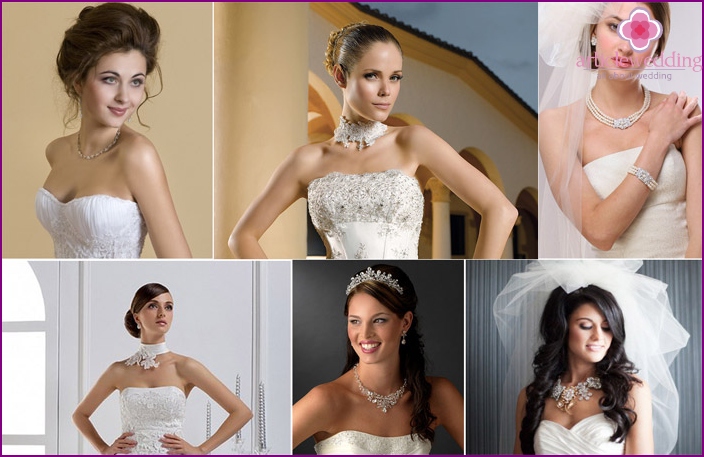 V neckline
A wedding dress with a V-type neckline is a complex style, therefore, the choice of appropriate jewelry should be approached especially carefully and thoughtfully. It is best to look for jewelry that will follow the shape of the neckline. An ideal option would be a charming pendant in the shape of a crystal on a chain of silver. In this case, pay attention to the straps of the dress. If the top of the toilet is richly decorated, it is better to refuse a necklace.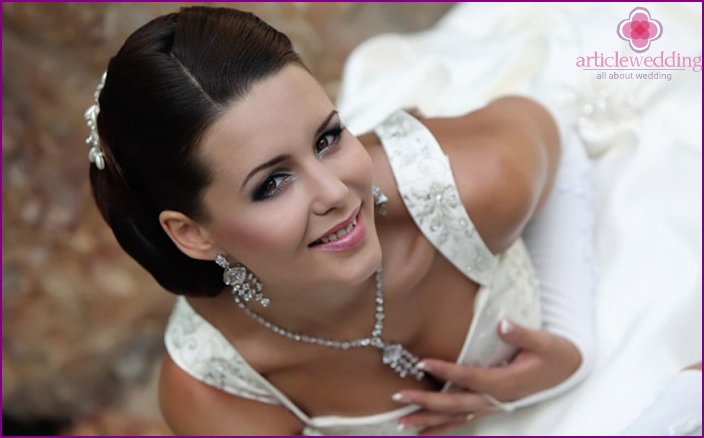 Heart-shaped neckline
If the wedding dress has a cutout in the shape of a heart, the girl can choose any type of decoration. This is a universal style, which will be perfectly combined both with a luxurious voluminous necklace and a modest pendant. However, if the neckline of the dress is decorated with stones, rhinestones or beads, its owner should give preference to an elegant chain with an elegant pendant. As noted above, the main principle that should be followed when choosing accessories is a sense of proportion.

If the dress has a stand-up collar
A wedding dress with a stand-up collar is a tricky option to choose the right jewelry or necklace. Accessories framing the neck, in this case, will pile up the image. If you choose an outfit with a stand-up collar, it is better to avoid necklaces and chains. Wear exquisite shiny earrings and, for example, a wide bracelet. This jewelry set is completely self-sufficient..

How to choose jewelry for face and hairstyle?
As noted above, all jewelry and accessories should be selected, taking into account the hairstyle, the style of the wedding dress, as well as the shape and features of the face. There are several basic types: square, triangular, oval and round face shape. For example, if you are the owner of a triangular-shaped face, you should pay attention to modest cloves or neat round earrings. The main task is to round the angular oval.
For a face that resembles a square, you should select earrings-droplets or, for example, oval jewelry. Avoid worth square and rectangular shapes. In addition to the features of the structure of the head, styling plays an important role in choosing wedding decorations. If you plan to shine at your wedding with a complex hairstyle, decorated with a large number of various accessories, pay attention to discreet stud earrings that will give an image of femininity.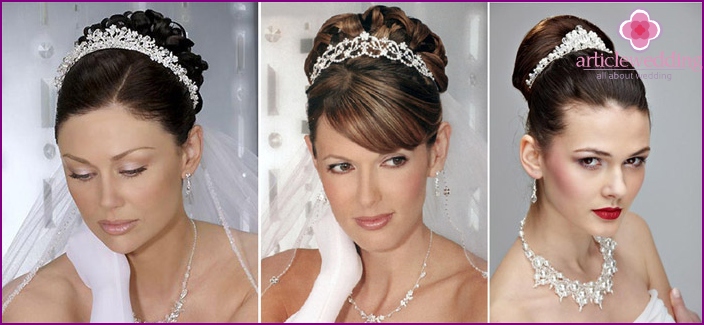 Volumetric earrings will make the image more effective if you choose the right hairstyle. This can be a short haircut or neatly pulled back hair. At the same time, if you decide to give preference to large earrings, refuse a necklace. In order to maintain harmony and balance, no more than one or two accents should be made. For example, if your dress allows you to decorate your neck with luxurious pearl beads, large earrings will no longer be appropriate.
Photo of beautiful wedding jewelry for the bride
The choice of jewelry for a wedding look is not limited to determining the style and style of accessories. You must also think about what material jewelry should be made of. White dress perfectly combines jewelry made of metals such as platinum or silver. Earrings, bracelets and necklaces look spectacular against a champagne-colored dress. Stylists recommend emphasizing cream color jewelry with such a non-standard shade of the outfit..