Contents
---
---
According to the old tradition, every bride should wear a garter on her leg. This rule has existed for a long time, it is still adhered to. The reason for this is a beautiful ceremony and the desire to perform it on the part of both newlyweds. The task of the bride's wedding garter is to be a beautiful and bright decoration that will delight the eye. The accessory can be used not only during the holiday, but also during the wedding night.
Why do I need a garter for the bride's leg?
The story goes that before pantyhose, trousers and current clothes appeared, women were forced to wear leather «stockings». They protected their feet from the cold, wind and bad weather, and tied them at the top so that heavy and strong clothes would not fall off. Later, with the advent of kapron or knitted stockings, such a garter also remained a functional accessory on an elastic band, which did not allow clothes to slide down. After the appearance of tights, the need for tying is gone, everyone forgot about such an important accessory.
At a wedding celebration, a garter performs not only a functional role, but also an aesthetic one. It is beautiful, sexy and necessary for the implementation of old traditions. The groom must remove the beautiful accessory from the bride's legs and throw it to his unmarried friends. That lucky man, in whose hands the jewelry falls, becomes not only its owner, but in the coming year he must marry, find his beautiful family. And at the wedding, this young man is obliged to dance a romantic composition with that girl who will catch the bride's bouquet.
«But what about the first wedding night», - you say. Yes, for this the bride can also prepare jewelry, since this accessory symbolizes the beginning of a joint stay in bed. Often, brides choose another type of garters for such a moment, which will secretly lurk high on the leg. The newly-made husband at the beginning of the wedding night will remove the second accessory, which will remain in the memory of the young family.
How many garters should a bride wear
Based on the fact that the accessory for the tender legs will be used both at the wedding event and at the beginning of the first wedding night, two garters are needed. If one of the moments does not suit you, and you want to neglect it, you can take it on, it only depends on the desire of the bride and groom. But it is important to remember that even such a symbolic accessory can add attractiveness to a woman, and she will feel more confident.
If the bride chooses several garters on her leg - you need to choose different. Let there be such an accessory for intimate caresses that fits your underwear. And for a gala wedding event, a garter in the style of the dress will be prepared. Remember that such an accessory is not allowed to be worn all day, and donning is allowed before the right moment..
Wedding Garter Options
There are many types of accessories for the legs of the bride. To choose exactly what you will remember and will always like for a lifetime, you should look at different options, come up with the desired image in your head. Over the course of several days, it can change, but in the end, an ideal idea will be postponed, which can turn into an interesting wedding accessory for the bride and groom. It is very easy to make a wedding garter on your own, it does not need to be a big seamstress with vast experience. The process steps are as follows:
buy a satin ribbon, a little rhinestone or stones, an elastic band, an openwork cut, lace;
sew the selected tape onto an elastic band, sew on one side into a ring;
decorate with the necessary accessories and additions (the garter looks elegant if it fits the general wedding outfit of the bride and groom).


Wide Lace Wedding Garters
If you like massive accessories - then this option is for you. A wide ribbon or strip of lace at the base of the jewelry is one of the most popular options. You can safely call such an accessory a classic. It is easily attached to the leg, does not slip due to the elastic sewn inside, it is easily combined with any kind of underwear and wedding attire. A wide lace garter can be used both for a ceremony and for a wedding night.
It is simple to make such a garter yourself, especially when you consider that lace ribbons with ready-made elastic are sold in stores, they must be sewn and decorated. But if you don't want to make an accessory yourself, there is a large selection of women's lace garters in stores. Right there it's worth trying on several options, and it's even better to buy an accessory with a dress, only then you will correctly combine these elements of clothing.


Double garter in the same style
If you decide to buy two accessories for the legs, then it makes sense to choose these at the same time in the same style. In this case, one of them is taken wider (for a wedding celebration), and the other - already (for a wedding night). Garter on one leg is put on, the lower one is for an event, the upper one is for intimate time. Therefore, when choosing, pay attention to the tightness of the accessories - they should not squeeze the vessels, but they do not have the right to slide.
When choosing garters on the leg, brides often think about color. Should I buy an accessory using bright colors, unusual accessories. The unequivocal answer is yes, it is possible if it is combined with a common outfit. But even if you go to buy a decoration with skulls in black, and your dress is white and there are no other symbols on it - do not worry, everything is possible. On the wedding solemn day, the bride should be comfortable not only externally, but also in the shower, it is better to buy the accessory that you want most.

Thin wedding garter
Thin, unobtrusive accessories will fit perfectly with a very magnificent decorated dress. If the emphasis has already been placed on the outfit, then other wedding symbols in clothing should not weigh down the image. Garter in this case is no exception. Although it is an invisible moment, photographers, as well as men, love her very much. Therefore, all the rules of style should be considered when choosing a garter on the bride's leg.
If you chose an unusual short dress for a wedding ceremony and the whole celebration, then a thin bandage would be an ideal option. Note that with this outfit, it is advisable to wear only one accessory, because the two will look tasteless. A thin garter is also suitable for those brides who do not want to wear an accessory at all, but they are obliged by the groom or tradition. Do not worry, a small accessory will not ruin your celebration.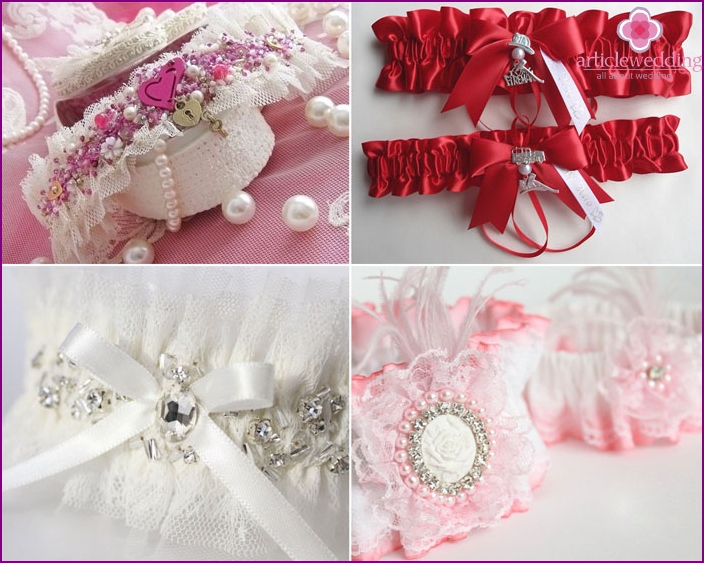 Decorated with brooches or stones
The wedding event has always been designed to show the wealth, success and reliability of two families. Therefore, the most beautiful outfits are always chosen, a special style, venue, etc. are selected. The accessory for the bride's legs is also a confirmation of well-being and can be decorated with precious stones or antique brooches. There is only one desire for such jewelry - they should not interfere with walking on the most beautiful holiday of the family.
If the garter you bought does not contain very large jewelry, and you want such jewelry, do not be discouraged. You yourself can attach any jewelry to the foot accessory. This is easy to do with glue or thread. It is important that such a garter decoration is not very heavy and does not allow it to fall. After all, one does not want to lose an important wedding accessory during a walk in nature, a photo shoot.


Decorated with flowers
Recently, the most unexpected versions of traditional leg jewelry have appeared. They even use flowers, and not only artificial, but also living. You cannot attach large roses to the blindfold (it will not be convenient to walk in them), but small field ones will look very good. Such decorations are well suited to outfits in which there are rings. They help to keep the dress itself, and the legs do not touch the fabric. Therefore, flowers on a garter will be safe and sound..
You can choose an attribute of a newlywed with fresh flowers even if you put it on right before the ceremony of removal. In this case, the decoration will not interfere with walking, it will not slip and will not fall apart. Even with a throw for the groom's single friends, it will be the same. With this option, a single dressing is allowed to decorate with flowers from the bride's bouquet. She will be in perfect harmony with the whole image..
Video: Bride Garter Review
Each bride should have her perfect accessory, and which one only she chooses. Even the opinion of the groom in this matter may not be taken into account, since for him this should be a surprise. Browse through various organza, satin, chiffon and lace accessories. Consider both double options, and single, stylized, classic. In order to keep abreast of all interesting options for leg garter - watch the video.
Photo of wedding garter for the bride's leg
Some photos of stylish accessories deserve special attention. And it is worth paying tribute to designers who go to incredible decisions. An unusual accessory is able to show the soul of the bride, to reveal her essence, which is hidden behind a beautiful white dress. And only you decide whether to open your soul or not. But still, here are some beautiful and incredible ideas for a wedding garter: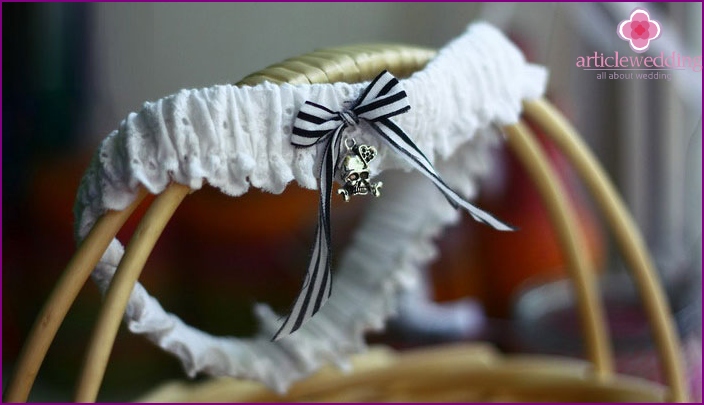 Accessory for the legs in the Gothic style of skulls, bones. A black garter with the same bows can reveal a bold note of the bride.

Symbol of the country. If you wear a garter with the flag of the power in which you live, you will show your commitment and nationalism.

Garter with bows. Many girls love satin bows. If the dress does not have such jewelry, then the garter can be simply covered with these charms..

Tiger print leg decoration. Very well suited for a wedding night, especially if linen is chosen in such colors.