Contents
---
---
Among the accessories that perfectly fit into the wedding celebration, T-shirts with funny or relevant texts on this topic occupy a prominent place. Wedding t-shirts can be both a wonderful gift for newlyweds, as well as a decor element bought by the newlyweds for a bachelorette party or a bachelor party, for a wedding ceremony in a playful style or for the second wedding day. They can also become an actual decoration of the first days of family life. Funny prints will create a wonderful mood, an atmosphere of easy and joyful family life..
T-shirts for bridesmaids
T-shirts with funny inscriptions are a great option for organizing a bachelorette party. Wedding t-shirts for friends, brides can be:
Identical: with a slight difference in the inscription or color from the bride's copy (for example, a set of copies with inscriptions «Bride», «Friend»);
Various: contain funny texts unique to each of the girlfriends («Got married - help a friend», «I advise the oligarchs», «We have the best bride», «We princesses are simple women», «I'll ruin my beloved's life» etc.).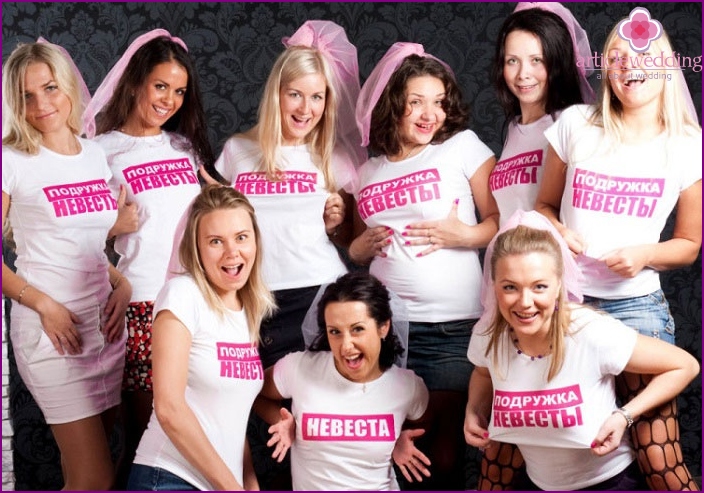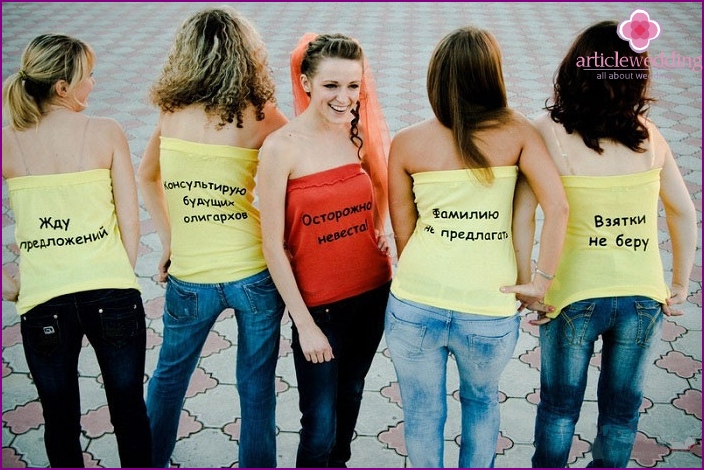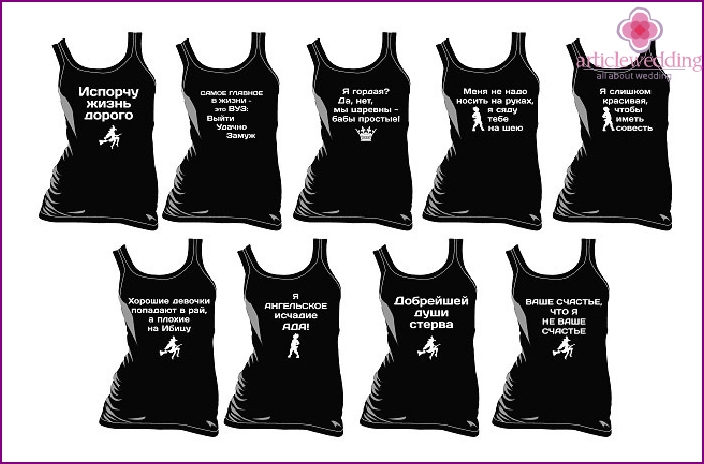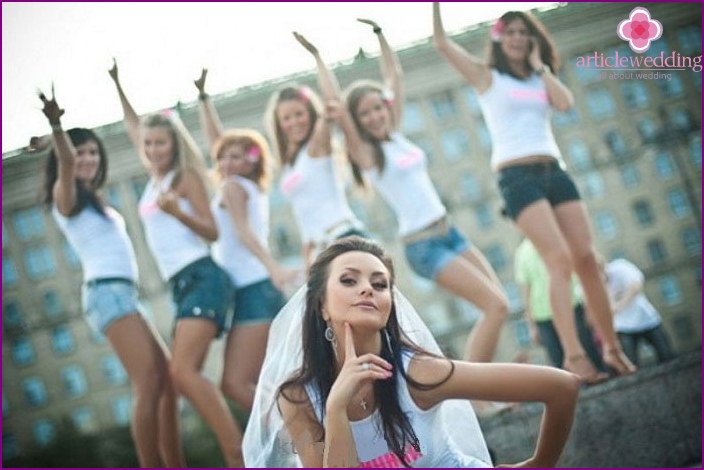 If the first version of t-shirts will look good at a wedding ceremony in a playful style, then the second will fit perfectly into the bachelorette party itself. In dresses of this type, it will be appropriate to fool around, show the uniqueness of the bride, unlike each of the girlfriends, to distinguish her from the rest. Using wedding t-shirts at a bachelorette party will allow you to forget about patterns of behavior, allow yourself to be a little more relaxed, direct; decorate the event with original, cool elements, get an excellent photo shoot at the end of the day.
Paired T-Shirts for Honeymooners
Pair wedding t-shirts - just a necessary accessory for a young family. It will be appropriate to use:
during the ceremony, turning it into an interesting, fun, symbolic action. (use T-shirts with inscriptions «The groom» - «Bride», «The game is over» - «I won», «I'll marry her soon» - «I will marry him soon», «Before the change of surname left ... 3 ... 2 ... 1» - «Before the change of status, there are ... 3 ... 2 ... 1»);
How to use paired t-shirts at a wedding in an original way, see in this video:
after the ceremony or on the second day of the wedding, when the situation may be less formal, and the newlyweds become full-fledged spouses (use T-shirts with images «This is my wife», «It is my husband», «So you got caught», «Mine forever», «Newlyweds» and similar);
in the early days of family life, during the honeymoon (prints are suitable «Lovely wife» - «Beloved husband», «I don't meet anyone, I have a wife» - «I do not meet anyone, I have a husband», «Reserved by wife» - «I don't have a boyfriend - my husband doesn't allow», image / photo of lovers, etc.).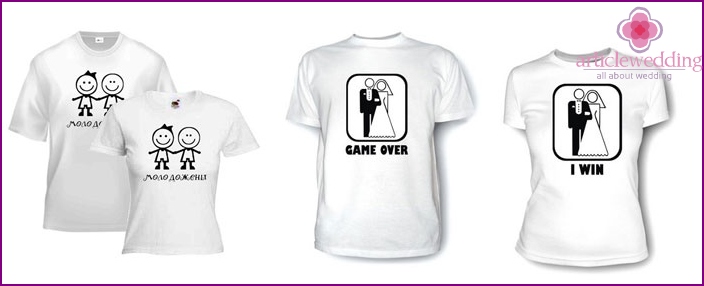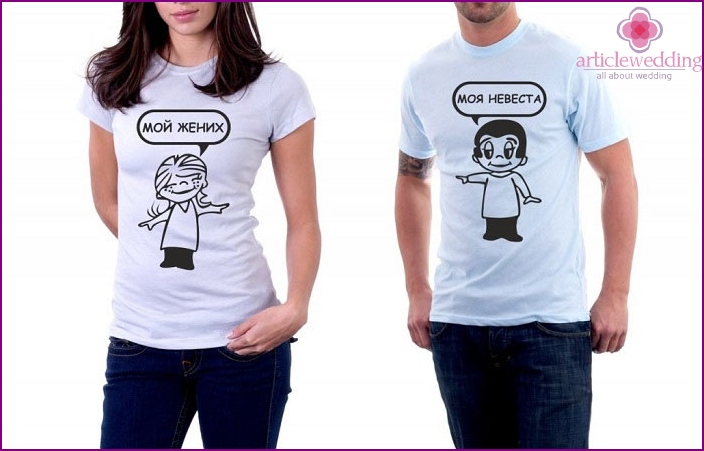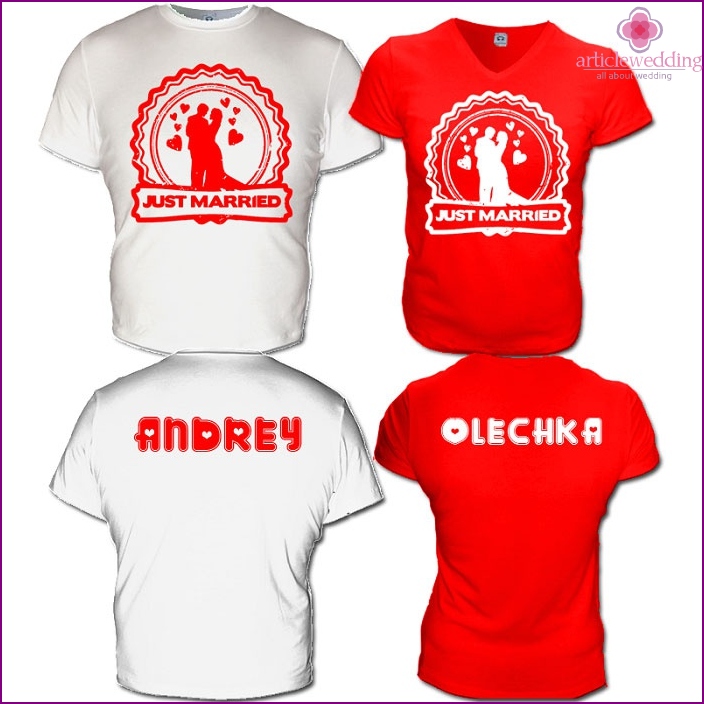 The use of such t-shirts will help to indicate the moment of transition from one status of a couple to another, to do it with humor, ease, love.
Wedding Anniversary T-Shirts
Paired accessories are a simple, effective means of maintaining the right climate in a marriage. They teach a couple to value each other, to love, to be faithful, to see the best in a spouse, and not to lose their sense of humor. Therefore, it is desirable to use wedding t-shirts throughout the life together, at least periodically. If during the celebration the pair wedding t-shirts of lovers were not bought, then spouses can get them for the first joint anniversary - the wedding anniversary. Then such accessories will never be more appropriate..
Invited guests can take the initiative and order such attributes on their own, giving them to the young spouses - the gift will be original and will be remembered for a long time. A large number of companies producing souvenir products offer their services for printing clothes, which guests can use by buying finished products without a picture and ordering a text, design yourself.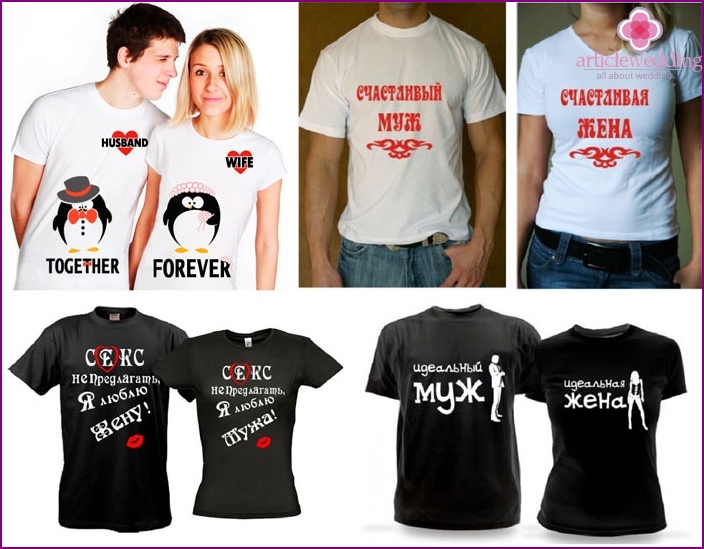 Labels will do «Perfect wife» and «Ideal husband», «Together…» and «…forever», «Do not offer dating - I love my wife» and «Do not offer dating - I love my husband», images with a list of the rights and obligations of each spouse ..
Wedding photo T-shirts