Contents
---
---
The event that all the girls in their life are waiting for is the marriage of a loved one. The image of the bride is thought out from the very beginning to the smallest detail: long shopping trips with wedding dresses, discussions with decorators, florists, makeup artists. How not to miss significant details? If you do not have your own stylist, then act independently in this role! Choose a wedding clutch to your image - a functional and indispensable handbag of the bride.
Models of a wedding clutch bag for the bride
If you have not yet decided which wedding clutch you will need, then decide what you will put there. Brides before the solemn day suggest that this accessory is optional, because there will be a bouquet and dress that needs to be constantly adjusted. But you will need a phone to communicate with loved ones, lipstick and a mirror for a fresh and bright look, a passport, which is mandatory for marriage. Where to go? To do this, there is a roomy and miniature clutch that saves brides from minor problems during the wedding.
Having determined the number of things you can fit, you will understand what size bag you will need. Think about whether it will be convenient to carry a clutch in your hand or if you need a chain strap. The choice of handbag models is unlimited, the styles are different. Consider options for envelopes, boxes, wallets, stylish models «pompadour» or other original forms. Wedding clutches are made of different materials - leather, cotton with embroidery, delicate satin, passionate lace. All models can be of different color interpretations depending on the wishes of the bride and style of dress.
Envelope clutch
Should I opt for a clutch envelope? It depends on you. This model is preferred by women, whose wedding image is strict and restrained, because a trouser suit or a jacket with a pencil skirt is also considered a formal outfit. To determine the material, feel a more pliable and soft fabric, and then a stiff, holding shape. The clutch envelope will make the company of the chosen dress, the wedding image of the bride will be completed and stylish.

Wedding Clutch Wallet
Are you planning a retro wedding? The 50s and 60s are full of fun and smiles, so the preparation of accessories is important for a clear presentation of the chosen wedding theme. Wedding clutch purse is a retro model that perfectly complements the image and style of a bright bride:
If you want to focus on red lipstick, then do not forget about this color when choosing a wedding bag.
If you want to put on a hat, then pay attention to models with feathers.
Retro allows you to choose not traditional white clutches, but bright models with prints, bows or other accents.

Heart clutch
Does the date of your celebration coincide with Valentine's Day or the anniversary of the relationship? Then the symbol of the holiday is the heart. Highlight it as the main attribute of lovers, focusing on the decor. A compact clutch-heart is a detail that will be combined with the mood of the newlyweds. A delicate, white, airy dress of the bride will be complemented by a wedding bag in shades of ivory. If you plan a brilliant wedding, then pay attention to a silver or gold clutch. It's not very convenient to hold a voluminous heart in your hands, so get a model with straps.

Wedding clutch box
A luxurious wedding, a puffy dress embroidered with precious stones and jewelry - is your dream? Do not forget to complete it with a wedding clutch box. This model is perfect for a chic ceremony. The box is compared in shape with a jewelry box and often the clutch's decor consists of stones and rhinestones. Traditionally, a wedding bag of this style is decorated with artificial pearls. Buy clutch boxes with a strap, because the bag becomes more voluminous due to decoration.

Round wedding clutch
The assortment of wedding handbags is great, so you will definitely succeed in being an original bride! Pay attention to rounded ivory clutches. They look gentle and luxurious, riches give them artificial pearls. Rounded clutches can be combined with both fluffy dresses and fitted models «mermaid» and «Greek style». The advantage of this model is that even being in an ordinary cocktail dress after the wedding, you will take your purse with you to the theater, to the cinema, for a date or for a walk.

Wedding clutch decoration options
Each stylish detail chosen by the bride personifies character traits, ambitions, and perspectives on the future. It may seem petty, but even the clutch decor plays an important role in completing this image. Let the wedding clutch complement your dress, focusing on the luxury of the event. Traditionally, jewelry is distinguished with the help of beads, rhinestones, crystals, silk and chiffon flowers are suitable for romantic persons, and lace lace for passionate and emotional brides..
Clutch decor with beads, rhinestones and crystals
The clutch decorated with beads and rhinestones is suitable not only for magnificent wedding ceremonies, but also for themed celebrations chosen by the newlyweds. If you are close to the rustic style, you want an easy and away ceremony with a buffet table or a picnic, then the modest image of the bride in a quiet venue is ideally complemented by a chic accessory. In this style, bright color accents are used and your clutch bag of an unusual shape (heart, oval) with beads will safely take part in this..

Silk and chiffon flowers
Clutch with flowers is a universal accessory to many styles. If you intend to organize a wedding in retro style, then how to do without contrasting colors with the addition of feathers? Vintage notes, or bright dudes? You decide. A Shebby-chic bride will not do without a decorated clutch. Favorite peonies on a purse made of chiffon will long remind you of a significant day in your life.

Openwork lace
Openwork lace will fit into any wedding style, if done correctly:
Is this material often used in shabby chic? Let your clutch have lace of the same shade as on other decor elements.
Have you chosen a nautical-style wedding? Then the theme will be in white and blue, and your clutch will fit into the image of a sea bride, if you use these shades (white - the main material, blue - lace lace).
Does Provence style use lavender notes? A wedding clutch with lilac lace will harmoniously fit into the celebration.

How to choose the right clutch for a wedding?
The main rule of choosing a wedding clutch is not to save. This accessory should not be made of cheap materials. Consider this purchase as an investment in the future, because you will not be able to wear a wedding dress a second time to go out, and to bring a chic clutch to a cocktail party with you is easy.
What other rules exist for choosing the bride's indispensable accessory?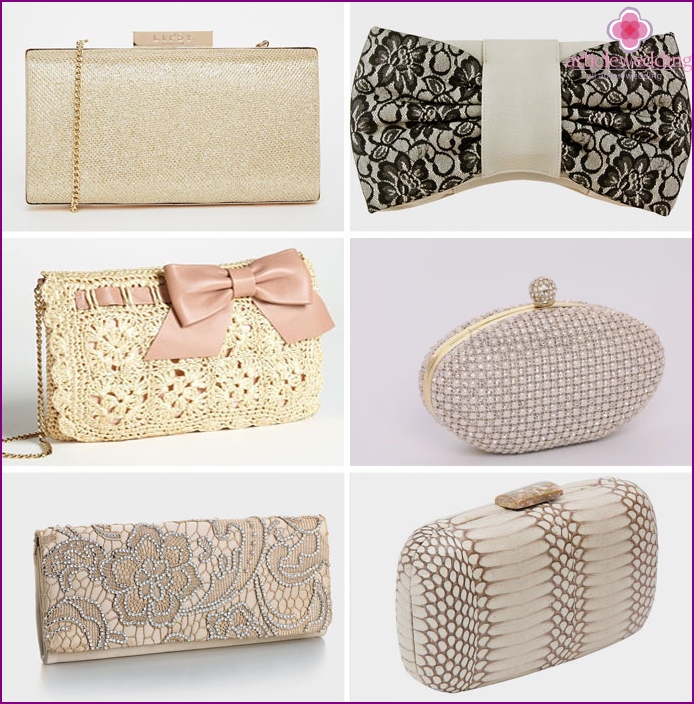 If the wedding dress is magnificent, embroidered with stones and rhinestones, then stylists advise to choose modest accessories so that the image does not turn out to be bulky. An elegant, modest, satin clutch will create harmony in your image.
If the dress has straight, elegant lines, without decorations, then pay attention to bright, shiny clutches. Silver and gold are a great idea.!
It is desirable that the color scheme of the bride's dress and accessories match. But there may be exceptions: the bride chooses a snow-white dress, and to him a bright pink belt, juicy shoes of this shade. The clutch is then matched to the tone of bright accents.
Choose a handbag of the right shape to suit your look. Strict and seasoned style - clutch envelope. An airy, bright, serene image - a purse or heart bag. Clutch box and rounded models are suitable for any style, the main thing is to choose the material and decor.
The size of the handbag depends on the complexion of the figure of the bride. For miniature girls - compact clutches; tall, slim beauties - elongated and large handbags.
If you can't find an accessory of your dreams, do it yourself! In case of lack of time, contact a wedding stylist who will help you in this situation..
Video: Bride Wedding Clutch Review
Have you decided on a wedding clutch for a dress? Its advantages are the completed image of the bride, all the necessary little things (cosmetics, a mirror, keys, a phone) are always nearby, a universal accessory for future events at social events. The only feature is that it will be inconvenient to hold some clutches at the same time in your hands with a bouquet, but here the designers tried and thought out removable straps in the models. We suggest you look at a short review of wedding clutches for the bride6