Contents
---
---
Making a festive menu for a wedding banquet is not only an important, but also a very difficult task. A competent approach in the selection of refreshments for guests will ensure half the success of the event. If you want all guests to be satisfied, there should be enough food on the festive table. But the most important thing is that it be diverse, because it is difficult to take into account the taste preferences of each guest.
How to calculate a wedding menu for 50 people?
The composition and set of the wedding menu is constantly changing, taking into account not only the number of guests, but also the season, the availability of products and the estimated time of the celebration. However, the general principles of filling the table will remain practically unchanged. It will include: salads, in rare cases soups, cold appetizers, meat hot dishes, fish dishes, desserts, drinks (alcoholic and refreshing), coffee, tea, fruits.
For one guest, the average calculation for the wedding menu is about 1 kilogram, if the duration of the banquet is about 7-8 hours. Soft drinks are added here - from 1.5 liters, as well as alcohol. At first glance, it may seem that the average portion is very large, but in fact it is not. About 350-370 grams is a standard portion of hot, which includes a side dish and meat. We multiply this number by the desired number of guests (in your case 50) and as a result we get the average calculation for the wedding menu.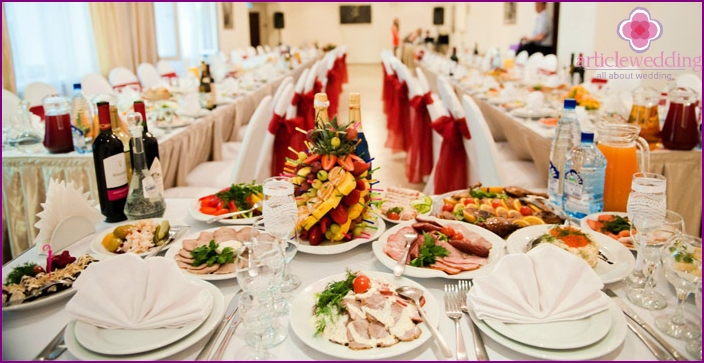 Wedding table menu for home celebration.
It is easy and simple to order a wedding menu in a cafe or restaurant, but financial opportunities do not always allow this. Do not be sad, with a little effort and effort, you can organize a holiday yourself at home. You do not have to spend all your money on just one wedding menu, but you can save a lot to go on a romantic trip with your loved one. Below you will see an example of a wedding menu, which is easy to adjust to your taste.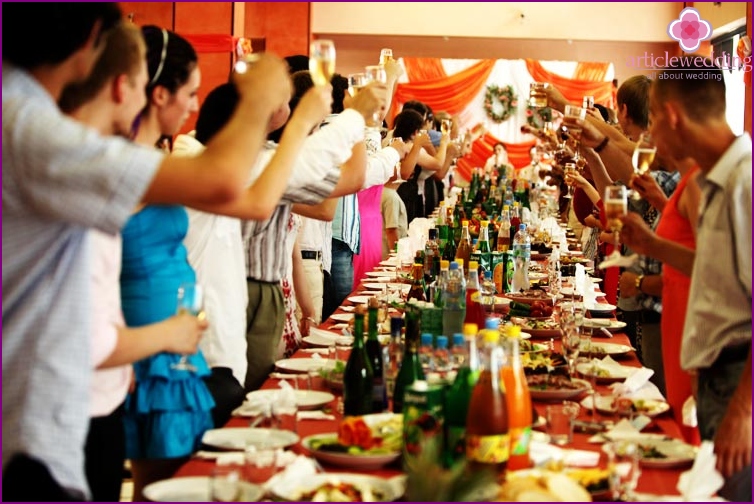 Cold appetizers and salads
The following options for cold appetizers and salads are perfect for the wedding menu:
meat cutting;
gefilte fish;
boiled pork;
assorted fish (suitable smoked and salted fish);
Greek plate (used olive, lemon, olives);
fried fish;
assorted mushrooms;
liver cooked with onions;
chicken and meat rolls;
eggplant tongue;
stuffed prunes;
tongue cooked with mayonnaise;
sauce (you can use a variety of options);
eggplant caviar;
cheese plate (feta cheese, cheese, suluguni);
jelly;
pork chops;
Assorted vegetables (only fresh products);
any seasonal salads (prepare according to the season of the wedding);
Olivie;
assorted korean;
seasonal fruits must be included in the wedding menu;
stuffed eggs;
herring under a fur coat - a traditional dish for a wedding menu;
bread.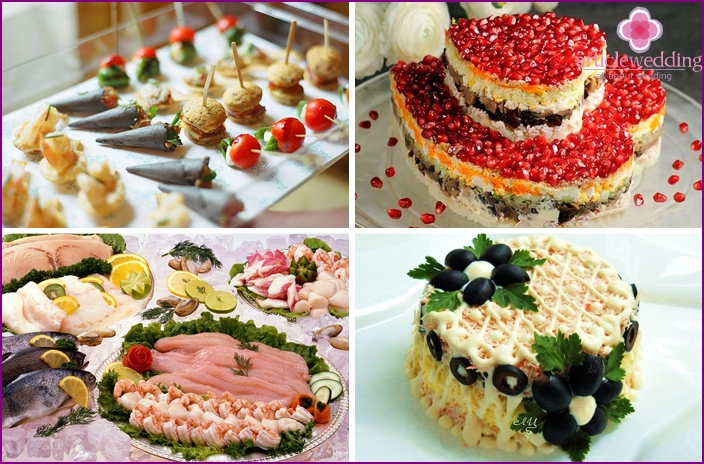 Main dishes and side dishes
As a side dish, in almost all cases, it is recommended to opt for mashed potatoes. This is a universal option, which is ideal even for a wedding menu. If you wish, you can cook noodles on the side dish. Here are some options for the main hot dishes for the wedding menu:
brisket with mushrooms, cheese;
cabbage rolls;
baked duck with apples;
baked thighs;
pancakes with red caviar, cottage cheese, meat;
cauliflower;
roast with mushrooms (make sure that it is not very salty);
baked carp with vegetables, perfectly complement the wedding menu.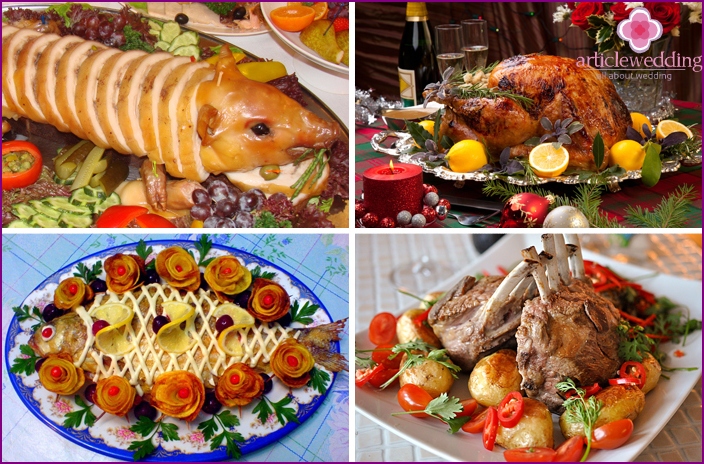 Desserts for a festive table
The wedding menu cannot do without delicious desserts. You can use the following options for a sweet table:
cake;
wedding loaf;
chocolate candies;
cream dessert or with whipped cream;
cookies;
fresh fruits (add not only apples, but also pears, oranges, bananas, strawberries, grapes, pineapple slices, lemon, kiwi, tangerines, etc. to the table) must be part of the wedding menu.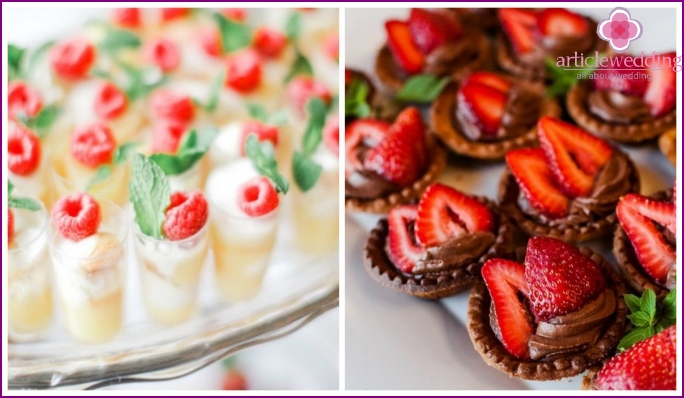 Alcoholic and non-alcoholic drinks
For the wedding menu, alcoholic and non-alcoholic drinks such as:
mineral water (with gas, without gas);
juice (you can choose any option - 1 liter per person in the hot season will not be enough);
wine (dry white and red at the rate of 1 bottle per person);
cognac;
vodka;
champagne is a traditional drink of the wedding menu.
An example of a menu for 50 people in a cafe
If you decide to celebrate in a cafe, use the wedding menu option below. It is easy to adjust for a specific celebration and preferences of the young. You will need the following products:
red caviar (approximately 800 g);
egg (145-155 pcs.);
fish (pelengas 2.5 kg, pike perch 1.5-1.75 kg, carp 15-16 kg);
assorted fish (smoked mackerel 5-6 pcs., herring 1-1.25 k., salmon - 1.25-1.75 kg);
black olives (4 jars with pits, 1 pitted);
olives (4-5 cans);
lemon (1.25-1.75 kg);
meat (20 kilograms);
beef liver (3-4 kg);
language (2-3 pcs.);
pepper (5 sachets);
salt (200 g);
garlic (550-650 g);
chicken fillet (5-6 kg);
whole chicken (4-6 pcs.);
chicken thighs (3.5-4 kg);
duck (3-4 pcs.);
rooster (1 pc.);
liver (about 1 kg);
cheese plate - hard cheese (550-600 g), grilled cheese (350-400 g), suluguni (1-1.25 kg), feta cheese (1.25-1.75 kg);
mushrooms (3-5 liter cans);
Korean salads (approximately 1.5 kg);
small pickles (2-3 liters);
fresh cucumbers (about 5 kg);
salad (1.25-1.75 kg);
basil (1-2 bunches);
cilantro (1-2 bunches);
large bell pepper (10-13 pcs.);
tomatoes (about 8 kg);
green onions (10 bunches);
parsley (10 bunches);
dill (10 bunches);
onions (about 10 kg);
potatoes (15-17 kg);
eggplant (3-5 kg);
champignons (4-5 kg);
cabbage (about 4 kg);
apples (5-6 kg);
sausages (about 5-6 kg);
cauliflower (3-4 kg);
carrots (about 3 kg);
bread (about 10 rolls).
Sample wedding menu in a cafe:
canapes with sturgeon, salmon, basturma, ham, smoked sausages;
olives;
olives;
rolls with bacon and zucchini;
mushroom salad in tartlets;
stuffed tomatoes with cheese and garlic sauce;
turns with ham;
vegetable mix;
boiled tongue with horseradish;
stuffed eggplant with herbs, walnuts;
chicken in spicy tomato sauce;
mushroom julienne;
zander on a pedestal;
duck with apples;
fruit slides must be present in the wedding menu;
assorted cakes;
a wedding cake.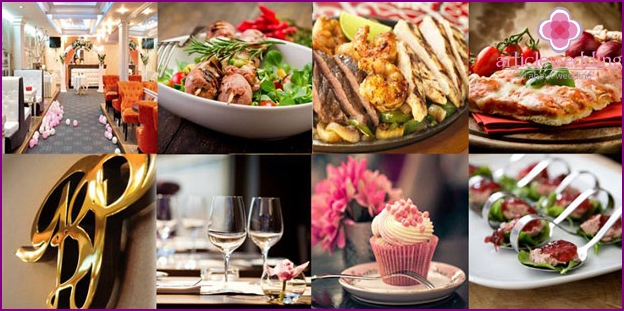 Recipes for cooking at home (photo)
It is not always possible to order a chic restaurant or a modest cafe for a wedding banquet, but this is not a reason to be upset. You can perfectly celebrate this holiday at home. Prepare incredibly delicious dishes for the wedding menu, which will be no worse than the creations of experienced chefs. To make your work a little easier, we have selected several recipes that are often used at such celebrations.
Stuffed Trout for Wedding Menu
Structure:
horseradish - 0.75-1.25 st. l.
frozen spinach - 250-275 g
raw eggs - 2-3 pcs..
salt - 1 pinch
cream cheese - 175-225 g
river trout - 2-3 pcs.
Cooking:
We clean the fish from the scales, along the back we make a not very deep longitudinal section.
Gently pull out the ridge, gutting trout.
We take scissors and cut out the gills, remove the fins.
Inside and out, rinse the fish thoroughly with cold running water.
In a deep plate, beat eggs with a whisk or a fork (pre-chilled), gradually mix the cheese.
Add defrosted and well-wrung spinach to the egg-cheese mixture, lightly season with salt.
We start stuffing trout - we fill the carcasses with cheese and bake in a well-heated oven for 30 minutes. The finished dish will be a great addition to the menu for your wedding.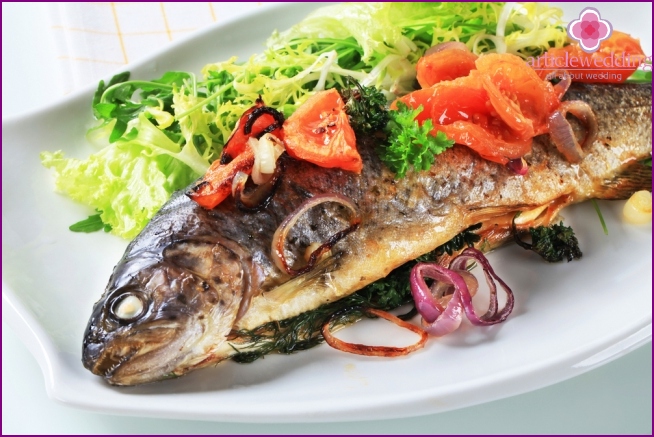 Oven-baked sturgeon for the wedding menu
Structure:
sour cream - 125-175 g
vegetables (bell pepper, cucumber, salad, greens) - to taste
pepper to taste
salt - 1 pinch
ground nutmeg - 8-12 g
breadcrumbs - 95-120 g
lemon - 0.5-1 pcs.
vinegar (balsamic or rosemary) - 1.25-1.75 st. l.
olive oil - 1.75-2.25 Art. l.
butter - 1.75-2.25 Art. l.
raw eggs - 3-5 pcs..
sturgeon - 1 kg (1 pc.)
Cooking:
Thoroughly rinse sturgeon with cold water, remove scales, gills.
Along the abdomen, from head to tail, make a cut, take out all the giblets.
We wash the fish again.
We put a pan on the stove, pour water, bring to a boil.
We lower the prepared sturgeon into boiling water, and after a few seconds we get it out, immediately dousing it with cold water. Gently remove the peel and spikes from the fish carcass, rub it with salt, leave for about an hour.
We make the sauce - boil the eggs, then peel them and separate the yolk from the protein.
Knead the yolk with a fork in a deep container, add sour cream and nutmeg, pre-ground on a fine grater. Add butter, breadcrumbs, rosemary or balsamic vinegar, mix everything thoroughly. Proteins can be used for any other dish..
By this time, the fish should be ready.
Turn on the oven and heat it to 190 degrees.
Grease a baking tray with a small amount of vegetable oil, cover the top with baking paper and put the fish on top.
Pour sturgeon with ready-made sauce, olive oil, sprinkle with a small amount of lemon juice.
Bake the dish in a preheated oven for 30 minutes.
Serve to the table, garnished with fresh vegetables and herbs. This fish menu option is a good choice for a wedding at any time of the year..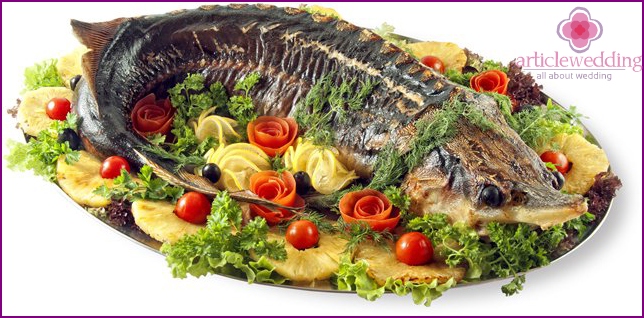 Canapes for the wedding menu
Option number 1
Structure:
slices of bread
lettuce
ham
Cherry tomatoes
Structure:
In a dry frying pan, lightly fry the pieces of bread, but not much.
Spread lettuce leaf and ham wrapped in a small envelope on toasts, put a slice of cherry on top.
We fix the composition with a skewer. This appetizer is not only perfect for the wedding menu, but it can be cooked in just a couple of minutes.
Option number 2
Structure:
salted and smoked fish
fresh greens
avocado slices
fresh cucumber
slices of bread
Cooking:
We make the perfect snack for the wedding menu - put fish, cucumber, avocado on a piece of bread.
Decorate with greens.
We fix the composition with a skewer.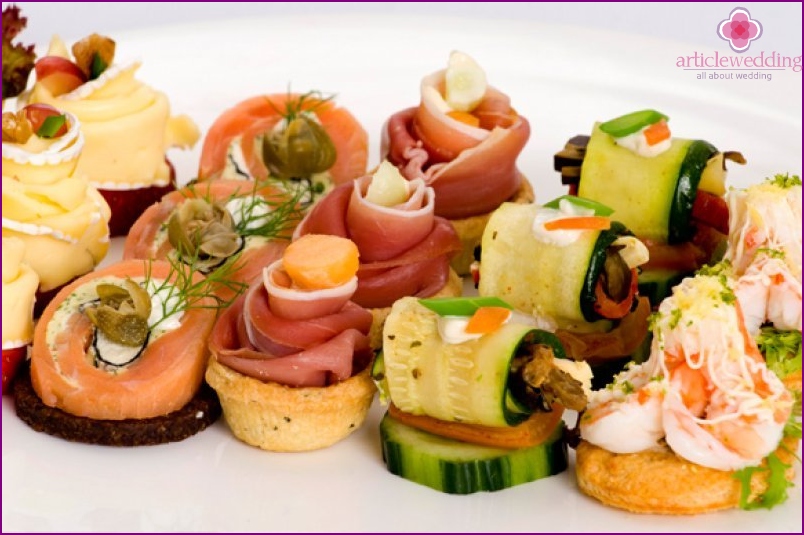 Cod liver salad for the wedding menu
Structure:
pepper - 1 pinch
salt - 1 pinch
mayonnaise - 3.25-3.75 st. l.
boiled potatoes - 2-3 pcs..
green onion feathers - 25-35 g
eggs - 2-3 pcs.
green canned peas - 145-155 g
cod liver - 225-250 g
Cooking:
Boil eggs, cool, peel.
Drain the cod liver oil, put it in a deep bowl, knead with a fork.
Finely chop the eggs, transfer to the liver.
Peel the pre-cooked potatoes from the peel and cut it into small cubes, put to the rest of the ingredients.
Drain the liquid from the peas, introduce into the salad.
We wash onion feathers with cold water, dry well. Then finely chop and shift to other components.
Season salad with mayonnaise, seasoning with a little salt and pepper.
Mix everything well, decorate with herbs and serve to the wedding table.
Stuffed Salmon Eggs for the Wedding Menu
Structure:
any spices to taste
mayonnaise to taste
slightly salted salmon - 145-155 g
parsley to taste
eggs - 5 pcs..
Cooking:
Boil eggs, cool, peel and cut into halves.
We take out the yolks and knead with a fork in a deep bowl, add a little mayonnaise.
We start the proteins with a mixture of yolk and mayonnaise.
Cut the salmon into thin strips and twist them with a roll.
The resulting rose from the pieces of fish is carefully placed in protein.
Decorate the finished dish with fresh herbs. It will be a great addition to any wedding menu..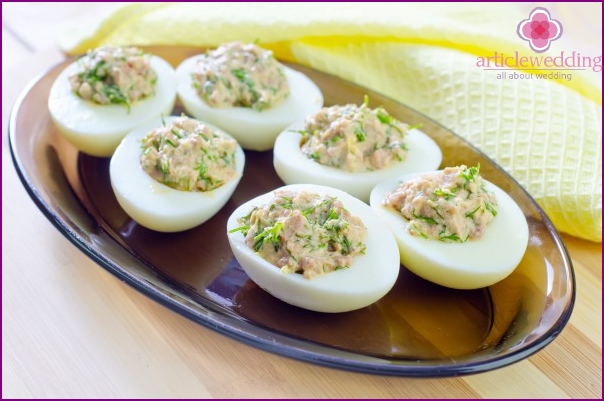 Snack tartlets for a wedding table
Structure:
red caviar - 45-55 g
tartlets - 22-27 pcs..
garlic - 1-1.5 cloves
mayonnaise - 95-110 g
bell pepper - 0.5-0.75 pcs.
Adyghe cheese or mozzarella - 145-155 g
boiled eggs - 3-5 pcs..
shrimp - 245-255 g
Cooking:
To use these delicious tartlets in the wedding menu, peel the boiled eggs and chop.
Add finely chopped pepper and boiled shrimp to the eggs.
Peel the garlic, crush and mix with the mayonnaise, the resulting mixture season the salad.
Fill the tartlets, garnish with caviar and serve - this is the perfect appetizer for the wedding menu.