Contents
---
---
On such an exciting day, like a wedding, I want everything to be perfect. Thoroughly thought out all the details of the celebration, from prizes for competitions to dishes of the wedding menu. In order for the wedding to leave an unforgettable mark in the memory of the invited guests, it is necessary to creatively approach the organization of the celebration. For example, vivid impressions will remain from the wedding if original dishes are on the festive table. How to make a wedding menu? Using our tips, you can please your guests with delicious, varied dishes.
Which wedding menu is better to choose?
Thinking over options of dishes on a wedding table, it is necessary to consider tastes of guests. In order not to get into trouble, it is better to find out in advance about the possible food preferences of the guests. Tastes are different. Someone does not consume animal products, because he fasts or is a vegetarian, someone is allergic to certain foods. Therefore, when compiling a festive menu, dishes should be interchangeable.
By organizing a wedding in a restaurant or cafe, you will greatly facilitate your work when compiling a wedding menu. Usually in such establishments there are ready-made variations of dishes. Use the services of experienced chefs who will make you a wedding menu according to your wishes. The owner of a restaurant or cafe will certainly not refuse and will help with advice.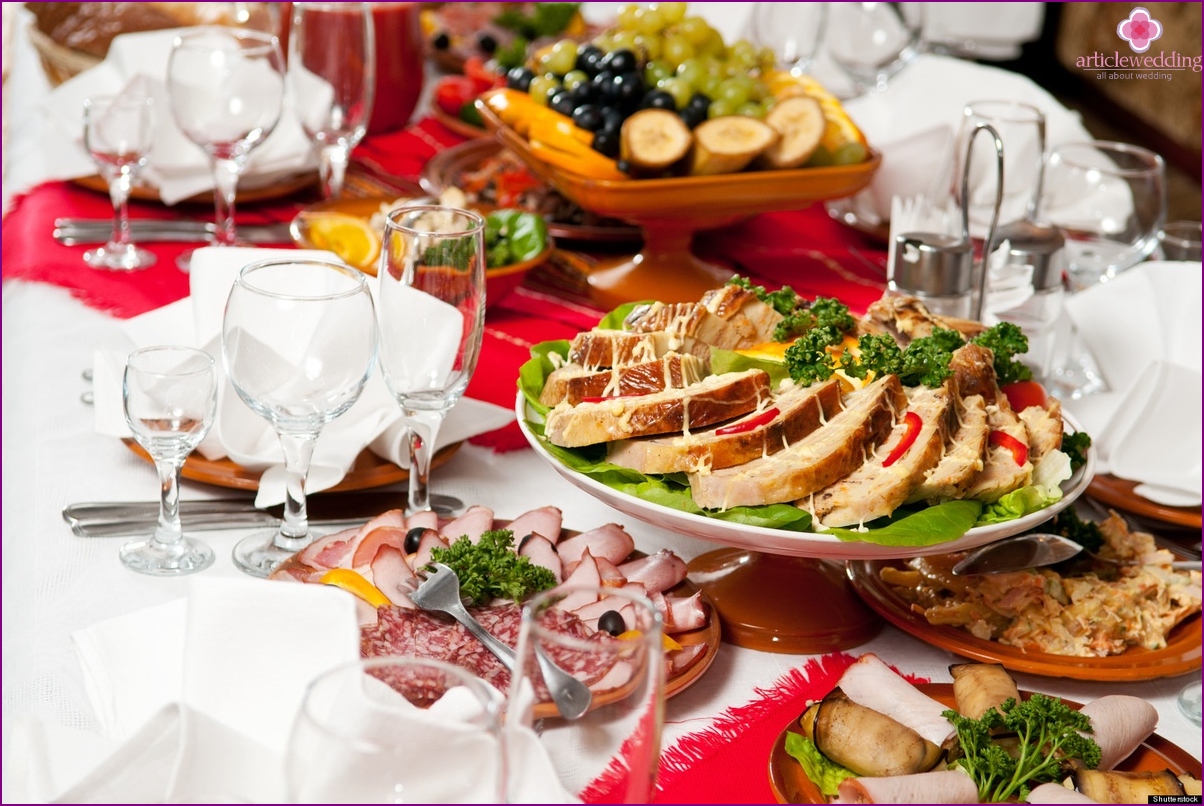 Tips for creating your own menu
Any hostess on the eve of the wedding puzzles over how to deliciously feed guests. To the festive table was varied, but no frills, you must correctly compose the menu. When compiling a wedding list of dishes, take a piece of paper, a pen, and write a list of guests invited to the holiday. In front of each, make notes, his taste preferences or other features.
Then make a list of products with which you will prepare wedding dishes. Considering the tastes of the guests, you will decide on the treats that will please family and friends. There is a wide variety of wedding recipes, but you need to choose unusual, not everyday dishes. Amaze your guests! Let on your table be something that you have never cooked and never tried. Then your loved ones will remember this event forever.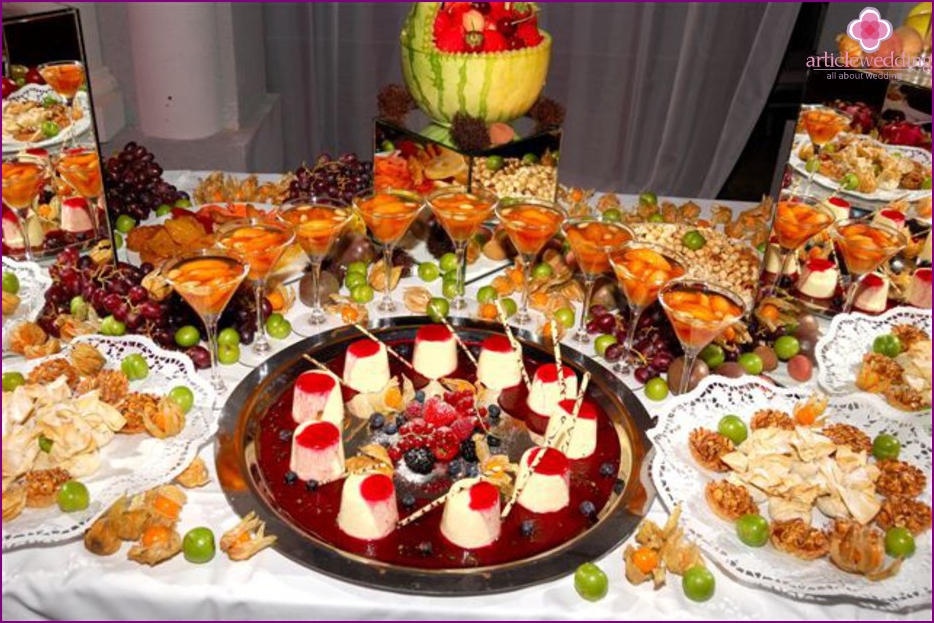 Snacks and salads
Before people sit at the wedding table, cold snacks should be on it. These dishes are served in portions, i.e. for each person - a separate plate with refreshments. There are snacks:
Meat cutting: boiled pork, several types of sausage, ham, balyk.
Salted fish: herring, salmon.
Cheese cutting: hard cheese, white cheese.
Vegetables. They are served chopped or in the form of salads. Cucumbers, bell peppers, tomatoes are suitable for mixed vegetables.
Make a delicious eggplant appetizer for the wedding table. For this dish you will need eggplant, tomatoes, cheese and herbs. Cut eggplant into strips 1 cm thick, fry in vegetable oil. Put the chopped tomato into strips on an eggplant strip, grated cheese on top, a little homemade mayonnaise and roll it up. Sprinkle with herbs, insert skewers. Original wedding appetizer ready.
Another great wedding dish is cheese balls in greens. To prepare, grate the cheese on a fine grater, add mayonnaise, garlic. Roll the resulting mass into balls, in which you will need to insert the seedless olive stuffed with almonds. Finely chop the dill, roll the balls. Refrigerate for half an hour. Complete the dish with colorful skewers.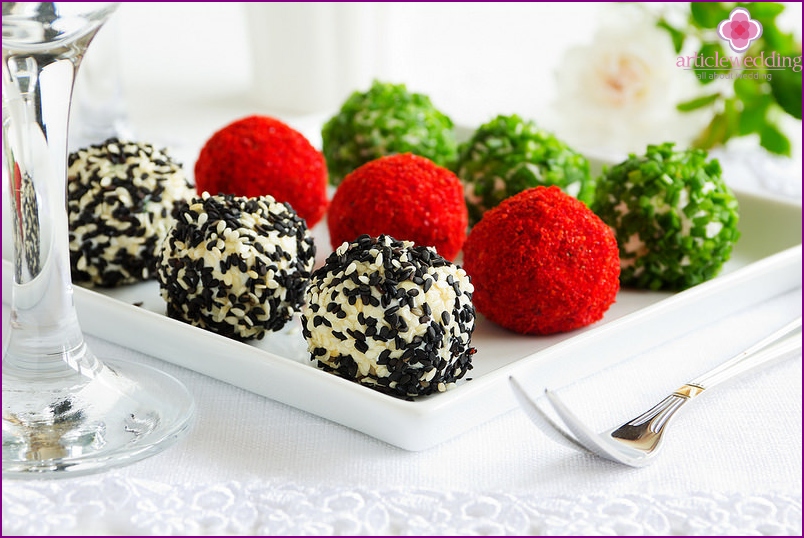 For wedding snacks, you can make sandwiches with kiwi and cheese. Fry the slices of the loaf with a toaster, spread with mayonnaise. Thinly cut cheese is laid on top. Rinse the kiwi thoroughly under running water, without peeling, cut across 0.5 cm thick circles, lay on top of the cheese. This dish is not only very tasty, but also looks original on the wedding table.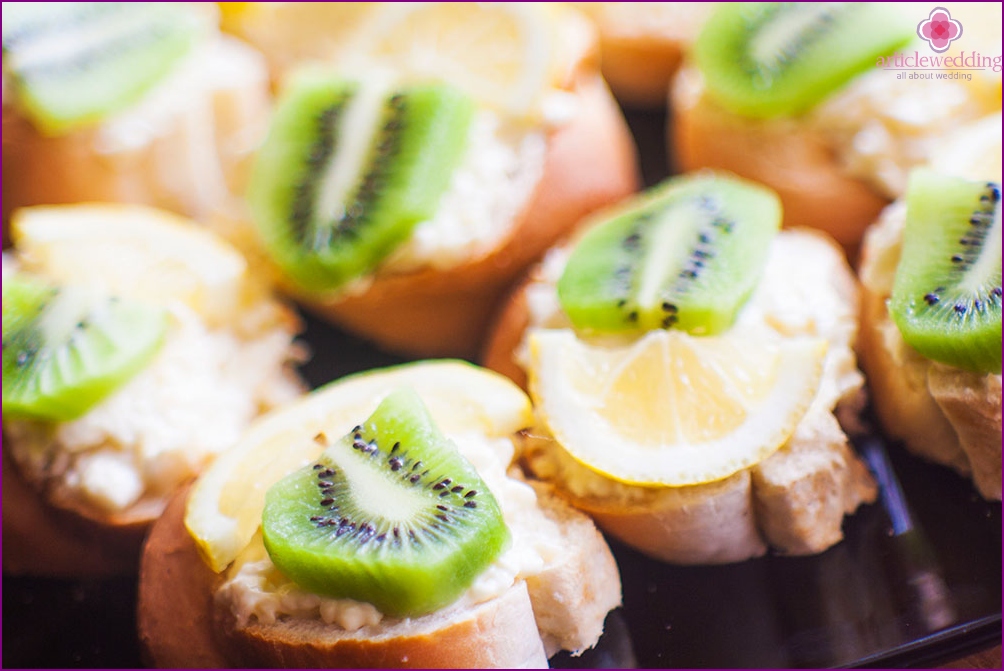 Main dishes
After the first feast at the wedding, guests usually have a smoke break, dance, socialize. The host invites everyone to participate in competitions. Events last about thirty to forty minutes. During this time, the remains of the appetizers are removed, and the moment of serving the dishes of the second table is approaching. After actively participating in the wedding process, after dancing and getting hungry, guests are ready to work with forks.
The main dishes of the menu should be hearty and tasty. Be sure to have meat on the wedding table. It can be meat fingers, meatballs, chops, meatballs, meat sticks, grilled. Dishes should be moderately fat so as not to aggravate the stomachs of guests. In addition, sauces are usually served in beautiful dishes, such as soy, tomato, mustard.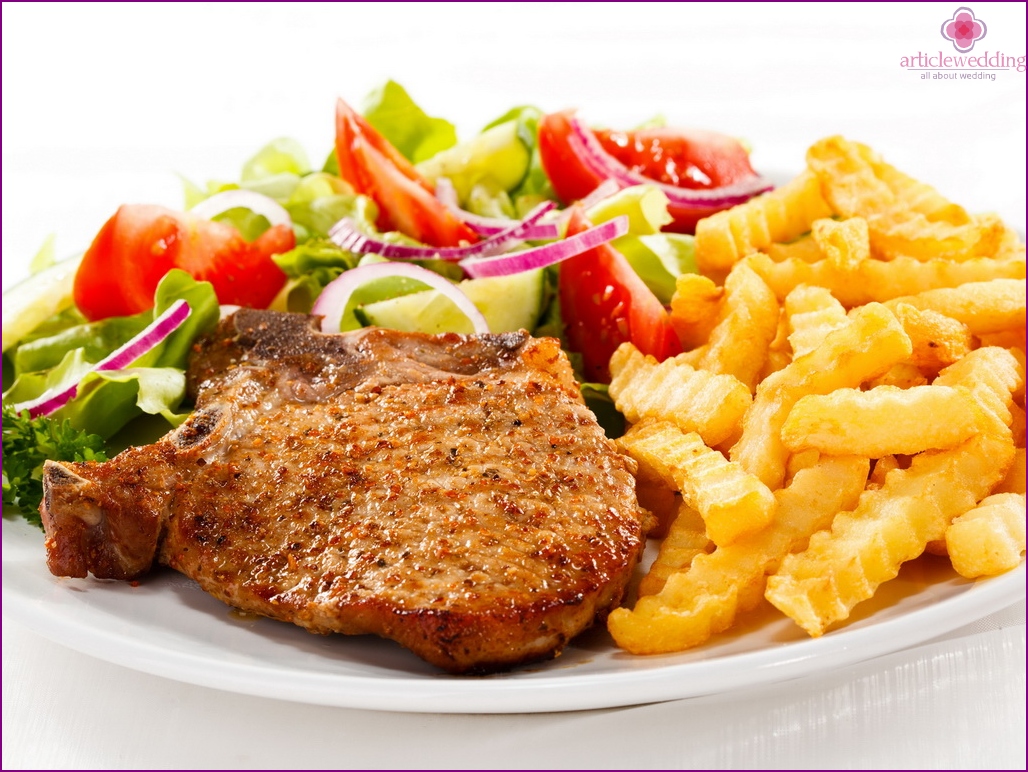 Garnish served with meat. This can be a potato cooked in different variations: in the form of mashed potatoes with butter, stewed with tomatoes, baked in pots with vegetables, deep-fried potatoes, potatoes stuffed with minced meat. Rice is also a good complement to wedding meat dishes. Having an unobtrusive, neutral taste, many guests will like it. To ensure that the rice is crumbly and does not clump when cooling, use high-quality cereals.
The cereal is boiled in salted water, washed extensively with running water. After that, onions and carrots fried in vegetable or ghee are added to rice. If turmeric is put in this side dish, then it will have a bright yellow color, which looks unusual and elegant on a wedding table. You need to complement the dish with finely chopped dill and parsley.
Alcoholic and non-alcoholic drinks
During a wedding feast, guests constantly make toasts, drink for the newlyweds. Therefore, there should be a lot of booze. Experienced wedding planners say that three people have one bottle of vodka or cognac in volume 1 liter, wine 1.5 liters, a bottle of champagne. But before purchasing alcohol, divide the guests into age and gender categories. A company of men and women gathers at the wedding, but the main consumers of vodka are men. And women prefer to drink wine or champagne.
The wedding is also attended by children and non-drinkers. You need to worry about this category of guests too. Soft drinks are suitable for them. Everyone, without exception, loves home-cooked compote of berries (raspberries, cherries, strawberries,) and fruits (apples, pears, plums), dried fruits (dried apricots, apples, pears, cherries, rosehips). Soft drinks should stand on the wedding table and with men and women drinkers.
Many prefer bottled sugary drinks. Here the choice is very large. Coca-Cola, fanta, sprite are tasty and not expensive, but have a harmful composition in which chemical elements predominate. Such drinks are especially harmful to children. Therefore, we recommend, as an alternative, to prepare homemade lemonade for the wedding table. To do this, squeeze the juice of one lime into the water, add any sweetener. Such a drink with a few slices of lemon looks beautiful in a decanter.
Wedding Cake and Loaf
A sweet table is one of the most anticipated events at the wedding. All children, adults love sweets. A wedding cake is an invariable attribute of any celebration, a symbol of the holiday, the main highlight of the sweet table. His choice should be approached very reverently. Confectioners recommend ordering a wedding cake with thin cakes smeared with light cream, custard or condensed, but not oily.
When decorating a wedding cake, show your imagination. After all, this is not just a treat, but a reflection of the event for which everyone gathered. This culinary delight is especially good if it is two or three-tiered and covered with white glaze. From above and on the sides such a treat is decorated with flowers and figures made of mastic or cream. The size of the dessert should be proportional to the number of guests. The cake is the final part of the wedding feast and is served at the end of the evening..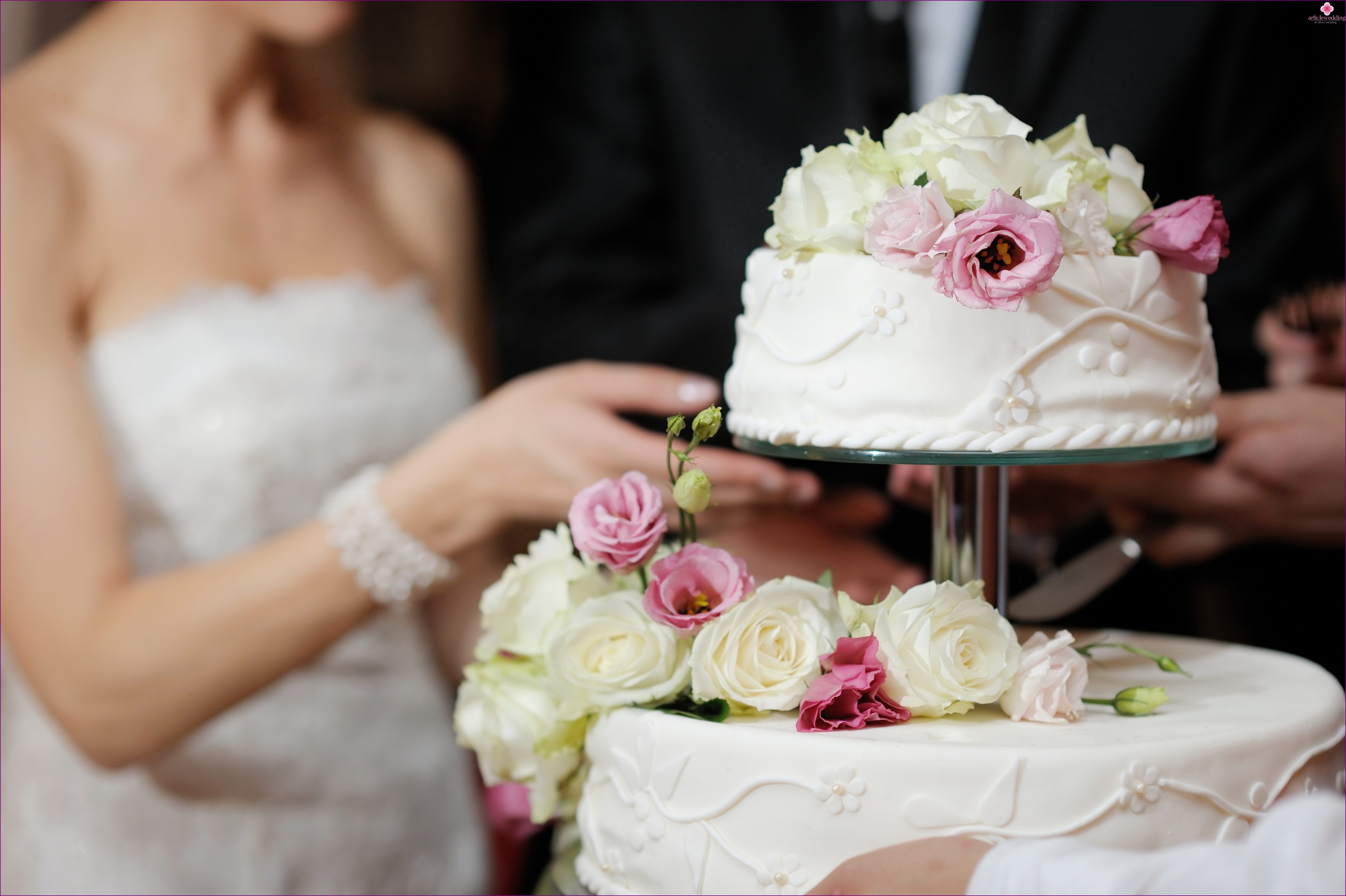 Loaf also takes pride of place on the wedding table. They are greeted by newlyweds from the registry office, blessed on the journey of family life. In ancient times, a wedding loaf was instructed to bake a happy woman in marriage. So the cake was endowed with beneficial energy. The tradition before the wedding to bake a loaf remained in our time. Such pastries are a kind of symbolism of a happy family life. Confectioners offer a large selection of decorations for a wedding loaf - each figure made of dough has its own meaning:
Spikelets symbolize fertility, prosperity.
A pair of kissing pigeons speaks of adultery.
Scythe - a symbol of readiness for marriage.
A bunch of grapes is a rich offspring.
Flowers - Beauty, Wealth.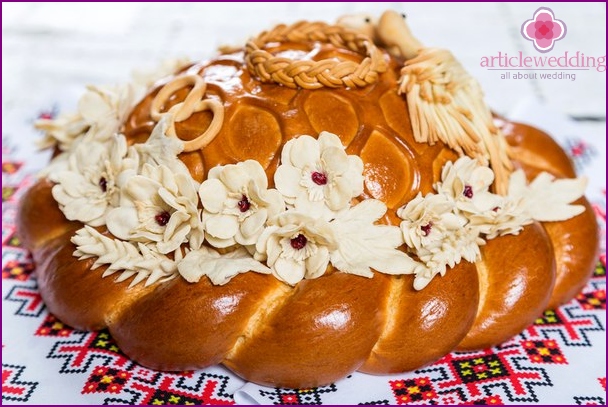 Calculation of the banquet menu for one person
How to make a wedding menu, so that everyone has enough food, and they do not have to throw out excess products? Experienced chefs and celebration organizers say that at a wedding banquet, each guest can eat one kilogram of 300 grams of food. For convenience, we give an approximate calculation in the form of a table:
How to calculate a wedding menu for a banquet

Dishes

amount

(g for 1 guest)

Cold snacks

400

Salads

200

Hot snack

200

Hot meals

200

Garnish

200

Cake

100
Recommendations for choosing a wedding menu in a restaurant
If you decide to invite guests and celebrate your wedding day in a restaurant or cafe, then you will ease your work in the holiday clutter. A whole team of chefs, waiters, decorators, DJs will work for you. You will only need to pre-negotiate your preferences with the staff of the institution. An important item in the conversation will be the wedding menu for your table. You will compose it together with the chief cook-pastry chef of the restaurant.
You will be offered a catalog of wedding dishes, from which you have the right to choose the ones you like. The wedding menu in the restaurant is not much different from the home. The first thing that should stand on the table when guests enter the restaurant is cold snacks. Here the choice is wide: from cold meats to mixed vegetables. The second is the main course. This includes meat, fish with a side dish..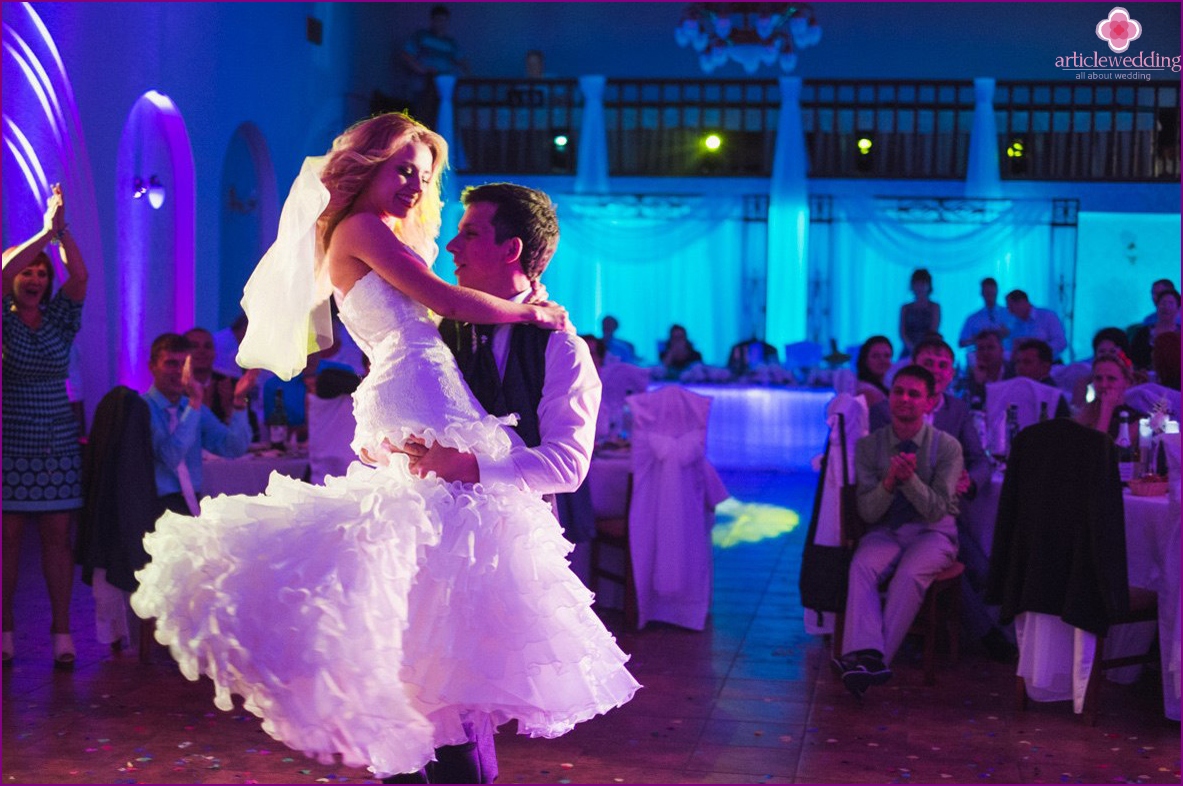 The third table is the final stage of the banquet, sweets. A pastry chef in a restaurant will offer you a huge selection of different goodies, from bagels to a wedding cake. Since there are always a lot of children at the wedding, there should be a decent amount of baking on the festive table. Particular attention should be paid to fruits. They not only complement and diversify the feast, but also decorate the banquet hall with their appearance. Fruits (apples, bananas, oranges, pineapples) are suitable for a snack between the main dishes of a wedding feast. They are also well served with alcoholic beverages..