Contents
---
---
Summer is an amazing time of the year when nature is fragrant, birds sing and everyone enjoys the warm sun. Newlyweds especially love summer time, because even bad weather in the summer will not be able to spoil the wedding mood. The venue of the wedding during this period is not limited - the celebration is held in open areas and even in nature, outside the city. The menu for guests can be made easy: in hot weather, it is better to stock up on soft drinks. We'll talk about how to better set up a wedding table in the summer..
Tips for creating a summer menu
The wedding menu for each season differs in its features. In summer, it is saturated with light snacks, and with the onset of cold weather, greasy, heavy food appears more and more on wedding tables. At the wedding tables in the summer there are a lot of vegetables, fruits, berries, fresh salads. But the main focus is on drinks. After a hot summer photo shoot, guests need to cool off, so tip # 1: stock up on ice and plenty of summer soft drinks.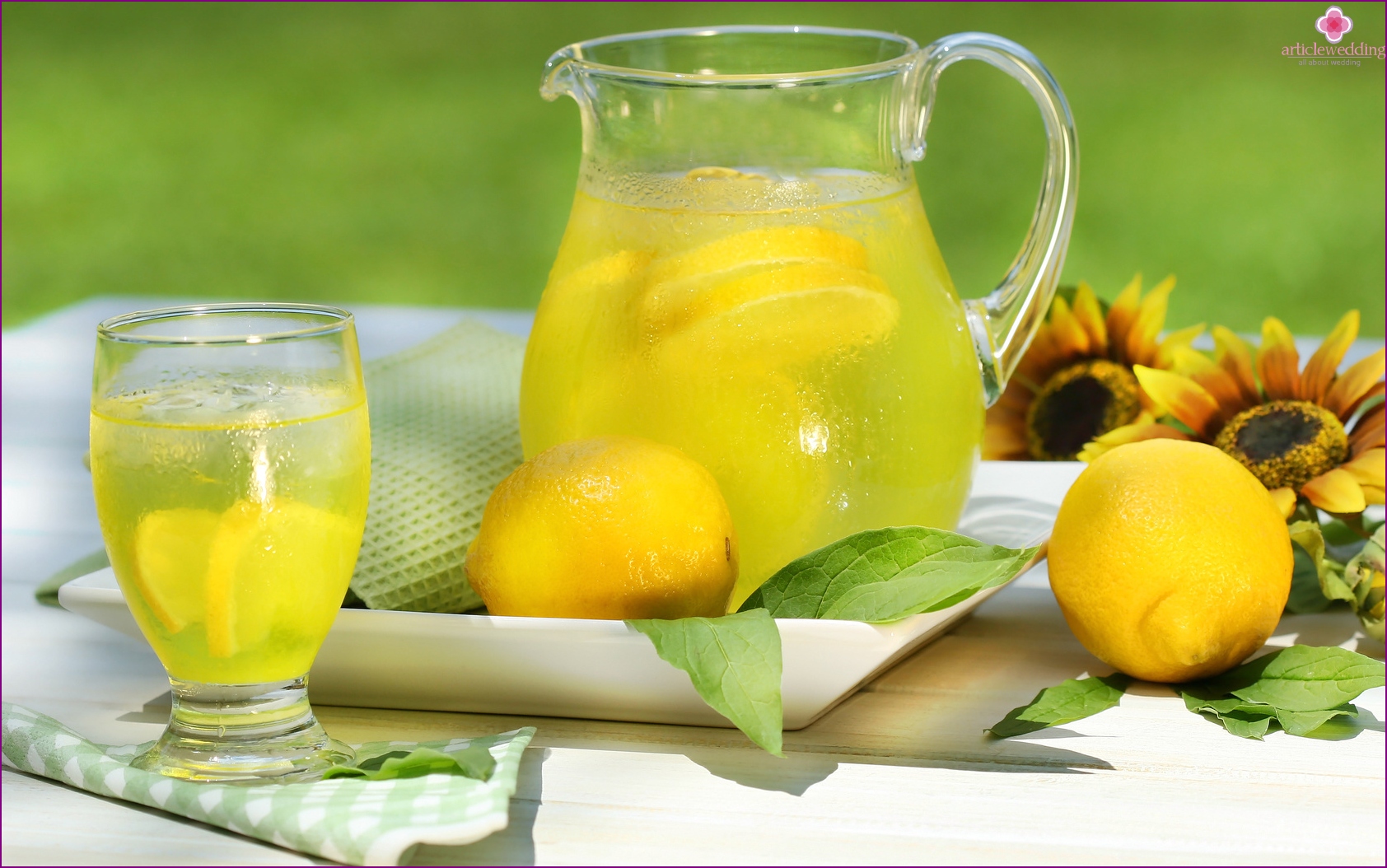 Shopping juices are not very suitable for a summer wedding, because after them you still feel thirsty. It is better to include lemon water with slices of natural fruits in the wedding menu. Such a drink is much more useful than store analogues: it perfectly quenches summer thirst. Serve lemonade in large decanters with ice, and then pour the guests into glasses. For summer lemonade, choose only natural ingredients:
lemon;
peppermint;
hibiscus;
green tea;
hibiscus.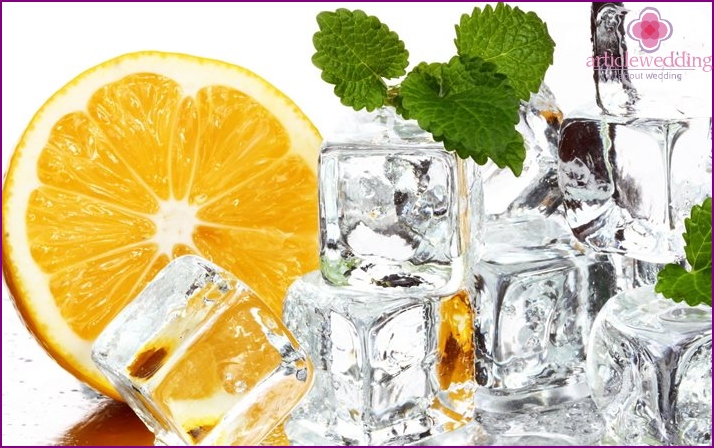 As for cold snacks, then tip number 2: serve them in the summer on fresh lettuce leaves. Perfect for weddings are vegetable dishes, seafood, feta cheese, nuts. Instead of meat, it is better to add fish to cold snacks so as not to burden the body with excess calories in the summer heat. The main condition: the appetizers must be served chilled, so before serving, they must be kept in the refrigerator, and there should always be ice on the wedding tables.
Tip number 3: the main wedding dish in the summer should be cooked on an open fire. Suitable for barbecue or barbecue: juicy ribs, steaks, chicken breasts, expensive fish, fresh vegetables. In order for the main summer dish to be appreciated, the following must be on the wedding table:
lime juice;
spicy chili sauce;
rosemary, sage, thyme;
other spices.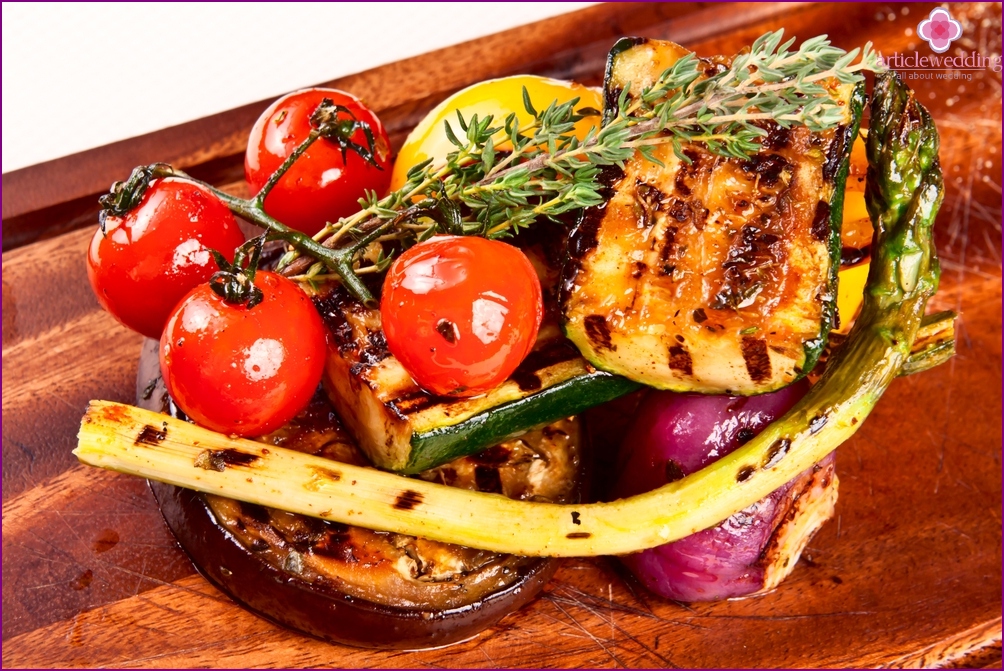 How to calculate the number of dishes and products?
From a summer wedding, guests should not leave hungry or disappointed, so the menu should take into account their individual preferences. For example, guests can be vegetarians, so they need to offer more vegetarian hot and cold snacks, and fruits, nuts, honey as a wedding dessert. Some do not eat pork, so it will be advisable to include lamb or poultry dishes in the summer menu.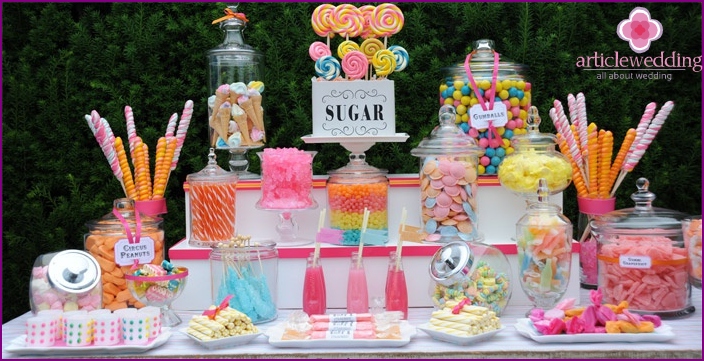 When planning a summer wedding menu, the number of men, women and children should be considered. Men prefer hearty, spicy food, strong alcohol, and ladies will prefer light summer wines, fish, cheese. The age of the guests also plays an important role. The older generation loves traditional wedding dishes, while young people, on the contrary, will prefer unexpected combinations of products, highly appreciating new tastes.
On average, one adult eats about 1,500 grams of different foods during a wedding feast. Therefore, at a summer wedding, the following ratio of dishes on the menu is usually selected (for 1 adult):
Salads (meat, fish, vegetable) - 250 g.
Cold appetizers (vegetable slices, sandwiches, pickles, fish, cheeses) - 400 g.
Hot snacks - 150 g.
Side dishes - 150 g.
Assorted fruits - 200 g.
Cake - 150 g.
Alcohol: men - 0.5 l; women - 0.4 l.
Sample menu for a wedding table
The summer wedding menu should include light salads, for example, «Greek» or «Caesar». Imagine yourself with the rest of the summer snacks on your own, adding some protein components to the vegetables: feta cheese, shrimp, pine nuts or tender chicken meat. Stuffed tomatoes, canapes, tartlets are relevant in the summer. As for mushrooms, in the summer wedding menu you should refuse winter champignons, and treat guests with forest mushrooms.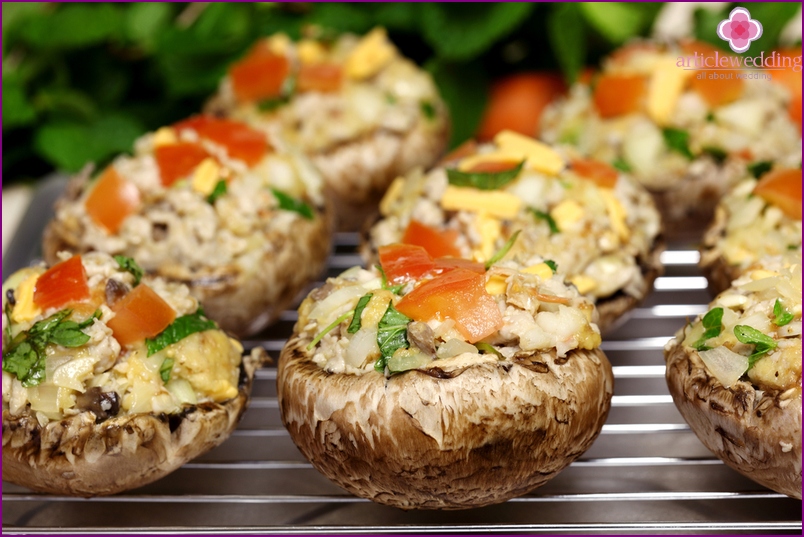 In the summer heat, the state of intoxication comes faster, so it will be more appropriate to focus on weak wedding alcohol. Ideal for a summer wedding menu, cocktails with refreshing ingredients and ice cubes. It's a favorite trendy lately «Mojito», refreshing cocktail with basil or berry «Daiquiri». Organically chilled wine will enter the summer menu at the wedding «Sangria» or cold champagne with berries.
Wedding cake should also be appropriate for the season. Whipped cream or butter cream is not needed for the summer menu. Prepare something airy, fruit and curd, so that the dessert fits into the light style of a summer wedding. A wedding summer cake without fruits and berries simply has no right to exist. Summer berry cakes with floral decorations look great, and you have to forget about chocolate - in the heat it will quickly lose its attractive appearance. Look at the video expert advice on how to properly compose a wedding menu and recipes for original summer wedding snacks:
To celebrate at home
The home atmosphere at a summer wedding is always more cordial and warmer than at a wedding banquet in a cafe. Guests feel more relaxed, and the dishes have a special taste, because a piece of the soul of the heroes of the occasion is embedded in them. A home summer wedding is usually distinguished by a small number of guests, unlike a restaurant, so we will help you come up with a summer wedding menu for 20 people.
First you should make a menu and a list of dishes that you want to see on the wedding table, as well as the number of necessary products and servings. We offer the following summer menu plan:
Cold appetizers: 3 types of salad, 2 meat dishes, 2 fish dishes, vegetables, cheese.
Main dishes for 3 types of poultry, meat, fish.
Desserts: sweet pastries, fruits, ice cream.
Soft and alcoholic drinks.
In the menu write down along the way which products you should stock up in advance, and what you need to buy immediately before the wedding. Before the invited guests arrive, the wedding table should already have fruits, drinks, cold snacks: vases and salad bowls at a distance of 6 places from each other. Hospitality is not a huge variety of dishes and an extensive menu, it is their competent selection and aesthetic design of summer dishes.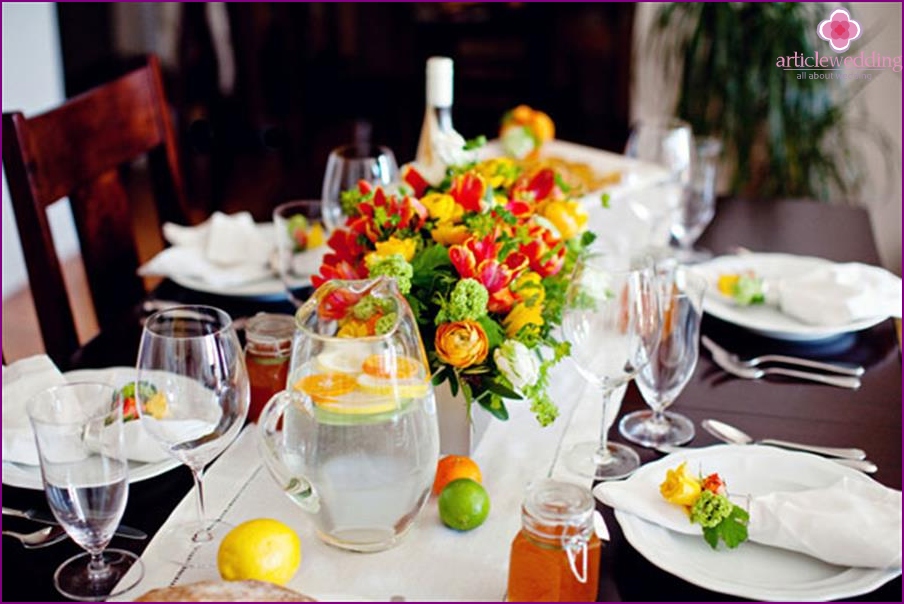 So that you do not have to rack your brains with the summer menu at your home wedding, we offer a ready-made option:
Salads: fresh cucumbers, tomatoes; cauliflower; hepatic.
Sandwiches: with ham, mayonnaise; with ham, cheese, mushrooms.
Snacks: zander in wine sauce; baked fish in the oven with cheese.
Main course: turkey with rice.
Wedding loaf.
Desserts: chocolate ice cream; cottage cheese with raisins, marmalade, honey cake with walnuts, fresh fruits.
Drinks: lemonade, mineral water with and without gas, orange juice, black coffee.
Outdoors
For newlyweds, summer is a real gift, because at this time of the year there is an opportunity to hold a solemn and festive part of a wedding in nature. Fresh air, saturated greens and vibrant flowers prompt a romantic mood, so any wedding celebration cannot be boring. For newlyweds, the main thing is to correctly calculate the number of products and make a good menu for a summer picnic in nature.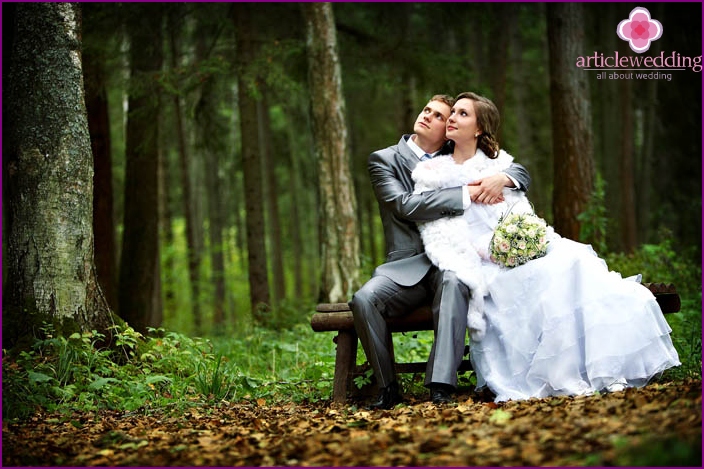 It should be remembered that the average duration of the feast is 8 hours, so you need to take into account that during this time guests will come to the table 2-3 times in between wedding competitions and dancing. How much can they eat in the fresh air? Count. Also in nature, it is better to offer guests two hot dishes on the menu: one at the beginning of the banquet, and the second at the end.
According to the rules, a summer wedding banquet is held in the following order: first, cold appetizers (sandwiches, fish, mixed vegetables) are served, then salads are put on the table, then meat dishes (cold boiled pork, aspic, roast beef). Moreover, cold snacks should be more than everyone else, because they bite alcohol. During the dance, sweet dishes, coffee are already served on the table, and the wedding cake becomes the decoration of the banquet.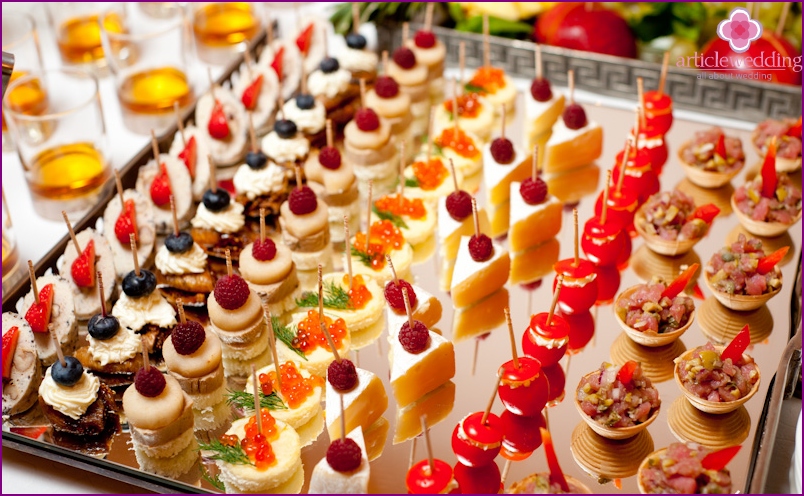 We offer the following menu for a summer wedding in nature:
Cold starters: spicy fish snacks, red caviar sandwiches, stuffed fish, seafood, fish salads, stuffed eggs, cold boiled pork, meat salads.
Hot snacks: pies, hot sandwiches, seafood, julienne.
Main dishes: baked stuffed pig, fish skewers or barbecue.
Dessert; wedding cake, caramel mousse baskets, air souffle.
Drinks: a summer wedding provides for a maximum of non-alcoholic drinks and a minimum of alcoholic drinks, so the amount is calculated based on the number and preferences of guests.
Home-made recipes
When compiling a summer menu for a home wedding, it is difficult to adapt to the taste preferences of each guest. It is better to create a more diverse menu, which will be dishes suitable for everyone. Canapes with vegetables and meat or in combination with any other products are great for a summer wedding snack. The main thing is to approach the process creatively: slices of cheese, ham, olives, cucumbers, bell pepper are stacked on toasts and this delicious pyramid is pierced with skewers.
An assortment of sandwiches with sardines, stellate sturgeon, cottage cheese or other components will decorate the summer wedding table. For example, include sandwiches with red fish in the wedding menu «ladybug». To do this, take toasts or salted crackers, lightly spread with butter, put a plate of red fish on top, a parsley sprig, half a cherry on the edge of the sandwich, and decorate the head and back of the insect with chopped olives.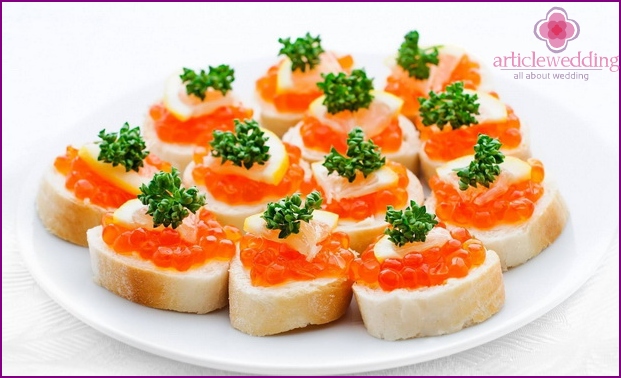 A very sophisticated combination of hard cheese and white grapes in canapes, which you must include in your wedding summer menu. You will definitely appreciate this extraordinary taste and ease of preparation. Just pierce a small square of cheese and a white grape with a skewer and place on a summer table. Summer canapes with cheese are also popular. Take a slice of black bread, put the feta cheese and half of the cherry on it, pierce it with a skewer and the canapes are done!
Cold and hot snacks
As a cold starter, we propose to include shrimp-stuffed eggs in the menu for a summer wedding. To do this, you need the following ingredients:
eggs - 4 pcs.;
shrimp - 0.5 kg;
greens, fresh vegetables;
butter - 1 tbsp;
salt.
Recipe:
We clean hard-boiled eggs, cut in half, remove the yolks. Boil shrimps, peel, cut into circles, and leave the shrimp necks for decoration. We rub the yolks with butter, salt, mix with shrimp and stuff the eggs. We put dill branches, shrimp necks on top, decorate our summer wedding table with a beautiful and delicious dish.
Hot snacks are served in the summer so that you do not need to use a knife, so they are cut into slices, cubes or sticks. Prepare wedding hot appetizers in fried, stewed, boiled or baked form. Include in the summer wedding menu tomatoes stuffed with mushrooms that cook quickly and look great on the wedding table. For this recipe you will need:
Tomatoes
White mushrooms;
ground crackers;
butter;
tomato puree;
onions, garlic;
greens, salt, pepper.
Cooking:
Cut the top off the tomato, remove the pulp and seeds. Cut the onion, sauté in oil, then add the finely chopped mushrooms, tomato, herbs, garlic and continue the passivation. When ready, mix the whole mass with breadcrumbs, season with pepper, salt. We fill the filling with tomatoes, sprinkle with grated cheese and send to the oven. Once the cheese has melted, our stuffed tomatoes are ready!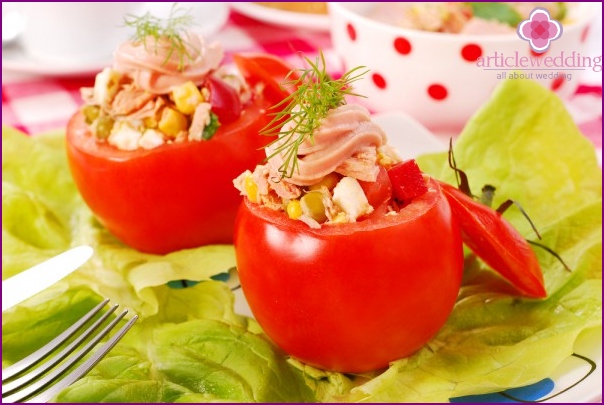 Main dishes
As the main dish at a summer wedding, we suggest including pork cooked in the oven on the menu. This is a simple but effective way to deliciously feed a male audience. The recipe is simple: buy 1 kg of fresh pork, rinse, make cuts, depth to the middle, add salt, pepper to taste. Cut 200 g of hard cheese into thin plates, 2 fresh tomato slices, 3 cloves of garlic in strips.
Add all ingredients to prepared cuts in the meat. Wrap the meat masterpiece in foil, place it in an oven preheated to 190 degrees and bake for 1 hour. After an hour, the foil needs to be removed and the meat baked for another 30 minutes. Put the prepared pork on a dish and serve it to the summer wedding table to the joy of a strong half of humanity.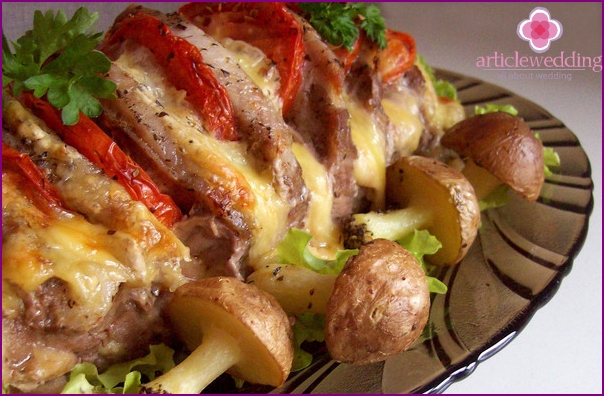 For those who don't eat pork, include a second main course in the wedding menu: a turkey stuffed with rice. For this recipe you will need: turkey, 4 boiled eggs, 2/4 cup rice and breadcrumbs, turkey liver, a spoonful of butter, herbs, pepper, salt. Chop the liver, combine with the yolks, butter, half-cooked rice, chopped herbs and mix. Then add crackers, whipped proteins, salt, pepper to the mass..
Stuff the gutted and washed turkey with the prepared minced meat, tie the wings and legs of the bird to the body, put it with your back on a baking sheet, salt, cover with mayonnaise, pour 3-4 tablespoons of water, cover and bake in the oven for 3 hours, periodically pouring it with your own juice. When the bird is ready, remove the lid and bake without it to make the crust brown. Then put the turkey on a dish and serve to the summer wedding table along with pickled vegetables.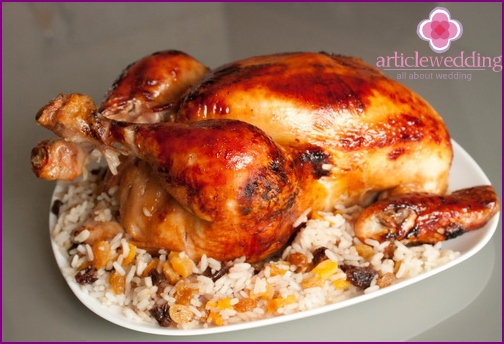 Dessert
We propose to include apple pie with cognac and sour cream in the summer menu as a wedding dessert. The cake is prepared for no more than 1 hour, but its magical taste will not leave anyone indifferent. Ingredients:
butter - 80 g;
sugar - 50 g;
apple - 2 pcs.;
sour cream - 2 tbsp. l;
flour - 130 g;
eggs - 2 pcs.;
cognac - 1 tbsp. l.
baking powder, vanillin.
Preparation: Melt the butter in a deep bowl, add sugar, vanilla, chicken eggs and mix. Then add flour, baking powder, sour cream, cognac, salt to the mass and mix thoroughly again. Pour the dough into a baking dish, top of the circumference beautifully spread the sliced ​​apples, bake in the oven for no more than 30 minutes, so as not to overdry our summer wedding dessert.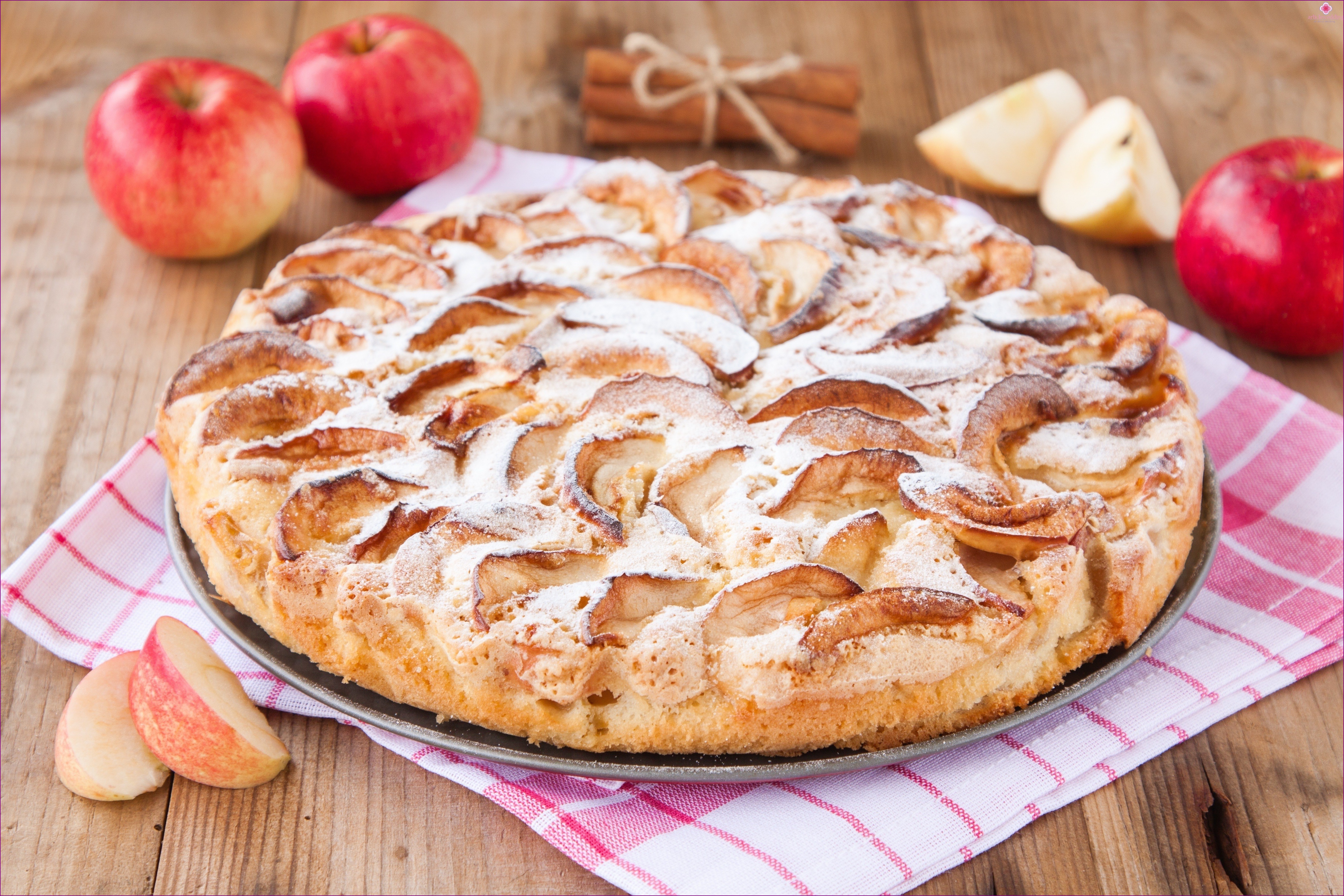 Prepare your guests a gentle curd souffle, which adults and children love in the summer. We need 2 eggs, 400 g of cottage cheese and fruits to choose from: pears, bananas, peaches, apples. Wipe the fruit pulp on a fine grater, mix with cottage cheese, egg, sugar until smooth. Put the mass on the molds, bake in the oven for 12 minutes. Dessert is ready when there is no cottage cheese left on the fingers. Then turn the contents of the molds and decorate to your taste.