Contents
---
---
The final part of any wedding is a feast. If the wedding banquet menu was composed correctly, the dishes were delicious, and there was plenty on the table, which means the event was a success. The success of the whole celebration depends on whether the newlyweds and guests will like the wedding feast. One of the first issues that should be resolved when organizing a wedding is to draw up the right menu, select delicious dishes, calculate portions depending on the number of guests, so that everyone has enough and there is not much extra food left.
How to make a menu for 20 people
Before preparing a menu, the organizers of a wedding feast must know exactly the number of guests. It is necessary to calculate how many men, women will be, whether children will be present. When compiling a wedding menu, it should be remembered that for the convenience of guests, appetizers and other dishes should be laid out on plates and salad bowls so that for every 6-7 persons there is a separate plate with a particular dish. So, a dish prepared for 20 guests should be laid out in three different plates.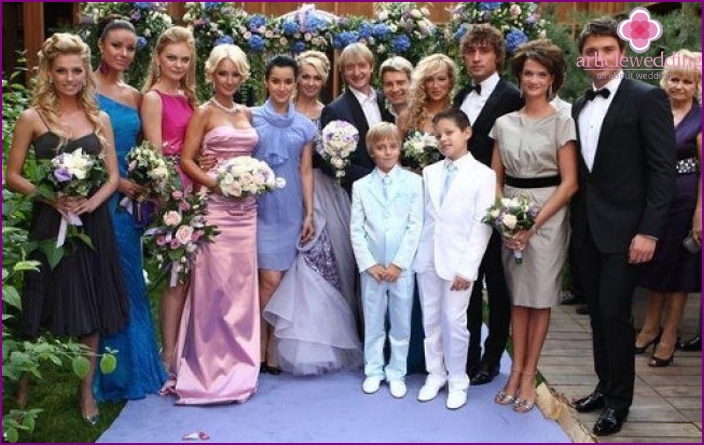 We take into account the number of female and male guests
When drawing up the wedding menu, you need to consider the gender of the guests. It is known that men eat a little more women. So, a salad for a wedding banquet is prepared at the rate of 50 grams for each guest. If there are more men among the guests, you should prepare cold snacks at the rate of not 50, but 70 grams for each guest. Particular attention in the preparation of a wedding party should be given to the purchase of alcoholic beverages. Ladies predominantly consume wine, liquors, and representatives of the strong half of humanity - strong drinks.
The presence of children at the wedding
Usually a wedding feast lasts from 6 to 8 hours and longer; it will be difficult for children to sit all this time at the wedding table with adults. Therefore, for children it is necessary to set a separate table so that after a snack they have the opportunity at any time to get up from the wedding table and have fun. You should take care of compiling a special children's menu. Children should not be served spicy dishes, heavy foods - fatty meat, salads with mayonnaise sauce. Light salads, low-fat meats, boiled fish, fruits, desserts - this is the basis of the children's wedding menu.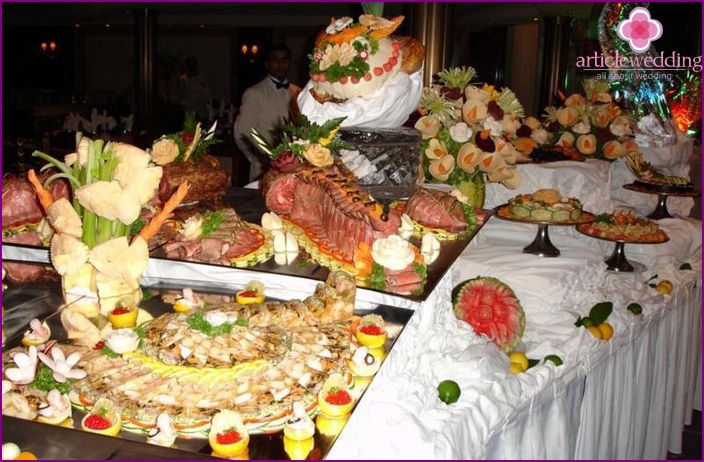 We count the number of dishes for 20 people
The menu for the wedding feast consists of cold appetizers, hot and dessert dishes, drinks. Cold snacks are 1-2 fish, 2-3 meat snacks, 1-2 types of cheese, 2-3 salads, vegetable slices. There should be at least 2 main dishes - one of them is fish, the other is meat, which is served with a side dish. Desserts for a wedding feast are pastries, cakes, fruits, ice cream. Wedding cake should be taken separately. The weight of a wedding cake for a feast for 20 guests is usually about 3-4 kg.
It is necessary to prepare a sufficient number of drinks - both alcoholic and non-alcoholic. For guests of the wedding feast they buy champagne, vodka, cognac, whiskey, wine, vermouth. Separately, two bottles of champagne are set in front of the newlyweds: one bottle is traditionally drunk by spouses at the celebration of the 1st wedding anniversary, and the other after the birth of the first child. If the wedding menu will have a large number of meat snacks and dishes with sauce, the emphasis should be on red wine, which is usually served with meat.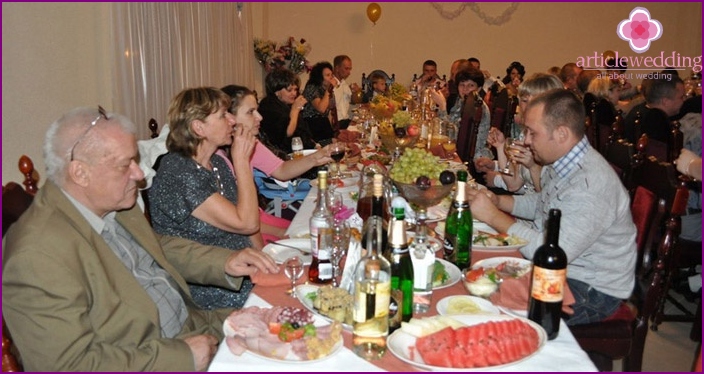 When buying alcohol for a wedding feast, you need to ensure that there is no disagreement: guests will drink a lot, and mixing alcohol is undesirable. There should be a certain supply of alcohol so that guests do not have to mix drinks. In addition to alcohol, non-alcoholic drinks are also purchased: juices (2 types), sparkling and still water. According to etiquette, small bottles of water with a capacity of 0.25–0.5 liters are served on the wedding table. Juice for guests is poured into jugs. An approximate list of drinks and products for the wedding menu for 20 guests:
champagne - 5 bottles (2 more separately for newlyweds);
red wine - 10 bottles of 0.75 l;
vodka / cognac / whiskey - 10-12 bottles of 0.5 l;
juice - 5 liters;
sparkling water - 40 bottles of 0.5 liter each;
water without gas - 10 bottles of 0.5 liter;
meat cutting (boiled pork, ham, meatloaf) - 0.8–1 kg of each type of meat product;
smoked sausage - 0.7–0.8 kg;
cheese (2 types) - 1–1.2 kg of each type;
pickled mushrooms - 0.8 kg;
olives, olives - 0.7 kg;
fish - 0.8 kg;
red caviar - 5 cans of 120 grams each;
black caviar - 1-2 cans of 120 grams each;
fruits - 4-5 kg;
chocolate candies - 1 kg.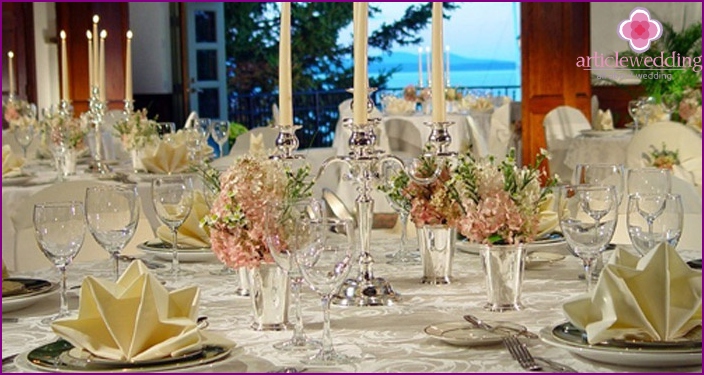 Features of the menu depending on the season
Many couples seek a wedding in the fall. In autumn, a large selection of fresh and natural meat, dairy products, especially vegetables and fruits. In autumn, the wedding menu includes poultry, vegetables grown in an open way. In winter, the choice of vegetables and fruits is not so large, you have to be content with what is on sale. In the cold season, the body needs more calories, so the wedding menu includes high-calorie meat dishes. Strong drinks are good for such a plentiful snack..
In the spring, the body lacks vitamins, so fresh herbs and vegetables must be served on the wedding table. In the summer heat, I don't really want to consume fatty meat, heavy salads with high-calorie sauce. Therefore, the main emphasis should be on light salads, low-calorie fish, diet meat, and seafood dishes. So, a good option for the main course of the wedding summer menu would be a sea cocktail with scallops and shrimps, as well as salmon with asparagus.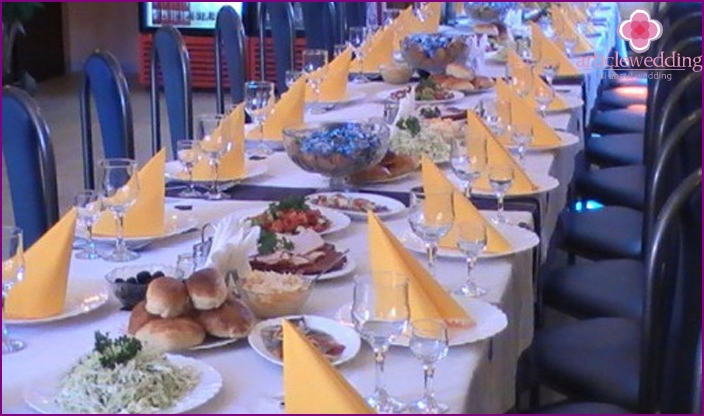 A sample menu for celebrating in winter
In recent years, winter weddings have become popular: renting wedding cars, rooms for celebrations is much cheaper. The menu of the winter wedding feast consists of high-calorie and nutritious dishes. In the wedding photos and videos, it is clearly seen that in the winter guests lean on any food: it is cold outside, for normal life activities an increased amount of calories is required. Therefore, guests of the wedding celebration are offered meat and fish dishes, snacks, salads with mayonnaise sauce. Sample wedding menu:
Smoked Salmon Canapes.
Sandwiches with caviar.
Liver mousse in tartlets.
Cheese sliced ​​from cheese variety «Cheddar», «Mazdam».
Salad with arugula, cherry tomatoes, mozzarella.
Chicory Salad with Marble Cheese.
Salad «Greek» with olives.
Fried seabass with mashed cauliflower.
Mushroom Stuffed Chicken Breast with Asparagus Beans.
Coffee Tea.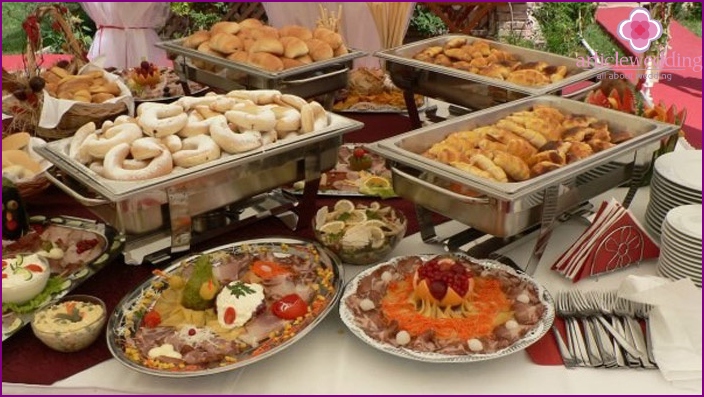 Summer Wedding Menu
Holding a wedding in the summer has its benefits - the wedding season is just beginning, it is easy to find a place for a feast. By the middle of summer, vegetables grown outdoors begin to ripen. They have a pronounced taste, so the dishes at the summer wedding feast will be not only nutritious, but also delicious. In the summer heat, I do not want high-calorie dishes, mayonnaise salads and other heavy meals. Sample menu of a summer wedding feast:
Salted salmon roll with olives.
Sea scallops and shrimp cocktail.
Chicken roll with prunes.
Foie gras duck.
Cheese sliced ​​from cheese variety «Parmesan» and «Cordon blue».
Asian salad with tangerines.
Radicchio salad with almonds and cheese «Roquefort».
Rabbit with Prunes and Parsley.
Braised lamb with eggplant and sour cream.
Cod with rosemary and capers, vegetable puree.
Home-made recipes
A wedding feast is held in a restaurant or at home. If there is no way to spend extra money on renting a hall, why not hold a celebration at home. Holding a wedding feast at home has the following drawback: you will have to spend a lot of time preparing food - snacks, desserts, main dishes with meat and fish. But there are also advantages: a wedding feast will be much cheaper, and will be held in a more comfortable home environment. We offer such recipes for cold appetizers, main dishes and desserts on the wedding table:
Pork loin with soy sauce - an appetizer for the wedding menu.
We will need:
pork loin - 2 kg;
maple syrup - half a teaspoon;
soy sauce - 0.1 l;
spice set «Summer» (pepper, salt, onion, paprika, dried carrots, mustard seed, caraway seeds, greens) - 100 g.
Cooking:
Cut the meat in half.
Mix syrup and soy sauce.
With a mariner or a syringe with a thick needle, chop both pieces of meat with a marinade.
Knead the meat to soak the marinade.
Dip the loin in the spice mixture.
Wrap meat in thick polyethylene.
Put the meat in the stove, stick the thermometer in it, turn on the convection mode.
Bake at a temperature of 20 to 80 ° for 2 hours, gradually bringing the temperature to 70 degrees.
Cool, put the dish in the refrigerator for 9-10 hours.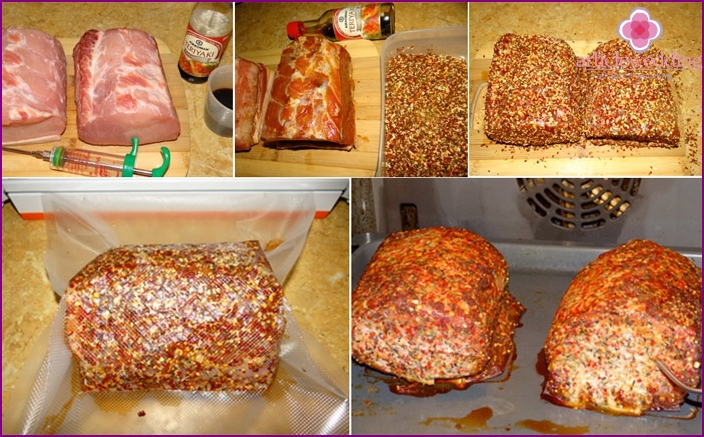 Chicken roll - an appetizer for the wedding menu.
We will need:
chicken - 1 piece;
mushrooms - 200 g;
pistachios - 30 g;
garlic - 5 cloves;
salt, pepper, other seasonings.
Cooking:
Gently remove the skin from the bird, separate the meat from the bones.
Cut mushrooms into cubes, fry them.
Dice poultry.
Cut garlic, pistachios in half.
Put all the ingredients on the chicken skin, roll in the shape of a roll.
Wrap the roll in foil, put in the oven.
Bake for one hour at 200 degrees.
Cool, fold the dish in the refrigerator.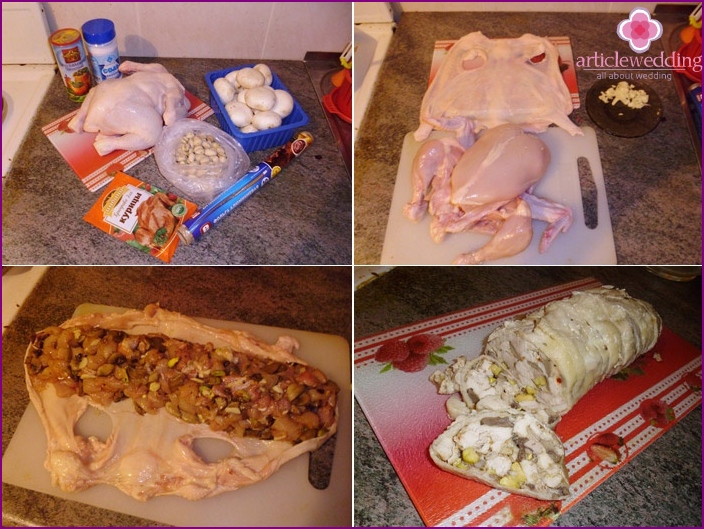 Hot salmon fillet - the main course of the wedding menu.
We will need:
salmon - 1 kg;
olive oil - 0.25 l;
oregano - 1 tbsp. l .;
soy sauce - 150 ml;
lemon juice - 0.1 l;
salt pepper.
For the sauce:
dry white wine - 150 ml;
cream - 22%;
water - 0.25 l;
mustard (grains) - 10 tbsp. l;
shallots - 2 pieces;
olive oil - 0.1 l;
pepper, salt.
Preparation of the main course:
Check the absence of bones in the fish, if necessary, remove them.
Mix lemon, soy sauce, olive oil, oregano.
Marinate salmon - 1-2 hours.
Cooking the sauce. Fry onion in oil, add wine, fry until complete liquid evaporation.
Add water, cream, mustard, spices to the pan. When the contents of the pan boil, turn off the heat.
Preheat the oven to two hundred degrees.
Place pickled salmon on a baking sheet.
Bake a quarter of an hour.
Pour salmon with cold sauce. Serve hot.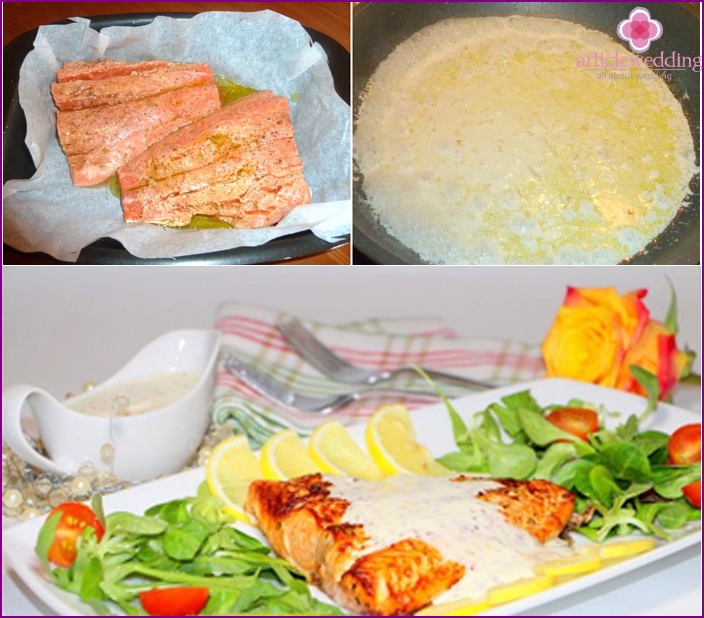 Duck breast with sea buckthorn sauce - the main course of the wedding menu.
We will need:
duck breast - 1 piece;
frozen sea buckthorn - 0.25 kg;
honey - 5 g;
sugar - 10 g;
lemon juice - 10 g;
mustard - 10 g;
pepper - 5 g;
frying oil, salt, pink pepper;
Preparation of the main course:
Peel the meat of the remnants of feathers, rinse, dry.
Grind spices.
Make cuts on the meat, grate with ground spices with salt.
Thaw the berry in the microwave.
Grate sea buckthorn through a colander, mix with lemon juice and sugar, bring to a boil, boil for 2 minutes.
After cooling, dissolve honey and mustard in a mixture.
Fry the meat in a preheated pan until a crispy crust forms.
Wrap the meat in foil, keep it for a quarter of an hour.
Before serving, pour the meat dish with sauce.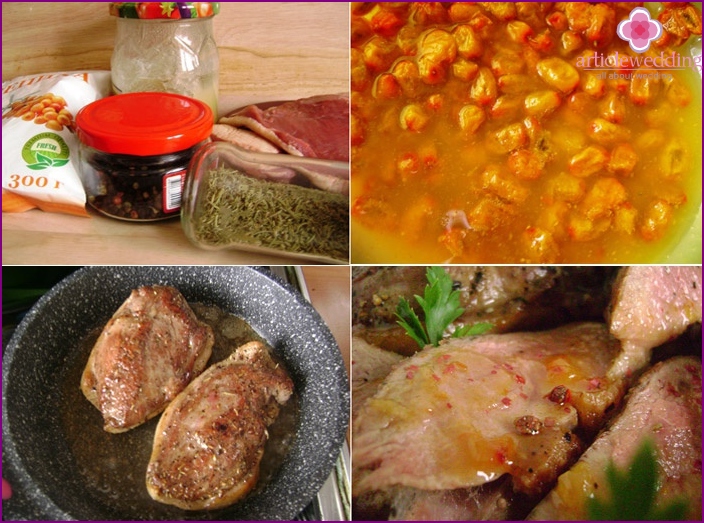 Fruit tartlets - dessert for the wedding menu.
We will need for the test:
1. Shortbread dough
butter - 0.5 kg;
sugar - 0.25 kg;
icing sugar - 100 g;
ground almonds - 2 tbsp. l .;
eggs - 3 pieces;
flour - 0.8 kg.
jelly fruit.
2. Almond cream
butter - 150 g;
ground almonds - 130 g;
sugar - 0.25 kg;
egg - 4 pieces and one protein.
3. Custard
milk - 0.3 l;
sugar - 1 tbsp;
yolk - 2 pieces;
corn starch - 2 tbsp;
vanilla.
Cooking:
Cooking the dough. Melt butter, pour in powder, sugar, beat.
Pour oil, whisk.
Beat eggs, flour, nuts.
Wrap the dough in a film, put in the refrigerator for an hour.
Cooking almond cream. Mix all the ingredients, beat, put in the refrigerator.
Cooking custard. Grind sugar and yolks, add starch.
Pour milk in a separate bowl, add sugar, combine with yolks, cook until boiling over low heat. Stir constantly, cool.
Remove the dough, put in a mold, top with almond cream.
Bake at 180 degrees for a quarter of an hour.
Cool, lay out the fruit, cover with custard using a pastry syringe.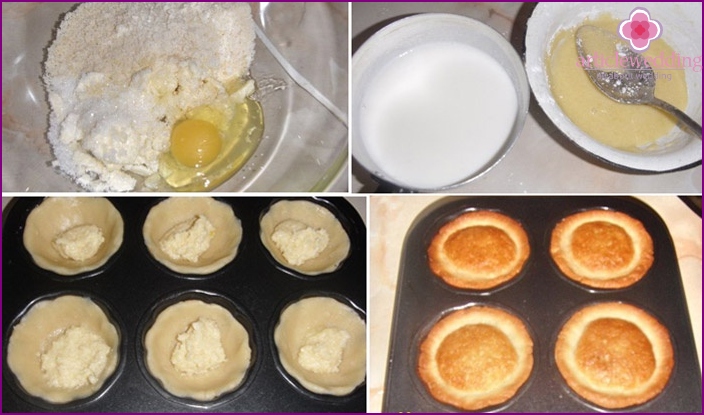 Panakota with caramel persimmon - dessert for the wedding menu.
We will need:
cream - 0.15 l;
clove buds - 3 pieces;
milk - 0.15 l;
cinnamon - a pinch;
vanilla essence - 3 drops;
cane sugar - 3 tbsp. l;
gelatin - 1 tsp;
water - 0.05 l;
persimmon - 1 piece;
pomegranate - a handful;
Cooking:
Soak gelatin in water for 10 minutes.
Mix milk with cream, add cinnamon, cloves, vanilla essence, cane sugar.
Put the mixture on fire for 10 minutes, cover.
Strain the mixture of cream and milk, add gelatin, mix.
Pour into molds and glasses, put in the refrigerator for 1 hour.
Cut persimmon into cubes, sprinkle with cane sugar, put on a small fire. Strain for 5 minutes, stirring, cooling, pouring into forms.
Get the frozen cream, spread the persimmon, sprinkle with pomegranate seeds. Serve chilled.